Whether you're just getting into graphic design or you're a seasoned pro looking to expand your existing creative kit, here are the essential tools you need to work smarter and more creatively.
Remember, being a good designer isn't about having the latest hardware or software: ideas and execution are far more important than shiny new equipment. But it's worth investing in the best kit you can afford.
Here are 12 must-have tools to get you started...
01. iMac 21.5-inch Retina (2017)
The 21.5-inch Apple iMac is a brilliant midrange all-in-one.
Processor: 3.0GHz quad‑core Intel Core i5 | Display: 21.5-inch Retina 4K display | Resolution: 4096x2304 | Memory: 8GB of 2400MHz DDR4 onboard memory | Storage: 1TB (5400-rpm) hard drive | Graphics: Radeon Pro 555 with 2GB of VRAM | Ports: Four USB 3 ports and two Thunderbolt 3 (USB‑C) ports
Stunning 4k screen
Powerful processor
Great graphics options
Only 8GB of RAM
Ports and SD slot on rear
Gone are the days when Macs were the only choice for graphic designers (just see our second pick below for proof). Nevertheless, this 2017 refresh of Apple's iconic all-in-one – with its updated CPU, Thunderbolt 3 connectivity and brighter display – is a powerful, fast and brilliant-value midrange machine for designers.
The 21.5-inch iMac comes in three versions. The basic option has a 2.3GHz processor; mid-range comes with a Retina 4K Display and 3.0GHz processor; and the highest tier bumps up to a 3.4GHz processor with a Retina 4K Display.
So what's so good about it? Well, for a start, the screen is fantastic: it's bright (43 per cent brighter than before, says Apple) with deep blacks. And if you want more screen real estate, two new Thunderbolt 3/USB C ports can drive an external 5K display at 60Hz with support for 1 billion colours, or two external 4K UHD displays at 60Hz with the same colour support.
The mid-priced 4K iMac comes with a Radeon Pro graphics card, which makes tasks like video editing and 3D graphics faster than previously. (If you're likely to be working in 360 video editing or VR, though, you'll need the 27-inch 5K iMac.)
Also, the iMac's peripherals are excellent. It ships with a wireless Magic Keyboard and Magic Mouse 2, and a Lightning cable is included in the box.
Overall, the 21.5-inch iMac – and indeed its more expensive 27-inch counterpart – is a fantastic desktop option for any graphic designer.
02. Microsoft Surface Book
The ultra-powerful laptop/tablet hybrid boasts a stunning screen and brilliant design.
Processor: 6th Generation Intel® Core™ i5 or i7 | Resolution: 3000x2000 | Memory: 8GB or 16GB RAM | Storage: 128GB, 256GB, 512GB or 1TB SSD options | Graphics: i5: Intel HD graphics 520; i5/i7: NVIDIA GeForce dGPU with 1GB GDDR5 memory | Ports: Two USB 3 ports, SD card reader, two Surface Connect pros, headset jack
Great screen
Hugely powerful
Turns into a sketchbook in seconds
Battery life
The Surface Book is, from first pickup, an amazingly high-quality laptop. Build is stellar; the flexible, accordion-like hinge is a masterpiece of industrial design; and the screen – well, the screen! It's absolutely stunning. Microsoft's PixelSense tech means that it's thin, bright and hugely responsive to touch and stylus control.
The term 'Retina display' is bandied around a lot due to Apple's excellent marketing, but for its 13.5-inch size the Surface Book packs in an incredible 3000x2000 pixels at 267ppi (Apple's MacBook Pro is 2560x1600 at 232ppi).
The Surface Book is a hybrid, which means you can detach the screen and use it in Windows 10 Tablet Mode. Apps such as Illustrator can be used in Tablet Mode as well, so the Surface Book is not only a super-powerful machine for video editing and 3D, it's also the ultimate sketchbook.
As someone pushing say, Adobe CC, to its limits, you're gonna need top specs in your laptop. And again, the Surface Book delivers. Big style. We tested a mid-range model and whilst it cost a meaty £2,699 you get a 512GB SSD, an Intel Core i7 CPU running at 2.6GHz, 16GB of RAM and a discrete GPU (with 2GB RAM). Fork out £3,149 and you'll get a 1TB SSD.
Read more: Surface Book review
03. The right software for you (and your budget)
Adobe's Creative Cloud is the industry standard for design professionals – the range and depth in its suite of tools unrivalled by any other company. But it comes at a cost. As an individual designer, prices for the entire suite start at £50 per month if paid annually or nearly £80 per month if paid on a monthly basis. It's a lot of cash.
Still, you get Photoshop, Illustrator, InDesign, After Effects and loads more. If you're looking to be truly multi-disciplined and are confident of the work rolling in, then it's the way to go.
But if your work revolves purely around vector design (illustration, logos and so on) and photo-editing/manipulation, there's another option you could plump for.
Affinity Designer and Affinity Photo are both excellent tools from Serif – believe us, they even top Photoshop and Illustrator in some areas – and they only cost around £50 each. No monthly subscription and free updates. What's more, superb file compatibility means you can work with others using Photoshop or Illustrator with very few problems.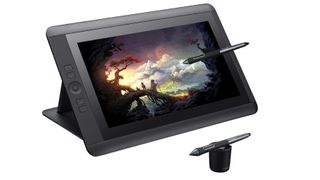 04. Wacom Cintiq 13HD
A fantastic drawing tablet for professional artists and designers.
Weight: 1.2kg | Dimensions: 375 x 248 x 14mm | Screen size: 13.3-inch | Resolution: 1920 x 1080 | Stylus: Wacom Pro Pen
Good value
Excellent stylus
HDMI adapters not included
Some might prefer larger screen
When it comes to drawing, using a mouse isn't natural. After all, when you learn to write and draw at school you don't just move a pencil around with your wrist.
That's where a graphics tablet comes in. We've covered the seven best drawing tablets for designers and creatives in our best graphics tablet buying guide, but our top pick here is the Wacom Cintiq 13HD .
Balancing cost and quality, this is a serious piece of kit. As well as a responsive, pin-sharp and highly accurate screen, the Wacom Cintiq 13HD is very comfortable to use. And despite the 13HD Touch's party trick of being finger-operable, the star of the show is Wacom's bundled Pro Pen, which comes with six nibs and offers 2048 levels of pressure sensitivity and tilt recognition.
You'll get pressure-sensitivity in Photoshop, Illustrator and the like, but more importantly you'll be creating in a more intuitive, natural way. Plus there's health benefits – using a stylus rather than a mouse is proven to reduce RSI.
Read more: Wacom Cintiq 13HD review
05. Pantone Reference Library
If you're doing a lot of print work, you're likely to be asked to use (or want to use) a fifth colour at some point. The only way you can really get an accurate idea of how your special colour will print is to invest in a Pantone Reference Library – a series of swatch books and folders containing chips that show you a printed representation of each colour. So not only will it show you how the colour you select in say, Illustrator or InDesign, will print, but it will also enable you to tear a swatch out and pin it to your proof for the printers – so everyone's clear on what colour you need.
There are also swatch books that enable you to match a fifth colour to a CMYK value – perfect for situations where your client's budget doesn't stretch to a fifth colour for a certain job.
The Pantone Reference Library isn't cheap, however: It'll cost you over $1,400. That's for all 14 books plus a storage and display stand, though – you can buy books individually if you just need, for example, a metallic colour guide. And you can always add the individual cost of a book to a particular job if needed.
06. Top-end smartphone
Galaxy let loose two powerful Android smartphones this summer: the Samsung Galaxy S8 Plus and the Samsung Galaxy Note 8 – both cracking choices for creatives thanks to their generous screen real estate and excellent cameras.
The Samsung Galaxy Note 8 sports a 6.3-inch 1,440x2,960 Super AMOLED screen, while the Super AMOLED screen on the Samsung Galaxy S8 Plus comes in at 6.2-inches (same resolution).
The most impressive camera comes with the Samsung Galaxy Note 8, which boasts a 12 MP dual-lens that opens up a whole range of fantastic features – including a bokeh effect and the ability to take two pictures at once (a close-up and wide-angle shot, for example).
By comparison, the Samsung Galaxy S8 Plus has just one rear-facing 12MP f/1.7 camera with optical image stabilisation - but it takes fantastic photos. (And it has a larger battery too.)
New iPhones
And of course, Apple introduced three new iPhones in September: the iPhone 8, iPhone 8 Plus and the astronomically priced iPhone X. The most affordable is the iPhone 8, which offers a small update on the iPhone 7 with an improved, sharper Retina display, some internal upgrades and improved external hardware.
Battery life is boosted, thanks to the new A11 Bionic chip, and the iPhone 8 boasts convenient wireless charging too. Unfortunately the 12MP camera has only received a minor upgrade, but photos are still superb. Certainly if you're coming from the iPhone 6 or 6S, then the iPhone 8 makes is a decent, more financially accessible option.
For a little more cash, the iPhone 8 Plus is also worth a look. It offers more screen real estate than the iPhone 8 due to the larger body, improved battery life again, and an upgraded 12 MP camera with two sensors, a telephoto lens and Portrait Lighting mode.
Next page: six more essential graphic design tools...