WWDC 2023 live blog: Apple Vision Pro VR headset, new Macs, iOS 17 and more
All the news from Apple's WWDC 2023 keynote.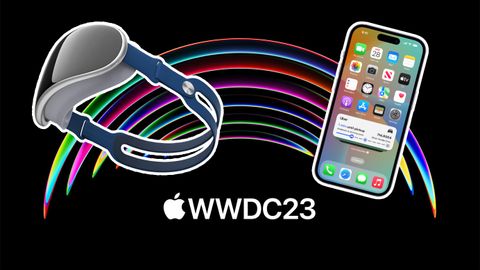 (Image: © Apple/Future)
The Apple WWDC 2023 keynote address is now over, but you can catch up on everything you missed via the updates in our live blog below. We were posting live through the keynote, which began at 10am PT / 1pm ET / 6pm BST on Monday 5 June.
From Apple Park in Cupertino, California, Apple introduced us to a new 15-inch MacBook Air, MacStudio M2 Ultra, MacPro M2 Ultra and the highlights of its operating system updates: iOS 17, iPadOS 17, MacOS Sonoma and WatchOS 10. But the most dramatic news by far was saved for the end of the presentation with the big reveal of Apple Vision Pro, the company's long awaited AR/VR headset, which Apple says it's been working towards for years.
You can relive the Apple WWDC 2023 keynote address in full in the video below, or scroll down further for the live posts we made as we attempted to keep up with the announcements as they came. See our guide to the best Apple deals for more on Apple products.
Refresh
So what do we know about Apple's VR headset? We can be certain that it won't be cheap, prices are expected to cost more than $2,000, so this won't be a product for everyone.
We can also expect it to have face and eye tracking and is likely to include around a dozen cameras, according to well-known Apple tipper, Mark Gurman.
It will also likely offer access to apps on existing Apple platforms such as the iPhone, iPad and Apple TV.
The release of this new headset will pit Apple directly against Meta, who announced the Quest 3 very recently. Could it mark the dawn of an exciting new era, and lead Apple to market dominance in this area? We're not sure quite yet. It doesn't seem like everyone will want an Apple headset in the same way they want an iPhone, but you never know...
The MacBook Air is known for being slim and sleek, which is why a 15-inch version might not seem to make sense. Rumour has it that the 13-inch and new 15-inch versions of the Air could feature a brand new M3 chip. This would make it niftier than the 13in MacBook Pro, which makes the lineup a whole lot more confusing.
Read our MacBook Pro 15-inch rumours piece for more.
A more certain topic than the VR headset is Apple's announcement of iOS 17. Given the WWDC has included information about the next software release every year for the last few, we fully expect to be caught up on what the genius Apple software developers have been up to – and what's in store for the next update.
Apparently iOS 17 is codenamed 'Dawn', and the rumour is that there won't be any massive upgrades to get your teeth into in September (or straight after the event if you're one of the lucky ones who gets to try it in beta). Rather than that, Bloomberg has reported that there will be some modest improvements that should address the requests of users. And, let's be honest, that attention to ironing out niggles could be as satisfying as a flashy upgrade that ignores the basics.
All the expectations that we've listed below are based on the rumours that have been building in recent months, but of course, until Apple CEO Tim Cook starts his keynote at 10am PT, it's all guesswork.

What we can be pretty sure of is that Cook will at least briefly touch on all of Apple's main platforms, from iOS 17 and macOS 14 to tvOS 17, iPadOS 17, and watchOS 10. Since it's primarily a developers' conference, he'll also surely mention Apple programming language Swift and Xcode, its integrated development environment for macOS. WatchOS 10 is expected to reintroduce widgets, making them a central part of the interface, but other than this no massive changes are expected in operating systems.
Cook isn't likely deep dive into anything himself. That's more the task of Craig Federighi, Apple's SVP of Software Engineering, and other development leads. If recent years are anything to go by, we can expect some of the presentations to be pre-recorded.
It appears that Apple has well and truly returned to Twitter after cancelling its ads at one point. It's launched an exclusive WWDC like animation. Adding the #WWDC23 hashtag to your tweets automatically turns on an animation on the like icon. People are reporting that it's working in various regions and platforms.
WWDC is always one of my favorite moments of the year — and this one is going to be our best ever! Tune in for our special event at 10 a.m. PT pic.twitter.com/SmkLT3VXldJune 5, 2023
Speaking of Twitter, Tim Cook's made his customary pre-event tweet. As usual, it's concise and to the point, but he promises that WWDC 2023 is going to be the 'best ever'. He's just given himself a lot to live up to for his keynote, which is due to start in just over 90 minutes.
What can be so exciting for Cook to go as far as to claim this will be the best WWDC in history? (And let's remember that the first WWDC was forty years ago, with the launch of Apple Basic back in 1983).
I feel that a claim that big can only be delivered on if the rumours are true and we get to see the long-awaited Apple VR headset. Indeed, several people are commenting on Twitter that unless Cook says the words "VR/ AR" at least as much as Sundar Pichai said "AI" at Google I/O, they're going to be disappointed.
One of The Apple Reality Pro's potential rivals seems to think they know something. VR headset maker HTC Vive's co-founder and chairwoman Cher Wang has got a little ahead of things and issued a statement to welcome Apple to the "XR community in the spirit of collaboration and support."
The statement reads: "As a leader in the XR industry, we are thrilled to extend a warm welcome to Apple as they venture into the vibrant XR community. With our years of dedicated innovation and commitment to pushing the boundaries, we eagerly embrace the arrival of a company that shares our unwavering pursuit of technological excellence, user privacy, and human-centered design. Together, we have a unique opportunity to collaborate, inspire each other, and reshape the future of XR experiences, making a profound impact on the lives of businesses and consumers alike."
HTC, early leaders in VR, welcoming Apple to the virtual reality party at #WWDC23 with a note from HTC Vive co-founder and chairwoman Cher Wang: pic.twitter.com/TWyGVVumcnJune 5, 2023
Let's talk about the important stuff. If we do get a demonstration of Apple's new VR headset, aside from the headset itself what might that look like? Where will the demonstration take us? It's got to be something pretty epic to show off the new tech. I'm thinking maybe we'll see dinosaurs or an under the sea scene? Or will Apple focus in on the creative applications of such a headset? (We do hope so.)
The doors of WWDC are now open and people are taking their seats. It looks as if the event will be pre-recorded, as it was last year, by the looks of the giant screen, but will there be a 'live' element too? Having someone demonstrate things live, especially if those things are shiny new headsets, would definitely add a certain something to the proceedings. Otherwise, what's the benefit of actually being at the keynote rather than watching it on YouTube? Or are we just annoyed we don't live close enough to California to wangle an invite (that must be the reason we're not there, right?).
There are just 30 minutes to go and the clock is counting down on the live YouTube stream (see above). Diehard Apple fans are sharing photos of their viewing setups on Twitter (now if only Apple made desk chairs and mugs...).
WWDC setup ready to go… | #WWDC23 What's your dub dub setup? pic.twitter.com/VU6XV8TN0xJune 5, 2023
Our sister site Techradar's man on the ground is reporting that the atmosphere at Apple Park in California is more electric than it has been for several years, although that may be partly due to the weather.... hold on, why did they get press passes for the event while we're reporting from the office?
A hub of Apple activity. #WWDC23 pic.twitter.com/8eEJh5IJgqJune 5, 2023
Here's some design commentary on that WWDC 2023 'like' animation we mentioned a moment ago. The designer Andreas Storm reckons Apple took the old Twitter heart as the base icon for the design.
Whoever made the #WWDC23 branded like animation took the old Twitter heart as a base icon.You can't unsee how it jumps at the end pic.twitter.com/EzutteWuQhJune 5, 2023
Here we go! The Apple WWDC 2023 feed is live. Some 429,254 are watching a man chasing a bubble through a fountain in the intro film.
Tim Cook is speaking from under a giant rainbow in a sunny Apple Park, and he's promising some of Apple's "biggest announcements ever". First up, Macs.
So, it's true: we're getting a 15-inch MacBook Air. We're promised the thinnest 15-inch laptop on the market, and outstanding battery life. It will come with the M2 chip, the same as the latest MacBook Air, though.
15in MacBook Air
Here's a full breakdown of what we'll get with the new 15in MacBook Air. Many people are noting that there aren't exactly any surprises in specs (other than the fact that it's a 15in MacBook Air) and the price looks attractive.
Quite an entrance from Craig Federighi, Apple's senior vice president of Software Engineering. He's talking about iOS 17.
It's stickers galore in iOS 17 Messages (yawn). There's quite a lot of love on Twitter for the automatic check in feature though.
#WWDC23 messages - check in, automatically notifies fam that you got there. pic.twitter.com/cm5EoQB5O1June 5, 2023
Apple iOS 17
Name Drop will let us share contact details by simply putting our iPhone next to someone else's or using a new gesture. Some people are commenting that they're amazed this one has taken Apple so long.
A live voice mail transcript feature will let you listen in as a caller records a message - yes, a little like the way old answering machine tape recorders used to let you screen your calls. You'll be able to leave a Face Time message when you call someone and they can't answer.
The announcement of #NameDrop at #WWDC23📷 has me scratching my head... I mean, I've been sharing contact information via NFC for years. So NameDrop = #SexyNFC, right!? pic.twitter.com/BnGGForaTMJune 5, 2023
Mac Studio M2 Ultra and Max

We mentioned below the WWDC announcement of the new MacBook Air 15. Here are the specs for one of the other two big pieces of Mac news: the Mac Studio updated for M2 Ultra and Max. This is some serious firepower!
Need even more power? The MacPro M2 Ultra looks set to be an absolute beast, and up to 7 times faster than the Intel-powered MacPro. It has a beastly price to match, starting at US$6,999.
iPad OS

Ogling the specs of those Macs, the iPad OS news has flashed by in a blur, but there are lots of Android fans on Twitter laughing at Apple catching up with Android when it comes to more useful widgets and customisable wallpapers. they look nice though. There are new lock screen features too, including features to track live updates such as food orders.
MacOS Sonoma
Widgets are coming to desktop too, as per the demos in the segment on the MacOS which is named after California's famed vineyard landscape. It will also get some new games (er, Kojima's Death Stranding, which was launched in 2020), a new video conferencing tool, and web apps and Passkeys in Safari. Families will be able to save and edit passwords and there will be Safari profiles for better organisation.
AirPods news
Adaptive Audio mode for AirPods will aim to intelligently switch between transparent and noise cancelling depending on the types of sound around you. On AirPods Pro, it will silence your music when you start speaking.
There's also some news about AirPlay coming to hotels, while SharePlay will let car passengers hijack the audio during a journey.
WatchOS 10 time, and what? Snoopy and Woodstock are coming?!

Oh, and there are live widgets and some new cycling and hiking features: compass and Maps will get updated for hiking measurements. Some nice new health app features too, including for mental health. New tools include sunshine exposure tracking and measurement of screen distance for kids.
But Snoopy and Woodstock!
It's time for the BIG announcement! The rumours were true. Apple's VR/AR headset is here. Vision Pro, which Cook describes as the first Apple device you'll look through instead of at.
Apple Vision Pro

Our first glance of the Vision Pro operating system, which were told 'feels like magic' through the way it's controlled by our hands and eyes. Apple Vision Pro will rely on your eyes and your hands for navigation. It will track and reveal our eyes to others using a feature called EyeSight.
Apple is calling Vision Pro a new kind of computer: spatial computing. An augmented reality headset that blends virtual reality with the real world. It seems to depend highly on the usual Apple apps, but you'll see them floating in front of you - it's not clear yet how powerful the apps will be, but Apple's saying you'll be able to use your Mac inside Vision Pro, making it "perfect for the office or working remote". The spatial FaceTime experience looks pretty wild.
The most Black Mirror-like feature is a 3D camera that promises to allow us to capture memories with spatial audio so we can "relive" them as if we're really there. It will also have a unique 3D movie viewing experience, which Apple says no other device can compete with.
Disney is onboard!
It's offering a sneak peak of what it will be bringing to Vision Pro, including unique ways to experience sports. Disney Plus will be available for the VR headset from day one.
"We studied thousands of heads". That's in the running for the quote of the event.
So the Apple Vision Pro headset displays boasts more than 23 million pixels, more than a 4K TV. The VR headset is powered by Apple's M2 chip, but also a new chip called R1, which processes the masses of data involved, including input from 12 cameras and sensors that face forwards, downwards and inwards on your eyes. It's been designed to reduce lag to avoid motion queasiness.
One detail that's raised a few eyebrows is the battery life. Vision Pro will work all day plugged in, but only around two hours on battery (perhaps strange then that it showed Marvel films, that tend to clock in at longer than that. That said, I'm not sure how I'd be feeling after more than two hours in AR or how healthy it will be.
And that's it. The Apple WWDC 2023 Keynote is over. It was a two-hour blizzard of hardware and software news. But despite new Macs and a host of new features for all Apple operating systems, Apple Vision Pro stole the show, and delivered on Tim Cook's promise of the most exciting WWDC yet.

I've been looking at the reaction to Apple Vision Pro on social media, and the mood is generally 'mindblown' emojis, 'OMG's and 'WTF's. Some are concerned about the disconnect that could ensue if Apple's idea is for us to live in these things, and it did seem a little hypocritical to announce this 10 minutes after revealing that WatchOS will have a feature to help kids not sit with their faces too close to their screens. That felt like a strange token gesture after Apple announced that it's putting our faces INSIDE screens.
But more than a few people are comparing this the launch of the iPhone in 2007. Some have noted that aside from the entertainment and work uses, it could also be a massive game changer for students in certain disciplines.
Of course, the price is an issue, with the headset to start at $3499. "3D family movie night. Starting at only $14,000," one person commented on Twitter.
This is how medical students will enhance their studies using AR. #VisionPro pic.twitter.com/mqEfp9tzc8June 5, 2023
WWDC has been and gone, so we'll be leaving the blog now. The Apple Store is back online for those that want to start making their preorders for those new Macs.
There's Vision Pro yet, I'm afraid. Apple's VR/AR headset won't be released until early in 2024, but the new 15-inch MacBook (pictured) and the new Mac Studio and MacPro are available to order now and will ship from 13 June, which is just a week away. Here are the links: