Platform: Web, iOS, Android, Mac, Windows
Price: Free
Whether you're at your desk or out and about, there's a version of Fotor ready for you to take care of any essential photo editing. It comes in mobile, web and desktop app flavours, and features a full suite of tools that should cover most of your immediate editing needs.
If you want an instant fix there's a one-tap enhance button that you'll either love or hate, and if you need more control you'll find tools to resize, crop, rotate and straighten your images, as well as a background remover. Fotor also packs some handy retouching tools such as red-eye and wrinkle removal, and there's even a HDR image creator and tilt-shift editor if you want to turn to turn your photos into something a little more epic.
Platform: iOS, Android
Price: Free
Pixlr claims to be "the most popular online photo editor in the world", which may have something to do with the fact that it's free. But it also boasts more than 600 effects, overlays, and borders and lets you do all the main things you'd expect from a photo editor, from cropping and re-sizing to removing red-eye and whitening teeth.
And if you're used to using Photoshop you'll find Pixlr's user interface easy to pick up quickly, as it's very similar.
Platform: Linux/Windows/Mac
Price: Free
An open-source photo editor that debuted on Unix-based platforms, GIMP stands for GNU Image Manipulation Program. Today it's available in versions for Linux, Windows and Mac. GIMP offers a wide toolset – everything you're accustomed to is within easy reach, including painting tools, colour correction, cloning, selection, and enhancement.
The team that oversees development has worked hard to ensure compatibility too, so you'll be able to work with all the popular file formats without any trouble at all. You'll also find a very capable file manager built in, along similar lines to Adobe's Bridge.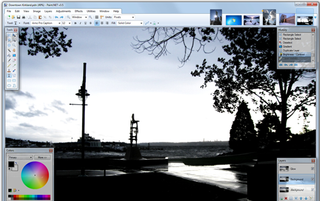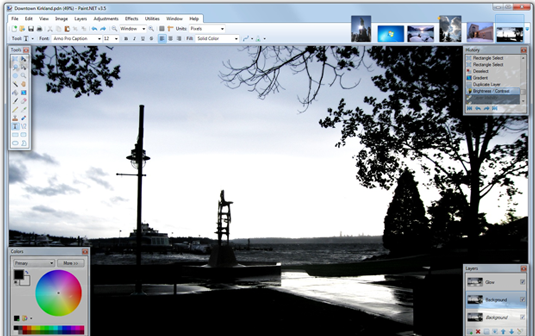 Platform: Windows
Price: Free
Paint.net is a surprisingly capable and useful tool, available completely free of charge. The focus is on ease of use, and there's a definite tendency towards photo editing rather than artistic creation.
That said, there are a range of special effects available, allowing you to easily create fake perspective, blend and push pixels around the canvas, tile and repeat selections, and so on.
A good range of selection tools, support for layers, and adjustments such as curves and brightness/contrast mean that Paint.net is a great alternative to Photoshop for photo editing, especially if you can do without some of the more recent additions to Photoshop's toolset.
Platform: Web browser (requires Adobe Flash Player)
Price: Free for basic online version
Sumo Paint is a highly capable browser-based image editor. All the standard features you'd expect from a desktop tool are present and correct and by buying the Pro version for $19 you can install a desktop version of the app if you prefer. You need the Adobe Flash Player to use this tool, so you're not going be using Sumo Paint on your iPad.
The standard range of tools and adjustments you'd expect are all included. Brushes, pencils, shapes, text, cloning, gradients and so on are all quickly accessed from the Photoshop-esque floating toolbar. It can also open saved documents from your hard drive, making Sumo Paint a perfectly viable option for editing and reediting.
There are, however, limitations that will put off some users. The most important of these is that the editor appears to be RGB only, limiting its use to screen-destined artwork only. No CMYK, Lab or other colour models to be found here.
Platform: Web browser/iOS/Android
Price: Free
Aviary is a pleasantly designed app that strikes the perfect balance between serious photo editing (with blemish removal, tooth whitening, resizing and adjustments) and playful photo-decoration functions (such as stickers, coloured overlays and the ability to add mem-style text) without looking bland or childish.
Related articles: