A piece of AI art with the extravagant title Théâtre D'opéra Spatial became notorious a year ago after it won a fine art competition. And now it's in the headlines again for a different reason. The epic sc-fi fantasy scene may have won a prize, but its creator has a problem: he can't copyright it.
The artwork was created using Midjourney, a platform that features in our pick of the best AI art generators. The judges apparently didn't realise that when they named it the winner of the digital art category at the Colorado State Fair, but the US Copyright Office isn't so easily fooled.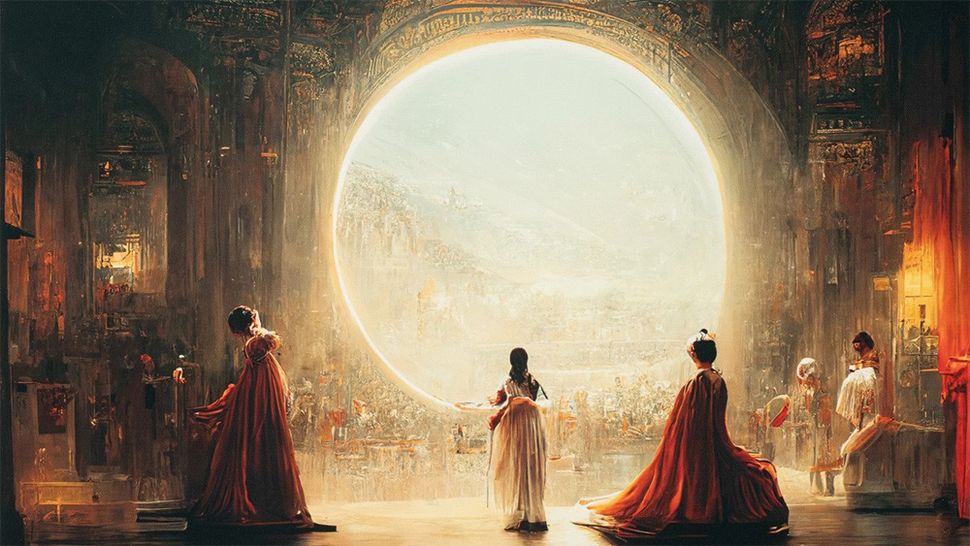 Artists were appalled when Théâtre D'opéra Spatial won its prize last year. Matthew Allen, who generated and submitted the piece, had written "via Midjourney" on his entry, but judges appeared either not to have seen or not to have understood the reference to a text-to-image generator that, back then, had only been around for a couple of months.
The scene was fairly typical of the kind of pieces being produced using the Discord-based model at the time. Midjourney has advanced hugely since then, but 12 months ago, its output tended to have a quite distinctive style. Allen claimed to have spent weeks generating images to get the one he wanted before editing it in Photoshop and upscaling it using AI Gigapixel to be able to put it on canvas. Artists weren't convinced, but the judges stuck to their decision, welcoming the "great conversation" that it provoked.
The digital art category at the Fine Arts competition has people talking! At the Colorado State Fair, we think this brings up a great conversation. With advancing technology, the discussion of AI and art helps the Fair evolve from year to year.https://t.co/QouAArB4EI pic.twitter.com/kzLrnCwbvsSeptember 1, 2022
Since then, Allen has tried to copyright his prize-winning work. But this week, the US Copyright Office issued its third, final decision on the matter. It's view is that human authorship is a necessary prerequisite for copyright. And it's a decision that could impact on the popularity of AI art generators.
In his appeal, Allen had argued that an "essential element of human creativity" was needed to use Midjourney and that he had input "at least 624" text prompts before the image generator produced what he was looking for. He also argued that his work should be registered under fair doctrine because it was a transformative use of copyrighted material. "The underlying AI generated work merely constitutes raw material which Mr. Allen has transformed through his artistic contributions," his appeal claimed.
But the office said that Allen's contributions would only allow him to copyright the specific parts of the work that he edited in Photoshop; not the whole image. The decision raises questions. Artists using AI may be included to start making more significant edits to AI-generated images to try to sufficient human authorship to gain copyright, but it's not been defined how many tweaks would be needed.
Allen has vowed to take the matter all the way to the Supreme Court. A lower court recently agreed with the Copyright Office in the case of another AI art copyright application, but it seems increasingly likely that the Supreme Court will have to decide on the matter for good. If you're not put off using AI image generators in the meantime, see our round up of the best AI art tutorials out there.