Just when you thought AI photo apps couldn't get any creepier, along comes one that lets us talk with people in photos. The Japanese company EmbodyMe's Xpression Chat uses ChatGPT and a library of 50 voices to allow 'conversations' with photographs of anyone – really anyone: celebrities, strangers, lost loved ones... even pets.
The company thinks this has potential business uses, for example, to give faces to virtual sales reps (as if speaking to a chatbot with a face will be any less frustrating). But who's it fooling? People are mainly going to use it to chat with their celebrity crushes as humanity spirals towards an ever-bleaker scenario of tech-induced social isolation and disconnect from the real world. But hey, imagine the stilted conversations you'll have with an RP-speaking Kanye West (see our pick of the best AI art generators for more generative AI tools).
Available for Android and iOS, Xpression Chat allows users to upload a photo of any person to, in theory, have lifelike conversations with them. The app turns photos into moving avatars using the tech behind EmbodyMe's existing Xpression Camera app, which can animate faces from photos. It integrates the AI chatbot ChatGPT and a library of voices to add another, more interactive layer to the madness.
Even the company's own promotion is deliriously creepy. "Imagine having intimate daily chats with your favorite celebrity as if they were your beloved," it says. "Build the courage to declare your feelings to your secret love by practicing with their interactive image. Delve deeper into your connection with your pet, or reminisce fondly by engaging in conversation with a dearly missed grandparent." Pity the poor teenager whose secret love doesn't respond the same way as ChatGPT.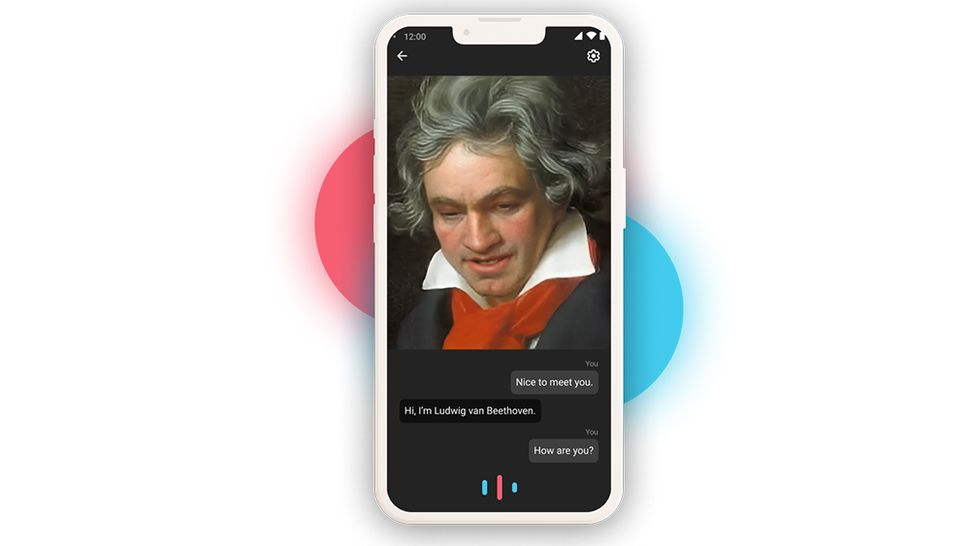 As well as ChatGPT's often uncanny responses, there are the accents to get over. Fifty voices may sound like a lot, but not when you consider that this covers a range of languages. The Portuguese footballer used in the company's demonstration has a curiously British-sounding voice. Add to that the fact that users can define details about the person, including character traits, to guide the conversation, it suggests they could give celebrities some wild personality transplants.
EmbodyMe says people have already been using its Xpression Camera app in meetings and live streams although it hasn't specified how. It says it intends to pitch Xpression Chat software developer kits for Android, iOS, Windows and Mac to businesses so they can use it to create virtual representatives for apps, websites or digital signage. It suggests such avatars could give directions in airports, communicating in multiple languages. Hey, maybe we could have John Lennon giving directions around Liverpool John Lennon Airport (it wouldn't surprise me after the awful John Lennon AI we saw a few months ago).
Xpression Chat is free to use with a default image up to five times a day. Premium membership allowing unlimited photos and chats will cost you $7.99 per week or $79.99 for a year. A lifetime subscription costs $244.99. See our roundup of the best AI art tutorials for more on generative AI, or see below for the best prices on Creative Cloud to get access to Adobe Firefly.