Procreate is a digital graphics editor that's been designed to be used with an iPad, unlike some applications that are designed primarily for PCs and laptops and offer a scaled-back mobile app. As the experts in both digital art software and iPads, we are perfectly positioned to help you decide which is the best iPad for Procreate, after all we've tested every iPad personally so we should know.
When buying an iPad for Procreate, you should bear in mind that the latest version requires iPad OS 15.4.1 or newer, so you need an iPad that is able to run that software. If you're unsure, don't worry, as every iPad in this guide will be able to run Procreate. It's also worth pointing out that some features in Procreate, such as FacePaint, require certain additional specifications to work. In this case it's the A12 chip or a TrueDepth camera. While most compatible iPads will have this, the iPad Air 2 and iPad mini 4 are unable to use FacePaint.
No matter what Procreate iPad you use, the experience is a lot better if you use an Apple Pencil or Apple Pencil 2 stylus, as Procreate has been designed to fully support the stylus, and it can make creating digital art with the app feel much more natural and intuitive. It's also worth noting that other iPad styluses are not supported.
The best iPad for Procreate available now
Why you can trust Creative Bloq Our expert reviewers spend hours testing and comparing products and services so you can choose the best for you. Find out more about how we test.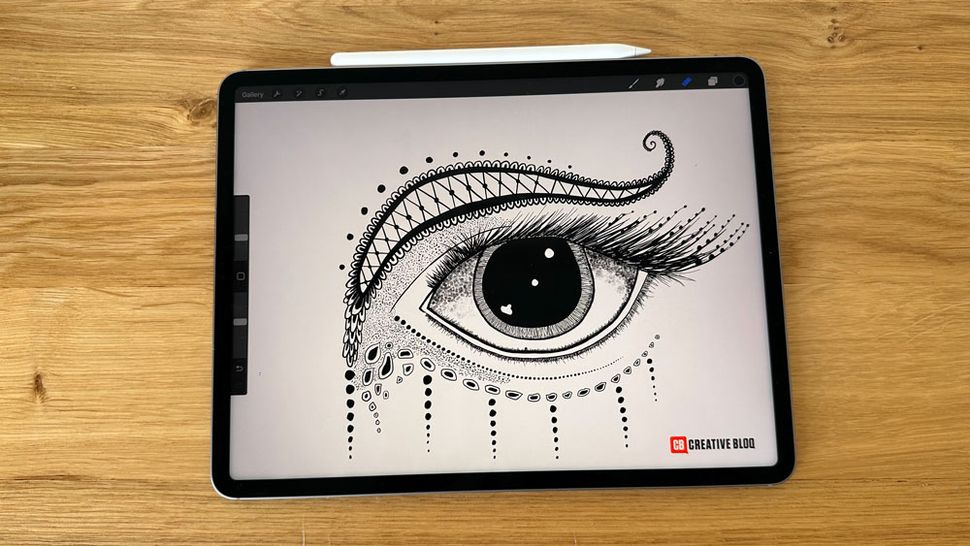 The newest 12.9-inch M2 iPad Pro is by far the best iPad for using Procreate if you're looking for the very best performance and a large screen to work on. Our reviewer dubbed it the "King of iPads", because it's powered by Apple's fast M2 chip, the same found in the powerful MacBook Pro 13-inch (M2, 2022). That means Procreate is fast and fluid, and its mini-LED XDR display means your work will look fantastic, thanks to high brightness as well as local dimming.
The large screen also means you have a lot of workspace to use, and that means it can be an incredible digital canvas that is also comfortable to use. However, bear in mind that this means the overall size of the iPad Pro is very large compared to other iPads and tablets, so you may find it less portable.
Paired with the Apple Pencil 2 and you have one heck of a Procreate iPad. However, this is a very expensive iPad, and if you don't need the pure power on offer here, then there are much more affordable iPads that will run Procreate just fine, but won't damage your budget quite so severely. See our iPad Pro (M2, 2022) review for more information.
The most affordable iPad in Apple's latest lineup is the iPad (2022), and it's a brilliant iPad for Procreate if you can't afford (or simply don't need) the iPad Pro. This iPad features enough power to run Procreate, and comes with features found in more expensive modern iPads – but without the high price point (though it is more expensive than previous iterations of the iPad).
But for that price hike, you get a nice large 10.9-inch screen, which is brighter than ever, and comes with a USB-C port and excellent battery life. The camera has also been improved for video calls, which is handy if you want to chat with customers (or friends and family) remotely.
There are some compromises, however, It uses the A14 chip, rather than the more powerful M1 or M2 chips now found in higher-end iPads, so while Procreate runs fine, you don't get quite as slick an experience.
It's also only compatible with the first Apple Pencil, not the second generation. While this is still a fine stylus, you do miss out on a few extra features. However, for the price, the latest iPad is the best value Procreate tablet you can buy right now. Read more in our iPad 2022 review.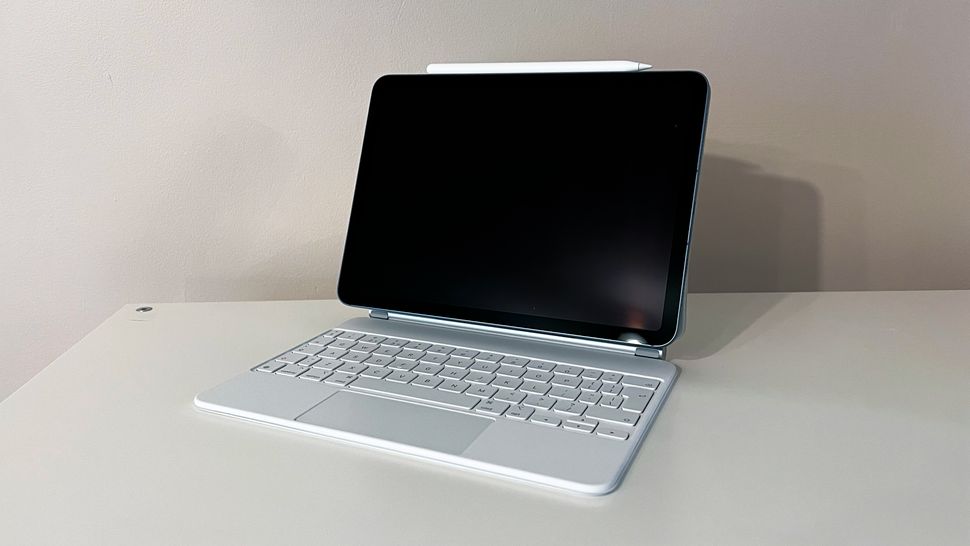 If you're after the best thin and light iPad for Procreate, the latest 5th generation iPad Air will be the one for you. Apple has given this new model a big specs bump, and it now comes with the mighty M1 processor, granting it the kind of performance you used to have to pay a lot more for with the iPad Pro. Our reviewer called it a "pretty astounding creative computer" and decided it's more than enough for most users
The 1640 x 2360 Liquid Retina IPS LCD screen makes anything you make in Procreate look fantastic, but its real selling point is its portability. Weighing just 462g, with dimensions of 247.6x178.5x6.1mm, this is an iPad that you can take pretty much anywhere with you, allowing you to fire up Procreate no matter where you are.
The latest iPad Air also comes in five colour options, so there's more personalisation, and it works with the Apple Pencil 2, so you get all of those great extra features. The one thing that does disappoint us, however, is that it only comes with two storage sizes: a 64GB version, which is really too small these days, and a 256GB one, which may be too big for some people. Meanwhile, for real power users, we're disappointed that there's no 512GB or even 1TB storage sizes on offer. See our complete iPad Air (5th Gen, 2022) review for more details.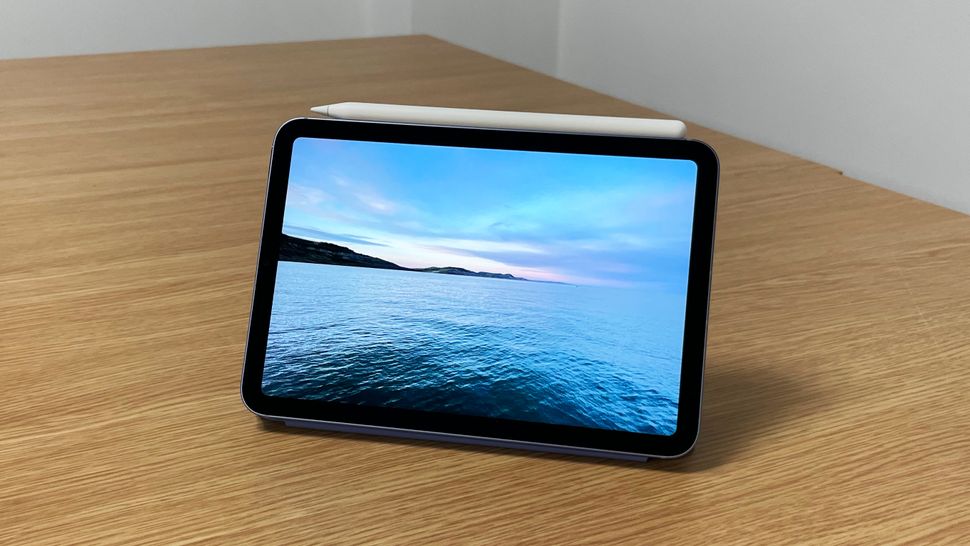 Unlike most of the other iPad models, the iPad mini didn't get an update last year, so the 2021 model is still the most recent one you can get. The good news is that it remains a brilliant tablet, and Procreate runs well on it.
Our reviewer said the only potential downfall to the mini is the 8.3-inch screen (which is an increase on the 7.9-inches of previous models). But if you're looking at the mini, you probably know that it's going to be small, right? It doesn't give you a huge amount of space to work on, but it is easy to carry around with you. Sure, you may not want to work on huge and complex projects in Procreate on this iPad, but it's ideal for sketching ideas and quick doodles when out and about.
That's not to say that the screen is bad, as its Liquid Retina display with 2266x1488 resolution at 326 pixels per inch is still impressively crisp and vibrant, despite its size.
It also packs plenty of power thanks to the A15 Bionic chip, USB-C support and 5G connectivity. You can use the Apple Pencil 2 with it, too. Read more in our full iPad mini (6th gen) review.
Apple doesn't really do 'budget' devices, but if you don't mind settling for older models, you can pick up some great Apple products for a lot less than the most recent versions. The fact that Apple's product can last a good few years before showing their age means you shouldn't fear going for an older model, either. Even at time of release our reviewer said it's "massively capable for its price", and this is even truer now it's even cheaper.
While it doesn't boast the improved internals or newer look of more recent iPads, it is still perfectly good enough for Procreate, and the lower price makes it a great choice if you want to save some money. The 2021 model has a 10.2in 1620 x 2160 LCD screen, which is large and comfortable enough to work on, and yet still perfectly portable.
It's worth pointing out, however, that it only supports the first generation of Apple Pencil. This is still a fine stylus for working on Procreate with, but you do miss out on some of the newer features. For more information, read our more detailed iPad 10.2 (2021) review.
Which iPads support Procreate?
To run the latest version of Procreate you need to have an iPad with iPadOS 15.4.1 or newer installed. The following iPads support Procreate:
iPad Pro 12.9-inch (1st, 2nd, 3rd, 4th, 5th and 6th generation)
iPad Pro 11-inch (1st, 2nd, 3rd and 4th generation)
iPad Pro 10.5-inch
iPad Pro 9.7-inch
iPad (5th, 6th, 7th, 8th, 9th and 10th generation)
iPad mini (5th and 6th generation)
iPad mini 4
iPad Air (3rd, 4th and 5th generation)
iPad Air 2