Shopping for the best drawing tablets? It's a tougher task than you might have expected! There's absolutely loads of choice out there, and even when you plug in your specific needs and your budget, you'll probably find you have several viable options on your hands. So, how to choose?
We've put together this guide to help artists of all stripes, from working professionals looking for the next upgrade, to total newbies who are completely new to the whole world of drawing tablets. Whether you want a dedicated surface for drawing and nothing else, or a more rounded tablet that you can use to watch Netflix once you've clocked off for the day, you'll find it in our guide.
We've got fifteen picks here, which may seem like a lot, but we wanted to make sure we covered a selection of price points, manufacturers and skill levels. You'll see plenty from Wacom, who are considered market leaders in this area, but don't count out other manufacturers! Competitors like XP-Pen and Huion are producing fantastic tablets at prices designed to undercut Wacom, so you can stand to make a saving by considering their products.
We've also included the best iPad for drawing right now, if you want your tablet to do a little more than function as a drawing pad. It comes at a cost of course, but it can definitely be worth it for the sheer quality that you get. With a multi-functional stylus and loads of drawing apps at your disposal, an iPad is undoubtedly a powerful tool for artists.
Our guide has all sorts of tablets, including some that cost thousands and some that cost less than a takeaway for four, so take a look through to find the level that's right for you. If you're shopping for a little one, check out our round up of the best drawing tablets for kids for all the little artists in your life too.
The best drawing tablets available now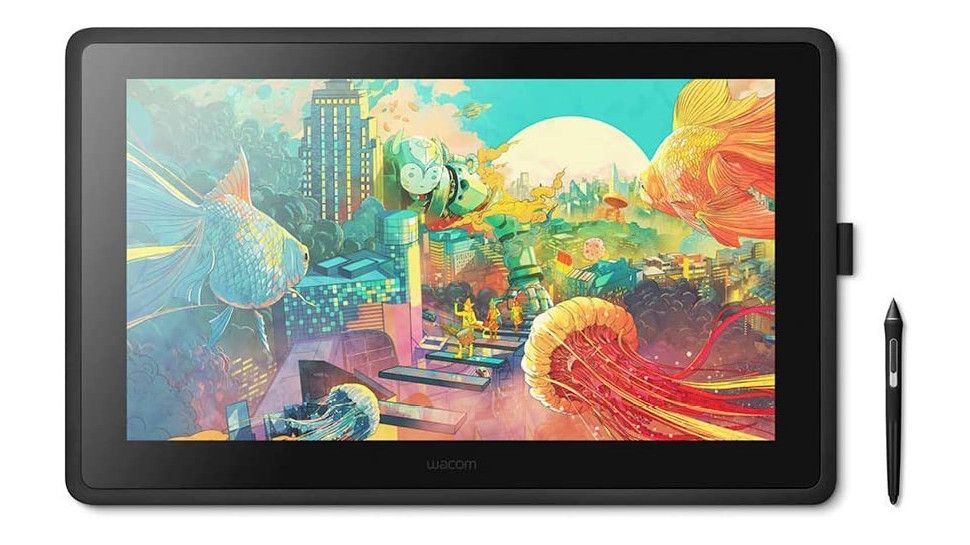 Wacom has put together what we consider to be the optimal balance between functionality and affordability in its Cintiq 22 drawing tablet. The large, Full HD drawing screen is delightful to use, with immense freedom to make broad, sweeping pen strokes. The surface too is well-designed, with an anti-glare finish, and the provided Wacom Pen 2 has extensive pressure and tilt sensitivity, for capturing the subtlest variations in angle and movement. It's just immensely satisfying to use, as good for artists near the start of their journey as it is for seasoned professionals looking to upgrade.
If you need even more quality then seek out the Wacom Cintiq Pro 24. For an optimal balance between price and functionality, however, we reckon the Wacom Cintiq 22 is top of the pile right now.
Read more: Wacom Cintiq 22 review
Apple refreshed its exception iPad Pro 12.9 for 2020, and now this class-leading tablet performs better than ever thanks to its new A12Z Bionic chip with an 8-core graphics engine. Drawing with the Apple Pencil – which you do unfortunately need to pay extra for – is a sublime experience, and there are loads of little intuitive touches to make the artist's life easier, like automatically charging the pencil when it's attached to the magnetic storing strip at the top of the tablet. The Apple Pencil is also tremendously accurate and just feels right, with a pitch-perfect pressure sensitivity curve. All this tech doesn't come cheap, of course, but if you've got the cash for it, the iPad Pro 12.9 is a drawing companion like no other.
All the basics you could want from a pen display are covered by the XP-Pen Artist 15.6: a reasonably sized drawing area, a comfortable pen with plenty of sensitivity levels, and a good screen. You don't get quite the attention to detail or the advanced ecosystem of extras that Wacom provides, and the offset between the stylus tip and the on-screen cursor takes some getting used to, but this remains a pen display that can transform your digital creativity without breaking the bank.
Hands-down one of the best cheap drawing tablets right now, the XP-Pen Artist 15.6 pen display is a perfect starter tablet, or a good choice for anyone who wants an affordable upgrade.
Huion refreshed its lineup in 2020 with the swanky new Kamvas range of drawing tablets, and the Kamvas Pro 24 is the top of the line. Despite being more reasonably priced than big-ticket tablets like the iPad Pro 12.9, it's got pretty serious specs, with a 1440p QHD display that looks utterly fantastic. Its colours are punchy, its details are tack sharp; it's quite simply a joy to behold.
The drawing experience on the Kamvas Pro 24 is immensely satisfying thanks to the supplied stylus with 8,192 levels of pressure sensitivity. You've got a big, satisfying space to work on, and the tablet covers 120% of the sRGB colour gamut, able to display 16.7million colours and ensure your image is always rendered with perfect accuracy.
This is, of course, a brand new tablet, so it's generally for sale at full whack, and the asking price is pretty hefty. For the same amount you can get of the multi-functional tablets on our list, so it may be worth asking yourself if you want to drop that kind of cash on something that's so specialised. However, this is one of the best drawing experiences going right now.
As we've already seen, there are plenty of high-quality professional tablets at the 24-inch mark. XP-Pen's version is simply named the Artist Pro 24, but how does it measure up to the stiff competition from Wacom, Huion and others?
Overall, pretty well! It's got the same QHD resolution as the Huion Kamvas Pro 24, and the same pressure sensitivity of the stylus, though the Huion has it edged a little for responsiveness. The two are currently available for a pretty similar price – both a darn sight cheaper than the Wacom Cintiq Pro 24 – though we might expect that to fluctuate as time goes by.
The display of the XP-Pen Artist 24 Pro is an impressive piece of technology, capable of displaying up to 90% AdobeRGB. It's a sizeable piece of kit – sprawl it out on your desk and you likely won't be able to see much of said desk. A stand at the rear lets you adjust the height, and could do with a few more increments perhaps, though really this is splitting hairs. The XP-Pen Artist Pro 24 is a really solid choice for anyone who's looking for a professional-grade tablet at a non bank-breaking price.
One of the latest of Microsoft's impressive laptop/tablet hybrids, the Surface Book 3 is very clearly a premium product from the moment you take it out of the box. Its build quality is gorgeous, and the display looks exceptional. Once you add the highly impressive Surface Pen to the equation (which does add an extra £100 or so onto the already not-inconsiderable cost of the enterprise) then you've got a fantastic drawing tool that'll synergise beautifully with any Windows workflow you already have going. If this isn't quite enough display for you, there's also a 15-inch version – though this of course jacks the price up still further.
Undercutting Wacom considerably on price, the XP-Pen Deco Pro is an alternative to the likes of the Intuos Pro, offering a smaller slate of features but for about a third of the cost. So while the software drivers are a little janky, the fundamental drawing experience is rock-solid. The pen may not have the premium feel of a Wacom, but it still offers 8,192 levels of pressure sensitivity, and the overall design of the tablet has picked up a Red Dot awards. This isn't just a cheap knock-off – it's a premium knock-off, and if you're an artist on a budget, it definitely merits consideration.
Read more: XP-Pen Deco Pro review
Wacom's newest tablet, launched at CES 2020, the confusingly named Wacom One (not to be confused with any previous Wacom Ones) is an excellent and portable 13-inch tablet at an extremely competitive price point, no doubt designed to tempt users away from cheaper brands like XP-Pen. Its Full HD display provides 72 per cent NTSC colour and an anti-glare treated film, and the tablet even comes with little legs for standing up when you're out and about and want to quickly get some ideas down. An ideal tablet to slip into your day bag, the Wacom One provides a great drawing experience without costing the earth.
Read our in-depth Wacom One review for more on exactly what to expect from this device.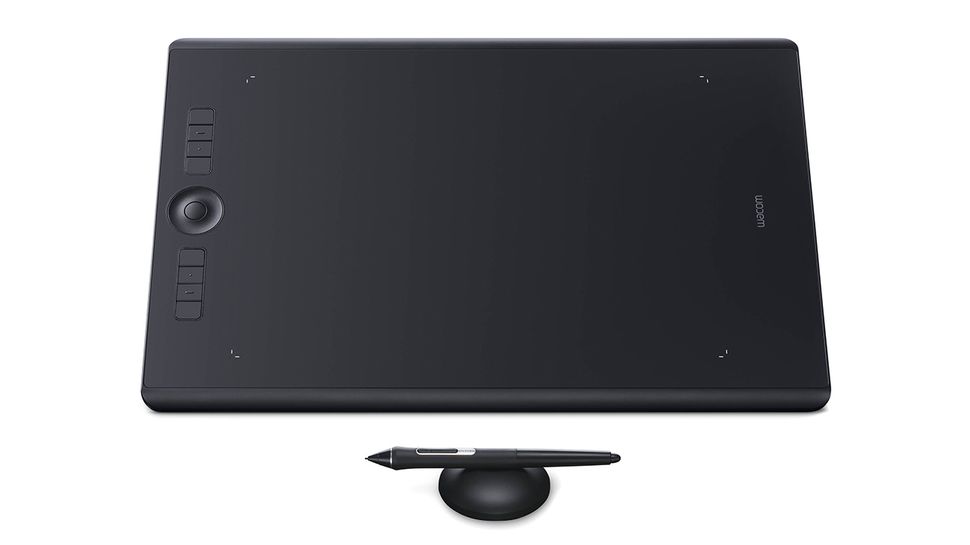 When you're creating artwork, you want room to sketch freely and a pen that feels as close as possible to the paper equivalent. You'll find both in the Wacom Intuos Pro Large graphics tablet: it's one of the purest drawing experiences you can get from a digital device. The pen provides over 8,000 levels of pressure sensitivity and a drawing area that – while it's not the biggest available – gives you more than the area of a magazine to play inside. All this is supported by Wacom's broad ecosystem of alternative pens and Texture Sheets to give your drawing surface a distinctive feel.
Find out more in our in-depth Wacom Intuos Pro review.
Designers don't typically require the range of movement that illustrators demand, making this smaller edition of the Wacom Intuos Pro (medium) graphics tablet just the job. As well as the drawing area, eight shortcut keys and a Touch Ring give you access to your most-used commands and tools, so you don't have to keep flipping between your tablet and your keyboard while you're focusing on iterating a concept. The Intuos Pro also supports multi-touch fingertip gestures, making it easy for you pan and zoom around your current document.
It may have the 'Pro' designation in its name, but the extremely competitive price point of the Wacom Intuos Pro Small means that it's an ideal choice for the ambitious novice with plans to develop their skills. It's light enough to take everywhere, but also durable and solidly built, with all the commands and functionality of its Medium and Large siblings. The unbeatable pressure-responsiveness of the Pro Pen 2 gives it true creative depth, while the small footprint makes the Intuos Pro Small easy to take wherever you need to go.
Read more: Wacom Intuos Pro Small review
If you're not sure whether a drawing tablet is something you'll use regularly enough to justify the cost, the second Huion tablet on our list, the H430P, gives you all the basics without requiring an big investment. The drawing area is small, yes, but the pen is sensitive enough to give you a true sense of the creative benefits drawing tablets can bring. It may not take long before you outgrow this tablet, but it's a very affordable way to get started.
While not as affordable as some of its rivals from XP-Pen and Huion, the Cintiq 16 Creative Pen Display – Wacom's 2019 entry-level tablet – is still much more attractively priced than many of its expert-oriented siblings. In the entry-level market it also has a trick up its sleeve in the form of the Pro Pen 2 stylus, which tops out at 8,192 levels of sensitivity, beating many similarly priced tablets.
In our Wacom Cintiq 16 review we found a lot to like about this device, especially its gorgeous display that shows off all the hallmarks of Wacom quality. It's really encouraging to see Wacom entering the new-user space, with a price point to match, and the Cintiq 16 is a welcome example of a Wacom tablet that doesn't require absolute fistfuls of cash to acquire. This is a fantastic entry point for any designer.
XP-Pen's Deco tablets blend style with functionality, and the Deco 03 is no exception. This matt black, ultra-sleek model doesn't only look good, but also feels good to use, thanks to its well-made pen and generous drawing area. It's well-designed in a workflow sense too, with customisable Express keys and a multi-functional dial in the top corner that allows you to set things up exactly how you want them, so you can spend less time fiddling and more time drawing. Drawbacks? Well, you could be justified in worrying that at 8mm, the Deco 03 is a little too slim, to the point where a moment's carelessness might cause damage to it. If that doesn't worry you, this is a great buy for a good price.
If you have the budget, the MobileStudio Pro 13 offers everything you could want in a drawing tablet. With a choice of Intel Core processors and solid-state drive storage capacities, it's a fully fledged Windows computer. But it also benefits from the same technology Wacom brings to its Cintiq pen display range, making the MobileStudio a pleasure to draw with. And if you want, you can even tether it to the more powerful PC or Mac in your studio with the optional Wacom Link. A 16in MobileStudio is also available.
Also read: Wacom MobileStudio Pro review
The best drawing tablet accessories
Wacom Pro Pen 3D
A third button may not sound much of an innovation, but it enables the Pro Pen 3D to support pan and zoom in three dimensions, giving 3D artists unfettered navigation at their fingertips.
Wacom Inking Pen
For that traditional feel, the Inking Pen enables you to place a sheet of paper on your Wacom tablet then draw onto it with ink, while the tablet captures your drawing movements at the same time. The Inking Pen is only for Intuos tablets: it can damage the screen on Cintiqs and MobileStudios.
Adonit Jot Pro
If the Apple Pencil doesn't appeal or your iPad isn't compatible, the Adonit Jot Pro is a stylish pen that works on any iPad (or Android tablet). The nib, combining a fine-point tip with a plastic circle to register on the tablet screen, looks curious but works well in practice.
The best drawing tablets: What are the different types?
Broadly speaking, there are three main types of drawing tablet. Each takes a different approach to the central challenge of helping you draw on your Windows PC or Mac as if you were drawing on paper.
In terms of drawing tablets, there's everything from professional, high-resolution graphics tablets, to portable tablets that cost less than £40 and fit in a small backpack. There's also a growing market of drawing tablets for little ones, and you can check out our dedicated drawing tablets for kids guide if this is something you're looking for. Want to go unplugged for a bit? Have a look at our best lightboxes for more hands-on creativity. And if you're looking specifically for a tablet for editing, see our best tablets for photo and video editing.
Graphics tablets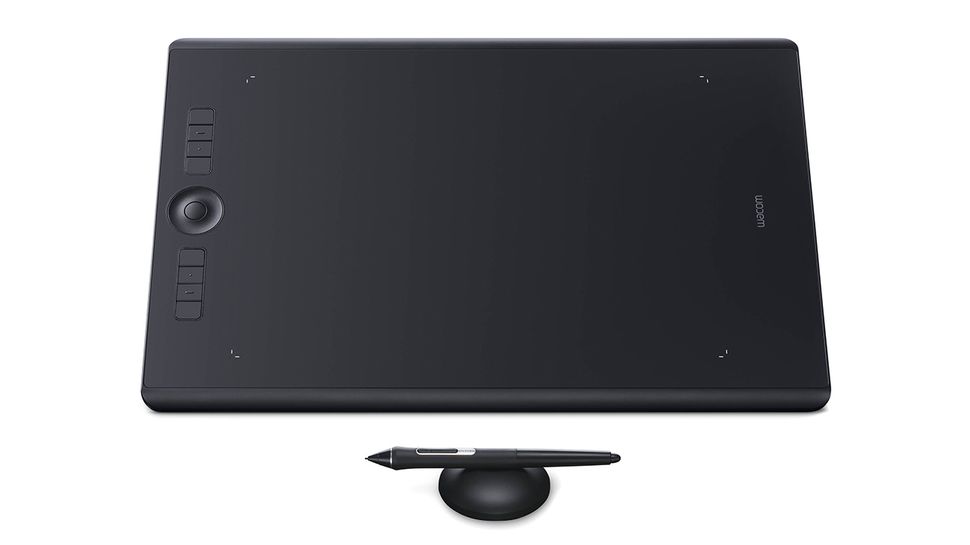 The traditional drawing tablet features a flat, featureless surface that you draw on with a stylus, with the image displayed on a computer monitor. Graphics tablets remain the most affordable drawing tablet category. Their main disadvantage is the sense of 'disconnect' between the drawing surface and the screen, although most people get used to this quickly.
Pen displays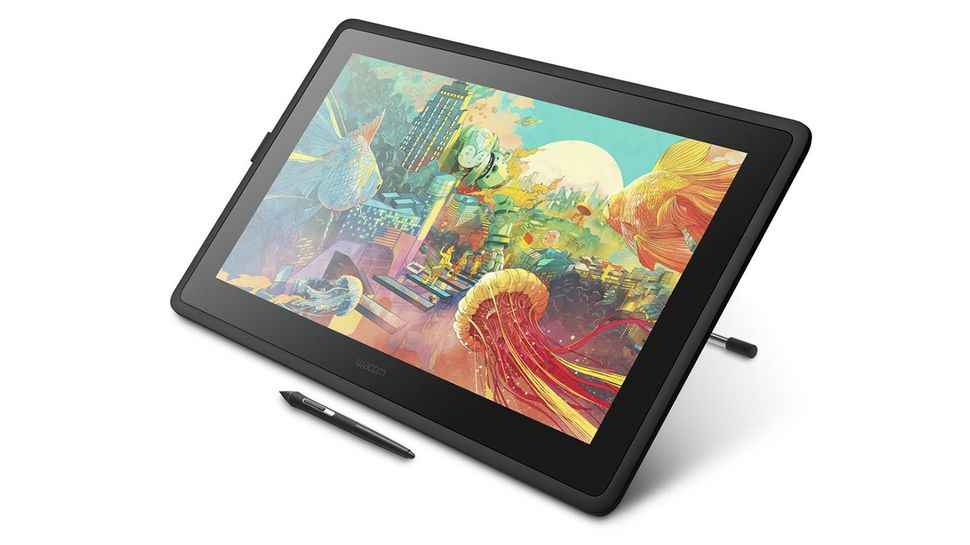 Pen displays consists of a flat-screen monitor with a pressure-sensitive surface that you draw on with a stylus. They don't have the sense of disconnect experienced with graphics tablets, are more portable and cost more. However, you get a lot of cables between the display and computer, and the display surfaces don't offer the 'bite' that graphics tablets do.
Tablet computers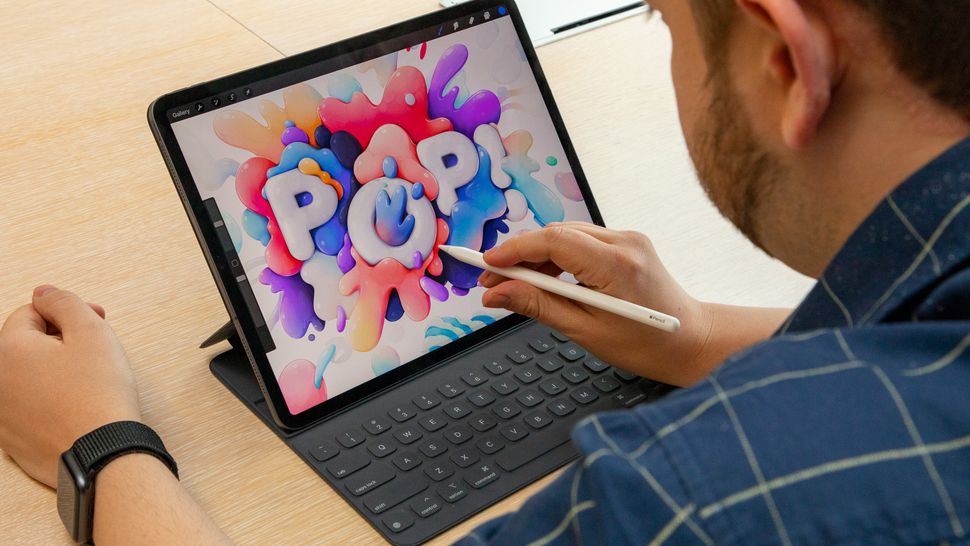 Android and iOS devices like the Samsung Galaxy Tab and iPad Pro take on the other drawing tablets in two ways. You don't need another computer: just download an art app and start drawing with your fingertip or a stylus. Also, when you want to use the Creative Cloud suite on your main computer, these can function as graphics tablets with apps like Astropad.
The best drawing tablets: Which one should you buy?
Right now, we're confident in saying that the absolute best drawing tablet you can buy is the Wacom Cintiq 22, which provides Wacom's famous quality in a pleasingly large tablet at a surprisingly affordable price.
If you're completely new to this market, it's worth pointing out that there are three different categories to be aware of.
Graphics tablets, which you draw directly onto with a stylus
Pressure-sensitive pen displays, which are hooked up to a monitor
Tablet computers, which can be adapted for drawing with an app
Need a recap? Here are the best drawing tablets, graphics tablets and tablet computers right now...
Related articles: