Quick menu
Jump to the quick list↴
1. Best overall: iPad Air (2022)
2. Budget Android: Galaxy Tab S7
3. Best hybrid: Surface Pro 8
4. Best for power: iPad Pro (M1)
5. Best Android: Galaxy S8 Ultra
6. Best budget Apple: iPad (2022)
7. Best alternative: Matepad 11
8. Budget Chromebook: HP X2 11
9. Budget Samsung: Galaxy Tab S8
10. Best Chromebook: Acer Spin 714
FAQs
How we test

When it comes to choosing from the best tablets with a stylus pen there are a lot of brands and models to pick from; it's best to focus on what you need it for, be it digital art, graphic design or digital crafting. In this guide I've listed the best tablets for drawing with a pen as well as those that are good for taking notes.
I personally use an iPad Pro daily for sketching in Procreate, while I have also used the budget-friendly HP Chromebook X2 for streaming and digital art. The tablets in my list have been tested the Creativebloq team, and we use many of them regularly. This is essential to understand how these tablets can differ in size but also latency, resolution and feel – leading manufacturers aim to emulate the sense of using paper and canvas.
The tablets I've selected below are specifically for doing two things, note-taking and drawing, which means they have a different set of criteria to just either or; for example read my guide to the best drawing tablets aimed at creating art and the best e-ink tablets designed for writing. With this in mind, I've selected tablets that can be used to create art and write on, and often the newest and most expensive tablet isn't ideal, so I can save you some money too!
LATEST UPDATES
I'm Editor, Digital Arts & Design at Creative Bloq, and the former editor of many leading magazines, these titles included leading digital art magazine ImagineFX, CG art title 3D World. I have tested and used many of the drawing tablets in my list below, and regularly paint using Procreate, ArtRage and Rebelle. The tablets not tested myself have been reviewed by our experts on Creative Bloq.
The best tablets with a stylus pen available now
Why you can trust Creative Bloq Our expert reviewers spend hours testing and comparing products and services so you can choose the best for you. Find out more about how we test.
Best tablets with a stylus: quick list
Here are my top three picks, with 'read more below' links that will take you to more in-depth detail about why we rate these drawing tablets. Use the side navigation to skip to the most relevant tablet for you.
Best overall
The iPad Air (2022) features the M1 chip found in last year's iPad Pro and supports the new Apple Pencil 2, so for less money you get a comparable tablet.
The display is excellent and vibrant and this is a zippy tablet that also supports Procreate. The only drawback is it refreshes at 60Hz as opposed to iPad Pro's 120Hz.
Read more below
Best budget Android
2. Samsung Galaxy Tab S7+
The older S7+ remains a good buy and because it's always discounted. It has a comparable screen to the iPad Air and has an excellent battery life.
The S7+ has a secret weapon: the excellent Samsung S Pen, which has an Apple-comparable 4,096 pressure sensitivity, good for notes and decent for art.
Read more below
Best hybrid
3. Microsoft Surface Pro 8
If you want to run Windows and full software on a tablet, the Surface Pro 8 is the ideal hybrid. It's not as powerful as the newer Pro 9, but with a Core i5 chip, a great display and unique stylus it really is a Windows laptop in tablet form; and good value.
Read more below
The best tablets with a stylus pen in 2023
Best tablets with a stylus: iPad Air (5th Gen, 2022)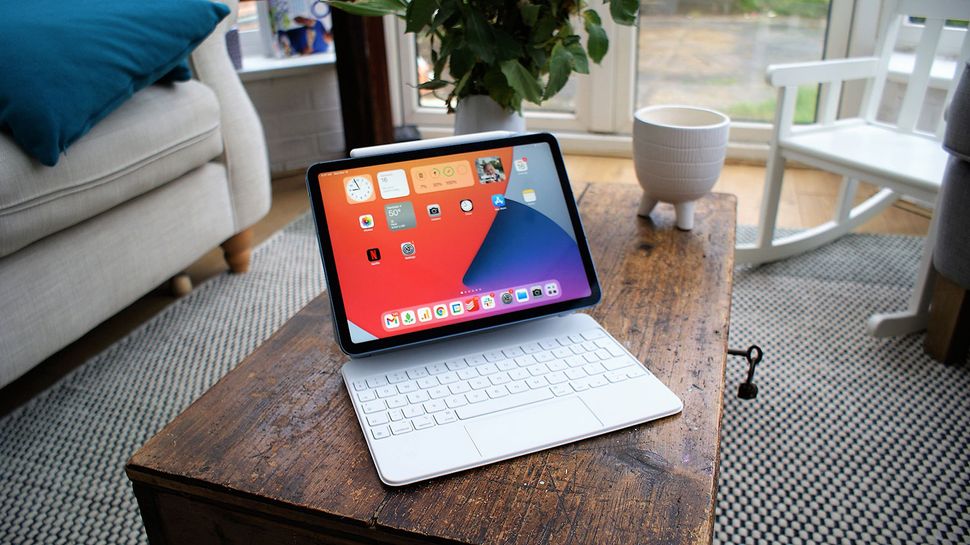 If you can't quite stretch to the price of an iPad Pro, the 2022 model of the iPad Air comes devilishly close. Like the Pro it's powered by an Apple M1 processor with 8GB RAM and eight GPU cores, and in terms of speed it comes as close to the iPad Pro as makes no difference. Just like the previous model it supports the Apple Pencil 2 (which you of course have to buy separately), giving you improved performance and wireless charging.
In our Apple iPad Air (5th Gen, 2022) review we were wowed by its performance and its gorgeous display, with 500 nits. It's a tablet that feels great to use – even if you put it through its paces with intensive tasks, it doesn't stutter. We also, as ever, really rated the drawing feel of the Apple Pencil 2, which is still one of the best drawing experiences on the market, and as with the iPad Pro you also get frighteningly accurate handwriting recognition, making it a great writing tablet and the best note taking tablet.
There's not a huge amount to criticise here. The fact that the iPad Air's screen tops out at a 60Hz refresh rate, as opposed to 120Hz on the Pro, does mean it's not quite as smooth for instant-response drawing. It's the sort of thing you'd only notice comparing them side by side, but the 120Hz experience is notably better.
Best tablets with a stylus: Galaxy Tab S7
Older and less powerful than the Samsung Galaxy Tab S8 Ultra, the Galaxy Tab S7+ is still a great option if you're after one of the best tablets with a stylus for Android users but don't have loads of money to spend. With the S8 now on sale and establishing itself as Samsung's flagship tablet, prices for the S7 range are now falling.
It may not match the power of newer models, but the Galaxy Tab S7+ is still an accessible device that's slimmer than the iPad Pro and has a better battery life, at least if you run it in 60Hz mode. The screen is sharp and vibrant, and its colour display is one of the best around.
This tablet also comes with its secret weapon: the S Pen. This little stylus is on par with Apple Pencil, and is great to use. The 4,096 pressure sensitivity means you can use the stylus like a traditional pencil or brush, ensuring digital life drawing is exceptional. Handily, the S Pen only uses its battery for gestures meaning you can paint, draw and note-take without worry.
The Galaxy Tab S7+ may be less powerful than the Tab 8, the newer best tablet with a stylus from Samsung, but that shouldn't mean you ignore this slightly older model. If you're after a great Android tablet with a stylus for a little less, the Tab 7+ is a good choice.
Best tablets with a stylus: Microsoft Surface Pro 8
The big advantage to Microsoft's Surface Pro range is they can run full desktop software on a tablet, the restrictions of using apps found on Android and Apple tablets are lifted. These hybrid tablet-come-laptops run proper Windows, and will in turn run all the desktop software – such as Creative Cloud apps including Photoshop CC – without too much compromise.
While you can buy the older Surface Pro 7 for less, it's not very good, and you can buy the new Surface Pro for more, but it's overpowered for notes and drawing; with this in mind 2021's Surface Pro 8 is the ideal model for power and value. Surface Pro 8, is a great Windows 11 tablet with plenty of power for digital creatives.
In our Surface Pro 8 review, we were really impressed by the display, which has been improved over previous Surface Pro models. It also synergises really well with Microsoft's excellent Surface Pen stylus; just bear in mind that you'll have to buy that separately.
Best tablets with a stylus: Apple iPad Pro (M1)
If you demand the absolute best tablet with a stylus, it simply has to be the iPad Pro, but rather that opt for this year's latest M2 model, I'd suggest buying the older 12.9-inch M1 2021 version, it's more than have the price. This year-old model remains a super high-end tablet that's capable of pretty much anything a creative pro can throw at it. With Apple's M1 processor it can power through even the most demanding tasks.
In our iPad Pro 11-inch (M1, 2021) review, we were hugely impressed with Apple's tablet. The display, while not up to the resolution of this year's model, is still bright and responsive, "delivering nearly four million pixels in its portable, slimline design" we said last year; it offers beautiful, accurate colours with ease whether you're painting, editing photos, or watching video.
The drawing experience is top-notch, thanks to the other half of this equation – the Apple Pencil 2. One of the best digital pens in the business, this smart little stylus synergises well with the iPad Pro's screen, making for an absolutely superb drawing experience, and it's brilliant for note-taking too; the handwriting recognition in iPadOS has an almost supernatural ability to turn your scrawl into precisely the words you were aiming for.
The stylus isn't bundled in – so you do need to mentally add on $99 or so to the cost of this tablet, but you're getting a very good iPad Pro for less than the current model, so the investment is worthwhile. Still, if you need this tablet, and your budget stretches this far, it's the best you can get (see our Apple Pencil 2 review for more).
Best tablets with a stylus: Galaxy Tab S8 Ultra
The Samsung Galaxy Tab S8 Ultra is a good alternative to the iPad, and shows how the best Android tablets with pens have really come on leaps and bounds. It's a fantastic tablet for artists, with a huge, bright and sharp screen, plenty of processing power and, crucially, Samsung's own S Pen included in the box.
That's a good thing because frankly, the S8 Ultra is by no means cheap. Our Samsung Galaxy Tab S8 Ultra review revealed an Android tablet with stylus that has a lot of functionality for your money, but it's a lot of money and the inescapable fact is that the overall experience is still not quite as smooth as using the iPad OS. The power you get is undeniable though, and that gorgeous display with its better-than-ever refresh rate is a treat to draw on.
Larger than ever, but also razor thin, the Samsung Galaxy Tab S8 Ultra is the best Android tablet with a stylus for drawing, and one of the best tablets full stop. If it's just that bit too dear for you, scroll further down the list and have a look at its smaller sibling, the Tab S8.
Best tablets with a stylus: Apple iPad (2022)
The new iPad is a great tablet that is surprisingly powerful and can handle most creative tasks, including video editing, making it a good buy for those on the go, as it will breeze through note-taking and even artwork using Procreate.
This year's iPad features the same display as the iPad Air (10.9-inches, Liquid Retina) but lacks the power of the M1 chip; realistically it can run the same apps but can't manage everything, all the time, all at once.
The real downside to Apple's entry-level iPad comes from some quirky choice, for example it can use the Apple Pencil but not the Apple Pencil 2, and you'll need to buy an adapter to charge the stylus. In fact, buying extras is really the reason why iPad is lower on my list - you can't use old or existing accessories with this new iPad, meaning you'll need to buy a new Magic Keyboard, Apple Pencil and adapter, raising the cost close to the iPad Air (2022).
In our iPad (2022) review we loved this latest Apple entry-level tablet, writing "it's the perfect choice for those wanting more from Apple's entry-level iPad, but not needing as much power in the almighty M1 iPad Air". But the reliance on accessories adds a question mark over its true value.
Best tablets with a stylus: Huawei Matepad 11
The Huawei MatePad 11 is a low price iPad rival that matches, and in some aspects, betters Apple's entry-level tablet. But your love of this tablet with a stylus can be judged on how many roadblocks you can put up with. Basically, there's a soft trade war between the US and China which means Huawei devices can't run Google, which is kind of a big deal.
Huawei's workaround is to create its own skew on Android called HarmonyOS, which comes with its own Google-like set of docs for writing, editing, conferencing, email and more – it's fast and slick. The big news is HarmonyOS offers a workaround for the Google Store so you can now download and install most apps as direct APK downloads. In our Huawei MatePad 11 review we found the tablet ran everything from Autodesk Sketchbook and Infinite Painter to Netflix and PUBG. Sadly, no Procreate or Photoshop.
That's the bad dealt with, the good news is the Huawei MatePad 11 is technologically superb. Its vibrant 2560 x 1600 pixel screen refreshes at 120Hz ensuring its excellent for digital art, streaming and games alike. The four Harmon-Kardon speakers pack a punch, the device is light and easy to handle, and the M-Pencil is on par with the Apple Pencil. The only gripe is the LCD rather than OLED screen, but we're nit-picking. For the money, if you can cope with Huawei's 'third-way' alternative HarmonyOS, the Huawei MatePad 11 is outstanding value for money.
Best tablets with a stylus: HP Chromebook X2 11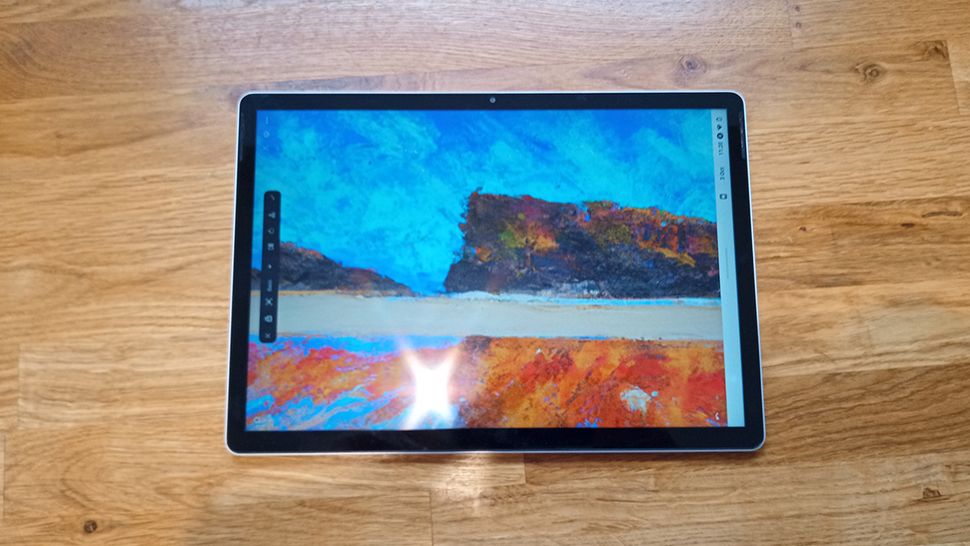 The HP Chromebook X2 11 is a smart Chromebook tablet that offers an excellent 11 hour battery lifespan, a clean and bright screen and the 11-inch screen means it can be packed into a small bag for a day of doodling. Don't fret about the 2K resolution, at this size this display remains crisp and colourful (a 400 nits brightness ensures it's a lively screen).
Now, as the name states this is a Chromebook so you're going to accept some shortcomings – Chrome OS relies on the Google Play Store for apps, which means it's fully supported by the excellent Google office software (Sheets, Docs, etc) but has a limited but good run of digital art apps. Each Google account comes with a free 100GB of data, too.
In our HP Chromebook X2 11 review we found this neat little Chromebook comes into its own with the attachable keyboard and stand that double as protective covers. Unlike the Surface Go 3 and the iPad Air these are freely packaged at no extra cost, turning a tablet into a handy laptop. The HP Rechargeable USI Pen is a nice addition too, and matches the S Pen from Samsung for pressure sensitivity, though both Samsung and Apple stylus are better overall.
Best tablets with a stylus: Samsung Galaxy Tab S8
The Samsung Galaxy Tab S8 is the less powerful version of the Samsung Galaxy Tab S8 Ultra, but you don't always need size and power and the pair share some similar design principles. Like the Ultra the Samsung Galaxy Tab S8 has a lovely display and powerful Snapdragon processor, but it's a lot lighter and more compact, and much better for tossing in a bag so that you can take it out and about with you.
It still comes with the S Pen included, so you get your stylus in the box and don't have to shell out extra. The display is smaller and lower resolution, but drawing on the screen is a hugely pleasant experience. The S Pen works well, with reduced latency than previous iterations.
The only real downside is that the Samsung Galaxy Tab S8 tab sits somewhat in an unclear middle ground. It's nowhere near as expensive as the S7 Plus or the latest iPad Pro, but it still isn't cheap and there are more affordable tablets with a stylus, depending on what you want to use it for.
Best tablets with a stylus: Acer Chromebook Spin 714 (2023)
The new Acer Chromebook Spin 714 (2023) model is a powerful, high-quality and adaptable Chromebook that can 'spin' from laptop to tablet and makes use of a neat pull-out stylus for notes and art.
Making use of the new 12th-Gen Intel Core i5 chip (US buyers can get the even faster, newer 13th Gen i5 processor), this Chromebook packs a punch. It's super-fast and quite, has a beautifully large 14-inch, WUXGA 1920 x 1200p resolution IPS touch display, that means whether your drawing, note-taking or streaming video, everything looks good.
In my Acer Chromebook Spin 714 (2023) review I found this was a premium 2-in-1 computer with a "build-quality that ensures this laptop will last". The higher spec i5 model is expensive, and comparable to the iPad Pro (2021) in many respects, though larger. And this is a Chromebook, so you won't be able to run Procreate or Windows software, but Google is promising more Adobe apps are on the horizon.
Best tablets with a stylus: frequent questions
What should I look for in a drawing tablet and stylus?
There are two things to think about when you're after the best drawing tablet with a stylus: the tablet and the stylus. Often they'll come bundled together, particularly when it comes to dedicated drawing tablets, but sometime (usually in the case of more general purpose tablets) you'll have to buy the stylus separately. So the first thing to establish is what type of tablet you want to use. To are large extent this will dictate the stylus that you'll use.
What should students look for?
A good student tablet depends on what kind of study you're doing. Here I'm looking at general studies and not hardware intensive tasks. So you don't need the largest screen, as portability is vital (so an iPad Pro 11-inch is good, as is a smaller, new iPad).
In terms of price, a tablet in the $500 / £500 - $700 - £700 range is good, this would include iPad, iPad Pro and Samsung Galaxy Tab S8. More than this and you're getting into high-spec laptop replacements.
Finally, you'll need at least 4GB RAM, I'd suggest at least 64GB and you'll need Cloud storage. Also consider accessories, a keyboard could become essential over time. And does ten OS connect to Discord and the newer AI apps that are on the rise?
How do I choose the best stylus?
The big thing to look for with any stylus is how much pressure sensitivity it provides. The best styluses, such as Wacom's Pro Pen as well as the styluses you'll get with Huion or XP-Pen, deliver 8,192 levels or pressure sensitivity, giving you results that are almost identical to what you'd get from an actual pen or pencil. 8,192 has become the pro standard, although 4,096 (which you'll get from the Microsoft Surface Pen) is still acceptable.
Many tablet/stylus combos can also detect the angle of tilt, which means you can get really granular with the thickness and shape of your lines. It's also worth looking at the parallax, which refers to the distance between the tip of the stylus and the cursor that actually appears on the screen. Ideally, you want this to be as minimal as possible.
If you opt for a tablet computer then chances are that you'll have to buy a stylus separately. And while the Apple Pencil 2 is one of the best styluses around, particularly when combined with a high-end iPad, it will add to the cost of an already-pricy tablet. That said there are some cheaper options available that work almost as well; we've compiled a list in our guide to the best Apple Pencil alternatives.
Users of Android tablets have a lot of styluses to choose from, but many of them aren't pressure sensitive and are more designed for note-taking and sketching than serious art. This is why the best Android tablets for drawing tend to be from Samsung, as there are both Samsung and third-party styluses that provide pressure sensitivity with Samsung tablets. See our guide to the best styluses for Android for more on this.
Many styluses will also have function buttons that allow you to quickly switch modes or toggle certain settings. These tend to have batteries and require recharging, while simpler styluses are generally battery-free.
Best tablets with a stylus: how we test
In order to test tablets with a stylus, we spend time with each tablet, to assess its usability, design and portability, as well as assess the screen in terms of brightness, clarity and overall quality of the colours.
We test the stylus under a mix of conditions, both in the home and on the go where it's important. We also use a mix of apps and software with each stylus to see how performance differs.
To test battery life we use the tablet on full charge and let it run down, and make a note of how long the battery lasts. We also use the tablet for our own projects and even daily work tasks where appropriate, and test how well it copes with our normal workflow.
We review plenty of tablets here on Creative Bloq, but make sure that only tablets we have awarded three stars and above make it into our buying guides. You can read our full process for all products in our 'How we test and review' guide.
Best tablets with a stylus: how to choose
This largely depends on your preference, your requirements and, of course, your budget. The simplest option is a graphics tablet; essentially a drawing surface with no display. This needs to be hooked up to a computer or other device with its own display, either by USB or sometimes via a Bluetooth connection.
Graphics tablets can take a bit of getting used to, because you're drawing in one place and seeing the results in another; however they're the most affordable kind of drawing tablet. They also tend to be the lightest and most portable. A smartphone can generally be used as a display if necessary, making it possible to use them on the go.
Graphics tablets do not have a resolution in pixels but in LPI, or lines per inch. This value simply tells you how many digital lines are capable of fitting in one inch of the device's screen. LPI values of 5,080 are common even among cheaper graphics tablets, so this is a good baseline to work from.
Moving up, pen displays are effectively monitors that you can draw on, which makes for a much more intuitive drawing experience, but which also makes them more expensive than graphics tablets. When buying a pen display, it's worth looking at the resolution, which tends to run from Full HD all the way up to 4K. Depending on the kind of art you're doing, you may or may not need so many pixels. Just as with graphics tablets, it's also worth thinking about the actual surface area you've got to draw on, and how much you're likely to need; a smaller surface area gives you less working room, but also makes the tablet more portable (and cheaper).
Finally there's the tablet computer, which is more of a general-purpose tablet such as an iPad or Samsung Galaxy that does much more than give provide you with a surface to draw on. While early tablets weren't much use for anything more than sketches and doodles, more recent models can provide a much more natural and accurate drawing experience.
With a tablet computer, you're paying for a device that can do much more than just provide a drawing surface, so they're probably only worth the money if you're actually going to use these other functions. They may or may not come bundled with the relevant stylus, so you may need to factor that in when making your budget.