When it comes to choosing from the best tablets with a stylus pen there are a lot of brands and models to pick from; it's best to focus on what you need it for, be it digital art, graphic design or digital crafting. In this guide I've listed the best tablets for drawing with a pen as well as those that are good for taking notes.
These tablets can differ in size but also latency, resolution and feel – leading manufacturers aim to emulate the sense of using paper and canvas. There are also three categories – pen computers (standalone devices), pen displays (these need a computer) and graphics tablets (no screen and need a computer).
Our team of reviewers have assessed a range of tablets that come with a stylus that you can buy right now, whatever your budget, and I've gathered the best in this guide. In most cases I've tried the tablets out, or the team has, and we've judged their display, the drawing experience, build quality and the functionality of the pen itself. For alternatives, take a look at our guides to the best Huion tablets and the best drawing tablets.
The best tablets with a stylus pen available now
Why you can trust Creative Bloq Our expert reviewers spend hours testing and comparing products and services so you can choose the best for you. Find out more about how we test.
Best tablets with a stylus pen: pen computers
If you demand the absolute best tablet with a stylus, it simply has to be the iPad Pro 12.9-inch (M1, 2021). Yes, it's expensive, and with good reason: it's a super high-end tablet that's capable of pretty much anything a creative pro can throw at it. With Apple's M1 processor it can power through even the most demanding tasks such as 4K video editing, and it'll look good doing it thanks to a backlit XDR mini-LED display that delivers incredible brightness, contrast and colour accuracy.
In our iPad Pro 12.9-inch (M1, 2021) review, we were hugely impressed with the iPad Pro 12.9. We tested the version with 16GB of RAM, and in speed tests it left other tablets in the dust.
The drawing experience was also top-notch, thanks to the other half of this equation – the Apple Pencil 2. One of the best digital pens in the business, this smart little stylus synergises well with the iPad Pro's 120Hz screen, making for an absolutely superb drawing experience, and it's brilliant for note-taking too; the handwriting recognition in iPadOS has an almost supernatural ability to turn your scrawl into precisely the words you were aiming for.
The stylus isn't bundled in – so you do need to mentally add on $99 or so to the already considerable cost of this tablet. Still, if you need this tablet, and your budget stretches this far, it's the best you can get (see our Apple Pencil 2 review for more).
The Wacom MobileStudio Pro 16 is a dedicated digital art tablet that enables professional artists to take their work on the go, whether 2D or 3D. If you're a professional artist then even the iPad Pro can feel confining, which is why this tablet with a pen, with its large Ultra HD 15.6 inch display can be essential.
This is a powerful pen computer built with digital artists in mind. The combination of the Intel i7 CPU and NVIDIA Quadro P1000 GPU, plus 16GB of memory, 512GB SSD, ensure you can undertake complex 3D and 2D tasks without any slowdown or hassle. The Wacom MobileStudio Pro 16 is built to last, too. I have a Wacom MobileStudio Pro from its release six years ago and this Windows-based tablet is still going strong.
This is a high performance tablet, with a fantastic 4k (3840 x 2160) display and includes all the design notes expected from a Wacom tablet, including well-placed and accurate ExpressKeys and Radial Dial and one of the best stylus pens on the market – with 8,192 levels of pressure sensitivity and deep tilt functionality.
The only downside to the Wacom MobileStudio Pro 16 is the weight – at 4.7 pounds it's a little heavy for true portability – and the price. But I would offset the expense and weight with the note that this is a powerful, high-spec PC in a Wacom tablet, and the Wacom MobileStudio Pro is built to last. There is also a Wacom StudioMoble Pro 13 for a little less.
The Huion Kamvas Studio 22 is an all-in-one pen display and PC that is well-capable of handling ZBrush and Photoshop as it is video editing software and more. Behind the excellent and large 21.5 inch Full HD display (which is better than iPad Pro) is an Intel i5 chip and plenty of RAM and storage, including 1TB HDD plus either a 120GB or 240GB SSD and 8GB or 16GB of RAM. It's got enough to handle most digital art tasks.
The hardware behind the Huion Kamvas Studio 22 is top notch and its a well-made pen computer, so why is it half the price of the Wacom MobileStudio Pro 16? Well, it's not a portable tablet, but a large desk-based device which means Huion's device is cheaper to manufacture. But it's the GPU; the Huion's Intel UHD Graphics 630 isn't as powerful as the NVIDIA Quadro P1000. The Huion is still good value, however, and you won't be disappointed.
With the Huion Kamvas Studio 22 you're getting excellent high-end display and pen stylus tech, bundles of storage and RAM for performance speed and fluidity, but just a decent GPU. It can still handle ZBrush, Photoshop and more 2D and 3D apps, so don't let that put you off.
If you can't quite stretch to the price of an iPad Pro, the 2022 model of the iPad Air comes devilishly close. Like the Pro it's powered by an Apple M1 processor with 8GB RAM and eight GPU cores, and in terms of speed it comes as close to the iPad Pro as makes no difference. Just like the previous model it supports the Apple Pencil 2 (which you of course have to buy separately), giving you improved performance and wireless charging.
In our Apple iPad Air (5th Gen, 2022) review we were wowed by its performance and its gorgeous display, with 500 nits. It's a tablet that feels great to use – even if you put it through its paces with intensive tasks, it doesn't stutter. We also, as ever, really rated the drawing feel of the Apple Pencil 2, which is still one of the best drawing experiences on the market, and as with the iPad Pro you also get frighteningly accurate handwriting recognition for note-taking.
There's not a huge amount to criticise here. The fact that the iPad Air's screen tops out at a 60Hz refresh rate, as opposed to 120Hz on the Pro, does mean it's not quite as smooth for instant-response drawing. It's the sort of thing you'd only notice comparing them side by side, but the 120Hz experience is notably better.
The Samsung Galaxy Tab S8 Ultra is a good alternative to the iPad, and shows how the best Android tablets with pens have really come on leaps and bounds. It's a fantastic tablet for artists, with a huge, bright and sharp screen, plenty of processing power and, crucially, Samsung's own S Pen included in the box.
That's a good thing because frankly, the S8 Ultra is by no means cheap. Our Samsung Galaxy Tab S8 Ultra review revealed an Android tablet with stylus that has a lot of functionality for your money, but it's a lot of money and the inescapable fact is that the overall experience is still not quite as smooth as using the iPad OS. The power you get is undeniable though, and that gorgeous display with its better-than-ever refresh rate is a treat to draw on.
Larger than ever, but also razor thin, the Samsung Galaxy Tab S8 Ultra is the best Android tablet with a stylus for drawing, and one of the best tablets full stop. If it's just that bit too dear for you, scroll further down the list and have a look at its smaller sibling, the Tab S8.
With most stand-alone tablets such as the iPad Pro or Galaxy Tab S8 Ultra you can often find yourself constrained by having to work with mobile versions of desktop apps that don't always offer all the features you need.
However if you opt for Microsoft's Surface range those restrictions are lifted; they run proper Windows, and will in turn run all the desktop software – such as Creative Cloud apps including Photoshop CC – without too much compromise. And the latest Surface Pro model, Surface Pro 8, is a great Windows 11 tablet with plenty of power for digital creatives.
In our Surface Pro 8 review, we were really impressed by the display, which has been improved over previous Surface Pro models. It also synergises really well with Microsoft's excellent Surface Pen stylus; just bear in mind that you'll have to buy that separately.
Older and less powerful than the Samsung Galaxy Tab S8 Ultra, the Galaxy Tab S7+ is still a great option if you're after one of the best tablets with a stylus for Android users but don't have loads of money to spend. With the S8 now on sale and establishing itself as Samsung's flagship tablet, prices for the S7 range are now falling.
It may not match the power of newer models, but the Galaxy Tab S7+ is still an accessible device that's slimmer than the iPad Pro and has a better battery life, at least if you run it in 60Hz mode. The screen is sharp and vibrant, and its colour display is one of the best around.
This tablet also comes with its secret weapon: the S Pen. This little stylus is on par with Apple Pencil, and is great to use. The 4,096 pressure sensitivity means you can use the stylus like a traditional pencil or brush, ensuring digital life drawing is exceptional. Handily, the S Pen only uses its battery for gestures meaning you can paint, draw and note-take without worry.
The Galaxy Tab S7+ may be less powerful than the Tab 8, the newer best tablet with a stylus from Samsung, but that shouldn't mean you ignore this slightly older model. If you're after a great Android tablet with a stylus for a little less, the Tab 7+ is a good choice.
The Huawei MatePad 11 is a low price iPad rival that matches and in some aspects betters Apple's tablet. But your love of this tablet with a stylus can be judged on how many roadblocks you can put up with. Basically, there's a soft trade war between the US and China which means Huawei devices can't run Google, which is kind of a big deal.
Huawei's workaround is to create its own skew on Android called HarmonyOS, which comes with its own Google-like set of docs for writing, editing, conferencing, email and more – it's fast and slick. The big news is HarmonyOS offers a workaround for the Google Store so you can now download and install most apps as direct APK downloads. In our Huawei MatePad 11 review we found the tablet ran everything from Autodesk Sketchbook and Infinite Painter to Netflix and PUBG. Sadly, no Procreate or Photoshop.
That's the bad deal, the good news is the Huawei MatePad 11 is technologically superb. Its vibrant 2560 x 1600 pixel screen refreshes at 120Hz ensuring its excellent for digital art, streaming and games alike. The four Harmon-Kardon speakers pack a punch, the device is light and easy to handle, and the M-Pencil is on par with the Apple Pencil. The only gripe is the LCD rather than OLED screen, but we're nit-picking. For the money, if you can cope with Huawei's 'third-way' HarmonyOS, the Huawei MatePad 11 is outstanding value for money.
Best tablets with a stylus pen: pen displays
The Wacom Cintiq Pro 27 is the latest large screen pen display from this leading brand for professional artists. There are some eyebrow-raising specs for this new entry in the Cintiq Pro range, including a 120HZ refresh rate, Pantone validated, 99% Adobe RGB and 98% DCI-P3 coverage, and a large 26.9-inch 4K, Ultra HD display that truly makes your art shine.
This new tablet comes packaged with the excellent Wacom Pro Pen 3 that can be fully customised to suit your needs – including off and on screen gesture controls and button configurations (the tablet itself features Wacom's famous radial dial and ExpressKeys). The stylus features a whopping 8,192 pressure sensitivity too, eclipsing most styluses on the market.
The Wacom Cintiq Pro 27 really is a large, glossy, chunk of highly specced tablet that has a near zero screen latency and the kind of build quality that means you'll be drawing on this tablet for years to come. One drawback is the Wacom Cintiq Pro 27 Stand comes as an accessory and costs $599 / £499, so you'll need to factor that in. For many the Wacom Cintiq Pro 27 could be overkill, which is why the iPad Pro represents a good overall value, but if you're a pro artist looking to invest in your career the new Wacom Cintiq Pro 27 is an excellent option.
Owning a high-end, professional tablet can feel like something of an unachievable dream for many digital artists, simply because traditionally they've always been horrifically expensive. That is, at least, until Huion came along with a range of quality tablets at affordable prices, and the Huion Kamvas 24 is exactly what plenty of artists have been waiting for: a top-quality tablet that gives you pro performance at a price that won't plunge you into debt.
When we reviewed the Huion Kamvas 24 Pro, we found the drawing experience to be absolutely first-rate, with minimal parallax and excellent tilt sensitivity from the Huion PW517 pen.
This tablet is part of a three-model series – there's also the slightly more expensive Huion Kamvas 24 Plus, which covers 140% sRGB instead of 120% on the Pro, and the cheaper Kamvas 24, which has a matte film surface rather than the etched glass of its pricier brothers. We've gone for the middle child for this guide, but depending on your budget you may want to consider the other two options.
Despite increased competition from challenger brands such as Huion and XP-Pen over the past few years, Wacom remains the market leader when it comes to tablets for digital artists. Its Cintiq range provides great quality and (possibly thanks to an increasingly competitive market), they're a lot more affordable than Wacom tablets used to be.
With a 22-inch display, the Cintiq 22 gives you plenty of space to work, and in our Wacom Cintiq 22 review we found that the anti-glare glass surface has a good rough texture that gave the pen the right level of "bite". Drawing on a Wacom Cintiq really does feel like the real thing, which is pretty much the highest compliment you can pay it.
This tablet comes with Wacom's Pro Pen 2 stylus, a battery-free stylus that gives you 8,192 levels of pressure sensitivity and provides a pleasingly hefty feel in the hand. The lack of built-in shortcut keys on the tablet may be an annoyance for some users, as these can be hugely helpful for streamlining your workflow. You can pick up the Wacom ExpressKey remote to give yourself a few more buttons to work with, but this is an extra cost.
Although the XP-Pen Artist Pro 16's name suggests that this is a high-end tablet with a stylus, it's actually more of a mid-range model, similar to the company's previous Innovator 16, which was actually a pretty decent drawing tablet. And the Artist Pro 16 is a worthwhile upgrade with improved stylus technology provided by XP-Pen's new X3 smartchip.
In our XP-Pen Artist Pro 16 review we found that this made a real difference in terms of performance. The stylus is thinner and sleeker while being more accurate and responsive, putting it more or less on a par with the Apple Pencil 2. You may not notice much difference compared to previous XP-Pen styluses in terms of how well the stylus works, but you absolutely will notice a difference in terms of how easy and comfortable it is to use for long periods.
The tablet itself is also excellent, delivering a 99% Adobe RGB colour gamut on a Full HD display. Some users might have preferred the option to be able to fiddled with colour temperature – you can only really control the brightness – but it's a small thing.
It's also worth mentioning that a setup with the XP-Pen Artist Pro 16 does tend to look quite messy, with the bulky 3-way cable sticking out the back in an ungainly fashion. Still, this is all cosmetics – the tablet works fantastically for drawing, delivering an experience comparable to pro tablets for a fraction of the price.
The HP Chromebook X2 11 is a smart Chromebook tablet that offers an excellent 11 hour battery lifespan, a clean and bright screen and the 11-inch screen means it can be packed into a small bag for a day of doodling. Don't fret about the 2K resolution, at this size this display remains crisp and colourful (a 400 nits brightness ensures it's a lively screen).
Now, as the name states this is a Chromebook so you're going to accept some shortcomings – Chrome OS relies on the Google Play Store for apps, which means it's fully supported by the excellent Google office software (Sheets, Docs, etc) but has a limited but good run of digital art apps. Each Google account comes with a free 100GB of data, too.
In our HP Chromebook X2 11 review we found this neat little Chromebook comes into its own with the attachable keyboard and stand that double as protective covers. Unlike the Surface Go 3 and the iPad Air these are freely packaged at no extra cost, turning a tablet into a handy laptop. The HP Rechargeable USI Pen is a nice addition too, and matches the S Pen from Samsung for pressure sensitivity, though both Samsung and Apple stylus are better overall.
The Samsung Galaxy Tab S8 is the less powerful version of the Samsung Galaxy Tab S8 Ultra, but you don't always need size and power and the pair share some similar design principles. Like the Ultra the Samsung Galaxy Tab S8 has a lovely display and powerful Snapdragon processor, but it's a lot lighter and more compact, and much better for tossing in a bag so that you can take it out and about with you.
It still comes with the S Pen included, so you get your stylus in the box and don't have to shell out extra. The display is smaller and lower resolution, but drawing on the screen is a hugely pleasant experience. The S Pen works well, with reduced latency than previous iterations.
The only real downside is that the Samsung Galaxy Tab S8 tab sits somewhat in an unclear middle ground. It's nowhere near as expensive as the S7 Plus or the latest iPad Pro, but it still isn't cheap and there are more affordable tablets with a stylus, depending on what you want to use it for.
Best tablets with a stylus pen: graphic tablets
If you want a top quality tablet but don't have the budget for an iPad Pro, the Xencelabs Medium Pen Tablet is an excellent option. It comes complete with two styluses as well as a Quick Key remote, it has almost everything you need to start drawing; you'll need to bring your own external display, but even an smartphone will do, at a pinch.
In our Xencelabs Medium Pen Tablet review we were properly impressed by how good the drawing experience provided tablet and stylus is. Its two styluses feel good in the hand, well-balanced and pitched at an appropriate rate, and there are 8,192 levels of pressure sensitivity, as well as 60-degree tilt functionality and customisable buttons.
You can also now buy a smaller model, and in our Xencelabs Pen Tablet Small review we found this to be a fantastic drawing tablet bundle for beginners or for anyone who likes to paint on the go, often using a smart phone (if this is you, take a look at our guide to the best drawing app for Android drawing).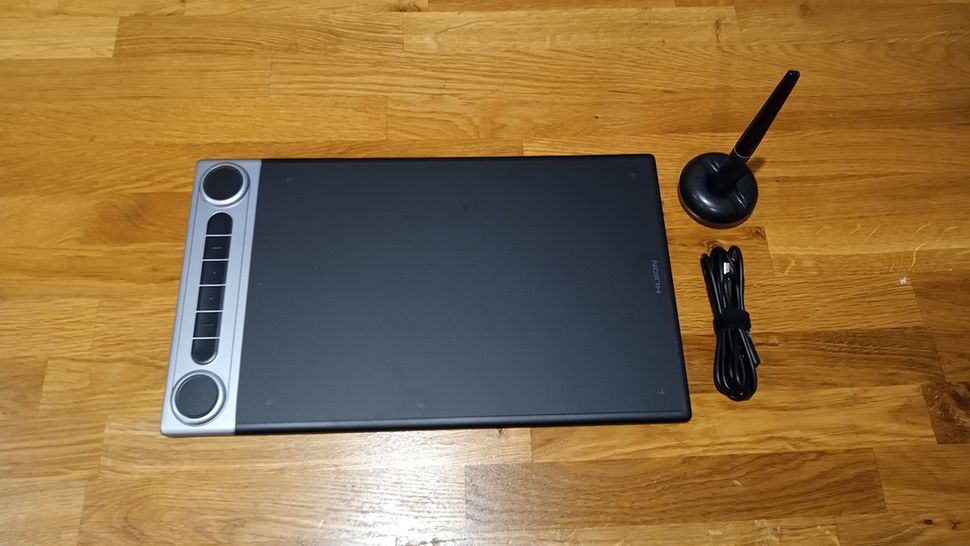 The Huion Inspiroy Dial 2 is the latest mid-budget tablet from Huion, and this Inspiroy features a dual-dial function alongside the usual quick-keys you'd find on other graphic tablets. This works really nicely, as you can zoom in and out, for example, using the a dial or setup another to cycle brush sizes or brush types. All-in, it's a tablet built to refine and speed up your workflow.
For a tablet under $200 / £200 the Huion Inspiroy Dial 2 works really well. Like other Huion tablets this is a well-made device, and from the packaging to the excellent stylus that mimics Wacom's funnelled design for ease of use, this is a quality product. In my Huion Inspiroy Dial 2 review I found this tablet is easily connected to Mac, Windows and Chromebooks (as well as Android phones), and its 18-hour wireless rechargeable battery makes life easier – fewer cables is always good.
You will need to spend time setting up this tablet with a pen, and it can be a little tricky at first as there are a lot of features and the app could be a little clearer. There are some shortcuts that bely the price, for example there's only a USB to USB-C cable, but no USB-C converter needed for most Apple, Android and Chromebook devices. Despite this, the Huion Inspiroy Dial 2 itself remains a great tablet.
The Wacom Intuos Pro Large represents much of what the Wacom brand does so well, it's a high-quality, well-built drawing tablet with one of the best styluses on the market, and this edition now even comes bundled with Photoshop. The joy of using a Wacom tablet is it feels right, and by that we mean it has a tactile nature akin to drawing on paper.
The drawing space is large enough and the pen's 8,192 levels of pressure sensitivity led the way for so many years. The weight of the Wacom stylus is something other manufacturers fail to grasp, it feels just right in your hand. Wacom's broad ecosystem of alternative pens and Texture Sheets is supported too, giving this tablet a unique feel.
While this model is the large, the Intuos Pro also comes in medium and small editions and the price decreases too. If it's a smaller tablet you're after, the newer Wacom One is a great alternative. Our Wacom Intuos Pro review covers this tablet in more detail, but this is overall an excellent drawing tablet with a stylus. The Wacom Intuos Pro also comes in Medium and Small.
The best tablets with a stylus can be sophisticated and feature-packed drawing tablets with a price tag to match, but if you don't have a massive budget there are plenty of worthwhile options to check out, such as the XP-Pen Deco Pro.
Let's be clear, it's not the world's best tablet, but it definitely delivers quite a lot for not very much money. It comes in two sizes, Small and Medium, and frankly given the minor price difference between them, unless you're totally strapped for cash you should go for the extra drawing space on the Medium model.
In our XP-Pen Deco Pro review we found it to provide a very capable drawing experience, thanks in large part to its sophisticated stylus with 8,192 levels of pressure sensitivity, which is good enough for anyone. This being a graphics tablet rather than a pen display, you'll need to hook it up to a display or another device to see the fruits of your labour, but that's easy enough to set up via the USB-C connection.
The tablet's software can be a bit of a drag to install, but once you're up and running, you'll be enjoying something really very close to a premium drawing tablet experience at a much lower price.
What should I look for in a drawing tablet and stylus?
There are two things to think about when you're after the best drawing tablet with a stylus: the tablet and the stylus. Often they'll come bundled together, particularly when it comes to dedicated drawing tablets, but sometime (usually in the case of more general purpose tablets) you'll have to buy the stylus separately. So the first thing to establish is what type of tablet you want to use. To are large extent this will dictate the stylus that you'll use.
How do I choose the best tablet to use with a stylus?
This largely depends on your preference, your requirements and, of course, your budget. The simplest option is a graphics tablet; essentially a drawing surface with no display. This needs to be hooked up to a computer or other device with its own display, either by USB or sometimes via a Bluetooth connection.
Graphics tablets can take a bit of getting used to, because you're drawing in one place and seeing the results in another; however they're the most affordable kind of drawing tablet. They also tend to be the lightest and most portable. A smartphone can generally be used as a display if necessary, making it possible to use them on the go.
Graphics tablets do not have a resolution in pixels but in LPI, or lines per inch. This value simply tells you how many digital lines are capable of fitting in one inch of the device's screen. LPI values of 5,080 are common even among cheaper graphics tablets, so this is a good baseline to work from.
Moving up, pen displays are effectively monitors that you can draw on, which makes for a much more intuitive drawing experience, but which also makes them more expensive than graphics tablets. When buying a pen display, it's worth looking at the resolution, which tends to run from Full HD all the way up to 4K. Depending on the kind of art you're doing, you may or may not need so many pixels. Just as with graphics tablets, it's also worth thinking about the actual surface area you've got to draw on, and how much you're likely to need; a smaller surface area gives you less working room, but also makes the tablet more portable (and cheaper).
Finally there's the tablet computer, which is more of a general-purpose tablet such as an iPad or Samsung Galaxy that does much more than give provide you with a surface to draw on. While early tablets weren't much use for anything more than sketches and doodles, more recent models can provide a much more natural and accurate drawing experience.
With a tablet computer, you're paying for a device that can do much more than just provide a drawing surface, so they're probably only worth the money if you're actually going to use these other functions. They may or may not come bundled with the relevant stylus, so you may need to factor that in when making your budget.
How do I choose the best stylus?
The big thing to look for with any stylus is how much pressure sensitivity it provides. The best styluses, such as Wacom's Pro Pen as well as the styluses you'll get with Huion or XP-Pen, deliver 8,192 levels or pressure sensitivity, giving you results that are almost identical to what you'd get from an actual pen or pencil. 8,192 has become the pro standard, although 4,096 (which you'll get from the Microsoft Surface Pen) is still acceptable.
Many tablet/stylus combos can also detect the angle of tilt, which means you can get really granular with the thickness and shape of your lines. It's also worth looking at the parallax, which refers to the distance between the tip of the stylus and the cursor that actually appears on the screen. Ideally, you want this to be as minimal as possible.
If you opt for a tablet computer then chances are that you'll have to buy a stylus separately. And while the Apple Pencil 2 is one of the best styluses around, particularly when combined with a high-end iPad, it will add to the cost of an already-pricy tablet. That said there are some cheaper options available that work almost as well; we've compiled a list in our guide to the best Apple Pencil alternatives.
Users of Android tablets have a lot of styluses to choose from, but many of them aren't pressure sensitive and are more designed for note-taking and sketching than serious art. This is why the best Android tablets for drawing tend to be from Samsung, as there are both Samsung and third-party styluses that provide pressure sensitivity with Samsung tablets. See our guide to the best styluses for Android for more on this.
Many styluses will also have function buttons that allow you to quickly switch modes or toggle certain settings. These tend to have batteries and require recharging, while simpler styluses are generally battery-free.