The best tablets with a stylus pen are a fantastic way to ensure that you're always ready to draw. You can't control when inspiration strikes, after all, and being able to practice no matter where you are is one of the fastest ways to get better at your art.
There are plenty of different types to choose from. Many manufacturers like Wacom and Huion produce specialist tablets that are specifically built for artists, while there are also more generic tablets like Apple iPads that nevertheless boast serious capabilities when it comes to drawing.
We've put this guide together to help you sort through it all. There are loads of different factors to consider when picking your tablet with a stylus: for instance, how big is the drawing area? How sensitive is the pen to different levels of pressure, and how high is the screen resolution? We've kept all this in mind when making our picks, but one thing we've also made sure to consider is price, as we know everyone is working with a different budget. So, whether you're looking to spend a little or a lot, we're confident there should be a tablet with a stylus here for you.
For more choices, you can look at our guide to best drawing tablets, the best Apple Pencil alternatives or the best tablets for photo and video editing.
Tablet with a stylus pen: Today's best deals
Apple iPad Pro 12.9 (2020): $1,149 $799 at Best Buy
Save $350: This refreshed iPad Pro is a superb tablet, and the included Apple Pencil provides a highly accurate and satisfying drawing experience. Right now, get a 64GB iPad Pro with a HUGE $350 off!
View Deal
Microsoft Surface Pro 7: £1,169 £995 at Amazon
Save £174: The Surface Pro 7 is our top choice for a Windows tablet with a stylus pen. Right now at Amazon, save £270 on the Core i5/8GB RAM/256GB SSD build.
View Deal
The best tablets with a stylus pen available now
One of the best tablets on the market meets one of the best styli – how could we not put the Apple iPad Pro 12.9 2020 at the #1 spot? Upping the ante in terms of performance from the 2018 version, the 2020 12.9 iPad Pro houses an A12Z Bionic chip with an 8-core graphics engine. It already basically ran with the power of a decent laptop, and now it's even faster – more powerful than its big rival, the Microsoft Surface Pro 7. The Retina display is absolutely gorgeous, impressively bright and boasting a wide colour gamut.
But how is the drawing experience? Well, the iPad Pro's 12.9-inch screen makes it one of the largest tablets on the market, and this gives you an enormous canvas for drawing. If you download one of the brilliant drawing apps for the iPad in the App Store then you've set yourself up for a sublime experience – as long as you've forked out the extra cash for the Apple Pencil, which can be handily attached to the iPad using the magnetic strip at the top.
The Apple Pencil is, of course, sensitive to pressure and tilt, so you can be sure of a highly accurate and satisfying drawing experience. The only real downside here is, inevitably, the cost – for the price tag of the iPad Pro 12.9 (2020) and Apple Pencil, you could get yourself a very good laptop. Or, you know, a car. But if you do have the cash, this is the best drawing tablet with stylus you can get right now.
Wacom made an extremely welcome update to its Cintiq range in 2019, phasing out the Cintiq 22HD in favour of this new Cintiq 22 – one of the most affordable, high-quality drawing tablets of its class. The physically large drawing area of the Cintiq 22 makes it comfortable and intuitive to draw on, while the anti-glare glass surface has been laminated to create a slight texture that give some nice bite to your stylus movement. Its resolution isn't as high as the previous Cintiq 22HD, so the picture is a little softer, but the drawing experience is fantastic.
The tablet comes with the Pro Pen 2 stylus, a fantastic tablet pen that gives you 8,192 levels of pressure sensitivity to work with. It doesn't need a battery, taking power from the electromagnetic properties of the screen, and its comfortable heft makes it satisfying to draw with. The Cintiq 22 may not be as affordable as some of its rivals, but for a Wacom tablet it's incredibly well priced.
Read more: Wacom Cintiq 22 review
The best and flashiest tablet from Huion's newly updated Kamvas range, the Kamvas 22 Plus is a fantastic budget alternative to big boys like the iPad Pro 12.9 or the Cintiq 22. Though its display is only a 1080p version, which is lower resolution than some of its contemporaries, it packs in such incredible colour performance that you'll likely be hard-pressed to care. Colours on the Kamvas 22 Plus look absolutely great, and thanks to its 178° wide viewing angle, they do so from every angle. It covers 140% of the sRGB colour gamut while also minimising harmful blue light.
The drawing experience is sublime thanks to the digital pen PW517 stylus, which provides 8,192 levels of pressure sensitivity and a highly stable drawing experience. It's comfortable to use even for prolonged periods, allowing you to really get engrossed in your projects. The glass has been chemically etched to make this process smoother.
The tablet is also easy to connect to your computer thanks to its 3-in-1 USB-C Cable, meaning you can quickly back up and share your creations. Overall it's a fantastic way to get a premium drawing experience for a reduced price.
The latest Surface Pro model, Surface Pro 7, is a small update over previous models, but it remains our top choice for a Windows tablet. Unlike Android or iOS devices, you're getting a tablet that will run full-fat desktop software – so think Creative Cloud apps such as Photoshop CC without any compromise on features or performance – and use it with Microsoft's excellent Surface Pen stylus.
In fact the Surface Pro 7 has an Intel quad-core chip, of the same variety that you might find in a laptop. So you can expect it to sail swiftly through tricky filters and have no problem loading complex designs.
And being a Windows PC at its core, it will have no problem connecting to any peripheral you could think of. We'd just like to see a bit more innovation in the next Surface Pro.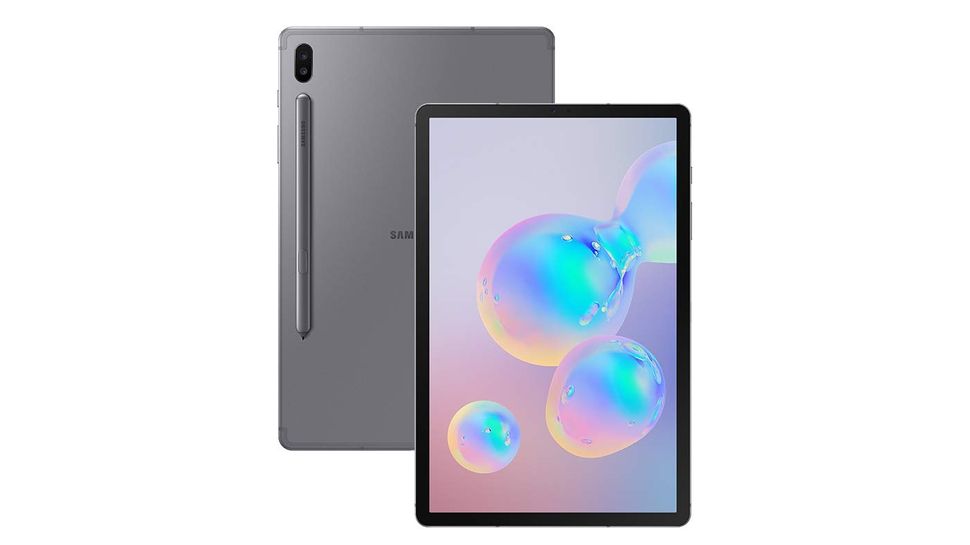 If you're after the best Android tablet with a stylus, then the Samsung Galaxy Tab S6 is the one for you, without a doubt. Samsung's Tab S line has been impressing us for years, and the latest version improves on nearly every aspect of our favourite Android slate.
So, you get an absolutely stunning AMOLED display for image quality even Apple's mighty iPads struggle to match, along with two rear cameras and a powerful processor, which keeps the Android operating system - and any creative apps you're using - running smoothly.
Best of all, and a reason why it's featured in this list, is that it comes with the excellent S Pen stylus, which means it's a brilliant tablet for drawing and doodling on - as well as taking down notes.
It doesn't come with a headphone jack, but otherwise this is a truely excellent tablet with a stylus, and an ideal tool for creatives who don't want an iPad.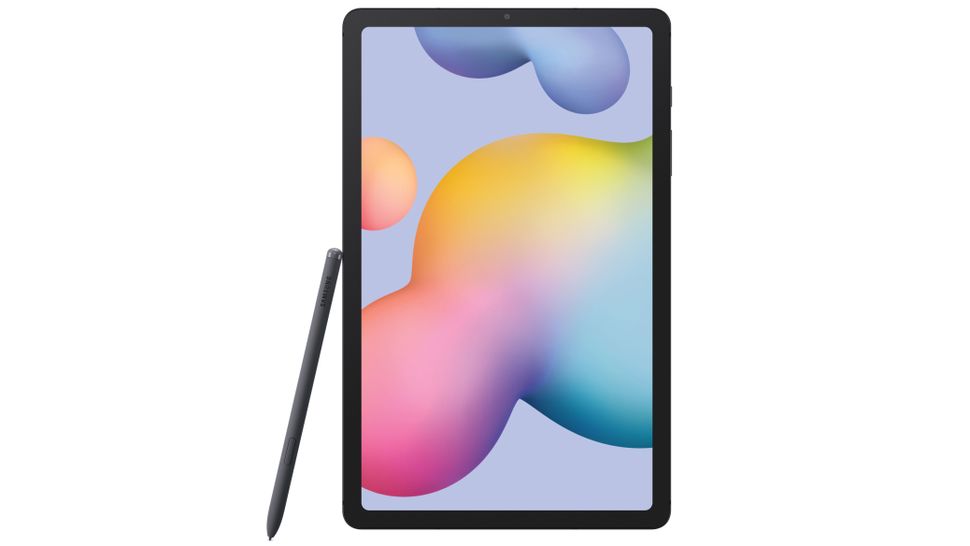 If you want a more affordable version of the Samsung Galaxy Tab S6 (above), then the Galaxy Tab S6 Lite is the tablet with a tablet pen to go for. Instead of shrinking down the screen size (which is important for a tablet that will be primarily used with a stylus for creative work), Samsung has made a few choice cuts in other departments.
So, this doesn't have the powerful chipset of the Tab S6, nor does it quite match it when it comes to cameras, but it's still an excellent performer. And, for many people who don't care about getting the most cutting-edge hardware, it actually means the cuts Samsung has made here won't be noticed.
What will be noticed, however, is the more affordable price tag. It still offers Samsung's excellent build quality and design, and works really well with the S Pen stylus.
For a simple, affordable drawing solution that just works, we'd happily recommend the XP-Pen G640S. A straightforward drawing surface that can be hooked up to a computer, phone, tablet or other smart device, the G640S provides a smooth and sensitive drawing platform. The stylus/tablet combination offers up to 8,192 levels of pressure sensitivity, meaning you can get super-detailed and granular with your pen strokes. The tablet is also only about 9mm thick, meaning it's easy to throw in a bag and take with you wherever you're going.
The downside of course is the lack of a built-in screen; you have to get used to drawing on one surface and seeing your creation come to life on another. This can take a bit of a co-ordination adjustment if you're not used to it.
The six customisable ExpressKeys help with making things more intuitive, as you can map preferred settings to the keys to ensure the tablet operates how you want it to. Broad computer and software compatibility also makes it easy to slot the XP-Pen G640S into an existing workflow. Overall, while it can't compete with many other tablets here in terms of features and processing power, this is an absolutely fantastic way to get drawing on a budget.
The first thing you'll notice about the Google Pixel Slate is its display. Incredibly sharp thanks to its impressive pixel density, and brighter than many of its competitors with up to 337 nits, this display was the star of the show when this tablet was announced in 2018. Pair this with the Google Stylus Pen and you've got an impressive combination on your hands, with 2,048 pressure levels to work with and a smooth, responsive drawing experience.
The Chrome OS mostly works well and isn't as buggy as it was at launch, though you still won't quite get the smoothness of Android or iOS. If you are tempted by the Google Pixel Slate then we would recommend springing more for the 16GB RAM version if you can, as it runs noticeably smoother than the smaller tablet with 8GB of RAM.
The Google Pixel Slate wasn't an enormous success on release, and Google later announced that while it would continue to offer support and software updates for the tablet, it wouldn't be releasing any more of them. The upside of this is that the Pixel Slate is generally available for a better price than it was at launch, and that this price is likely to go down still further as time goes on; the downside is that you won't find a fresh but familiar sequel model to upgrade to when the time comes.
Released in 2019, the Wacom Intuos Small is, as the name implies, a smaller version of the much-loved Intuos Pro. While it's not exactly pocketable, at 269 x 170 x 8 mm it's certainly noticeably smaller than its bigger brothers and a similar size to the iPad Air. It comes with all the useful features you'd expect from a Wacom tablet, such as a customisable Touch Ring and ExpressKeys that can be assigned to your preferred function – though here you only get six rather than the eight you get on the medium and large versions.
It's bundled with a battery-free Pro Pen 2, which provides 8,000 pen pressure levels and 60-odd levels of tilt sensitivity. The Intuos Pro Small can also connect to a Mac or PC via microUSB or Bluetooth. The Intuos Pro Small is also available at a more attractive price than something like the iPad Mini, so if budget is at the forefront of your mind when picking a tablet, this is an option well worth considering. It's great to see Wacom catering for entry-level and space-conscious users with its excellent Intuos Pro tablets, and long may this continue!
Read more: Wacom Intuos Pro Small review
If you choose one of the tablets above that doesn't come with a tablet pen in the box, then we can help you pick out a pencil to purchase:
Related articles: