The best tablets with a stylus pen are an incredible resource for practically any creative. Illustrators, animators, photographers, video editors, retouchers – all of these and more can benefit from the incredible flexibility of a high-quality tablet/stylus combination. Plus, it doesn't have to cost the earth. While there are expensive professional tablets out there, many manufacturers also offer budget models that come at rock-bottom prices. In this guide, we've included both.
For years, tablet makers have worked on getting digital drawing to feel right. Fine-tuning the level of "bite" on a tablet – the level of resistance it offers to the stylus – is a tricky proposition, but they've started to get it right. What's more, with sophisticated styluses offering advanced features like pressure sensitivity, tilt sensitivity, palm rejection, and on-pen buttons for function controls, once you get used to using them you start to realize what an awesome creative tool you have at your disposal.
In our list below, we've included all the best tablets with a stylus pen you can buy right now for all different budgets. Some come with the stylus in the box; others require it to be purchased separately. If you want more choice, check out our guides to the best drawing tablets, best tablets for photo and video editing, and best tablets for animation. Plus, if you're new to the technical terms, scroll to the bottom of this page, where we explain some of the key concepts related to tablets and styluses.
The best tablets with a stylus pen available now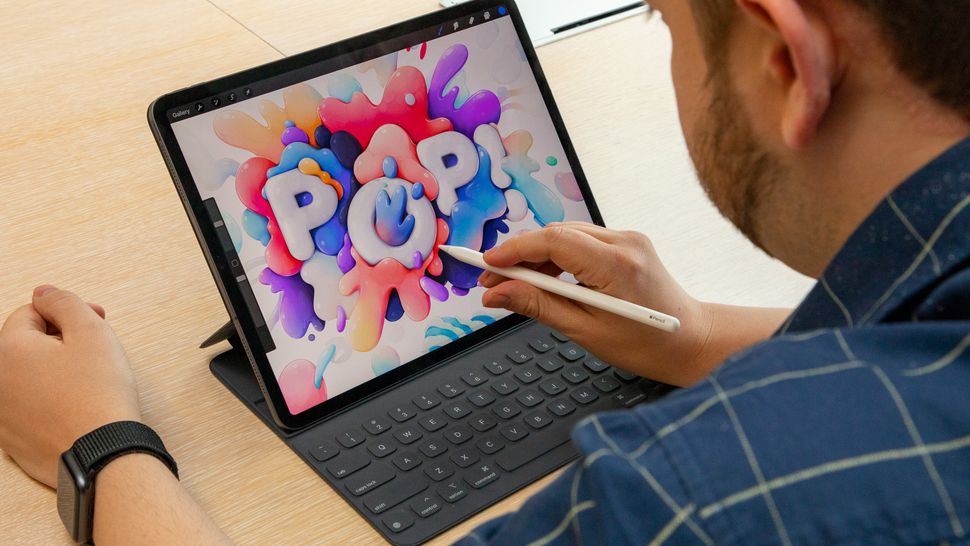 At the top of the market, on top of the world, the best tablet with a stylus you can buy right now is the iPad Pro 12.9-inch (M1, 2021). Expensive for good reason, it's a top-of-the-line tablet for professional creatives, and can do pretty much anything you ask it to.
Using Apple's powerful M1 processing chip, the iPad Pro 12.9 can crunch even the most memory-intensive tasks like 4K video editing with nary a stutter. Plus, it'll all look really good, thanks to the backlit XDR mini-LED display. Brightness is excellent across the board, colour accuracy is near-flawless. This makes the iPad Pro 12.9 a great choice for all forms of digital art.
In our iPad Pro 12.9-inch (M1, 2021) review, we were hugely impressed with the iPad Pro 12.9. We tested the version with 16GB of RAM, and in speed tests it left other tablets in the dust. The drawing experience was also top-notch, thanks to the other half of this equation – the Apple Pencil 2. One of the best digital pens in the business, this smart little stylus synergises well with the iPad Pro's 120Hz screen, making for an absolutely superb drawing experience.
The stylus isn't bundled in – so you do need to mentally add on $99 or so to the already considerable cost of this tablet. Still, if you need this tablet, and your budget stretches this far, it's the best you can get.
The Xencelabs Medium Pen Tablet is an absolutely excellent option for those who don't want to spend iPad Pro money – but is also a top-notch tablet in its own right. With two styluses and a Quick Key Remote bundled in the box, it comes along with everything you need to get started drawing right away.
In our Xencelabs Medium Pen Tablet review were greatly impressed with the quality of the drawing experience when we tested this tablet and stylus. Its two styluses feel good in the hand, well-balanced and pitched at an appropriate rate, and there are 8,192 levels of pressure sensitivity, as well as 60-degree tilt functionality and customisable buttons. Many users like to set up one pen for one function, such as line drawing, and the other pen for something else, like shading. A lot of thought has clearly gone into this tablet, and it has paid off handsomely.
Roughly the size of a 13-inch laptop, the Xencelabs Medium Pen Tablet is easy to take with you wherever you go – just remember that you'll need an external display of some kind to allow you to see what you're drawing. A smartphone will do, in a pinch.
At the time of writing the standard edition of the Xencelabs Medium Tablet was not readily available in the UK, but a new special edition model in white was available at Amazon.
Wacom is the market leader in tablets for digital artists. Its Cintiq range of tablets are among the best-regarded for premium quality, and they've become more affordable than Wacom tablets were in the past. The Cintiq 22 is so-named for its 22-inch display, which gives you plenty of surface area to work on.
In our Wacom Cintiq 22 review we found that the anti-glare glass surface has a good rough texture that gave the pen the right level of "bite". Drawing on a Wacom Cintiq really does feel like the real thing, which is pretty much the highest compliment you can pay it.
This tablet comes with Wacom's Pro Pen 2 stylus, a battery-free stylus that gives you 8,192 levels of pressure sensitivity and provides a pleasingly hefty feel in the hand. The lack of built-in shortcut keys on the tablet may be an annoyance for some users, as these can be hugely helpful for streamlining your workflow. You can pick up the Wacom ExpressKey remote to give yourself a few more buttons to work with, but this is an extra cost.
When we talk about the best tablets with a stylus, there are highly sophisticated professional drawing tablets that cost thousands, but different users have different budgets, and not everyone can spend that much on a tablet. If you're working to a tighter budget, then the XP-Pen Deco Pro is a fine choice. It's not the best tablet with a stylus in the world, but it certainly offers a lot for the price. There are two sizes, Small and Medium, with the price difference being minor enough that it's worth spending more for the latter unless you really can't afford it. You will be thankful for that extra drawing space.
When we reviewed the XP-Pen Deco Pro, we found it to provide a very capable drawing experience, thanks in large part to its sophisticated stylus with 8,192 levels of pressure sensitivity, which is good enough for anyone. This being a graphics tablet rather than a pen display, you'll need to hook it up to a display or another device to see the fruits of your labour, but that's easy enough to set up via the USB-C connection. The tablet's software can be a bit of a drag to install, but once you're up and running, you'll be enjoying something really very close to a premium drawing tablet experience at a much lower price.
Our XP-Pen Deco Pro review goes into more detail.
The iPad Air is back with a vengeance thanks to this 2022 model that refreshes the line, bringing it to line almost with the iPad Pro range, and in fact, almost to the level of a McBook Pro. The iPad Air 2022 is an incredible tablet, powered by an Apple M1 chip that boasts eight GPU cores and 8GB of RAM. In speed tests, it'll essentially match the iPad Pro (as it's pretty much the same deal, unless you go for the 16GB RAM version of the Pro). The newer iPad Air supports the Pencil 2, meaning you get all the benefits of wireless charging.
In our review, we were wowed by the performance of the iPad Air 2022, particularly its gorgeous display, with 500 nits. It's a tablet that feels great to use – even if you put it through its paces with intensive tasks, it doesn't stutter. We also, as ever, really rated the drawing feel of the Apple Pencil 2, which is still one of the best drawing experiences on the market.
There's not a huge amount to criticise here. The fact that the iPad Air's screen tops out at a 60Hz refresh rate, as opposed to 120Hz on the Pro, does mean it's not quite as smooth for instant-response drawing. It's the sort of thing you'd only notice comparing them side by side, but the 120Hz experience is notably better.
Our Apple iPad Air (5th Gen, 2022) review goes into more detail.
The latest in Samsung's impressive Galaxy Tab S range, the S8 Ultra is the biggest and best Android tablet for using with a stylus right now. With huge battery life, an enormous, high-fidelity screen and powerful processing engines, it's more than equipped for everything artists need. Plus, the S Pen comes as standard in the box at no extra cost.
That's a good thing because frankly, the S8 Ultra is by no means cheap. You get a lot of functionality for your money, but it's a lot of money and the inescapable fact is that the overall experience is still not quite as smooth as using the iPad OS. The power you get is undeniable though, and that gorgeous display with its better-than-ever refresh rate is a treat to draw on.
Larger than ever, but also razor thin, the Samsung Galaxy Tab S8 Ultra is the best Android tablet with a stylus for drawing, and one of the best tablets full stop. If it's just that bit too dear for you, scroll further down the list and have a look at its smaller sibling, the Tab S8.
The Galaxy Tab S7+ may be a little old now but it still ranks as one of the best tablets with a stylus for Android users, and actually could tip in your favour if you want a great drawing tablet at a lower price. With the Galaxy Tab S8 out and taking over as Samsung's mainline tablet, prices for this older model are dropping.
In its favour the Galaxy Tab S7+ is a slim and accessible device. It's actually slightly slimmer than an iPad Pro and has a much better battery life (this is if you turn on 60hz mode, at 120hz it can drain fast). The screen is sharp and vibrant, its colour display is one of the best around.
This tablet also comes with its secret weapon: the S Pen. This little stylus is on par with Apple Pencil, and is great to use. The 4,096 pressure sensitivity means you can use the stylus like a traditional pencil or brush, ensuring digital life drawing is exceptional. Handily, the S Pen only uses its battery for gestures meaning you can paint, draw and note-take without worry.
The Galaxy Tab S7+ may be less powerful than the Tab 8, the newer best tablet with a stylus from Samsung, but that shouldn't mean you ignore this slightly older model. If you're after a great Android tablet with a stylus for a little less, the Tab 7+ is a good choice.
Though this tablet gets XP-Pen's "Pro" designation, it's priced more around the mid-range, comparable to the previous Innovator 16, which was by all accounts a very good drawing tablet. So what's new here? Chiefly it's the stylus technology, which has been upgraded with XP-Pen's "X3 smartchip".
When we reviewed the tablet, we put the stylus through its paces to find out what this means in real terms. We found that the stylus is not only more accurate and responsive, but also sleeker and thinner, to the point where it's comparable to an Apple Pencil. You may not notice much difference compared to previous XP-Pen styluses in terms of how well the stylus works, but you absolutely will notice a difference in terms of how easy comfortable it is to use for long periods.
The tablet itself is also excellent, delivering a 99% Adobe RGB colour gamut on a Full HD display. Some users might have preferred the option to be able to fiddled with colour temperature – you can only really control the brightness – but it's a small thing. It's also worth mentioning that a setup with the XP-Pen Artist Pro 16 does tend to look quite messy, with the bulky 3-way cable sticking out the back in an ungainly fashion. Still, this is all cosmetics – the tablet works fantastically for drawing, delivering an experience comparable to pro tablets for a fraction of the price.
Read more in our full XP-Pen Artist Pro 16 review.
One of the toughest barriers to get over for digital artists embarking upon a professional career is the fact that high-end pro tablets can be so darn expensive. Enter Huion, with its Kamvas 24 Pro that is specifically designed to offer a pro experience at a cheaper price.
And it achieves that really well. When we reviewed this 23.8-inch tablet, we found the drawing experience to be absolutely first-rate, with minimal parallax and excellent tilt sensitivity from the Huion PW517 pen.
This tablet is part of a three-model series – there's also the slightly more expensive Huion Kamvas 24 Plus, which covers 140% sRGB instead of 120% on the Pro, and the cheaper Kamvas 24, which has a matte film surface rather than the etched glass of its pricier brothers. We've gone for the middle child for this guide, but depending on your budget you may want to consider the other two options.
Our full review of the Huion Kamvas 24 series goes into more detail.
The latest Surface Pro model, Surface Pro 8, is a great Windows 11 tablet with plenty of power for digital creatives. Its big selling point is that with Windows OS, this can run full-fat desktop software – think Creative Cloud apps such as Photoshop CC – without any compromise on features or performance. So you have the convenient portability of a tablet but the functionality of a laptop.
In our review, we were really impressed by the display, which has been improved over previous Surface Pro models. It also synergises really well with Microsoft's excellent Surface Pen stylus; just bear in mind that you'll have to buy that separately.
See our Surface Pro 8 review for more information.

If you like the look of the Samsung Galaxy Tab S8 Ultra above but want something more portable, then the standard Galaxy Tab S8 might be the best tablet with a stylus for you. It still has a gorgeous display and a powerful Snapdragon processor, but it's smaller and a good deal lighter, making it more suitable for slipping into a bag for drawing on the go.
It still comes with the S Pen included, so you get your stylus in the box and don't have to shell out extra. The display is smaller and lower resolution, but drawing on the screen is a hugely pleasant experience. The S Pen works well, with reduced latency than previous iterations.
The only real downside is that the Samsung Galaxy Tab S8 tab sits somewhat in an unclear middle ground. It's nowhere near as expensive as the S7 Plus or the latest iPad Pro, but it still isn't cheap and there are more affordable tablets with a stylus, depending on what you want to use it for.
For a simple, affordable drawing solution that just works, we'd happily recommend the XP-Pen G640S. A straightforward drawing surface that can be hooked up to a computer, phone, tablet or other smart device, the G640S provides a smooth and sensitive drawing platform. The stylus/tablet combination offers up to 8,192 levels of pressure sensitivity, meaning you can get super-detailed and granular with your pen strokes. The tablet is also only about 9mm thick, meaning it's easy to throw in a bag and take with you wherever you're going.
The downside of course is the lack of a built-in screen; you have to get used to drawing on one surface and seeing your creation come to life on another. This can take a bit of adjustment until you're used to it. The six customisable ExpressKeys help with making things more intuitive, as you can map preferred settings to the keys to ensure the tablet operates how you want it to. Broad computer and software compatibility also makes it easy to slot the XP-Pen G640S into an existing workflow. Overall, while it can't compete with many other tablets here in terms of features and processing power, this is an absolutely fantastic way to get drawing on a budget.
If you choose one of the tablets above that doesn't come with a tablet pen in the box, you can either take a look at our detailed guide to the best stylus for Android devices or see below for today's best stylus deals:
The best tablets with a stylus: what to look for
When you're shopping for the best drawing tablet with a stylus, you're shopping for two things: the tablet itself, and its stylus. Sometimes they come bundled together, but sometimes you'll need to buy the stylus separately. The first thing to establish is what type of tablet you want to use. To are large extent this will dictate the stylus that you'll use.
How do I choose the best tablet to use with a stylus?
The answer to this can depend on your preferences, what you'll use it for and your budget. A graphics tablet is the most simple type of drawing tablet – with no display. It requires a monitor or other display in order for you to be able to see what they're drawing. You'll usually hook it up via USB or a similar connection, though some are wireless and can relay the image via Bluetooth.
While not all artists like the idea of drawing on one surface and viewing their art on another, graphics tablets are the most affordable kind of drawing tablet. They also tend to be the lightest and most portable. A smartphone can generally be used as a display if necessary, making it possible to use them on the go.
Graphics tablets do not have a resolution in pixels but in LPI, or lines per inch. This value simply tells you how many digital lines are capable of fitting in one inch of the device's screen. LPI values of 5,080 are common even among cheaper graphics tablets, so this is a good baseline to work from.
Meanwhile, pen displays have their own display so the surface you draw on is the same one you'll see your creation come to life on. Unsurprisingly, this makes for a much more intuitive experience. Equally unsurprisingly, it means that pen displays are much more expensive.
When buying a pen display, it's worth looking at the resolution, which tends to run from Full HD all the way up to 4K. Depending on the kind of art you're doing, you may or may not need so many pixels. Just as with graphics tablets, it's also worth thinking about the actual surface area you've got to draw on, and how much you're likely to need; a smaller surface area gives you less working room, but also makes the tablet more portable (and cheaper).
The final type of device that we've included in our list above is the tablet computer. These include the most common types of tablets you see everywhere – iPads, Samsung Galaxies, etc. The drawing functionality of these used to be severely limited, but these days, they offer some of the best drawing experiences in the business – so much so that the iPad Pro is now at number 1 in our list of the best tablets with a stylus pen.
With a tablet computer, you're paying for a device that can do much more than just provide a drawing surface, so they're probably only worth the money if you're actually going to use these other functions. They may or may not come bundled with the relevant stylus, so you may need to factor that in when making your budget.
How do I choose the best stylus?
To an extent, the stylus you get will be dictated by the drawing tablet you buy. Wacom tablets, for instance, come with Wacom's class-leading Pro Pen 2, which offers 8,192 levels of pressure sensitivity. Unsurprisingly, when it comes to art, the more pressure sensitivity you can get the better – 8,192 is the professional standard, and 4,096 is acceptable (the Microsoft Surface Pen offers 4,096 levels).
Many tablet/stylus combos can also detect the angle of tilt, which means you can get really granular with the thickness and shape of your lines. It's also worth looking at the parallax, which refers to the distance between the tip of the stylus and the cursor that actually appears on the screen. Ideally, you want this to be as minimal as possible.
If you choose a tablet computer, then you may have to fork out for the stylus separately. The Apple Pencil is one of the best styluses in the business, providing a superb drawing experience when paired with a high-level iPad like the iPad Pro 12.9. Unfortunately, it's not bundled in, so you have to add an extra $99 or so to the already considerable cost of the iPad. There are cheaper options though – we've compiled a list in our guide to the best Apple Pencil alternatives.
Users of Android tablets have a lot of styluses to choose from, but many of them aren't pressure sensitive and are more designed for note-taking and sketching than serious art. This is why the best Android tablets for drawing tend to be from Samsung, as there are both Samsung and third-party styluses that provide pressure sensitivity with Samsung tablets. See our guide to the best styluses for Android for more on this.
Many styluses will also have function buttons that allow you to quickly switch modes or toggle certain settings. These tend to have batteries and require recharging, while simpler styluses are generally battery-free.
Related articles: