Some of the best Apple Pencil alternatives are now just as good as the original thing – and often a fraction of the price. That's why we've put together this list of all the best options, including the best Apple Pencil 2 alternatives. All of the options we've featured here work perfectly on your iPad, providing a range of features and styles, many of which you won't find with the official Apple Pencil.
Don't get us wrong, we like both Apple Pencils. And, truth be told, it's neraly impossible to beat the Apple Pencil 2 for feel and features on the modern iPads (at least in this writer's view). But we also rate Apple Pencil alternatives because of the sheer range on offer. And we know this from personal experience. Whether it's on team, or with our talented reviewers, we've tested many of the styluses below, working with them over several days to see how they measure up for note-taking and for sketching and illustrating on an iPad. We've also tested and reviewed both Apple Pencils, so we're in a good position to compare them all. In the few cases where we haven't had the product ourselves, we've judged the pen by customer reviews and feedback from writers and artists.
You can learn more about Apple's own stylus in our Apple Pencil 2 review. You'll find the best prices in our guide to the best cheap Apple Pencil deals. We also have a guide to the best tablets with a stylus pen that you might want to check if you haven't yet chosen a tablet. In the meantime, here's our pick of the best Apple Pencil alternatives.
The best Apple Pencil alternatives available now
Why you can trust Creative Bloq Our expert reviewers spend hours testing and comparing products and services so you can choose the best for you. Find out more about how we test.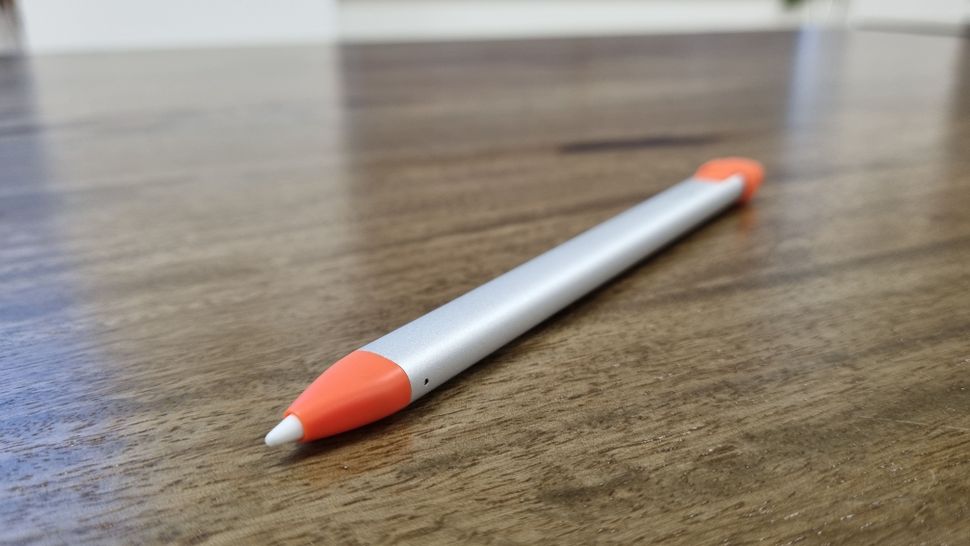 This stylus is the only Apple-approved pen in the list, and an affordable option to boot, and so retains its top spot on this list for the second year in a row. The grey and orange design is eye catching, and it's also a durable, solid stylus – it'll last up to seven hours of continuous use, and its quick recharge means you'll have 30 minutes of use from just two minutes charge.
In our review, we found that it works like a dream on iPads and with all Apple apps. It's especially good for digital artists who dart around the digital page a lot, as its palm-rejection tech will ensure no mark mistakes. Combine that with the tilt support that will allow you to use different shading in your work, and you've got the best Apple Pencil alternative overall.
It will work with the 6th Gen of iPad mini; 9th Gen of iPad; all iPad Pros back to 3rd Gen (12.9-inch) and 1st Gen (11-inch); and iPad Air back to 3rd Gen. See our full Logitech Crayon review and our comparison of Apple Pencil vs Logitech Crayon for more details.
The Adonit Note+ is a close contender for best Apple Pencil alternative for digital artists, as it offers much of what the Logitech Crayon does. First of all you've got both palm rejection, and a pressure sensitivity of 2,048, plus tilt support, meaning you can achieve great shading in your artwork.
It also supports most iPad apps, and with its USB-C charging, you can get a solid 10 hours of continuous use out of it. What we especially liked when we reviewed this stylus were the programmable shortcuts on the pen's two buttons, which give you extra versatility in how you use it. It's compatible with all 11-inch iPad Pro series, plus the 3rd, 4th and 5th Gen of the 12.9-inch model; the 3rd and 4th Gen iPad Air; the 6th, 7th, 8th and 9th Gen iPad; and the 5th and 6th Gen iPad mini. See our in-depth Adonit Note+ review for more details.
Adonit has been refining its styluses for more than eight years now, and the Adonit Pixel is still one of its best for drawing on iPad.
Bluetooth-enabled and compatible with many of the sorts of apps creatives will likely be using on their tablets, the Pixel boasts 2,048 levels of pressure sensitivity and a range of function buttons on its body that can be assigned to the user's preferred tools (though be warned: these can be easy to knock accidentally if you're not paying attention).
Best of all, the battery should last for about 15 hours of use, allowing you to get really stuck into your projects. Plus the sleek design makes the Adonit Pixel genuinely enjoyable to use.
The JimJake K10 Stylus Pen is a solid Apple Pencil alternative, as it's both really cheap and really effective in what it does – and it works on all iPads after 2018. Sure, it lacks Bluetooth connectivity, and doesn't offer pressure sensitivity, so this is definitely not aimed at digital artists, but if you want a stylus primarily to scribble down notes, or get rough sketches down quickly, this is a great, cheap option, as it boasts a palm rejection feature.
It also looks a lot like an Apple Pencil, which is great. And it's compatible with the 6th generation iPad; the 3rd generation iPad Air; 5th generation iPad Mini; and the iPad Pro. So if you're looking for a capable Apple Pencil alternative stylus that won't cost you the earth, this is a great option.
The Apple Pencil alternative if you want to cover all your devices is the Adonit Dash 4. We tested on an iPad Pro when we reviewed it, but it's compatible with iPhone and Android tablets too. We found it to be a straightforward but reliable drawing pen. The lack of Bluetooth connectivity means no pressure sensitivity or tilt support, so this one isn't aimed at pro artists working up masterpieces on their iPad.
It's perhaps a bit expensive for a stylus with no pressure sensitivity, but it boasts palm rejection, super fast USB-C charging, and a solid 15-hour battery life, so you can draw for longer. It's also light and stylish, weighing in at just 15g, and it sports a clip for portability. For an affordable stylus for everyday use, we found the Dash 4 to be a decent choice. See our full Adonit Dash 4 review for more details.
If the main reason you're looking for an Apple Pencil alternative is because you're put off by the cost of the former, then the Adonit Pro 4 might appeal. It's a very basic stylus, with no Bluetooth or other fancy wireless features, but for the simple task of navigating on a touchscreen, we found it works very well when we reviewed it.
The design might raise a few eyebrows as it ends with a small disc rather than a point. Sounds screwy, but the PET Precision Disc, a polycarbonate disc tip, actually works really well, interacting with the touchscreen without scratching it, and the disc is translucent and we found it never obscures what we were doing. The build of the stylus feels pleasingly premium for a product at this price point, and it'll work with all touchscreens, so is a great choice if you bought an older iPad at a bargain price. For notetaking, it's a bit hit and miss and feels a bit clumsy, and for drawing the lack of palm rejection and pressure sensitivity is a definite weakness. See our full Adonit Pro 4 review for more details.
The MoKo Stylus is a solid iPad stylus and can be bought at a great, low price, compared to many of the competition on this page. Of course, you're not going to get all the latest features with the MoKo Stylus, but then that's not what it promises. It offers decent pressure sensitivity (1,024), a lovely slim design, and 2-for-1 slim and fat nib option. And all for under $50! That's pretty great in our opinion.
Powered by a lithium polymer battery, MoKo promises eight hours of continuous use before you need to connect it to a micro USB cable and charge. But for us, we love the double option of (changeable) nibs on offer. You can go for the slimmer 1.5mm nib for the more detailed drawing or writing (with pressure sensitivity), or you can use the thicker (not sensitive) rubber tip for broader strokes, that otherwise sits on top of the MoKo Stylus' pen cap. Ingenious.
Like the Logitech Crayon, the Zagg Pro Stylus has such flashy features as palm rejection and tilt sensitivity, instantly putting it a cut above a lot of the cheap styluses out there. There's no pressure sensitivity, which will give some pause to artists looking for an Apple Pencil alternative to draw with, but it's comfortable to use for long periods, and has broad compatibility. Any app that uses the Pencil can also work with the Zagg Pro Stylus, and it'll pair with any iPad from 2018 or later. The battery will last a good eight hours or so, and can charge in less than two hours via its USB-C connection.
By far the cheapest Apple Pencil alternative on this list, the Meko Universal Stylus is a great option for anyone with little to spend.
As you'd expect, what you're getting here is going be very basic indeed, with no advanced features such as pressure sensitivity. On the plus side, the nib is very pleasant to use, there's a clear disc so you can see exactly where you're drawing, and both the disc tip and the fibre tip are replaceable.
You wouldn't want to use this pen for digital art, but if you just want to scribble down some notes or a quick sketch, it does the job well. And for such a fantastically cheap price (about 1/25 of the cost of an Apple Pencil), you really can't say fairer than that.
Read more: