We're here to bring you the full iPad generations list, including all the currently available iPads that we think are well worth a buy. As one of the most popular tablets for creatives, all iPad modes are highly sought after, but with regular iterations being released, it's easy to forget which generation of each model is the latest, and best. That's where we come in.
Below, we compare the different iPad models on offer, including the recent iPad Pro (M2, 2022) and iPad (10th Gen, 2022). Whether you want an iPad Pro, Air, classic or Mini, they're all here. Safe to say, the Creative Bloq team has been busy giving them all hands-on reviews, with the results are collated in this buying guide.
Of course, some of the iPads detailed below are discontinued, but as they can still be widely bought across various retailers, and still offer great power and features, we think they offer real bargains, so we've included them below.
If you're stuck at which iPad series to choose, you can scroll to the bottom of this guide, where we've assembled a few tips on how to figure out which one is right for you. Looking for accessories? We also have guides to the best iPad cases, the best iPad stands and the best iPad stylus to help you get the most from your tablet.
iPad generations list: all iPad models available now
Why you can trust Creative Bloq Our expert reviewers spend hours testing and comparing products and services so you can choose the best for you. Find out more about how we test.
iPad Pro generations
You'll have noticed that we haven't given the iPad Pro 2022 a star rating yet, or linked to a hands-on review. That's because it was only recently announced, and will go on sale on 26 October. However, you can link through to Apple and pre-order the latest pro tab, and we've got a few reasons why you'd want to do just that...
The latest M2-chipped iPad Pro promises to be the fastest, most powerful iPad to date, coming in 11-inch and 12.9-inch sizes. It boasts USB-C ports, the all-new Apple Pencil hover features, and Wi-Fi 6E. Add to that lightning-fast upload and download speeds, and you've got a potential laptop replacing super tablet! Of course, the iPad Pro (M2, 2022) won't come with the Magic Keyboard or Apple Pencil 2 (annoyingly), but it could theoretically be the heart of your future-proof work set up. If you need protection for the new tablet, see our pick of the best iPad Pro cases.
Need the best iPad you can buy? Well, that's now the iPad Pro 2022, but until recently it was this one. It offered the most computing power available in an Apple tablet, the finest display, the fastest user experience. It was the flagship model, the best of the best, and though it may no longer have the title, the 5th Gen iPad Pro, which comes in two versions, an 11-inch and the flagship 12.9-inch, is still a beast of a tablet.
With an eight-core M1 processor, it's got the same technology underpinning it as powerful laptops like the MacBook Pro and MacBook Air, and this means it loads apps in the blink of an eye. Want to edit 4K video on a tablet? This is the one to use. It supports Thunderbolt 3 and USB4, as well as eSIM, and offers global 5G coverage with speeds going up to 4GBps. In short, this is an intensely powerful tablet.
In our full review of the 2021 iPad Pro, we were hugely impressed. With the best iPad camera you can get, and clever extra features like Center Stage, the software feature that follows you during video calls, it's the best iPad for just about everything. Pair it with the Apple Pencil 2, and you've got one of the best drawing tablet experiences it's possible to get. It's hard to think of any creative Pro who couldn't get a lot of use out of this iPad.
Of course, all this comes at a cost. This is not a cheap tablet, and if you don't need all that power we've detailed above, then there are definitely cheaper options that will suit you better. Still, if you want the best iPad you can possibly buy, here it is.
See our iPad Pro 12.9in (M1, 2021) review and iPad Pro 11in (M1, 2021) review for full details.
If you need something like the iPad Pro 2021, but can't quite get to that just-off-the-assembly-line flagship price, consider the 2020 release, which is still a fantastic option that will do the majority of creatives just fine. Like its younger sibling, it's available in 11-inch and 12.9-inch configurations, and for the vast majority of professional creatives, it's going to be fast and capable enough for any task they're likely to encounter.
It's not quite as fast as the newer iPad Pro, or even the latest iPad Air (see below), but let's not get carried away – this is still an exceptional tablet, with useful features such as extensive storage options. You can get a 2020 iPad Pro with up to 1TB of internal storage if you want, which can be hugely handy if you're working with video or high-res image files. Plus, it boasts a few features that even the new iPad Air is missing, such as built-in Face ID.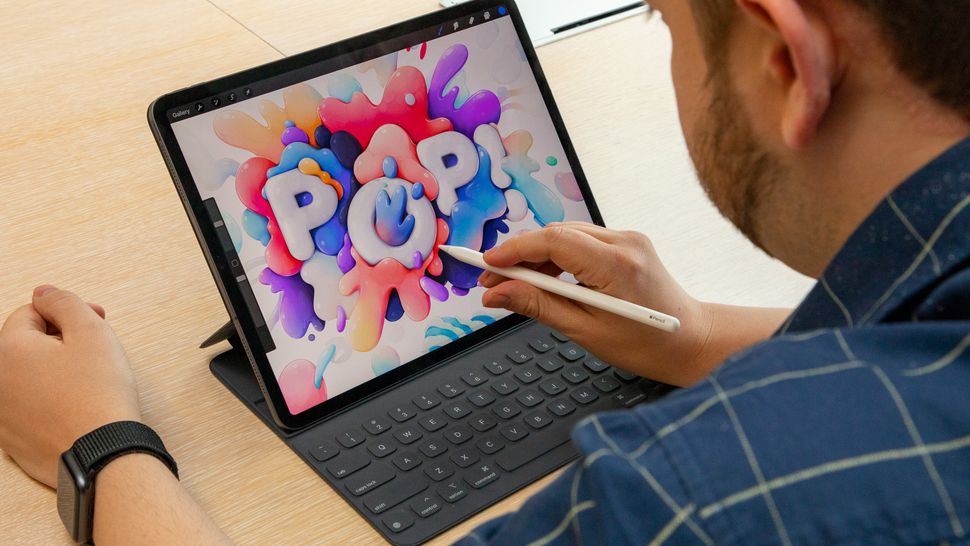 While it's becoming a little more difficult to find, the 2018 iPad Pro is still available at certain retailers, and still represents a good buy for anyone looking for a reasonably powerful iPad. Packing an A12X Bionic processing chip and 1TB of storage, it's still a beefy setup for any creative, and the large-screen version is an excellent canvas for drawing, editing and other such tasks, working like a dream when paired with the Apple Pencil.
We reviewed this tablet on release, and felt it was the first iPad of its kind that really provided a compelling alternative to a laptop. This is still true today, though the one caveat we'd make is that it's only really worth it if you can find it at a decent discount to its original asking price. If not, then you'd probably be better off future-proofing yourself by opting for a newer model.
Our iPad Pro 12.9 (2018) review goes into more detail.
iPad Air generations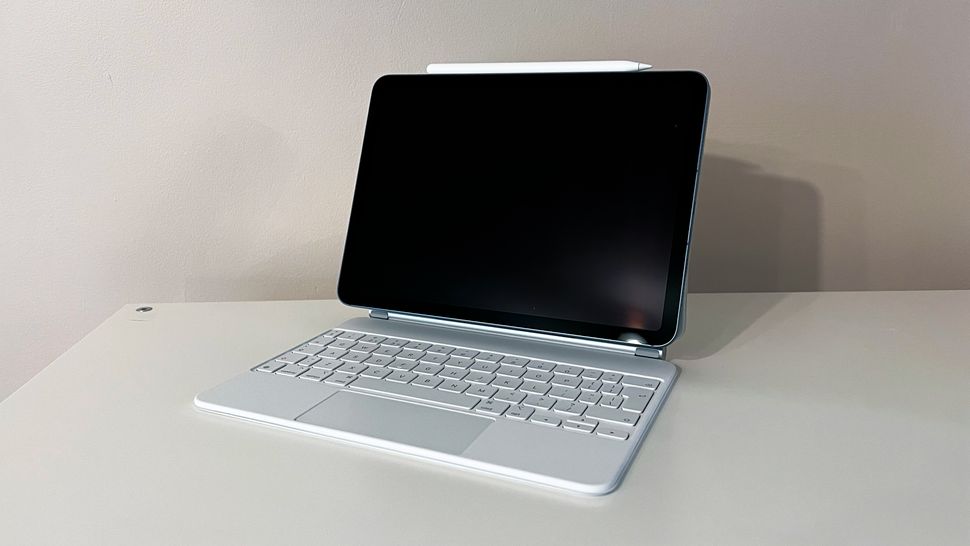 Released in April 2022, the newest iPad of all is the 5th generation iPad Air. Apple's made its midrange tablet a whole lot more pro-like, giving it the same M1 processor as the 2021 iPad Pros. When we reviewed the new tablet, we found that the chip combined with a superb 1640 x 2360 Liquid Retina IPS LCD screen means the iPad Air is now well and truly an iPad Pro-lite at a more affordable price – although only just, because the price difference is now really very close unless you find a discount.
It's also more portable than the Ipad Pro 12.9, with its compact size making the new iPad Air a very versatile device for word processing, digital sketching, gaming, messaging and lots more. It also comes in five attractive colour options compared to the two colours offered for the iPad Pro. The 64GB storage offered in the base device is rather small, so you'll probably want to go for the 256GB version if you're handling a lot of media. See our complete iPad Air (5th Gen, 2022) review for more details, and see our guide to the best iPad Air 5 prices to find the best deal where you are.
Despite the release of the new iPad Air 5 above, the 4th generation iPad Air from 2020 is still a fine tablet and might be more likely to come in for discounts now it's been superseded. This tablet is fitted with the A14 Bionic, Apple's most advanced tablet chip until the 5th generation iPad Pro in May 2021, and it works with the 2nd generation Apple Pencil, which magnetically charges by snapping to the edge of the iPad. It also supports the Magic Keyboard case with trackpad.
The Home button was eliminated in this model, with Touch ID located in the power button. That allowed the bezels to be slimmed down. All in all, the iPad Air is a top-of-the-line Apple tablet for those who want outstanding features and performance but don't need the power – or want the cost – of the latest iPad Pros. For more details, see our iPad Air (2020) review.
The 2010 iPad Air was a great piece of kit in its day but it's not going to be at the top of most people's lists now that there are two newer iPad Air generations available. While there's a chance you might still spot a good deal, this tablet is becoming less common to see. We'd generally recommend the newer entry-level iPad 10.2 as the best option for those on a budget. Our iPad Air (2019) review goes into more detail.
iPad generations
Apple just dropped the new iPad, and there are plenty of updates to this one. Apple have been walking a fine line with its crammed iPad range, and it was only a matter of time until they released a tablet in one 'vertical' that actually looked and acted like another iPad from a different vertical. That's the new 2022 iPad. Basically it's the 2021 iPad Air. It has the same chip processor, the same screen resolution, the same cameras, and yet updates the body to the newer angled edges and introduces a new Magic Keyboard Folio. Oh, and the camera is now positioned in the middle of the landscape side of the body (at last!)
It's too soon to give this a star rating, but we can tell you that with these new updates, the 10th Gen iPad will be retailing at $449 in the US, which is a little steep for the 'base-level' iPad. Our initial thoughts? If you want to pay that much, why not look at 2021's iPad Air and be able to use the 2nd Gen Apple Pencil. Or seek out an amazing deal on 2021's iPad (below) and you've still got a cracking tablet.
The 2021 edition of the basic iPad went on sale on 24 September 2021. The first thing we noticed that sets it apart from the previous version is its storage capacity. You get more space for all your media, games, photos and more.
There are more differences between this and the last model (the 8th generation device) inside. While it looks almost identical to 2020's iteration, this model boasts Apple's TrueTone tech, allowing the screen image to adjust to the ambient lighting wherever you are. The camera is also upgraded, growing to 12MP with Apple's Center Stage features, first seen on the iPad Pro of 2020.
Other than that, the 2021 model has the same 10.2in 1620 x 2160 LCD screen as the 8th generation, with a max 500 nits brightness, which will be just fine for most users. At this price, it's a great tablet for general use.
For more information, read our more detailed iPad 10.2 (2021) review.
This is the previous iPad generation for those who want a quality tablet a very good price. It's since been superseded by the 2021 model above, but we liked this model a lot when we reviewed it on its release, and two years on, it still has everything you need for the core iPad experience here. That includes Apple Pencil support (see here for Apple Pencil alternatives), a powerful processor and a great Retina display. So if you spot a discount that makes it cheaper than the 2021 version, it's still a tempting buy.
The 10.2in screen size puts this model in the Goldilocks zone between the bite-sized iPad mini and the large-scale 12.9in iPad Pro, making it ideal for media consumption without it becoming unwieldy. It might already start to look a little outdated, but there's no doubting its capabilities. Find out more in our iPad 2020 review.
The 7th generation model of the iPad released in 2019 is another good option to consider if you're on a budget. While it's not so readily available now, it's worth looking out for in case you spot a deal. The Apple iPad 10.2 (2019) has almost exactly the same package as the 8th generation version, including Apple Pencil support, the same storage options, the same camera, Touch ID and more.
The only real difference is the processor, which is the older A10 Fusion chip. You might notice the difference if you want to do more demanding tasks, but if you just need a simple, affordable tablet, you won't go far wrong with this iPad model. It's worth considering if you see a good price. You may be more likely to spot renewed/refurbished options, but the price of those needs to be significantly cheaper than that of one of the newer iPad models to make it good value.
iPad mini generations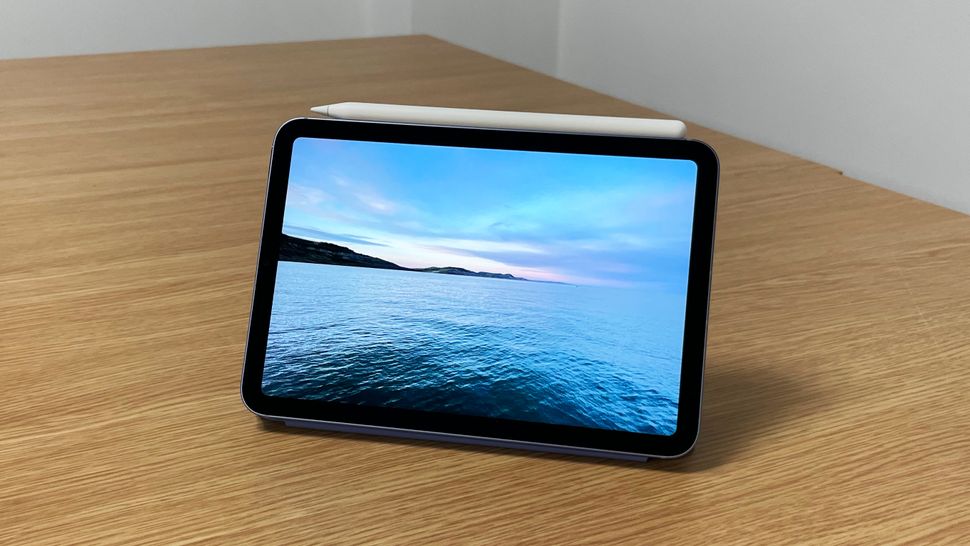 The iPad mini got a pretty big upgrade in its September 2021 release. It's still very portable, but it's been bumped up to 8.3in (from 7.9in). It also now boasts a Liquid Retina display with 2266x1488 resolution at 326 pixels per inch.
That's not all. It comes with an A15 Bionic chipset, a USB-C port (at last), and with 5G connectivity, we feel that it's now more on a par with one of the bigger boys on this page, the iPad Air. Added to that, it now supports the Apple Pencil 2, making it a good choice for creatives on the move.
As with the new iPad 2021, the rear camera got upgraded to a 12MP snapper, able to record in 4K, while the front camera also maxes at 12MP, but also comes with ultra-wide, and the Centre Stage feature the higher-end iPads now sport. Read more in our full iPad mini (6th gen) review.
Finishing off our iPad generations list is the 5th gen iPad mini. Like the newer generation of the mini above, it's an ideal tablet if you find most iPads are too big for your needs. It's lightweight and its 7.9in display makes it easy to pop into a bag to take on your travels.
Think of this tablet as a more capable Kindle or Kobo for reading or watching content on the go, although it has the iPad's A12 chip so its performance is by no means weak. It doesn't work with any of Apple's keyboard cases, and unlike the newer 6th generation device above, it's only compatible with the 1st generation Apple Pencil, not the improved Apple Pencil 2. Having said that, we loved this device when we reviewed it on its release, and it remains a good option if you want to look out for a bargain rather than pay the full price of the newer model. Find out more with our iPad mini (5th generation) review.
Older iPad models
Older iPad Pros
iPad Pro (3rd generation, 2018)

iPad Pro (2nd generation, 2017)

iPad Pro (9.7-inches, 1st generation, 2016)

iPad Pro (12.9-inches, 1st generation, 2015)
Older iPads
iPad (2018, 6th generation)

iPad (2017, 5th generation)

iPad (2012, 4th generation)

iPad (2012, 3rd generation)

iPad (2011, 2nd generation)

iPad (2010, 1st generation)
Older iPad Airs
iPad Air (2014, 2nd generation)

iPad Air (2013, 1st generation)
Older iPad minis
iPad mini (2015, 4th generation)

iPad mini (2014, 3rd generation)
iPad mini (2013, 2nd generation)
iPad mini (2012, 1st generation)
Which iPad series is best?
In very very simplistic terms, we could simply conclude that the iPad Pro (2021) is the 'best iPad' overall, be it the 11 in or 12.9in version. This is the iPad generation that currently offers the best specs in terms of sheer power and capability. That said, such a powerful tablet will be overkill for many people, and unless you're planning to use demanding apps, you probably don't need to spend that much money on a tablet.
The new iPad Air (5th generation – 2022) comes very close to the iPad Pro for performance while being more affordable, and also smaller, which can be a benefit in terms of portability since some people find the iPad Pro too large for use on public transport for example – in fact, many designers actually prefer to use the iPad mini when they're working remotely since it's so portable and easy to use on the go.
As for value, the best iPad is probably still the 'standard' iPad (although there's nothing standard about the 2021 9th Generation of this 10.2 tablet). It's very affordable and still offers a superb experience.
How to choose the best iPad generation for you
To choose the right iPad generation for you, you need to consider what you want to use the tablet for. In terms of raw specs, the latest iPad generation (so currently the iPad 13 range), is always going to be the most up-to-date (although how powerful the device is will depend on which particular model you look at since the Pro devices from the previous generation will still be more powerful than the standard device in the newest generation).
If you're only looking for a tablet to use for general internet browsing, checking emails and docs, and watching entertainment, you really don't need an iPad from the latest generation, and you might want to save money by going for an earlier model. However, if you're looking for a more powerful device for work, you'll probably want to consider the latest or at least the second-to-latest generation.
If you want an iPad for drawing, then you'll want Apple Pencil support, and ideally the Apple Pencil 2, which has a more practical matte finish and flat sides and a magnetic attachment with wireless charging. That means going for at least the 4th generation iPad Air (2020), first-generation 11-inch iPad Pro (2018), third-generation iPad Pro 12.9-inch (2018) or later – including the iPad Pro M1 2021 models.
Should you buy an older iPad?
Apple wants you to buy its latest iPads, and there are some good reasons to go along with it. Unlike with the products from many other brands, the price of Apple products doesn't tend to drop hugely even a long time after release. The latest iPad generations tend to go on sale at a very similar price to the generation before, and they tend to retain that price throughout their life. For example, the 202112.9-inch iPad Pro retails for $1,099/£999, while the 2020, 12.9-inch iPad Pro originally went on sale at $999/£949, just $100/£50 less.
Now you're likely to be able to find the 2020 iPad Pro for around $800/£800 in a sale, but the latest model offers such a boost in performance that we'd generally recommend paying a couple hundred dollars more to get more longevity from your device.
Having said that, the previous iPads models are still great tablets, and many users won't notice the small differences in loading times. Ultimately, if you want an iPad to use for several years before you next upgrade, it probably makes sense to get the most recent iPad generation of your preferred model. But if budget is the primary factor in your decision making, going back one, or even two, iterations makes total sense if you spot a particularly good deal.
Related articles: