Well before the iPad Pro 2022 arrived, back in May 2021, Apple wowed us with its all-new M1 iPad Pro. The release saw the tech giant's flagship tablet boast the power of a desktop PC and a new mini-LED-powered XDR screen, both of which have helped cement it as arguably the world's most flexible creative tool. So when I heard news of a 2022 version coming, I had to wonder how on earth Apple could top it.
But this is Apple, right? And they've done just that, upgrading the silicon chip from an M1 to an M2 (more on what that means later), and upgrading the screen to, unbelievably, something even better. Sounds impressive, right? And it is. But the real question is whether the improvements are enough to make you part with your hard-earned cash.
After having my hands on the latest Pro for a few months now, I can safely safe it remains as the ultimate tablet for creative professionals, and, without question, the best iPad for drawing. And that's all down to a combination of the sheer power under its hood, an unbeatable screen and the range of apps/software available. Scroll down for more on exactly what the iPad Pro 2022 can do.
If you're already certain this is the device for you, get the best deal in our best iPad Pro 2022 prices article. Think you need a different model? Head over to our iPad generations guide for details of every tablet in the Apple range.
iPad Pro 2022 (M2) review: Price and power
The iPad Pro 2022 12.9-inch model starts at $1,099 / £1,249. While the starting price hasn't changed in the US, there is a pretty significant price jump in the UK in comparison to the 2021 model, which last year started at just £999.
The bulk of the price increase is down to the update in power. I'll be honest, I'd be lying if I said I fully understood the capabilities of Apple's M2 chip (does anyone, really?). One thing I do know, however, is it's wild and if it was possible (or even needed, one might argue) the new iPad Pro is capable of even more when it comes to performance. Now enabling support for ProRes video capture, it's basically like having a complete film studio with you wherever you go. We're talking high-end laptop levels of power, all packed into a sleek design that is super portable.
iPad Pro 2022 (M2) review: Display and Apple Pencil
I could list all the technical information about the new iPad Pro 2022 Liquid Retina XDR display, but, if you're anything like me, you want to know what that's like to actual use. And, in short, it's thing of beauty. Truly.
I've spent a lot of time primarily working in Procreate, taking and editing photos and watching movies with the new iPad Pro over the last few months, and it offers an exceptional visual experience. It's razor sharp, delivering the most beautiful, accurate colours, and the frankly unbelievable resolution allows you to work on and clearly see the tiniest of details.
If you didn't know, a nit is the term used to describe how bright a monitor, screen, TV etc is. The higher the nit, the brighter the display. The iPad Pro can reach 1600 nits of high dynamic range brightness. In comparison, Samsung's flagship tablet, the Galaxy Tab S8, reaches 600 nits. So, yeah, it's bright. Really bright. And takes the clarity and overall experience of the display to a whole new breathtaking level.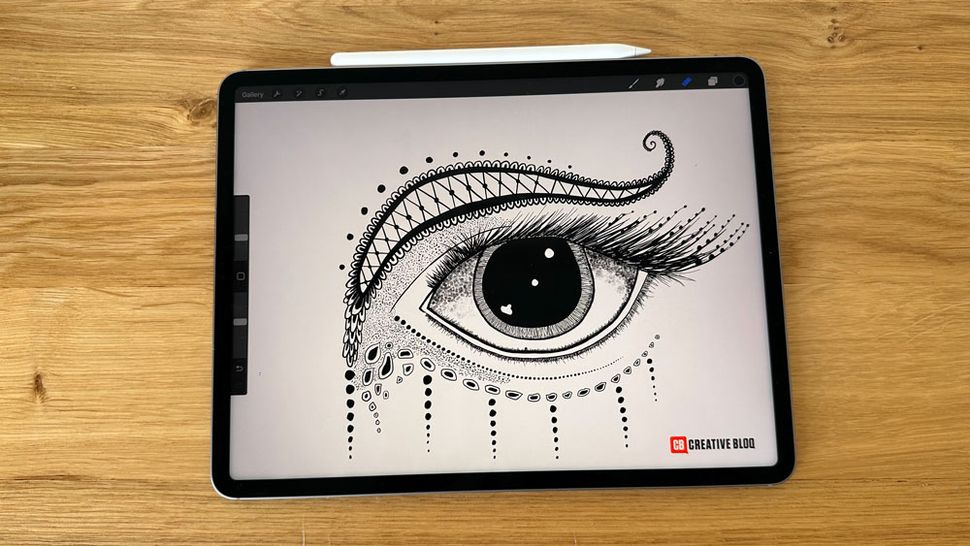 And it doesn't just look good. The latest iPad Pro display offers support, once again, for the 2nd Gen Apple Pencil, which is as enjoyable and accurate as ever. The new big thing here though is the 'hover' feature, where the display is able to recognise where the Pencil is before it touches the screen. In the apps that support this feature (which right now isn't many, but we're sure that will change if this sticks around), the hover is visible mostly as a dot under the pen itself, so you are able to see exactly where the Pencil will draw or touch the screen.
It's hard to say whether this feature is a game-changer right now. A lot will depend on how third-party apps embrace and develop support for it. At the moment, the hover function responds well to system elements, such as app icons, buttons and menu lists, but Apple will need developers to jump on board with this in order to do more useful, specific tasks, like controlling brush sizes in Procreate, for example. It's a feature that offers a lot of opportunity, so I'm excited to see how it evolves over the next 12 months. For digital artist's workflow, in particular, I can definitely see how, with some inventive developer input, it could become a feature you'd wonder how you lived without.
iPad Pro 2022 (M2) review: Should you buy it?
The answer to this question ultimately comes down to budget and personal preference. In terms of capability and power, there isn't another tablet that comes close to this iPad Pro model, so if you need an iPad that can do it all and have the funds, this is the one for you.
However, the iPad Air (2022), which now features the very powerful M1 chip is a lot cheaper in comparison but still offers a lot of the capabilities of the Pro, albeit in a smaller package. So while the iPad Pro 2022 (M2) is undoubtedly the best iPad available right now, we wouldn't necessarily recommend it to everyone. However if you're a creative professional, who wants a device that is both portable and powerful enough to handle the most complex of tasks, you won't find better.