Quick menu
Jump to the quick list↴
1. Best overall: MacBook Pro (M2)
2. Best Windows: Asus ProArt
3. Drawing: Surface Laptop Studio
4. Compact: Dell Precision 5470
5. Best 13-inch: MacBook Air (M2)
6. MacBook Pro alt: Asus Zenbook
7. Best value: MacBook Air (M1)
8. Dual-screen: Zenbook Pro 14
9. Best thin and light: Dell XPS 13
10. Best powerful: MSI Creator
FAQs
You'll need deep pockets for some of the best laptops for graphic design, but many of the machines on our list have power without costing the earth. We know what makes a brilliant laptop because we've tested a lot of them, and because we know what is needed for graphic design, we are able to help you pick with confidence.
We've tested all these laptops ourselves, whether it's an Asus or an Apple machine. For more on our process, check out our guide to how we test laptops. We ran extensive benchmark tests, checked key specs like battery life and screen brightness, and completed projects that helped us understand exactly how they would handle demanding graphic design workflows. Put together, that helped us decide what makes a machine the best laptop for designers.
Here, we've included the best laptops for graphic design for beginners and students as well as professionals, but students may also want to see our guide to the best student laptops for other options. For the best software to install on your laptop of choice, you should check out our guide to the best graphic design software, or the best video-editing software, and check out our guide to design the perfect logo. We've also have lists of the best laptops for video editing and the best laptops for music production that are worth checking out.
Quick list
Best laptop for graphic design overall
We've picked the MacBook Pro 16-inch (2023) for the overall best laptop for graphic design because it's one of the most powerful laptops on the market right now. With the brilliant M2 Pro and M2 Max chips, it's lightning fast, and it has a big, bright screen that delivers an impressive 1,600 nits when you're consuming HDR content. For context, the average is around 500 nits. Apple calls the screen a Liquid Retina XDR display, and it uses mini-LED tech so the colours are intense and vivid. There's also a 1,000,000:1 contrast ratio – perfect for design work.
If you're often working on the move, the 22 hours of battery life will be more than enough. If, on the other hand, portability is your aim, then the 14-inch MacBook Pro might be your best bet (see our MacBook Pro 14-inch (M2) review for more). What's more, the newest MacBook Pro retains a smattering of beloved ports, such as the HDMI slot and an SD card reader.
Read our MacBook Pro 16-inch (M2, 2023) review to find out more about why we rate this laptop.
Best Windows laptop for graphic design
Asus has managed something quite remarkable with its ProArt Studiobook OLED (H7604) laptop. It has crammed the device with a plethora of high-end components that are perfect for all manner of demanding creative tasks, yet the device manages to stay cool and composed almost at all times. If you want to be able to do run your heavy workloads without worrying that your laptop is going to melt, ASUS's device will be very attractive. In fact, our reviewer said "the machine is powerful enough to deserve a place in any workplace that has the need for creative software".
Its OLED display is bright and sharp packs in touchscreen functionality and hits 100% of the DCI-P3 colour gamut, so it should be able to handle colour-accurate work with ease. Plus, there's a built-in dial that sits above the trackpad, and this can be customised and change its role depending on which app you're running. You can use it to scrub through a timeline, for example, or tweak brush sizes in your image editor of choice. With all that going for it, the ProArt Studiobook OLED is the laptop to go for if you're not a fan of Apple's MacBooks. And maybe even if you are.
Read our full Asus ProArt Studiobook OLED review.
Best laptop for drawing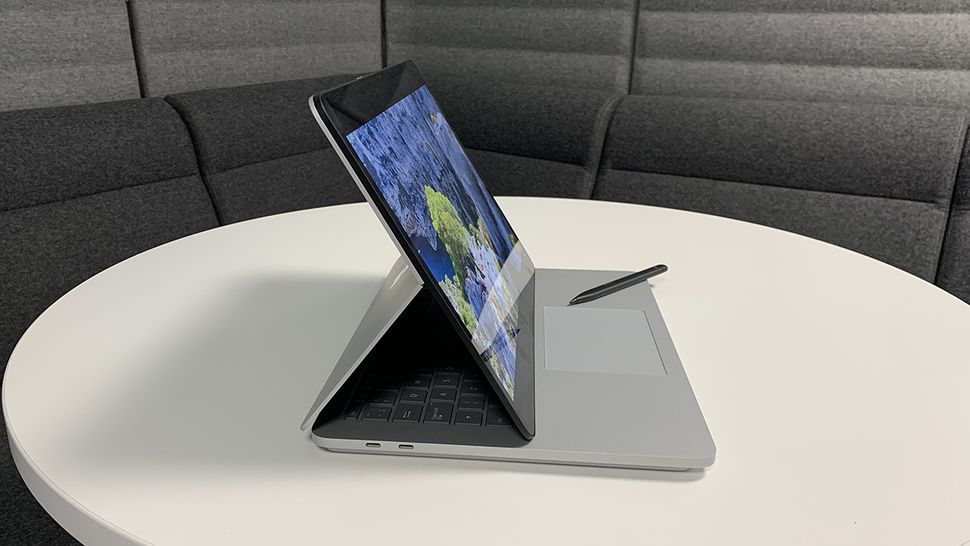 If you need a drawing screen when you're designing, this could be the ideal choice. Boasting a sharp 3:2 screen with a 120Hz refresh rate and support for your choice of MPP stylus, and an ergonomic design that's specifically great for drawing – giving you far more potential angles for the screen than a simple L-shaped laptop – this is an excellent choice for graphic designers, digital artists or pen-based photo editors.
"The first highlight for me was its battery life," said our reviewer, who used the 2-in-1 laptop all day, every day when testing it. And the power was pretty great too – though you can choose the power you want if you want to pay for extra for it.
With quad-core Intel Core i5 or i7 processors, and either Intel Xe graphics or an Nvidia RTX 3050 Ti, there's plenty of power here – though it does mean the build is a little bulky. And if it's the power you want, you can get it for less from other laptops – but you'd have to give up the drawing abilities that make this a great pick for designers in the first place. See our Surface Laptop Studio review for full details.
Best compact laptop for graphic design
Good things often come in small packages, and that's never been truer than with the Dell Precision 5470 laptop. It may not have the expansive display of the 16-inch MacBook Pro, but this 14-inch parcel comes loaded with a huge amount of power for its compact frame. In fact, our testing put its performance close to that of a 14-inch MacBook Pro with Apple's M2 Pro chip, which is a superb laptop chip for graphic design work.
We got over 12 hours of battery life from Dell's Precision 5470 in our review, and the comfortable keyboard serves up an enjoyable typing experience. It's all wrapped up in a superbly well-made chassis that feels well-built and exudes quality. So if you want portable power and are put off by some of the larger laptops on the market, Dell's offering could be right up your street.
Best 13-inch graphic design laptop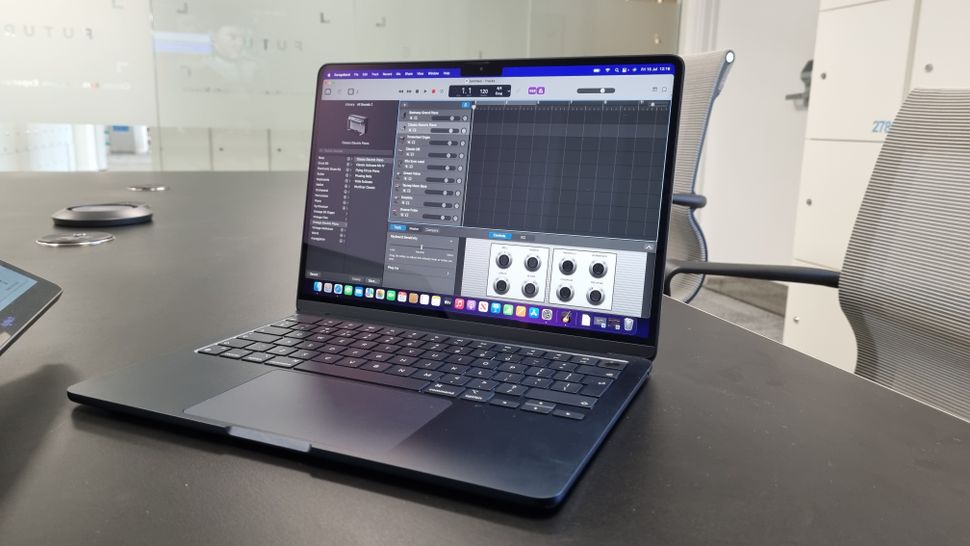 Apple's MacBook Air range is a favourite among laptop lovers everywhere, and the 2022 version with M2 chip updates the design with a fresh new look. But you'll get much more than just aesthetic changes – the latest MacBook Air is still a great device for graphic design work.
One of the reasons is its M2 chip. An upgrade over the previous M1, the M2 retains the superb combination of power and efficiency that we've come to expect from Apple silicon. In fact, it's so efficient that the MacBook Air doesn't even need a fan, and while it'll get a little toasty under the most extreme workloads, for everything else it stays icy cold and whisper quiet. Plus there's all the standard Apple goodness, including a beautiful display, Touch ID button, and fantastic metal construction.
Apple has just brought out a 15-inch MacBook Air if you need more display real estate, and it's a fantastic choice for graphic design work. If that's too large, the 13-inch MacBook Air will serve you well.
Best MacBook Pro alternative
Looking for a laptop that pushes out the maximum power while still proving to be portable? If so, the Asus Zenbook 14X OLED is absolutely worth considering. As we said in our review, "it offers about as much power as you're going to find in a portable computer right now without getting yourself an RGB-festooned gaming PC," and goes blow-for-blow with the MacBook Pro in terms of performance. You'll also get a built-in touchscreen, and will pay less than the MacBook Pro.
You'll get around eight hours of battery life, which can't compete with Apple's laptops, but is still decent for an i9-equipped device. And remember that touchscreen? It has an OLED panel that's bright, sharp and colourful, making it ideal for creative work.
Best value laptop for graphic design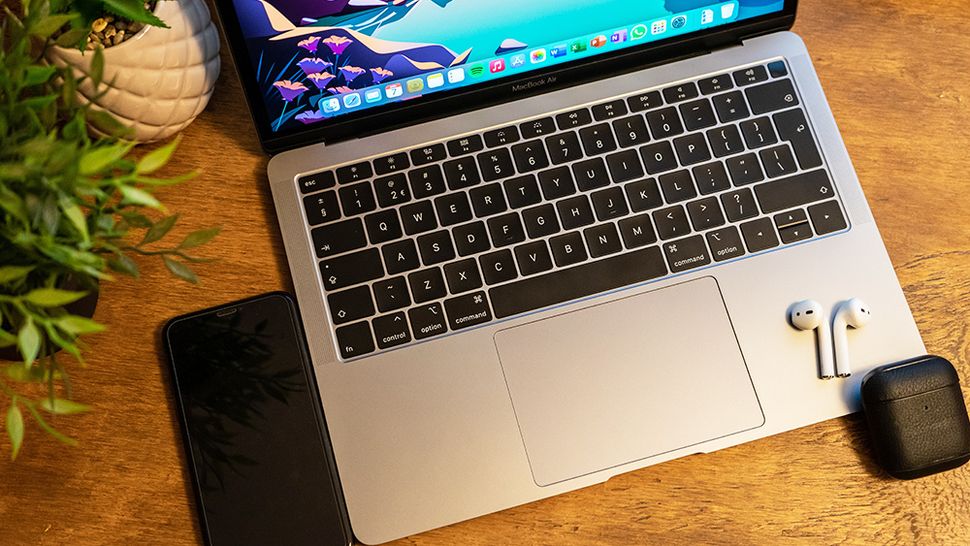 Yep, another MacBook on this list. We're not biased, though – Apple really does make some of the best laptops for graphic design, and the 2020 MacBook Air, while more affordable than a MacBook Pro, still stands up to use as a graphic design laptop thanks to its ARM-based Apple M1 chip. While there is a new MacBook Air with the M2 chip, which is also great for graphic design, we still recommend the older M1 model for people on a budget. That's because the price has dropped further and you can now get it for under £1,000.
The fanless design makes it silent in use, but we found the laptop could still cope with heavy workloads without overheating. It supports the P3 colour gamut, which means the screen can display accurate colours, a consideration that is incredibly important for creative professionals. Add in amazing battery life and a gorgeous thin and light design, and you have a brilliant graphic design laptop. See our full MacBook Air (M1, 2020) review.
Best dual-screen laptop for graphic design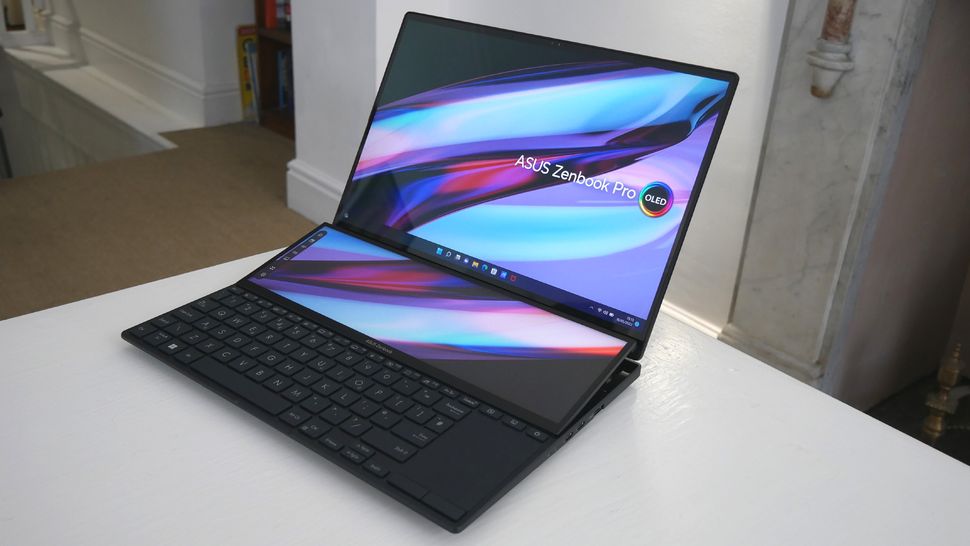 The Asus Zenbook Pro 14 Duo OLED (2022) offers cutting-edge components, including a 12th generation Intel processor and features an Nvidia RTX 3050 Ti 4GB graphics card, which means it'll handle most graphic design projects you throw at it – and even a little gaming.
The 14-core processor and 32GB of RAM also means this is an absolute beast when it comes to multitasking, which can seriously speed up your workflow. However, the most eye-catching feature of the Asus Zenbook Pro 14 Duo OLED (2022) is its dual-screen setup – there's a 14.5-inch 120Hz OLED mains screen, which looks fantastic, and a 12.7-inch IPS display above the keyboard.
Think of that second screen as a super-charged Touch Bar, allowing you to move apps and tools to the bottom screen, giving you more space to work with on the main one. You can also use a stylus on the second screen, turning it into a great drawing tablet. It's expensive, and the battery life isn't the best, but it's an incredible machine for working on.
Read more in our Asus Zenbook Pro 14 Duo OLED (2022) review.
Best thin and light laptop for graphic design
Dell's XPS 13 range has produced some of the best laptops for graphic design with smaller screens, and the XPS 13 9315 2-in-1 continues that fine tradition. Offering a thin and light design alongside some of the most powerful mobile components, this is a stunning laptop that is easy to carry around, while being powerful enough to handle graphic design tasks without breaking a sweat.
When we reviewed it, we found it offers a "great balance of performance, portability, and design" thanks to its powerful processor, sleek design, and superb touchscreen display. As the name suggests, you can detach the keyboard and use the screen as a tablet, giving you plenty of flexibility when you need it. See our full Dell XPS 13 9315 2-in-1 review for more details. And see our best 2-in-1 laptops for creatives for more options.
Best powerful laptop for graphic design
Sometimes, you just want the most powerful laptop you can get with the largest display you can find. In times like that, the MSI Creator Z17 is a great option for creatives. It's packed with some superb tech, including an Intel Core i9 processor and up to an Nvidia RTX 3080 Ti graphics card, giving you a huge amount of oomph for whatever you can throw at it.
The large 17-inch display is touchscreen enabled and hits 100% of the DCI-P3 gamut, meaning it's great for colour-accurate work as well as anything that needs a stylus. All this power means that battery life is not exactly world-beating (we got about 3.5 hours from a fairly lightweight office workload in our review), so it's more of a desktop machine than one built for portability. But if that doesn't bother you, it's got plenty to offer.
FAQs
So how do you pick which of the best laptops for graphic design is right for your work? Clearly you'll be guided by what you can afford, which is why we have the best options for all budgets here. But there are a few other things to consider too.
One is power versus portability: you probably want something that's thin and light enough to throw in your backpack, but also powerful enough to run your suite of creative tools. You also need to decide whether macOS or Windows is right for you. The former used to be the staple of creative professionals, but it really doesn't matter what platform you use these days.
Whatever your preferences, each of the machines here will give you all the power and performance you need to hit the ground running with your latest, greatest project. You might also want to see our guide to the best laptops for Photoshop if that's a tool you use frequently.
What laptop specs do I need for graphic design?
When buying a laptop for graphic design, you'll need to take into account the specifications of the models you're researching. But what specs do you need in the first place?
For a good graphic design laptop, you'll want a modern processor from either Intel or AMD. When it comes to MacBooks, Apple has its own chip – the M1 – which performs brilliantly as well. If you're going for Intel or AMD, we recommend getting an 13th gen Intel or AMD Ryzen 7000 mobile processor if you want to future-proof the laptop. For Apple fans, look for the M2 series of chips.
When it comes to RAM, the more you have, the better, especially if you want to multitask. We suggest a minimum of 8GB RAM, but ideally 16-64GB if your budget can stretch to it.
A dedicated graphics card is also worth thinking about, especially for graphically intensive workloads. However, these can up the price of a laptop considerably, and modern integrated GPUs are good enough for day-to-day graphic design use. For any heavier usage, though, a discrete graphics card is a must.