Hunting for the best laptops for photoshop could get confusing, especially if you're not sure what makes a laptop good at running graphical applications. From displays to internal components, modern workstation laptops are designed to run creative apps with ease, so it's little wonder that they can be on the pricey side.
Not everyone will need a super expensive, powerful machine, though. So we've included a range of different systems that cover every budget on this list to help keep things affordable for you.
Adobe Photoshop is one of the best photo editing software applications, offering features and tools that many of its competitors simply can't, including AI-powered tools that make adding advanced effects, or performing what was once time-consuming editing tasks, impressively easy. It's hardly the most demanding application you'll find on a laptop, but those features mean that to make the most out of it, you can't just run it on any ageing machine.
Thankfully you can now get laptops and convertible 2-in-1 devices optimised for content creators, OLED or mini-LED displays with fantastic brightness and RGB colour coverage, as well as optimised internal components like processors, graphics cards and memory to make running the demanding photo editing and illustration application a breeze.
If you're planning to hook your machine up to a second screen for a productivity boost, make sure you pick up one of the best monitors for photo editing too, and if you're a student on a budget, you should also check out our best student laptops.
If this all sounds a little daunting, then don't worry, buying any of the laptops in our best laptops for Photoshop guide will guarantee you'll be getting a laptop that runs Photoshop perfectly.
Still need to sign up to Creative Cloud? Take a look at our guide to the best Adobe Creative Cloud discounts to make sure you get the best price, or download Photoshop for a free trial.
The best laptops for Photoshop available now
The new MacBook Pro has worked hard to reclaim its crown as the most popular workstation laptop on the market, but it's done so with a flourish. It's had a complete redesign since 2019 that has reintroduced built-in ports that were binned off back in 2016, now featuring three Thunderbolt 4 ports, one HDMI port, an SDXC card slot, and a MagSafe 3 port.
You can configure it to your exact needs, with a choice between either an M1 Pro or M1 Max SoC (system-on-a-chip), that combines the CPU and GPU together, though it's unlikely you'll need to max out the component options to run something like Photoshop. Whatever you pick, this is an absolute powerhouse that can run any application you throw at it, making it ideal for digital illustrators, photographers and video editors.
That 14.3-inch 120 Hz mini-LED display is also one of the best we've ever seen on a laptop, giving you crisp, accurate colour and delivering up to 1,000 nits of sustained, full-screen brightness, and 1,600 nits of peak brightness.
If you need multiple displays for your work then you can connect up to three Pro Display XDRs and a 4K TV with M1 Max, or two Pro Display XDRs if you opt for the M1 Pro.
For more details, read our MacBook Pro 14-inch (2021) review.
The Dell XPS 17 (2021) is one of the best portable workstations on the market, especially so if you're not a fan of macOS. Dell already makes some of the best Windows products you can buy, but its XPS range is favoured by creative professionals thanks to its superior build-quality and powerful components.
You can get up to an 11th generation Intel i9 processor, 64GB of memory and an Nvidia GeForce RTX 3060 graphics card to power through any demanding renders. Plus, for a 17-inch laptop, as well as being impressively thin and light to boot.
This is a shining example of just how great a Windows device can be for creatives, and you even have the option of buying with Windows 11 preinstalled. Its 16:10 aspect ratio screen is ideal for photographers as it offers more vertical space than standard 16:9 widescreen displays, and it can be configured with a 4K Ultra HD+ resolution of 3,840 x 2,400.
Perhaps most importantly, the screen supports 100% Adobe RGB and 94% DCI-P3 color gamuts, which means this offers accurate colors as well. This means it's an excellent choice for professional photographers or anyone who wants their photos to look their very best when editing them in Photoshop.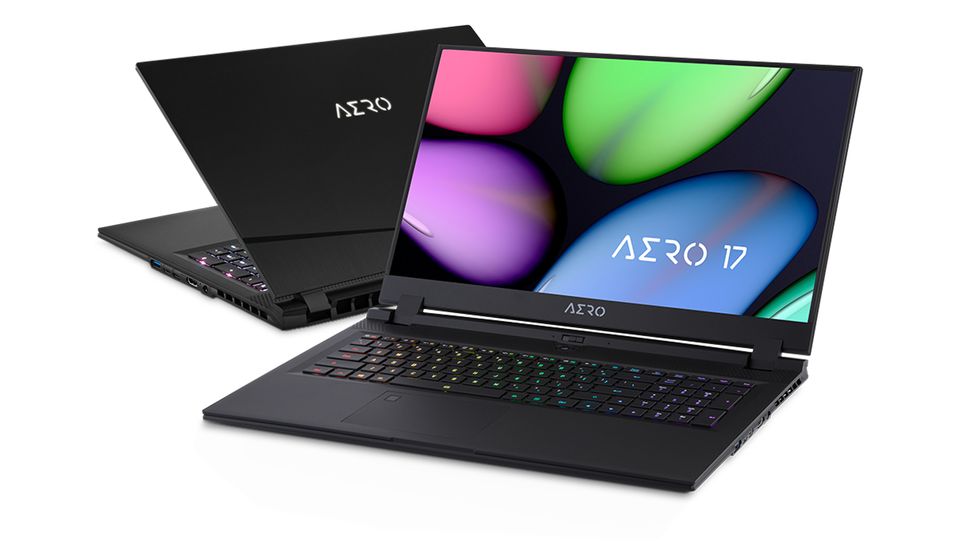 The Gigabyte Aero 17 (2021) is a laptop purposely designed for content creators, something that would usually warrant an eye-watering price tag, but this device starts at just $1,599 (about £1,170) for the base model that comes equipped with an Intel Core i7-10870H with an Nvidia GeForce RTX 3060 with Max-Q, 16GB 2,933Hz DDR4 RAM, 1TB SSD, and a 17.3-inch full HD 300Hz display.
That's highly unusual for such a great laptop packing some beefy components, a gorgeous display, and plenty of ports to dock any additional displays or peripherals to be this reasonably priced. By no means are we suggested that it's cheap, but creative workstations often cost much more, which makes this a verified bargain in comparison to the likes of a MacBook Pro.
The 4K OLED display is available for $3,699 (about £2,700), but for that, you're getting an Intel Core i9-10980HK, an Nvidia GeForce RTX 3080 , and a 17.3-inch 4K HDR400 OLED display with Pantone factory calibration for 100% Adobe RGB.
There are a few things that might bother you (such as unimpressive battery life and frustratingly loud cooling fans) so it's far from perfect, but considering how little you're paying to get a 4K OLED workstation designed specifically for creative professionals, you might want to let a few things slide.
If you don't need oodles of power then the MacBook Pro 13-inch (M1, 2020) is the ideal candidate for fans of macOS. It can't match the newer M1 Pro or M1 Max models, but if you only do light photo editing or digital illustration then you won't need all that juice anyway.
And of course, that Apple silicon M1 chip is featured inside this smaller MacBook Pro (rather than an Intel processor), and the M1 version of Photoshop is seriously impressive.
While a few people were disappointed that this smaller MacBook Pro was still rocking the divisive Touch Bar, creatives have found it to be useful when working in applications like Adobe Photoshop, and you're getting many of the design benefits of the larger 16-inch model in a more compact package that's easier to toss into a bag and carry around.
The MacBook Pro 13-inch (M1, 2020) also boasts an impressive battery life and can run just about any application you throw at it.
For more details, see our MacBook Pro 13-inch (M1, 2020) review
The Surface Laptop studio can be considered as a Windows-based rival to many of the popular macOS products on the market, and with Microsoft having spent so much time developing the Studio range these last few years, it's little wonder why.
Offering Windows 11 compatibility and some seriously powerful hardware, this laptop has been well received by creatives across various backgrounds, from digital illustrators, writers and photographers.
It's got a thin and light design that rivals Apple's best devices, with a gorgeous screen that makes working in Photoshop a joy, on top of excellent battery life so you can edit photographs or illustrate without worrying about being near a power outlet.
There are, however, some annoying caveats. For one, you can only buy the Microsoft Surface Laptop Studio if you're in the US. It is coming to the UK and other regions, but not until early 2022, and you can't preorder the device outside of the USA either.
If you're really determined, you can get a US model shipped over, but for anyone outside of that region, sit tight – it will be worth the wait.
The Microsoft Surface Book 3 is another brilliant Photoshop laptop from Microsoft. You're getting a 10th generation Intel Core processor, and it can be configured to come with a graphics card by Nvidia as well for especially demanding tasks and applications.
If you need some additional variety for sizes then good news – you can pick between 13.5-inch and 15-inch screen sizes on top of other component configurations to make sure this is the best-optimized device for your needs.
A kick in the teeth for Apple is that you can also convert the Microsoft Surface Book 3 into a drawing tablet for easier image editing or sketching on the go, which is a feature you don't have by opting for a MacBook Pro or MacBook Air.
It doesn't quite meet the same standards as an iPad Pro paired with an Apple pencil, but it's decent enough for sketching and image editing, and you can always invest in a small graphics drawing tablet to use alongside if required.
Bear in mind, though, that there's only one non-Thunderbolt USB-C port so you'll probably need the extra Surface Dock for plugging in all of your peripherals if you need anything other than a mouse or USB headset.
The MacBook Air (M1, 2020) may not have all the raw power needed for 3D rendering, but it's ideal for students and photographers on a budget who want to get an M1-powered macOS device without spending all that cash on a Pro laptop. Given it's rocking the same Apple silicon as the previously mentioned MacBook Pro (2020), this is the first affordable MacBook Air that can go toe-to-toe with a MacBook Pro when it comes to Photoshop performance.
You'll be able to open and edit high-resolution photos and projects, and swap between apps, with ease, all without listing to any noisy fans thanks to its fanless design. And of course, as this is technically a general consumer device rather than a creative workstation, it looks incredibly stylish to boot.
As with previous MacBook Airs, it features a gorgeous thin and light design that makes it easy to carry around with you, and also rocks a 2560 x 1600 screen that maxes out at 400 nits of brightness.
Also, for the first time in a MacBook Air, the latest model supports the P3 colour gamut, which means the screen can display accurate colours, a consideration that is incredibly important for photographers using Photoshop.
For more info, read our MacBook Air (M1, 2020) review.
If you need a laptop that can do everything then look no further than the Asus ZenBook 13. This powerhouse of a mobile workstation was created specifically for creative professionals, so you're getting some insanely beefy components that will run anything you throw at them.
This new model comes with a choice of either an AMD Ryzen 5000 series or Intel 11th gen processor. These are cutting-edge components and ensure that this is one of the fastest laptops you can buy right now, and you can buy it with up to 32GB of RAM and 1TB of SSD storage - making it ideal for multitasking and holding all of your photos.
Perhaps best of all, it has an incredible 13.3-inch OLED screen. This makes your photos look absolutely stunning, and it's easily one of the best screens we've seen on a laptop. Add in the fact that it has a brilliant battery life, and you've got one heck of a laptop to do your photo editing on.
And of course, this means that you can run more demanding applications on the Asus ZenBook 13, so if you enjoy digital sculpting or using CAD systems then you don't need a separate device.
There are some downsides to the ZenBook 13, such as its lack of Thunderbolt 4 support and absent 3.5mm headphone jack, but if you mostly use BlueTooth headsets anyway then this shouldn't prove too troublesome in comparison to the great features it provides.
The Lenovo ThinkPad P1 is a bit of an ugly duckling, but underneath that somewhat bland exterior is a serious amount of power. This creative workstation was built for content creators on the go, packed full of features as a desktop alternative so there's almost nothing that the ThinkPad P1 can't run.
This means you can configure it with some seriously powerful professional components, such as 11th Gen Intel i7 or i9 processors and up to Nvidia RTX 3080 graphics. There are also a few display options available for configuration, the top-spec being a 16-inch 3840x2400 IPS with 600nits of brightness and 100% Adobe RGB coverage.
It's no surprise that these beefy components will cost you a pretty penny though, so the current generation of Lenovo ThinkPad P1 should only be considered by industry professionals or those with money burning a hole in your pocket.
It's not right to expect everyone to have a huge stack of cash to drop on a laptop, so luckily the HP Envy x360 13 (2020) is one of the most affordable options on this list, available to buy for just $799 / £799. It's not going to win in a head-to-head match against some of the powerful alternatives featured on this list, but not every Photoshop user needs the latest and greatest components to get the job done.
With a stylus compatible tablet mode, artists and photographers can edit or sketch on the go, and that fantastic battery life means you can do so without stressfully watching your power drop after a couple of hours. Plus, that tablet mode can save you from buying an additional graphics drawing tablet, which will leave even more cash in your pocket.
There are some limitations of course. You won't get the same pen sensitivity on the screen as you would with a display graphics tablet, but it's plenty enough to get by in Photoshop and similar editing applications. It's also one of the smallest devices we've ranked here, but that compact size makes for better portability.
If you're a photographer or content creator who likes to do a lot of fieldwork, you don't want to be dragging around a hefty device alongside the rest of your equipment after all.
---
What makes a laptop good for Adobe Photoshop?
Photoshop is a creative application beloved by Photographers and digital artists alike thanks to its varied toolset and wide range of features. It's far from the most demanding piece of software available, but it's certainly one of the beefiest for photo editing. This means not every laptop can do a decent job of running it, but there are a few things to look out for when buying a laptop specifically for Adobe Photoshop.
Firstly, you'll want a modern processor. Both Intel and AMD list CPUs in numerical order regarding power, and the rule is generally 'the bigger, the better' so a 9th generation Intel i5 won't perform tasks as efficiently as an 11th generation Intel i9. We recommend at least a 9th generation Intel i5 or a Ryzen 5 3600.
Memory, or RAM is also important so look for a minimum of 8GB (though 16 GB is preferred), and even a dedicated graphics card if your budget can stretch to it.
A laptop with a large SSD hard drive is also recommended, as it means you can store all the photos you're editing on the device, while the speed of an SSD (compared to a slower traditional hard drive) means you can load up and edit the photos in a matter of seconds.
Because you'll be spending lots of time working on your laptop, you'll want to make sure it's comfortable to use, so the trackpad and keyboard need to be well built, without adding too much bulk to the laptop. If you're going to need a laptop for Photoshop to edit photos while traveling, a thin and light laptop should be your priority.
A 2-in-1 laptop can also be very advantageous as it combines the fluid editing benefits of a graphics tablet with your laptop, though these tend to be less powerful than a larger, design-optimized laptop.
New developments have also appeared in recent months too, with more 4K OLED displays appearing on laptops specifically created with photographers and creatives in mind. An OLED screen will provide rich, deep blacks and beautiful colors, so while they might be expensive, it's worth every penny to get one if you can splash the cash.
What laptop do most photographers use?
This is entirely down to the personal preferences of each photographer. Many choose MacBook Pro devices as they were one of the best optimized laptops on the market for creative professionals. these days, Windows based laptops and 2-in-1's have come a long way, but Apple still reigns as the top choice.
This is thanks to a mix of great optimization and that beloved Apple ecosystem, making it much easier to use other Apple devices like iMacs Mac Pro desktop computers and iPad Pro tablets together in harmony.
Of course, if you don't have a bunch of other Apple devices laying around your home, Windows hardware is still a fantastic option for photographers and digital editors alike, especially if you're not experiences using macOS. Apple also has yet to release a true 2-in-1 device or convertible laptop, which gives Windows an advantage for folks looking to leave a graphic drawing tablet at home and instead use a stylus directly with their laptop.
Related links: