The best laptop for animation will offer you power and a nice, big display so you can see what you're working on. Though this used to mean a bulky device or even desktop PC, nowadays you'll be able to choose a thin, powerful, versatile laptop to save some desk space and make it more easily portable.
We've reviewed every single laptop on this list, putting them through their paces with extensive benchmark testing. The power, performance, battery life and display are just a few of the criteria we test against – so you can be sure you're in safe hands. Read our how we test laptops page for more information, and we also have some more insight into the best laptop for animation at the bottom of this article.
Every laptop on this page can run the best animation software, including After Effects, Blender, Maya and more, but will differ in terms of cost, screen size and other important features. If you want something to see to your drawing needs, check out our picks of the best drawing tablets for animation, or alternatively branch out to other creative endeavours with one of the best laptop for graphic design or best laptop for music production.
The best laptop for animation available now
Why you can trust Creative Bloq Our expert reviewers spend hours testing and comparing products and services so you can choose the best for you. Find out more about how we test.
Looking for the very best laptop for 3D animation? Then look no further than the shiny new 2023 MacBook Pro. Measuring 16, 14 or 13-inches, this beast of a laptop sports the latest M2 chip from Apple that will run all your high-end animation programmes with ease.
The beefy 16.2-inch Liquid Retina XDR display is perfect for accurate colours and detailed artwork. Apple claim that the M2 chip is 40% faster than its predecessor too so it can easily handle lots of hard rendering work.
In our MacBook Pro (2023, M2) test, we found the battery life to be incredibly impressive – it lasted over 15 hours, which makes it a great option for creatives on the go. Our reviewer also loved the additional ports (3x Thunderbolt 4 (USB-C), HDMI, SDXC card slot, 3.5mm headphone jack, MagSafe 3), which are helpful when you've got a heavy workflow.
Asus has managed something quite special with its ProArt Studiobook OLED (H7604) laptop. It has crammed the device with a plethora of high-end components that are perfect for all manner of demanding creative tasks, yet the device manages to stay cool and composed almost at all times. If you want to be able to do run your heavy workloads without worrying that your laptop is going to melt, Asus's device will be very attractive. Our reviewer loved it, and said "the machine is powerful enough to deserve a place in any workplace that has the need for creative software".
Its OLED display is bright and sharp packs in touchscreen functionality and hits 100% of the DCI-P3 colour gamut, so it should be able to handle colour-accurate work with ease. Plus, there's a built-in dial that sits above the trackpad, and this can be customised and change its role depending on which app you're running. You can use it to scrub through a timeline, for example, or tweak brush sizes in your image editor of choice. With all that going for it, the ProArt Studiobook OLED is the laptop to go for if you're not a fan of Apple's MacBooks. Read out full Asus ProArt Studiobook OLED review.
Good things often come in small packages, and that's never been truer than with the Dell Precision 5470 laptop. It may not have the expansive display of the 16-inch MacBook Pro, but this 14-inch parcel comes loaded with a huge amount of power for its compact frame. In fact, our testing put its performance close to that of a 14-inch MacBook Pro with Apple's M2 Pro chip, which is a superb laptop chip for graphic design work. It even convinced our reviewer, who is a self-confessed Apple obsessive.
We got over 12 hours of battery life from Dell's Precision 5470 in our review, and the comfortable keyboard serves up an enjoyable typing experience. It's all wrapped up in a superbly well-made chassis that feels well-built and exudes quality. So if you want portable power and are put off by some of the larger laptops on the market, Dell's offering could be right up your street.
Looking for a slightly more affordable option? Check out the MacBook Pro from 2021. Powered by a choice of Apple's M1 Pro or M1 Max chips, the MacBook Pro can easily handle even the most complex animations.
It doesn't just offer a huge amount of power, but when we tested it we found that it has one of the best screens you'll see on a laptop, thanks to mini-LED technology, which will make your animations look their very best.
Apple increased the screen size slightly from the older 2020 model, and boosted the selection of ports, including HDMI and a memory card slot, so you can easily plug in additional peripherals such as drawing tablets and external monitors. We found it very comfortable for working at a desk, but it is rather large, so if you're after something more portable, check out the 14-inch model below. See our full MacBook Pro 16-inch review for more details.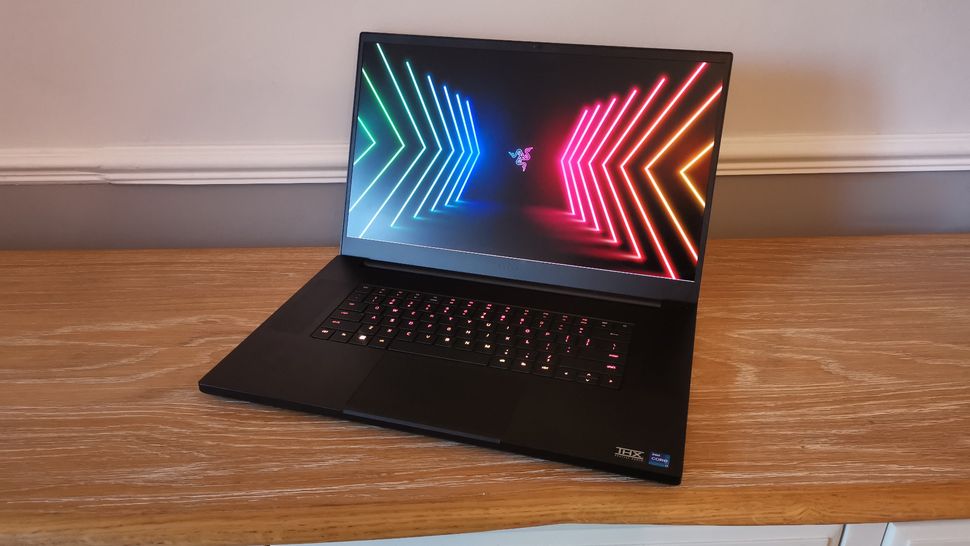 The Razer Blade 17 is a great laptop for animation, combining Razer's well-known build quality with some of the most powerful mobile components money can buy right now. This includes the cutting-edge Intel 12th generation of processors, along with Nvidia's latest Nvidia GeForce RTX 3080 Ti laptop GPU.
This is the most powerful GPU you can get in a laptop without spending a seriously huge amount of money, and we found that even the most complicated and detailed 3D animations run brilliantly. You can also add realistic lighting effects with ray tracing, taking your animations to a whole other level.
It's very expensive, but for your money you're getting some of the best mobile tech available. Combined with a great build quality and stunning 17-inch screen, this is a brilliant creative workstation for people who need a lot of power. For people doing 2D animations for the web, however, it may be overkill. Read our Razer Blade 17 review for more information.
If you want a stylish laptop with Apple-like build quality, but don't want to use macOS, then Microsoft's Surface Laptop 4 is a great Windows alternative. While Microsoft may be better known as a software company, it's been putting out some great laptops and this one is thin, light and easily portable.
We were impressed with the PixelSense touchscreen and it comes with cutting-edge integrated graphics from either Intel or AMD, depending on the configuration you go for. It also has very decent battery life – we found it lasted around 13 hours in our tests.
Read our Surface Laptop 4 review for more details.
Apple's MacBook Air has been updated to the M2 chip. While it's an incremental improvement over the already-excellent M1, it sees the chip get even more powerful and efficient.
That last point is one of the key advantages of the MacBook Air. The M2 is so efficient that this laptop doesn't even need a fan, making it completely silent in operation. Because the M2 is able to perform so effectively without breaking a sweat, you likely won't miss the fan (although it might struggle a bit on super-heavy workloads).
We also love how thin and light the MacBook Air is, even in the new 15-inch iteration. Combined with its incredible battery life, it's ideally suited to working on the go. If you need to do your animation work away for the office, this is a great laptop to bring with you. See our MacBook Air (M2, 2022) review for more details.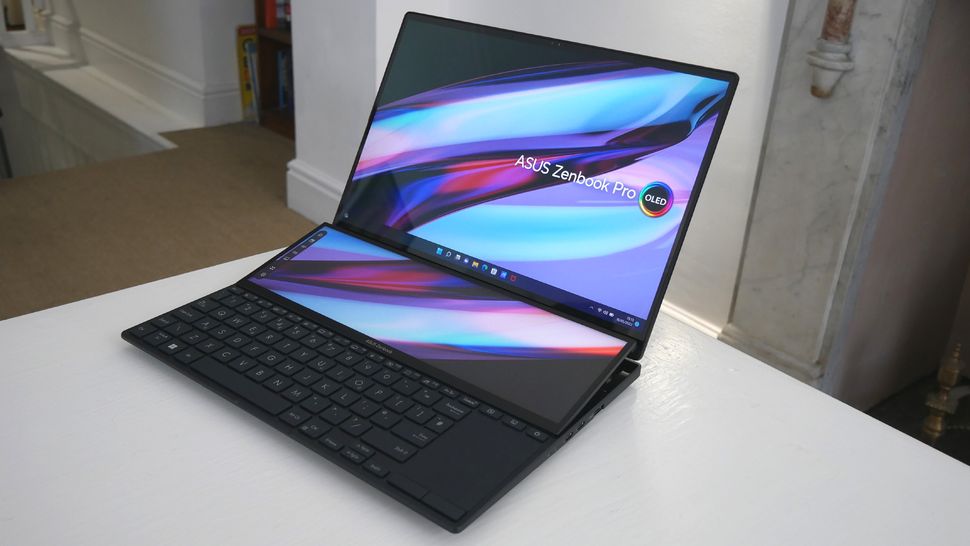 The Asus Zenbook Pro 14 Duo OLED (2022) offers cutting-edge components, including a 12th generation Intel processor and features an Nvidia RTX 3050 Ti 4GB graphics card, which means it'll handle most animation projects you throw at it – and even a little gaming.
The 14-core processor and 32GB of RAM also means this is an absolute beast when it comes to multitasking, which can seriously speed up your workflow. However, the most eye-catching feature of the Asus Zenbook Pro 14 Duo OLED (2022) is its dual-screen setup – there's a 14.5-inch 120Hz OLED mains screen, which looks fantastic, and a 12.7-inch IPS display above the keyboard.
Think of that second screen as a super-charged Touch Bar, allowing you to move apps and tools to the bottom screen, giving you more space to work with on the main one. You can also use a stylus on the second screen, turning it into a great drawing tablet. It's expensive, and the battery life isn't the best, but it's an incredible machine for working on.
Read more in our Asus Zenbook Pro 14 Duo OLED (2022) review.
The Acer ConceptD 7 Ezel Pro is another powerful creative laptop that is a brilliant choice for animating on. It features high-end Nvidia RTX graphics, which makes it an excellent choice for people looking to animate complex 3D scenes. The Pantone-validated 4K IPS screen is also by far one of the best we've seen in a laptop, and when we reviewed it we found animations look fantastic.
We found that the power and speed of this laptop also ensures smooth rendering. It's expensive, and it's not the thinnest or lightest laptop on this list, but it's well worth investing in if you're looking for a real workhorse to animate on. See our Acer ConceptD 7 Ezel Pro review for more.
How do I choose a laptop for animation?
Choosing the best laptop for animation for you will depend upon what level of experience you have, your budget, and how demanding your work will be. Generally speaking, you'll need a device with a modern processor and plenty of RAM. As a minimum, we recommend 8GB, but realistically you should aim for 16GB or more.
With the increasing popularity of GPU render engines like Redshift and Octane, you should also think about whether you will be using your GPU or CPU to render animations.
For CPU rendering, you specifically want to look for a high clock speed so the machine can animate in real time and handle the complex calculations needed to render animations.
For more complex 3D animations, you're probably better off using your GPU, and so we'd suggest looking at laptops with a dedicated graphics card - especially if you're going to be attempting final-quality rendering. While these will inevitably be more expensive, the drastic impact it will have on the speed of your workflow is well worth the investment.
However, the current cost of living increase makes this kind of investment a lot harder to swallow - which is why we've made sure to include laptops at a variety of price points in our guide that are still more than capable to handle your animation needs.
Are gaming laptops good for animation?
Gaming laptops are some of the most powerful machines on the market, and increasingly creatives are finding themselves investing in an RGB-clad laptop to handle their processing and rendering needs - we've even included a laptop from Razer, famed for its gaming hardware, in our selection of the best laptops for animation above. Most of the best gaming laptops will be perfectly capable of meeting an animator's needs.
Related articles: