Looking for the best MacBook for students? You've come to the right place. A laptop is one of the first things a student will need for studying, and they often don't come better than the MacBook. Here you'll find our pick of the best options for different types of studying, to suit every budget.
Our roundup is based on our reviewers' expert reviews of each device, taking note of specs, price and design. Look out for our full reviews, which are linked below and will give you lots more information about each model. And be sure to take a look at our guide on how to grab an Apple student discount before making your decision.
If you want something even more portable, make sure you also take a look at our guide to the best tablets for students. Or if you're looking for a desktop Mac, then check out our Mac mini M2 review.
The best student MacBooks available now
Why you can trust Creative Bloq Our expert reviewers spend hours testing and comparing products and services so you can choose the best for you. Find out more about how we test.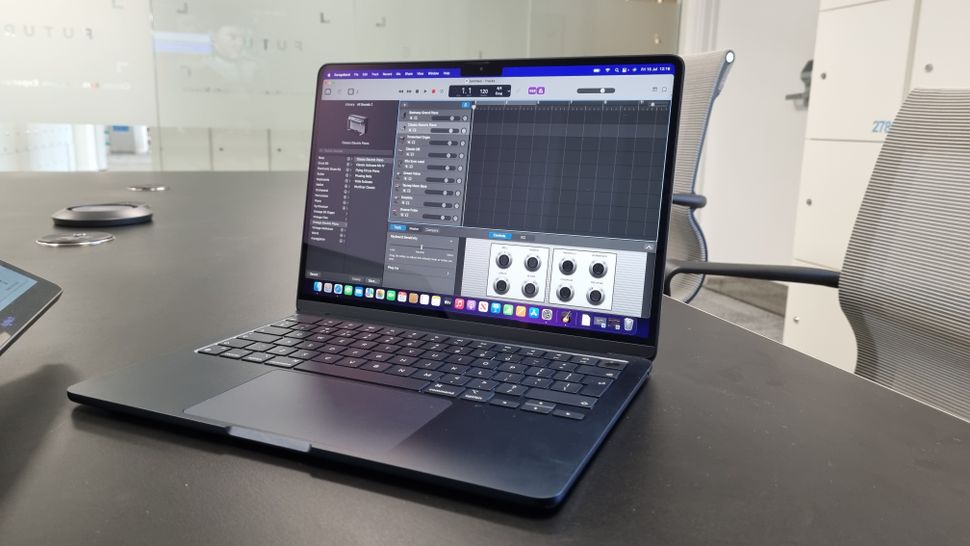 The MacBook Air (M2, 2022) is one of Apple's newest laptops and a great all-round choice for students, no matter what you're studying. Apple's M2 chip gives this 2022 device a power boost over the 2020 model (see below), meaning that it's a serious contender for students on creative courses that don't want to fork out for a MacBook Pro.
It's lighter and more compact than the previous MacBook Air, despite having a larger screen (13.6-inch). The screen is 25 per cent brighter, and the laptop also has MagSafe support. We found battery life to be superb (we got over 16 hours of video playback when we tested it).
The similarity between this device and the M2 MacBook Pro 13, which was released just a few months before it, can make it a difficult choice between the two. Even the price is now quite similar. But this laptop is slightly cheaper and slightly lighter. We also found that the 1080p webcam gives a much better picture than the 720p one on the MacBook Pro. Of course, if you need a really powerful GPU, then you'll want to splash out for one of the pros below.
See our full MacBook Air (M2, 2022) review for more details.
The MacBook Air (M1, 2020) is the best MacBook for students who prioritise good value over having the latest specs. Yes, MacBook Pros and even the newer 2022 MacBook Air offer more power, but unless you're studying on a course that requires you to use graphically demanding software, the M1-chipped MacBook Air should do you just fine.
We think the 2020 MacBook Air still hits the perfect sweet spot between value and performance. It's the cheapest MacBook you can buy new, and it now often has a discount since the release of a new MacBook Air in July 2022. In our tests, we were impressed by how fast and smooth the laptop is in use, and we got well over a full day of use on a single battery charge.
Another benefit of MacBook Airs is that they're fanless too, so you'll be able to use it in lecture theatres, libraries and other places of respectful silence, without annoying professors or fellow students. That said, if you're on a creative course such as photography, video editing, animation or film-making and need to use software that makes heavy demands on resources, one of the more powerful MacBooks below could give you a smoother experience.
See our full MacBook Air (M1, 2020) review for more details
If you need to use power-hungry software like Photoshop, After Effects and Premiere Pro, you might find it worth investing in the more powerful MacBook Pro line. The biggest, and best if you want a larger screen, is the MacBook Pro 16-inch (2022), which comes with a choice of Apple's powerful M2 Pro or M2 Max chips.
We found that this laptop can make smooth work of even the most demanding graphic design, animation, video editing or 3D modelling tasks. In our tests, we edited 8K video in Final Cut Pro in a project with colour correction and up to five videos playing simultaneously at moments, and we didn't experience a single glitch or hold-up. Meanwhile, the mini-LED true HDR display with 1,600-nit peak brightness is a joy for creative work.
The 16-inch MacBook Pro also boasts the best battery life of any MacBook. Apple says that you should get around 14 hours of web browsing from a charge, but we've seen more like 17 hours for basic online work. You can also configure it up to 64GB of memory, up to 8TB of storage. All this is overkill, of course, if you just want a MacBook for surfing the web and keeping up with your emails. And for that use, this is a large and weighty option.
If you require a powerful MacBook to run creative software, but also value portability, then the MacBook Pro 14-inch (2022) may be the best student MacBook for you. It's lighter and more compact than the 16-inch device but provides almost all of the same specs, with only battery life being slightly lower.
You get the same choice of processors, same ports and same 1,600 nits of peak brightness as with the 16 incher but with a smaller screen. That makes the MacBook Pro 14-inch (2022) more comfortable for use out and about, for example in class or in a cafe. When we tested it, our reviewer found it performed brilliantly for everything from 3D modelling to image editing and video editing – we got instantaneous results when doing complex tasks in Cinema 4D. We also got an impressive 11 hours of web browsing from the battery.
For more information, check out our MacBook Pro (M2, 2023) review.
If even a 14-inch MacBook is too big for your portability needs, the MacBook Pro 13-inch (M2, 2022) enables you to take a further step down in size. Plus, there's an added bonus: it's significantly cheaper.
Apple treats its 13in MacBook Pros as a lower-end model of the device (this packs an M2 chip, which is more powerful than the M1 but not as fast as the M1 Pro or M1 Max that come with the MacBook Pros above). All the same, we found the new June 2022 MacBook Pro 13-inch to offer excellent performance and battery life that can cope well with the demands of most creative software. And at the same price as the previous 2020 mode, there's no dilemma in choosing between them.
Creative students will particularly benefit from the neural engine in the M2 processor, which handles a lot of AI and machine learning features in apps such as Adobe Photoshop. When we ran our tests, we found editing 4K video was smooth with silent performance throughout.
Read our MacBook Pro 13-inch (M2, 2022) review for more details.
If you're on the hunt for a budget-busting MacBook, this 2019 model, the MacBook Pro (16-inch, 2019), is worth considering. You're likely to be able to find refurbished or second-hand model at a low price, which means you're getting a great, if old, Apple laptop for less.
It still feels smooth and responsive in use despite its age and the pre-M1 processor, so you can still expect a pretty fast experience. Apple's computers last, and they off the very latest in specs when they're released, so three years on they tend to be great performers still. That said, if you're running high-intensity video editing software, you'll find the newer laptops on this list do a better job, however, so we'd only really recommend this if you get a good price.
For more details, see our full MacBook Pro (2019) review.