Finding the best Mac for video editing is vital for professional editors and videographers as well as enthusiasts to get the most out of their work. You can use both desktop Macs and MacBooks for video editing due to their versatility and power, which form factor you choose is up to your preferences. Because not only are these computers stylishly designed, they're increasingly capable since Apple started making its own M1 and M2 processors. In other words, you're guaranteed fantastic performance, accurate displays and solid design with a premium feel.
So what's the best Mac for video editing overall? Well, right now we think it's the MacBook Pro (M2, 2023), which comes in both 14- and 16-inch versions. But it is pretty expensive, so we've also included other options on the list which are a little older (and therefore cheaper), but still provide plenty of power. Plus, it's not just about laptops: you'll also find some very impressive desktops from the iMac and the Mac Studio lines in the list below.
We've evaluated Apple's current range to choose the best Mac for video editing depending on different requirements. We've ensured that each device has the specs required for video editing, and our reviewers have tested the machines specifically for this purpose. We've also taken on feedback from our contributors (to learn more, read how we test laptops, PCs and workstations).
In all honesty, Macs aren't cheap, but the best Apple deals might make them more affordable. If you can't find one that fits your budget or exact requirements, though, check out our pick of the best laptops for video editing overall, which also includes some Windows alternatives.
Meanwhile, whichever laptop you end up picking, you'll want to use the best video editing software that best fits your requirements. Audiophiles can also check out our guide to the best laptops for music production.
The best Mac for video editing in 2023
Why you can trust Creative Bloq Our expert reviewers spend hours testing and comparing products and services so you can choose the best for you. Find out more about how we test.
If you want to do video editing on the move, then here's our top pick from Apple right now. It comes with the choice of an M2 Pro or M2 Max chip, both of which knock the socks off anything previously offered by a MacBook in terms of sheer processing power. That means they'll breeze through resource-hungry tasks like video editing, image editing, 3D rendering and 3D modelling.
The M2 Pro chip features a 10- or 12-core CPU with up to eight high-performance and four high-efficiency cores, which Apple claims delivers 20 per cent greater performance than its predecessor, the M1 Pro. The M2 Max chip has a GPU with up to 38 cores and, Apple say, offers 30% better graphics than the M1 Max.
So what does that all mean in practice? Well, we road-tested the 14-inch MacBook Pro (2023), with an M2 Pro chip, 32GB RAM and 2TB SSD, and its performance was blisteringly fast. Our reviewer spent some time working on a 3D title sequence in After Effects, while simultaneously running Photoshop and Premiere, and it didn't bat an eyelid. Our benchmark tests kicked up some really impressive numbers too, confirming that this performance boost wasn't just in our minds.
You get a decent range of ports for a MacBook, too – one HDMI, three Thunderbolt 4, an SDXC card slot, an audio jack and one MagSafe 3. The 14.3-inch display is also gorgeous and capable of delivering top-notch colour accuracy, as well as up to 1,000 nits of sustained, full-screen brightness, and 1,600 nits of peak brightness. Note that there's also a 16-inch version of the MacBook Pro (M2, 2023), which we've put at number three on our list.
For more details, read our Apple MacBook Pro 14-inch (M2, 2023) review.
If you're looking for raw power – and also efficiency – you might consider a Mac desktop computer. According to Apple, the Mac Studio with the M1 Ultra offers 3.8 times faster CPU performance compared to the most expensive 27-inch iMac and 90% faster than the Mac Pro with a 16-core Intel Xeon processor. It's also more efficient, outpacing even the highest-end PC GPU while using 200W less.
No one's going to suggest buying a Mac Studio to save money, but that energy saving is worth taking into account considering the current cost of power. Testing it out, we found that it was almost silent in use since it doesn't need fans to keep it cool. We also love the fact that it's so compact.
It makes super-light work of complex video with multiple 8K sources in Final Cut Pro, but even using other non-Apple software, we were able to have a bunch of files running all at the same time in a single SSD with no signs of a bottleneck. The Mac Studio is hugely expensive, starting at $2,000 for only the base configuration with the M1 Max, but considering the performance it provides, this could be considered value for money for those that need it.
See our full Mac Studio review for more details.
If you like the look of the first MacBook on our list, the M2 (2023), but want a bigger screen, then you'll be pleased to know there's one that's two inches bigger in diameter. That means you get a big, beautiful 16.2-inch Liquid Retina XDR display, with the same super-high resolution of 254ppi, making 3456 x 2234 pixels in total. That makes it bigger overall, at 14.0 x 9.7 x 0.6 inches to the 14-incher's 12.3 x 8.7 x 0.6 inches, and heavier at 4.7-4.8 lbs as opposed to 3.5 lbs.
As far as processing speed, you can configure your laptop with either the M2 Pro (12-core CPU, 19-core GPU) or the M2 Max (12-core CPU, 38-core GPU). The latter is going to get you faster performance but in truth, both will handle video editing magnificently.
Otherwise, the main difference between the 14 and 16-inch versions of the 2023 MacBook Pro lies in the battery: this one offers 100Wh to its smaller sibling's 70Wh. For those superior specs, you'll pay an extra $500 so on balance, we'd say the 14-inch version offers the better value overall, but this one is definitely more powerful.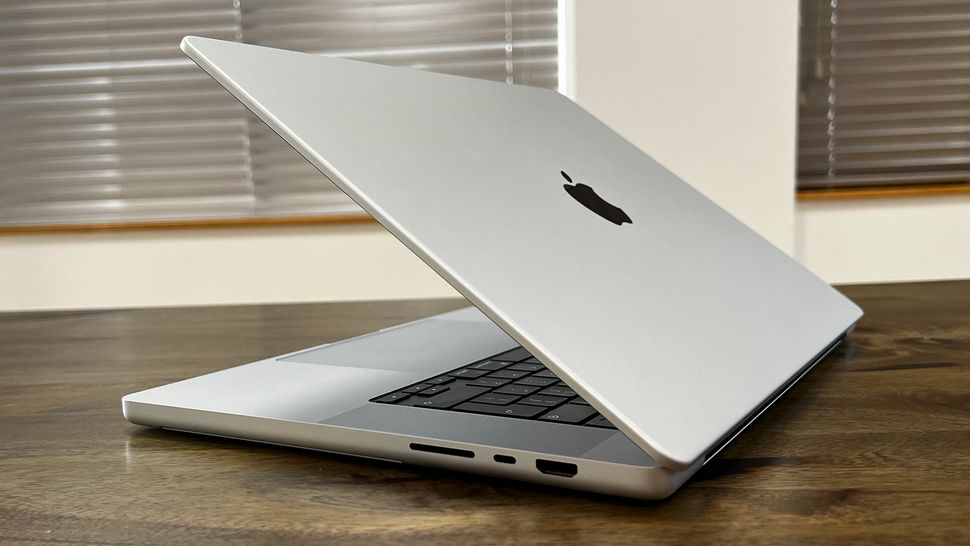 It may no longer be the latest or most powerful laptop Apple has to offer. But the 2021 MacBook Pro 16, with either its M1 Pro or M1 Max chip, is still an excellent choice for video editing on the go.
Both chips are powerful, but in our review, we found that the M1 Max makes notably lighter work of the highly demanding GPU workflows involved in video editing, as well as things like 3D modelling. The original M1 chip debuted on the 2020 MacBook Pro 13, and the M1 Pro and M1 Max double and quadruple that performance.
This means it can support editing multiple streams of 8K video in real-time without rendering. The ProRes accelerator in the chips' media engineers also means that video processing is more efficient, and so won't be as punishing on battery life. And speaking of battery life, we got 17 hours for general use and eight hours of editing in Final Cut Pro.
The mini-LED display is bright, and we found colour accuracy to be excellent out of the box. There's also a better selection of ports than on previous MacBooks, and storage can be configured up to 8TB of storage. Much of these specs remain the same with the smaller MacBook Pro 14, but if you have the budget, the larger screen should give you an easier time (though alternatively, you could just hook up one of the best 4K monitors).
When we tested this MacBook, we found the only real downside (other than its price) is that it is pretty heavy, at 2.1kg for the Pro version and 2.2kg for the Max version. If you're going to be carrying your video editing laptop around all day, something like the 14-inch version might be a better bet.
See our full MacBook Pro 16-inch 2021 review for more details.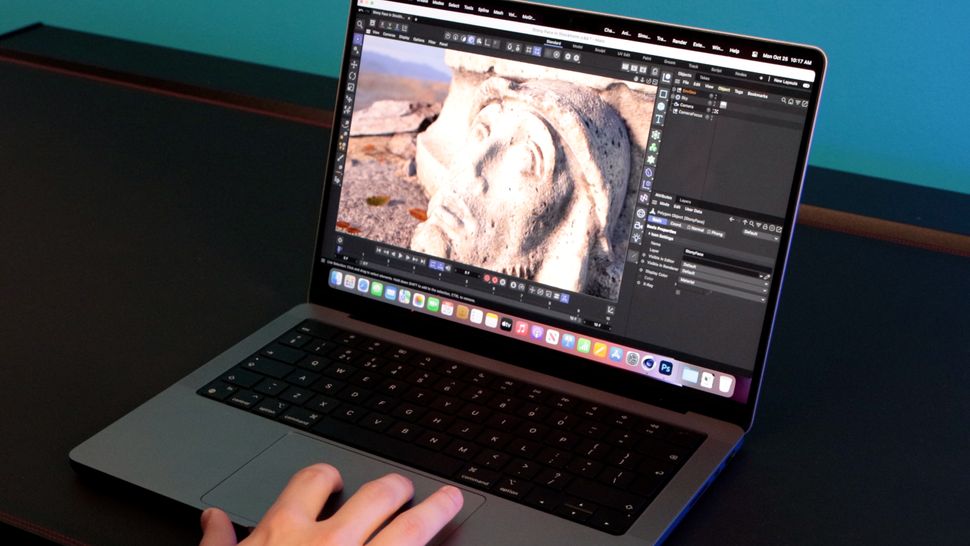 As I mentioned above, the 14-inch MacBook offers configurations with pretty much the same specs as the larger 2021 MacBook above, and our testing found performance was on par. Again, you get the choice of the M1 Pro or the M1 Max, offering impressive speed from chips that are optimised for working with even ultra-high-resolution video. If you do very demanding work, then opt for the Pro Max chip if you can: it's capable of rendering 4K video in Final Cut Pro a whopping 13.4x faster than the Mac Pro.
So really it's a question of priorities. The MacBook Pro 14 will cost you less, and it's half a kilogram (1.2 pounds) lighter than the 16. The question is whether you can live with that smaller screen. It might not be an issue if you're planning to hook up an external monitor anyway, but if you're not, it makes the editing feel noticeably more cramped.
For more details, see our Apple MacBook Pro 14-inch (2021) review.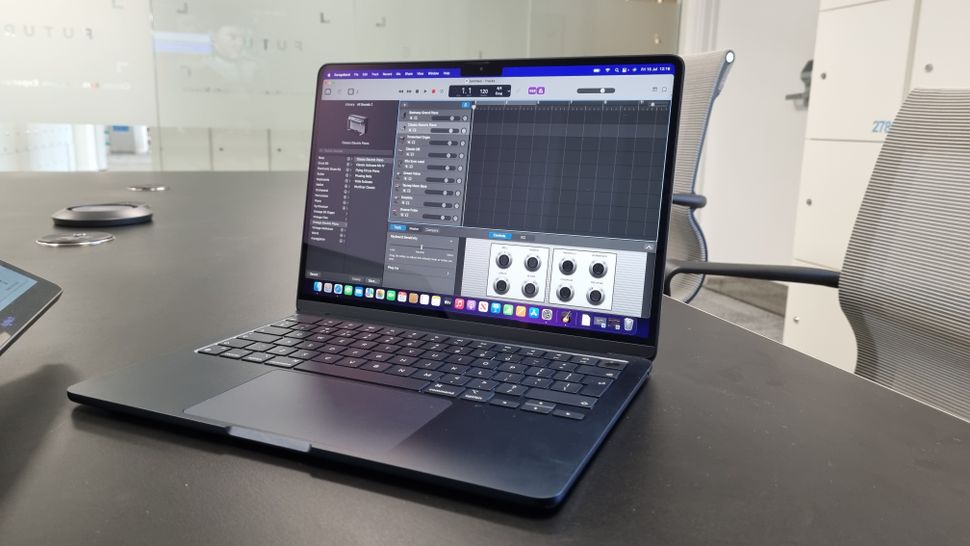 If you're on a tighter budget, then Apple's cheapest MacBook, the MacBook Air isn't at all a bad option for video editing, especially for enthusiasts and social media content creators. The 2022 model gets a boost in performance thanks to Apple's own M2 chip. Performance isn't as impressive as MacBook Pros packing the M1 Pro or Max, but it does outperform the 2020 M1 MacBook Air.
In fact, we found performance to be very much on par with the slightly more expensive 2022 MacBook Pro 13-inch when running the same configuration of the M2, according to benchmark scores in Cinebench R23, although it can heat up more quickly due to its fanless design. We also found that the M2 Neural Engine did a great job of handling basic video editing.
The new laptop also has a slightly larger 13.6-inch screen (compared to the MacBook Air M1 Model's 13.3-inch display), with resolution increased to 2,560 x 1,664. The screen's brighter too at 500 nits, and it now supports the P3 colour gamut like the MacBook Pros, with support for one billion colours. As for battery life, we looped a 1080p video for 16 hours – 5 hours longer than on the previous MacBook Air. All in all, if you're doing light video editing, or at least, you're not a pro who needs sustained performance for all-day sessions of heavy editing, this is a nice balance between performance and price.
See our full MacBook Air (M2, 2022) review for more details.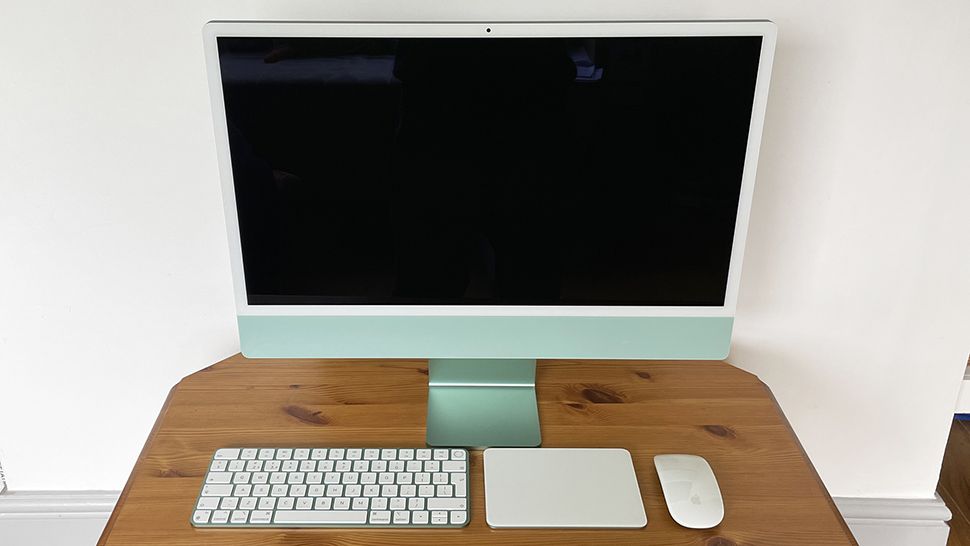 If you want a PC but don't need such awesome power, and you prefer the avoid having to fork out for a separate screen, then the latest iMac could be the best MacBook for video editing for you. Apple's iconic iMac got a huge new redesign in 2021 with a bold new look in various colours. It's thinner and lighter than its predecessor despite coming with a larger 24-inch screen compared to the 21.5-inch model it replaced. Best of all, it feature's the Apple M1 chip.
The 2021 MacBook Pros are more powerful than this PC, so the main benefit is that larger screen, which many people will find more comfortable to work on than a laptop (we certainly did). It's also more affordable, though you do miss out on the portability of a laptop, and even the Mac Studio, which is easy enough to pack away.
As far as desktop PCs go, we think this is an excellent device to edit videos on. Its all-in-one design means the computer is built into the screen, so there are no awkward wires or cables to plug in. Just hook it up to a power source, connect the wireless keyboard and mouse, and away you go.
For further details, read our Apple iMac M1 review.
The MacBook Pro 13in (M2, 2022) is the most portable MacBook, so it's a good choice if you often have to edit video on the go. It's significantly cheaper than the 14in and 16in MacBook Pros, and it still offers decent performance and a screen that supports the P3 colour gamut.
On the downside, the M2 chip doesn't have the optimisation of the M1 Pro and Pro Max for more efficient handling of video. And we found it's not really much of a step up from the (slightly) cheaper MacBook Air, which runs on the same chip.
It does have the edge over the MacBook Air in sustained use in long sessions, since it has an active cooling system (fans), and it also has Apple's touch bar, which some people find to be a productivity booster. At the end of the day, it's a tough choice between these two, so your decision might come down to whether either of them has a deal on.
See our MacBook Pro 13-inch (M2, 2022) review to learn more.
If you're after a desktop Mac for video editing, and don't need it to be portable, the Apple Mac Pro (2019) is the most affordable option on our list so far. Plus it's very upgradable, going all the way up to a 28-Core Intel Xeon W with 1.5GB RAM. That will handle massive professional video-editing workflows.
There are plenty of configuration options, which lets you pick the specs that best suit your needs and budget. It's also got a modular design, which means unlike Apple's other devices, like the iMac above, it's easy to upgrade parts of the system later on.
The 2023 Mac mini is a brilliant, compact Mac for video editing. Just pair it with one of the best monitors for video editing and you've got a great setup that's capable and looks fantastic on any desk.
Packing an astonishing amount of power, at a brilliant price, we think the new Mac mini (M2, 2023) remains one of, if not the, best small form factor PCs money can buy. We've always been impressed by just how much power lies inside its small form factor. But with Apple throwing its M2 and all-new M2 Pro chip into the mix, the 2023 model takes performance to a whole new level. The Mac mini is a great alternative to the iMac and can save you a decent amount of cash, especially if you find a good deal on a monitor.
See our full Apple Mac mini (M2 Pro, 2023) review for more details.
If you're after Mac for video editing with a large display and solid build quality, than the 2020 27-inch iMac is still worth considering. Other than the large screen, a reason to consider this older iMac over the 2021 24in model is the discrete graphics card, which can outperform the integrated graphics of the M1.
When we reviewed it, we also appreciated the webcam and built-in microphone, which is handy for hybrid working. The design might feel a little old now, but see it as a Mac classic that's still impressively slim and stylish. Apple no longer sells the 27-inch iMac directly, but you can find it through other retailers, often with a discount on the RRP.
See our iMac 2020 review for more details.
Why should I use a Mac or MacBook for video-editing?
There are several reasons why Macs and MacBooks remain a popular choice for video editing:
Performance: Macs are known for their powerful hardware and software optimisation, which makes them capable of handling complex video-editing tasks with ease. Macs come equipped with powerful processors, graphics cards, and high-speed storage, allowing faster rendering and export times.
Software: Macs come pre-installed with iMovie, a powerful video editing software that will do the job for most basic video editing tasks. Additionally, professional video-editing software such as Final Cut Pro and Adobe Premiere Pro is also available for Macs, and these are some of the most popular software among video editors.
Stability: Macs are known for their stability and reliability, meaning they are less prone to crashes and other software-related issues that can interrupt your video-editing workflow.
Colour accuracy: Macs are known for their high-quality displays, which offer accurate and consistent colour reproduction. This is particularly important for video editors who need to ensure their video footage looks the same across different devices and platforms.
Integration: If you are already invested in the Apple ecosystem, using a Mac or MacBook for video editing will integrate seamlessly with other Apple devices such as the iPhone, iPad, and Apple Watch. It also integrates well with other Apple software such as iCloud and AirDrop, making it easy to share and transfer files between devices.
Are Macs better than PCs for video-editing?
Both Macs and PCs can be used for video editing, and each has its advantages and disadvantages.
Macs are known for their excellent performance, stability, and software optimisation, making them a popular choice among professional video editors. Macs and MacBooks come equipped with powerful processors, high-speed storage, and dedicated graphics cards that are optimized for video editing software such as Final Cut Pro and Adobe Premiere Pro. Macs also have a reputation for colour accuracy and high-quality displays, which is important for professional video editing.
On the other hand, PCs offer a wider range of hardware options and can be more affordable than Macs, especially when it comes to building a custom system. Additionally, professional video-editing software such as Adobe Premiere Pro and DaVinci Resolve is available on Mac and PC, so you can choose the best platform for you.
Ultimately, whether a Mac or PC is better for video editing depends on your personal preferences, budget, and specific video editing needs. Both platforms have their strengths and weaknesses, and the choice ultimately comes down to your individual needs and preferences.
How do I choose the best Mac or MacBook for video editing?
When choosing a Mac or MacBook for video editing, there are several factors to consider:
Processor: Look for a Mac with a powerful processor, preferably a quad-core or six-core Intel Core i7 or i9 processor or Apple's M1 or M2 chip. A more powerful processor will handle video editing tasks faster and more efficiently.
Graphics card: Look for a Mac with a dedicated graphics card, such as the AMD Radeon Pro or NVIDIA GeForce. This will ensure that your Mac can handle the intensive graphics processing required for video-editing software.
RAM: Choose a Mac with at least 16GB of RAM, as video editing software can be memory-intensive. If you're planning to work on more complex video projects or 4K footage, consider getting a Mac with 32GB or 64GB of RAM.
Storage: Video editing requires a lot of storage, so look for a Mac with a large SSD or hard drive. Consider getting a Mac with at least 512GB of storage, or even 1TB or more if you plan to work on larger projects.
Display: A high-quality display is essential for video editing. Look for a Mac with a Retina display that offers high resolution and colour accuracy. If you're getting a Mac without a display, such as a Mac mini, you need to get a monitor as well. Thankfully, our guide to the best monitors for photo editing will help you find a good monitor for video-editing too.
Software: Consider the video-editing software you plan to use and ensure it is compatible with the Mac you choose.
Budget: Macs can be expensive, so consider your budget and choose a Mac that offers the best balance of performance and features within your budget. A MacBook Pro might have more power, but maybe a MacBook Air will do everything you need. Consult our MacBook Pro vs MacBook Air guide to get to know all the differences between the two models.
By considering all these factors, you can choose a Mac or MacBook that is well-suited for your video-editing needs. If you also work a lot with graphic design, you can check out our guide for The best laptops for graphic design
Related articles: