The best MacBook for video editing should merit serious consideration from professional and hobbyist editors alike. With super-powered performance and high-fidelity displays, MacBooks are some of the best options out there for video editors right now, and many have come to rely on them heavily.
MacBooks aren't the only Apple computers that offer the kind of power and quality that video editors need. Other Mac computers like iMacs and Mac Minis can be a great option for video editors looking for a desktop solution. And if you need the utmost in raw power, there's also the Mac Pro to consider.
Video editing is an intensive process, so you need a computer with a decent amount of power – otherwise you can expect your editing software to stutter and crash at frequent intervals. If you're working with high-resolution footage, like 4K or greater, then you'll also need something with a screen that can actually display this footage in its full glory. Another option here is to output your MacBook's display to one of the best 4K monitors, which is something the best docks for MacBook Pro can help with by providing some more ports.
We've considered all those specs in this guide, which mostly includes models we've had hands-on experience with (see our how we test laptops, PCs and workstations guide for more info on our process).
While Apple products don't tend to be the cheapest, you can often snag a deal by looking back a couple of generations – so we've included some older alternatives as well as the newer stuff. Whichever laptop you end up picking though, don't forget to select the best video editing software to ensure you have everything you need to hit the ground running.
If you're really budget-conscious however, our round-up of the latest Apple deals is worth keeping tabs on, as the Macs and MacBooks on this list make appearances there when offers come in. Not sold on a Mac? We have plenty of Windows-running alternatives in our list of the best laptops for video editing.
The best MacBooks and Macs for video editing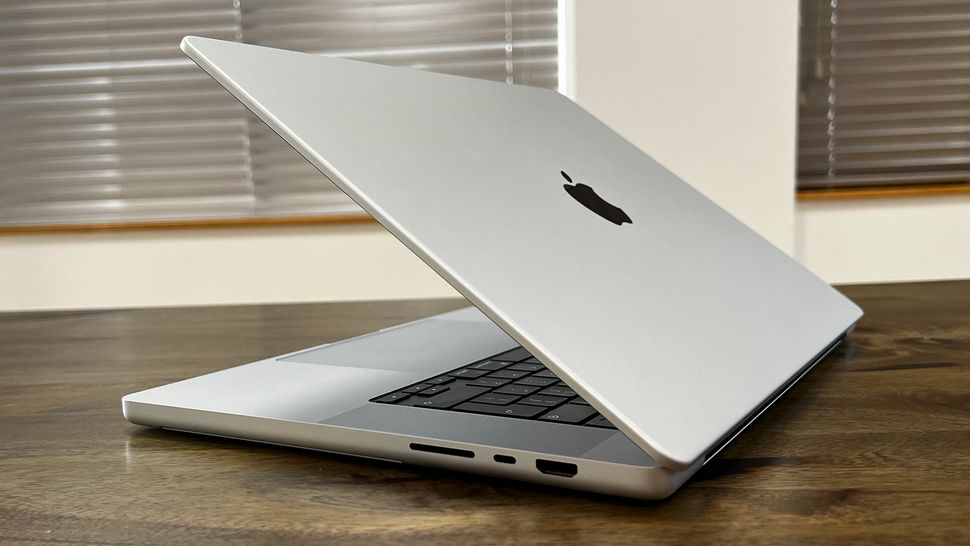 The MacBook Pro 16-inch, released in October 2021, is one of the best laptops you can buy, and certainly one of the best for video editing. It uses the powerful new M1 Chip iterations, either the M1 Pro or the M1 Max if you need the utmost in speed – to the point of being twice or even four times as fast as the 2020 MacBook Pro.
What this means in real terms is that the MacBook Pro 16-inch can support editing multiple streams of 8K video in real-time without rendering. The ProRes accelerator in the chips' media engineers also means that video processing is more efficient, and so won't be as punishing on battery life.
If you're working with a lot of video then you'll likely want to have as much storage as possible, and this MacBook Pro can be configured with up to 8TB of storage. Of course, a lot of what we've said is also true of the smaller MacBook Pro 14 (see below) – however, if your budget can accommodate it, the larger screen of the 16-inch version will mean you have a much easier time working in your editing interface, and you won't catch yourself dreaming of an external monitor.
When we tested it, we found the only real downside to this 16-inch Macbook (other than its price) is that it is pretty heavy, at 2.1kg for the Pro version and 2.2kg for the Max version. If you're going to be carrying your video editing laptop around all day, something like the 14-inch version might be a better bet. Otherwise, this is simply the best video-editing laptop you can get. See our full MacBook Pro 16-inch 2021 review for more.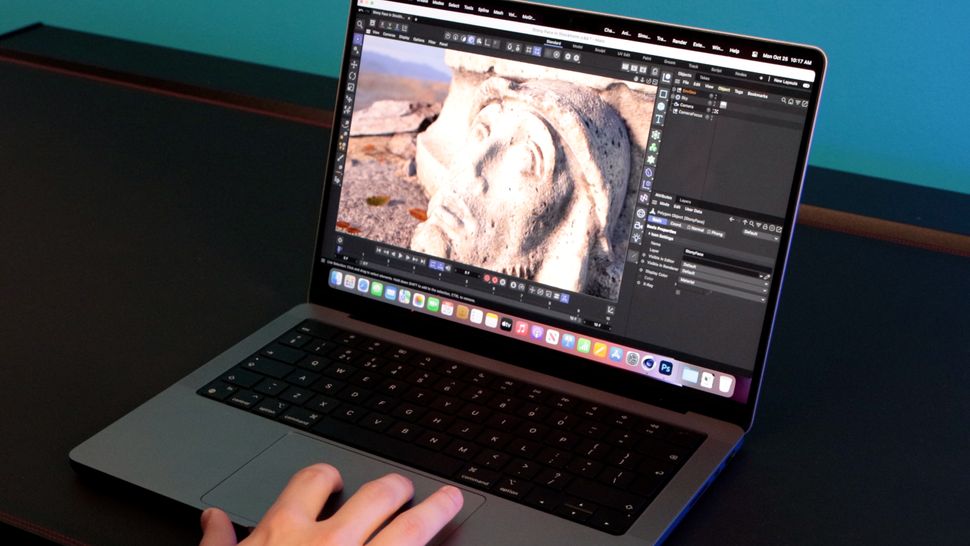 As we mentioned in the entry above, our testing found 14-inch MacBook offers pretty much the same level of performance as its 16-inch sibling. You have the same choice of processors, between the M1 Pro and the M1 Max, and this means you still get the incredible speeds and optimised chips that make it a matter of simplicity to work with and render even ultra-high-resolution video. To put it in perspective, the Pro Max chip is capable of rendering 4K video in Final Cut Pro a whopping 13.4x faster than the Mac Pro. It's that fast.
So basically, the question you have to answer is: can you live with the smaller screen? It makes the editing interface more cramped, and if you're going to be working on this device all day, that might get annoying. True, you can always get an additional monitor, but if you've already spent this much on a MacBook, the idea of having to spend yet more on another screen might well stick in the craw more than a little.
Still, the MacBook Pro 14-inch (M1 Pro, M1 Max, 2021) is an excellent choice – beyond excellent, in fact – for anyone who wants a portable video-editing machine. It'll do everything you need, and then some. See our Apple MacBook Pro 14-inch (2021) review here.
While the new 2021 16-inch MacBook Pro is our top choice as the best MacBook for video editing, the previous 2019 device shouldn't be dismissed if you find a good deal. When we tested it, we judged it still very powerful – and the gorgeous 16-inch screen makes editing videos a joy. It's slightly lighter than the newer model, and best of all, you're more likely to find discounts on the device due to the release of subsequent Macbooks.
This MacBook predates the M1 revolution where Apple brought its processor production in house, and so uses a 9th-generation Intel Core i7, or an i9 if you go for the top-of-the-line version. Make no mistake, this is still a very fast processor. In everything but the most ridiculously high-intensity video processing tasks, you'll find it to be more than capable of keeping up. Find out more in our Apple MacBook Pro 16-inch review.
The MacBook Pro 13-inch (M1, 2020) is the best MacBook for video editing if you're looking for something really portable. The smaller 13-inch screen doesn't give you the amount of workspace the 2021 16-inch or even the 2021 14-inch offer, and the resolution isn't the highest, but when we tested it, we found it is still gorgeous, with support for the P3 colour gamut - essential for most professional filmmakers.
The model looks the same as previous versions on the outside, but Apple made big improvements on the inside, thanks to its M1 chip. It's not as fast as the M1 Pro and M1 Max that you get in the 2021 devices, but it still offers excellent performance when editing 4K and even 8K footage, and battery life is also very good, letting you work on your masterpieces for hours on end without having to plug in. In our MacBook Pro 13-inch (M1, 2020) review, we thought it a shame there weren't enough ports but appreciated how silently it runs (so it won't interfere with audio editing).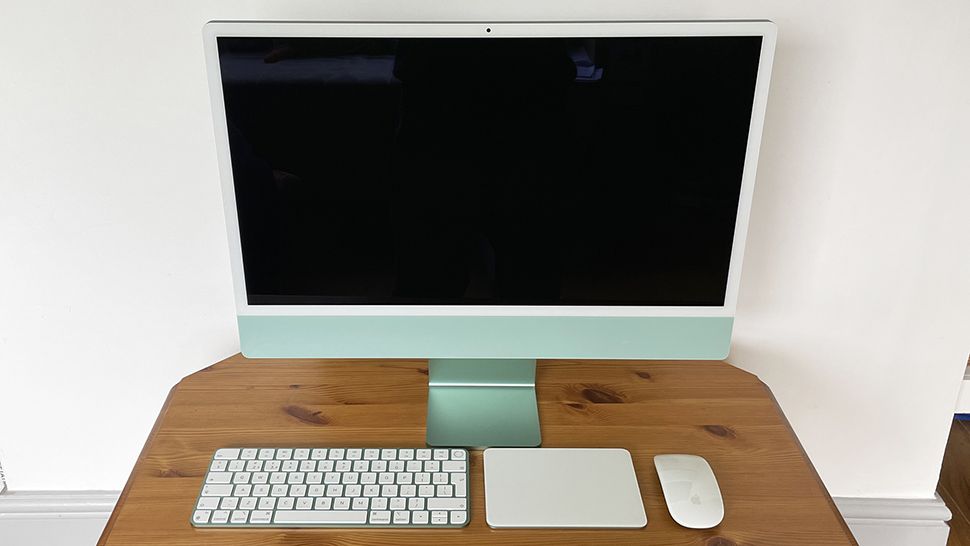 Apple's iconic iMac got a huge new redesign in 2021. Not only has it got a bold new look (which comes in various colours), it's thinner, lighter and comes with a larger 24-inch screen compared to the 21.5-inch model it replaces. Best of all, it feature's the Apple M1 chip - the same one that powers the 13-inch MacBook Pro above.
While the MacBook Pro is now more powerful, our testing found the benefit here is that you get a larger screen, which many people will find it more comfortable to work on (we did). It's also more affordable, though you do miss out on the sheer portability that the 13-inch MacBook Pro offers.
As far as desktop PCs go, we think it's an excellent device to edit videos on. It's all-in-one design means the computer is built into the screen, so there's no awkward wires or cables to plug in. Just hook it up to a power source, connect the wireless keyboard and mouse, and away you go. Check out our Apple iMac M1 review for more info.
If you're after an absolute powerhouse of a Mac for video editing, and you've got plenty of budget, then the Apple Mac Pro (2019) is definitely worth investing in. The Mac Pro can be configured to come with hardware that makes intensive video editing tasks complete much faster than less powerful PCs, and this can have a huge impact on your workflow.
While it is very powerful and very expensive, there are plenty of configuration options, which lets you pick the specs that best suit your needs and budget. It's also got a modular design, which means unlike Apple's other devices, like the iMac above, it's easy to upgrade parts of the system later on. This means it can be future-proofed for years to come.
The Apple Mac Pro won't be for everyone. The MacBook Pro is actually now more powerful if you get it with the M1 Max chip, but of course here you benefit from a more comfortable screen size to work on. On the other hand, for many non-professional video editors the Mac Pro is complete overkill. However, if you want the best video editing performance on a desktop PC, this is your device.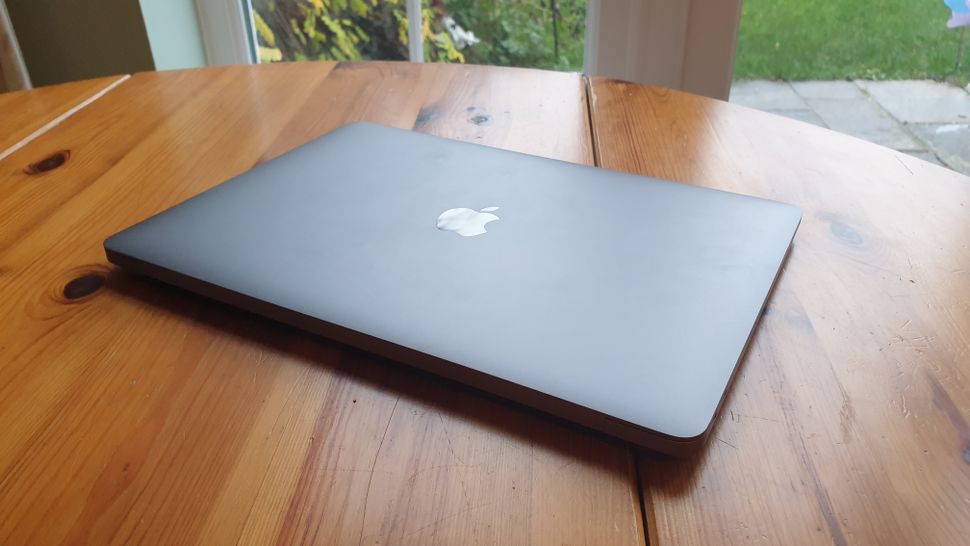 Apple radically overhauled its most affordable MacBook, the MacBook Air, at the end of 2020, and when we reviewed it, we found the upgrades mean it's one of the best MacBooks you can buy for video editing. This is because it now comes with the same ARM-based Apple M1 chip as the more expensive MacBook Pro 13-inch.
So, our testing found it's got a tremendous amount of power under its hood and can easily handle editing 4K video in Final Cut Pro without breaking a sweat. We loved how its fanless design also means that it is pretty much completely silent when in use. And, as with previous MacBook Airs, it features a gorgeous thin and light design that makes it easy to carry around with you.
Also, for the first time in a MacBook Air, the latest model supports the P3 colour gamut, which means the screen can display accurate colours, a consideration that's incredibly important for video editors. See our full Apple MacBook Air (M1, 2020) here.
The new Mac mini is a brilliant compact Mac for video editing, and has been upgraded to include the new Apple M1 chip, which packs an 8-core GPU. This means despite its small size, our testing judged this a very capable Mac for video editing – just pair it with one of the best monitors for video editing and you've got a great setup that looks fantastic on any desk.
The base model features the Apple M1 chip with 8-core CPU and 16-core Neural Engine, and there are four expansion ports at the back for either USB or Thunderbolt external storage, plus HDMI 2.0 to simultaneously support two displays. However, unlike older Mac minis, you can't add an external GPU, which is a shame, as that was a good way to boost the video editing chops of this tiny Mac.
It's also the same hardware found in the new iMac 24-inch model, and when we tested it, we found it offers very similar performance, but without the built-in display, and for quite a bit less money. If you already have a monitor you love using, then the Mac mini is a great alternative to the new iMac, and can save you a decent amount of cash. See our full Apple Mac mini (M1, 2020) review for more details.
If you're after a powerful, and stylish, Mac for video editing, with a large display and solid build quality, than the 27-inch iMac is worth considering. Released in 2020, this model comes with cutting edge components from Intel and AMD, with the latter's powerful graphics card being particularly useful for video editing.
That discrete graphics card is perhaps the biggest reason why you'd buy this slightly older iMac, rather than the smaller and newer iMac that Apple recently released. That one uses Apple's M1 chip, which is an excellent performer, but it means you rely on integrated graphics. For most video editing tasks that's fine, but our test found it can't compete with the discrete GPU inside the 27-inch model.
When we reviewed it, we appreciated that the webcam and built-in microphone have also been improved, which is handy for many people who now find themselves working from home. Sure, the design of this iMac hasn't changed, which makes it look outdated compared to the new 24-inch iMac, but it's still impressively slim and stylish. See our iMac 2020 review to find out more.
Related articles: