Quick menu
Jump to the quick list↴
1. Best overall: MacBook Pro (M3)
2. Best Windows: Asus ProArt OLED
3. Best 2-in-1: Surface Studio 2
4. Best AMD: Alienware M16
5. Portable: Dell Precision 5480
6. Portable MacBook: Air (M2)
7. Best modular: Framework
8. Lightweight OLED: Swift Edge 16
9. Dual-screen: Zenbook Pro 14
10. Workstation: Razer Blade 18
FAQs
The best laptops for photo editing share a similar core feature set, but different users may prioritise different things, be it portability, price or features for other uses. The first ask will of course be a wide colour gamut and good colour accuracy so you can be sure you're seeing the true colours you're working with in the best photo editing software like Adobe Photoshop.
A high native resolution, preferably beyond 1080p, is also a huge benefit for image editing. 16GB of RAM should also be treated as a minimum these days, with 32GB beneficial if you're dealing with large volumes of RAW images. A strong CPU is desirable and a good graphics chip can come in handy. However, the latter is essential for most image editing workflows. A quick SSD will also help to avoid the frustration of your software slowing down.
We've tested all of the machines on this list to ensure they offer that as well as the power necessary to run professional photo editing software without struggling. As well as carrying out our standard lab tests on display, performance and battery life, we've also put them to practical tests, using them to edit images. We've compared how they measure up and suggest what kind of photo editor they would best suit.
We've included some affordable models for enthusiasts and those on a tight budget as well as devices with the power to handle professional workflows. For other solutions for photo editing, see our pick of the best tablets for photo and video editing. We also have a guide to the best laptops for students.
Quick list
Best overall
01. MacBook Pro 16-inch (M3, 2023)
The MacBook Pro 16-inch (2023) is the best choice if you want a big screen and have money to burn. Along with its powerful new M3 chips, abundant RAM and storage, you get a beautiful, bright mini-LED display and 22 hour battery life to support your creative needs.
Read more below
Best Windows
02. ASUS ProArt Studiobook OLED (H7604)
Combining powerful components with a 16-inch display, we were impressed by the ProArt Studiobook's ability to stay cool and quiet during our testing. It's plenty powerful and has a beautiful design, including a neat trackpad.
Read more below
Best 2-in-1
03. Microsoft Surface Laptop Studio 2
Between its sharp 3:2 screen, MPP stylus support, and ergonomic design that's specifically great for drawing, this is an excellent choice for digital artists or pen-based photo editors. It's plenty powerful, but a little bulky.
Read more below
Best AMD-powered
This larger laptop gives you plenty of room to create, but isn't the most portable; especially at 2.4kg. However, it's wonderfully sharp and responsive, handling even more demanding tasks with ease.
Read more below
Best portable
Don't let its smaller 14-inch display fool you; this unassuming laptop is actually very impressive, and its performance comes close to the M3 Pro in Apple's 14-inch MacBook Pro, and it offers 12 hours of battery to see you through the day.
Read more below
Best portable MacBook
06. Apple MacBook Air (M2, 2022)
Thanks to Apple's incredibly powerful and efficient M2 chip, the MacBook Air is rapidly meeting Pro levels of performance. Its shrunken bezels grant more room for your work, and you still get True Tone, 500 nits of brightness, and support for the P3 colour gamut from the display.
Read more below
The best laptop for photo editing overall
The MacBook Pro 16-inch M3 (2023) is the best laptop for photo editing if you want a big screen and have the cash to splash on the newest model. You get the powerful new M3 chips, lots of RAM and storage to boot. If you're editing on the go then you'll love the 22 hour battery life, but if portability is key then you might want to check out our MacBook Pro M2 14-inch review.
Back to the 16-inch model. Its display is beautiful, hitting 1,600 nits of brightness – almost three times the average – and Apple also infused it with mini-LED tech that can achieve deep blacks and bright whites, plus a 1,000,000:1 contrast ratio, which is ideal for photo editing.
The newest Pro retains some beloved ports such as HDMI (so you can plug in a second screen easily) and a memory card slot, alongside newer features such as ProMotion dynamic refresh rates and support for HDR (high dynamic range). The MacBook Pro 16-inch M3 (2023) isn't just one of the best laptops for photo editing, it's one of the best – if not the best – laptops in the world right now.
Read our review of the previous-gen but very similar MacBook Pro 16-inch (M3, 2023) to find out more about why we rate this laptop.
The best Windows laptop for photo editing
The ASUS ProArt Studiobook OLED combines superbly powerful components with a large 16-inch display that is perfectly suited for photo editing, especially since it hits 100% of the DCI-P3 wide colour gamut. You get plenty of space to drill down into your images in minute detail, plus the raw grunt to chug through even the largest files and libraries.
In our review, we were also impressed with its ability to stay cool and quiet during use, although it does ramp up a bit when you put it under pressure. Still, the result is an effective cooling system that can keep everything running as efficiently as possible while you're working on your images. And it even excels elsewhere, with our reviewer commenting that "It laughs at 4K video, plays games, flies through raw image processing and looks good while doing it."
The best 2-in-1 laptop for photo editing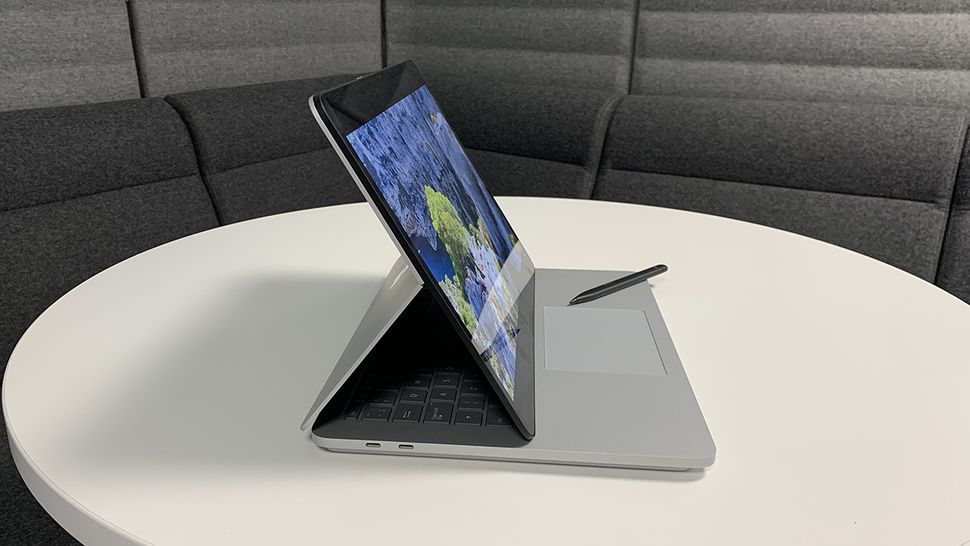 If you like to photo edit with a drawing monitor, this could be the ideal choice. Boasting a sharp 3:2 screen with a 120Hz refresh rate and support for your choice of MPP stylus, and an ergonomic design that's specifically great for drawing – giving you far more potential angles for the screen than a simple L-shaped laptop – this is an excellent choice for digital artists or pen-based photo editors.
"The first highlight for me was its battery life," said our reviewer, who used the 2-in-1 laptop all day, every day when testing it. And the power was pretty great too – though you can choose the power you want if you want to pay for extra for it.
With quad-core Intel Core i5 or i7 processors, and either Intel Xe graphics or an Nvidia RTX 4060, there's plenty of power here – though it does mean the build is a little bulky. And if it's the power you want, you can get it for less from other laptops – but you'd have to give up the drawing abilities that make this a great pick for artists in the first place. See our review of the original Surface Laptop Studio for full details.
The best AMD-powered laptop for photo editing
Dell's Alienware brand is best known for its gaming products, but it turns out the company's m16 laptop is also a great choice for creatives. It's outfitted with a powerful AMD processor and the option of fast Nvidia graphics, making it a mobile powerhouse.
The AMD CPU has 12 cores and will tear through most image editing workflows. Similarly, the Nvidia RTX 4070 GPU has lots of shader power for adding effects and filters on the fly. Arguably, it's that graphics power that can sometimes give this laptop the edge over Apple's excellent MacBook Pros.
You also get a large display with a decent 2,560 by 1,600 pixels, allowing for lots of desktop elbow room to work with. Alienware has also fitted it out with plenty of ports, including two high bandwidth USB-C sockets and mini-DisplayPort.
If you're looking for downsides, well, portability and battery life suffer when you stuff a powerful CPU and GPU into a mobile chassis. If extended uptime away from the mains is critical, Apple's MacBooks are still king. But for pure portable grunt, this Alienware is a serious contender.
The best portable laptop for photo editing
You'd be forgiven for passing over the Dell Precision 5480 in your hunt for the perfect photo-editing laptop. But its modest design hides an excellent performer that's ideally suited to a range of creative tasks – it's a "wolf in sheep's clothing", as our reviewer put it when investigating the previous 5470 model.
For instance, its 14-inch display is sharp and vibrant, and it stretches close to the edge of the device to help immerse you in your work. it will also perform pretty much on par with the M3 Pro in Apple's 14-inch MacBook Pro, which itself is a powerhouse of a laptop. And Dell's laptop offers excellent battery life of around 12 hours, so it can keep on working far longer than many of its rivals. That all makes it a surprisingly capable image editing laptop, despite its modest looks.
The best portable MacBook for photo editing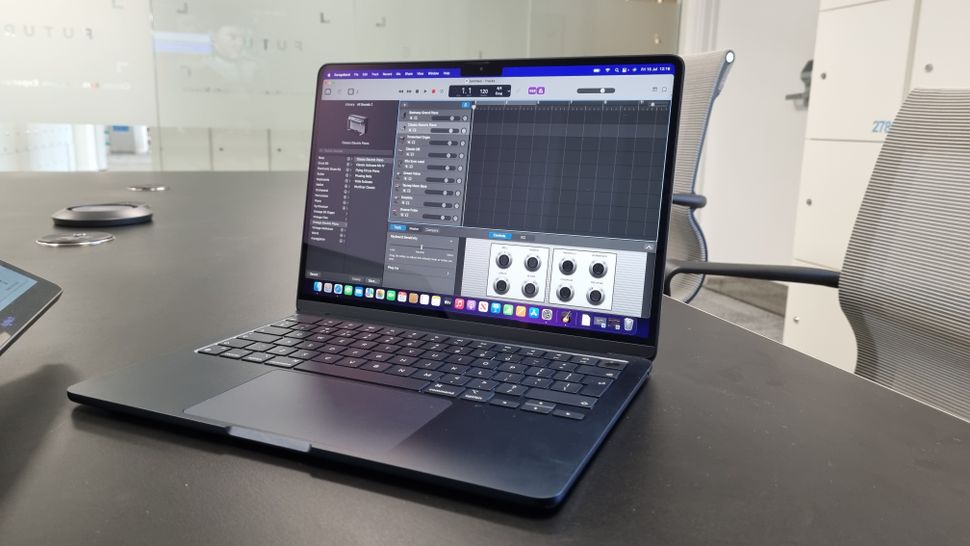 The MacBook Air always used to lag behind the MacBook Pro. But now that it has Apple's M2 chip, it's neck-and-neck with its Pro cousin – and even pulls ahead in some cases – making it a top-notch device for editing your photos.
First up is the display. Apple has shrunk the bezels around the screen, providing more room for your work and a more immersive experience. Although it's not the mini-LED panel you'll find in the 14-inch and 16-inch MacBook Pro, you still get True Tone, 500 nits of brightness, and support for the P3 colour gamut.
Elsewhere, you get the incredible power and efficiency of the M2 chip. The MacBook Air doesn't come with a fan – it simply doesn't need one, such is the M2's ability to perform while only sipping power. That makes for a serenely quiet laptop that can still handle heavy photo-editing workloads.
As for battery life, that's even better than what we saw in the M1 MacBook Air. When we reviewed the M2 model, it lasted for over 16 hours on a single charge – five more hours than the M1 version.
Altogether, we felt it was "basically everything a creative professional would want from an upgrade" in our review. High praise indeed.
The best modular laptop for photo editing
The Framework laptop may not be a record-breaking powerhouse in terms of performance, but it has one key advantage over every other laptop here: it's incredibly easy to take it apart and swap out its components. In fact, it's designed to be almost entirely modular, and our reviewer dubbed it a "laptop built to last".
That means it can keep up with changes as internal components improve. If you want to put in a more powerful processor in the years to come so it can keep up with your photo-editing workloads, you can do that, as long as the parts are compatible. It gives you the kind of flexibility that no other laptop can match, and makes repairing it a cinch if anything goes wrong. See our Framework review for more.
The best lightweight OLED laptop for photo editing
Our reviewer's verdict was that the Acer Swift Edge 16 is "an excellent all-around laptop with a strong CPU". It strikes a fine balance between power and portability, and is surprisingly light and agile for a 16-inch laptop, but is still capable of handling your image-editing tasks with ease. While it's not built for the beefiest of 3D rendering tasks or 4K gaming, it is adept and almost everything else.
We found that the combination of large screen and light weight makes it well suited for working on the go, and means you don't have to edit your images on a tiny, cramped screen if you're away from home. Having an OLED panel and support for the DCI-P3 wide colour gamut certainly helps, as does the capable Ryzen 7 CPU. It shows you don't have to opt for a chunky, weighty laptop if you need a dose of portable performance. Check out our Acer Swift Edge 16 review.
The best dual-screen laptop for photo editing
The Asus Zenbook Pro 14 Duo OLED (2022) is a rather quirky offering, but hear us out on this. If you hate your display being taken up by various windows within editing software, this laptop has an innovative solution to plugging in a second monitor: it has a slim, built-in display right under its main screen, which is great for photographers and editors as extra display real-estate.
Our reviewer called it "revolutionary", adding: "when audio editing on the go, I tend to carry around multiple extra control surfaces, so the ScreenPad Plus virtually eliminates the need for them."
Not only that, but it's rocking an OLED display and 100% coverage of the DCI-P3 gamut, as well as plenty of power thanks to its 13th-generation Intel processor (with configuration options up to the flagship Core i9). You also get plenty of RAM and the option of a GeForce RTX 4060 GPU for those that like to use applications boosted by Nvidia graphics cards.
That second display can make typing a bit of a pain, and those beefy components demand a lot of power, so battery life can be disappointing. But these are the only two criticisms we can provide for this unusually designed laptop.
It has plenty of ports, including an HDMI and built-in SD card reader which are useful for photographers who want additional display and hate using adapters to import their images. In short, this is a creatively designed device that feels purpose-made for the wider creative market. Photographers of any level can appreciate the fun design innovations it provides.
Read our complete Asus Zenbook Pro 14 Duo OLED review for more details.
The best speedy workstation laptop for photo editing
If you're after a photo-editing laptop with a large, luscious display, try the all-new Razer Blade 18 on for size. It has a slate of different options to suit your needs, plus a brand new 18-inch chassis with a huge screen that not only runs at 240Hz, but more importantly for video editing covers fully 100% of the DCI-P3 gamut. That's better than most high-spec desktop monitors.
There's more to this laptop than just a great display, however. It's packed with powerful performance, including the fastest CPUs and GPUs currently available, looks supremely stylish, and is loaded with a helpful array of ports and inputs.
It's worth noting that the optional Nvidia RTX 4090 GPU absolutely blows away even the Apple M3 Max when it comes to raw graphics shader power. This is as powerful as it gets for image processing.
Of course, it's not cheap, it's not terribly portable, and the battery life is average at best. But if maximum performance and screen space are high up your list, the Razer Blade 18 is very hard to beat.
Best Dell laptop for photo editing
If you're after a PC alternative to the mighty Apple MacBook pro, look no further than the Dell XPS 15. For starters, it offers the very latest and greatest Intel CPUs and Nvidia graphics chips. So outright performance is up there with the very best.
Of course, countless high-spec laptops can claim that. What they can't match is the XPS's lush alloy frame and carbon-fibre palm rest. Then there's the ultra-slim bezels, which make for a much more modern design than even the latest MacBook Pro models.
Another important advantage for the XPS is its optional 4K OLED display with touch support. For now, Apple offers neither OLED nor touchscreen technology on its MacBook portables. If there's a measure by which the Dell XPS 15 falls short of the Apple option, it's battery life. Dell claims 16 hours for the standard LCD model and nine hours for the OLED option. That's a long way off the 22 hours of the MacBooks.
Still, model for model, the XPS tends to be cheaper than the Apple portables and if you are OK with shorter battery life and want a Windows machine, the Dell XPS 15 is absolutely gorgeous.
FAQs
How do you choose a laptop for photo editing?
In terms of specs, you should consider 8GB of RAM a minimum for a laptop for photo editing, but ideally 16GB because software such as Lightroom can struggle with 8GB if you're editing high-resolution RAW images. You'll also want a modern Intel Core i5 processor (or AMD Ryzen 5) as a minimum. These processors come with decent integrated graphics which will be more than enough for photo editing.
Beyond that, you'll want the most colour-accurate screen you can afford. We recommend at least 1080p resolution, and the higher resolution you get, the more of your photos you'll be able to fit on-screen. If your budget can stretch to it, a laptop with a 4K screen may be worth investing in. Some displays come with factory calibration to ensure image quality is as good as possible, though we also recommend adjusting your display using a colourimeter (see our guide to the best monitor calibrator tools).
As for storage space, the SSD drive should be 256GB at a minimum. Bigger is better if you'll be storing a lot of photos on the device – if you're editing RAW images, anything less than 1TB can fill up pretty quickly, but you can also use cloud storage.
One of the best things about using a laptop for photo editing is that it gives you the freedom to work on your photos almost anywhere rather than being stuck at a desk with a traditional PC. That means that battery life is an important consideration, as you'll want something that will last for hours without needing to be plugged in.
Some photo-editing suites, especially those from Adobe, make use of AI (artificial intelligence) and machine learning with some of their tools to help reduce repetitive tasks and add more impressive and realistic effects. While applications like Photoshop don't need a discrete GPU to run, these can offer a great productivity boost, and perform much better than integrated graphics like Intel's Iris Xe. You may also want to see our guides to the best laptops for Photoshop and best laptops for graphic design.
What laptop is best for photo editing?
Right now, we think the MacBook Pro 16-inch (2023) is the best fit for photo editing. That's because of the giant screen, power that can handle any workflow, and its superb aluminium design. We also love the long battery life and the fact it has a shedload of ports (something missing from other MacBooks). Though if a 16-incher is a bit too cumbersome to haul about with you, we recommend going with its smaller sibling, the 14-inch MacBook Pro.
Not an Apple fan? Go for the ASUS ProArt Studiobook OLED (H7604). it's got a big, beautiful screen, awesome power, and a handy dial that can speed up your workflow (once you're used to it).
How we test
We've picked the devices on our list of the best laptops for photo editing based on our own reviews, for which we carry out lab tests and also put the laptops through real-life use over several weeks. We've also taken into account feedback and recommendations from the photographers on our team. See more details on how we test laptops and PCs to learn more about our process.
As well as a laptop for photo editing, you may want to invest in an external monitor in order to be able to view your work on a larger screen. For that, see our pick of the best monitors for photo editing. We also have a pick of the best photo apps.