All the best laptops for photo editing share a similar core feature set, but there will be key differences between models, meaning you'll need to choose carefully to get one that's right for you. Many of these options support professional-standard colour gamuts, so even if you can't manually calibrate your display, you can be sure your colours and tones are accurate when editing images in software like Photoshop CC or Lightroom CC.
All of the machines here can support and run the applications most used for photo editing, so don't fret about whether your choice will have enough power. Here, there's a laptop for every photographer and photo editor – including devices with the latest processors and an abundance of RAM, through to quick SSD storage and dedicated graphics cards.
We've evaluated each device specifically for photo editing, with the majority of models tested hands-on (see how we test laptops for more). While we've included some affordable models for those with a tight budget you might need to check out some of our other lists if you're after something smaller, such as our guide for the best tablets for photo and video editing or the best laptops for students. Once you've made your choice, then you might want to pick up the best photo editing software or best photo apps too.
The best laptops for photo editing available now
Why you can trust Creative Bloq Our expert reviewers spend hours testing and comparing products and services so you can choose the best for you. Find out more about how we test.
The MacBook Pro 16-inch (2023) is the best laptop for photo editing if you want a big screen and have the cash to splash on the newest model. You get the powerful M2 chip, lots of RAM and storage to boot. If you're editing on the go then you'll love the 22 hour battery life, but if portability is key then you might want to check out the MacBook Pro M2 14-inch review (or even the 2022 13-inch, which is further down the list).
The display is beautiful, hitting 1,600 nits of brightness – almost three times the average (the 14-inch model offers 1,000) – and it's also a Liquid Retina XDR MiniLED that can achieve deep blacks and bright whites, plus a 1,000,000:1 contrast ratio, ideal for photo editing.
The newest Pro retains some beloved ports such as the HDMI (so you can plug in a second screen easily) and a memory card slot, alongside newer features such as ProMotion and HDR (High Dynamic Range). Not only is the MacBook Pro 16-inch (2023) one of the best laptops for photo editing, it's one of the most powerful laptops on the market.
Read our MacBook Pro 16-inch (M2, 2023) review to find out more about why we rate this laptop.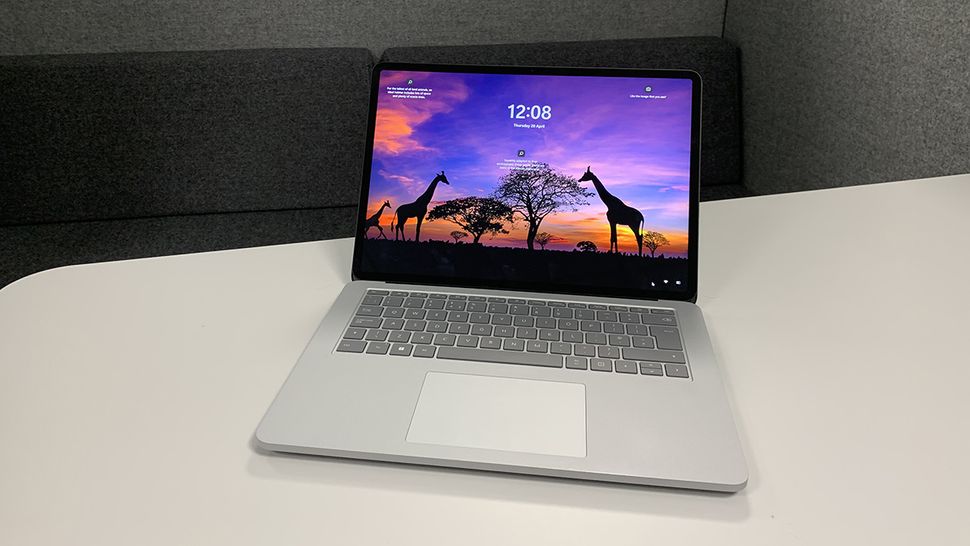 The Asus ProArt Studiobook 16 OLED is the perfect creative workstation laptop for anyone that uses Adobe applications thanks to not only its powerful components and dazzlingly beautiful display, but also a unique feature built directly onto the device itself: the innovative Asus Dial.

The dial can be used within software such as Photoshop and Lightroom to quickly run through different features or tools, which makes it the ideal companion for those applications. It'll take some getting used to, but once you've mastered it this can be an invaluable productivity tool for photo editing.
When we reviewed it, we found it to be equipped to handle almost every other editing application too, thanks to the latest generation of Nvidia RTX graphics cards, an AMD Ryzen 5000 series processor and plenty of RAM. The OLED display is perfect for photographers and editors who appreciate rich blacks and that 4K resolution also has 100% DCI-P3 and sRGB colour gamut coverage, as well as 97% AdobeRGB.

Read our hands-on Asus ProArt Studiobook 16 OLED review for all the details.
The Surface Laptop Studio is the best laptop for photo editing if you're looking for a 2-in-1 laptop-tablet hybrid with a touch screen for stylus support. When we reviewed it, we were impressed with the hinge mechanism through which it converts from a laptop to an easel position and flat tablet position. That versatile touch screen is gorgeous and a real game changer for those who want the convenience of both a Windows 11 laptop with a super comfortable keyboard but also the ability to use use a stylus to edit photos
On top of the stunning, streamlined design, there's plenty of power under the hood – with lots of options available for configuration (you'll want one of the 16GB RAM configurations for photo editing). We found it to be a delight to use for working in Lightroom and Photoshop a joy, and battery life is excellent. Just note that the Microsoft Slim Pen 2 is sold separately, and there's no in-built SD card reader, although many recent cameras allow transfer by USB-C.
See our full Microsoft Surface Laptop Studio review for more details.
The MacBook Pro 16-inch (2021) is still a brilliant choice for not just photographers and photo editors – and what was once a lofty choice price-wise can now be found more reasonably as it's an older model. The M1 Max version of the laptop is a tad overpowered for most editing needs so you can save yourself some cash by sticking with either the original M1 or M1 Pro version of the processor, and this will still ensure that your applications boot up quickly and run smoothly without complaint.
Despite all that power this is a fanless MacBook so you can use it on remote shoot locations or edit in quiet environments without causing too much noise. Apple also re-introduced beloved ports such as the HDMI and a memory card slot, which removes the need for an additional adapter or dongle. Our reviewer said "while writing this review, I didn't hear the fans spin up once either, and that took some time," so we've got first-hand experience of its silky silent presence.
You can connect up to two additional 6K displays if you want some more screen real-estate for editing, and you're not compromising on battery life as you would with many Windows-based portable workstations. In our tests it ran for almost 20 hours on a single charge, which means this is a laptop you can use out in the field without keeping an eye out for power outlets.
To top it off, the display feels like it's been designed with photographers and photo editors in mind, with a 16.2-inch mini LED screen and P3 wide colour support, along with a higher 3456 x 2234 pixel ratio, which ensures your photos look incredible. You're even getting a whopping 1,600 nits of brightness (the 14-inch version offers 1,000 nits), over triple what the Dell XPS 17 offers (at around 500 nits, which is still considered over-average).
See our full MacBook Pro 16-inch review for more details or the MacBook Pro 14-inch M2 review if you want something smaller.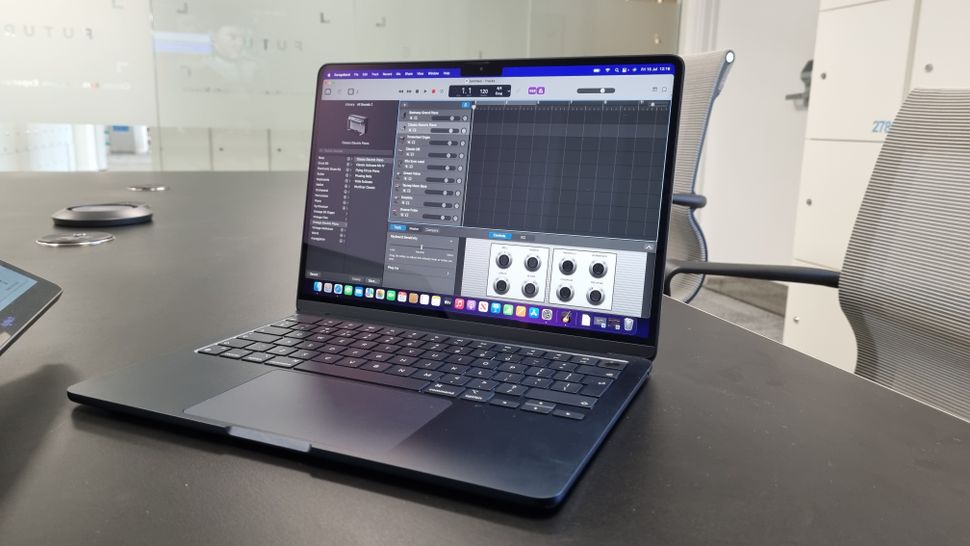 The MacBook Air always used to lag behind the MacBook Pro. But now that it has Apple's M2 chip, it's neck-and-neck with its Pro cousin – and even pulls ahead in some cases – making it a top-notch device to editing your photos.
First up is the display. Apple has shrunk the bezels around the screen, providing more room for your work and a more immersive experience. Although it's not the mini-LED panel you'll find in the 14-inch and 16-inch MacBook Pro, you still get True Tone, 500 nits of brightness, and support for the P3 color gamut.
Elsewhere, you get the incredible power and efficiency of the M2 chip. The MacBook Air doesn't come with a fan – it simply doesn't need one, such is the M2's ability to perform while only sipping power. That makes for a serenely quiet laptop that can still handle heavy photo-editing workloads.
As for battery life, that's even better than what we saw in the M1 MacBook Air. When we reviewed the M2 model, it lasted for over 16 hours on a single charge – five more hours than the M1 version.
The Gigabyte Aero 17 is one of the most powerful laptops for creative professionals on the market right now, and while a few of its components are starting to show their age, the capabilities of this beast shouldn't be overlooked by photographers.
In fact, the Aero 17 was created specifically for creative professionals who needed a lot of power to run applications for 3D sculpting and animation, but that also makes it a great choice for editing both photographs and video footage if you're unable to get to a full desktop PC.
It's available with a 12th generation Intel i9 processor, which is one of the most powerful CPUs you can shove into a laptop. You're also getting an Nvidia RTX 3080 Ti graphics card which is more commonly found in high-end gaming laptops, but this provides all the graphical power you could ever need.
All the focus on raw power doesn't mean this lacks must-have features for photographers though as it's rocking a stunning 4K mini-LED screen. It's something of a 'desktop replacement', handling every task and test we ran on it with ease, so if you're needing to move away from a traditional tower PC onto something more portable, look no further than the Gigabyte Aero 17.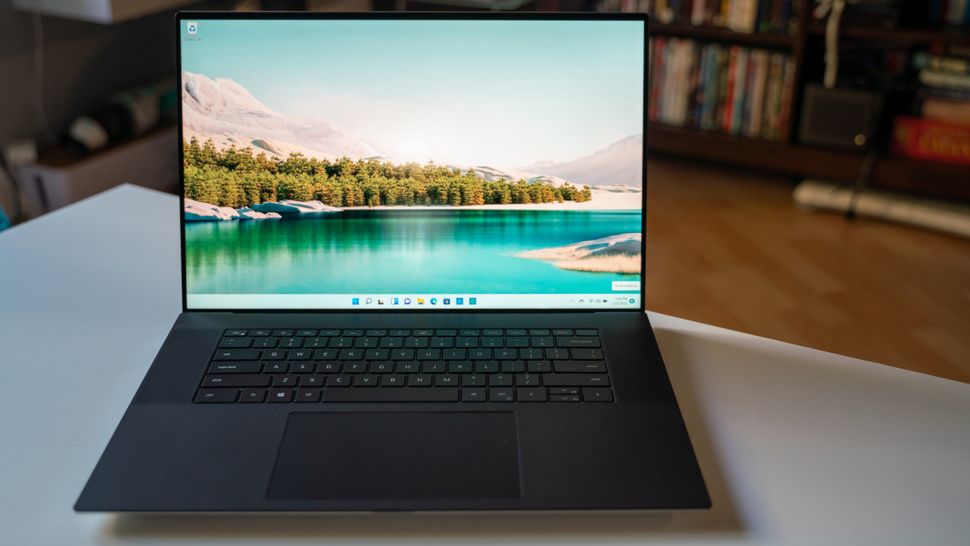 The Dell XPS 17 is a great choice if you're looking to buy a laptop running Windows 11. In fact, it's one of the products we would suggest for people who are looking for something like a MacBook Pro but can't get along with macOS or the wider Apple ecosystem. It's an all-round reliable portable workstation that's well optimized for creative and business professionals alike.
It fits well into most standard-sized backpacks despite its large 17-inch display, and that taller 16:10 aspect ratio screen is ideal for photographers as it offers more vertical space than standard 16:9 widescreen displays. You can even opt for a configuration that's equipped with a 4K Ultra HD+ resolution of 3,840 x 2,400 which will give you plenty of pixels to play with on high-resolution photographs.
The display supports 100% Adobe RGB and 94% DCI-P3 colour gamuts, providing accurate on-screen colours without the need to calibrate as you would with many desktop monitors. The only area that managed to disappoint us when we reviewed it was battery life, as the Dell XPS 17 only managed to squeeze out around 5 hours and 45 minutes during our tests, but this shouldn't be too much of an issue if you shoot and edit in an area with plenty of free power sockets.

See our full Dell XPS 17 (2021) review for more details.
The Asus Zenbook Pro 14 Duo OLED (2022) is a rather quirky offering, but hear us out on this. If you find that you hate your display being taken up by various windows within editing software, this laptop has an innovative solution to plugging in a second monitor: it has a slim, built-in display right under its main screen which is great for photographers and editors as free display real-estate.
Not only that, but it's rocking an OLED display and 100% coverage of the DCI-P3 gamut, as well as plenty of power thanks to its 12th-generation Intel processor (with configuration options up to the flagship Core i9), as well as plenty of RAM and the option of a GeForce RTX 3050 Ti GPU for those that like to use applications boosted by Nvidia graphics cards.
That second display can make typing a bit of a pain, and those powerful components demand a lot of...well, power, so battery life is also disappointing, but these are the only two criticisms we can provide for this unusually designed laptop.
It has plenty of ports, including an HDMI and built-in SD card reader which are useful for photographers who want additional display and hate using adapters to import their images. In short, this is a creatively designed device that feels purpose-made for the wider creative market and photographers of any skill level can appreciate the fun design innovations it provides.

Read our complete Asus Zenbook Pro 14 Duo OLED review for more details.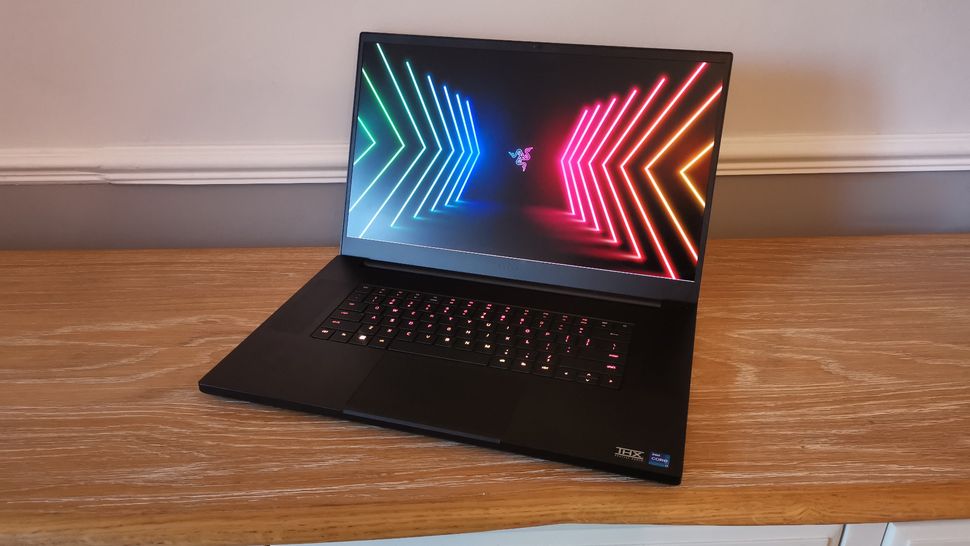 The Razer Blade 17 (2022) is yet another powerful creative workstation laptop that's been designed to handle any task you throw at it, which makes it ideal for photographers who want all the power of a desktop PC, in a portable format.
In fact, we actually put this to the test in our review by hooking up an entire desktop setup including an additional display, keyboard, mouse and a graphics drawing tablet, and we still had ports left over for additional peripherals without needing to grab a USB hub or docking station.
While you can't configure the Razer Blade 17, it instead offers a few different pre-configured models to suit different styles of work, from an affordable model rocking an RTX 3060 GPU and a 17.3" 165Hz QHD display, to a seriously powerful RTX 3080 Ti and a full 4K 144Hz version. Any of these would make a suitable machine for a photographer, though we would recommend the flagship as it offers 400 nits of brightness and 100% coverage of the Adobe RGB colour gamut.
Our main complaint is that given you can't configure the components, some of the models are overkill for just photo-editing, but this system also doubles as a fantastic gaming laptop for those who want something for both work and play. You'll also need to keep an eye on power as battery life is very disappointing but considering all the power you're getting, we think it's a fair trade-off.
See our in-depth Razer Blade 17 review for more details.
Apple's 13-inch MacBook Pro was updated in summer 2022 to come with the M2 chip. This brought a small but noticeable speed bump, which will help when you're working your way through large batches of photos.
One of the best parts about the M2 chip is its incredible efficiency. That translates to a laptop that barely ever needs to spin up its fans, even when you're working on large projects. That's perfect if you want a quiet environment in which to work.
That efficiency also means the 13-inch MacBook Pro comes with superb battery life, lasting around 13.5 hours on a single charge, as we found out in our MacBook Pro 13-inch (M2) review. That's a real boost when you're out in the field and far from a power outlet, and means you can process your photos in the same location where you shoot them.
Now that the M2 MacBook Pro has been out for a few months, it's possible to start finding deals and discounts on it. If you're looking to pick one up, be sure to check out our round-up of the best MacBook Pro deals and save yourself some cash.
HP has really served up a treat for photo editors with its Spectre x360 range of laptops. Not only do you get an eye-popping OLED display with 4K resolution, but it's also touchscreen-enabled, giving you another way to interact with your photos and files.
Since this is a 2-in-1 laptop, you can swing the display around and use the device in tablet mode, which is a great way to swipe through your pictures to get a quick overview of your work. Then when you want to get back to editing, you can just flip it back into laptop mode.
Elsewhere, you'll get an Intel i7 chip, up to 32GB of memory, up to a 2TB SSD, and a choice of Nvidia or Intel graphics. When we reviewed it, we found it also boasted stellar battery life, lasting for around 12 hours in our testing. That should be plenty to get you through a day's field work with juice to spare.
FAQs
What laptop specs do I need for photo editing?
In terms of specs, you should consider 8GB of RAM a minimum for a laptop for photo editing, but ideally 16GB because software such as Lightroom can struggle with 8GB if you're editing high-resolution RAW images. You'll also want a modern Intel Core i5 processor (or AMD Ryzen 5) as a minimum. These processors come with decent integrated graphics which will be more than enough for photo editing.
You'll want the most colour accurate screen you can afford. We recommend 1080p displays, as they'll allow you to see more of your photos, but if your budget can stretch to it, a laptop with a 4K screen may be worth investing in. Some displays come with factory calibration to ensure image quality is as good as possible, though we also recommend adjusting your display using a colourimeter (see our guide to the best monitor calibrator tools)
As for storage space, the SSD drive should be 256GB as a minimum, too. Bigger is better if you'll be storing a lot of photos on the device – if you're editing RAW images, anything less than 1TB can fill up pretty quickly, but you can also use cloud storage.
One of the best things about using a laptop for photo editing is that it gives you the freedom to work on your photos almost anywhere rather than being stuck at a desk with a traditional PC. So, battery life is an important consideration, as you'll want something that will last for hours without needing to be plugged in
Some photo editing suites, especially those from Adobe, make use of AI (artificial intelligence) and machine learning with some of their tools to help reduce repetitive tasks and add more impressive and realistic effects, so while applications like Photoshop don't need a discrete GPU to run, these can offer a great productivity boost. You may also want to see our guides to the best laptops for Photoshop and best laptops for graphic design.
What laptop is best for photo editing?
Right now, we think the MacBook Pro 16-inch (2021) is still the best fit for photo-editing. That's because of the giant screen, power that can handle any workflow and its silent fanless design. We also love the long battery life and the fact it has a shedload of ports (something missing from other MacBooks). Though if a 16-incher is a bit too cumbersome to haul about with you, we reccomend going with the more recent 14-inch MacBook Pro.
Not an Apple fan? Go for the Asus ProArt Studiobook 16 OLED. it's got a big, beautiful screen, awesome power an a handy dial that (once you're used to it) can speed up your workflow.
Read more: