The best tablets for video editing are so much better than they used to be. Once, the idea of video editing on a tablet might have seemed like a pipe dream; now, with the raw computing power that most mainstream tablets contain, they're basically slimmed-down laptops. This, plus the ever-better quality of tablet screens, makes them a fantastic choice for video editing.
Whether you work with Apple, Windows or Android devices, it's easy to slot a tablet into your workflow, and video editing apps and video editing software are getting better all the time. But which video editing tablet should you choose? We've put together this guide to include products at a range of price points and for different operating systems, so whatever your needs and your setup, there should be something here for you.
Don't forget to check out our list of the best drawing tablets if you fancy something that's great for art as well. If you know you definitely don't want Apple, then see our list of the best iPad alternatives.
The best tablets for video editing available now
Why you can trust Creative Bloq Our expert reviewers spend hours testing and comparing products and services so you can choose the best for you. Find out more about how we test.
If money is not object, there's really no question: the 2022 edition of the iPad Pro 12.9-inch is the best tablet for video editing. With its powerful M2 chip – which Apple claims is 15 percent faster than the previous M1 chip featuring in 2021 iPad Pros – it's more than capable of handling even large 6K video files without issue. Adobe's Premiere Rush app is pretty well-optimised for iPad, DaVinci Resolve for the iPad is now here, and the peak brightness of 1,600 nits and a 1,000,000:1 contrast ratio is ideal for editing HDR content.
As we noted in our iPad Pro M2 (2022) review, the iPad now has support for ProRes video capture, so you can even use it to film video, if that's your thing. The only real sticking point is the price, which is pretty hefty, and only gets higher when you consider that you'll also need to shell out extra for any accessories you want, like the Apple Pencil or Magic Keyboard. You may want to consider one of the older iPads, some of which are detailed below.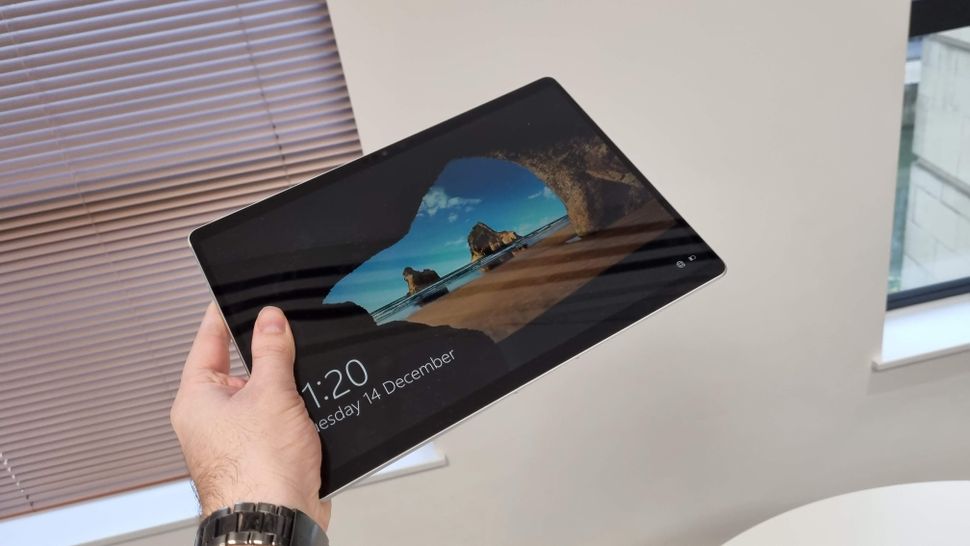 The line between tablet and laptop is pretty blurry these days, especially when it comes to Microsoft's Surface Pro range. If you're already editing on a PC, it's easy to hop to one of the latest Surface Pros, as all your programs and apps will work on it, and it's got enough horsepower to handled high-quality footage with ease.
This Surface Pro 8 has been super-seeded by the Surface Pro 9, but the 8 remains the cheaper option and we still think it offers a lot to video editors. We found in our Surface Pro 8 review that its performance was blisteringly fast, with it working well with 4K video footage; in terms of battery life, we got around eight hours of use out of it. Like the iPad Pro, it's an expensive proposition for sure. But you really are getting a lot of power for your money, on a device that's easy to stow in a bag and take everywhere with you. Overall, we're happy recommending it to any serious video editors who want to stay in the Windows ecosystem.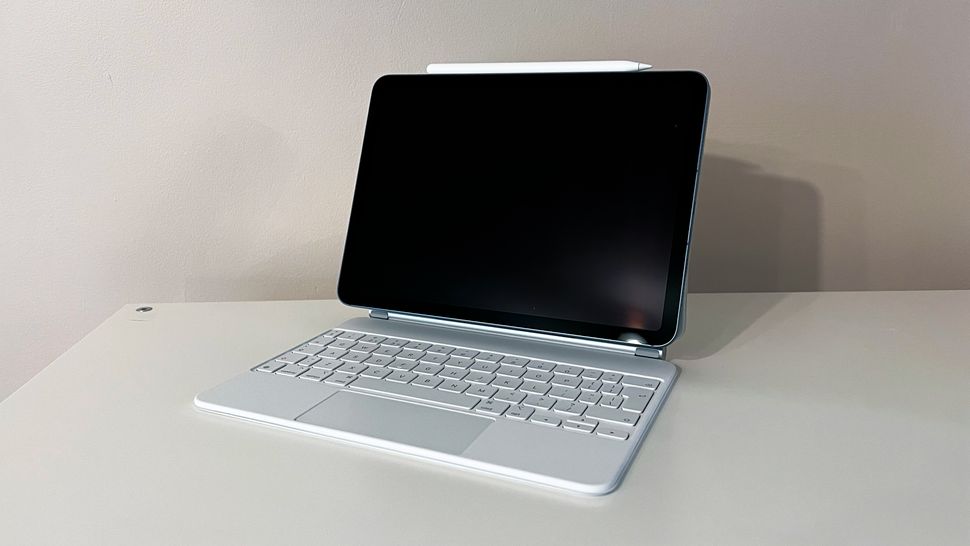 The iPad Air isn't far behind the iPad Pro these days, making it an excellent choice for anyone who wants that Apple quality but doesn't quite want to drop the levels of dollar required for the latest iPad Pro. The computing power here is still pretty impressive, with the top-flight M1 chip that also powers the iPad Pro (2021). It's more than enough for all but the most demanding video editing.
The all-screen design of this fourth-generation iPad really lets you sink into your work, and you can also use the Smart Connectors to add accessories like Apple's Smart Keyboard if you don't fancy working entirely with the touchscreen. The high-resolution display looks great; it's 60Hz, not 120Hz like the iPad Pro range, but it's still a solid choice for editing video. Read our iPad Air (2022) review for more.
If Android is your OS of choice, and you're not bothered about having the most powerful Android tablet there is, the Samsung Galaxy Tab S7 Plus is the way to go. The Tab S7 Plus offers a dazzling OLED display with a resolution of 2800 x 1752 pixels and a refresh rate of 120Hz. It's a pleasure to use, even for long periods, and makes for a fantastic way to edit videos. You can hook it up to the Keyboard Cover if you prefer having keys to edit.
On the whole Android apps tend to be less well adapted for tablets, so consider that before making a purchase. Still, there are plenty of options, so by all means play around and see what's out there. For another great Samsung option, see our Samsung Tab S8 Ultra review.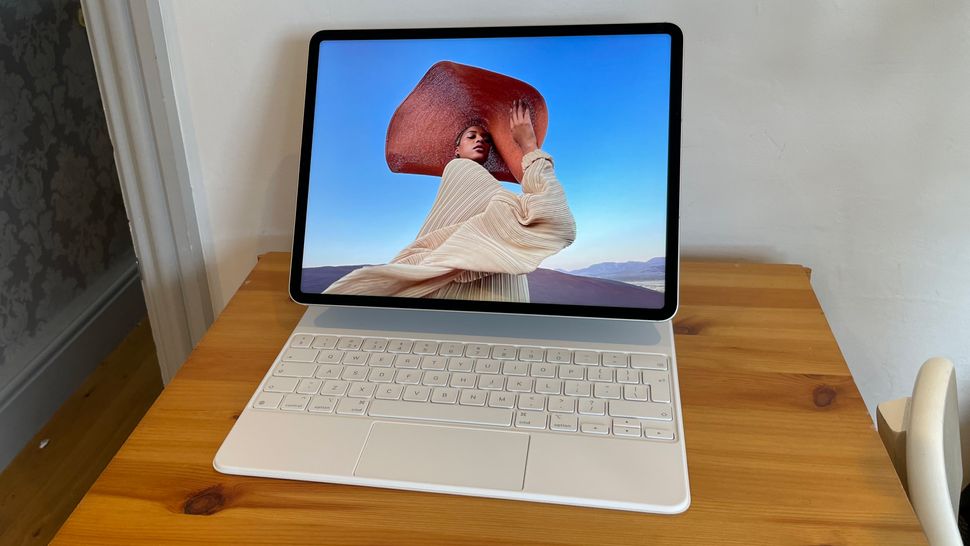 The 2021 iPad Pro is still an excellent iPad. So much so that we debated putting it at the top of the list, and only didn't because it will age faster than the latest version. Apple's M1 chip might not be quite as blisteringly fast as the new M2 chip in the 2022 version, but the 2021 iPad Pro still offers brilliant performance (and frankly, most users won't even notice the difference). The mini LED performance XDR display is ideal for viewing your creations on, and has superb colour accuracy, it's a vibrant when showing lighter colours than it is when displaying deep and dark colours. Overall, this is a great choice for video editors. In our iPad Pro 12.9-inch (M1, 2021) review we noted that, "The video performance is better than anything else in its class, and actually better than most dedicated monitors, albeit at a small size." What's not to like?
Asus's groundbreaking 2-in-1 gaming tablet is a feat of engineering, creating a Microsoft Surface-like device with internals suitable for gaming with mixed results. It's chunkier than most tablets (the build is superb), and gaming performance lags behind laptops with similar specs. It's also very expensive.
That said, when we reviewed the device we found that for content creation workflows, it does a nice job. The screen, which has a slow response rate for gaming, offers excellent pixel density, decent colour accuracy, including Pantone validation and 85 per cent coverage of the DCI-P3 colour space. The 60Hz refresh is something of a limitation when it comes to latency when using the touch interface, and the speakers could be better, but for a tablet PC that can pack a punch, this is a very interesting option. See our in-depth Asus ROG Flow Z13 review for more details.
With an 8.4-inch screen size, Huawei's neat Android tablet has a bright high resolution display, on which your videos will look great. It's also very competitively priced, one of the cheapest tablets around. The downside is the software, it behaves more like a phone than a tablet at times, and there's some junk supplied by Huawei that really isn't worth using, but you can still download your favourite Android apps and work away, with enough performance to cope with simple video editing tools,
The Honor Pad X8 is definitely cheap, and has plenty to recommend it. The screen is 1920 x 1200, just like the Huawei option above, and it works nicely for displaying video content, and images too. The design is lightweight and sleek, making it ideal for working on the go. The battery life lasted all day in our tests, too. What lets it down is its performance, with just two out of eight cores being high-performacen. There's also just 64GB of internal storage, something serious video editors will use up quickly. But if you just want to do some light video editing on the go, then this tablet will work for you. For more details, see our full Honor Pad X8 review.
How to choose a video editing tablet
When you're choosing a tablet for video editing, there are a number of factors to consider. First of all, you'll want something with the highest performance possible, that means tablets with super-speedy chips or lots of cores will work better than those with fewer chips, especially if they're not all high performing. How can you tell which chip is highest performing? In general, more cores means more performance. In terms of Apple's tablets, the higher the number after 'M', the higher performing the tablet, so M2 is better than M1. Older iPads with Intel chips have weaker performance than those with 'M' chips.
You'll also want a decent screen to view your work on, 1900 x 1200 resolution is the minimum you want here, and many of the tablets on our list are operating in the 2000 x 2000 plus range. You also need the tablet to be big enough to work on, we'd say 10-inches is the absolute minimum, but the bigger the better, although of course the bigger your tablet is, the more of a pain it is to cart around with you.
Battery life is also important, because even the best video editing apps will tend to drain your battery pretty quickly. Last of all, make sure you consider storage as video files are heavy. You definitely don't want anything less than 64GB, but get much more if you can afford it. It's generally worth spending money on storage as it will make your life much easier.
How we test tablets for video editing
In order to test tablets for video editing, we run a series of standard video processing benchmark tests, to test how quickly and efficiently the tablets can handle video content. We also spend time with each tablet, to assess its usability, design and portability, as well as assess the screen in terms of brightness, clarity and overall quality of the colours.
To test battery life, we stream a video from a streaming service and make a note of how long the battery lasts with that running, as well as use the tablet for our own projects, and test how well it copes with our normal workflow.
We review plenty of tablets here on Creative Bloq, but make sure that only tablets we have awarded three stars and above make it into our buying guides.
Which device is best for video editing?
If you want the ultimate device for video editing, you'll want to be looking at one of the best laptops for video editing, our current pick is the MacBook Pro 16-inch (2021). But if you want something smaller to use on the go, then our suggestion is the iPad Pro 12.9-inch (2022). This is Apple's latest and greatest offering and it deals with large amounts of video without so much as a stutter. For those looking for an Android/Windows alternative, we recommend the Dell XPS 17 (2021) or the Microsoft Surface Pro 8.
Can I use a Samsung tablet for video editing?
We rate the Samsung Galaxy Tab S7 Plus as a tablet for video editing, as it offers a superb OLED screen to see your creations and a decent refresh rate of 120Hz. Android apps aren't always the best for video editing so bear that in mind but this tablet, along with the newer Samsung Tab S8 Ultra delivers.
Is an iPad good for video editing?
The newer iPads are ideal for video editing, as they contain powerful processors. Apps such as Final Cut Pro work well on the iPad and overall iPads are good for colour grading, speedy editing and video rendering. What more could you want?