Quick menu
Jump to the quick list↴
1. Best overall: MacBook Pro (M2)
2. Best Windows: Asus H7604
3. Portable: Dell Precision 5470
4. 2-in-1: Surface Laptop Studio
5. Best AMD: Alienware m17 R5
6. Best battery: MacBook Air (M2)
7. Best screen: Razer Blade 17
8. Best dual-screen: Asus Zenbook
9. Best custom: Framework
10. Best budget: MacBook Pro 13
FAQs
All of the picks on our best laptops for video editing list have their plus points. There's a huge array of choice here because laptops ideal for editing video are also perfect for a host of other creative tasks. This is brilliant news but makes the choice a lot harder than if you were looking for a more specialised machine.
To edit well, you'll need a colour-accurate display with a high brightness level, and powerful components to ensure they'll handle system-sucking applications such as DaVinci Resolve and Adobe After Effects (or your choice of the best video editing software). If you're looking for a complete portable workstation, all the options on this list will do the job, but beware that when choosing the RAM GPU options, you'll really be wanting 16GB RAM minimum (32GB is better), and a GPU that's on the higher end of things. That will all mean more money, but you can always go for a smaller screen – that's why there are 14- and 13-inch options below.
We've found options to suit a range of price points, if you're on an especially small budget you might want to head to our list of the best student laptops for some cheap deals. If you already have a decent workstation then you can save yourself some cash by checking out the best monitors for video editing and if you need something that's brilliant at handling audio, then see our best laptops for music production.
Quick list
Best overall
01. MacBook Pro 16-inch (M2, 2023)
This powerful laptop can be boosted by an M2 Pro or M2 Max chip, and its gorgeous, large display is ideal for video editing. Plus, it offers 22 hours of battery life, a fantastic keyboard and trackpad, and tons of memory and storage.
Read more below
Best Windows
02. ASUS ProArt Studiobook OLED (H7604)
Combining some stellar specs and fantastic performance, this laptop stays cool, calm, and collected even under the duress of intensive tasks like video editing. The 16.0-inch 3.2K OLED screen is a beautiful canvas for editing, too, making it a great all-rounder.
Read more below
Best portable
This simple and sweet laptop can handle all manner of tasks without suffering in the performance department, and can go toe-to-toe with a far more expensive 14-inch MacBook Pro with M2 Pro chip. It's also got great battery-life, too.
Read more below
Best 2-in-1
04. Microsoft Surface Laptop Studio
With its versatile form factor, this 2-in-1 laptop is great for multi-faceted creatives; especially those who might want to do some digital artwork, thanks to its easel mode. Its performance is decent, but it's not the most powerful laptop for video editing available now.
Read more below
Best AMD
While it's primarily a gaming laptop, the m17 R5 laptop is also a great choice for creatives thanks to its powerful AMD processor and graphics card. Its 17-inch display is similarly noteworthy, especially coupled with its speedy 120Hz refresh rate, giving your work space to breathe
Read more below
Best battery
06. Apple MacBook Air (M2, 2022)
This lightweight laptop is more than capable of slightly less intensive video editing and has a roomy 16:10 display supporting the P3 wide colour gamut. Thanks to Apple's M2 chip, this laptop is so efficient, it only needs passive cooling; though it does get hot during more strenuous tasks.
Read more below
The best overall laptop for video editing
If Apple's Macs are known for one thing, it's their popularity among creatives. That positive reception isn't unjustified, and the MacBook Pro 16-inch from 2023 shows just why they're so well-liked for video editing work.
The key is the amount of power Apple manages to pack into this laptop. It can be equipped with an M2 Pro or M2 Max chip, with the latter being the most powerful chip available in Apple's portable Macs. Apple says it's up to 30% faster than the previous-generation M1 Max when it comes to colour grading in DaVinci Resolve, and is twice as fast as the speediest Intel-based MacBook Pro.
Another key factor in winning over video editors is the MacBook Pro's gorgeous display. It's large and spacious at 16.2 inches across, and comes loaded with Apple's mini-LED panel that provides super-accurate colours and deep blacks. In fact, our review called it "truly incredible to look at and to use."
Add in 22 hours of battery life, a fantastic keyboard and trackpad, and tons of memory and storage, and you've got the best laptop for video editing, hands down.
Read our MacBook Pro 16-inch (M2, 2023) review to find out more.
The best Windows laptop for video editing
Apple not your thing? No problem, because the ASUS ProArt Studiobook OLED (H7604) shows you don't need a Mac to get a superb video-editing laptop. If you'd rather stick with Windows, it's the best choice around.
Why are we so fond of it? Well, it manages to combine an excellent set of specifications with the ability to run cool and quiet, meaning it can output strong performance without breaking a sweat. For intensive tasks like video editing, that's a real boon.
Our review unit was packed with a 13th-generation Intel Core i9 processor, an Nvidia RTX 4070 graphics card, and 64GB of memory. After testing those beefy components out, our reviewer noted that ASUS's laptop is "up there with the best processors currently on the market, including those from Cupertino." In other words, you won't miss out on performance if you opt for Windows over macOS.
Read our ASUS ProArt Studiobook OLED (H7604) review for more information.
The best portable laptop for video editing
Not every great video-editing laptop is a chunky, heavy beast with enormous fans and RGB lights sparkling everywhere you look. Case in point: The Dell Precision 5470. This understated computer might not catch the eye, but you'd be acting way too hastily if you wrote it off because of that.
Our testing found it held up to all manner of tasks absolutely admirably. Indeed, as our reviewer put it, it ate through our tests with "with no lag or performance issues," producing results comparable to a 14-inch MacBook Pro with M2 Pro chip -- something that costs £1,000 more than Dell's offering.
That's a good indication of the kind of value you get from this laptop. Despite its understated style, it's a "wolf in sheep's clothing" as per our review, giving you the exceptional performance and long-lasting battery life that is so important to video-editing work.
You can read more in our Dell Precision 5470 review to see why else it's a worthy purchase.
The best 2-in-1 laptop for video editing
Getting a 2-in-1 laptop means you can easily switch between video editing on a laptop to tweaking your timelines on a tablet. The Microsoft Surface Laptop Studio excels at this flexible use case, and you'll love how seamless it is to shift from one form factor to another.
If you also dabble in a little digital artwork, you'll appreciate its 'easel' mode, which sits the screen at an ideal angle for drawing. As our reviewer put it, "It's a pretty cool design that, with its stylus compatibility, will no doubt be intriguing to digital creatives." What's more, its strong integration with Microsoft's Slim Pen 2 makes sketching and doodling an absolute breeze.
It's a respectable performer when it comes to video editing, and while there are more powerful options out there, few have the flexibility and portability you get with the Surface Laptop Studio. If you work on the go, want to mix video editing with digital art, or just want something that doubles up as a fantastic tablet, this 2-in-1 is a great choice.
Read our Microsoft Surface Laptop Studio review to find out more.
The best AMD laptop for video editing
Dell's Alienware brand is best known for its gaming products, but it turns out the company's m17 R5 laptop is also a great choice for creatives. It's outfitted with a powerful AMD processor and graphics card, making it an ideal choice for fans of Team Red.
When we reviewed it, our tester wrote that it "blitzes through games and creative tasks alike, with multitasking a breeze in our testing." It outperformed almost all of its similarly priced rivals when it came to Cinebench and Handbrake testing, illustrating its prowess when it comes to 3D rendering and video encoding.
Its display is also "absolutely fantastic," as our reviewer put it, with a large 17-inch screen coupled with a speedy 120Hz refresh rate. That gives your videos plenty of space to breathe when you're working on them.
Read our Alienware m17 R5 review to find out more about why we rate this laptop.
The best laptop for video editing for battery life
In days gone by, no one would consider the MacBook Air a suitable laptop for video editing. But these days that's all changed, and the latest edition of Apple's thin and light Mac is more than capable for lightweight and moderate video-editing tasks. Simply put, it's "basically everything a creative professional would want from an upgrade," as we described it in our review.
We say lightweight and moderate because the MacBook Air doesn't come with a fan, since Apple's M2 chip is so efficient that it only needs passive cooling. That does mean it gets a bit toasty during particularly strenuous tasks, so it could slow down a little when running very heavy video workloads. But it can chew through almost everything else with consummate ease.
In June 2023, Apple brought out a 15-inch MacBook Air to complement the 13-inch edition, and it brings even more screen real estate to the table. If you are looking to edit some videos on it, that extra space could make all the difference. And since its an Apple screen, you get a gorgeous panel with a roomy 16:10 aspect ratio and support for the P3 wide colour gamut.
Read our Apple MacBook Air (M2, 2022) review for more info.
The best large screen laptop for video editing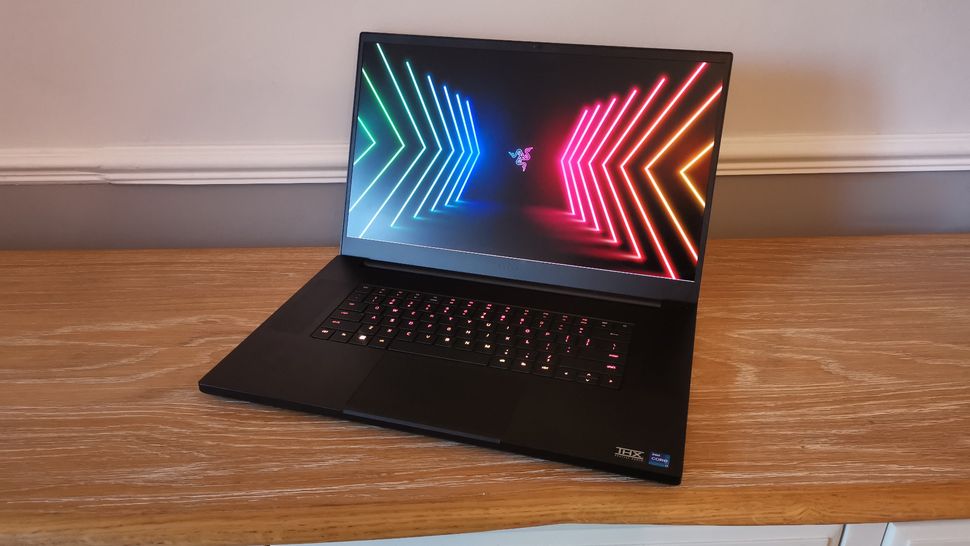 If you're after a video-editing laptop with a large, luscious display, try the Razer Blade 17 (2022) on for size. It has a slate of different options to suit your needs, ranging from 1080p to 4K resolutions and up to 360Hz in terms of refresh rates. The 4K version get a panel that hits 100% of the Adobe RGB colour gamut, while the 1440p edition achieves 100% of the P3 gamut. Either way, they're well-suited for colour-accurate video work.
There's more to this laptop than just a great display, however. It's packed with powerful performance, looks supremely stylish, and is loaded with a helpful array of ports and inputs. It's a well-rounded package for creatives and gamers alike.
Our reviewer loved what they saw, explaining that "Not only is it one of the most powerful laptops for creatives and gamers on the market, but its stylish to boot, capable of replacing many desktop systems." All in all, they concluded, it's "what a creative professional's dream device should look like."
Read our Razer Blake 17 (2022) review to find out more.
The best dual-screen laptop for video editing
Make no mistake about it, the Asus Zenbook Pro 14 Duo OLED is one striking laptop (and not just because of its mouthful of a name). It packs in not one but two displays, with a second screen located between the keyboard and the main panel.
What can you do with this second display? As it turns out, it's perfect for video editing. That's because you can move various app interface items onto that screen – think a set of controls and tools, or a video timeline. Instead of having them crowd up your main screen, they're moved below where they get their own dedicated space. It's a great tweak to a video-editors workspace.
Of course, none of that would mean much if this laptop wasn't very capable. But it's equipped with a powerful Intel Core i9 processor that will chew through video work with ease. That means you get a shedload of performance encased in an innovative, intuitive workspace that feels custom-built for editors and renderers. It's a "genuine delight" that boasts "Stellar build quality, two gorgeous screens and some seriously powerful components," as our reviewer put it.
Read our complete Asus Zenbook Pro 14 Duo OLED review for more details.
The best custom laptop for video editing
The problem with buying a laptop is the speed of tech innovation can render it outdated in a few years. At the same time, every time you want to upgrade your gear, you usually have to buy an entirely new laptop, which can get very expensive very fast.
Not so with the Framework laptop. This ingenious device lets you replace almost all of its internal components, from the ports to the CPU. That gives it incredible flexibility and the ability to change to match whatever your needs are.
While it doesn't offer the absolutely brawniest components, there are still options for an Intel Core i7 or AMD Ryzen 7 processor, both of which should be adept at handling moderate video-editing work.
As our reviewer wrote, it's "proof that you can build a laptop that's designed to last without having to compromise on style and performance."
Read our Framework review to see why else we liked it.
The best budget laptop for video editing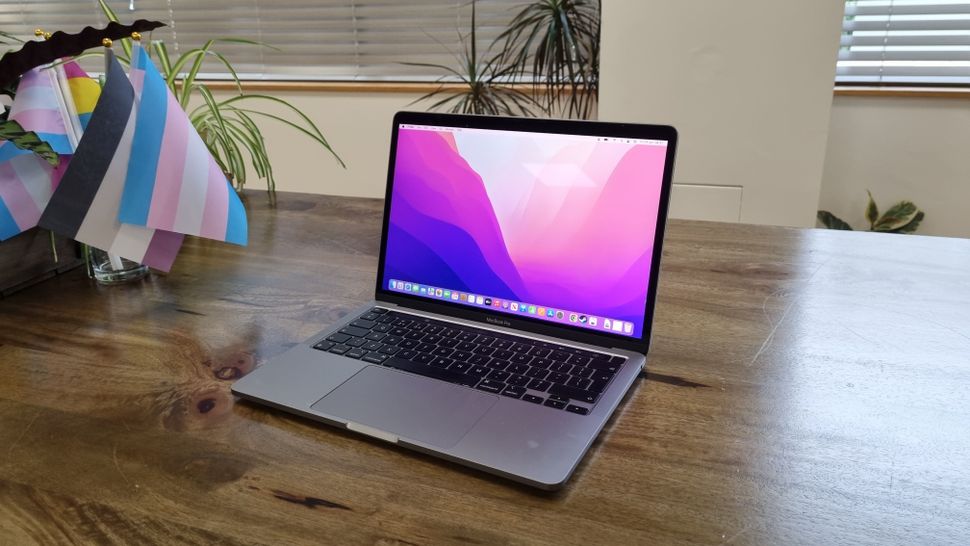 The 13-inch MacBook Pro is often overlooked among Apple's laptop lineup, but it still has plenty to offer digital creatives. For one thing, it's excellently priced and gives plenty in return for its asking price. Simply put, it "performs brilliantly and has exceptional battery life", as our reviewer wrote.
As well as that, you get Apple's M2 chip that, while not the company's flagship processor, is still incredibly performant and efficient. And since the MacBook Pro has fans (as opposed to the MacBook Air), it can keep cool and calm even during demanding video workloads.
You also get Apple's superb build quality, incredibly long battery life (15 hours and 31 minutes in our testing), and an almost silent performer even with the fans running. Sure, you might get better performance out of some of the other laptops in this article, and the MacBook Air could be a better option. But the 13-inch MacBook Pro's price-to-performance ratio is hard to beat.
Read our Apple MacBook Pro 13-inch (M2, 2022) review for more info.
FAQs
How should I choose the best laptop for video editing?
What makes a great laptop for video editing? First, you need to power. Video editing, especially when working with ultra-high-resolution footage, can be demanding, so you'll want a laptop with plenty of RAM (at least 8GB, although 16GB is advisable). You'll also want a modern processor, either from Intel or AMD, or if you're after a MacBook, Apple's own M-series chips have proved to be awesome hardware for video editing.
Video editors will also want a laptop with plenty of fast SSD storage because video files can be very large. Even if you're using external storage solutions, you'll want something that can open up your files quickly, or allow you to move them between the laptop and a backup drive, for example.
In some cases, a dedicated graphics card can also help, especially when it comes to creating visual effects or using AI-boosted applications in the case of many Nvidia Studio laptop offerings.
The best video-editing laptops will also come with high-resolution screens so you can comfortably work on them, and they will display your footage with accurate colours. Some of the laptops on this list will actually come with professionally calibrated screens to ensure your footage looks its very best.
High-quality built-in speakers are also a great bonus, as the soundtrack to your videos is just as important as the footage itself. Having great speakers lets you listen and edit your video's soundtrack without needing to invest in external speakers (although the chances are you will want to).
Do I need a dedicated graphics card for video editing?
For regular video editing, a dedicated graphics card isn't strictly necessary, but if you're looking to do some ambitious video editing and rendering complex graphical effects, then buying a laptop with a dedicated GPU could be a good investment. "Investment" is a key word here, as laptops with dedicated graphics cards are often far more expensive, so you'll want to make sure that you actually need that kind of power before you put down any money.
Some laptops containing Nvidia GeForce RTX graphics cards can run Nvidia Studio drivers, which are specialized drivers that use AI to boost performance across a wide range of different creative applications. These GPUs are typically on the pricey side, so any laptops with the latest Nvidia hardware is likely to be more expensive than something with an older GTX series card or those running with integrated graphics (meaning graphics processors that are built into the CPU).
When it comes to MacBooks, they no longer come with a dedicated GPU. Instead, the company's M-series chips have powerful integrated GPUs that work brilliantly and are more than capable of running all the popular video-editing applications.
Are laptops for video editing expensive?
Because of their combination of powerful hardware and slimline designs, many of the best laptops for video editing can also be pretty expensive. However, you can still find a great video-editing laptop without breaking the bank. You might be confined to editing lower-resolution footage or may have to put up with longer rendering times, but for many people that will be absolutely fine.
You may notice from the list above that quite a few companies that specialise in gaming laptops, like Alienware and Razer, also make laptops designed for creative professionals. These laptops use the same powerful hardware you'd find in a high-end gaming device, but without some of the game-centric features (and garish designs). Most importantly of all, they include powerful graphics cards that can drastically cut the time it takes to edit and render videos.
With lashings of CPU and graphics power, they'll chew through the best digital art software and encode videos faster than any standard laptop, and you'll find them included in this list as well. Whether you're a Mac fan or a Windows wizard, we've got you covered. If you're looking for a device specifically for coding, be sure to check out our roundup of the best laptops for programming.
Should I buy a MacBook or Windows laptop for video editing?
When looking to the best laptop for video editing, one of the biggest choices you'll have to make is whether to get a MacBook or a laptop that runs Windows.
Part of this is down to individual taste. If you're used to using the Windows operating system, you may find that macOS (which is what MacBooks run on) is a bit confusing with how things are done – and vice-versa.
However, both Windows and macOS offer broadly the same video-editing software packages. However, the popular Final Cut Pro app is only available on macOS.
MacBooks are very popular among video editors thanks to their powerful performance and stylish designs, but in recent years Windows laptops, such as the Dell XPS line, can easily match Apple's laptops in both style and substance.
Windows laptops also benefit from being made by a large range of manufacturers, so if you don't like the design of a certain brand's laptop, you could always go for another. With MacBooks, only Apple makes them, so if you want a MacBook but don't like Apple's style, then you're out of luck.
You can choose Windows for video editing, but many video editors use Apple computers. Some Apple laptops (such as the 13-inch and 15-inch MacBook Air) offer a fanless design, and all come with native support for Apple's Final Cut Pro video-editing app. All of Apple's latest laptops come with the company's own M-series chips, and the flagship designs (like the M2 Max) offer exceptional video-editing performance, even at ultra-high resolutions like 8K.