All of the picks on our best laptops for video editing list have their plus points. There's a huge array of choice here because laptops ideal for editing video are also perfect for a host of other creative tasks. This is brilliant news but makes the choice a lot harder than if you were looking for a more specialised machine.
To edit well, you'll need a colour-accurate display with a high brightness level, and powerful components to ensure they'll handle system-sucking applications such as DaVinci Resolve and Adobe After Effects (or your choice of the best video editing software). If you're looking for a complete portable workstation, all the options on this list will do the job.
We've found options to suit a range of price points, if you're on an especially small budget you might want to head to our list of the best student laptops for some cheap deals. If you already have a decent workstation then you can save yourself some cash by checking out the best monitors for video editing and if you need something that's brilliant at handling audio, then see our best laptops for music production.
The picks below are based on our own reviews and time spent with these laptops, as well as our own expertise. For more information on how we evaluate laptops, see our how we test laptops page.
The best laptops for video editing available now
Why you can trust Creative Bloq Our expert reviewers spend hours testing and comparing products and services so you can choose the best for you. Find out more about how we test.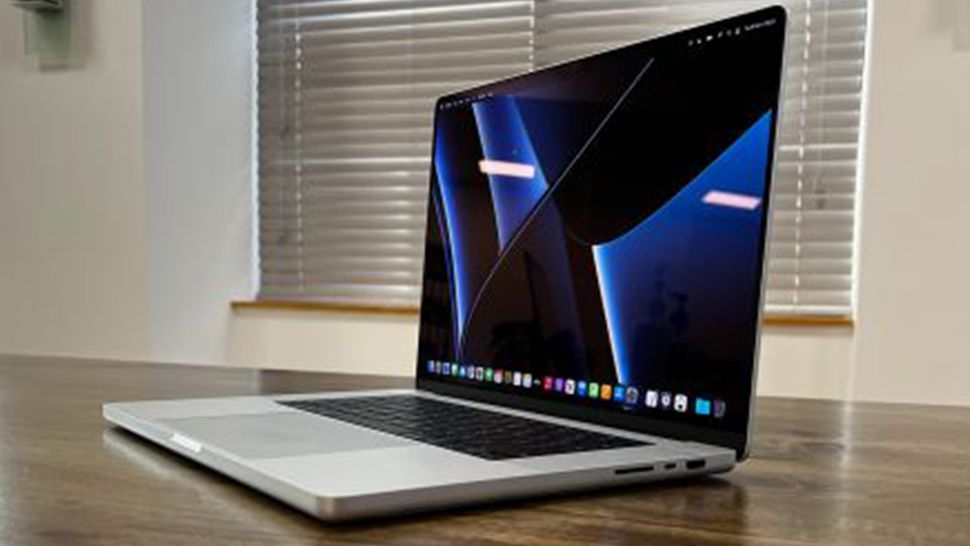 The MacBook Pro 16-inch (2021) is certainly a long name to remember, but there are many reasons why we've been specific about which MacBook Pro model is our favourite laptop for video editing.
For one, it has a larger screen than its 14-inch sibling which is better for many creatives, as well as the brightness of said display reaching 1,600 nits. For context, the Dell XPS 17 from the same year can achieve just 500, which is still considered to be over average for most laptops. The screen in question also happens to be a Liquid Retina XDR MiniLED that can achieve deep blacks and bright whites, ideal for video editing.
The M1 series of chips were given a boost upon its release, introducing the more powerful M1-Pro and M1-Max to the market, so while we adore the smaller 13-inch M1 MacBook Pro, it can't compete against the 16-inch refresh on performance.
Apple also appeared to have realised it was neglecting the creative market as beloved ports such as the HDMI and a memory card slot were re-introduced on this laptop, alongside newer features such as ProMotion and HDR (High Dynamic Range). Not only is the MacBook Pro 16-inch (2021) one of the best laptops for editing video, it also just happens to be one of the most powerful laptops on the market.
Read our MacBook Pro 16-inch review to find out more about why we rate this laptop.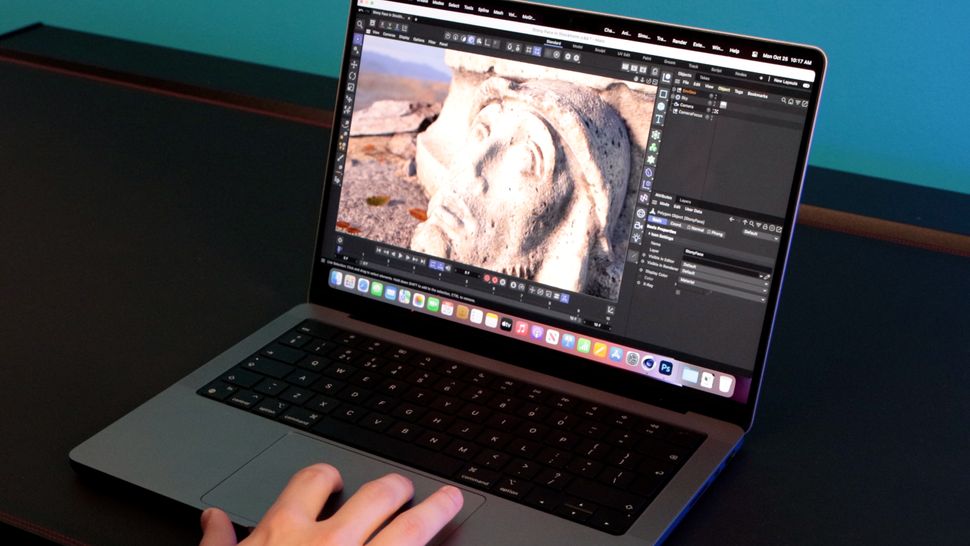 The MacBook Pro 14-inch (2021) is slightly more compact alternative if you love the sound of the features available on the larger 16-inch model (see it below), but are put off by its generous size - after all, many of us prefer to have something ultraportable these days.

As the two devices are so similar, you're still getting a mini-LED screen that supports 1,600 nits of peak brightness and the P3 wide colour gamut, as well as a choice between either the M1 Pro or M1 Max Apple chip which provides an obscene amount of power for such a slim, fanless laptop. In fact, it barely made a murmur during any of our tests, so you can really put it through its paces.
Essentially you're getting all the same performance and ports, just in a smaller size which means you can still edit 8K videos in Final Cut Pro or Premiere Pro all while not worrying about bringing a dongle or adapter as both of these models have built-in SD card slots, an HDMI port, and three Thunderbolt 4 ports.
Read our MacBook Pro 14-inch review for more info.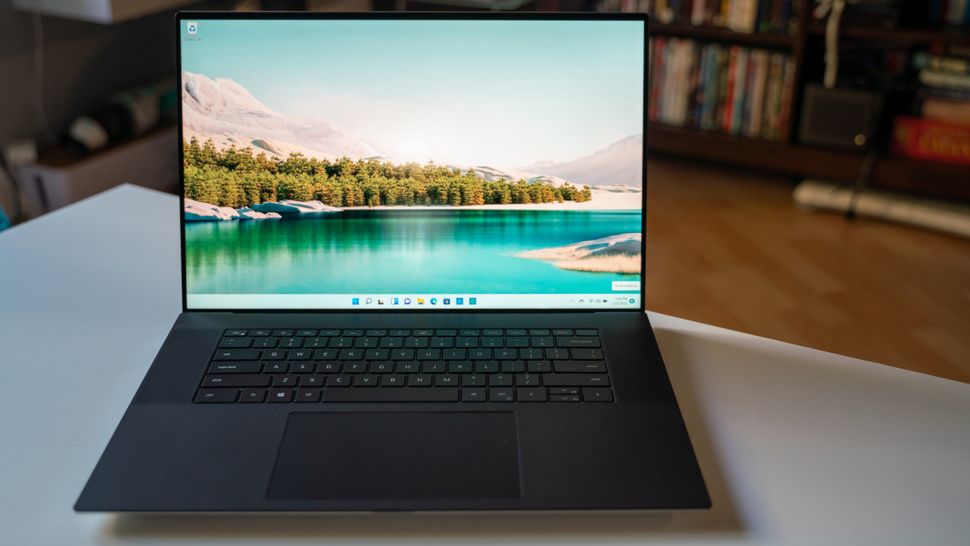 The Dell XPS 17 (2021) is the ideal choice for those of who that a large, powerful workstation laptop that runs Windows over MacOS. Euipped with an 17-inch 4K display, you're getting 3,840 x 2,400 pixels to play with, as well as a 16:10 aspect ratio that many claim offers better productivity benefits than the traditional 16:9 format.
It can't compete with either of the above MacBooks for brightness, but this beast does cover 100% Adobe RGB and 94% DCI-P3 colour gamuts, making this an ideal option for creatives that need precise colour-accuracy, such as video editors and photographers.
We don't use the word beast lightly here. The Dell XPS 17 can be configured up to a Core i9 CPU and 64GB of RAM in certain configurations, and while you don't necessarily need a dedicated GPU, you're getting up to an Nvidia RTX GeForce 3060 that should offer a boost in graphically demanding applications...heck, you can even install a game or two.
A laptop of this size might seem like it would be cumbersome, but in our tests to find the best laptops for video editing (see our Dell XPS 17 review for more details) we found it was relatively easy to slip into a standard-sized backpack and was a manageable weight to carry around for several hours. If you value some display real-estate, don't sleep on this powerful, portable workstation.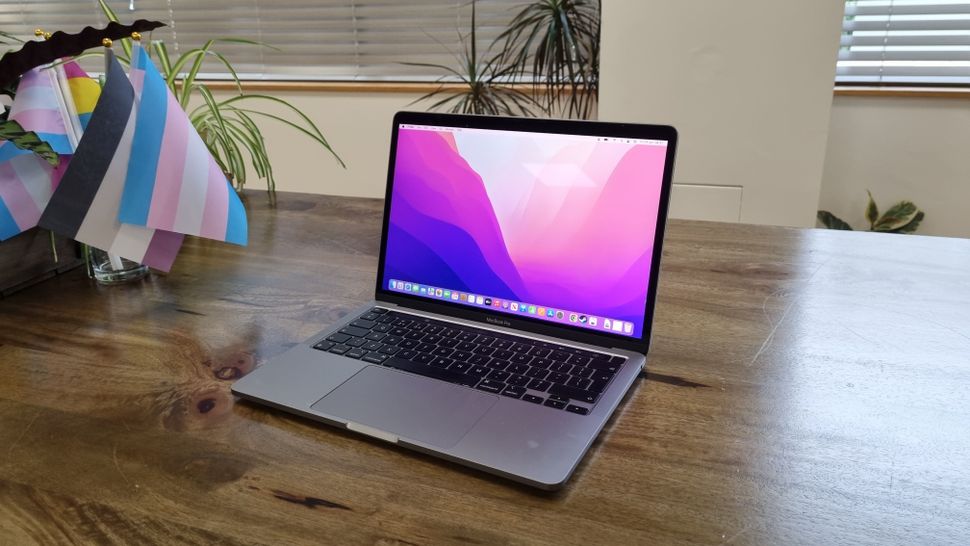 The newest MacBook Pro on the block is a brilliant laptop for video editing as it has the latest M2 chip, so is ultra-powerful but is at a decent price point, which makes it an attractive option (especially while the cost of living is so high). It will handle editing video with no trouble at all, and has a delightfully long battery life, too.
Our only gripe is that the 13-inch screen may not be big enough for detailed video-editing work. Having a generously-sized screen is vital for this creative task, and it's possible you'll find the lack of inches frustrating. However, if your priority is being on the move then this may not be such an issue for you.
Also read: MacBook Pro 13-inch (M2, 2022) review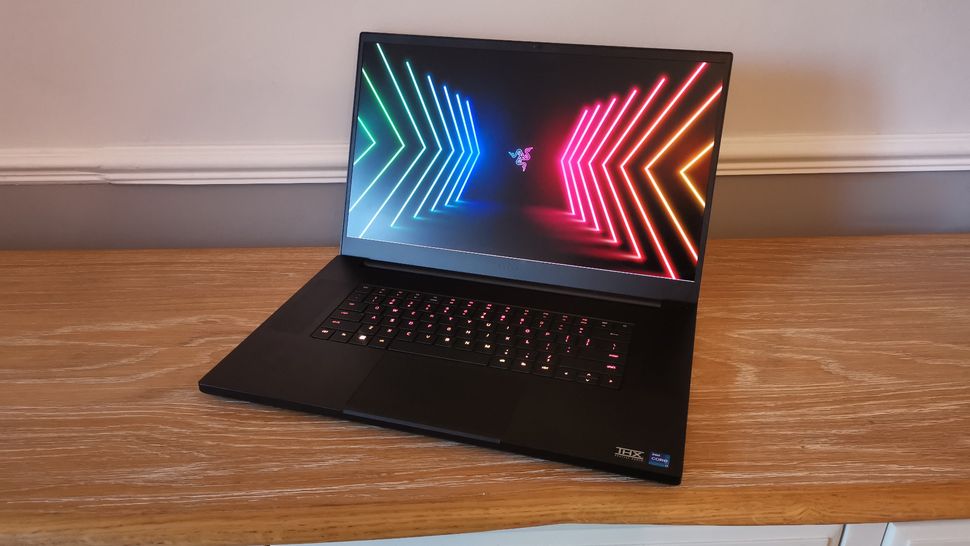 The Razer Blade 17 (2022) is the laptop you should be looking to buy if you need some serious power as while many Windows-based models on this list offer middling components to appeal to a wider market, this packs more than enough raw power to be considered one of the very best laptops for video editing, especially in demanding professions.
To help non-tech-savvy folks select an appropriate device, this has been awarded an Nvidia Studio laptop badge, which identifies it as being a perfect choice for those in demanding creative industries and careers.
The trade-off is poor battery life as this thing needs a lot of juice to operate, but in exchange, you're getting a large 17.3-inch display and a wide selection of configurations to match individual needs. There are models running an RTX 3060 GPU with a 165Hz refresh rate and QHD resolution, as well as a seriously powerful flagship laptop equipped with an RTX 3080 Ti and a full 4K, 144Hz display.
In fact the top end configurations are so powerful that they come close to replacing a desktop setup. In our tests, we plugged in a mouse, keyboard and graphics drawing tablet and a host of other peripherals thanks to the healthy selection on ports on offer, which truly made it feel more like a portable desktop PC than a laptop. Find out more with our full Razer Blade 17 review.
The Dell XPS 15 (2021) offers a similar deal to the one we mentioned regarding both the 14-inch and 16-inch MacBook Pro models, in that it has most of the same qualities as the larger Dell XPS 17, only in a more compact package.
If you loved the idea of what the 17-inch model can offer, this smaller offering is more convenient for those who will need to cart it around, which is great for video editors or students who will need to travel frequently.
Not only that, but you can configure it to be equipped with an OLED InfinityEdge display for crisp blacks and vivid colours, and powerful 11th-generation Intel processors. You only get the choice between an Nvidia RTX 3050 or 3050 Ti graphics cards, though a dedicated GPU isn't always necessary for low-demand work, which also means that the base model with integrated Intel UHD is also an appealing alternative for those who have a tighter budget.
For more Dell options, see our best Dell laptops roundup.
The MacBook Pro 13-inch (M1, 2020) may be less powerful than more recent releases within the MacBook Family (like the M2 13-inch MacBook Pro, above), but it was still designed to be a powerful, portable workstation. If the 14-inch MacBook Pro is still a tad too large for your needs, this compact laptop is plenty capable of editing 4K or even 8K footage thanks to its well-optimised M1 chip.
It's worth noting that the base M1 chip inside the 13-inch MacBook Pro isn't as powerful as the M1 Pro and M1 Max chips, but unless you absolutely need all that power there's no sense in getting a model equipped with one, making the 13-inch M1 MacBook Pro a relatively affordable alternative.
Not only is it ultra-portable, but we also found in our tests that the MacBook Pro 13-inch (M1, 2020) can last over 13 hours on a single charge, making it one of the best laptops for battery life that you can buy right now. Even if you don't need to lug it around to remote shooting locations, you can work without any need to anxiously keep an eye out for a free power outlet.

Yes, the new M2 version does edge out its predecessor, but this older model will still be relevant for a good while.
Read our full MacBook Pro 13-inch (M1, 2020) review for more details.
The Asus ProArt Studiobook 16 OLED might not be a name you've come across online, but as far as creative workstation laptops go, there are very few alternatives on the market that will offer you the same incredible features which makes it a niche, but well-optimized choice for video editors.
The OLED display is perfect for precise colour accuracy and brightness, and despite its size It's also surprisingly portable, measuring up at 109.2 x 264.1 x 20.3mm and weighing 2.5kg. During our tests we found it was easy enough to cart around in a standard-sized backpack too, so you shouldn't have any trouble taking it on the go (see our Asus ProArt Studiobook 16 OLED review for more details).
Many Windows-based laptops for creatives are equipped with ultra-powerful components and the Asus ProArt Studiobook 16 OLED is no different, rocking a few different options of Nvidia RTX graphics cards and AMD Ryzen 5000 series processors. There's also plenty of RAM provided across every configuration, so regardless of the model you choose, it'll run just about any application you throw at it.
The real selling point here though is the built-in 'Asus Dial' which offers an innovative way of using Adobe creative suite applications without needing a separate macro pad or graphics tablet. This feature, when mastered, can really optimise workflow and help boost your productivity and after a few days of use, it was hard to live without it on other workstation laptops.
The Asus Zenbook Pro 14 Duo OLED (2022) is yet another fantastic, quirky offering that's best utilised by creatives. Where most laptops required you to hook up to an additional display, the ZenBook Duo comes with a second screen just underneath the main one, providing some additional real-estate for taskbars and various windows in editing software.
Pair that with the OLED display technology and you've got yourself an ideal video editing laptop that provides rich black tones, alongside a 120Hz refresh rate and 100% coverage of the DCI-P3 gamut. It's hard to imagine what a non-creative or editor would actually buy this laptop for, which makes it feel purposefully designed for a niche group of folks who will make use of its unusual features.
You don't need to worry about power either as this bad boy comes with the latest 12th-generation on Intel chips up to an ultra-powerful Core i9, as well as plenty of RAM and the option of a GeForce RTX 3050 Ti GPU, so it'll handle any video application you need.

As we noted in our Asus Zenbook Pro 14 Duo OLED review, its only major fault is a lacklustre battery life compared to some of the other offerings on this list, but for those who stay near a power outlet and will make use of an additional built-in display, that doesn't overshadow how incredible this device really is.
The Dell XPS 13 is one of the smallest offerings in the Dell product family, but don't let its petite size fool you - this is a very capable laptop for video editing applications. Its small size is a delight to carry around, especially if you also have to transport heavy recording equipment, and it comes with the option of a 4K display.
There are numerous options available for configuration, just as you can with the larger 15-inch and 17-inch XPS models, which means the Dell XPS 13 is just as powerful as you need it to be, with the flagship offering of an 11th-generation Intel Core i7 processor and 32GB of RAM.
Our main criticism is that the pint-sized XPS 13 has no option for a dedicated GPU, limiting you to Integrated Intel graphics but if you need more of an everyday device thats capable of video editing then it's best to have some balance. It managed well enough for video editing in our tests, taking around 18 minutes to transcode a 10-minute 4K video to 1080p in Handbrake and about 7 minutes and 41 seconds to render and export a 10-minute-34-second 4K video in Premiere Pro. Read more with our Dell XPS 13 review.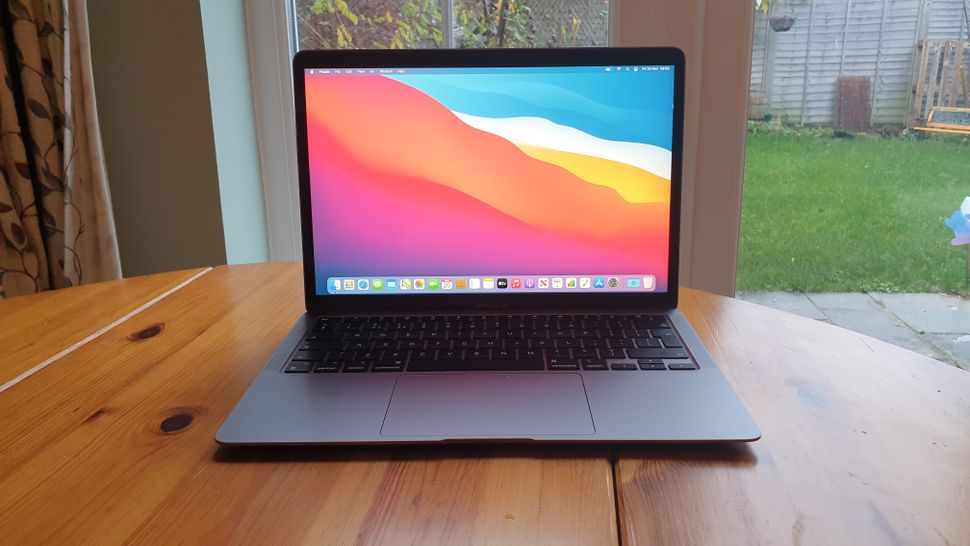 The MacBook Air (M1 , 2020) isn't just one of the best laptops for video editing, its actually one of the best laptops you can buy regardless of your requirements thanks to its incredible performance, battery life and -suprisingly for an Apple product - affordability.
While this has since been superseded by the more recent M2-powered MacBook Air, we haven't had the chance to put that model through its paces. Watch this space to find out if it replaces the older model, but let it be known that even if that does happen, the original M1-powered variant is still an absolute powerhouse.
It can easily handle editing 4K video in Final Cut Pro, and its fanless design also means that it is pretty much completely silent while doing so which is a real novelty when using creative applications. This is also the first MacBook Air model to support the P3 colour gamut, an industry standard for video editing that was previously exclusive to Apple's more powerful MacBook Pro range of laptops
That means you're getting many of the 'Pro' benefits without the pricetag, and for students especially this makes a fantastic all-rounder that's capable of handling just about any task or application without a fuss. Read our MacBook Air (M1, 2020) review for more details.
Related articles: