Quick menu
The list in brief ↴
1. Best overall: Nvidia RTX 4070 Ti
2. Best premium: Nvidia RTX 4090
3. Best value: Radeon RX 7600
4. Best AMD: RX 7900 XTX
5. Creatives: Nvidia RTX A5000
6. Mid-range: Nvidia RTX 4060 Ti
7. Value pro: Nvidia RTX A4000
8. Best 4K: Nvidia RTX 4080
FAQs
How to choose
How we test
The best graphics cards can help you to achieve everything you want with your computer, from creative work to gaming. While they may seem geared mainly towards gaming, good graphics cards are also excellent for improving a machine's performance for visual work, boosting its ability to juggle more tasks at once and power through the more graphically demanding jobs.
Choosing the best graphics card can be hard since there's a huge array of GPUs (graphics processing units) out there, with many acronyms, long model numbers and reams of specs. To try to help make sense of it all, we've compiled a pick of the best graphics cards for creative work and gaming based on our own reviews and tests and the opinions of our contributors from the gaming and creative fields. We've aimed to cover options at different price points for for different uses.
It's worth remembering that the best graphics cards are still broadly split into two categories: consumer cards mainly directed at gaming, and professional cards aimed at creatives looking to multitask and ensure optimum performance for things like video editing and use of the best 3D modelling software. Our guide will cover both, and, as a bonus, most of these could also be deployed with one of the best eGPUs to seamlessly add an external graphics card to a laptop or setup.
The Quick list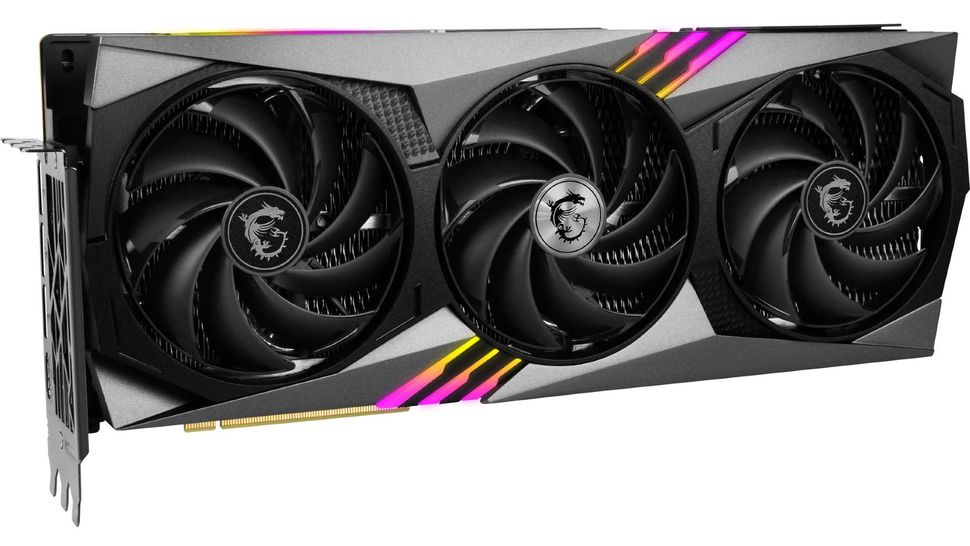 Best overall
1. Nvidia GeForce RTX 4070 Ti
If you're a 3D artist and gamer, and looking for a well-priced GPU that balances power and performance with price, the RTX 4070 Ti is a great option and is perfect for most people. If you're looking for overall results and value for money, this is our pick.
Read more below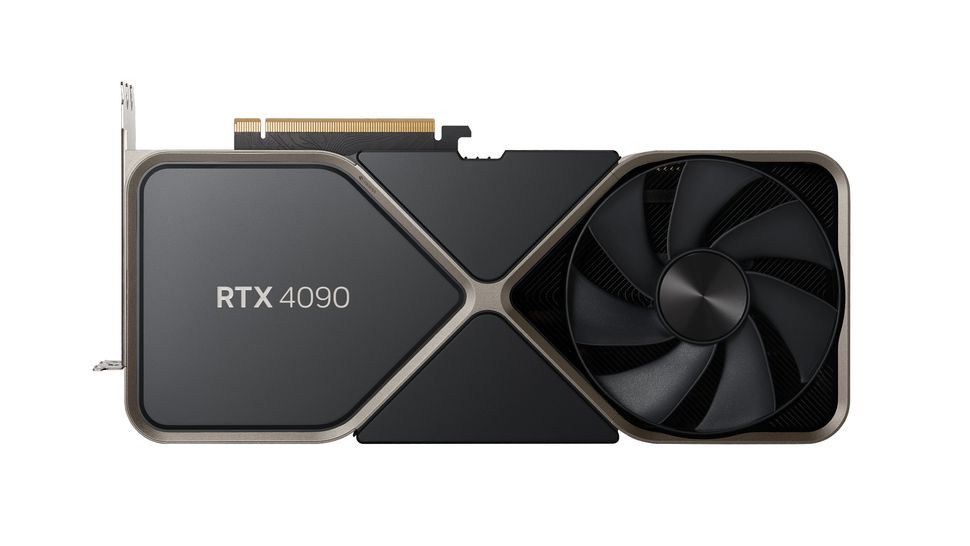 Best premium
2. Nvidia GeForce RTX 4090
The Nvidia RTX 4090 is the best all-rounder for games and creativity. This is a card that celebrates and oozes next-gen power, capability, and uses, and if money is no object then this is the GPU you should get to embrace sheer power.
Read more below
Best value
There are a few great budget graphics cards going around nowadays but the RX 7600 is a brilliant card for the money. Solid performance, compact design, a good media engine, and display support; all for comfortably less than $300.
Read more below
The best graphics cards in full
Why you can trust Creative Bloq Our expert reviewers spend hours testing and comparing products and services so you can choose the best for you. Find out more about how we test.
The best graphics card overall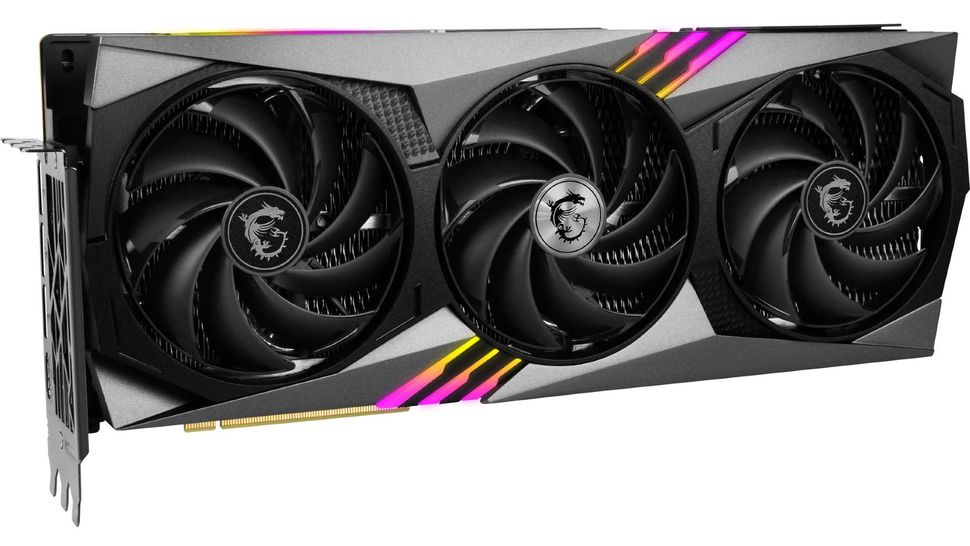 Nvidia's latest 40-series GPUs are real performers, and the RTX 4070 Ti might be the pick of the bunch. While it's expensive, it'll set you back less than the most-powerful RTX 4090 yet still packs an almighty punch, and can handle serious creative workloads with ease.
With plenty of cores, an impressive clock speed, and 12GB of GDDR6X memory, the RTX 4070 Ti is a great graphics card for tasks like 3D rendering and video production. I think this is a strong choice if you want barnstorming power without having to remortgage your house for the privilege, making it one of the best graphics cards you can buy right now - and probably the best overall for value for money. The only caveat to that would be whether you've already got a high-end 30-series card (or similar AMD) as the upgrade probably won't be worth it - but if this is for your first card or a long-overdue upgrade then this is a truly great hit. This product also tops our list of the best graphic cards for gaming.
The best premium graphics card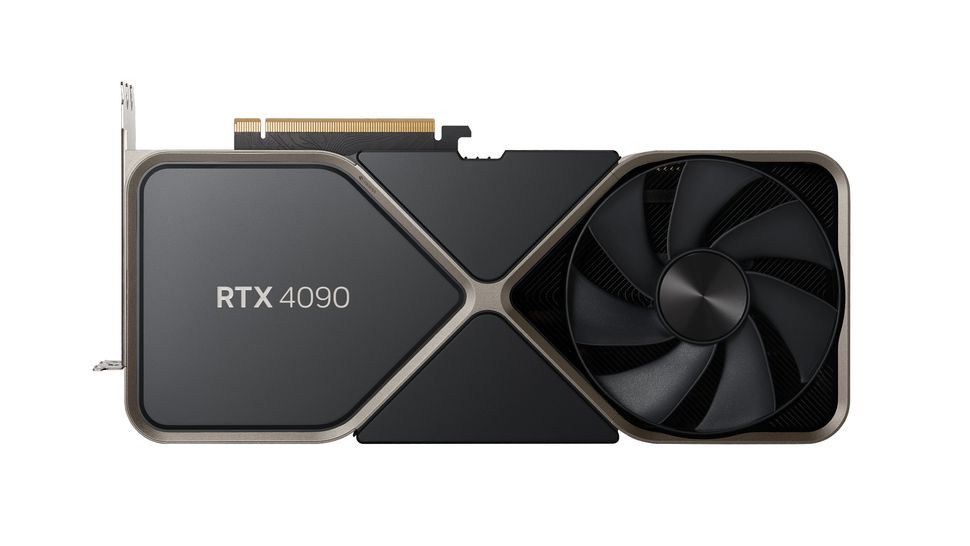 If money really is no object, Nvidia's RTX 4090 is the best graphics card you can buy. Its performance is out of this world, with 24GB of video memory and 16,384 CUDA cores meaning it can handle detailed texture generation, complex calculation, and much more in the blink of an eye.
Sure, Nvidia's RTX 4090 is absolutely massive and its price tag is prohibitively expensive, so it's certainly not for everyone. But if you don't mind breaking the bank to get the best performance possible, this GPU is an extremely powerful option that will chew through anything you throw at it. I would also say paying the extra will future-proof you're set up for quite some time come. Not only is this the best NVidia graphics card, it is just flat-out the best graphics card going right now.
The best cheap graphics card
For those looking to get one of the best graphics cards on a budget, the AMD Radeon RX 7600 is hard to ignore. Offering unspectacular but very solid performance, quiet running, and a decent media engine and display support - all in a compact package that won't hog space in a PC - and it's a welcome addition to the budget range of the market. On that note, with it priced at just $250-$270, it's a tremendous value option - for both creatives and gamers. If it ever drops further in price, it'll make a terrific cheap graphics card too.
This is a terrific budget card to upgrade to if your GPU is aging and struggling and that compact size means it's brilliant if you're working with - or changing to - a small rig. Naturally, this is more a first-time or upgrade purchase, as it can't hold a candle to a 30-series Nvidia card or some other beefier AMD cards.
For reference, we used to rate Nvidia's RTX 3070 in this category, but that still demands a higher price of admission and is also increasingly difficult to find nowadays. As a result, the AMD Radeon RX 7600 gets our vote for best budget graphics card right now. If you're looking for an RTX equivalent in the budget price range, then definitely consider the RTX 3060 Ti and also the RTX 3050 if you're really looking to save the pennies.
The best AMD graphics card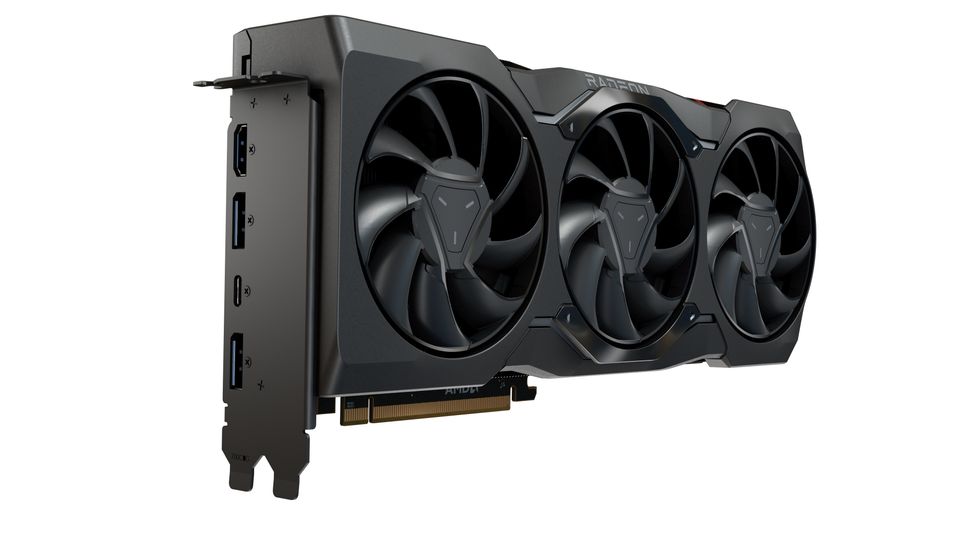 AMD is going after Nvidia's crown as the high-end performance champion, and the ongoing battle between the two companies means that both are now releasing powerful graphics cards at increasingly competitive prices. (Good performance for a little less cost is AMD's strength.)
The AMD Radeon RX 7900 XTX is more than capable of powering gameplay and creative workflows. What's more, it even includes AMD's own ray-tracing tech, a relatively new capability for AMD graphics cards.
The RX 7900 XTX is also based on a multi-chiplet design that gives a notable performance boost compared to previous AMD cards, which could point the way for future efforts from the company. That all makes it a superb card and one of the best graphics cards from AMD and across the whole market.
The best graphics card for creative software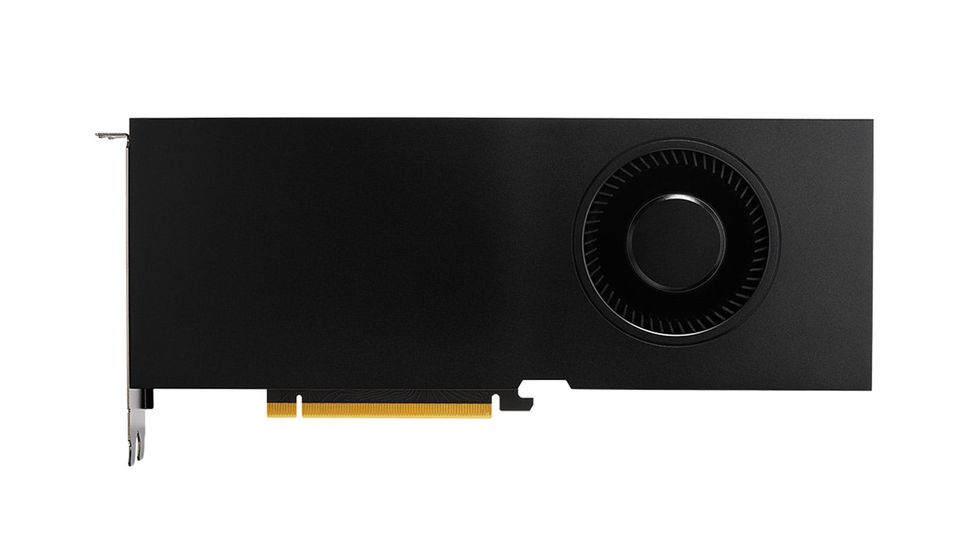 If gaming isn't your thing, Nvidia's professional-grade cards may be a better choice for running creative software than the GeForce range. In that regard, I'd recommend the 24GB RTX A5000 is an excellent performer, making it a great option for demanding users who are willing to shell out for serious performance.
The RTX A5000 offers a lot more rendering power than previous-generation cards, driving CUDA and OpenCL applications to new levels and leaving other graphics cards looking weak in comparison. If you don't care for gaming and just want something that will be laser-focused on creative tasks, such as getting the most out of Houdini and V-Ray, the RTX A5000 could be exactly what you need.
The best mid-range graphics card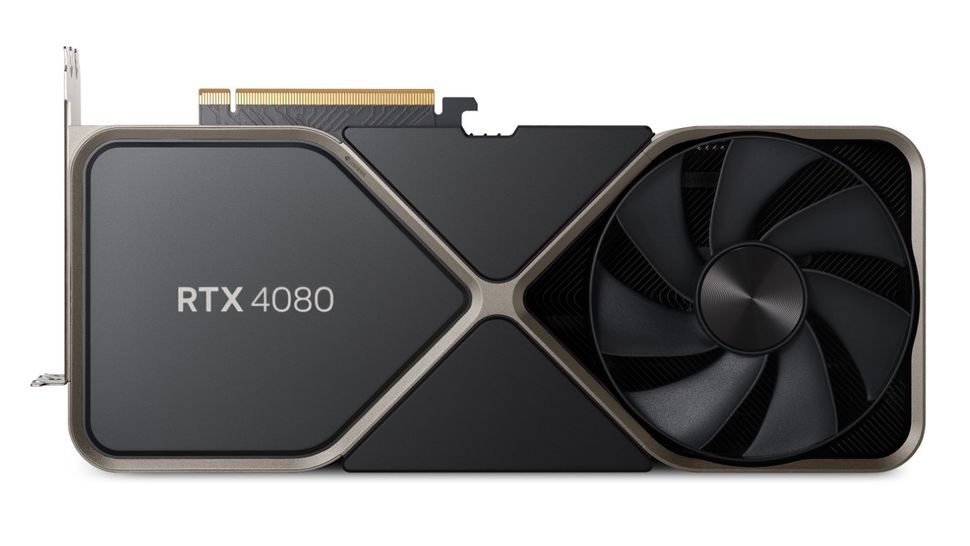 If your budget and requirements are only such that you're looking for a mid-range graphics card that'll balance value for money with performance, without going too lean or wild, then the 4060 Ti is the best one for you. While the mid-range card lineup from both Nvidia and AMD has become more saturated in recent generations, this card just about takes the biscuit, and becomes the go-to model for the niche - taking over from the RTX 3060 Ti or 3070.
It offers strong performance, decent value, and has that sweet, sweet DLSS 3 and Frame Generation support. A slight downside is that it really only just beats its main competition in the form of the 3060 Ti and it could be a touch cheaper to really represent truly great mid-range value. But if you're upgrading from an older card, or looking to get your very first card, then this is still a mid-range hit.
A 16GB GGDR6 version is coming in July 2023 too, which could offer slightly better value for money in the mid-range part of the market, but for now, the 'regular' RTX 4060 Ti just about takes that title.
But until then, and especially if you can find it with a discount, this card makes for an excellent mid-ranger for all purposes.
The best value professional graphics card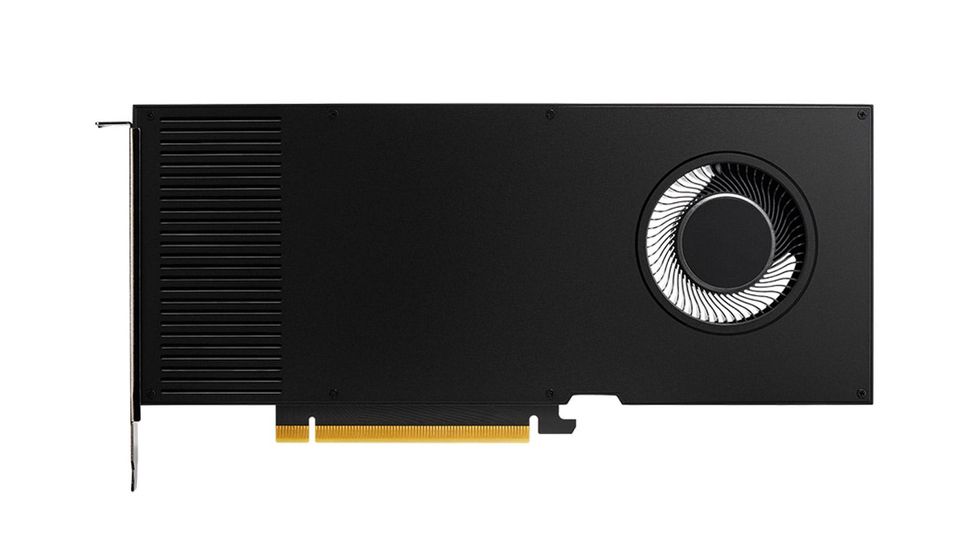 If you're after a workstation-class graphics card at a relatively low price, you couldn't do much better than the Nvidia RTX A4000. This graphics card boasts excellent performance in design applications and comes in a svelte single-slot design that helps it fit into small cases. It also requires less power than the bulkier GeForce cards.
OpenCL and CUDA applications in particular absolutely fly on the Ampere architecture, so the RTX A4000 will make a massive difference when working with creative software, plug-ins, and filters, resulting in an excellent performance when rendering images, 3D, and video. Much like the A5000 above, this is perfect for those who do not need anything gaming-focused - but unlike the A5000, this one is a bit more affordable.
The best 4K graphics card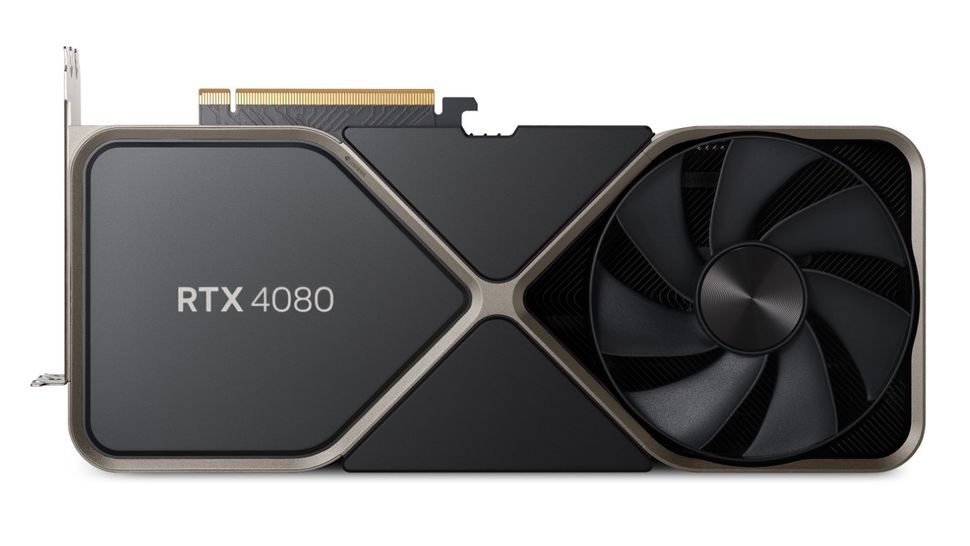 You might think the RTX 4080 would provide a small bump over the previous-generation RTX 3080 Ti, but you'd be wrong – instead, it absolutely obliterates it. You'll get almost twice the output in games thanks to some DLSS Frame Generation magic, which is a pretty incredible improvement.
But how does it fare in creative applications? Well, you'll be pleased to hear it really excels there too. With ray tracing support, 16GB of memory, and close to 10,000 CUDA cores, it's a strong performer in video output, 3D rendering, and much more.
It's not quite up to the standard of the wild RTX 4090 and its extreme level of performance, but this is no shrinking violet either, making it a good alternative for work and play - and arguably much better value for money compared to its bigger sibling. If you have a healthy budget but don't need something from the very top shelf then the RTX 4080 is a brilliant purchase that'll likely last you years.
FAQs
What GPU is best for gaming?
Broadly speaking, the best graphics card for gaming is going to be the most powerful and most capable - that'd be the RTX 4090. However, deciding which GPU is best for gaming (or for creative work, or both) for you is a totally different question. When looking at the best for you, consider your setup - your current machine, your monitor and its resolution, and so on - what particular features you're interested in (is ray tracing a must have for you?), and, of course, budget.
The best graphic cards for gaming can quickly spiral out of control in terms of price, so look down the power list a bit for your budget - we bet you'll find the right match for you right here on our list (also see our dedicated guide to the best graphics card for gaming for more options)
What is the most powerful GPU right now?
The Nvidia GeForce RTX 4090 takes this prize, with its extraordinary 24GB of GDDR6X VRAM and 16,384 CUDA cores. This puts it firmly above all the competition, and, quite frankly, at a ridiculous performance level generally. If you want the absolute, most-powerful graphics card going, then this is the one to get, and we have included it in our best graphics card list for that very reason. The reality, however, is that the 4090 will be overkill for many folks, gamers and creatives, so the 4080 offers a bit better value, and something like the 4070 Ti will be a perfect card for most and is plenty powerful enough still.
Is a graphics card and GPU the same thing?
No, not exactly. Although the terms are often used interchangeably, including by ourselves, if we're going to be pedantic. A graphics card includes several components, with the graphics processing unit, or GPU, being one of them (see our piece on what do graphics cards do? for more details).
How to choose the best graphics card for you
Graphics cards serve two major roles in computers. GPUs maximise 3D visuals and determine the right resolution and frame rate to give you the best on-screen action. If you're a digital creative who works with elements like graphic design, 3D modelling or illustration, having the best graphics card will help your workflow by running your applications smoothly and significantly boosting rendering times.
Do I need the latest graphics card?
No, you don't necessarily need the latest or most powerful graphics card if it's for individual gaming or creative work. A newer GPU is ideal if you want the best experience with modern PC games that feature expansive 3D worlds or if you want to create on Unreal Engine 5. However, it's worth remembering that sticking a top-of-the-line graphics card in an underpowered CPU is not going to miraculously give you that top performance. Your processor needs to match your GPU in performance to allow you to get the most out of it.
Previous generations of cards can still offer excellent performance and extremely good value for money. As a result, they can still provide excellent options when looking for the best graphics cards for what you need.
Best graphics cards: Jargon buster
Navigating the options available can be confusing because of the terminology used. Individual graphics cards have generic reference models sold by the original manufacturer, such as Nvidia or AMD. Final manufacturers like MSI, Asus, Gigabyte and so on take these and put them in their own casing to make their own versions for sale to consumers, each of which will look slightly different from the reference model provided by the manufacturer of the GPU itself.
Reviews of the best graphics cards tend to be full of jargon that explains the kind of performance you can expect. The specifications most often mentioned are memory (capacity, bandwidth, and speed), the number of cores (basically the guts of the hardware), and the card's clock speed (in MHz).
These specifications vary between GPU generations and across the various tiers, and the cores in Nvidia and AMD cards aren't the same. Nvidia uses the term CUDA cores while AMD refers to GCN cores. This means that AMD and Nvidia cards cannot be exactly compared in that respect.
The single biggest factor in determining the performance of graphics cards is the hardware generation of the series. Nvidia and AMD usually produce a new series of graphics cards every two years or so. When a new generation is released, it steps things up with more cores, memory, bandwidth and features. For the best performance and to future-proof your graphics, you'll usually want to look for the latest cards.
Which is best? Quadro vs GeForce and Radeon vs Radeon Pro?
Nvidia and AMD are the biggest names in consumer graphics cards and they each make two types of cards that are broadly intended for gaming or creative projects. Nvidia has GeForce, its gaming brand, while its professional cards (formerly branded as Quadro) are better suited to a range of creative undertakings. AMD on the other hand has Radeon for gaming and Radeon Pro for creatives.
The more expensive Quadros and Radeon Pros largely contain the same underlying design, architecture, and specs, but with some crucial differences. Quadro and Radeon cards have certified drivers. That means they've been tested for compatibility with specific software, offering better performance with design software in certain circumstances, and are (in theory) less likely to run into problems.
Quadros and Radeon Pros also have ECC memory for increased precision and sometimes they run at lower clock speeds, meaning they have lower power requirements and thermal demands. If your livelihood depends on your creative output and you need something reliable, you may want to consider a Radeon Pro or professional Nvidia card.
Another key difference is how the two classes of graphics cards are manufactured. With gaming cards, Nvidia and AMD produce and sell reference designs, but many other manufacturers, including Asus, MSI, Zotac, EVGA, and Sapphire, sell variations on the reference specification with different cooling systems and faster clock speeds. For Quadro cards, though, Nvidia works with a single manufacturer – PNY – to produce all its hardware.
How we chose the best graphics cards for this guide
We picked the best graphics cards for this guide based on our own reviews and tests and on feedback on everyday real-life use from our contributors in the gaming and creative sectors, including many working creatives. We have aimed to suggest options for different needs and at different price points.