The best graphics cards allows creatives to run high-end software smoothly whilst also being able to easily switch between applications when you're working. Gamers also benefit from the best graphics cards: a powerful card minimises lag and can easily run 4K visuals, allowing you full immersion in your games.
There are two variations of graphics cards to choose from when looking to purchase. Consumer graphics cards are mostly aimed at gamers: they have a wider variation of price ranges that go from budget models to higher top-end cards. Alternatively, professional graphics cards are powerful GPUs aimed at creative professionals. Their high-end power means they usually have high price tags.
If you're an industry creative, professional graphics cards used to be the only viable choice for doing 3D and digital art work. However, as technology has expanded and improved consumer graphics cards now offer high-end performance equal to the more professional options without the higher price tag.
Nowadays, there's plenty of variation in graphics cards which can be overwhelming when choosing one that's best for you. This guide is your handy place to find both the best professional and consumer graphics cards in one place, and we've chosen a selection for a range of different budgets and needs. Have a setup that needs an external GPU instead? You can read up on our guide to eGPUs here.
The best graphics cards available now
Why you can trust Creative Bloq Our expert reviewers spend hours testing and comparing products and services so you can choose the best for you. Find out more about how we test.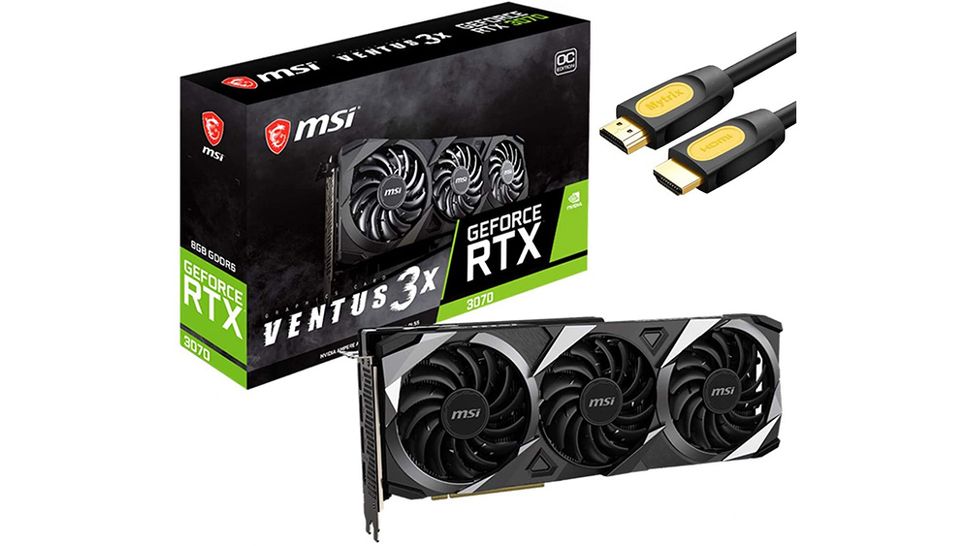 This high-end MSI card with Nvidia's GeForce RTX 3070 is one of the very best graphics cards available right now. It comes at a price, but it's a more affordable one than many professional alternatives and it can handle equally demanding workloads. For creatives in need of outstanding performance but at a slightly more accessible price or gamers looking for smooth visuals at 4K resolutions, the Nvidia GeForce RTX 3070 is the ideal choice.
Nvidia's RTX family of GPUs has continued to deliver since its release. The top of the range 3090 may offer incredible performance, it exceeds most budgets. The 3080 and 3080 TI cards are a substantially more affordable option, yet they still manage to pack a serious punch in the power department.
The 3080 TI offers all the hallmarks of a high-end GPU including raytracing and it can easily handle complex tasks, like rendering intricate 3D scenes. Under the hood, it has 10240 cuda cores and up to 12GB GDDRX video ram for high-resolution textures, as well as 8K video editing and colour grading.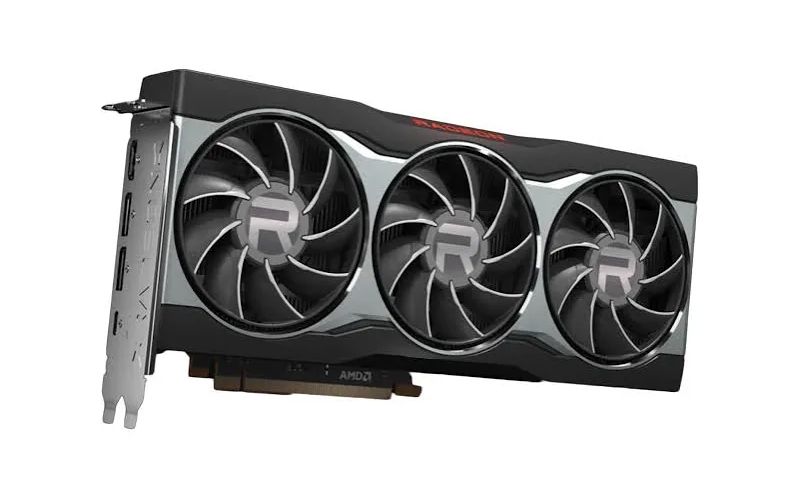 AMD is going after Nvidia's crown as the king of high-end performance in graphics cards, and the ongoing battle between the two companies means that both are now releasing powerful graphics cards at increasingly competitive prices.
The AMD Radeon RX is more than capable of powering gameplay and creative workflows. What's more, it even includes ray-tracing, a relatively new capability for AMD graphics cards. In short, you're getting a performance that beats the RTX 3070, for a fraction of the price.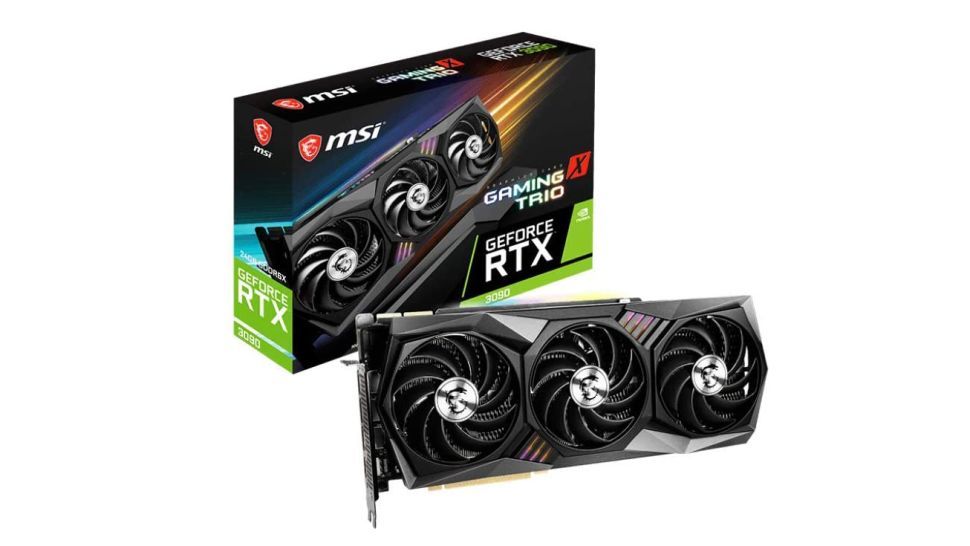 The GeForce RTX 3090 Gaming X Trio makes the existing RTX 3090 card even more powerful and is ideal for those in need of superpowered graphics. Although it's still an RTX 3090, it has the cooling power to handle this GPU at its stock settings and enough drive to make it even more powerful. For game creators, it's the cherry on top of a GPU that makes light work of PC games at 4K.
As if all that isn't enough, instead of the unusual 12-pin power connector that Nvidia employed in its RTX 30-series Founders Edition cards, this behemoth has three standard 8-pin power connectors, which should offer the potential to get even more performance from this GPU.
The Geforce GTX 1660 Ti is a much more affordable Nvidia graphics card than the high-end RTX series. This is because it's based on the newer 12nm Turning architecture of the RTX cards, but without their ray tracing hardware.
The GTX 1660 Ti offers 6GB of GDDR6 memory and a modest 1,536 cuda cores, but is still capable of delivering excellent gaming performance at 1080p and 1440p. It also has plenty of juice for accelerating plugins and filters in creative software. All this makes it one of the best graphics cards if you're on a lower budget. Some manufacturers, such as PNY, even offer it in an extra short design that can squeeze into smaller PCs.
If gaming isn't your thing, Nvidia's Quadro cards may be a better choice for running creative software than the GeForce range. While the 8GB Quadro RTX 4000 is the more affordable choice, the 16GB Quadro RTX 5000 packs a lot more of a punch, making it the better option for demanding users who are willing to shell out for serious performance.
The Quadro RTX 5000 offers a lot more rendering power than the previous Pascal generation, driving Cuda and OpenCL applications to new levels and leaving other graphics cards looking weak in comparison.
The Gigabyte AORUS GeForce RTX 3080 Xtreme Graphics Card comes with Nvidia's GeForce RTX 3080, which is one of the best graphics cards you can buy right now. The RTX 3080 brings all the advancements of Nvidia's latest Ampere architecture, including next-generation ray-tracing capabilities and 10GB of fast GDDR6X memory, which means it can make light work of 4K gaming.
It's an excellent option for creative professionals as well, with ray tracing and AI support that'll speed up your workflow. From rendering ultra-high-definition video to creating complex and realistic 3D models, this card can handle it all. Best of all, it offers up to 80% more performance than the last generation. The RTX 3080 is so popular that it can be hard to find in stock, but the Gigabyte AORUS might be your best chance.
If you're after a workstation-class graphics card at a relatively low price, you couldn't do much better than the Nvidia Quadro RTX 4000. This graphics card boasts excellent performance in design applications and comes in a svelte single-slot design that helps it fit into small cases. It also requires less power than the bulkier GeForce cards.
OpenCL and Cuda applications in particular absolutely fly on the Turing architecture, so the RTX 4000 will make a massive difference when working with creative software, plug-ins and filters, resulting in an excellent performance when rendering images, 3D and video.
The best graphics cards: What to consider
Graphics cards serve two major roles in computers. By using their impressive hardware power, GPUs maximise 3D visuals and determine the right resolution and frame rate to give you the best on-screen action.
If you're a digital creative who works with elements like graphic design, 3D modelling or illustration, having the best graphics card will help your workflow by running your applications smoothly and significantly boosting rendering times.
It's important to note that individual graphics cards have generic reference models that aren't usually for sale. Each manufacturer like MSI, Asus, Gigabyte and so on sell their own versions of each card which will all look slightly different.
The best graphics cards: How to pick the right one for you
When you're looking for a new graphics card there are some important points to consider. For higher resolution needed for elements like creating or gaming, you're going to need a higher memory. If you need 4K resolution, you're looking at needing a graphics card with higher memory - 8GB or more is now common on the higher tier cards.
The faster the performance of your graphics card, the better effects and more detail you can expect from high-end gaming. 60 FPS is the sweet spot when it comes to performance, and if you own a 144Hz display you'll be pushing your graphics card hard to keep up with elements like refresh rate.
The rendering power of a card is determined by the cores. This varies drastically across the various performance and price tiers, from the entry-level £100 card to the more high-end £1000+ beasts. The clock speed of the graphics card is quoted as a base figure. Similar to the Turbo mode on Intel CPUs, when a graphics card is under heavy load it will run at a higher clock speed for better performance until it hits its maximum to avoid overheating.
Don't forget to consider your display and the output of a graphics card. All modern graphics cards use either HDMI or DisplayPort. For 4K or 5K displays, all graphics cards now support at least the DisplayPort 1.4 and HDMI 2.0 standards that offer the bandwidth needed for 60hZ refresh rates.
Finally, the single biggest factor in determining the performance of graphics cards is the hardware generation of the series. Nvidia and AMD usually produce a new series of graphics card every two years or so. When a new generation is released, it steps things up with more cores, memory, bandwidth and features. For the best performance and to future-proof your graphics, limit your search to the latest cards.
The best graphics cards: Jargon buster
Reviews of the best graphics cards tend to be full of jargon that explains the kind of performance you can expect. The specifications most often mentioned are memory (capacity, bandwidth and speed), the number of cores (basically the guts of the hardware), and the card's clock speed (in MHz).
These specifications vary between GPU generations and across the various tiers, and the cores in Nvidia and AMD cards aren't the same. Nvidia uses the term Cuda cores while AMD refers to GCN cores. This means that AMD and Nvidia cards cannot be compared in that respect.
Quadro vs GeForce and Radeon vs Radeon Pro
Nvidia and AMD are the biggest names in consumer graphics cards, they each make two types of cards that are broadly intended for gaming or creative projects. Nvidia has GeForce, its gaming brand, while its Quadro cards are better suited to a range of creative undertakings. AMD on the other hand has Radeons for gaming and Radeon Pro for creatives.
The more expensive Quadros and Radeon Pros largely contain the same underlying design, architecture and specs, but with some crucial differences. Quadro and Radeon cards have certified drivers. That means they've been tested for compatibility with specific software, offering better performance with design software in certain circumstances, and are (in theory) less likely to run into problems.
Quadros and Radeon Pros also have ECC memory for increased precision and sometimes they run at lower clock speeds, meaning they have lower power requirements and thermal demands. If your livelihood depends on your creative output and you need something reliable, you may want to consider a Radeon Pro or Nvidia Quadro.
Another key difference is how the two classes of graphics cards are manufactured. With gaming cards, Nvidia and AMD produce and sell reference designs, but many other manufacturers, including Asus, MSI, Zotac, EVGA and Sapphire, sell variations on the reference specification with different cooling systems and faster clock speeds. For Quadro cards, though, Nvidia works with a single manufacturer – PNY – to produce all its hardware.
Related articles: