Quick Menu
The list in brief ↴
1. Top pick: Nvidia RTX 4070
2. Best premium: RTX 4090
3. Best budget: Intel Arc A750
4. Best value: Radeon RX 6700 XT
5. Best AMD: Radeon RX 7900 XTX
6. Best for 1080p: GeForce RTX 3060 Ti
How to choose
How we test
The best graphics cards for gaming are the ones to go for if playing games is at, or near, the top of your PC-use priority list. Consumer graphics cards, or GPUs, are built with gaming in mind, so there is a whole host of choices out there, and some of the best graphics cards overall also great for gaming, whether you want a premium graphics card for 4K gaming or a budget-friendly workhorses.
As a writer specialising in the field, I'm well-versed in what makes a good graphics card for gaming. I've taken on board the results of our own tests and reviews and those of our sister sites to pick out options for different needs and budgets, from the best cheap gaming card for gaming to the best overall.
If you're looking for GPUs for other purposes, we also have a dedicated guide to the best graphics cards for video editing.
The Quick List
The best graphics cards for gaming in full
Why you can trust Creative Bloq Our expert reviewers spend hours testing and comparing products and services so you can choose the best for you. Find out more about how we test.
The best graphics card for gaming for most people
It's often the case that you have to look at the middle of the pack to find the best graphics card for gaming for genuine value for money. In my opinion, the RTX 4070 is the card that balances price and performance in 2023. And even in the wake of newer cards filling gaps around it - like the 4070 Ti, and more recent 4060 cards, the Nvidia GeForce RTX 4070 is already earmarked as one of the top cards of the whole lineup of Nvidia's current generation.
That's mainly due to the 4070's genuine power that sees it offer something even better than the previous-gen RTX 3080 - but for less money. This card will absolutely belt out games at 1080p and 1440p and even have a fair crack at 4K gaming too - certainly offering a 4K gaming experience to that of the 3080.
But not only will it give you around the same performance level as the RTX 3080, but it'll also get you all the benefits of a new Nvidia card too. So, along with its 12GB of GDDR6X VRAM and 5,888 CUDA cores within, it will also bag you DLSS 3, Frame Generation, and advance ray tracing capability too. A brilliant mid-range package - and probably the best graphics card for gaming at 1440p too.
The best graphics card for gaming overall
Perhaps somewhat unsurprisingly, but when it comes to gaming and having confidence that your card can do it all, the RTX 4090 is the best graphics card for gaming to get right now if money is issue. Its 24GB of video memory and 16,384 CUDA cores means it can handle anything, at any resolution, and crunch through even the most demanding games to give you high-quality detail, and smooth-as-butter frames.
If you want the crispest of game images at 4K, this is for you; if you want to game at 1440p or even 1080p but with eye-bleedingly fast frames, then this is for you too. Of course, the price for this performance is high – so high that the cost of this component will likely be the same as many people's whole PC. However, I can attest to the fact that you get uncompromised performance, exquisite 4K, high frame rate gaming, and all the benefits of a new Nvidia card (DLSS 3, Fram Generation, et al).Such is the power of the 4090, by default it is not only the best GPU for gaming, but the best 4K gaming GPU, and the best Nvidia card right now too.
The best cheap graphics card for gaming
If you're familiar with graphics cards at all, then this may come as a bit of a surprise - and I'd allow you to raise an eyebrow. However, if you're looking for a truly cheap graphics card for gaming in 2023 - and one that won't just get you the bare minimum at 1080p - then the Arc A750 is a splendid candidate.
I'm confident that this will be a great servant for you at 1080p and also does a fine job of 1440p gaming with the latest and greatest and does so, crucially, at an incredibly attractive price point. The price point generally is attractive within the context of graphics cards - you can get the Arc A750 for around $250 / £230 now, which is exceptional. But it's also stupendous value for money. For that low price, you're getting a card with a solid 8GB of GDDR6 VRAM and 3,584 shading cores and that will give you pretty decent ray-trading performance too. It really is a cracking cheap card.
It's not without caveats of course, as it does demand a bunch of power, and an important one that our friends at PC Gamer recognised was that you'll need Resize BAR software installed to get the best out of it - this is crucial. Also, for a bit of context, if you are looking at the cheaper options alongside this card, but want something from the traditional two, then Nvidia's RTX 3050 is a good call, and AMDs 6500 XT or 7600 (if you can up the budget a fraction) are great options.
The best value graphics card for gaming
There are a few cards now that do a pretty good job of offering great bang for buck value, but if I had to pick one for getting literally the 'most graphics card' for your money - and using the 1440p sweet spot as, well, the sweet spot - then the RX 6700 XT takes the biscuit.
It offers an excellent generation-on-generation performance bounce, and has the chops to back it up: with 12GB of GDDR6 RAM under the hood as well as the strong supporting act of 2,048 stream processors, you're getting something that not only will have you caning games at 1080p but also crunching through all the latest demanding titles at 1440p too. And what's more, you're getting something from the latest line of AMD that bags you all the benefits of RDNA 2 architecture such as FSR 2.0 which boosts the card's performance even further.
Given the card now sells regularly for around the $330 / £350 mark, the RX 6700 XT is incredibly good value for money for anyone looking for a sub-$500 graphics card for gaming.
The best AMD graphics card for gaming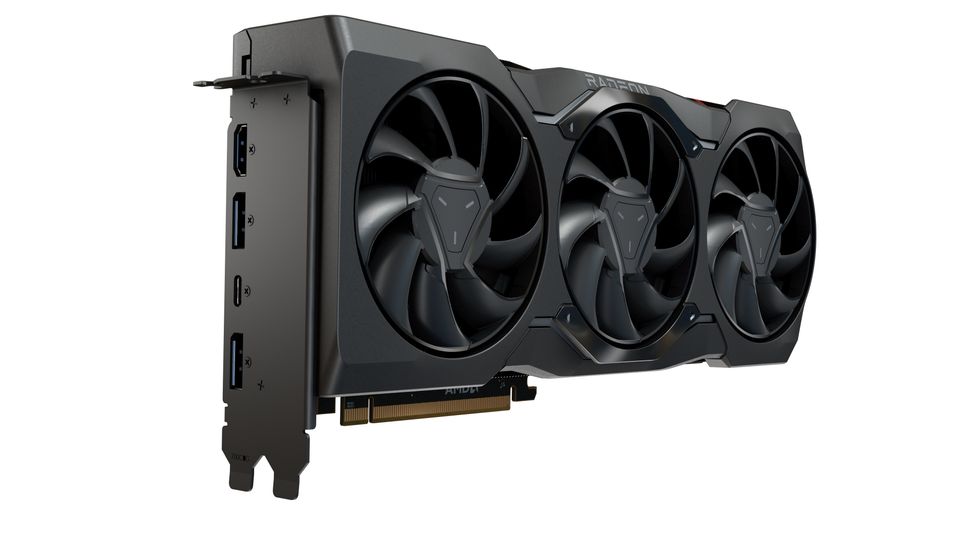 If you're loyal to Team Red or are just looking to get a card from the top of the pile while saving as many pennies as possible then the best AMD graphics card for gaming, the AMD Radeon RX 7900 XTX, is the one for you. It fights directly against Nvidia's RTX 4080 and while it isn't quite as consistent as that card from Team Green, it offers similar-level performance, all the benefits of a high-end, latest-gen AMD card, and does it all for comfortably less money.
Yes, it's still got a high price tag, but we're swimming in high-end card territory here; it's no more expensive than its predecessor, is cheaper than its main rivals, and at its price point it really does offer a decent, premium performance-to-value ratio. Stand-out features include its multi-chiplet design offering a big performance boost from the last gen, a massive 24GB of GDDR6 memory, 6,144 stream processors, and excellent performance in ray-tracing on the RDNA 3 architecture - all of which combine to offer a serious, premium package from AMD that continues Team Red's proposition of offering high value for money cards to gamers.
The best graphics card for 1080p gaming
Yes, there are many competent 1080p performers from the very latest generation of graphics cards for gaming, but if you're looking for something to absolutely own the 1080p resolution, do so with some bells and whistles, and maximise your investment in the process, then you'd (still) be hard-pushed to beat the RTX 3060 Ti.
Rightly hailed as arguably the best pound-for-pound graphics card to come out of the last generation of GPUs, the 3060 Ti is still going strong in 2023. And if you're genuinely keeping your games at Full HD resolutions, and primarily want to crank the frame rates up, then I think the 3060 Ti and its beefy specs have you covered. Inside this card is 8GB of GDDR6 memory, and chunky 4,864 CUDA cores - specs that might seem a little lean compared to the very latest GPUS, but specs that are tight, mean, and punchy, nonetheless.
For full disclosure though, if you are interested in the 3060 Ti right now (mid-2023) then it might just be worth keeping tabs on the 4060 and 4060 Ti cards too - should these get price cuts or plummet in sales, then it'd be harder to still stick to the 3060 Ti. Until then, however, the 3060 Ti is still a superb choice for 1080p gaming.
How to choose the best graphics card for gaming
Which graphics card is best for gaming?
Simply put, if you're looking for the absolutely best graphics card for gaming then the Nvidia GeForce RTX 4090 is the card to go for. Its power and performance beat out any competitor. However, on our best graphics card for gaming list, we've endeavored to try and hit several different beats and niches in your search; if the best GPU for gaming for you is something cheap, something from AMD, or something for a specific resolution then you can find it here.
How do I choose the best graphics card for gaming for me?
Selecting and committing to the best graphics card for gaming isn't as simple as going for the most power - given the prices of modern cards, that approach isn't sustainable. As a result, with all big tech purchases, it's important to consider other factors: price and your upper limit, exclusive features, creative capability, size, and what resolution you game at are all brilliant and useful factors for narrowing down your search - concentrate on your needs and desires rather than just the most powerful.
How we tested the best graphics cards for gaming
I have picked the best graphics cards for gaming for this guide based on our own hands-on reviews and tests here at Creative Bloq and our sister site Techradar Gaming, of which I am deputy editor. I've also considered feedback on everyday real-life use from our contributors. I have aimed to suggest options for different needs and at different price points in order to recommend budget options as well as the best graphics card for gaming in terms of pure performance.