The best games console may seem obvious – everyone wants a PS5, right? But digging a little deeper into the best video games consoles on sale right now and the choice is more nuanced than you may expect. Xbox Series X has gained ground with Xbox Game Pass, Nintendo Switch continues to be one of the best-selling consoles this year and Valve's Steam Deck takes PC gaming on the go
In this guide to the best games console I will share why I feel each deserves your attention, and why some older and cheaper video games consoles are worth a consideration. I've spent 20 years writing about video games, and have edited Official PlayStation Magazine and Xbox magazines, and there's no better time for choice than right now.
If you want more power than even the best games console can offer then consider one of the best gaming laptops or for something completely different read our guide to the best VR headsets – read my PSVR 2 review for everything you need to know about Sony's latest add-on for PS5. However, I'm here to help make your search for your next console, so keep reading.
The best games console available now
Why you can trust Creative Bloq Our expert reviewers spend hours testing and comparing products and services so you can choose the best for you. Find out more about how we test.
The best games console overall right now is PlayStation 5. Sony's newest console replaced PlayStation 4 in 2020 and though blighted by supply issues remains on course to be the all-time best selling games console.
So what makes it so special? First, PS5 has a unique design that makes it a unique piece of technology. The PS5's curved shaped outer shell is looks futuristic and like an elegant piece of sculpture, but it also serves to cool the console as it runs.
Looks aside, PS5 is a beast. The console supports 4K/120fps gameplay and can manage 8K/60fps but this is yet to happen (to date most games are developed for PS4 and PS5) but it will come with future game releases. 3D audio boosts any game experience, too. The PS5 is whisper quiet as well, or though the disc can be load as it pre-loads a game.
In my PS5 review that looked at the console two year since launch, this remains the best games console available right now. For example the console's UI and UX design offers a smooth and unique experience, with easy access to games, sections of games, tips, DLC and more from the main screen.
The secret weapon for PS5 is the DualSense controller, which delivers a one-off experience for gamers with haptic feedback, adaptive triggers, reactive lighting, a touch pad and built in mic – this DualSense is a revolution and truly makes games feel unique. Better still, all its features are customisable and can be turned down or off. Discover the best PS5 controllers available now in my guide.
The best video games consoles live and die on their games, and PS5 has some of the best around. Exclusive PS5 games include God of War Ragnarök, Marvel's Spider-Man: Miles Morales, Returnal, Horizon Forbidden West and Demon's Souls. Read my guide to the best PS5 games for more. PS5 owners who sign-up to Sony's revamped PS Plus subscription service get over 20 free PS4 classic games upgraded to run on PS5, with improved frame rates and textures.
PS5 also has a super-fast custom solid state drive (SSD) for storing games on, and that means it can load up games in a matter of seconds. But this is just less than 1TB, which some gamers may find too small for their collection. PS5 now supports internal and external PS5 SSDs, so you can upgrade.
PlayStation 5 also comes in two versions, a standard model and the slightly cheaper PS5 Digital Edition, which foregoes the disc drive. Aside from lacking a Blu-ray drive the Digital Edition is the same, and as we move towards digital-only releases it's a good option to get a PS5 for a little less.
Xbox Series X is Microsoft's pitch against PS5, and it's actually a close run thing between the two 'next-gen' consoles. On paper Xbox Series X is the most powerful games console available at the moment, and just like PS5 it features an SSD for super-fast loading times and specs that pitch it just above PS5 – it's technically a high-end gaming PC in a neat small black box.
Microsoft's Xbox Series X is also capable of 4K gameplay at high frame rates for some of the most graphically-impressive titles you can buy right now. So, again, on paper Xbox Series X should be top of my list. In our Xbox Series X review we found this console is excellent but lacks a controller like the DualSense and it's UI design feels old.
But, where Xbox Series X has improved over past Xbox consoles and even over Sony's PS5, is in terms of its games service. Xbox Game Pass is a revelation that has seen PS5 play catch up for two years. Essentially, for $14.99 / £10.99 a month you get thousands of Xbox games, including day one releases like A Plague Tale: Requiem and Starfield to classics from Xbox and Xbox 360, as well as indies, Ubisoft and EA collections. Microsoft has also been steadily buying and investing in game studios, and now owns Bethesda (and is attempting to buy Activision Blizzard).
In its corner Xbox Series X is also a little cheaper than PS5 and it's readily available (PS5 still has shortage issues). If you're after one of the best games consoles of all time then Xbox Series X is a great console, it just lacks some of PlayStation 5's smarter features and consistent exclusive game releases.
The Nintendo Switch OLED is the revamped and updated edition of the Nintendo Switch, one of the best selling consoles of all time. Internally the Switch OLED remains the same as the standard Switch, meaning it has an Nvidia Custom Tegra X1 processor and 4GB of RAM that delivers good game performance, but not on a par with PS5 or Xbox Series X. This is the ideal console to play The Legend of Zelda: Tears of the Kingdom, and Nintendo has a new Zelda edition launching this May.
The changes for the Switch OLED are that new, larger 7-inch display that delivers brighter whites and deeper blacks. The OLED screen is a thing of beauty that ensures playing Switch's library of games is punchier than before. There's an option to switch to standard mode if you prefer, which returns colours to the classic Switch levels for a colour palette.
It still displays at 720p and outputs at 1080p, which is a little disappointing as I would have liked a 4K output upgrade. It seems while Switch is a capable two-in-one console clearly it's handheld capabilities is where Nintendo sees its biggest strengths.
The console does have some design revisions, for example it's a little wider than the standard Switch and the TV stand has LAN output and a new curved look. There's now 64GB internal storages too, which you'll need as Switch games become more ambitious.
Speaking of games, this remains and has always been Nintendo's biggest strength. The Switch has a fantastic catalogue of some of the greatest games ever made, including Zelda: Breath of the Wild, Mario Kart 8 Deluxe, Super Smash Bros. Ultimate and Super Mario Odyssey (read my guide to the best Nintendo Switch games). Next year sees the release of Zelda: Tears of the Kingdom, and you'll only be able to play it on Switch, and it'll look best on this OLD model.
The PlayStation 4 Pro is a souped-up PS4 model that released mid-way into the console's lifespan and offered 4K support as well as a boost to GPU and CPU clockspeeds to deliver better and smoother frame rates at higher resolution.
The PS4 Pro also offered Pro Mode, which means you can play older PS4 games at higher frame rates and improved resolution. Sony made it mandatory for all games released after PS4 Pro's debut to offer Pro Mode and patches for older games to deliver improved textures, loading and frame rates.
Even now, since PS5 launched, PlayStation 4 Pro remans an impressive console and is still supported by Sony and all major publishers. Its games still look incredibly good compared to the newer PS5 and Xbox Series X versions. This year alone has seen Horizon Forbidden West, God of War Ragnarök and Gran Turismo 7 all released on PS4 Pro and wowed us.
The downside to PS4 Pro is its fan – this games console makes a heck of loud noise when it gets going, and the recent games above, that push it to its limits, really make it whir. Best invest in some of the best headphones for PS4 and PS5 if you get a PS4 Pro.
On the upside as it's no longer the newest console out there, you're able to find some brilliant deals on PS4 Pro. It has a huge back catalogue of excellent games and they remain impressive, and most can be bought secondhand or cheaply new. While next year may see more PS5 exclusive releases PS4 Pro continues to be supported, with Street Fighter 6, Hogwarts Legacy and Resident Evil 4 all coming to this older console.
Valve's Steam Deck is the Holy Grail of handheld consoles – it enables you to play the latest PC games on the go. It's larger than a Nintendo Switch but crams in all sorts of high-spec features, such as a top-end custom AMD GPU and CPU for power, touch pads, gyro controls and more.
The idea is you can take your PC collection on the go, and with a classy 800p display and supporting 30 and 60 frames per second the Valve Steam Deck performs well, though dedicated PC gamers may not like the downgrade. Yet, the handheld console supports over 3,000 games and more can be made to work with some effort.
And here's the rub, Steam Deck is impressive and can run the latest and best PC games, including 2022's biggest hits like Elden Ring, yet games are made for Steam Deck, they simply run on Steam Deck. It's a subtle difference, as games made for Nintendo Switch are designed for its controls, while on Steam Deck you'll need to spend time figuring out control setups that work. Similarly, battery life can drain fast (two hours for a Triple-A game) unless you monitor and tweak each game's settings – Steam Deck is hardly plug-and-play.
Steam Deck is also heavy and noisy, the fan really works overtime to cool this beast. Yet, it's a gaming PC in your hands and PC gamers will be used to the DIY nature of trouble-shooting game setups and controls.
The Nintendo Switch is the best games console for families thanks to Nintendo's amazing lineup of exclusive games that will appeal to players of all ages. You've got classics like Super Mario Odyssey and The Legend of Zelda: Breath of the Wild, along with the new Pokémon games and some of the best cosy Switch games, such as Animal Crossing: New Horizons for young (and old) players – as their appeal transcends generations.
Nintendo Switch also has some great third-party games such as Hades, Bayonetta 3 and Monster Hunter Rise, plus amazing indie games like Hollow Knight. As games become more ambitious it can be harder to run them on this older Switch, particularly as it lacks RAM and internal storage. Yet, Nintendo always ekes out more performance from its hardware.
As the name implies, the Nintendo Switch can be used as a normal home console that plugs into a TV, but it can also be 'switched' to handheld mode, so you can play it while out and about. This gives it a versatility that the other consoles just can't match. On the downside, it's noticeably less powerful than Sony's and Microsoft's newest consoles, and it can't output at 4K.
However, if you're after some classic Nintendo charm with games designed for family fun and with some of the greatest games ever made, then Nintendo Switch is definitely the best games console for you.
The Xbox Series S launched alongside the Series X as a more affordable option. While the Series X is packed to the gills with the most powerful tech around, and comes with a price tag to match, the XBox Series S has far more modest hardware.
It can play any game made for the Series X, but while the more expensive Xbox is designed for 4K, the Series X targets 1080p while the Series X runs at 1440p instead. These lower resolutions still look great, but they don't require as much power, which in turn allows the console to be sold at a lower price than the Series X or PS5.
It means it's a very affordable way to play the next generation games, and it's a great choice for people who don't currently have a 4K TV. Even if you have a 4K display, the Series S can upscale games so they still look good, and some games can even be natively played at 4K.
Like the Xbox Series X, the Series S can be connected to Game Pass for a catalogue of impressive games, including old Xbox 360 and Xbox games. Because the Series S lacks a disc drive it has a limited backwards compatibility compared to Series X – if you have a large collection of Xbox games on disc you'd be better served with the Series X. Also, future games will likely be developed for Series X first and perhaps Series S will be less supported.
But, with the Xbox Series S you are getting an impressively powerful console in a compact design (it's the smallest Xbox ever made) and for a low price. Add in the Xbox Games Pass, and you've got an excellent value games console that can play a huge amount of games. Xbox Series S is excellent value.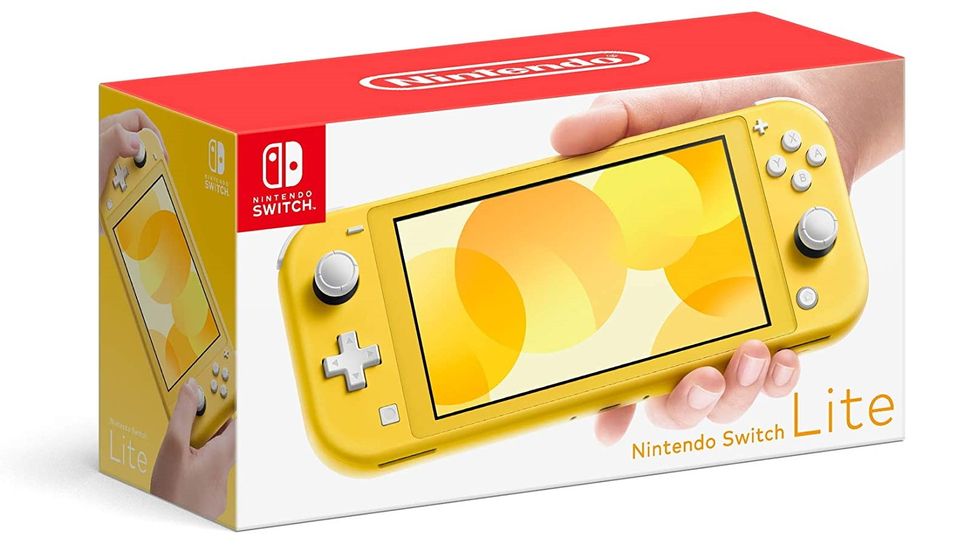 If you're looking for a games console to play on when you're out and about, and don't care about sitting in front of a TV to play, then the Nintendo Switch Lite is the console for you.
It's essentially a version of the Switch, but it can't be docked and connected to a TV. Instead, it has built-in Joy-Con controllers and a longer battery life, making it an ideal portable controller. It's also cheaper, yet can play pretty much any Nintendo Switch game - though be warned that some games made for multiplayer or that require the docked mode won't work.
Nintendo has been behind some of the best handheld consoles ever made, including the iconic GameBoy and dual-screen Nintendo DS, so it's no surprise that it has made a brilliant handheld console with the Switch Lite. For gaming on the go, there really is no other choice.
Like the PS4 Pro, the Xbox One X is a super-charged version of the Xbox One. This means it can play any Xbox One game, but thanks to its more powerful components, it can play all these games at 4K resolution.
It's actually so powerful, that it's still a formidable console, and while it can't quite compete with the PS5 and Xbox Series X, it's actually a better 4K machine than the Xbox Series S.
So, if you're an Xbox fan and can't get hold of a Series X or Series S, the One X is a great choice that will let you play modern games with ease. Sadly, Microsoft has discontinued the One X, so while you can still easily buy one at the moment, that may not always be the case. With the Series X and Series S being hard to buy themselves, we hope Microsoft reconsiders this.
The Xbox One X is a great machine for third party games, however, Microsoft's exclusives are less impressive, and the PS4 Pro is a better choice if you're after a last-gen games console. Unlike PS4 and PS4 Pro Microsoft doesn't support this old console with newer games, and it will likely be phased out in 2023. However, if you're happy with a catalogue of old and great games, then you'll find some cheap deals around on refurbished consoles.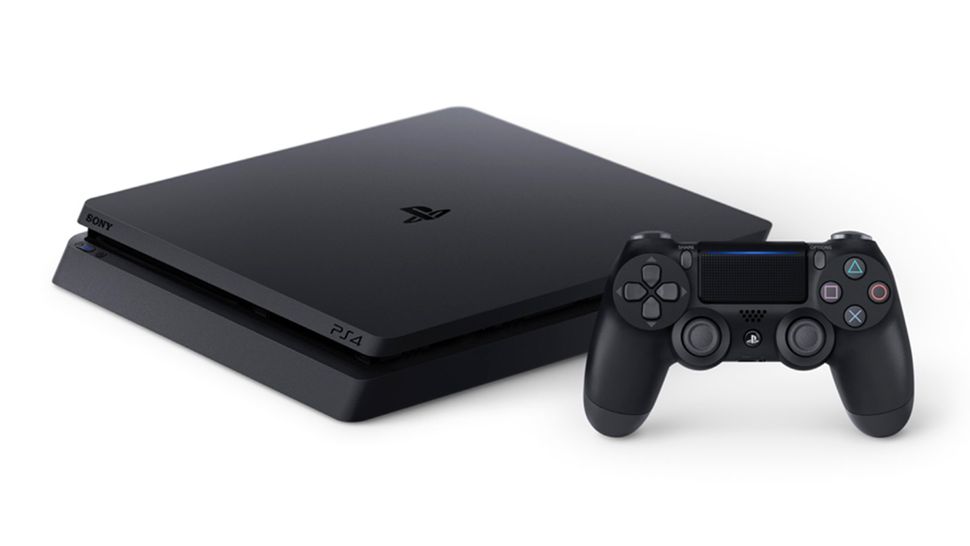 Throughout the PS4's life, Sony brought out some of the best exclusive games ever made, such as God of War, Uncharted 4 and Horizon Zero Dawn, and for those games alone, picking up the base model of the PS4 is well worth it if you missed those originally.
With a huge catalogue of games, a new lower price thanks to the PS4 Pro and PS5 launches, and support for virtual reality via PlayStation VR, the PS4 remains one of the best games console out there. It's no wonder that it's one of the most successful games consoles ever made.
In fact, its success has meant that Sony is continuing to release excellent games for it, even with the PS5 now out. While it's starting to show its age - it can't output 4K, for example - this is a great affordable games console which can play some of the best games ever made.
If you're looking for the best games console on a budget, which can still play modern games, then the Xbox One S may be worth considering. Microsoft's struggles with the Xbox One are well documented, but the One S revision at least gets some things right.
For a start, it comes with a 4K Blu-ray drive, which means this is a good media playing console as well. You also get a decent library of games, and if you have a 1080p TV, they look and run pretty good, and the price is now the lowest it's ever been.
However, unlike the PS4 above, the Xbox One S doesn't have such a good selection of first party games. It will allow you to play Xbox 360 games, however, which gives you more options.
For a budget console, or a cheap media player for your living room, then this is a good choice. For the latest games, or the best exclusives, you'll want to look elsewhere, however.
Best games console: frequent quesitons
Which is best, Xbox or PlayStation?
The Xbox Series X and PS5 are close in power and performance, so they're really competing in terms of games lineups, where Sony just has the edge for the time being.
PS5 has a large collection of games and exclusives, including God of War Ragnarok. PS Plus offers free monthly games and free collections (usually older titles).
Xbox Series X currently has fewer exclusive games but Game Pass offers free monthly titles, and unlike PS5 these are usually new games, like the forthcoming Starfield.
What console should I get in 2023?
PlayStation 5 will remain the best console to buy in 2023. It has a huge roster of games, and new exclusive titles such as Marvel's Spider-Man 2 are new in 2023. PS5 will also support the new PSVR 2 due for release in February.
Is a PS4 still worth buying?
Yes, PS4 is still worth buying. This may be Sony's older console but it has a huge back catalogue of games and you can likely find cheap console deals on both the hardware and games. Sony will continue to support PS4 with new game releases for a number of years yet – until at least 2025.
Which is best, Nintendo Switch or PS4?
This depends on the types of games you prefer and the way you play games. If you're interested in mainstream gaming and online games then PS4 remains a good choice. If you prefer handheld gaming and couch gaming with friends, then Nintendo Switch is the perfect choice. Both consoles have excellent exclusive games too.
Related articles: