You might have captured the footage of a lifetime, but if you don't have a decent computer for video editing, you won't be able to make your footage sing. Fortunately, that's where we can help. In this guide, you'll find our picks of the best video-editing computers, at a range of different price points to suit your needs.
Why choose a desktop computer instead of one of our best laptops for video editing? Well, assuming you have a permanent base for it, you'll benefit from better specifications for less money. Also, being able to work on a broader display allows you to pick out minute detail more easily, and see what your film will look like on a bigger screen.
As well as highlighting our top choices of the very best Windows PC and Mac computers for video editing here, we've also got you covered if you're on a budget. (And if you aren't sure which program to use once your computer's sorted, then you can check out our favourite video editing software, too.) Read on for the best computers for video editing...
01. Apple iMac Pro
The best video editing computer for professionals with big budgets.
Display: 27-inch 5K Retina | Processor: 8-, 10- or 18-Core | Turbo Boost: up to 4.5GHz | Memory: 32GB | Storage: 1TB | Graphics: Vega GPU | Size: : (h) 51.6cm x (w) 65.0cm | Weight: 9.7 kg | Connections: 10Gb Ethernet, four Thunderbolt 3 (USB‑C) ports, four USB 3 ports, SDXC card slot
Incredibly powerful
Superior graphics
Soooooooo expensive
We know it's eye-wateringly expensive. But Apple's brand new iMac Pro is the new daddy of computers for designers: if you have the cash, this is the best video-editing computer currently on the market. (If you're after a more affordable model, try the excellent iMac at number four, below.)
So what do you get for your money? Firstly, there's the 27-inch 5K resolution, which is 43 per cent brighter than standard Apple Retina monitors and delivers up to an astonishing one billion colours. There aren't too many screens around that will flatter your footage more.
Starting with an 8-core Intel Xeon processor, the least expensive iMac Pro option is already immensely powerful, with an outrageous 18-core option for those who can afford it. 1TB to 4TB of SSD internal storage means that you'll be able to store tonnes of 4K footage before you need to think about additional external drives. And it's not short on ports, either, with four Thunderbolt 3.0 ports and a 10GB ethernet port. Plus, of course you get the benefit of the platform's formidable Final Cut Pro X editing software as well.
Read more about the new iMac Pro
02. HP Z2 Mini G3
Best Windows desktop for video editing
CPU: Intel Core i3 – i7/Xeon | Graphics: Intel HD Graphics P630 | RAM: 32GB | Storage: 256GB – 1TB SSD
Exceptional speed
Compact design
Need to buy a monitor
Don't let the name fool you, the HP Z2 Mini G3 may look diminutive on the outside, but this Windows PC's specifications make it an absolute behemoth on the inside. Thanks to its Quadro GPU and Xeon CPU, the G3 can power up to four 4K monitors via its DisplayPorts. This enables you to drive 8K worth of pixels. And it still manages to squeeze in 1TB of onboard storage. Remarkable, considering the machine's dimensions.
Because the Mini G3 is such a pint-sized PC, it will fit seemlessly into your home office or studio. Whether stood up or lying flat, it offers a compact alternative to those traditionally massive workstations.
Read our sister site TechRadar's hands on HP Z2 Mini G3 review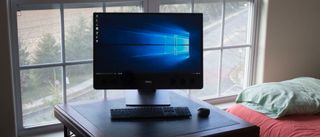 03. Dell XPS 27 AIO
Best all-in-one PC for video editing
CPU: Intel Core i5 – Core i7 | Graphics: Intel HD Graphics 630; AMD Radeon RX 570 | RAM: 8GB – 32GB | Storage: 1TB HDD – 2TB SSHD; 512GB SSD | Display: 27-inch 4K (3,840 x 2,160) display
Handsome display
Virtually unparalleled built-in sound
Relatively expensive
No HDMI in
This is another PC that will stretch the budget, but hear us out. This astonishing all-in-one from Dell comes with a mighty 27-inch 4K Ultra HD touchscreen display and an ear-busting set of six speakers. That makes for the ideal platform from which to view – and hear – what you've shot and get the best from it in post-production.
The Dell XPS 27 performs admirably against industry-standard graphics-based benchmarks, no doubt thanks to the pacey 3.4GHz Intel Core i7-6700 processor under the casing. And this premium machine also gets premium peripheries in the form of a sleek and stylish wireless mouse and keyboard.
Read TechRadar's full XPS 27 review
04. Apple iMac with 4K Retina display
Best cheap Apple Mac all-in-one for video editing
CPU: Intel Core i5 - Core i7 | Graphics: Intel Iris Graphics 640; Radeon Pro 555 - Radeon Pro 560 | RAM: 8GB - 32GB | Storage: 1TB HDD - 3TB SSHD; 256GB - 1TB SSD | Display: 21.5-inch FHD (1,920 x 1,080) – Retina 4K (4,096 x 2,304)
Reasonably priced
4K screen calibrated to a production certification
Fusion drive not standard
Chunky display bezel
Once you go Mac, it's hard to go back. If you're used to cutting and chopping on an Apple machine and want an all-in-one setup for your desktop then the iMac with 4K Retina display is an absolute beaut – and it's a fraction of the price of the iMac Pro.
In fact, the price is pretty spectacular when you consider that a stunning 21.5-inch 4K retina screen is included. It features a wider range of colours than some competitors' monitors thanks to its DCI P3 colour space. Put simply, images can appear more life-like with accurate colours and a greater vibrancy. The kind of little touch that can really add value to your project.
Read TechRadar's full Apple iMac with 4K Retina display review
05. Lenovo Ideacentre 510
Best all-in-one PC on a budget
CPU: AMD A6 – Intel Core i7 | Graphics: AMD Integrated – Intel HD Graphics 530 | RAM: 4GB – 8GB | Screen: 21.5-inch - 23-inch Full HD (1920x1080) – FHD (1920x1080) | Storage: 1TB - 2TB HDD
The price tag
Lots of combinations of specs available
No 4K
Nowhere near the power of others listed
Complete with monitor, mouse and keyboard, it's not easy to find exceptional quality computing for under a grand. But this Lenovo PC is an adequate option if you're on a tight budget. It comes with a 23-inch Full HD monitor and packs in up to a 2TB hard drive and 7th-generation Intel processor.
If you're somebody requiring a heavyweight machine for professional video editing all day everyday, this machine probably isn't going to quite cut the mustard. But for keen amateurs and dabblers, the sub £1,000/$1,000 spend on this Lenovo all-in-one should be just fine. It's worth noting that you can buy an even cheaper AMD-based version, but it will be less powerful and you get a smaller monitor.
Related articles: