Best computers for video editing: Top 4
The best computers for video editing are a must if you're in this field of creativity. No matter if you're a professional video editor, or a hobbyist that wants to convert and tidy up their home videos – or a budding content creator and streamer – there will be a video editing computer for you here.
Even better, Black Friday and Cyber Monday sales feature some incredible deals on many of these machines, which means now is the perfect time to invest.
Not sure what you're looking for? Jump to the what to consider when buying one of the best computers for video editing section.
We've picked out some of the top Windows PC and Mac computers for video editing, with a focus on both some of the most powerful workstations on the market today, as well as some options if your budget is more limited. If you're looking for the ideal software and audio while you work, check out our round ups of the best video editing software and best headphones for video editing.
Computers for video editing: Top Black Friday deals
iMac (27-inch, 2020): £1,799 £1,649 at Curry's
Save £150: The 27-inch iMac is the best computer for video editing overall. Right now, you can save £150 on a 2020 iMac with an Intel i5 6-core CPU, 8GB RAM, 256GB SSD, and stunning 5K display.
View Deal
Lenovo Yoga A940: $2,399.99 $1,999 at Best Buy
Save $400: This Windows-based Lenovo all-in-one is a great iMac alternative for video editing. This discounted build features a 27-inch 4K touchscreen, Intel i7 6-core CPU, 16GB RAM, and a 1TB HDD + 256GB SSD.
View Deal
The best computers for video editing available now
The iMac 27-inch has been updated for 2020, and it's now our pick for the best computer for video editing. This is because along with some big hardware improvements, including new processors from Intel and GPUs from AMD, it also gets an updated webcam and built-in microphones, which means it's an excellent choice in this new world where we're working from home more often. While the design hasn't changed, it's still a stunning all-in-one, and those new AMD graphics cards make it a formidable PC when it comes to editing high resolution videos. Apple has done it again.
Unlike Apple's iMac all-in-one, a touch-sensitive 28-inch display (4,500 x 3,000) display is the centre piece of Microsoft's Surface Studio 2, letting you drag and drop video clips with a finger as well as a mouse. It comes with hinge that lets you flip the screen all the way down to edit video and it can be used with a pen for drawing too.
Microsoft needs to update the Surface Studio with more modern CPUs, but it makes up for it with some serious graphics grunt powered by Nvidia, with a GeForce GTX 1070 available that will provide some serious visual power.
If you're after the ultimate video editing PC, packed with the most powerful components money can buy, then the Apple Mac Pro (2019) is definitely worth investing in. The new Mac Pro can be configured to come with hardware that makes intensive video editing tasks complete much faster than less powerful PCs, and while its cheese grater-like design has split opinion, it allows for a unique cooling system that maximizes airflow and keeps the noise down.
All that power comes at a very high price, but its configurable, allowing you to pick specs that best suit your needs or budget. And, because of its modular design, you can upgrade parts of the system later on, giving it a flexibility that many Apple devices lack. The Apple Mac Pro won't be for everyone - for many, it will be overkill - but if you need the very best performance out of a video editing PC, this is the machine to get.
We just love the Mac Mini's flexibility and diminutive form factor, so we were super pleased to see it among Apple's list of Mac updates recently. Despite being powered by the all-new M1 chip, with 8-core GPU, it is still one of Apple's most affordable computers (relatively speaking) and now it's capable of a lot more, including video editing. Pair it with one of the best monitors for video editing for a great setup.
The base model features the Apple M1 chip with 8-core CPU and 16-core Neural Engine with 256GB SSD. With a bit of tinkering you can upgrade the memory yourself for less money than Apple charges, and there are four expansion ports at the back for either USB or Thunderbolt external storage, plus HDMI 2.0 to simultaneously support two displays. This is a great alternative to the expensive Mac Pro above.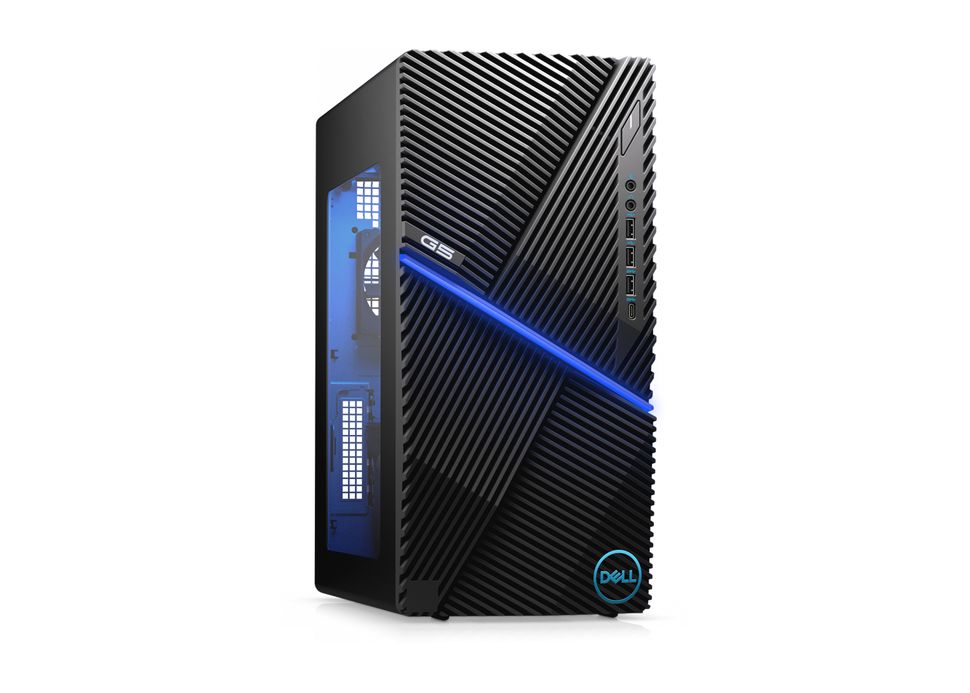 Gaming PCs, with their powerful graphics cards, bags of RAM and cutting-edge processors, make excellent video editing PCs as well, and if you don't want to spend huge amounts of money, the budget Dell G5 is a fantastic choice. It comes with 9th-generation Intel chips and Nvidia's most powerful gaming GTX and RTX graphics cards. As with many of Dell's products, you can configure the G5 to suit your budget and needs, so you won't end up spending money on power and features you don't need. It's also stylishly designed and with Dell's respected build quality to boot.
If you want a video editing PC that offers a slick all-in-one design without the premium price tag of Apple's iMac PCs, then the Lenovo Yoga A940 is a great choice, and one of our picks for the best video editing PCs of 2020.
It's not quite as powerful as the iMac Pro, though not many PCs are, and its specs list isn't quite as cutting edge as we'd like, as the 8th-generation chips and Radeon RX 560 graphics are ageing at this point. Still, it offers plenty of power for running video editing software (unlike iMacs, this runs Windows 10), and its gorgeous screen will make your footage look fantastic. Plus, it has Dolby Atmos speakers, which will help if you're editing videos with Dolby's latest 3D audio.
Even though it is showing its age, the 21-inch Apple iMac with 4K Retina display (2019) remains one of the best computers for video editing. Sporting six and eight-core 9th-generation Intel processors, the 2019 iMac is still a video editing powerhouse.
Of the two available screen sizes, the 21.5-inch Retina iMac represents a better overall combination of value and performance than the larger 27-inch model. You get an extremely high quality, bright 4K Retina (4,096 x 2,304) display with a quad-core processor and AMD Radeon Pro 555X graphics card, that's absolutely great for video editing. Choice upgrades would include adding some more memory and swapping the 1TB hard disk for an SSD, while a six-core processor is also available.
If the 2020 model (above) is too expensive, then the 2019 model offers a more affordable option, while still benefitting from excellent performance and build quality.
With its bright blue LEDs, Acer's new Predator desktop line-up (Orion 3000, 5000 and 9000) is squarely aimed at gamers, and comes with a specification that pairs the latest Intel processors with powerful Nvidia graphics cards. But with so much power to hand, these quiet and attractive systems are certain to be absolutely brilliant for video editing too.
The top-end Orion 9000 has one of the most powerful hardware configurations of any computer in this list. It has Intel processors with ten, or even 18 CPU cores, up to 64GB of memory and if your budget can stretch to it, even dual Nvidia RTX 2080 Ti graphics cards. That incredible configuration is sure to shrug off complex 4K video editing tasks like they're simple edits in Microsoft Paint.
We know it's eye-wateringly expensive. But Apple's brand new iMac Pro is the new daddy of computers for designers: if you have the cash, this is the best video-editing computer currently on the market. (If you're after a more affordable model, try the excellent iMac at number two, above.)
So what do you get for your money? Firstly, there's the 27-inch 5K resolution, which is 43 per cent brighter than standard Apple Retina monitors and delivers up to an astonishing one billion colours. There aren't too many screens around that will flatter your footage more.
Starting with an 8-core Intel Xeon processor, the least expensive iMac Pro option is already immensely powerful, with an outrageous 18-core option for those who can afford it. 1TB to 4TB of SSD internal storage means that you'll be able to store tonnes of 4K footage before you need to think about additional external drives. And it's not short on ports, either, with four Thunderbolt 3.0 ports and a 10GB ethernet port. Plus, of course you get the benefit of the platform's formidable Final Cut Pro X editing software as well.
Read more about the new iMac Pro
Complete with monitor, mouse and keyboard, it's not easy to find exceptional quality computing for under a grand. But this Lenovo PC is an adequate option if you're on a tight budget. It comes with a 23-inch Full HD monitor and packs in up to a 2TB hard drive and 7th-generation Intel processor.
If you're somebody requiring a heavyweight machine for professional video editing all day everyday, this machine probably isn't going to quite cut the mustard. But for keen amateurs and dabblers, the sub £1,000/$1,000 spend on this Lenovo all-in-one should be just fine. It's worth noting that you can buy an even cheaper AMD-based version, but it will be less powerful and you get a smaller monitor.
Best computer for video editing: What to consider
Let's talk about what you need to look for when picking the best video editing computer for your needs. The most important components are the graphics card and processor. If you're looking to edit ultra-high definition videos, or add complex video effects, then we strongly recommend buying a PC with a dedicated graphics card. This will ensure the PC can handle your video editing tasks.
Meanwhile, a fast, modern, multi-core processor will also help speed up your video editing workflow. Pair that with a good amount of RAM (we recommend 8GB as a minimum, and preferably 16GB), and you should be able to chew through video editing tasks with ease.
The best video editing PCs will also offer fast SSD (solid state drive) storage. This helps make moving, copying and accessing large files nice and quick. Video files can often be quite large, especially when you're shooting in 4K, so you'll need plenty of hard drive space to store it all on as well.
You might also want to check out our guide to the best video editing software, to whip your footage into shape. You can download Premiere Pro – our top pick of that list – too.
But why choose a desktop computer instead of one of the best laptops for video editing? While today's top-of-the-line laptops are indeed powerful enough to be used for video editing, you still get the best performance and best value for money from a desktop computer, with the added benefit that it's much easier to upgrade.
Related articles: