The best laptop for Cricut needn't be the most expensive or the most powerful computer, but should have a number of features, such as a touchscreen or large display, at least 4GB of RAM and a fast up-to-date processor.
From lightweight 2-in-1 devices to powerful gaming laptops, running Windows or macOS, there are suitable options to be found across a range of different laptops. After hands-on reviewing or extensive evaluation, we've carefully picked our favourites for this list. If you'd rather get a Chromebook for your crafting, see our best Chromebooks for Cricut guide.
If you don't yet have a Cricut, see our guide to the best Cricut machines too, and take a look at the best Cricut alternatives for something different. The best laptops for Cricut below will work with all digital craft machines.
Quick list
Load the next 3 products ↓
best macbook pro
The 2021 14-inch MacBook Pro might have been super-seeded by a new version with an M2 chip, but the M1 chip on this model is more than enough to handle Cricut Design Space software. Plus, you get a beautiful Apple computer with all the gorgeous graphics that come with that.
Read more below
Cheapest
The Lenovo IdeaPad 3i is the most affordable option on this list, but make sure you opt for the Windows version rather than the Chromebook. This laptop can run for seven hours on a single charge and contains an i3 processor and 4GB Ram – just enough for your crafting needs.
Read more below
double screen
09. Asus Zenbook Pro 14 Duo OLED
The second display in this Asus Zenbook Pro is not just a gimmick. It can be used to boost productivity, so you can display design work or even just music while you work on the main screen. The gorgeous OLED screen provides rich, black tones, ideal for viewing your work.
Read more below
The best laptops for Cricut
The Dell XPS 15 isn't just an ideal choice for Cricut users, its also one of the best laptops on the market period. It's packed with some seriously powerful components, with configurations available that include an 11th-generation Intel processor and a choice of Nvidia RTX 3050 or 3050 Ti graphics card for those of you that might want to play games or run 3D applications, though integrated Intel UHD graphics is also an option if you don't have a lot of cash to drop on the top-spec model.
You can even choose to replace the standard LCD display with a gorgeous OLED panel if you really have the cash to burn, providing vivid colours and accurate black tones, and you can bump the storage up from 512GB to a whopping 4TB SSD to save all of your projects without needing to rely on external or cloud storage.
Is all this slightly overkill for use with a Cricut machine? Yes, but it means you can manage every area of your business without being bogged down by underpowered tech, from creating designs for the Cricut to everyday admin such as running social media accounts or managing an online store.
Best value
The Asus Vivobook S14 might be a better choice for you if you like the idea of having a machine designed with creative professionals in mind to help with running a business around your Cricut, especially given its more palatable price compared to the Dell XPS 15.
As this is designed with creatives in mind, getting three USB-A ports, which allows you to connect your Cricut machine and other devices simultaneously, as well as a Thunderbolt USB-C to hook up any other peripherals. The Vivobook S14 also has a large screen and well-optimized components to handle all of the applications you could use to create Cricut designs.
The screen quality is a little lacklustre, but this won't affect your ability to use it with a Cricut – though you might be tempted to go for something with a nicer display if you want a device that can also be used to watch Netflix in bed.
Best touchscreen
The new Microsoft Surface Laptop 5 is a good option for Cricut users and digital crafters in general because it has a number of good plus points, for example you can get a 15-inch touchscreen model that is perfect for creating projects in Cricut Design Space.
Being a Windows 11 device it runs Cricut Design Space perfectly, and it means you can run Adobe Photoshop or Illustrator, or another high-end graphics software like CorelDRAW or Affinity Designer. The base model is a little under-powered (8GB RAM these days is a little shy) and it can mean, as I found in my Microsoft Surface Laptop 5 review, that if you're running multiple intensive apps this laptop can slow down.
But, as a crafter the chances of you maxing out this laptop's power will be rare as Cricut Design Space is a low-intensity app. So for Cricut users the lower spec models will do perfectly fine. It's that large touchscreen that impresses, however, and is the reason why it just pips above the excellent Apple MacBook Air (M2) below.
Best battery life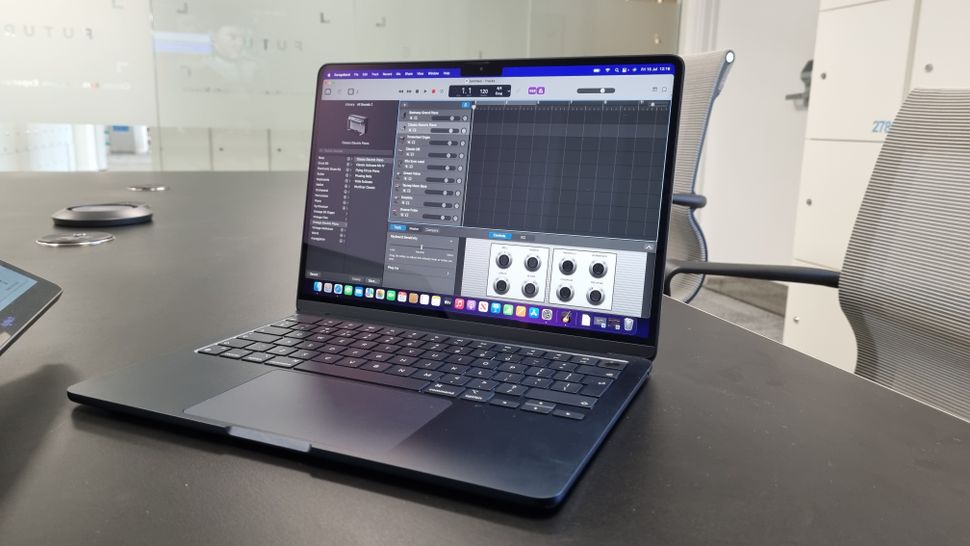 The MacBook Air was already a great laptop for Cricut makers, but it got even better in summer 2022 when Apple added the M2 chip. This increases the performance over the M1 predecessor, while still bringing the same incredible efficiency Apple's laptops are now known for.
That efficiency translates into two things: whisper-quiet operation and long-lived battery performance. In fact, the MacBook Air doesn't even need a fan, meaning it's completely silent at all times. And with about 18 hours of battery life, you can work on your Cricut designs almost anywhere you want to, even if there are no power outlets nearby.
With such a good display built-in, you Cricut designs will always look their best. Apple has baked in support for the P3 color gamut and offers True Tone tech and up to 500 nits of brightness. That'll help make designing for Cricut machines an absolute breeze.
Our only complaint is the lack of port variety. While the MacBook Air's Thunderbolt 4 ports are incredibly speedy, you'll need an adapter if your peripherals don't use the USB-C connector. Still, that's a small price to pay for what is otherwise a truly excellent laptop. See our MacBook Air (M2, 2022) review for more details.
Best 2-in-1
The new Surface Pro 9 from Microsoft is an excellent option if you like Windows OS and are looking for a laptop that can do everything. The Surface Pro 9 can flip between tablet and laptop modes with ease, which makes it a nice option to have.
In my Surface Pro 9 review I found the clip-on keyboard to be excellent quality and highly responsive, and there's some nice design notes too, such as the hidden stylus bay for keeping the pen safe. When in tablet mode the Surface Pro 9 is about the size of an iPad Pro in depth and the 13-inch screen is superb. It's the perfect size to fit into the tablet slot on top of the Cricut Maker 3 and Cricut Explore 3.
You'll likely use this in tablet mode more often than not for Cricut Design Space, as the stylus and touchscreen makes it easy to use. The Intel i5 and i7 model has enough power to run any full software too, such as Adobe Illustrator or CorelDRAW. The less powered ARM SQ3 build will struggle but runs Design Space just fine (the advantage here is the extra battery life and 5G connectivity) but if you're working from home on Cricut projects, I'd suggest the Intel i5 model.
Best budget option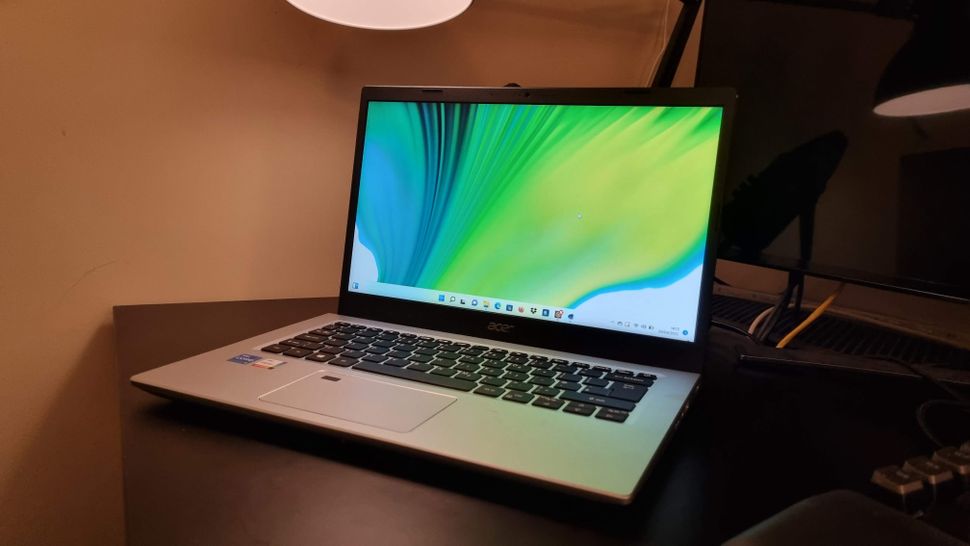 The Acer Aspire 5 is another budget-friendly option that works well with Cricut's Design Space software, and better yet, it runs the full version of Windows 11 so you're getting the very latest Windows operating system.
The base model is rocking a 14-inch full HD IPS display, as well as an Intel i5 processor, 8GB of RAM and 256GB of storage, all of which are plenty powerful enough for most everyday tasks on top of being able to run design applications such as Adobe Illustrator.
It's hardly the most glamorous laptop on the market, but if you can look past the slightly dated exterior then you'll find this is a budget-friendly jack-of-all-trades. It even has three USB-A ports to connect up your Cricut machine, as well as any other peripherals you want to hook up, such as a graphics drawing tablet for creating your own Cricut designs. See our full Acer Aspire 5 (2022) review for more details.
Best MacBook Pro
The MacBook Pro 14-inch (2021) may have been super-seeded by the 2022 version, but it remains one of the most powerful laptops on the market, and a fantastic choice if you're not interested in a budget buy. This is actually complete overkill for powering a Cricut machine, but if you wanted a portable workstation that can run every aspect of a small business, this will be one of the better options available to you.
Both macOS and Windows devices will run the Cricut Design Space software equally well, which makes this a great option if more comfortable using MacBooks, and if you use an iPad to create designs for your Cricut then you can build into the wider Apple ecosystem.
Plus, you're getting all of the other benefits of Apple's incredible silicon chips. The M1-powered MacBook Pro is capable of running up to 17 hours on a single charge, and its fanless design allows you to work in complete silence without any noisy fans or impact to performance. In our own tests we were blown away by its battery life and beautiful display, so we're happy to report that this isn't just one of the best laptops to use with a Cricut machine - its one of the best laptops on the market overall.
The only slight pain is that while the MacBook Pro line has reintroduced ports like the SD card reader and HDMI (allowing you to hook it up to an external display), you'll need to buy an Apple-supported dongle or adapter to actually hook up a Cricut machine due to the lack of built-in USB-A ports. Read our MacBook Pro 14-inch (2021) review for more details.
Best basic option
The Lenovo IdeaPad 3i is possibly the most affordable option on this list, but you need to be aware of a few things to select a model that will work with Cricut's Design Space software. Firstly, make sure you're buying the Windows version as there's a Chromebook model with the same name. While Chromebooks are fantastic budget devices for getting folks online, they won't support the Cricut software.
The highly affordable base model can run for around 7 hours on a single charge and contains an i3 processor and just 4GB RAM so it's hardly a workhorse, but if you need an affordable, no-frills device to pair with your Cricut machine, this has the perfect balance for performance at a low cost.
Best double screen
The Asus Zenbook Duo 14 OLED might appear to be a gimmicky option, but hear us out on this one. That second display squeezed underneath the main screen can be used to boost productivity for those who run a business around their Cricut machines, so you can display customer orders, design work progress or even just your instant messages or music player.

And of course as the name suggests, you're getting a beautiful OLED display that provides rich black tones, alongside a 120Hz refresh rate and 100% coverage of the DCI-P3 gamut. This isn't just a great laptop for Cricut users, but graphic designers and content creators in general thanks to it being seemingly designed for creative professionals.
That lovely screen will make your Cricut designs really pop, and it comes equipped with the latest 12th-generation on Intel processors, as well as plenty of RAM and the option of a GeForce RTX 3050 Ti GPU which makes it suitable for playing a few video games in your downtime.
Our only issue during tests (see our Asus Zenbook Pro 14 Duo OLED review for more details) was lacklustre battery life, but if you're looking for a truly unique creative workstation laptop to help run a Cricut business, the Asus Zenbook Duo 14 OLED is a solid choice.
Best of the rest
The Microsoft Surface Book 3 is a great option if you want a 2-in-1 device to run Cricut software. Better yet, its tablet-like design means that you can create illustrations for your Cricut without needing to hook up a dedicated drawing tablet, so you can run every aspect of a business from design to operations from a single device.
The 13.5-inch display is plenty large enough for daily use and unlike either of the MacBook options listed above, there are two built-in USB-A ports for connecting your Cricut machines without the need for an adapter.
While it's compact, it's certainly no slog. Equipped with a 10th-generation Intel Core i5 or i7 processor, between 8 and 32GB RAM, and 256GB-1TB storage, it'll have no issues running Cricut's Design Space software or Adobe Illustrator, and you'll still have plenty of power to listen to some music or browse the web.
There aren't many downsides to the Microsoft Surface Book 3, but it is on the pricey side and the processors are a few generations behind now that Intel has released its 12th-gen CPUs. That said, this is still very capable and will be for some time, so if you love the idea of using a tablet with your Cricut machine, this is one of the better options on the market.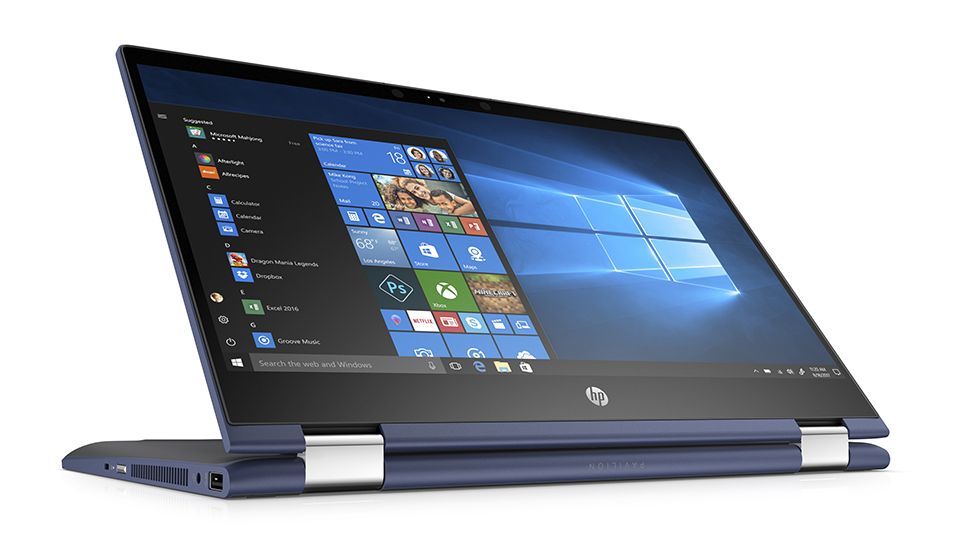 HP's Pavilion x360 laptop has one big advantage for Cricut makers: it can be flipped over into tablet mode, with the keyboard tucking behind the display. That's perfect for when you want to gain a proper appreciation for your designs up close and focus entirely on the screen.
And with the included pen, you'll be able to mark up your designs thanks to the build-in touchscreen. That brings a new angle to Cricut designing, letting you annotate your work in an app like Photoshop and then share with likeminded designers and get feedback.
Elsewhere, the HP Pavilion x360 is a fairly lightweight laptop, and certainly won't be breaking any performance records. But that means it's also very affordable, so means you don't need to break the bank to get a good companion laptop for your Cricut machine.
How to choose the best laptop for Cricut
How to choose the best laptop for Cricut
Why you can trust Creative Bloq Our expert reviewers spend hours testing and comparing products and services so you can choose the best for you. Find out more about how we test.
What's the best laptop for Cricut Explore Air 2, Cricut Maker 3, Cricut Explore 3, and other Cricut machines? The good news is that the above requirements are met by a wide range of Windows laptops and MacBooks, including many budget models. If you're really short of cash, be aware that you don't actually need a laptop to run Cricut's Design Space. You can use a smartphone or tablet instead.
However, there are two reasons why you might want to go for one of the more expensive laptops on the market instead. Firstly, because it's going to provide a better computing experience in general. And secondly, because some of the more advanced Cricut features, such as Offset, are not supported with the minimum system requirements but require higher system specs, such as Windows 10 64-bit. Essentially, the more you spend, the better your experience will be; both when using Cricut machines and when doing general computing tasks.
FAQs
What kind of laptop do you need for a Cricut?
All of the devices in our pick of the best laptops for Cricut meet the system requirements for the devices' software and then some. However, if you choose a different laptop, make sure it meets the basic Cricut system requirements below. Note that if it's a Windows laptop, it must be running a full version of Windows, as opposed to Windows S mode.
For Windows:
Operating system: Windows 8 or later
CPU: Intel Dual-Core or equivalent AMD processor
RAM: 4GB
Free disk space: 2 GB free disk space
Connectivity: USB port or Bluetooth connection
Display: 1024px x 768px screen resolution
For Mac:
Operating system: macOS 10.15 or later
CPU: 1.83 GHz
RAM: 4GB
Free disk space: 2GB
Connectivity: USB port or Bluetooth connection
Display: 1,024px x 768px screen resolution