Choosing one of the best student laptops will be a different process for each student. Unless you're studying specific disciplines, like 3D modelling or visual effects, it's likely you won't need anything super-powerful. In fact, a device that can use applications through a browser might be enough.
But, to cover all types of student, we've put our in-depth knowledge of laptops to good use and included a range of options – some with heavy-duty graphics cards and tons of RAM, and others that are more lightweight. If you're studying video editing or photography, you'll need a decent display so we've found some reasonably priced models that fit that criteria, too.
Almost all of the picks here have been personally tested by our team of expert reviewers. If that hasn't been possible we've gone on recommendations and industry reputation (see how we test laptops for more). For the best laptops for students, our hours of testing have focused on value for money, portability and the length of the battery life.
Need something different? Try the best iMac alternatives, the best laptops for teachers or the best Chromebooks for students. And don't forget to use the Apple student discount.
Best overall
The best student laptop overall

Screen: 13.3-inch 2560 x 1600 Retina display
CPU: Apple M1 chip with 8‑core CPU
RAM: 8GB – 16GB unified memory

Complete with that ground-breaking M1 chip, brilliant battery life and portable design, the MacBook Air 2020 may not be the newest but it's one of our favourites – used by over half the CB team daily. It's the most affordable MacBook available, making it perfect for students.
Best Windows
02. Microsoft Surface Laptop 4
The best Windows laptop for students

Screen: 13.5-inch PixelSense (2,256 x 1,504) touch
CPU: 11th-generation Intel Core i5 – i7 /AMD Ryzen 5 - 7
RAM: 8GB – 32GB

If you'd rather have a Windows laptop, this is the best one for students. It's thin, light, has a great touchscreen and testing revealed it's a powerful machine, too. Plus, the battery life is excellent – perfect for all those lectures.
Best Chromebook
03. Acer Chromebook Spin 514
The best Chromebook for students

Screen: 35.6 cm (14") Full HD (1920 x 1080) 16:9 Touchscreen
CPU: AMD Ryzen 5 3500U processor quad-core 3.7 GHz
RAM: 8GB

A Chromebook is an excellent choice for students, and this is the best one. Why? The 14-inch Full HD touchscreen, a deft keyboard, solid metal chassis and quad-core AMD powered performance. Our reviewer loved it, even if it's a bit heavy.
The best student laptops available now
Why you can trust Creative Bloq Our expert reviewers spend hours testing and comparing products and services so you can choose the best for you. Find out more about how we test.
The MacBook Air (M1, 2020) is currently the most affordable laptop in the Apple family, and while it's been overtaken in performance by the M2-powered MacBook Air, the older MacBook Air is one of our picks for best student laptop as it's cheaper than the latest model by quite a bit, while still being an excellent performer. In fact, this model is still used daily by more than half of the Creative Bloq team, so we know it very well indeed.
In our tests (and in our daily lives) it achieved well over a full day of use on a single charge so you can power through your day without anxiously making sure you're sitting near a power outlet, and it has enough ports to support most of the peripherals you'd need at college or school, such as a mouse and webcam.
That fast and powerful M1 chip allows the MacBook Air to be completely fanless, which is ideal for use in libraries or areas of silent study. It's also been well optimized for a wide range of applications so regardless of if you're studying economics or video editing, there's very little that this compact, lightweight laptop can't handle.
See our full MacBook Air (M1, 2020) review for more details.
Apple may make excellent laptops, but its old rival Microsoft has a brilliant device in the Surface Laptop 4, and it really gives MacBooks a run for their money. What makes this laptop so good for students? Not only does it have a gorgeous thin and light design, but it has an excellent PixelSense touchscreen that's a joy to use for creative work.
Our testing revealed it has an excellent keyboard, powerful specs (including cutting-edge integrated graphics from either Intel or AMD, depending on the configuration you go for) and incredible battery life. This is as close to a rival for the MacBook Air as they come, so if you have an aversion to macOS then rest assured that this will serve you just as well.
Read our full hands-on Surface Laptop 4 review for more information.
The Acer Chromebook Spin 514 is one of the best laptops for students because it features a large 14-inch Full HD touchscreen, a deft keyboard, solid metal chassis and quad-core AMD powered performance that can handle all tasks ChromeOS is capable of; it's a smart 2-in-1 that could drag you away from Windows.
Our review goes into more detail about the benefits of this smart machine, such as the sturdy hinges and metal frame, plentiful ports and, frankly, brilliant screen (which we consider to be the star of the show with its resolution of 1920 x 1080 and a 16:10 aspect ratio).
Sure, it has a couple of niggles such as how heavy it is to hold in tablet mode and its flash memory (rather than SSD), but when we first tried it out we firmly belied that this was the first Chromebook with the potential to change your mind about Chromebooks. See more in our Acer Chromebook Spin 514 review.
If you're on a super-tight budget, the Acer Chromebook 314 has everything that most students need to get their work done: a 14-inch display and over 12-hours of battery life to keep you working through the day, with enough juice to finish up any homework in the afternoon.
There are some compromises with buying a Chromebook, notably that Chrome can't run all the software programs you can run on a Windows computer or a Mac, but for most students that won't be an issue as many educational services are available within a browser.
As a trade-off, Chromebooks are less demanding than both Windows and MacOS which results in that impressive battery longevity, as well as Chromebooks typically being a lot cheaper than rival offerings.
Just because something is budget-friendly doesn't mean it's underpowered, either, as we found during our review process that it could cope fine with some basic art apps when connected to an Android tablet, which is ideal for those studying subjects like illustration.
Finally, it has plenty of ports to support all your peripherals such as a mouse or webcam, and you can work around the minimal 32GB eMMC of storage by keeping a portable SSD or flash drive handy to save all of your coursework or homework onto.

See our in-depth Acer Chromebook 314 review for more details.
The Acer Swift 3 is going to be an ideal choice if you want something that sits between the MacBook Air and a Chromebook in budget, style and power. It won't be winning many beauty contests, but this laptop is perfect for students who need an economic device to get online and run Windows applications.
This laptop is reasonably priced and, with the 2022 model, you're getting quite a lot of tech for the money – including an upgraded Quad HD panel (though you can choose Full HD, which could be better for the battery life). The 2022 model also has a decent 1080p webcam added, which is a nice bonus. Battery life can be an issue, with reports ranging from four hours to 11 (depending on your workflow) so you might need to plan to be near a socket at some point in the day.
It's fairly spartan in regards to features, but its thin and lightweight design makes it well suited to throwing into a bag and carrying around school or college all day. It also has a healthy selection of ports so you won't need to remember a separate dongle if you want to plug in a wired mouse or webcam.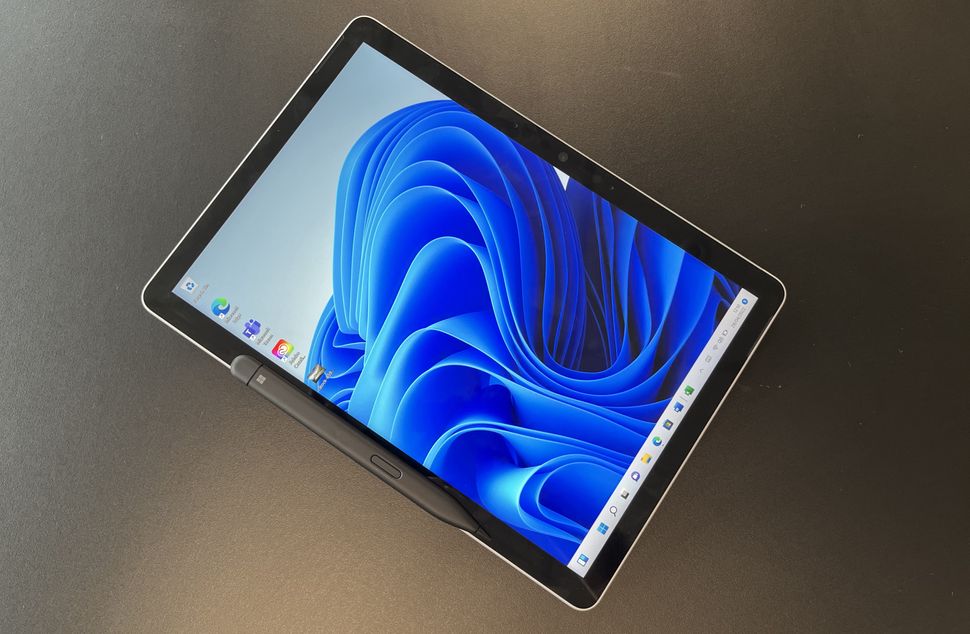 The Surface Go 3 is the most affordable 2-in-1 tablet in the Microsoft family, and while It's not as powerful as the Surface Pro 8, or even the older Surface Pro 7, it has a similar design and is more than capable of running low-demand software and web-based applications, making this an ideal choice for younger students.
It even comes equipped with Windows 11 so you're getting the latest Microsoft operating system, and while it's not as powerful as a larger laptop device, it can still run some design applications reasonably well. In our tests we had no issues using Clip Studio Paint to create a few digital illustrations for example, but this isn't a device you'll want to edit images or video footage on.
It's important to note that you'll have to purchase the keyboard separately (and stylus too if you'll make use of it), so the device is sold in its tablet-only form, but when paired with its various accessories the Surface Go 3 is more lightweight and compact than most traditional laptops on the market.
You can read more details in our full Microsoft Surface Go 3 review.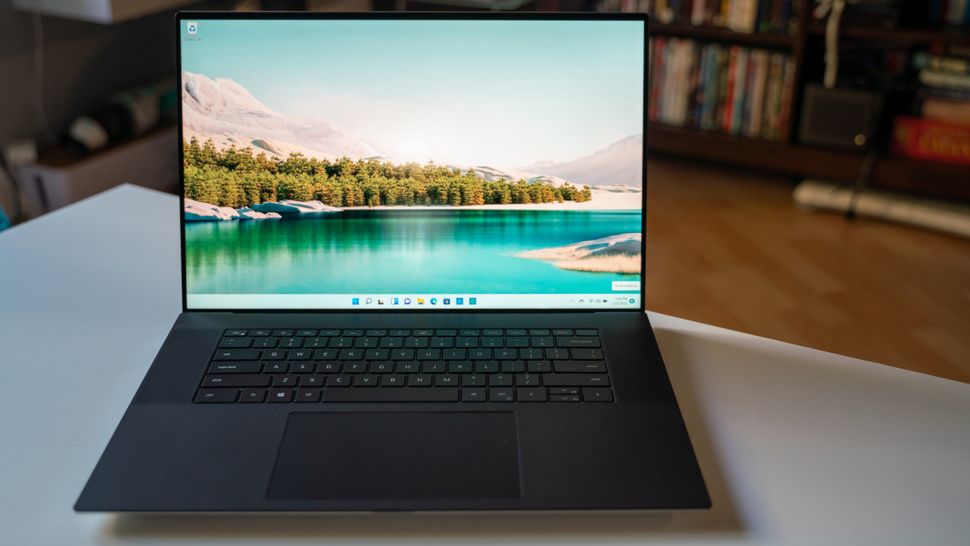 The Dell XPS 17 (2021) is one of the largest laptops on this list of best student laptops, but students' needs will vary depending on age, course and educational level, making this portable workstation ideal for those studying more demanding topics such as video editing or graphic design.
Its large size means you can pack it with some seriously powerful hardware, with the top-spec model coming equipped with an 11th generation Intel i9 processor, 64GB of memory and an Nvidia GeForce RTX 3060 graphics card. Not only does that make it capable of handling just about any task you throw at it, which also means it's one of the best MacBook Pro alternatives on the market.
We found the huge 17-inch screen's 16:10 aspect ratio to be useful for creative work because it offers more vertical space, and this also made skimming through spreadsheets during our tests much more productive too. The display also supports 100% Adobe RGB and 94% DCI-P3 colour gamuts, and has a 4K Ultra HD+ resolution of 3,840 x 2,400, making this an ideal choice for university and college-age students on creative courses.
We were even able to play a few rounds of Fortnite on it, so this can double as a light gaming machine for a student that truly wants a machine that can handle everything they need from work to play.
See our full Dell XPS 17 (2021) review for more details.
The Dell G15 might be a gaming laptop, but that makes it pretty well equipped to deal with a student's everyday needs, from playing video games during breaks or after homework is completed, to then utilizing all that raw power to run demanding applications or software in the classroom.
It's also surprisingly affordable for a gaming laptop. It's not the most powerful model on the market, but it doesn't need to be, equipped with 11th-generation Intel processors and up to 32GB of RAM. You won't be able to configure it with any of the flagship graphics cards, but you'd be surprised just how capable the RTX 3060 model is at running AAA games and demanding creative software.
This makes it a great option for students dabbling with Maya or Blender, or indeed, many applications used within the industry to create games and 3D content. Sure, it's not as capable as a full desktop setup, but for something that offers portability as well as power, the Dell G15 is a fantastic choice for students.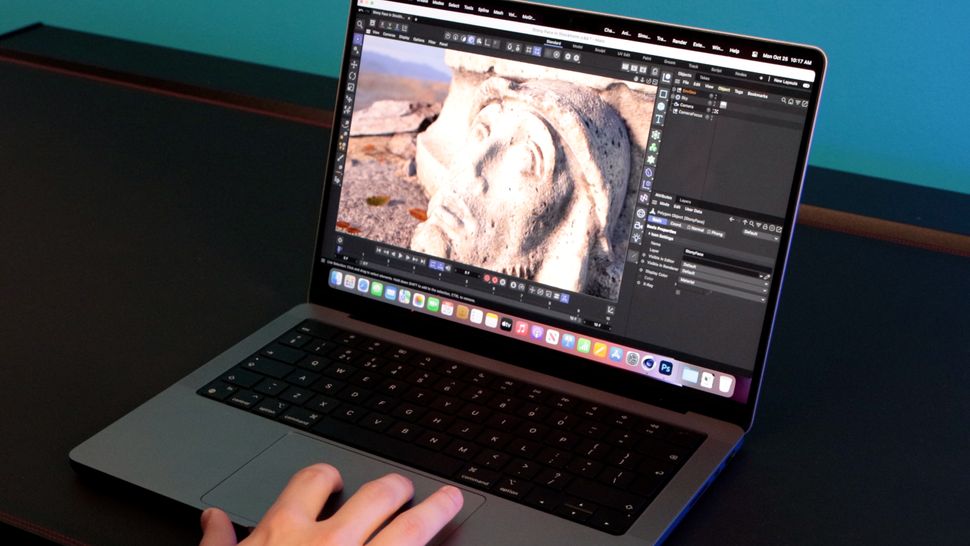 The MacBook Pro 14-inch isn't just one of the best laptops for students right now, its also one of the best laptops in the world period. That power comes with a pretty hefty pricetag, which can make this difficult to justify as a purchase but while it's certainly expensive, let us reassure you that you'll be getting your monies worth.
The Apple-designed M1-Pro and M1-Max chips can run just about every application you throw at them, and while most rival workstation laptops often sacrifice battery life in exchange for power, In our own tests the MacBook Pro 14-inch easily ran for 17 hours without needing a charge. Even wilder for those used to using gaming laptops or workstations is that the M1 processors allow the design to be completely fanless, so you can work in blissful silence at the library.
Our only complaint is while the SD card reader and HDMI port have been reintroduced to the MacBook Pro line, there's no built-in USB-A port which means you'll either have to buy an adapter from Apple or use wirelessly connected peripherals such as a mouse or keyboard over wired versions.
Sure, it's expensive but for those on demanding creative courses, we would say this is the best laptop for students If you can compromise on price - it really is the cream of the crop.

See our full MacBook Pro 14 (2021) review for more.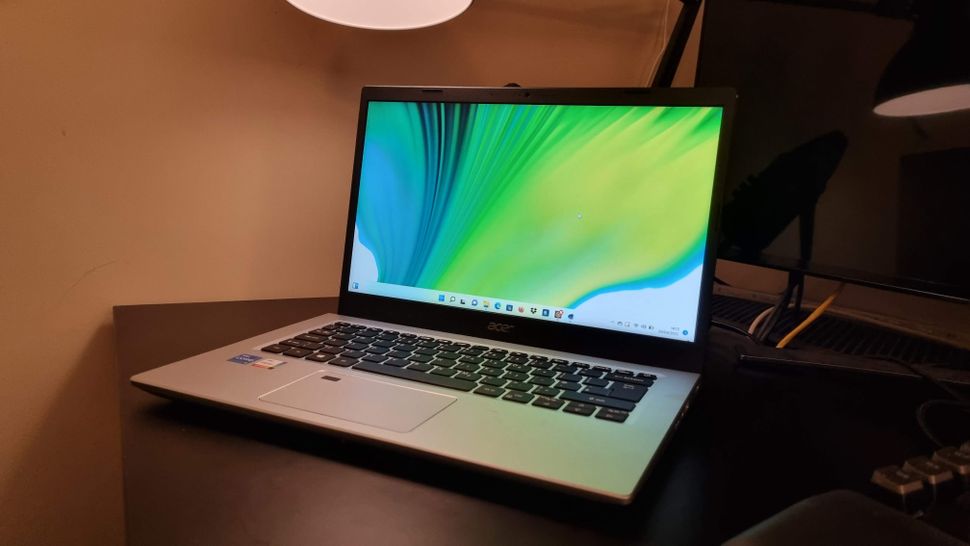 The Acer Aspire 5 is one of the best options for students on a tight budget thanks to it being one of the cheapest laptops running Windows 11. That means you're paying near-Chromebook prices (which are praised for their affordability compared to laptops), all while getting non of the restrictions.
There are a few caveats in that you won't be running any demanding applications on it, but for younger school-aged children that won't make much of a difference. We tried it with Adobe Photoshop during our tests and it managed well enough for basic editing work for example, though anyone who needs something for video editing or 3D design will need to look at more expensive hardware.
There are a few setbacks that come with a laptop at this price, such as the inclusion of a brand-specific charger over the more common USB-C, and it's certainly not the most stylish device on the market but if you're looking for a Windows laptop at a very cheap price, this is our top recommendation.
Read our in-depth Acer Aspire 5 review to find out more.
The Asus Vivobook S14 is well balanced for students on creative courses, which makes it a niche offering on the wider market, but ideal for handling low-demand creative applications and software on a tight budget. It comes equipped with 11th-generation Intel processors and a choice of either 8Gb or 16GB opf RAM, which is plenty to run most software a student needs.
Where most budget-friendly laptops are ill-suited for creative work, the Asus Vivobook S14 has been created to bridge the gap. It'll run Adobe Photoshop for example, as well as Clip Paint Studio for any digital illustrator, though it might start to struggle if you need something to edit a lot of raw video footage or render 3D models.
There are plenty of ports on offer to support a range of peripherals like graphics drawing tablets, with three USB-A ports as well as a Thunderbolt USB-C. We would suggest this as a better alternative to a 2-on-1 device for graphic designers as you're getting more power, and the support for a dedicated drawing tablet will be a vast improvement over those built into most affordable hybrid tablet devices.
What should I look for in the best student laptop?
One of the most important things for a student laptop is often portability - which means a light, compact machine where possible. While it can be great to have a mini home entertainment or gaming system in your student digs a heavy laptop with a 17in screen could be a real pain to lug to college and back.
Although we do recommend one 17-incher in our guide for those that need that screen space, it's fairly light and svelte for its size. But we'd generally recommend a 13 or 14in widescreen laptop as the best option for students. This will fit easily into a backpack or satchel and in most cases will be reasonably light.
You'll want to combine that with battery life that can get you through a day of remote study, and when the battery does run out, it needs to be able to be recharged quickly. You might want to consider an external power bank as well (see our guide to the best power banks for that).
How much power do I need for a student laptop?
How much power the best student laptop needs to have depends very much on what you're studying. If you'll only be using your laptop for writing essays and other documents, taking notes, watching and streaming media and maybe connecting to online classes, then you don't need much power at all, and a Chromebook or an affordable 2-in-1 should do you fine.
However, if you're studying on a creative course and need to run intensive software, you'll want more processing power and probably at least 8GB of RAM, if not more if you're doing video editing or 3D work that requires rendering. Design students may benefit from a laptop with a good graphics card.
What should students look for in a laptop?
Student laptops should be thin and light enough to be easily carried around, and they should also be built to withstand an entire school day in a backpack. Long battery lives are also essential, so that students don't have to worry about having to plug them in half way through a lesson.
These devices should have a high-quality webcam and integrated microphone for remote study. Many students are still taking part in virtual lessons, so making sure they are seen and heard clearly is essential.
Besides that, the specifications will be targeted to your specialism. If you need something more powerful for video editing or 3D work, the ideal laptop will have the capability found in our most powerful laptops guide.
Which laptop brand is best for students?
When buying a student laptop, you want a device that is well built, affordable and reliable. For that last point, it's generally best to go with brands that have a good reputation – you want your laptop to get you through at least your whole course of study, if not a lot longer.
Good brands for reliability are Dell, HP, Acer, Asus and Microsoft for Windows laptops, and then, of course, Apple. For creatives, Asus has its fantastic VivoBook range which offers good prices on devices built with creative professionals and students in mind, so check out those if you're starting a course for video editing or digital illustration.
It's also always worth checking whether your college has a particular policy or recommendation. Some recommend using Windows-based laptops to reduce software incompatibility issues or facilitate technical support.
Do Chromebooks make good student laptops?
Yes, they do. Not every student will need massive specs. We've included a Chomebook at number 3 in our guide to the best student laptops because for many students giving up a big storage capacity for super speed makes very good sense. The apps that Chromebooks run take up very little space, and with built-in support for Google Drive, it means your documents are all saved in the cloud as well.
Are hybrid 2-in-1s good student laptops?
Again, this is a resounding 'yes' in our opinion. Hybrids, also known as 2-in-1s combine the best of tablets and laptops into a highly portable package that's ideal for slinging in a bag to carry to school or university. Devices like the Microsoft Surface Go 3 at number 6 above are great for working in spaces where you might not have a desk – even on the train, while you can still keep the convenience of a keyboard for when you need it.
How can students save money on laptops?
With budget a primary concern for students, it's worth exploring you're options for how to save money. Of course, there are the standard sales and deals offered throughout the year, but there is also opportunity for special student discounts available all year round, like the Apple Student discount or the Dell student offers.
Another option is to look out for previous models of decent laptops. If you don't need the newest version (and you probably don't), there are excellent savings to be made by looking at older models.
How we tested these laptops
When reviewing, we put our laptops through the same tests, including the PCMark 10 battery life test, the Geekbench 5 to measure the system's multi-core and single-core throughput and Maxon's Cinebench R20 to determine the setup's hyperthreading capabilities. We also look at build and design features, which include screen brightness, the clarity of the screen, ports and switches, weight, size and handling.
For student laptops, we assess portability, price and battery life first, as these are the main concerns of most students. We weigh up these criteria to find the best laptop options for students.