If you're looking for the most powerful laptops in the world then chances are you need all that juice to run demanding applications, but as different software has different needs, how do we actually measure 'power'?
Power is relative to what you need the laptop for. For many, this will mean the latest processors from Intel, AMD or even Apple, and there's a new generation of the best graphics cards unleashed to power games and demanding applications, some of which offer great features like raytracing and graphics upscaling.
Most really powerful laptops will have both, with oodles of processing power, a beefy graphics card (and at least impressive integrated graphics) and at least 16GB of RAM. Some portable workstations even let you expand on the base memory, allowing you to cram more in if you need to run memory-hungry tasks.
We're also about to see a new generation of memory (or RAM, for Random Access Memory) hit the market. DDR5 is set to replace the current standard, DDR4, within the next few years, and laptop makers are scrambling to put this super-fast RAM into their devices.
Top that off with a large storage capacity in the form of either a speedy SSD or robust HDD and you have a lot of room to save your projects or video games. If you think this all still might not be powerful enough for your needs then check out our guide on the best computers for graphic design. And if you're a student, look at our best student laptops.
These mobile workstations offer you the kind of power and performance that you might have once thought was only possible with a desktop PC, so thanks to these modern advancements in mobile hardware, the powerful laptops of today will really blow you away, with bags of RAM, multi-core processors and cutting-edge mobile graphics cards that make them excellent content creation devices, and can even handle gaming when you just want to kick back and relax.
If you often work with big files, like to multitask, and require a laptop that can do things like render high-resolution videos and 3D graphics, then the most powerful laptops on this page are for you.
The most powerful laptops on sale today
The latest generation of MacBook Pro laptops are some of the most powerful devices on the market. They can be completely configured to your exact needs, allowing you to customize your specifications for video editing, photography or audio mixing. Equipped with a choice between either an M1 Pro or M1 Max SoC (system-on-a-chip), that combines the CPU and GPU together, there's nothing you can throw at it that it won't run, and run well at that.
It's had a complete redesign since 2019 that has reintroduced built-in ports, now featuring three Thunderbolt 4 ports, one HDMI port, an SDXC card slot, and a MagSafe 3 port to give you plenty of options for your peripherals, and you don't need to carry around a cumbersome dongle.
That 14.3-inch 120 Hz mini-LED display is also one of the best we've ever seen on a laptop, giving you crisp, accurate color and delivering up to 1,000 nits of sustained, full-screen brightness, and 1,600 nits of peak brightness.
If you need multiple displays for your work then you can connect up to three Pro Display XDRs and a 4K TV with M1 Max, or two Pro Display XDRs if you opt for the M1 Pro.
For more details, read our MacBook Pro 14-inch (2021) review.
If you're a sceptic of the Apple silicon M1, but you're not prepared to make the mump over to using a Windows device then good news - the previous generation of MacBook Pro laptops are still some of the most powerful devices available to buy.
They're still rocking Intel processors and lack the beloved integrated ports, but for a laptop that's now three years old, this is still packing some seriously powerful hardware, and if you were one of the few people to use and appreciate the controversial touch bar then you can continue to make full use of it.
There are certainly niche options that could be considered more powerful, but for macOS users, this thin, light and stylish design helped to make the MacBook Pro range so iconic, and the laptop of choice for creatives across the world.
The fact that Apple also included a larger 16-inch screen, while keeping the overall size and weight of the new MacBook Pro similar to the 15-inch version is truly impressive.
With the 16-inch model, you get some of the best mobile hardware ever made, including a 9th-generation Intel Core processor and an AMD Radeon Pro 5300M or 5500M graphics card, as well as up to 64GB of memory. This is the ultimate laptop for media editing and creation, and one of the best laptops ever made – by Apple or anyone.
The Dell XPS 17 (2021) proves that the most powerful laptops in the world don't have to be big and bulky affairs, while also making a statement that macOS devices are far from the only option available for creatives who need an incredible portable workstation.
While it's hiding some seriously impressive components and that giant 17-inch 4K display, the XPS 17 remains an impressively thin and light device, which means you can comfortably carry it around with you. This makes it an ideal powerful laptop for people who want to work out and about.
The battery life is also excellent for a laptop of this size and power, so you don't have to worry about finding a plug socket too often, and its price, while high, is fair for the hardware you're getting. You can configure it with a powerful Intel Core i9 processor, and even add an RTX 3060 graphics card to give it some serious power for more demanding applications (or even gaming if you like a machine that can do both).
Dell is well known for making top-quality laptops, and the XPS line is no different. If you're looking for a powerful and reliable laptop for your creative needs, and you don't much care for macOS, consider one of these beauties for yourself.
The Razer Blade 15 Studio Edition is a brilliant laptop aimed at photographers, graphic designers and video editors in particular, with a choice of powerful graphics cards, along with a stunning, factory-calibrated 4K OLED display. Combined with the sleek design and excellent build quality, the Razer Blade 15 Studio Edition proves that the most powerful laptops in the world can also be some of the most stylish as well.
Razer is a name more recognized for PC gaming than portable workstations, but as gaming laptops need similarly powerful components to run the latest AAA titles, it's no wonder you see so many creatives buying them to run applications like Unreal Engine or Blender.
As Razer already makes some of the most powerful gaming laptops on the market, it makes sense that it would want to use its expertise and create an incredible workstation for content creators. this is a gorgeous, beastly machine that won't have any issues running anything you throw at it.
The battery life is decent, but nothing to shout about, and the price might be off-putting for anyone trying to find a bargain, but as the saying goes, you get what you pay for.
Gigabyte is likely another name more recognized for its gaming-optimized creations, but its range of creative workstation laptops have absolutely knocked it out of the park, with our favourite being the Gigabyte Aero 17.
It comes with plenty of ports, which means you can easily plug in your trusted peripherals without having to use a dongle, and its screen is one of the best we've seen in a laptop. Despite all those features and power under the hood, the Gigabyte Aero 17 offers much better value than many of the other devices on oiur list, considering the raw performance it offers. The only complaint we have is that its battery life isn't the best, so make sure you don't stray too far from a power outlet.
If you can look past the battery life though, you're getting an absolute beast of a workstation, equipped with the latest components and a glorious 4K OLED display, all features that will help tasks like video editing and 3D rendering, at a relatively affordable budget when compared to the competition.
The Apple MacBook Pro 13-inch (2020) is the first Apple Silicon of its class, sporting an M1 chip with a whopping 8-core CPU and an 8-Core GPU, making it more than twice as fast as the previous generation, and its fanless designs will ensure that you can work in blissful silence even if you're running demanding applications.
It can't compete against the new M1 Pro and M1 max SoC's, but this is still a very formidable machine, and its smaller size has additional benefits. if you're a photographer or video editor looking for a lightweight, quiet machine then this is ideal to toss into a bag and take on the go.
As you'd expect, the chip works perfectly with this Apple MacBook Pro, extending battery life by some way, as well as optimizing speed and power. Best of all, this is relatively affordable for a MacBook Pro device, with the M1 powered MacBook Pro undercutting the Dell XPS 13 (2020) by around $100/£100.
And since Apple is boasting that it's three times quicker than its Windows rivals, this new 13-inch device becomes a really fantastic option for creatives looking for a compact laptop that can handle huge workloads.
MSI is another brand known to dabble in both gaming laptops and mobile workstations, and as a result, the MSI Creator 17 is a creative workstation that's ideal for a range of different professions thanks to MSI's extensive history of building gaming laptops and computers that are capable of running even the most demanding of AAA games.
As a digital creative, you're not just looking for a powerful laptop that can chew through tasks with ease - you also want something with a brilliant display that can show off your work in style. That's why the MSI Creator 17 is equipped with a mini LED display that offers vibrant and accurate colors and 1000 nits of brightness.
It's also supremely powerful, with 10th-generation Intel Core processors and Nvidia RTX graphics cards. This makes it an incredibly powerful laptop for video editing and 3D modeling.
The Acer ConceptD 7 is a great choice for any creative looking for a powerful Windows device that was designed from the ground up to eat through any task you can throw at it, from rendering to 4K video editing.
It's got some seriously powerful hardware packaged up in a stylish design, configurable with a choice of powerful Intel processors, Nvidia graphics cards and bags of RAM, which means it's great for 3D animation and video editing.
Not only can it run just about every application you throw at it, but it looks incredibly stylish to boot, with a fancy all-white chassis that stands out against the sea of gray and black options currently dominating the market. It's pretty safe to say that Acer is giving Apple a run for its money with this design.
Perhaps its biggest selling point, however, is its stunning Pantone-validated 4K IPS display. It's one of the nicest screens we've seen on a laptop, and it makes it a brilliant choice for people who want accurate colors and top-notch image quality alongside powerful components.
It's hard to imagine a roundup of the most powerful laptops on the market without something from the current generation of Dell XPS laptops, and one of our favourites is the Dell XPS 15. This is hands down one of the best and most powerful laptops released this year, not just for those in the creative industry, but also for people looking to have the best of everything with very little compromise.
It's equipped with the latest 11th generation of Intel processors, a powerful Nvidia RTX graphics card and plenty of RAM configurations to cater the device to your needs. You can get an OLED InfinityEdge display for crisps blacks and vivid color, 11th-generation Intel processors and the latest Nvidia RTX 3050 or 3050 Ti graphics cards, though Intel UHD is also an option for anyone looking to save some cash.
There are a few issues specific to users needs though, as you're losing the standard USB-A port from the previous generation of the laptop, which might make hooking up any peripherals like a graphics drawing tablet tricky for digital illustrators and sculptors, and many creative types like a larger display to work on. If you do want something larger, the Dell XPS 17 higher up this page is a great alternative.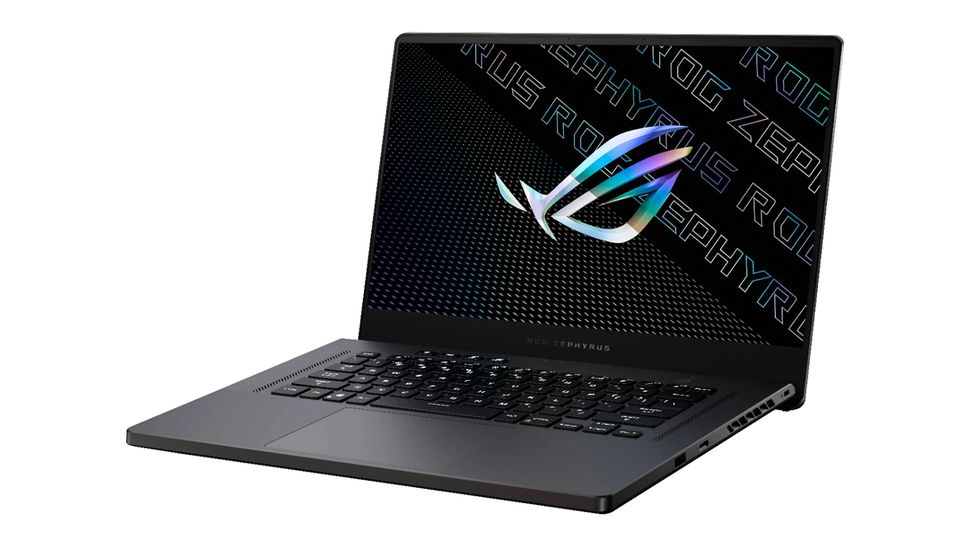 The ROG Zephyrus G15 differs slightly from the devices released from other gaming brands, as this is a powerful gaming laptop first rather than something entirely designed for content creators. Those specifications are ideal for running creative applications though, equipped with the latest and most powerful AMD Ryzen and Nvidia RTX 3000 series, they're incredibly powerful and able to see you through the most demanding games.
Gaming laptops make great creative workstations thanks to their powerful components and better-than-average display, so while they might be expensive, they tend to be around the same price (if not cheaper) than popular workstation laptops, allowing you to buy a device that has the best of both worlds.
Many ROG devices are packed with blingy, RGB lighting and 'gamer' look that might not appeal to everyone. While the Zephyrus G15 has gone for a more professional aesthetic, it's still pretty clear that gaming trends have had some influence, and you're not getting a built-in webcam, but if you can overlook those flaws then this could be the best choice for a powerful laptop.
---
What is the most powerful laptop in the world?
This isn't as easy to answer as you might think, despite benchmarks being published for almost every laptop and 2-in-1 device on the market to compare hardware. It all boils down to what you need the laptop for, and how well it's optimized for that task.
The Dell XPS range leads the way for Windows-based mobile workstations, while the latest generation of MacBook Pro are beloved by fans of macOS, equipped that that powerful Apple silicon M1.
If you need something for gaming then consider laptops equipped with the latest Ryzen 9 5900X processor and an RTX 3080 graphics cards, such as the Asus ROG Zephyrus G15.
A powerful laptop is nothing without also having a decent amount of RAM too, with gaming laptops sometimes offering 32GB (you only really need 16GB to enjoy even the most demanding games) and workstations from Apple and Dell configurable up to a whopping 64GB.
What should I look for when buying a powerful laptop?
A powerful laptop comes in many shapes and sizes depending on what would best suit your needs. Right off the bat, you should look at naming conventions.

Workstations are available as both desktop and mobile devices and are typically optimized for technical, demanding applications. If something is advertised as a workstation then it's usually been creative for people who need the full power of a desktop PC condensed into a portable machine.
Similarly, gaming laptops and 2-in-1 devices also have their merits, with gaming portables packing fast processors, an abundance of RAM (compared to traditional laptops) and of course, a beefy graphics card, all of which make them well suited for tasks like 3D rendering and video editing.
2-in-1 devices are usually less powerful, but things have come a long way in recent years, and the ability to edit high-resolution images using a stylus directly on a convertible laptop shouldn't be sniffed at.
To pick the right device, you should consider what you need it for: are you always in the field, therefore need a lightweight device, combined with great battery life? Or are you happy to drag around a bigger, heavier laptop if you get a 17-inch display and some seriously beefy graphics?
Picking anything on our list is likely going to serve your needs well, but only you know what area you should be paying attention to when buying a new laptop. Photographers and video editors will want to prioritize the display, as well as ports (nobody wants to keep a dongle safe) and a new, capable processor.
3D artists and game designers however might need to make sure the graphics card is capable of running demanding rendering software, and have enough RAM to cope with multiple applications at once.