Choosing one of the most powerful laptops is a must if your creative jobs require a whole lot of oomph and keep you mobile at the same time. And whether you're rendering complex 3D scenes, editing 8K video, touching up photos from a medium format camera or something else equally demanding, we've found a selection of laptops that more than fit the bill. And guess what? Once you've clocked off for the day, they can pull double duty as capable gaming laptops.
Once upon a time, a desktop computer was the only option for heavyweight creative tasks (not to mention after-hours gaming), but this isn't the case any more. While desktop machines with their roomy towers are the only platforms that can house the powerful fans needed to keep old-school CPUs cool, advances in recent years mean you can safely fit a lot more into the compact form factor of a laptop, including multi-core processors, plenty of memory, high-end GPUs and plenty more besides.
If you're scratching your head at all that terminology, don't worry, because you can simply scroll to the bottom of this article where you'll find our FAQ section that'll answer all your questions. Otherwise, read on to discover our selection of the most powerful laptops available now. Naturally, you'll find a few MacBooks, simply because Apple's doing great things with its M1 and M2 chips, but there are plenty of Windows machines too, as well as laptops capable of running other operating systems, if that's your thing.
We've already reviewed many of the laptops on this list in great and rigorous detail, so we have a strong idea of the capabilities (and the drawbacks) of each one; our guide to how we test laptops can tell you more. And if you don't quite need all the power, we have other guides that may suit you better. See our round-ups of the best computers for graphic design and the best laptops for architects, as well as our guide to how to buy refurbished tech if you're after a bargain.
The most powerful laptops on sale today
Why you can trust Creative Bloq Our expert reviewers spend hours testing and comparing products and services so you can choose the best for you. Find out more about how we test.
The MacBook Pro (2021) is an absolute scorcher of a laptop. Freshly implanted with Apple's own M1 processing chips, it comes in 14-inch and 16-inch versions. While this is purely a matter of personal preference, we've gone for the 14-inch version as our number-one pick, as it gives you more computer power for your buck. Don't worry; you'll be meeting the 16-inch version very shortly.
There are further customisation options on the inside too – you can choose between an M1 Pro chip, or the M1 Max SoC (system-on-a-chip), which combines a CPU and GPU into a single unit. The latter is the more powerful choice – by quite a bit – but in either case, you're getting a hell of a laptop. Whether you want to use it for graphic design, video editing, or some high-end gaming (yes, really), the MacBook Pro (14-inch, 2021) will handle its tasks with aplomb.
There's not a lot to criticise here, as we found when we took the MacBook Pro in for a full review. Battery life is great, better than previous versions, so the laptop is useful for working on the go, rather than nominally so. The surfeit of built-in ports – one HDMI, three Thunderbolt 4, an SDXC card slot and one MagSafe 3 – is also welcome, making the MacBook Pro easy to slot in with whatever your device ecosystem happens to look like. The 14.3-inch 120 Hz mini-LED display is also gorgeous and capable of delivering top-notch colour accuracy, as well as up to 1,000 nits of sustained, full-screen brightness, and 1,600 nits of peak brightness.
The only thing really to nitpick is the price, which you of course were aware of going in. These are expensive laptops, that's just a fact. We don't have to like it, and if it's beyond your budget, there are cheaper options on this list.
For more details, read our MacBook Pro 14-inch (2021) review.
Well, we did say you'd be meeting it soon. The 16-inch MacBook Pro may not have hit our top spot, but this is an equally capable computer to its 14-inch sibling, and if you need a bit more display real estate, it's definitely worth your time and cash.
With a mini-LED display that has a resolution of 3456 x 2234 pixels, not to mention P3 wide colour support, the MacBook Pro is an absolutely gorgeous piece of kit for displaying your content. If you're a visual creative of any kind, you'll revel in seeing your projects take shape with crystal-clear fidelity. As with the MacBook Pro 14 above, the latest MacBook Pro 16-inch (2021) comes with a choice of Apple's own powerful M1 Pro or M1 Max chips. These ensure that the latest version of macOS runs incredibly smoothly, and that software launches and loads rapidly.
Our reviewer was pretty swept away by the MacBook Pro 16-inch. The decision to reinstate a lot of the ports that were removed from the previous MacBook Pro was unequivocally a good one, meaning you've once again got the luxury of an HDMI port and an SDXC slot. The battery does really well too, even with that big display draining it – we were able to browse for about 17 hours before needing to charge (we did take breaks). The laptop also doesn't suffer any perceptible loss in performance when it's on battery – we edited 8K video with the power cable nowhere in sight, and experienced no issues.
Of course, the bulky size of the MacBook Pro 16-inch won't be for everyone. Many people like their laptops for how easily portable they are, and it's a little bit of a stretch to call this enormous lad a "portable" computer. That's simply down to personal preference though – if you want a big and powerful laptop, this is an excellent one.
See our MacBook Pro 16-inch review for more.
The most powerful laptops aren't all Macs, however. The Dell XPS 17 (2021) proves that macOS devices are far from the only option available for creatives who need an incredible portable workstation. And it also shows that a laptop with a big, big screen doesn't have to be bulky and impractical to carry.
While it's hiding some seriously impressive components and that giant 17-inch 4K display, the XPS 17 remains an impressively thin and light device, which means you can comfortably carry it around with you. This makes it an ideal powerful laptop for people who want to work out and about.
In our review of the Dell XPS 17, we appreciated the power and performance of this laptop, and its ability to handle even processor-intensive tasks without any slowdown or lag. We were able to quickly and efficiently perform even graphically-intensive tasks, like exporting 100 high-resolution images with basic editing from RAW to JPEG in less than three minutes. We were also able to render a 10-minute and 32-second 4K video in HEVC (H.265) on Premiere Pro in about four and a half minutes, and throughout all this work, the laptop stayed fairly cool. Battery life was also impressive, especially with this much going on under the hood.
Dell is well known for making top-quality laptops, and the XPS line is no different. If you're looking for a powerful and reliable laptop for your creative needs, and you don't much care for macOS, consider one of these beauties for yourself.
Our Dell XPS 17 (2021) review goes into more detail.
One of Asus' portfolio of high-end gaming laptops, the Asus TUF Gaming F15 has been refreshed for 2022 with some of the latest tech. This includes Intel's latest 12th Gen CPU, as well Nvidia RTX 30 Series graphics, and on the display side of things, you get a 15.6-inch screen with a meaty 165Hz refresh rate and full coverage of the DCI-P3 gamut. Not too shabby – that last feature makes it a good choice for content creation tasks like video editing, as well as gaming.
In our full review of the Asus TUF Gaming F15, we were continually impressed with how much it was able to handle. You can load up that processor with tasks and it just keeps on chugging with barely a stutter, and the battery life holds up really well too. Slim bezels on the side of the screen mean the laptop isn't too large to be practical, though it does have a fairly sizeable chin when you open it up. At least this means it has a nice big trackpad.
Connectivity is good too, as the Asus TUF Gaming F15 has a real-deal Thunderbolt 4 socket with 40Gbps of bandwidth. That can make it much easier to transfer large volumes of data to or from a hard drive. You do also have the built-in Samsung SSD, though its slightly sluggish 30MB/s read and 67MB/s write speeds are a little underwhelming for day-to-day responsiveness. We also felt the screen could be better; while it's very well specced on paper, in person it lacks a little vibrancy, not to mention brightness.
Still, this is a really high-performing laptop, and if your work and play habits require a fast-performing computer, it's a really solid choice.
Our Asus TUF Gaming F15 (2022) review goes into more detail.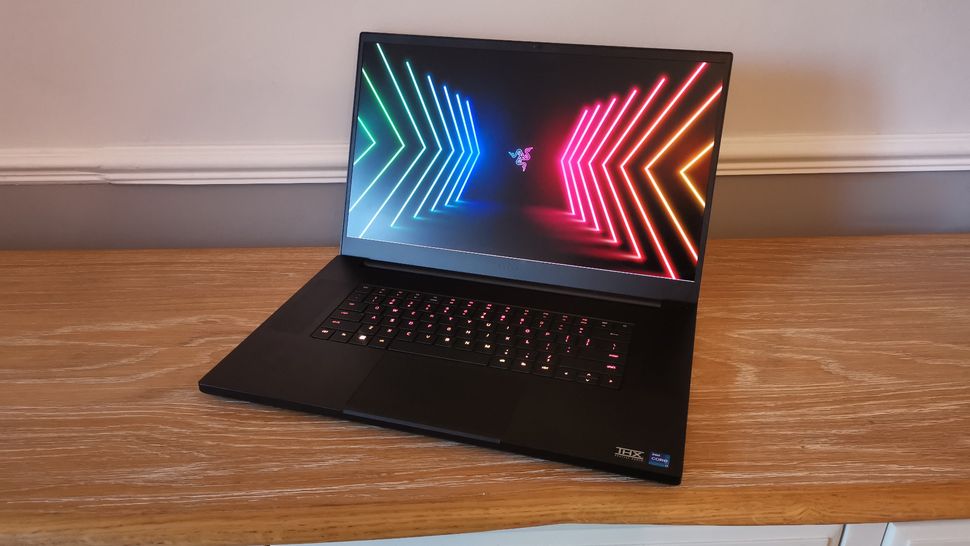 Possibly the gold standard among powerful laptops right now, the Razer Blade 17 bears the well-regarded Nvidia Studio laptop badge, thanks to its top-of-the-line graphics card. This means it's one of the smartest, fastest tools creatives can buy, and all that comes with a price tag. Even in its slimmest configuration, this is not a cheap laptop – but you didn't come to our most powerful laptops guide looking for a cheap option, now did you?
In our review, we were dazzled by the Razer Blade 17's ability to handle complex tasks with ease, with barely a whisper of noise, and without any overheating, all thanks to its 32GB of DDR5 RAM. Its ability to complete the Blender Benchmark in just 7 minutes and 47 seconds was comparable to the power of desktop systems. Any creative app you could care to name will run like a dream on the Razer Blade 17, as will even the most intensive games, including VR.
But the Razer Blade 17 does have one major Achilles heel, and that's its battery life. It is frankly abysmal, even by the standards of high-performance laptops, which tend to be power-hungry at the best of times. In our testing, we found the Razer Blade 17 able to manage 3 hours and 12 minutes of general browsing on a single charge, but this went down to 1 hour and 17 minutes when sculpting in Blender. And when playing Cyberpunk 2077? Just 57 minutes.
It does come bundled with a 280W power brick, which softens the blow a bit, and it's worth remembering that the Razer Blade 17 has a lot going for it, including its sublime QHD display and its excellent keyboard. If you can cope with the battery limitation, this will be a tempting option.
Our Razer Blade 17 review goes into detail.
Gigabyte is likely another name more recognized for its gaming-optimised creations, but its range of creative workstation laptops has absolutely knocked it out of the park, with our favourite being the Gigabyte Aero 17.
It comes with plenty of ports, which means you can easily plug in your trusted peripherals without having to use a dongle, and its screen is one of the best we've seen in a laptop. Despite all those features and power under the hood, the Gigabyte Aero 17 offers much better value than many of the other devices on our list, considering the raw performance it offers. The only complaint we have is that its battery life isn't the best, so make sure you don't stray too far from a power outlet.
If you can look past the battery life though, you're getting an absolute beast of a workstation, equipped with the latest components and a glorious 4K OLED display, all features that will help tasks like video editing and 3D rendering, at a relatively affordable budget when compared to the competition.
They say if it ain't broke, don't fix it, and as far as looks are concerned that definitely seems to be the approach Apple has taken with the MacBook Pro 13-inch (M2, 2022). At a glance, you'd have a very hard time telling it from the previous 2020, which feels just a little galling considering that other Macs and MacBooks have had a serious visual overhaul. But hey, it's what's inside that counts.
So overlook the boring old case, the increasingly redundant Touch Bar and that measly pair of Thunderbolt ports, and consider instead what actually matters about this laptop: that shiny new M2 chip. It features 8-core CPU with four efficiency and four performance cores, plus a 10-core GPU. That's two more cores than the GPU in the M1 powering the previous MacBook Pro 13-inch, and crucially it's more than the M2 chip in the base model of the new and frankly better-looking MacBook Air.
Its base configuration is pretty decent, although with only 256GB SSD storage in the base model you're likely to want to upgrade that from the get-go, and both performance and battery life are a marked improvement over the previous model; we found it great at multi-tasking, and we could even edit 4K video with various sources playing simultaneously, and we hardly ever heard the fans spin up.
In short, as our MacBook Pro 13-inch (M2, 2022) review attests, this is one powerful laptop that more than does the job. That said, though, if you can overlook its slightly reduced performance, the new MacBook Air (M2, 2022) is better-looking with a marginally bigger screen, no Touch Bar and a lower price tag. Tough choice.
MSI is another brand known to dabble in both gaming laptops and mobile workstations, and as a result, the MSI Creator 17 is a creative workstation that's ideal for a range of different professions thanks to MSI's extensive history of building gaming laptops and computers that are capable of running even the most demanding of AAA games.
As a digital creative, you're not just looking for a powerful laptop that can chew through tasks with ease - you also want something with a brilliant display that can show off your work in style. That's why the MSI Creator 17 is equipped with a mini LED display that offers vibrant and accurate colours and 1000 nits of brightness.
It's also supremely powerful, with 10th-generation Intel Core processors and Nvidia RTX graphics cards. This makes it an incredibly powerful laptop for video editing and 3D modelling.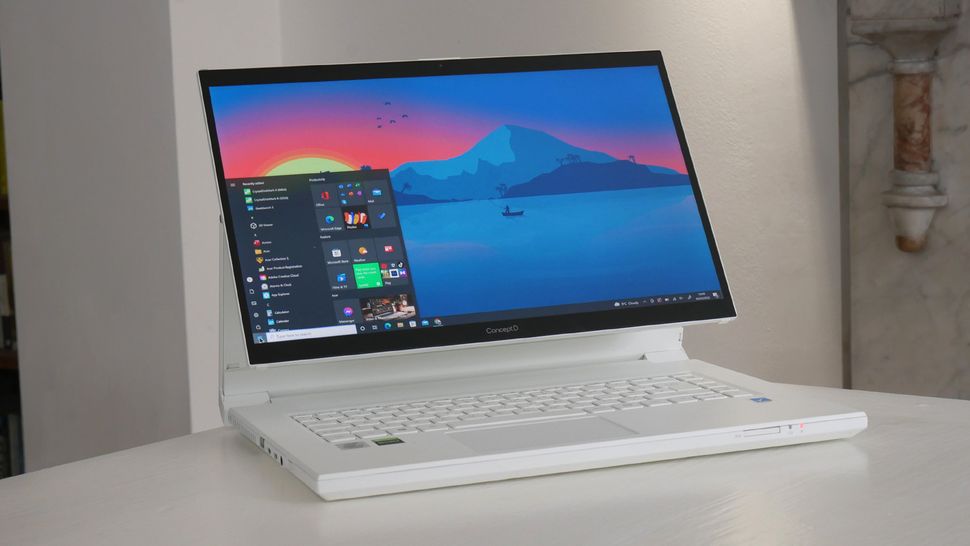 (opens in new tab)
The Acer ConceptD 7 Ezel Pro is a great choice for any creative looking for a powerful Windows device that was designed from the ground up to eat through any task you can throw at it, from rendering to 4K video editing.
It's got some seriously powerful hardware packaged up in a stylish design, configurable with a choice of powerful Intel processors, Nvidia graphics cards and bags of RAM, which means it's great for 3D animation and video editing.
Not only can it run just about every application you throw at it, but it looks incredibly stylish to boot, with a fancy all-white chassis that stands out against the sea of grey and black options currently dominating the market. It's pretty safe to say that Acer is giving Apple a run for its money with this design.
Perhaps its biggest selling point, however, is its stunning Pantone-validated 4K IPS display. It's one of the nicest screens we've seen on a laptop, and it makes it a brilliant choice for people who want accurate colours and top-notch image quality alongside powerful components. See our full Acer ConceptD 7 Ezel Pro review.
The Dell XPS 15 is another favourite from the current generation of Dell XPS laptops. It's still one of the best and most powerful laptops around, not just for those in the creative industry, but also for people looking to have the best of everything with very little compromise.
It's equipped with the latest 11th generation of Intel processors, a powerful Nvidia RTX graphics card and plenty of RAM configurations to cater the device to your needs. You can get an OLED InfinityEdge display for crisp blacks and vivid colour, 11th-generation Intel processors and the latest Nvidia RTX 3050 or 3050 Ti graphics cards, though Intel UHD is also an option for anyone looking to save some cash.
There are a few issues specific to users' needs though, as you're losing the standard USB-A port from the previous generation of the laptop, which might make hooking up any peripherals like a graphics drawing tablet tricky for digital illustrators and sculptors, and many creative types like a larger display to work on. For those needs, you might have to get an external dock (opens in new tab). If you do want something larger, the Dell XPS 17 higher up this page is a great alternative.
The most powerful laptops: frequent questions
Which laptops are the fastest?
Usually, when looking at performance, we're talking about the speed of a laptop's processor, or CPU, which means that if you're looking for one of the most powerful laptops, you'll be looking for a device with one of the latest Intel or AMD processors – or Apple's M1 range if you use a Mac.
But the CPU isn't everything. Performance is also determined by a computer's random access memory, or RAM, which is the short-term memory used to handle active tasks and apps. You'll want at least 16GB, but note that some portable workstations let you expand on the base memory, allowing you to cram more in if you need to run memory-hungry tasks. Meanwhile, a new generation of RAM, DDR5 is set to replace the current standard, DDR4, and laptop makers are scrambling to put this super-fast RAM into their devices, although it's likely to remain very expensive for now.
If you work in anything visual, you'll also want a good graphics card, or at least impressive integrated graphics. The best graphics cards now offer features like raytracing for impressive light effects and graphics upscaling.
What is the most powerful laptop in the world?
This isn't as easy to answer as you might think, despite benchmarks being published for almost every laptop and 2-in-1 device on the market to compare hardware. It all boils down to what you need the laptop for, and how well it's optimized for that task.
The Dell XPS range leads the way for Windows-based mobile workstations, while the latest generation of MacBook Pro are beloved by fans of macOS, equipped that that powerful Apple silicon M1.
If you need something for gaming then consider laptops equipped with the latest Ryzen 9 5900X processor and an RTX 3080 graphics cards, such as the Asus ROG Zephyrus G15.
A powerful laptop is nothing without also having a decent amount of RAM too, with gaming laptops sometimes offering 32GB (you only really need 16GB to enjoy even the most demanding games) and workstations from Apple and Dell configurable up to a whopping 64GB.
What should I look for when buying a powerful laptop?
A powerful laptop comes in many shapes and sizes depending on what would best suit your needs. Right off the bat, you should look at naming conventions. Workstations are available as both desktop and mobile devices and are typically optimised for technical, demanding applications. If something is advertised as a workstation then it's usually been creative for people who need the full power of a desktop PC condensed into a portable machine.
Similarly, gaming laptops and 2-in-1 devices also have their merits, with gaming portables packing fast processors, an abundance of RAM (compared to traditional laptops) and of course, a beefy graphics card, all of which make them well suited for tasks like 3D rendering and video editing.
2-in-1 devices are usually less powerful, but things have come a long way, and the ability to edit high-resolution images using a stylus directly on a convertible laptop shouldn't be sniffed at. To pick the right device, you should consider what you need it for: are you always in the field, therefore need a lightweight device, combined with great battery life? Or are you happy to drag around a bigger, heavier laptop if you get a 17-inch display and some seriously beefy graphics?
Picking anything on our list is likely going to serve your needs well, but only you know what area you should be paying attention to when buying a new laptop. Photographers and video editors will want to prioritize the display, as well as ports (nobody wants to keep a dongle safe) and a new, capable processor.
3D artists and game designers however might need to make sure the graphics card is capable of running demanding rendering software, and have enough RAM to cope with multiple applications at once.
Read more: