Finding the best computer for graphic design can be difficult, as the choice has perhaps never been greater, and sifting through which ones are worth the money has never been more complex. Here, we've picked out all the desktop computers that will give graphic designers the greatest bang for their buck right now. Of course, your demands will vary greatly on whether you're a high-level 3D motion-graphics designer, a student learning the ropes or a hobbyist who likes to dabble in graphic design without having to spend too much on your hardware.
Computers made for graphic design tend to be expensive. While different graphic design software will have different processing needs, as a minimum we'd say you need 12GB of RAM, as well as a good enough graphics card to keep up with the visual demands of your design work. This will vary from user to user – someone making simple projects in Adobe Illustrator will have different needs than somebody working with complex 3D modelling software.
Many people also have a strong preference as to the platform they use. Some users swear by Macs, while others much prefer using a PC for graphic design. Each type of computer has pros and cons, and we'll help find the best of both worlds.
That's why we've included a broad range of options in this guide. If you're not too well-versed in computer specs, scroll to the bottom of this page where we've put together a short FAQ.
The products on the list have been picked by our experienced team of reviewers, who personally test and review all the latest computers and laptops. Their findings and opinions inform our comments in this guide – check out our page on how we test computers for more detail.
As mentioned, we're covering desktop computers here, so if you don't buy an all-in-one computer like an iMac, you'll also need one of the best monitors to see what you're doing. If you would prefer a laptop then don't fret – we've also got a dedicated guide to the best laptops for graphic design. Plus, don't forget that you'll also need the best graphic design software.
The best computer for graphic design available now
Why you can trust Creative Bloq Our expert reviewers spend hours testing and comparing products and services so you can choose the best for you. Find out more about how we test.
Graphic designers and iMacs go together like peanut butter and chocolate, so you probably won't be surprised to see an iMac at the top of this list. However, it may surprise you to see that this iMac is not the newest one there is – in fact, it's a couple of years old, with a newer model having been released in 2021. So what gives?
The reason is that the 2020 version sports a discrete graphics card, as opposed to an integrated one on the 2021 release, meaning the AMD Radeon Pro 5000 graphics card is separate from the CPU. This means that the 2020 iMac's graphics run off separate memory and power to its central processors, which means it is capable of superior graphical performance. In turn, this makes the 2020 iMac the superior choice for graphic designers who need as much graphical power as they can get, making the most of the gorgeous 5K display that is built in.
It's not got the super-powered M1 chip, and runs hotter and louder than the 2021 iMac (which you'll be meeting shortly). But as we said in our full review, it's still one of the smartest buys creatives can make, with powerful functionality, easy setup and that aforementioned excellent display.
See our in-depth iMac 2020 review for more details.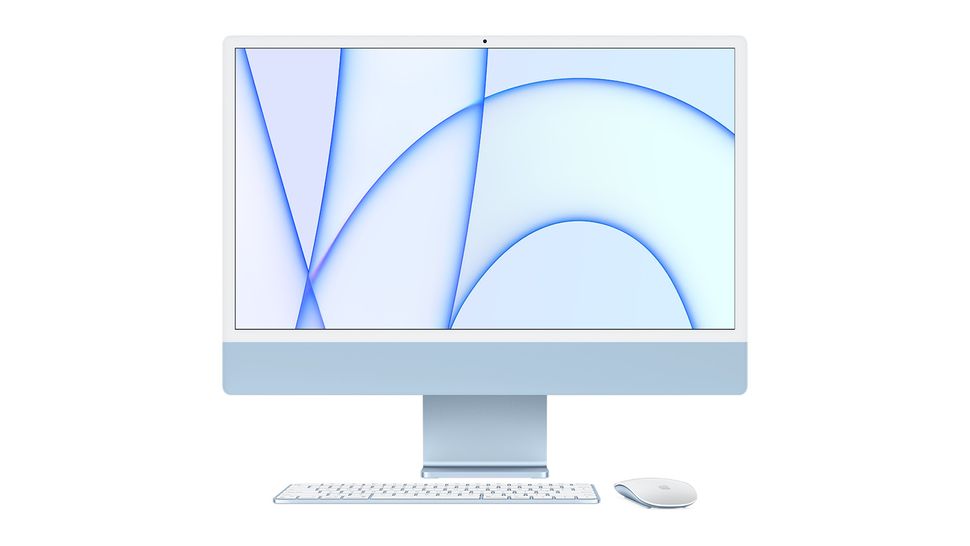 Well, we've hyped it up plenty already, so let's take a closer look at the 2021 24-inch iMac. While it doesn't have the discrete graphics card of the 2020 iMac, and sports a slightly lower-res display, its M1 processing chips deliver absolutely blistering performance. Plus the overall design is sleeker and more sophisticated – a welcome update to the ageing looks of the previous iMac.
It's also worth noting that the 2021 iMac has a neural processor, meaning it can take full advantage of apps that use machine learning, like the best AI photo editing software. As we noted in our full review, it also offers a generous amount of built-in storage, something you can chew through surprisingly quickly if you're working with high-resolution image files.
The 24-inch 2021 iMac is one of the best graphic design computers ever made, though of course, all this computing power does come at a cost. Check out our full hands-on M1 iMac (2021) review where we examine this exceptional computer in more detail.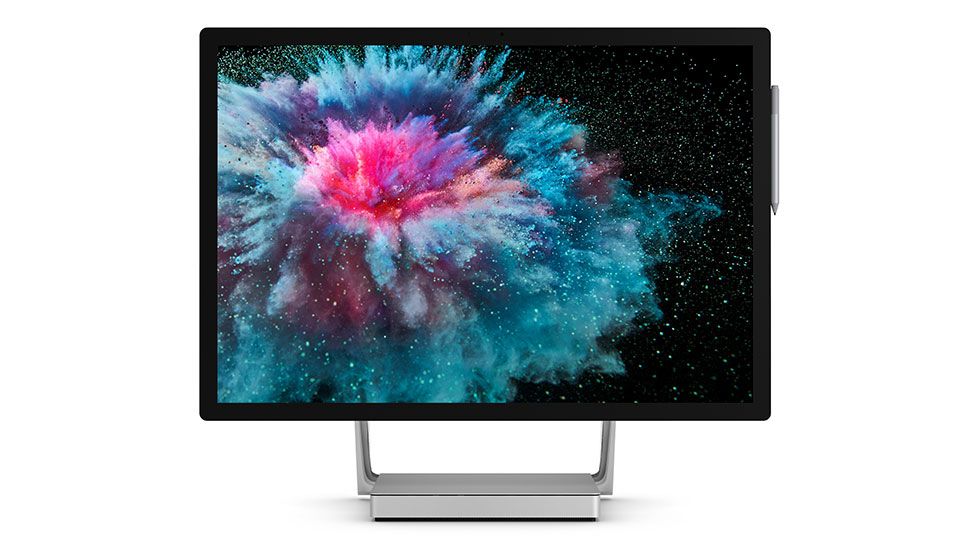 We know that not everyone wants to use Apple products, so a list like this can't just be Apple-based. Fortunately, there are some great options out there for graphic designers who are using Windows, chief among which is the Surface Studio 2. This exceptional computer boasts a few unique features of its own, not least of which is the fact that its high-resolution touch-sensitive display allows it to seamlessly convert to a giant graphics tablet. Like doing your graphic design with a stylus? This is a great choice.
Other features on the Surface Studio 2 have clearly been implemented with graphic designers and other creative professionals in mind. Being able to switch seamlessly between colour profiles – so, from sRGB to vivid and DCI-P3 modes – is super-cool. Plus, as we pointed out in our review, you can configure the Surface Studio 2 with up to 2TB of SSD storage and 32GB of RAM.
It's not going to be as fast as the 2021 iMac, with a quad-core Intel processor that lacks behind the iMacs. But this Windows computer for graphic designers has a lot going for it – see our full Microsoft Surface Studio 2 review to find out more.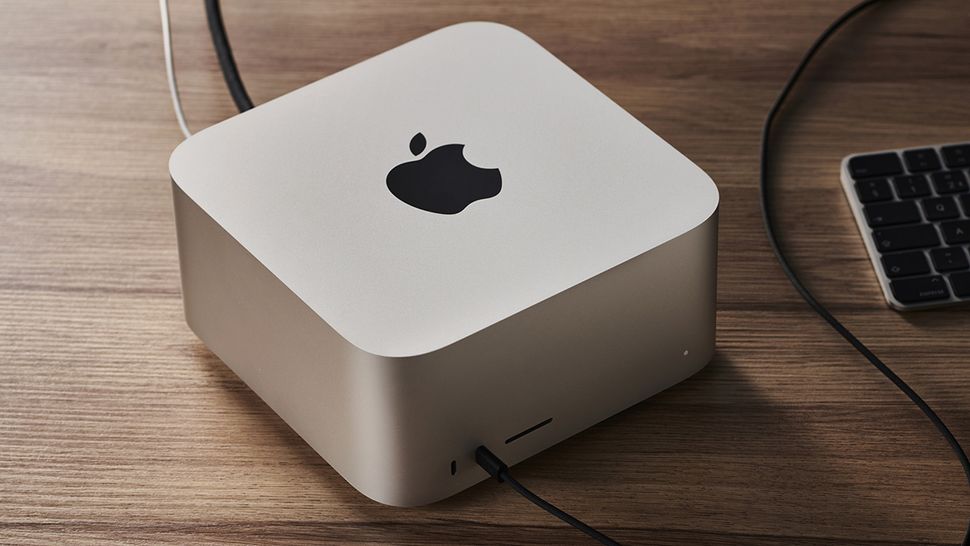 Apple's computers are hugely popular among creative professionals who need all the computing power they can get, and the Mac Studio is the latest model aimed at exactly this crowd. Powered by either an Apple M1 Max chip or a cutting-edge M1 Ultra chip (essentially two M1 Mac chips welded together), depending on user preference, the Mac Studio can be configured to be one of the most powerful computers Apple has ever created.
When we reviewed the freshly released Mac Studio, we were immediately impressed by how little space it took up, thanks to its compact chassis – it essentially looks like a stacked Mac Mini (see below). We were also extremely pleased to discover how energy-efficient it proved to be. Despite the M1 Ultra offering faster GPU performance than the most well-specced PC GPU, it uses 200W less in power terms. This is mostly down to the efficient architecture of the M1 chips, and in a time of spiralling energy bills, it'll likely go very much appreciated.
If you're performing intensive graphic design tasks like editing huge files in Photoshop, Mac Studio will perform admirably. If you're doing a little less than all that, this is probably more power than you need. The M1 Max version of the Mac Studio costs $1,999, while the M1 Ultra version may offer double the power, but that also bumps it up to double the price, at $3,999. You probably don't need us to tell you that if you don't need to spend this much on a computer, you shouldn't. Still, if you do need the most powerful computer for graphic design right now, here it is.
Our Mac Studio review runs through all this in more detail.
If you're fussy about using your own display and peripherals, but you like the Apple ecosystem then the Mac mini has been updated to feature the same M1 chip that features in the 24-inch iMac, making performance between the two almost identical, even though the Mac mini is quite a bit cheaper.
This pint-sized secret weapon runs macOS, just like Apple's other computers, which means any graphic design app you can use on the iMac, you can use on the Mac mini, and its size means you can throw it into a bag for portability just like a laptop.
Sure, you need to buy a monitor for it (or use one you already own), so it's not quite as neat and tidy on a desk as an all-in-one, but that gives you some freedom to buy a graphic-design optimised display to maximise the visual potential of your projects. The base model features the Apple M1 chip with 8-core CPU and 16-core Neural Engine with 256GB SSD, and there are four expansion ports at the back for either USB or Thunderbolt external storage, plus HDMI 2.0 to simultaneously support two displays.
You can read our full hands-on M1 Mac mini review for more information.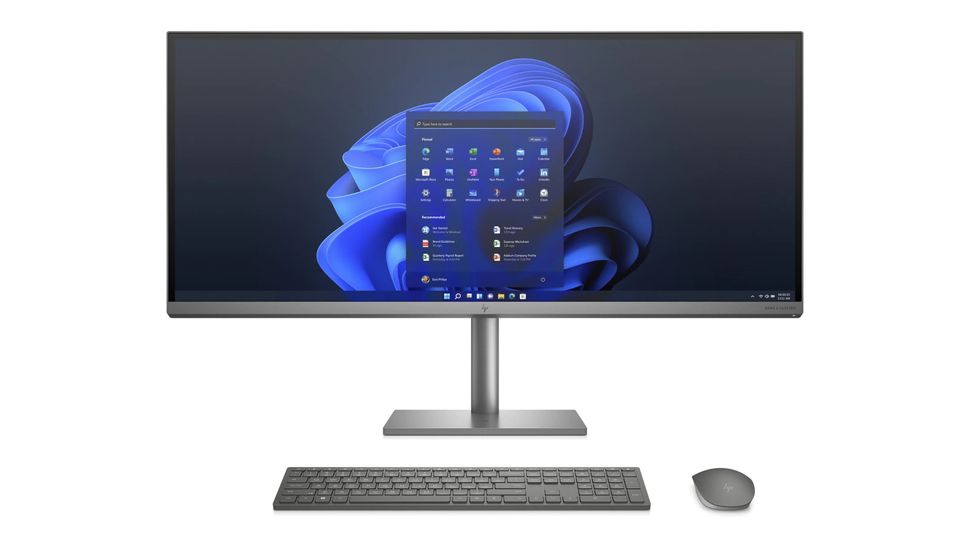 Plenty of PCs have come out swinging against the iMac, but the HP ENVY 34 All-in-One might be one of the best such challengers we've seen in a while. Boasting an incredibly wide 24-inch 5K display, it's ideal for losing yourself in your graphic design tasks, and has enough graphical and computing power to handle pretty much anything with ease. Also, it's highly configurable, and if you're willing to bump the price up a little, you can get it with a little more storage or processing power, or indeed a lot more.
The simplistic design of the ENVY 34 All-in-One means it blends in well in pretty much any home or office environment. It also can come with plenty of useful extras, some of which are a little unexpected – if you want, you can get a monitor stand that also doubles up as a smartphone charger! It's unclear how useful this is, given that you'll presumably have the computer set up at home or an office, where you'll have access to plentiful chargers. But hey, it's there if you want it.
The ENVY 34 All-in-One is graphically well equipped, boasting even in its simplest configuration an Nvidia GeForce GTX 1650 GPU. This should be more than capable of handling graphic design tasks, cementing this all-in-one computer's status as a truly credible iMac alternative.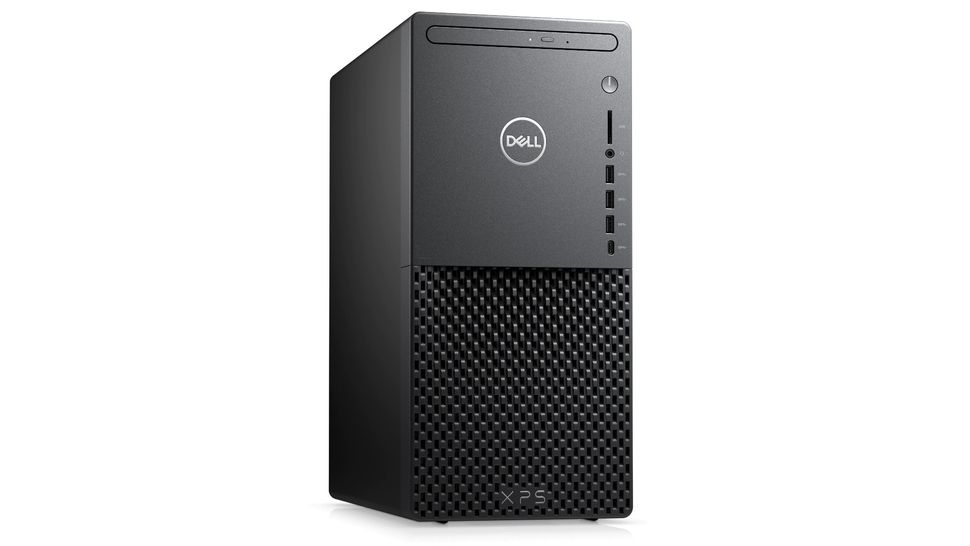 The Dell XPS line of desktop PCs is one of the few remaining desktop towers still being made for a non-gaming market, but thankfully it also happens to be one of the best. Opting for a Windows-based PC is likely to grant you more freedom to customise your components, on top of usually being a far cheaper option to buying an iMac or Mac Pro when you compare performance to affordability.
Even the lowest-spec model still packs a dedicated Nvidia GeForce GTX 1650 so those without a tonne of cash to splash on something like an iMac can get a powerful and capable machine for significantly less. Better yet, if you do have some cash to burn then you can opt for the 11th generation Intel i9 processor and an RTX 3070 graphics card.
Outside of being budget-friendly and flexible to your needs, other benefits include having a good selection of ports across the front of the tower (which means you won't have to fuss around with the rear of the machine), a built-in SD card slot and the fact that Dell offers plenty of corporate discounts, so you might be able to save even more cash through your employer.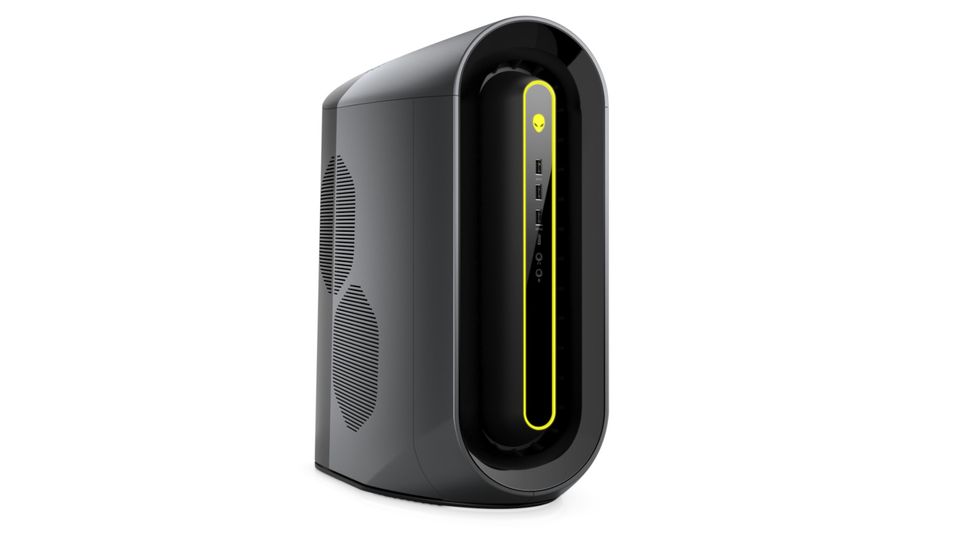 Gaming computers are far more abundant than family desktop towers these days, but because of the powerful components inside they also tend to be excellent graphic design PCs. This Alienware example is one of the best, with a flashy design and plenty of RGB lighting.
The Alienware Aurora Ryzen Edition R10 comes with AMD's latest and greatest processors, and it also features Nvidia's latest RTX 3000 series graphics cards as well. This makes it an incredible performer when it comes to graphic design. Best of all, it comes in a range of configurations, so you can easily pick a model that best suits your needs and budget. This is also a great option for anyone who wanted an AMD-powered desktop over an Intel device, which is becoming more popular in recent years thanks to AMD's phoenix-like rise from the ashes.
Alienware products usually tend to be quite expensive, but the Alienware Aurora Ryzen Edition R10 is very reasonably priced, and it has a brilliant build quality and design. This computer for graphic design is well worth the investment if you need a lot of power.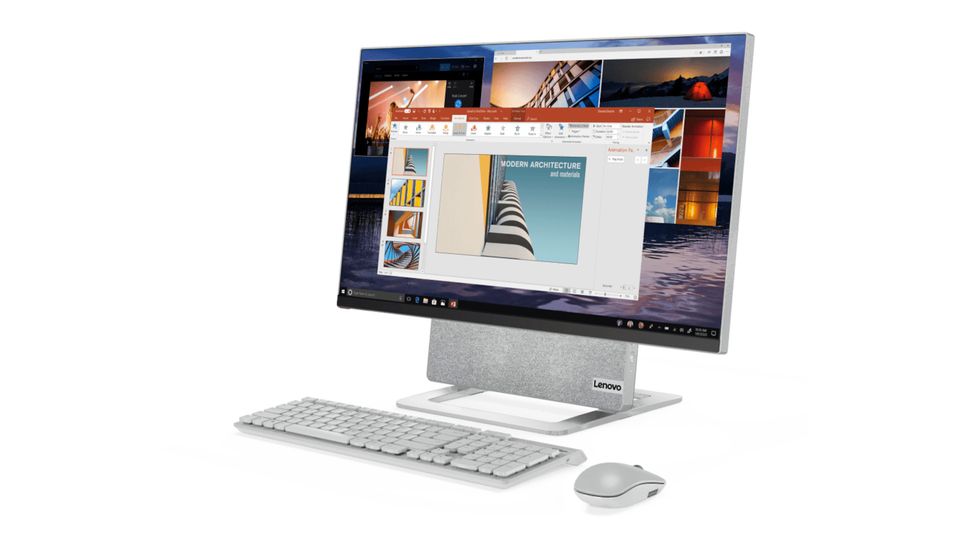 If you love the all-in-one look but you don't want to pay Apple prices then the 27-inch Yoga AIO is an AMD-powered Windows PC that's received great reviews and offers an attractive option for creative professionals and hobbyists who want a product optimised for graphic design.
The 4K display comes with an optional 99% Adobe RGB colour gamut and DCI-P3 99% colour space which is useful for anyone who needs colour accuracy optimisation, the screen can be fully rotated to portrait mode with just a push of a finger if you need a different angle.
With the recent popularity of vertical platforms like TikTok and Instagram Reels, many artists and graphic designers are exploring new formats to push their work, so that rotating display could come in handy for things other than finding a more comfortable working angle.
You're also getting up to 1TB of SSD storage and the option for a 2TB HDD. Hard drives might be outdated on gaming devices, but their affordable capacity gives you plenty of space to save projects. For especially demanding applications, the 27-inch Yoga AIO's 32GB of RAM will make running just about any application in the Adobe Creative Suite a breeze.
Dell already made some fantastic desktop solutions across the gaming and professional markets, so it's no surprise that this Dell Inspiron 27 7000 AIO packs some Impressive features that should appeal to creatives. For a start, you're getting a stunning 'Infinity Edge' 4K display that makes the 27-inch iMac's screen, with its thick surrounding bezels, feel positively dated. The tilting stand is also particularly useful for adjusting your viewing angles and really helps to enforce the high build quality of this device.
Specs-wise, you've got plenty of options, as with other Dell machines, which means you can get a configuration that offers you exactly what you need. With 8-core AMD processors and beefy GPUs, this is a brilliant affordable iMac alternative that doesn't compromise on quality.
And of course, being a Dell product you can potentially save some cash by using an employer or educational discount, alongside having the reassurance that, having been made by Dell, this is a reliable, high-quality machine.
If you prefer working with Chromebooks and are looking for a desktop option for you, then we recommend the HP Chromebase All-In-One. Of course, due to being a Chrome OS-centred device, you won't have access to the same programs as a Windows or Apple desktop, but the Play Store can still deliver for graphic designers who are happy to work solely in the cloud.
The Chromebase is a great option for a family computer or a work computer for someone working mostly in the cloud, who will enjoy the HP Chromebase All-In-One's Desktop hi-res rotatable screen, its family-friendly safety options and the ability to instantly access any profile already existing within Google.
It would also be an ideal entertainment station for a student, able to stream music and video easily without the screen size and viewing angle restrictions of a laptop or the space required for a desktop PC.
Others looking for a more serious AIO might look at the HP Pavilion All-in-One or the Microsoft Surface Studio 2.
Read our full HP Chromebase All-In-One review (opens in new tab) for more information.
What makes a computer good for graphic design?
Desktop computers may have fallen out of favour with general home and office users over recent years, but they still play an important role in industries and markets that require a lot of power. While there are some great laptops for graphic design out there that can help with your graphic design work, they generally can't offer the same level of performance as desktop computers due to them needing to be thin, light and portable.
Desktop PCs don't have to worry about that, and you can usually configure them more easily to accommodate your needs. They can also be more affordable than a laptop with comparable specifications, but because the best computers for graphic design need powerful components like cutting-edge processors graphics cards, don't expect any of these PCs to be particularly cheap.
A desktop with a processor (CPU) that has four, six or more cores will run apps like Photoshop or Illustrator with ease, while at least 8GB of memory, 256GB of SSD storage and fast memory will help you work on multi-layered, high-resolution documents, without your system slowing you down.
A dedicated graphics card is also advantageous, but most graphic design applications won't be as demanding on your system as tasks like 3D rendering. Opting for a gaming PC that's packing a beefy Nvidia RTX 3080 GPU will certainly help (and enable you to use ray tracing-boosted features), but integrated graphics will do at a push.
Many of our models here have displays built-in – these are called all-in-one computers, often abbreviated to AIO's – the iMac is a great example, with everything is inside one box. Increasingly PCs have also moved to this form factor, but one drawback is that these are not as upgradeable as a standard, tower desktop PC, so that's still the best option for flexibility and overall performance.
Is Mac or PC better for graphic design?
The battle between Apple and PC fans has been raging for decades, but as far as which brand is 'best' at graphic design, each has their respective strengths. There are very capable Mac and PC solutions for a range of demanding requirements across the market, but what brand you align yourself with will ultimately boil down to a few personal preferences.
Microsoft PCs are typically much cheaper than Apple alternatives, and desktop towers are usually easy to upgrade which can greatly prolong the lifespan of your machine. For an especially beefy build, you can even opt for a gaming PC as they usually pack a powerful graphics card, more memory (RAM) and a capable processor from either Intel or AMD.
Apple devices on the other hand, while more expensive in some regions, are known for being high-quality and having a simple, easy-to-use operating system. Historically, many graphic designers have used iMac and Mac products because of the Apple ecosystem and simply because it was considered the industry standard for several years.
These days, there's no clear winner (despite our choices on this top ten list) because both operating systems are well optimised to support your hardware and software needs. It's easy to find a product to suit your needs across either OS so we recommend that if you have plenty of experience using either PC or Mac, stick to what you know unless you're looking to diversify your skills across both brands.
Related articles: