Anyone looking for the best computer for graphic design might feel overwhelmed by all the options available on the market, especially if you're not very tech-savvy. Thankfully, it's easy to lay out what makes a device well suited for digital illustration and design work, so we've compiled a list of our favourites.
Desktop computers are more powerful, but they can also be expensive, so make sure you check out the Black Friday and Cyber Monday sales to try and save some extra cash. There's no guarantee that the products we mentioned will be reduced, but your patience could be rewarded, and any money saved can be put towards other equipment to aid your graphic design, such as a graphics drawing tablet or a powerful 4K monitor.
So what should you look for when buying a computer for graphic design in 2021? Many of the best computers for graphic design also come in all shapes and sizes, from traditional 'tower' desktop PCs, which are usually more affordable, to all-in-one PCs like the iMac.
These place all the parts behind the screen, which offer you more space on your desk, though they can be more expensive and harder to upgrade. A great benefit however is that these AIO devices will save you from needing to buy a separate monitor, and many of our selections feature a high-resolution built-in display.
There are even some great compact PCs like the Mac mini, which offer plenty of power for graphic design tasks, despite their small size. If you need a fully portable option though, consider checking out our rundown of the best laptops for graphic design.
Raw graphical power is surprisingly less important than you'd think, but only in comparison to other jobs like video editing and 3D rendering. A dedicated GPU is preferable if you're working on larger, complex projects, especially if you have a 4K display, but many integrated graphics have improved substantially over the last few years, as seen in the M1 Apple silicon.
A recently released multi-core processor (such as a 10th-12th generation Intel or Ryzen 5000 series) is a must, and remember that the higher the numbers, the more powerful the CPU – for example, an Intel i9 will be far more capable than an Intel i5.
Memory, also known as RAM is also important for running multiple programs at once or singular demanding applications. Aim for at least 16GB, but the more, the merrier. You'll also need plenty of storage to keep hold of your projects, so every device on this list comes with either a large hard drive some speedy SSDs.
The best computers for graphic design available now
Apple may have recently released a new generation of all-in-one computers with the new 24-inch iMac (below), but we still think the slightly older 27-inch model is a better PC for graphic design thanks to its larger screen and discrete graphics card.
Despite being the older product, Apple's largest iMac packs powerful 10th generation Intel Core processors, with an option to go with a hugely powerful 10-core CPU from Intel, making this an incredibly accomplished PC for graphic design. In short, just because it doesn't have that delight M1 silicon, doesn't mean this isn't a very capable machine.
The 2020 iMac comes with AMD Radeon Pro 5000 graphics card, which is perfect for powering demanding applications on that beautiful 5K retina display.
iMacs are incredibly popular PCs with graphic designers, and the macOS operating system offers you all the apps and tools you'll need. It's also got a gorgeous slimline all-in-one design that means it looks great on any desk, and doesn't require you to purchase a dedicated monitor and trailing cables all over the place.
See our in-depth iMac 2020 review for more details.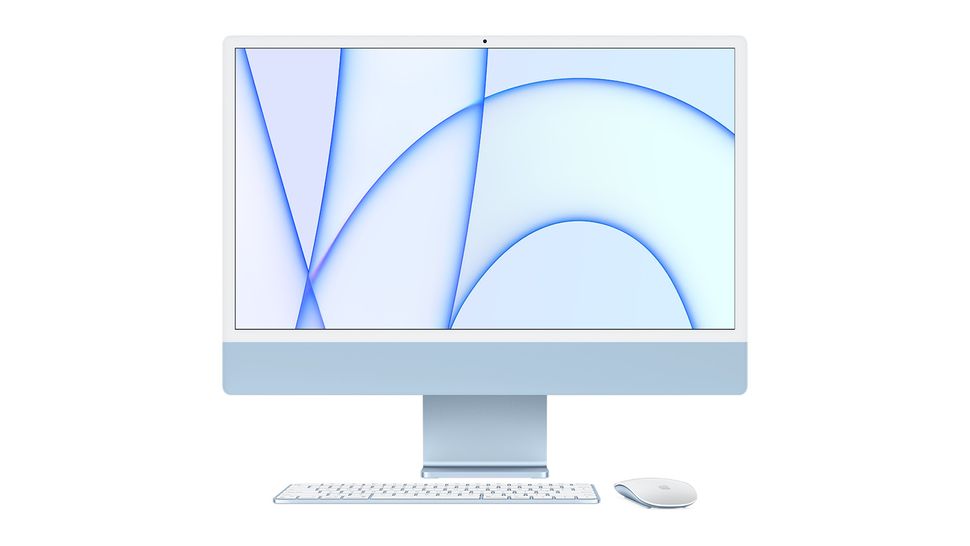 The 2021 24-inch iMac is a beautiful refresh for the series, and those colours harken back to Apple's classic G3 all-in-one PCs, but there's nothing retro about what's inside. It utilizes the latest integrated graphics, featuring Apple's own Silicon M1 SoC (system-on-a-chip), an updated webcam, and of course, that beautiful, colourful redesign.
It lacks a dedicated GPU, so It may not have the raw power of its older 27-inch family member above, but It's a brilliant bit of hardware and runs pretty much any graphic design apps with ease, so it'll run Adobe Photoshop with very little fuss, and the 4.5K retina display is well suited to digital illustration and graphic design applications
If you're going to be doing more intensive work like 3D sculpting or animation then you may want a PC with a dedicated graphics card. This means while the 24-inch iMac is a very good PC for graphic design, we still think the 27-inch iMac beats it for its ability to really sink its teeth into tasks.
Check out our full hands-on review for the M1 iMac (2021) here.
The Microsoft Surface Studio 2 is a fantastic all-in-one alternative to rival products like the Apple iMac, ideal for anyone who dislikes using the Apple ecosystem. Better yet, it's even got a few great features that the iMac crowd doesn't have in their devices.
For a start, its high-resolution 28-inch display (4,500 x 3,000) is touch-sensitive, which means it can be used as a giant graphics tablet (with support for the Microsoft Surface Pen) when you lay it down flat using the hinge at the back, which will save you some cash on buying a dedicated drawing tablet if you're on a tight budget and need the best of both worlds.
There are a few caveats that mean Apple has won our hearts though, as the Surface Studio 2 is still using an older quad-core processor from Intel, and despite more capable discreet GPUs being available, it's still rocking with either a Nvidia GeForce GTX 1060 or 1070.
However, they should still offer plenty of power for your graphical design work, and you can configure the Surface Studio 2 to come with up to 2TB of SSD storage and 32GB of RAM as well.
You can read our full hands-on review for the Microsoft Surface Studio 2 here.
If you're fussy about using your own display and peripherals, but you like the Apple ecosystem then the Mac mini has been updated to feature the same M1 chip that features in the 24-inch iMac, making performance between the two almost identical, even though the Mac mini is quite a bit cheaper.
This pint-sized secret weapon runs macOS, just like Apple's other computers, which means any graphic design app you can use on the iMac, you can use on the Mac mini, and its size means you can throw it into a bag for portability just like a laptop.
Sure, you need to buy a monitor for it (or use one you already own), so it's not quite as neat and tidy on a desk as an all-in-one, but that gives you some freedom to buy a graphic-design optimized display to further improve your projects.
The base model features the Apple M1 chip with 8-core CPU and 16-core Neural Engine with 256GB SSD, and there are four expansion ports at the back for either USB or Thunderbolt external storage, plus HDMI 2.0 to simultaneously support two displays.
You can read our full hands-on review for the M1 Mac mini here.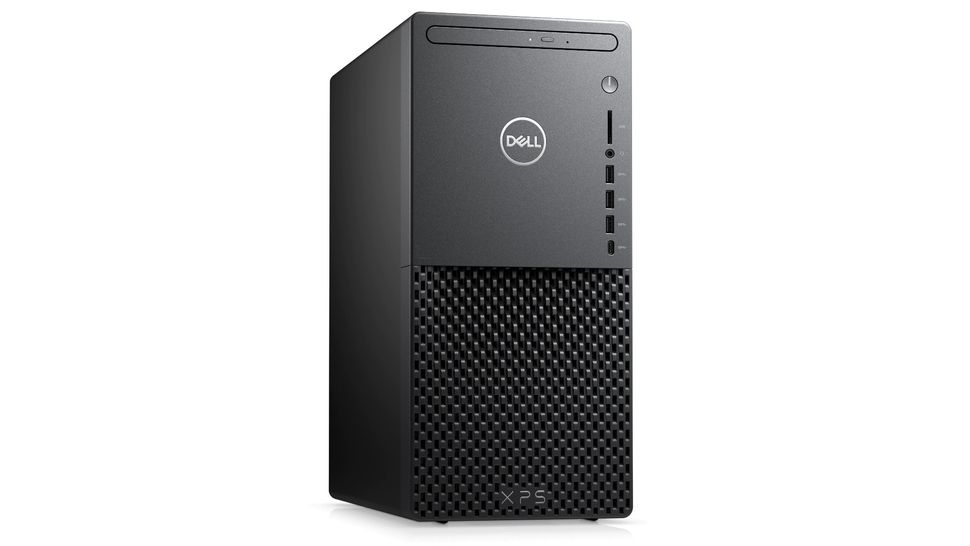 The Dell XPS line of desktop PCs is one of the few remaining desktop towers still being made for a non-gaming market, but thankfully it also happens to be one of the best. Opting for a Windows-based PC is likely to grant you more freedom to customise your components, on top of usually being a far cheaper option to buying an iMac of Mac Pro when you compare performance to affordability.
Even the lowest spec model still packs a dedicated Nvidia GeForce GTX 1650 so those without a tonne of cash to splash on something like an iMac can get a powerful and capable machine for significantly less. Better yet, if you do have some cash to burn then you can opt for the 11th generation Intel i9 processor and an RTX 3070 graphics card.
Outside of being budget-friendly and flexible to your needs, other benefits include having a good selection of ports across the front of the tower (which means you won't have to fuss around with the rear of the machine), a built-in SD card slot and the fact that Dell offers plenty of corporate discounts, so you might be able to save even more cash through your employer.
The Apple Mac Pro is the Big Boy of the current Apple family of desktop computers, with a fantastic amount of customisation options available to optimise the device to your exact needs.
You probably already recognise the iconic 'cheesegrater' design, and along with a truly eye-watering price tag, it's reasonable that this won't be for everyone. However, if you need a computer that can handle extremely taxing workloads and you insist on having a macOS device, then consider the Mac Pro.
There's pretty much nothing in the world of graphic design and other creative demands that the Mac Pro can't handle, and this device offers some rare upgradability for an Apple product. So, in many cases, the Apple Mac Pro is a wise investment that can end up covering its own costs - and more.
And, while it is very powerful and very expensive, there are plenty of configuration options, which let you pick the specs that best suit your needs and budget. It's also got a modular design, which means unlike Apple's other devices, like the iMac, it's easy to upgrade parts of the system later on. This means it can be future-proofed for years to come.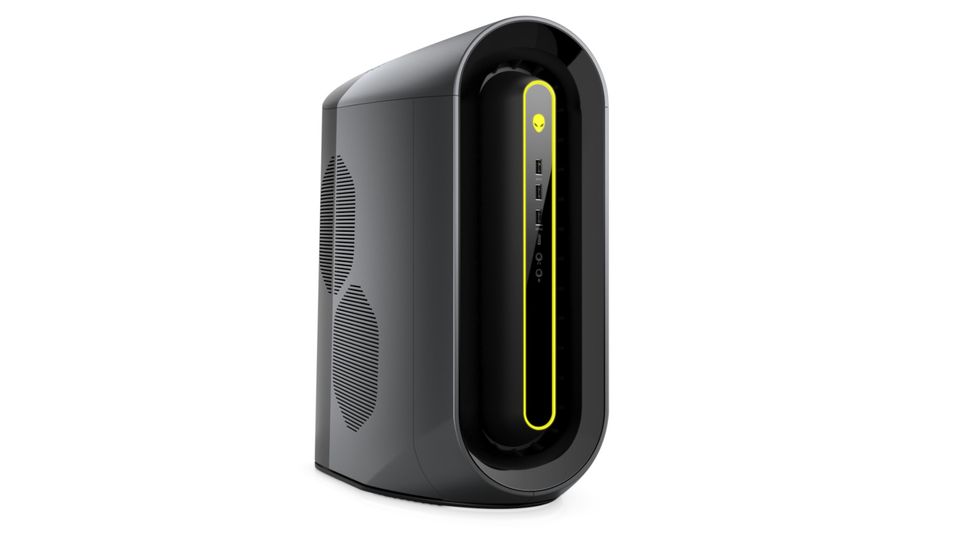 Gaming computers are far more abundant than family desktop towers these days, but because of the powerful components inside they also tend to be excellent graphic design PCs. This Alienware example is one of the best, with a flashy design and plenty of RGB lighting.
The Alienware Aurora Ryzen Edition R10 comes with AMD's latest and greatest processors, and it also features Nvidia's latest RTX 3000 series graphics cards as well. This makes it an incredible performer when it comes to graphic design.
Best of all, it comes in a range of configurations, so you can easily pick a model that best suits your needs and budget. This is also a great option for anyone who wanted an AMD-powered desktop over an Intel device, which is becoming more popular in recent years thanks to AMD's phoenix-like rise from the ashes.
Alienware products usually tend to be quite expensive, but the Alienware Aurora Ryzen Edition R10 is very reasonably priced, and it has a brilliant build quality and design. This computer for graphic design is well worth the investment.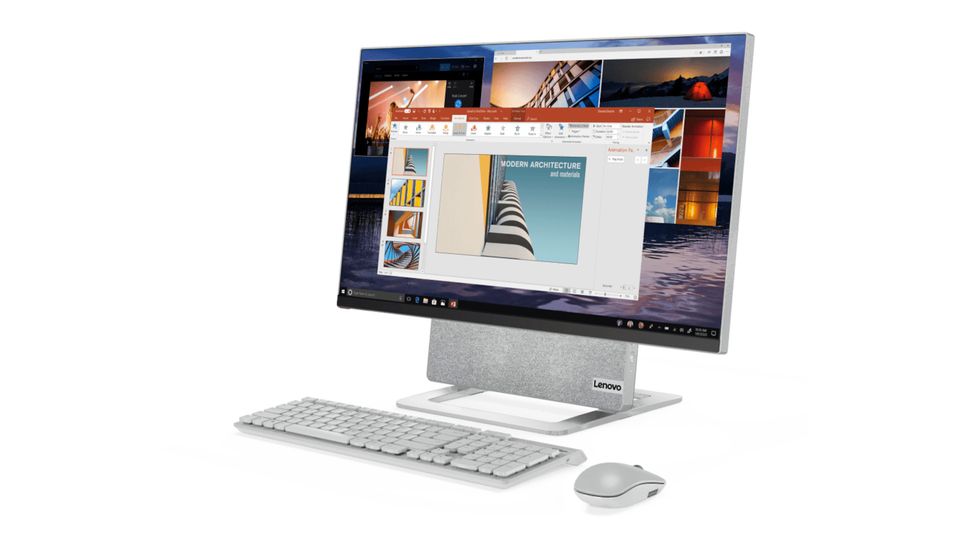 If you love the all-in-one look but you don't want to pay Apple prices then the 27-inch Yoga AIO is an AMD-powered Windows PC that's perfect for creative professionals and hobbyists who want a product optimised for graphic design.
The 4K display comes with an optional 99% Adobe RGB colour gamut and DCI-P3 99% colour space which is useful for anyone who needs colour accuracy optimisation, the screen can be fully rotated to portrait mode with just a push of a finger if you need a different angle.
With the recent popularity of vertical platforms like TikTok and Instagram Reels, many artists and graphic designers are exploring new formats to push their work, so that rotating display could come in handy for things other than finding a more comfortable working angle.
You're also getting up to 1TB of SSD storage and the option for a 2TB HDD. Hard drives might be outdated on gaming devices, but their affordable capacity gives you plenty of space to save projects. For especially demanding applications, the 27-inch Yoga AIO's 32GB of RAM will make running just about any application in the Adobe Creative Suite a breeze.
Dell already made some fantastic desktop solutions across the gaming and professional markets, so it's no surprise that this Dell Inspiron 27 7000 AIO packs some Impressive features that should appeal to creatives.
For a start, you're getting a stunning 'Infinity Edge' 4K display that makes the 27-inch iMac's screen, with its thick surrounding bezels, feel positively dated. The tilting stand is also particularly useful for adjusting your viewing angles and really helps to enforce the high build quality of this device.
Specs-wise, you've got plenty of options, as with other Dell machines, which means you can get a configuration that offers you exactly what you need. With 8-core AMD processors and beefy GPUs, this is a brilliant affordable iMac alternative that doesn't compromise on quality.
And of course, being a Dell product you can potentially save some cash by using an employer or educational discount, alongside having the reassurance that, having been made by Dell, this is a reliable, high-quality machine.
Not everyone can afford a colourful iMac or a powerful Alienware gaming PC, but thankfully there are options like the Dell G5 Gaming Desktop that offer a much better value proposition, eschewing flash design for a straightforward look.
The specifications are perfect for any graphic designer or illustrator. The tower is configurable so you get a choice of graphics cards that not only help you play the latest AAA titles but also for running demanding graphical applications, making it ideal for content creators, art professionals and architects.
Best of all, as far as gaming machines go, the Dell G5 is impressively affordable, which makes it a great choice for graphic designers looking for a powerful PC that won't cost huge amounts of money. The gaming perk is a nice bonus, but ultimately you're getting a very capable graphic design machine that can offer you the best of both worlds.
---
What makes a computer good for graphic design?
Desktop computers may have fallen out of favour with general home and office users over recent years, but they still play an important role in industries and markets that require a lot of power. While there are some great laptops for graphic design out there that can help with your graphic design work, they generally can't offer the same level of performance as desktop computers due to them needing to be thin, light and portable.
Desktop PCs don't have to worry about that, and you can usually configure them more easily to accommodate your needs. They can also be more affordable than a laptop with comparable specifications, but because the best computers for graphic design need powerful components like cutting-edge processors graphics cards, don't expect any of these PCs to be particularly cheap.
A desktop with a processor (CPU) that has four, six or more cores will run apps like Photoshop or Illustrator with ease, while at least 8GB of memory, 256GB of SSD storage and fast memory will help you work on multi-layered, high-resolution documents, without your system slowing you down.
A dedicated graphics card is also advantageous, but most graphic design applications won't be as demanding on your system as tasks like 3D rendering. Opting for a gaming PC that's packing a beefy Nvidia RTX 3080 GPU will certainly help (and enable you to use ray tracing-boosted features), but integrated graphics will do at a push.
Many of our models here have displays built-in – these are called all-in-one computers, often abbreviated to AIO's – the iMac is a great example, with everything is inside one box. Increasingly PCs have also moved to this form factor, but one drawback is that these are not as upgradeable as a standard, tower desktop PC, so that's still the best option for flexibility and overall performance.
Is Mac or PC better for graphic design?
The battle between Apple and PC fans has been raging for decades, but as far as which brand is 'best' at graphic design, each has their respective strengths. There are very capable Mac and PC solutions for a range of demanding requirements across the market, but what brand you align yourself with will ultimately boil down to a few personal preferences.
Microsoft PCs are typically much cheaper than Apple alternatives, and desktop towers are usually easy to upgrade which can greatly prolong the lifespan of your machine. For an especially beefy build, you can even opt for a gaming PC as they usually pack a powerful graphics card, more memory (RAM) and a capable processor from either Intel or AMD.
Apple devices on the other hand, while more expensive in some regions, are known for being high-quality and having a simple, easy-to-use operating system. Historically, many graphic designers have used iMac and Mac products because of the Apple ecosystem and simply because it was considered the industry standard for several years.
These days, there's no clear winner (despite our choices on this top ten list) because both operating systems are well optimised to support your hardware and software needs. It's easy to find a product to suit your needs across either OS so we recommend that if you have plenty of experience using either PC or Mac, stick to what you know unless you're looking to diversify your skills across both brands.
Related articles: