Hoping to create high-quality multimedia content that looks professional with the best graphic design software? Well, you've come to the right place. While the price of some software can be on the pricey side, it's an essential tool for most creatives, especially graphic design.
We have curated a list of the best graphic design software available and will walk you through the differences between each, prices and a little bit more information so you know you're choosing the software best suited to your creative needs.
However, if you're not a professional designer but occasionally have the odd creative job to complete, then we can also help you out. Whether you're creating a design for social media, or need software for a side project, we can help you choose some of the best free graphic design software.
Meanwhile, to get some inspiration for your graphic design projects, see our list of the best graphic design books available. It's also worth checking out our guides to the best digital art software and the best video editing apps.
The best graphic design software
Paid for vector software
Looking for industry-standard software for vector drawing and editing? Well, Adobe illustration might be perfect for you. Compatible on a number of devices such as PC, Mac and even iPads, Illustrator allows you to create everything from illustrations to logos.
If you haven't already guessed yet, Illustrator is part of the Adobe Creative Cloud, which means to use the software then you will have to subscribe to Adobe. By subscribing to Adobe Illustrator, you get software updates totally for free. Now we know what you're thinking, that sounds a little pricey, but don't worry, there are a few different payment methods that should suit you. Just head over to our guide on how to download Adobe Illustrator to get started.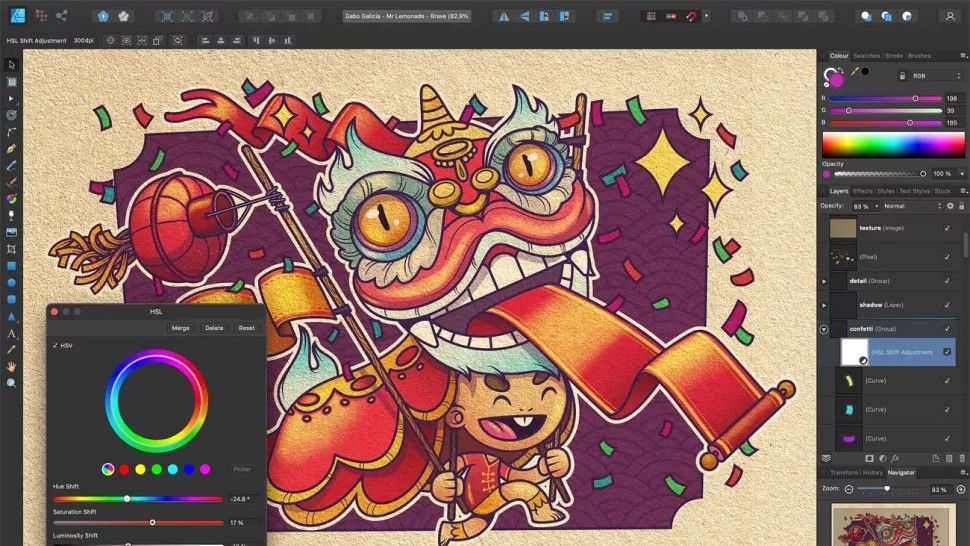 If you've checked out Adobe Illustrator's subscription prices and thought they were a little too steep for you then don't worry, Affinity Designer is a great alternative. This software has been gaining popularity as of late and has most of Illustrators features, as well as some tools that you wouldn't find on Illustrator like the infinite redos (yes, you read that correctly) and one million per cent-plus zoom.
What's more, is that Affinity Designer works with both AI and PSD files, so you don't even have to worry about whether your files will be compatible. And if you have a PC, Mac or an iPad, then Designer will almost certainly run faster than Adobe illustrator.
Want to hear the best bit? You only have to pay one affordable price. That's right, no subscription fees and you even get software updates for free. If we still haven't convinced you, then why not check out our Affinity Designer review to get all the details about the vector software.
If you're solely looking at software for UI design, prototyping and/or making icons, then the best graphic design software for these purposes is Sketch. Well, as long as you have a Mac, because that's the only device it's available for.
Sketch has a minimal interface by default, so it's easy to pick up and run with. But it's feature-rich when you need it to be, thanks to a massive library of plugins. Read our Sketch review for more details.
The software had a big revamp in 2021, with top new features focusing on better collaboration. For example, developers can now view, inspect, and measure your Sketch designs in any browser, on any operating system, all for free.
Free vector software
Adobe Creative Cloud Express (or CC Express) is the newest addition to the Adobe App family. It looks like CC Express is Adobe's attempt to compete with the likes affordable graphic design software like Canva and Picsart. CC Express is arguably just Adobe Spark in disguise after it was given the boot from the Adobe roster back in June, but it definitely has its upsides.
Adobe has taken the basic photo/video editing tools and its Asset library from across its suite of apps, and popped them into Creative Cloud Express so you have a one-stop-shop of all the creative tools you could need for a project. And because you can download it on the App Store, it is the perfect app for on the go professionals.
The app is free to download and comes with a number of basic tools, but you can unlock more tools when signing up for a premium CC express account. For $9.99 / £10.10 a month or an annual subscription of $99.99 / £101.15, you can get the full CC Express package. And if you still aren't convinced that this is the right graphic design app for you, then perhaps our Adobe Creative Cloud Express review may sway you.
From the people behind Corel Draw, Gravit Designer is the best free graphic design software for vectors you'll find today. With a clean and intuitive interface, it can cope with most design jobs, from icon design and prototyping to vector illustration and animation. On the free version, you can export files as PDF, SVG or bitmap, and you access your work wherever you are via the Gravit Cloud.
You can use Gravit Designer online or download a copy to your computer. Note that you automatically start out on a free trial of Gravit Designer Pro when you sign up, and once your trial is over, you transition to the free version, but lose the Pro features – unless you pay for a subscription. See the full comparison between the Pro and free versions here.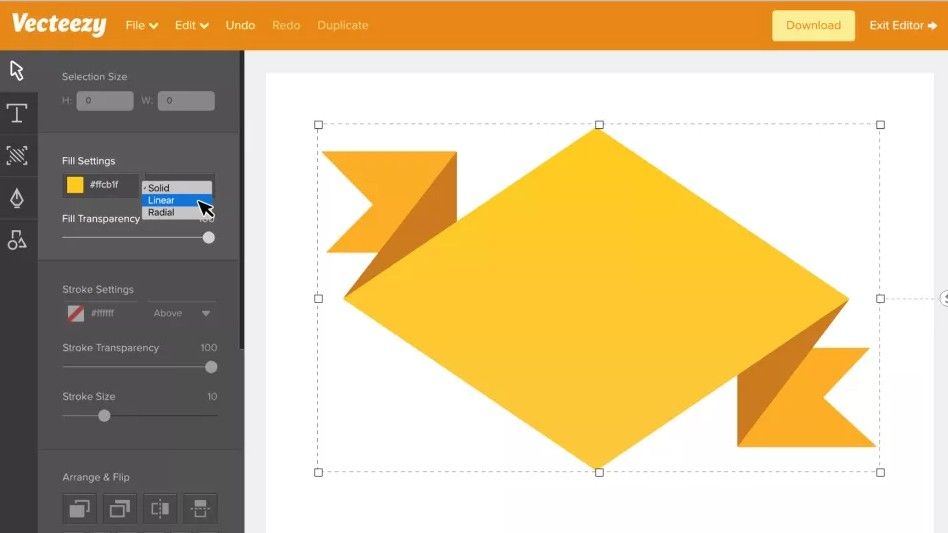 Vecteezy is a free, in-browser vector editor. It allows you to work with ready-made vectors that you can customise to suit your needs, or build your own designs from the ground up. Either way, it's easy to use and has some nice features such as advanced transformations and keyboard shortcuts. Signing up for the Pro version gets you a bunch more tools and resources.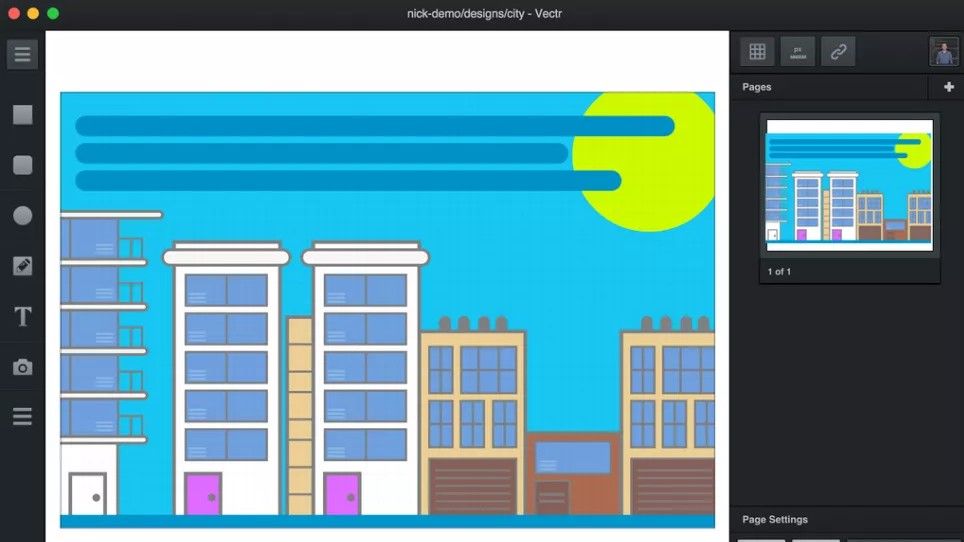 Vectr is the best free graphic design software for working collaboratively. Along with vector tools, filters, shadows and fonts, it includes a great set of live collaboration and synchronisation options. These make it easy to team up with colleagues or clients, to let them see what you're doing, and provide feedback on your work.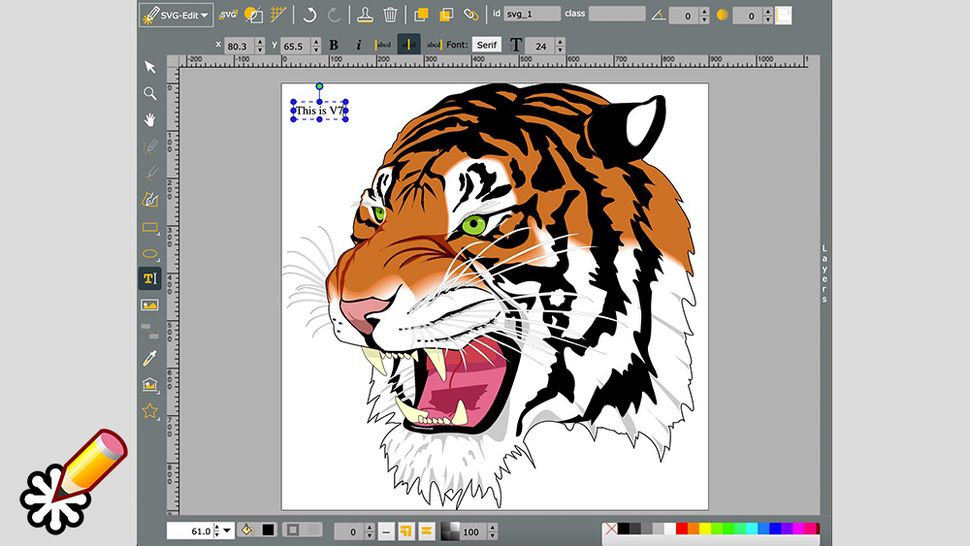 SVG-Edit lets you edit and create SVG files using a standard vector toolset. There's nothing to download, as it works straight in the web browser. It's not the most comprehensive of vector apps, but it doesn't really need to be. For simple vectors, or even slightly more detailed ones, it'll do the job just fine.
Inkscape is a SVG editor that boasts advanced features such as markers, cloned objects and alpha blending. Its interface is simpler than Illustrator's, but it's still capable of producing quite sophisticated artwork.
There's support for various colour modes, so you can output just what you need, whether you're designing for digital or print. It'll import Illustrator files too, as well as enabling you to trace bitmap images.
Paid for image editing software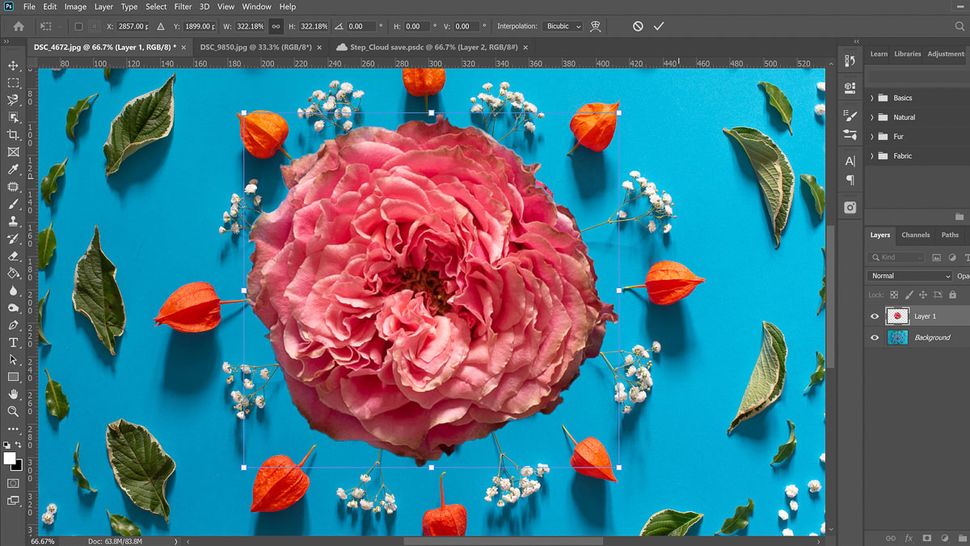 Just as Illustrator is the best graphic design software for vector work, Photoshop is the industry standard for image editing. That said, it's capable of so much more: everything from touching up photos through to digital drawing and painting, 3D modelling and UX design. Recently, Adobe has been adding powerful AI tools (under its Adobe Sensei banner) that allows you to do things like remove backgrounds in just a couple of clicks.
If you're a working designer then a Photoshop subscription is a must-have. As with all Creative Cloud tools, you get regular updates for free. For example, the October 2021 release (version 23.0) added automatic selections on hover, the ability to share documents for commenting, and increased interoperability with Illustrator. To grasp the different payment options, see our article on How to download Photoshop.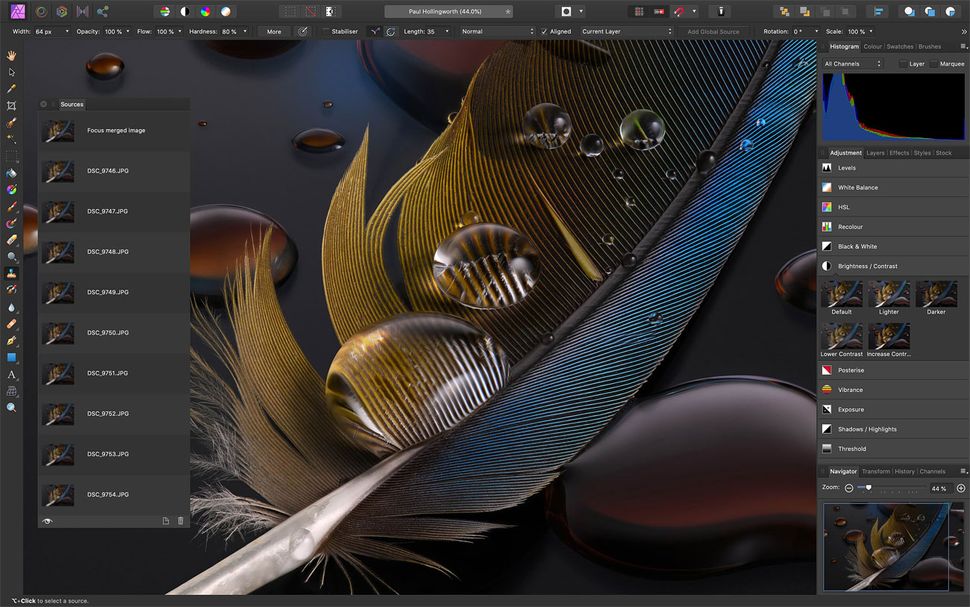 If you can't afford Photoshop, or just don't like using it, the best alternative is Affinity Photo. Available for a (low) one-off payment for the desktop app, and a separate payment for the iPad app, it's subscription-free.
A close match for most of Photoshop's features, it has all the photo retouching tools most people need, as well as advanced painting tools with a huge library of brushes. You can import and export PSD files and even smart objects. Users get updates for free, and the latest big revamp in August (1.10) brought greater layer blending efficiency, while retaining a non-destructive workflow.
Nowadays, versions of both Photoshop and Affinity Photo are available for the iPad. But if all you need is a set of drawing tools, without a bunch of design-related extras, Procreate's what you need.
Procreate has a great reputation within the artist community, and for good reason. It offers lots of beautiful brushes and helpful tools, such as QuickShape, which give you perfect shapes every time, and StreamLine, for turning your rough strokes into smooth curves. You can even paint filters straight onto your canvas. At a price that's even lower than Affinity Photo's, this is an essential iPad app, and the iPhone version, Procreate Pocket, is worth checking out too.
Free image editing software
Canva is among the best free graphic design software for editing images. It's perfect for making quick changes such as cropping and resizing images, or adding filters, frames, text, and effects. You can do everything in the browser, or via a mobile app, and there are no restrictions on editing images with the free version; for example, no watermarks are applied.
Canva is also more than an image editor, too: it's fully fledged graphic design software featuring a colour palette tool, font combination picker, a photo collage maker, and more. There's even a dedicated infographic maker.
While it doesn't quite match all the abilities of Photoshop, Canva is pretty amazing for a free app. You can use it in the browser for the full experience, but most of its tools are also available for both Android and iOS.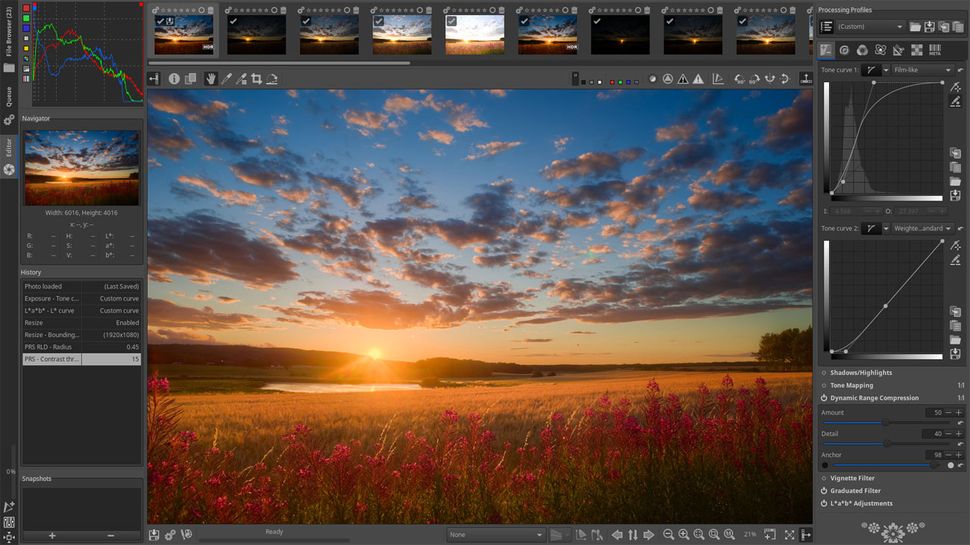 RawTherapee is free, open-source software that makes it easy to fix up your photos. You can use it to correct distortion, boost colours, recover details and much more. This software also speeds up your workflow by allowing you to batch process images. Plus you can also send images to other software, such as GIMP (number 19 on our list).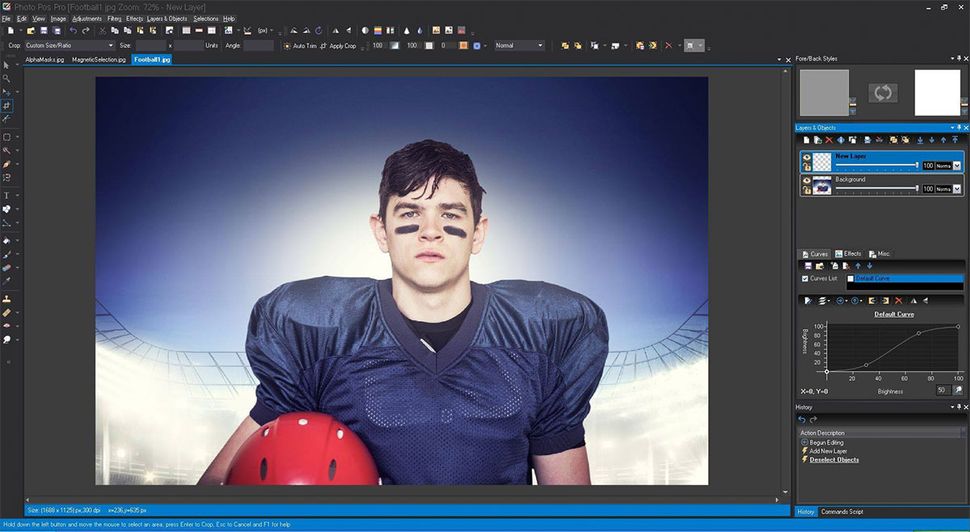 Photo Pos Pro is simple, but perfect for amateurs and enthusiasts looking for an easy way to edit their images. This free software boasts a very user-friendly interface, as well as an in-depth help system, to get you started. It's built with image enhancement and editing in mind, but it'll also stretch to more advanced techniques, with plenty of expansions and plugins available.
Krita is a free and open source painting tool that's been around since 1999 and is popular within the VFX industry and with concept artists, illustrators, matte and texture artists. It offers plenty of brushes, as well as brush stabilisers for smoothing out shaky lines. And if you want to tweak things further, there are loads of plugins available, ranging from advanced filters to painting assistants for perspective work.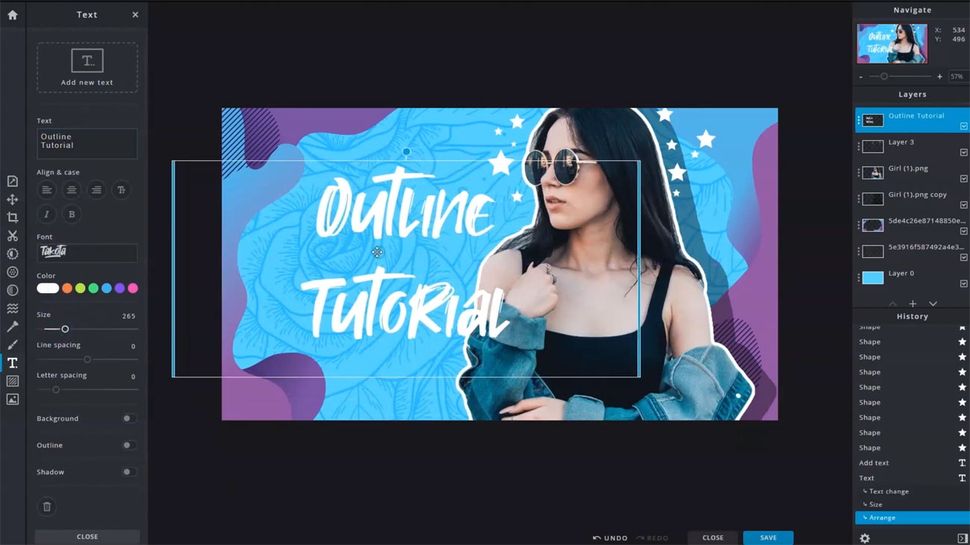 Pixlr is a suite of three apps that work in the browser or via iOS and Android apps. You don't have to sign up to use them, and you can get going straight away.
Pixlr X is a quick and easy photo editing tool and ideal for giving your work a quick boost with one-click edits and artistic effects. Pixlr E is a more substantial image editing app with a collection of useful editing tools. Pixlr BG is an AI-powered tool designed to remove the backgrounds from photos.
They couldn't be easier to use. And the only downside with the free version is that you'll get intrusive ads, and a six-second delay when downloading your work. Both are removed with subscriptions, which also you give you advanced tools, extra overlays, stickers and a stock library,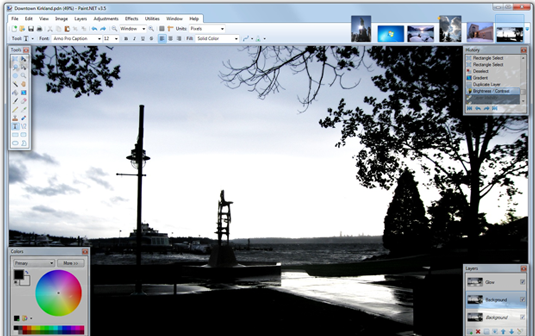 Paint.NET started out as an updated version of the Paint app included with early versions of Windows. And that may not fill you with hope, it's actually pretty capable. It's easy to use, for one, and there's a range of effects available, allowing you to easily create fake perspective, blend and push pixels around the canvas, tile and repeat selections, and more.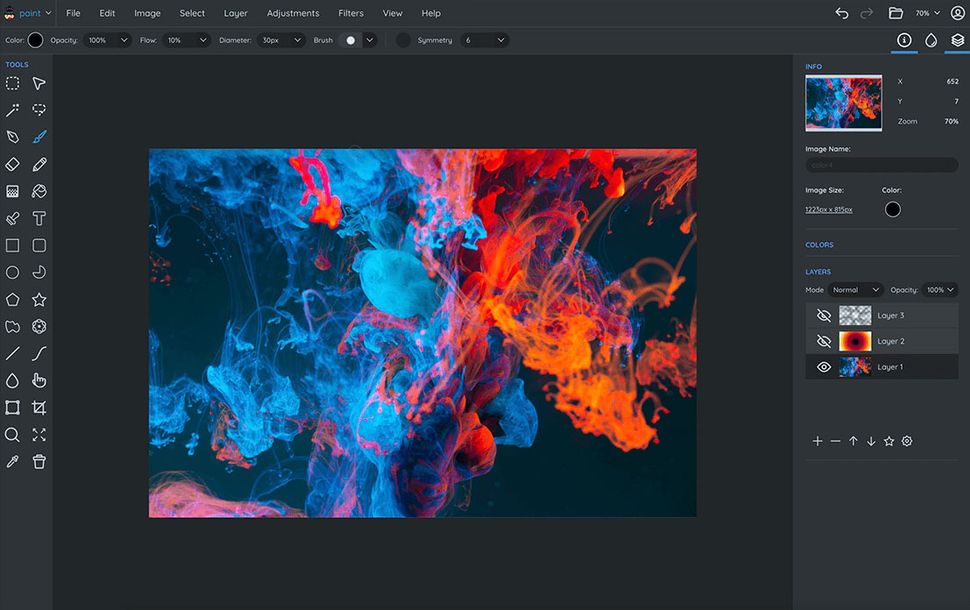 Sumo Paint is a browser-based image editor, with all the standard features you'd expect from a desktop tool. These include brushes, pencils, shapes, text, cloning and gradients, accessible from a floating toolbar. A Pro version is available for a monthly sub, and Sumo also offers other online tools, including a photo editor and a 3D editor.
Even the best free graphic design software doesn't really come close to Photoshop's abilities. But GIMP (GNU Image Manipulation Program) comes the closest. By default, the interface is kind of clunky, but it's easy to update it to a more Adobe-style feel. Either way, GIMP contains a lot of powerful design tools. You'll be able to work with all the popular file formats without trouble. And you'll find a very capable file manager built in, along similar lines to Adobe's Bridge.
Paid for 3D software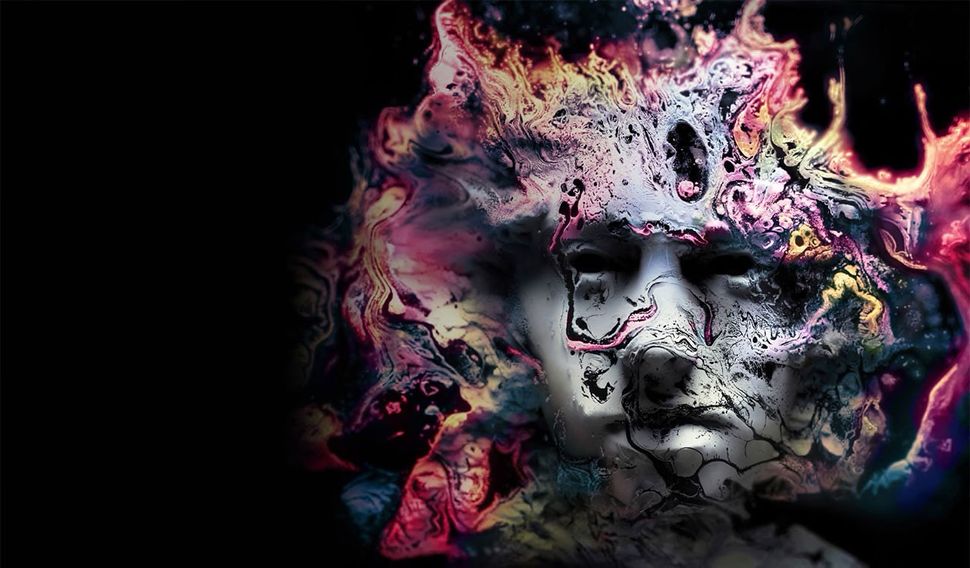 Autodesk Maya is the best graphic design software for 3D work, and is commonly used across the industry, right up to top studios like Pixar or Framestore. It contains huge range of tools and features covering pretty much the entire 3D workflow, from modelling through to rendering and animation. Be warned, though, the price and the time it'll take you to learn will be off-putting to anyone who's not well-versed in 3D. However, if you're a student or educator, you can sign up for free educational access to the Autodesk range.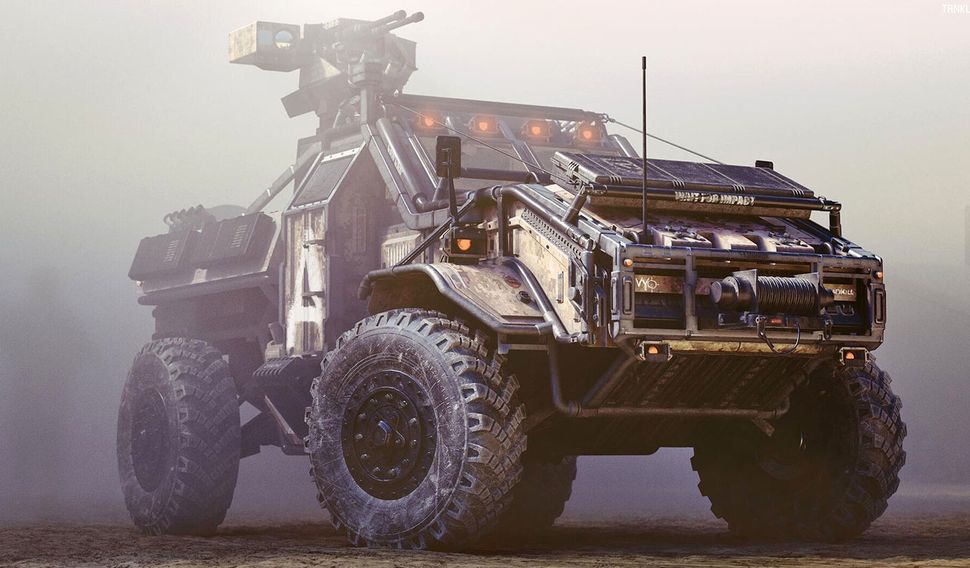 Looking for the best graphic design software for 3D, but want something easier to learn than Autodesk Maya? Maxon's Cinema 4D is worth investigating. It's relatively easy to get to grips with, with a huge and supportive community as well as loads of tutorials and a dedicated training site.
The software features volumetric modelling tools that make it easier to get impressive results when you're starting out, as well as a full-featured parametric modelling toolset and the ability to extend its functionality with plugins. It plays nicely with many Adobe tools, most strikingly After Effects. And as its maker Maxon is in the process of acquiring Zbrush, we expect there'll be some nice integrations there soon, too.
Like all good 3D software, Cinema 4D is expensive, but there's a 14-day trial version as well as a free education version for students and teachers.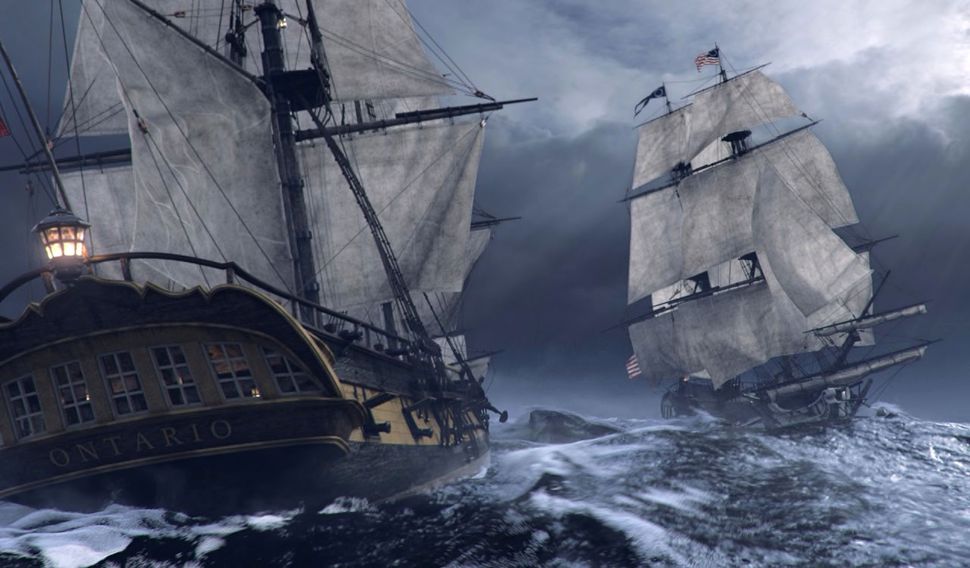 Another industry standard tool, 3ds Max is a Windows-only app with a powerful set of features. Easier to learn than Maya, but no less capable, it features modelling, fluid simulation, hair and fur, and pretty much everything you need for character rigging and animation. There's a 30-day trial version available, and you can use the software for free if you're in education.
Free 3D software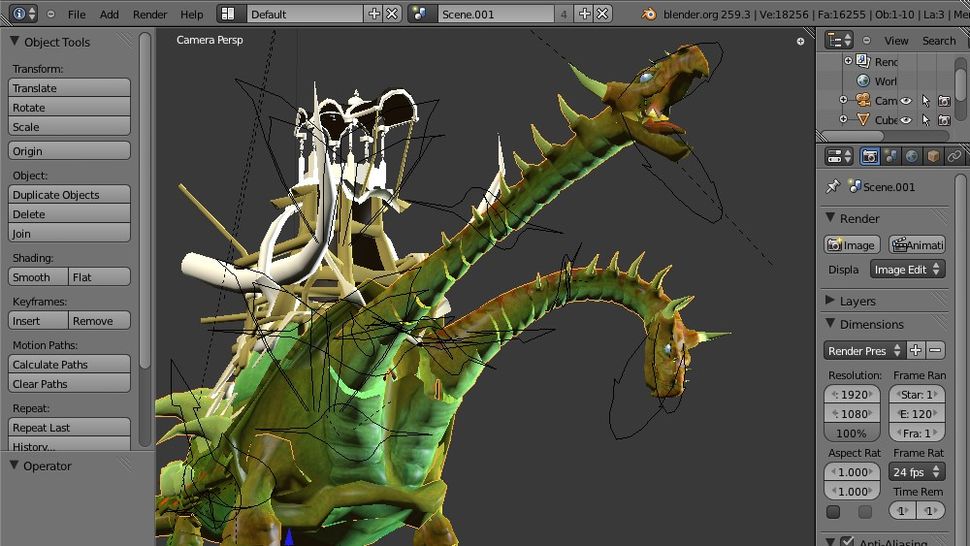 Blender is hands-down the best free graphic design software for 3D work. Free and open source, it's a full 3D content creation suite with a hugely impressive stack of tools. Its makers are constantly working on its development, and you can pretty much do anything 3D related with this software, including modelling, texturing, animation, rendering and compositing. Although it's not widely used at the top level of the industry, there have been a number of top-level films made with it, such as Netflix's Next Gen.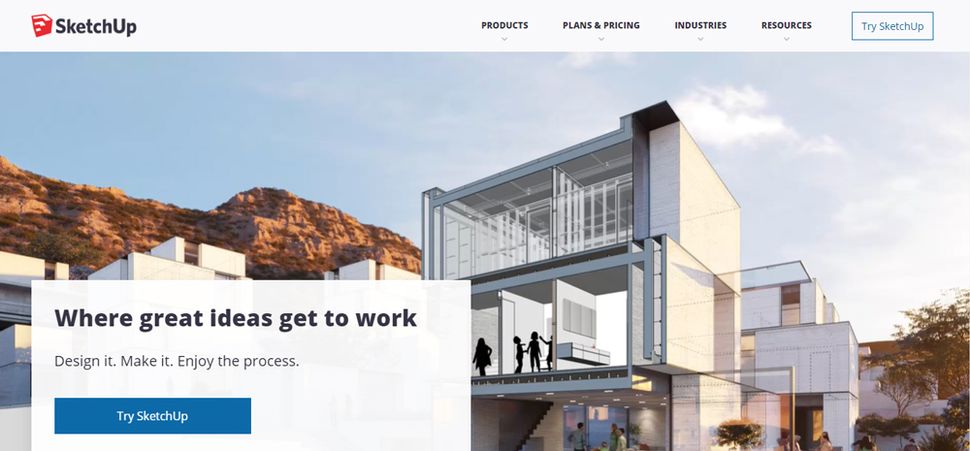 Getting started in 3D can be quite the learning curve. SketchUp Free provides a friendly and gentle introduction. This free software starts you off by simply drawing lines and shapes, which you can then push and pull around to turn into 3D forms. For extra inspiration, you can search the SketchUp 3D Warehouse's huge library of models and download them for free.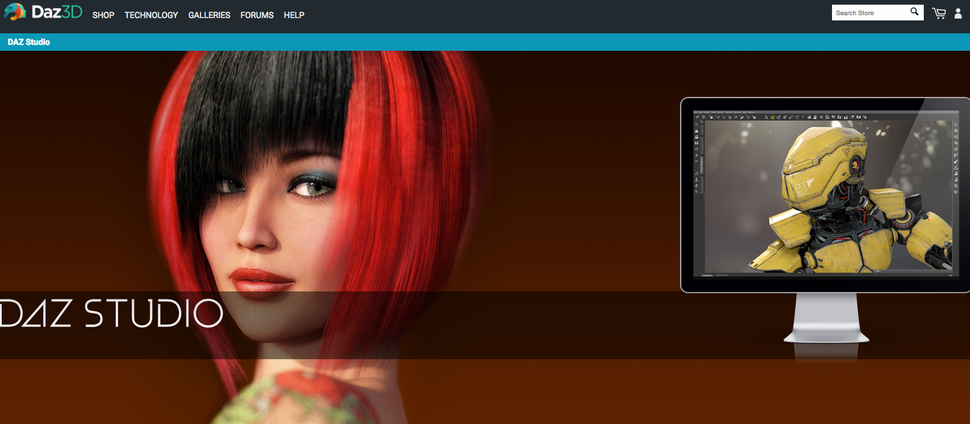 Daz Studio is a 3D figure customisation, posing and animation tool that enables artists of all skill levels to create digital art using virtual people, animals, props, vehicles, accessories and environments. It allows you create custom 3D characters and avatars, design virtual environments, produce graphic design elements and much more – making it one of the best graphic design software choices out there. See what the free version offers compared to the paid one here.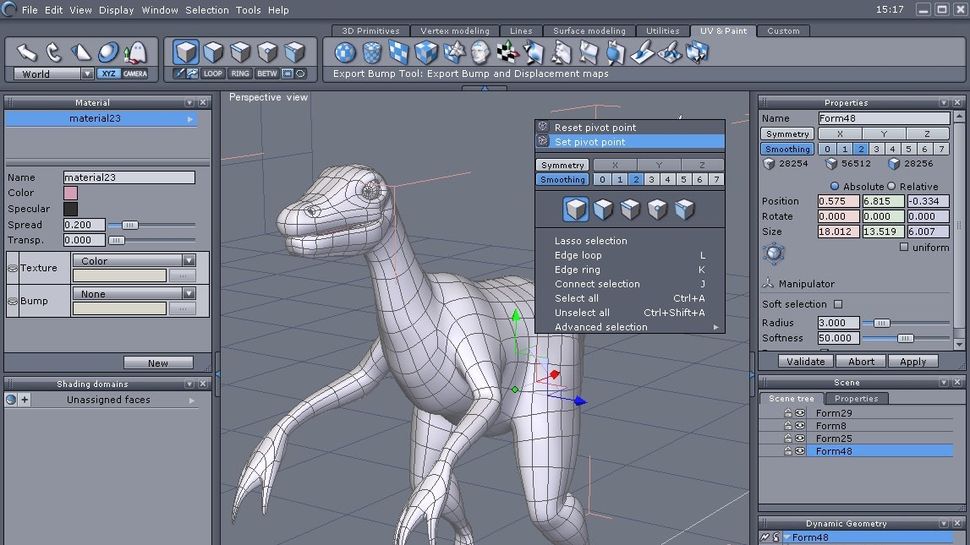 Here's another great choice for anyone new to 3D. Hexagon is free modelling software from Daz 3D that includes a range of powerful tools, including Daz Studio 3D Bridge, sculpted primitives, freehand modelling brushes, micro-displacement modelling tools, comprehensive UV-mapping modules, advanced 3D paint, and instant ambient occlusion. Use it alongside Daz Studio for a complete 3D suite.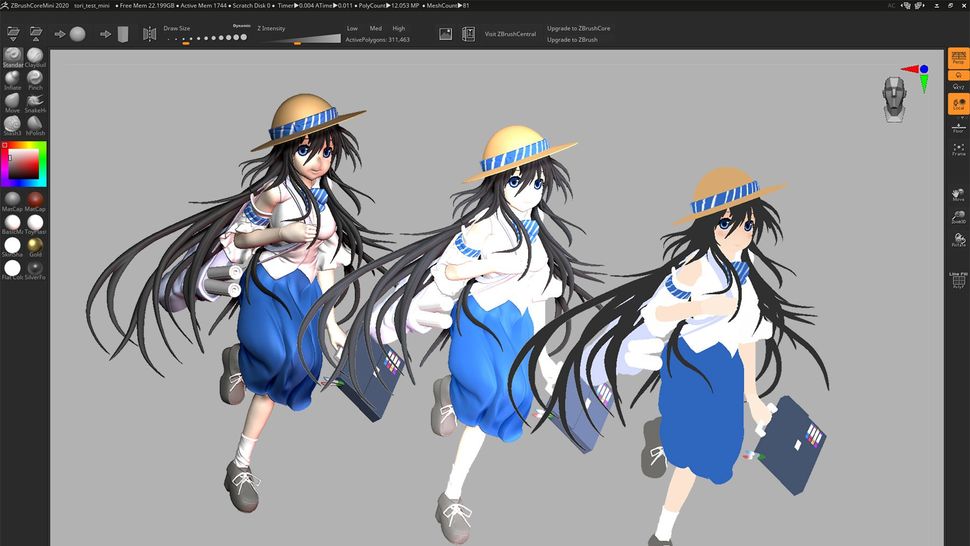 If you want to get a feel for digital sculpting, Pixologic's ZBrushCoreMini is a fantastic starting point. If you're a 3D pro, meanwhile, you'll find it a quick and easy tool for banging out concepts. ZBrushCoreMini is based on Pixologic's ZBrush, the most widely-used digital sculpting application in today's market. So, when you're ready to move on to the next level, skills learned here can be directly translated into ZBrush.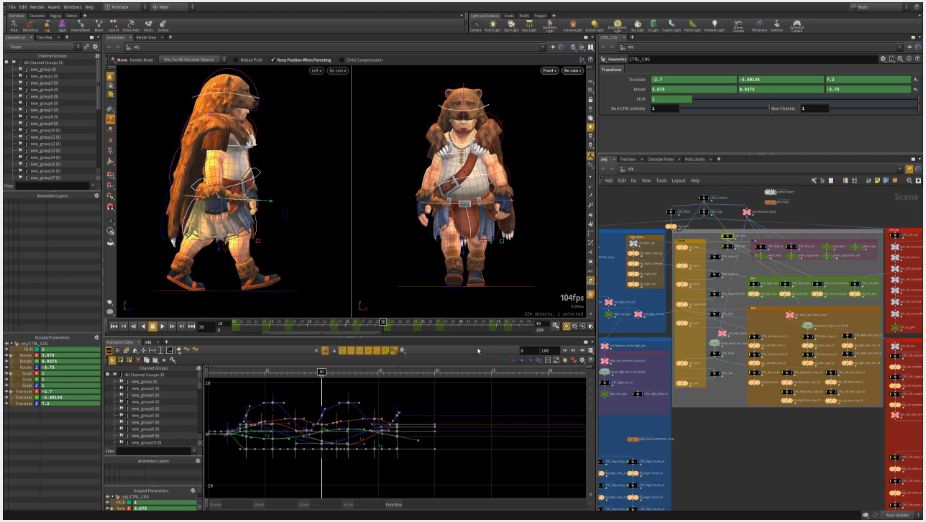 Houdini is a professional VFX and 3D animation tool that's popular across the media industry. It's very expensive piece of software, but you can get Apprentice version for free. The only drawback is that it's purely for learning purposes, so you can't use what you create for commercial purposes.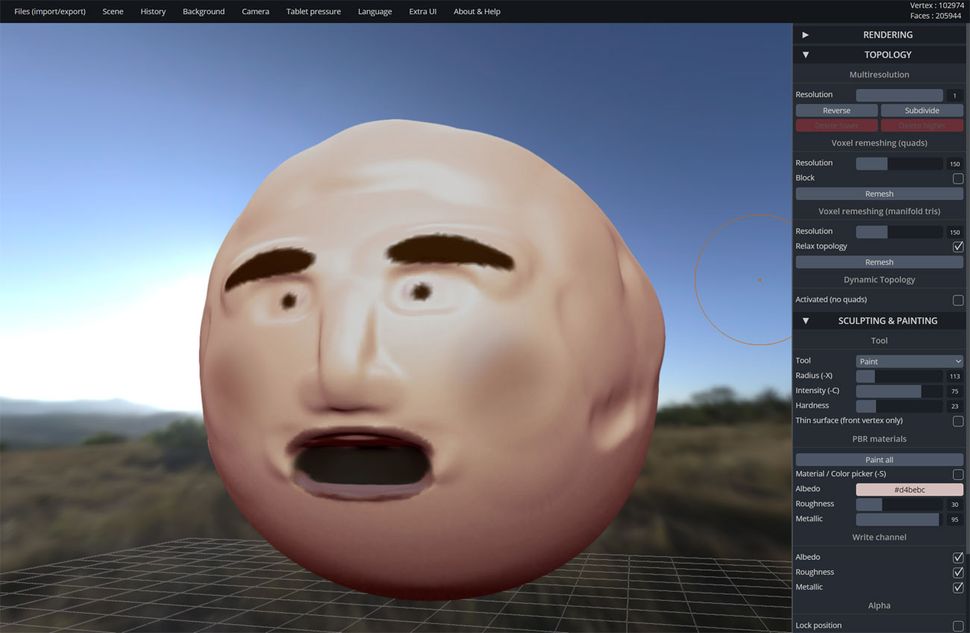 Want to try some digital sculpting right now without having to download anything? Stéphane Ginier's SculptG runs right in the browser; although there's also a downloadable version and a Chrome app. And it provides you with plenty of sculpting tools as well as PBR vertex painting and alpha texture support.
SculptGL supports multi-resolution sculpting and is capable of voxel remeshing and dynamic retopology. And it'll import and export OBJ, PLY and STL files. There are more powerful free 3D tools to be had, but as a free app, SculptGL is well worth having to hand.
Paid for data visualisation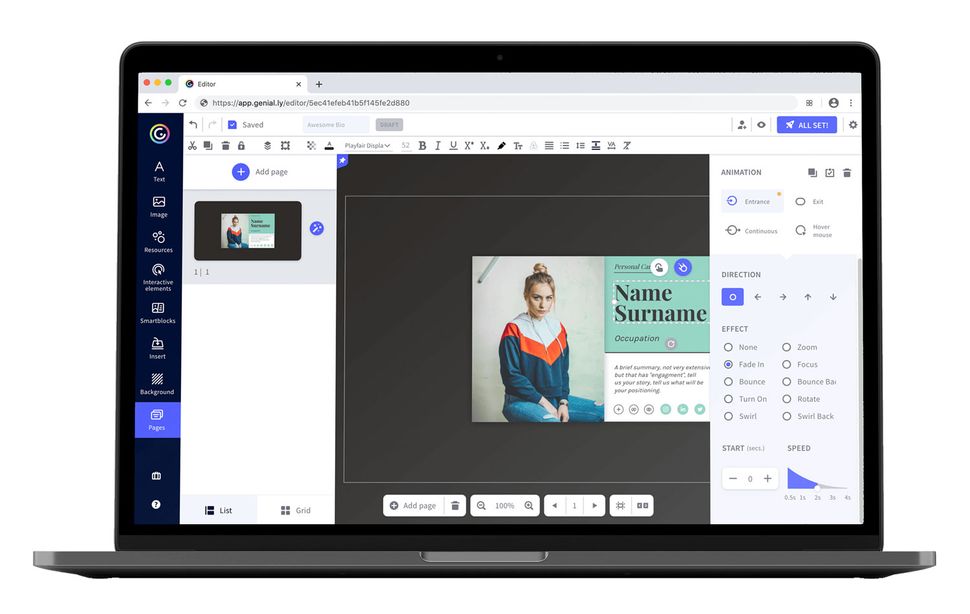 Looking for the best graphic design software for data visualisation? We recommend Genially. Perfect creating everything from infographics to quizzes and presentations, it enables you to make engaging, visually-appealing and delightfully shareable content quickly and easily.
There's a free version to get you started, with plenty of free templates and resources, but your designs will be watermarked. To remove this, and enjoy advanced features such as offline viewing, you'll need to move to a paid plan.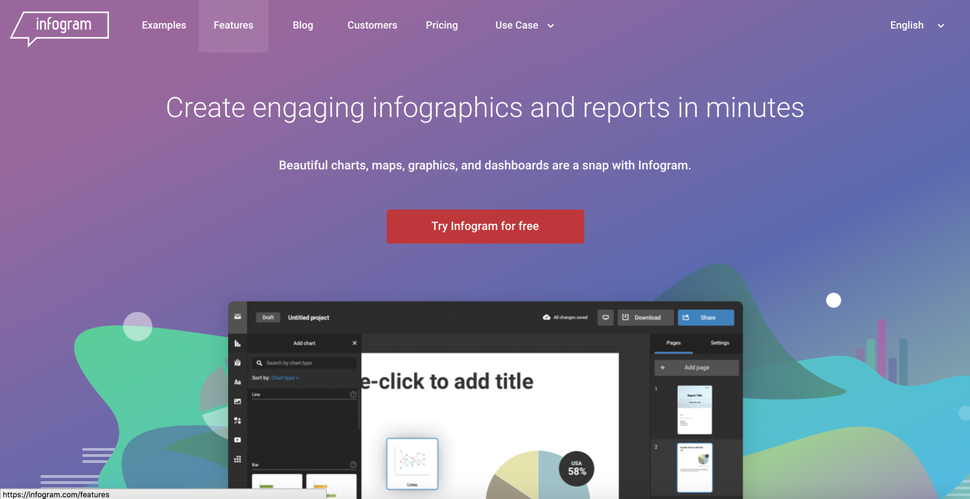 Infogram is a useful free tool for creating graphs, charts and maps, with the added bonus of adding images and videos if you want to create engaging infographics. You can arrange your data in a simple spreadsheet that you can then edit to see the results in real time. And when you're satisfied with the result you can publish it to the Infogram website to embed it on your own site, or share via social media.
What software is needed for graphic design?
For most working graphic designers, Adobe's suite of Creative Cloud software is the standard choice. The main tools within this suite for graphic design are Photoshop (raster image editing), Illustrator (vector image editing), InDesign (desktop publishing) and After Effects (motion design). You can subscribe to the Creative Cloud suite as a whole, or take out a single-app subscription. Either way, you'll also get the Behance portfolio service and access to Adobe Fonts.
For graphic designers on a budget, Affinity's suite of apps provide a close approximation to Adobe's tools, namely Affinity Photo (which rivals Photoshop), Affinity Designer (which rivals Illustator) and Affinity Publisher (which rivals InDesign). There is no equivalent, however, to After Effects.
Which software is best for graphic design beginners?
If you're new to graphic design, there are a number of apps that allow you to get started for free. Our top recommendations is Canva, a lightweight app for making quick designs in your browser. You don't need to download anything, and you don't have to pay either, unless you want to unlock advanced features and extra resources. While you learn graphic design theory, Canva will allow you to put it into practice. Once you've reached a certain level of expertise, you'll then naturally gravitate towards one of the paid apps on our list to get more sophisticated tools.
Related articles: