Although Serif has been making software since the 1980s, Affinity Designer has only been around since 2014, when Serif decided to refocus its effort on a few core design programs. Its steep trajectory since then has shown no discernible lag and this vector-based illustration and design tools remains the main industry rival to Adobe Illustrator.
Its latest update - 1.10.4 - may have you wondering why Serif hasn't focused more attention on adding the features it lacks compared to Illustrator. However, Instead of throwing new features at Affinity Designer, and hoping they'll stick, what Serif seems to have done is taken what was already a solid piece of software and made it more capable.
Affinity Designer remains affordable, too, at $54.99 / £47.99 – a one-off payment for both Windows or Mac, it costs less than many of the others in our best graphic design software list, especially those with a subscription model. Serif has been no slouch in terms of offering a very capable version for iPad, too (see our Affinity Designer for iPad review). Couple that with the ability to work between both Affinity Photo and Affinity Publisher, and you've got a very substantial yet compact suite for designers and digital artists.
If you want to check out the competition, see our best vector editors roundup, our Illustrator for iPad review or learn how to download Illustrator. For now, though, let's have a closer look at what Affinity Designer 1.10.4 has to offer.
Affinity Designer 1.10 review: performance
Since the 1.10 update, performance has been the main focus, with Affinity Designer now capable of dealing with highly complex and heavily layered documents with ease and smoothness. Purported to be ten times faster than the 1.9 update, and able to render at 60 frames per second, it certainly seems capable of zooming and panning a document, with objects in the thousands, without any noticeable lag. Its capability of zooming over 1,000,000% means its precision and speed is ideal for large CAD-related documents, for instance.
Even if you're not creating or importing huge documents, the way Designer reacts and moves to commands and actions is clear and makes the experience much smoother. As a Mac user not running on a M1 machine, Illustrator, for example, can be more of a game of devout patience. Affinity Designer feels a lot snappier.
Affinity Designer 1.10 review: brush tools
Affinity Designer is certainly not as expressive a program as Corel Painter, but its vector brushes are not to be sniffed at. The ability to tweak, edit and reassign different brushes to strokes gives you more than enough wiggle room, so-to-speak.
Of course this all becomes a lot more fun and expressive with the use of a stylus and a drawing tablet, even more so with one of the best iPads for drawing and an Apple Pencil (see our Apple Pencil deals post if you need to invest in one). The ability to manipulate pressure sensitivity and gestural mark-making give you more control in variance and tone.
Although not a new feature, the ability to switch 'personas' in Affinity Designer only adds to the smoothness of the app, if not the whole suite's, usability. While in Affinity Designer, you can switch from the Designer persona (vector) to the Pixel persona (raster/bitmap) without changing apps. Not only does this help with your workflow, but with the raster brushes in situ, it also allows you to add that much maligned texture or 'noise' otherwise missing from vector art.
Affinity Designer 1.10 review: usability and what's missing
Although there haven't been many additions in terms of tools, for versions 1.10 onwards, users will no doubt notice its increased speed, even in launching the app, and its ability to relaunch any accidental closes where you left off.
What it still misses, and this is only really relevant if you're used to Adobe products, is there's no object warping, or image tracing. There is a slightly more round-about way of blending objects and mesh gradients, though.
1.9 updates included being able to select multiple objects by colour, type, stroke weight, transparency and more; and a nice touch where you can rotate the document canvas with CMD/CTRL+mouse scroll wheel.
Should I buy Affinity Designer?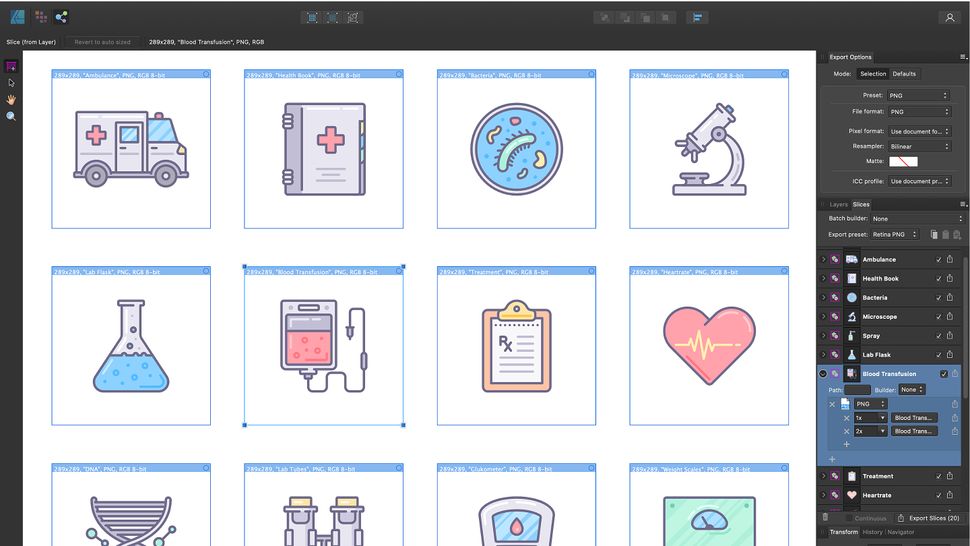 Affinity Designer is a capable and reliable piece of software. Like similar apps, it does have a learning curve associated with it, especially for new or general users, but the sheer quantity of easily accessible tutorials should have you creating stunning vector art in no time at all.
Aside from Illustrator, Affinity Designer still has little competition, though there are a few Illustrator alternatives worth mentioning. There's Sketch, a popular tool for digital design, which offers a relatively cheap subscription, though is native to the Mac only; Inkscape is free and open source but lacks the pro speed and depth of Affinity Designer; and CorelDRAW, which is a step removed from the usability of Illustrator and Designer, is more complex, and well… just different.
The appeal of Affinity Designer is thus: it's slightly simpler than Illustrator, less cluttered, way more affordable, easy to get-to-grips with, and is a high performing piece of design software open to general users and professionals. It's also affordable, and you only have to pay once ($54.99 / £47.99).
Specifications - Mac
OS 10.9 - 12
Mac with Apple M1/M1 Pro/M1 Max chip or Intel processor
Minimum 2GB RAM
Up to 2.8 GB hard drive space
Minimum 1280x768 display
Supports regular, retina, and expanded gamut DCI-P3 displays
Windows
Windows 8.1, 10, and 11
Windows-based PC (64 bit) with mouse or equivalent input device
Hardware GPU acceleration*
DirectX 10-compatible Graphics Cards and above
2GB RAM minimum (4GB RAM recommended)
934MB of available hard drive space; more during installation
1280x768 display size or better
Read more: The best digital art software