The best digital art software can help you create awesome designs on both desktop and mobile. But with both free and paid-for options available, from Photoshop to Affinity, via tons of other awesome options, knowing where to start can be a little intimidating.
There are specific tools for photo editing, graphic design, digital painting and everything in-between. And there's also the question of cost, which is particularly pertinent right now. From pro tools with pro prices to completely free options, the best digital art software comes in all shapes and sizes when it comes to price. In this guide, you'll find offerings on both ends of the price spectrum, from zero to, well, not zero.
We've tested much of this software, with our reviewers assessing each pick against a range of criteria including power and overall performance (see how we test software for more – and watch out for the links to full reviews). If we haven't tested a program, we have good reason for including it, and have done extensive research to back up our claims.
Many of these programs work well with the best drawing tablets you can buy, so you don't need to worry if you've already got a digital art setup. For drawing on the go, see our selection of the best drawing apps for iPad and the best 2-in-1 laptops for creatives.
You needn't always pay a lot for the best digital art software, for example you can now get Rebelle 5 for free if you're in school or get 40% off if you're looking to buy a copy for yourself.
The best digital art software available now
Why you can trust Creative Bloq Our expert reviewers spend hours testing and comparing products and services so you can choose the best for you. Find out more about how we test.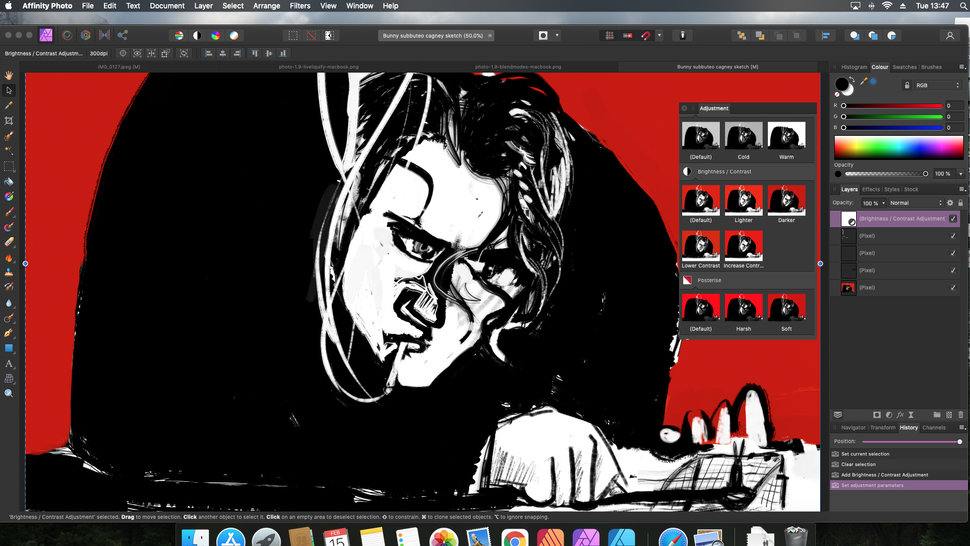 (opens in new tab)
Not everyone wants to commit to a monthly subscription. If that's you, Affinity Photo is probably your best alternative to Photoshop. It's a one-time purchase, so once you've paid the initial cost of the software, you're set. In terms of power and performance, it's pretty much on a par with Photoshop, though it lacks some of Adobe's most advanced features like content-aware fill.
If you've already used Photoshop but want to move away from the subscription model, then Affinity Photo is certainly one of the best options since it offers full compatibility with PSD files, making it effortless to migrate projects over. It also has enough power even to cope with 100+ megapixel images, so you don't have to worry about working with super-high-resolution files. And if you prefer to draw on an iPad, Affinity Photo for iPad is also available.
In our Affinity Photo review, we particularly liked how, unlike Photoshop, the tool isn't dependent on current OS and hardware – it runs equally well on older machines. If you're torn between the Affinity and Adobe offerings, take a look at our guide to Affinity Photo vs Photoshop.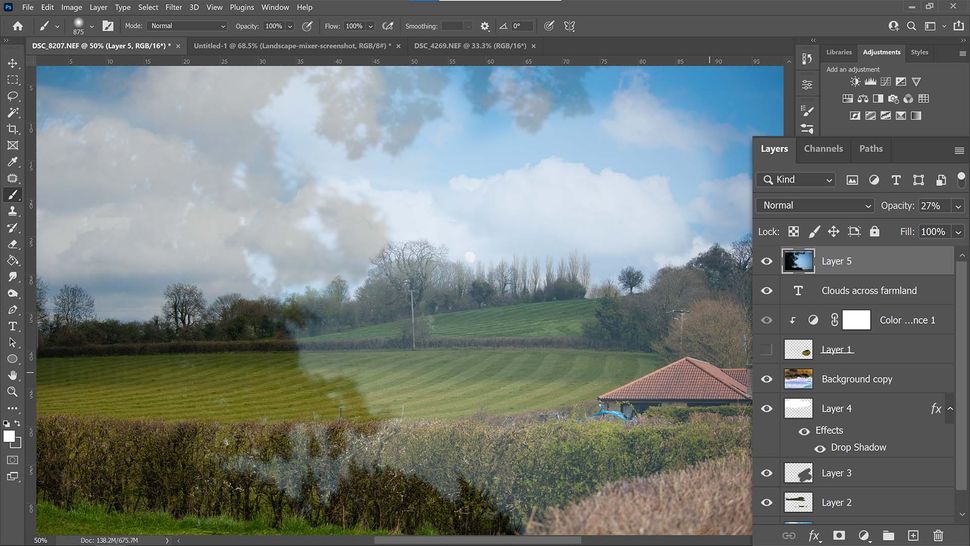 Adobe Photoshop is still the industry standard when it comes to digital art. If you're working professionally, it's almost certain that you'll be expected to use it at some point and there's good reason for its dominance. Photoshop is basically good at everything, not just photo editing but also drawing, digital painting, and plenty more. It works across a wide range of devices, including smartphones and tablets. Check out our guide to how to download Photoshop to find out more.
You can easily share your data and access all of your assets, including brushes, images, colours and styles, across all of your devices. There's also an impressive library of Photoshop plugins available to add extra functionality. And new features are being added all the time – we particularly loved the new neural filters in our Photoshop 2022 review.
The only real drawback of Photoshop is that it's not a vector editor, meaning you don't get smooth, scalable lines. Adobe of course offers its own vector editor in the form of Adobe Illustrator, and you don't necessarily need to choose between them, as getting a subscription to Adobe Creative Cloud (opens in new tab) gives you both. If you know you're going to be doing a lot of digital art and you want the best software, a Creative Cloud subscription is probably the way to go (our guide to the best Adobe Creative Cloud deals is regularly updated with the best deals).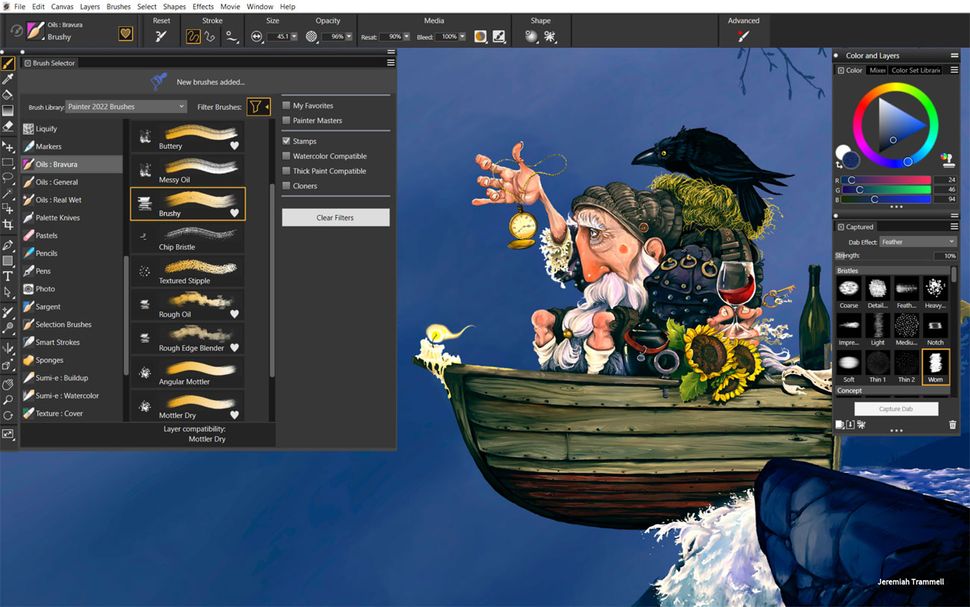 (opens in new tab)
As its name implies, Corel Painter 2022 is especially good software for digital painting. Our testing found that the latest update adds a new stamp-type brush customisation, and we love the fine control you now have over the dab effects of your favourite brushes. Like many digital painting effects, the purpose is to make your work look as "real" and un-digital as possible, and it does that very effectively.
Elsewhere, the latest update to Corel Painter has completely reorganised the brush library, which may be unwelcome news for anyone who's used to the old system, but we found actually provides a lot of useful functionality. We liked that brushes are alphabetised in categories that are easy to remember, and there's a filter search system that makes finding the type of brush you need much quicker and easier. For individual favourite brushes, there's also a 'like' button that lets you create a custom palette.
Previous versions of Corel had a reputation for taxing computer hardware to an extent, but GPU acceleration has been tweaked in the latest edition, and while we found it hardware hungry, there was a definite improvement. The program will also examine your system on startup, and recommend optimisations to make itself run as smoothly as possible on your system.
Corel Painter 2022 is available for an up-front cost, though a considerably steeper one than Affinity Photo. It costs $429/£359.99 new, or $229/£180 if you're upgrading from a previous version. That's quite a lot of money but there are no ongoing subscription fees and Corel does occasionally offer discounts. See more in our Corel Painter 2022 review.
If Painter 2022 is a little too expensive, Rebelle 5 could be your best alternative. Featuring more than 170 brush presets, it's designed to mimic the way that paint behaves in the real world. It's one of the best digital art software options for creating realistic-looking watercolours or oils with plenty of thick impasto effects.
In our testing, we found the latest edition of this impressive natural media painting app offers plenty of useful upgrades, including new stabilisation and texture features, natural RYB colour mixing, layer groups and colour management. We especially like the real world colour pigment mixing and the brilliant watercolour and oil simulation. It was a little disappointing that the standard edition doesn't come with all the features but if you need an affordable alternative to Painter that doesn't cut corners and feels authentic, be sure to take a look, and check out our Rebelle 5 review for more information on what we love about the software.
Want to draw and paint on your iPad? Then make sure you consider Procreate. It's an impressive drawing tool that's gained a big following among artists, and it's packed with powerful tools that make it a delight to use. You can work with hundreds of layers if you need to, and there are masks, blend modes and over 130 customisable Procreate brushes to play with. The typography tools add a whole extra layer of creative functionality too.
Procreate 5.2 offers support for the M1 iPad Pro as well as 3D painting tools (which we particularly loved when we tested it – see our Procreate 5.2 review) and AR previews, plus an improved interface and audio feedback for a better experience all-round.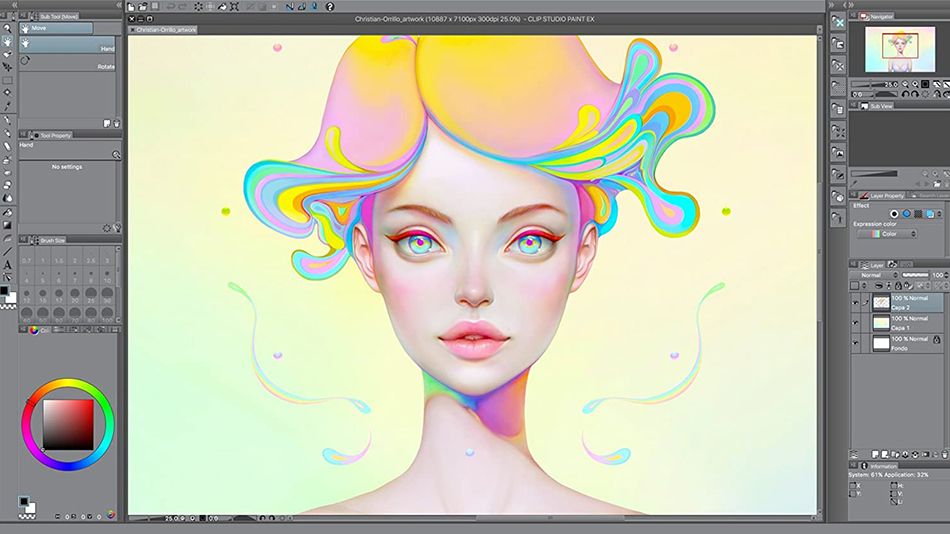 (opens in new tab)
For manga art and comic creation, Clip Studio Paint is one of the best digital art software programs. It delivers a natural, traditional feel, complete with pen pressure detection to give you realistic-looking pen strokes if you're working on a graphics tablet.
Clip Studio Paint comes in two versions: PRO and EX. If you need all the features and don't mind paying for them, EX is the way to go, but if you just want to see what it's all about you can get started with PRO. Both are available in 30-day trial versions; take a look at the best Clip Studio Paint tutorials to help you get started.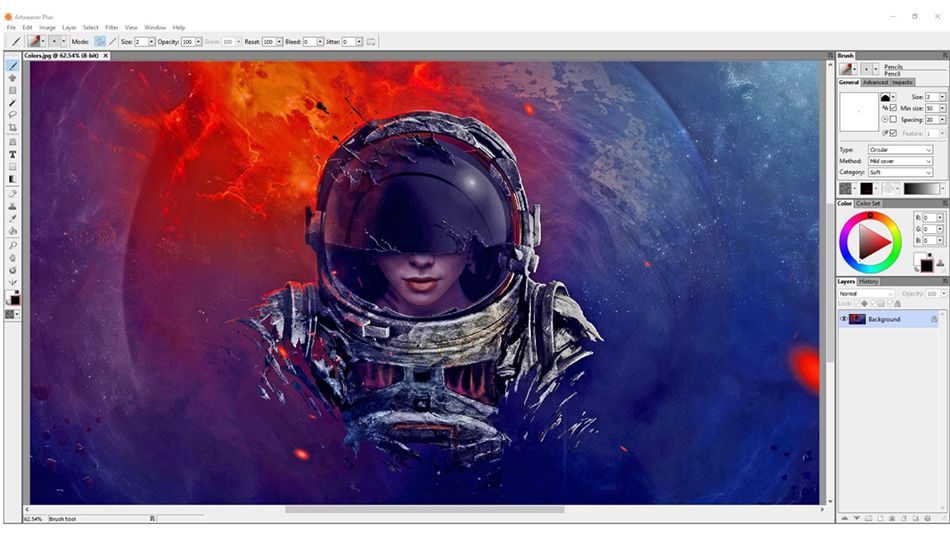 If you're on a tight budget and some of the best digital art software above seems too expensive, Artweaver 7 is a very attractive option. It features lots of customisable brushes for a real-world look, and it's easy to get to grips with, with a straightforward interface that you can customise to suit your needs.
Artweaver 7 comes in two versions: Artweaver Free and Artweaver Plus. Take a look at the comparison chart (opens in new tab) to help you decide which is right for you.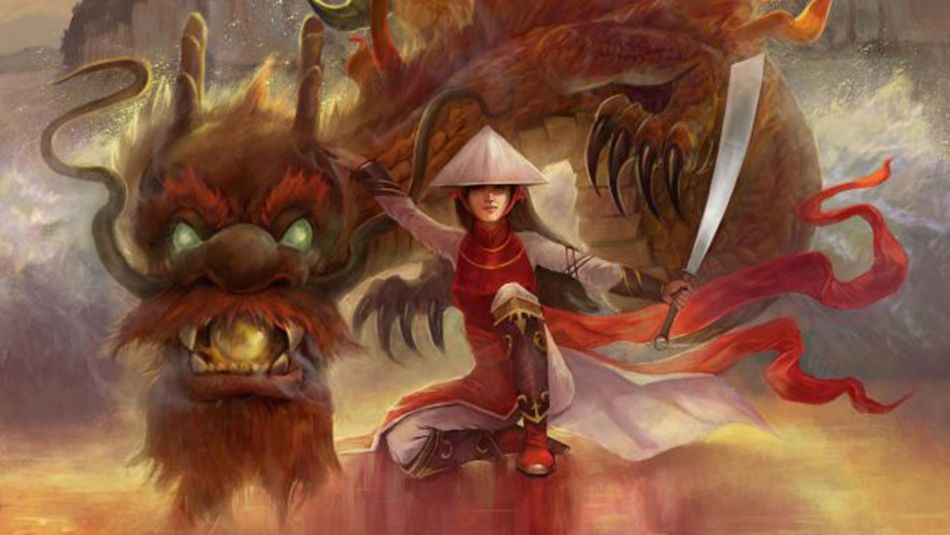 (opens in new tab)
ArtRage has been around for some time and has built up a loyal following among artists and illustrators. It's easy to see why since this is another app that offers realistic paint texture and colour but at a price that's a lot more attractive than that of Corel Painter (see above).
Although ArtRage is mainly focused on natural media and painting, it's flexible enough to be useful for digital artists who are used to Photoshop as well. You can do everything you'd expect from a digital art tool: customise brushes, record your own actions, customise the look of your canvas and more. For more information about the previous version, check out our ArtRage 5 review.
(opens in new tab)
Krita has been quietly doing its thing since 2004, and it's one of the best-kept secrets in the digital art world. Free and open source, it has a great set of tools as well as an intuitive and customisable interface that you can set up in the best way to work with your style of painting. Its semi-guerrilla nature means there isn't much in the way of customer support, so you may need to consult some online tutorials to get the most out of it – but our testing found it is pretty easy and fun to learn.
When we tested it this year, we appreciated the powerful new brushes – the tool offers over 100 professionally made, preloaded brushes and nine unique brush engines, including a Colour Smudge engine, Shape engine and Particle engine. You can also import brushes and texture packs or create and share your own. As an added bonus, you can use a brush stabiliser to help you get perfectly smooth lines. We would have appreciated a full mobile version, as our Krita review outlines.

(opens in new tab)
Need literally all the brushes you can get? Then take a gander at TwistedBrush Pro Studio because it comes with over 9,000 of them. That's probably more than anyone will ever need, but it means you should always be able to find precisely the brush you need. And if you can't, you can simply create your own brushes instead.
On top of the multitude of brushes, TwistedBrush has everything you'd expect from a digital art package: layers, transparency, masks, extensive options for import and export, image filters, and more. It also has drawing tablet support with high precision sampling and pressure sensitivity. It's not a budget option, though. TwistedBrush Pro Studio will set you back $99 for a version-specific license, or $189 for a perpetual licence, and for that price, you might want to consider one of the bigger names above.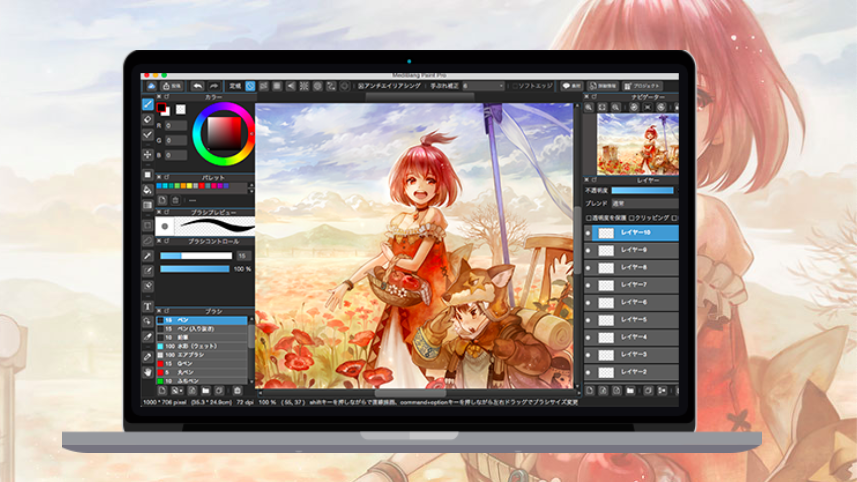 (opens in new tab)
Looking for a free alternative to Clip Studio Paint for creating manga art or comics? Paint Pro from Japanese company MediBang is well worth investigating. It's a free and lightweight digital drawing tool that comes with 800 free pre-made tones and backgrounds, as well as over 50 brushes, easy comic panel creation tools and a massive selection of free fonts. Take a look at our MediBang Paint review.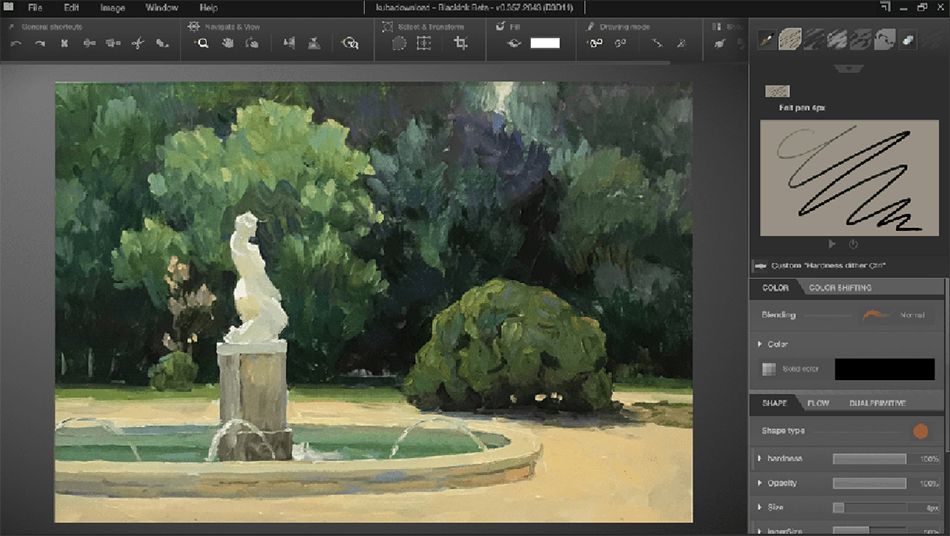 (opens in new tab)
Not everyone wants realistic brushes. If you're looking for something a little different for your strokes then Black Ink could be the answer. Rather can copying traditional physical art tools, it takes a more digital approach, using a Controller system to deliver all manner of possibilities in brush creation and customisation. Through a simple node-based language, you'll be able to create any type of brush imaginable, which you can then save and share with the community.

(opens in new tab)
Paintstorm Studio is a great-value digital art tool that's easy to use and capable of achieving impressive results. With a decent brush selection, complete with customisation options (including spacing jitter, texture, angle, and more) it's perfect for creating striking artwork, and it also supports post-stroke correction, which can come in really handy when you're doing linework.
The interface is easy to navigate and laid out exactly how you'd expect (and the default colour scheme is fantastic). However, if you're not a fan, it's completely customisable.
Read more: