With one of the best 2-in-1 laptops you don't need to be torn between choosing a laptop and a tablet. These laptops offer the best of both worlds – they're good for general work and able to run full desktop applications, but they can also be used with a stylus in tablet mode, which makes them ideal for digital drawing and illustration, and a great choice both for digital creatives and students.
2-in-1 laptops are available for most budgets, from cheap-as-chips Chromebooks up to high-end portable workstations. Naturally if you want the power to handle video editing or 3D rendering you'll have to pay handsomely, but on the whole you can get enough power for most applications without dropping a stack of cash. And the good news is that tech companies have made great advances with the 2-in-1 form factor in recent years, which means they'll transition between laptop and tablet mode much more smoothly, and feature impressive touchscreens and stylus support.
In our guide we've selected some of the best 2-in-1 laptops available now, based on our own reviews as well as recommendations from creative professionals. We've taken into account each model's suitability for creative work, as well as taking a good look at its specs and performance, the effectiveness of its transition mechanism, the quality of its display and, of course, its value for money. If you want to know more, see our guide to how we test laptops, PCs and workstations.
Thanks to their hybrid nature and their use of a stylus, you'll also find a few of these machines in our roundup of the best laptops for drawing. However if you're after a straightforward laptop, see our guides to the best laptops for graphic design and the best laptops for animation. And if you're looking for a bargain on a MacBook, see our guide to the best Apple Prime Day deals.
The best 2-in-1 laptops for creatives
Why you can trust Creative Bloq Our expert reviewers spend hours testing and comparing products and services so you can choose the best for you. Find out more about how we test.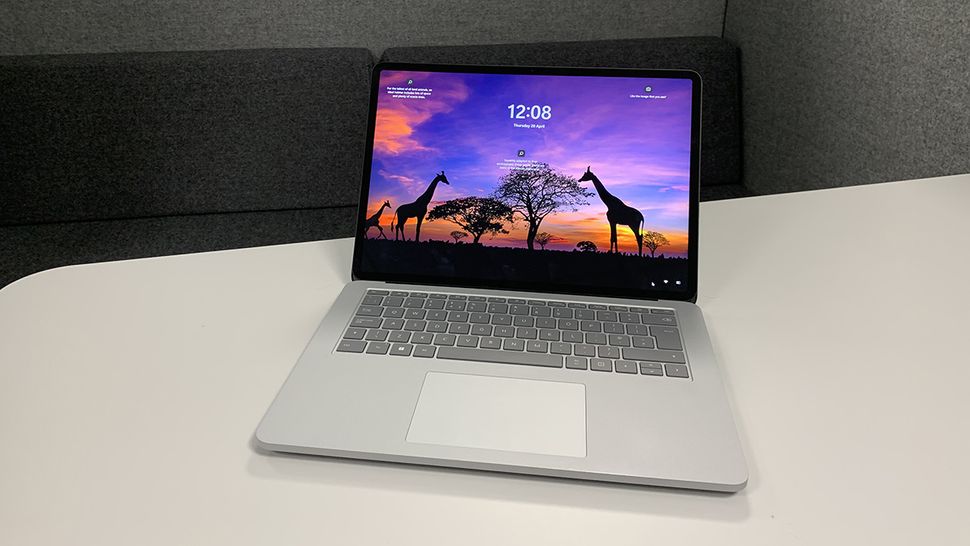 The Microsoft Surface Laptop Studio is simply the best laptop Microsoft has made. It has a premium look, a gorgeous screen and the kind of sleek finish and feel that even Mac devotees might be impressed by. The way it converts from a laptop to a tablet and back again is one of the smoothest and most flexible we've experienced. The screen doesn't fold back on itself like many do, but instead slips forwards over the keyboard. This gives you an additional position – easel mode, with the screen at a nice angle for watching films or working on digital art.
The 3:2 screen size is taller than the usual widescreen format, allowing extra vertical space that can improve productively whether you're drawing, editing photos or even just writing and reading documents. And with a refresh rate of 120Hz it could even serve as a reasonable gaming laptop.
When we reviewed the Surface Laptop Studio, we were impressed with the performance — it can be configured up to 32GB RAM, so you should have no problem using heavy image editing or 3D design programs. We got a consistent 12 hours of battery life in our tests, which ticks another box to make this the best 2-in-1 laptop at the moment, and by some way.
See our full Microsoft Laptop Studio review for more details.
HP's no stranger to 2-in-1 laptops, as you'll see if you scroll down this page and check out the gorgeous HP Spectre x360. The Envy x360 isn't quite as punchy, but it's slimmer, lighter and cheaper, and as such it makes an excellent choice if you're a student looking for a decent all-round 2-in-1 laptop.
It's a great looker with a solid aluminium build, and it sounds great too, thanks to its integrated Bang & Olufsen speakers. Its 13.3-inch HD touchscreen display looks similarly impressive, delivering 400 nits of brightness and 100% sRGB, and Corning Gorilla Glass NBT means that it's tough enough for the worst that student life has to offer.
The performance is good – and the battery life's fantastic – but if high-end gaming's your thing for winding down at the end of the day, this 2-in-1's likely to struggle. Also the 720p webcam's a bit of a disappointment, and because the keyboard doesn't detach, the HP Envy X360 feels more than a little clunky to use in tablet mode. On the whole, though, this one's a fine student option, and indeed a great choice for anyone who wants a well-specced 2-in-1 that can cope with most everyday tasks.
Learn more in our HP Envy x360 review.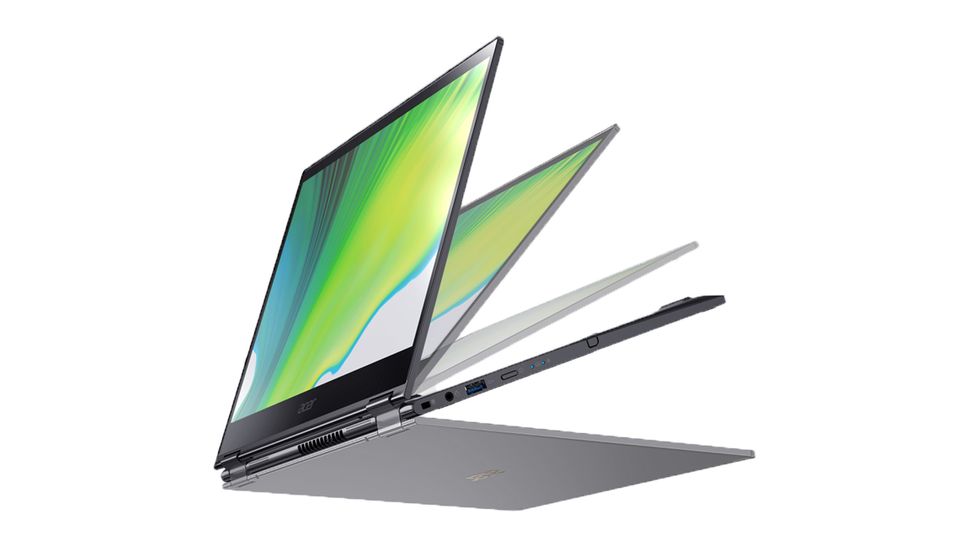 If the model above seems a little too expensive for a student laptop, it's not yet time to rule out a 2-in-1 because there are more accessible alternatives, and the Acer Spin 5 is our favourite of the bunch. It doesn't have as premium a feel as the Microsoft Laptop Studio, and we prefer the Laptop Studio's hinge mechanism, but the Spin 5 still offers a lot of power for a 2-in-1, and although the screen is slightly smaller, it also offers that taller 3:2 ratio. All this makes it perfect for students, as well as creatives on a tighter budget.
The Acer Spin 5 comes with its own stylus already included, which improves the value factor even more. The stylus charges quickly and the laptop itself offers battery life of up to 12 hours. We weren't very impressed with the amount of bloatware included in this 2-in-1 but aside from that this is the best 2-in-1 we've experienced that costs a little less than the Surface Laptop Studio.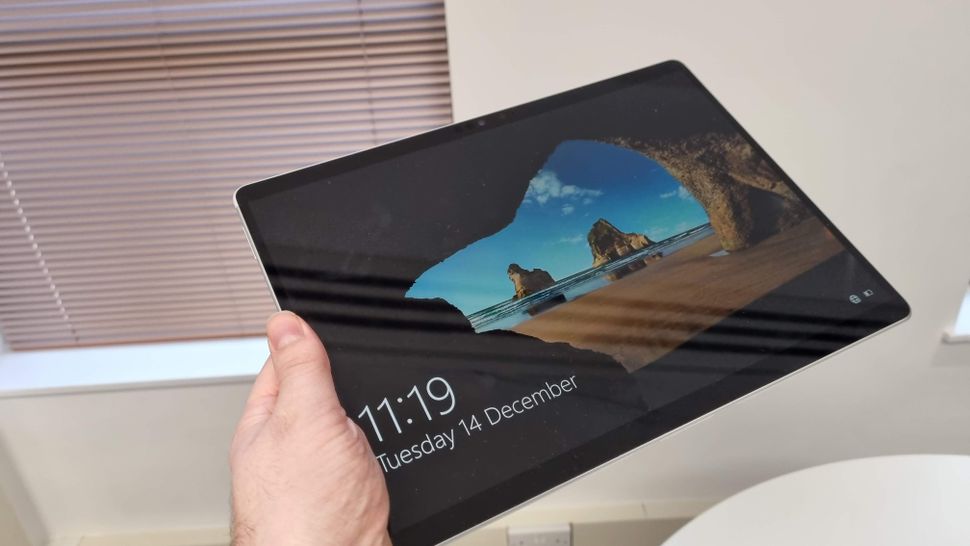 So, the Surface Pro 8 isn't actually a laptop, but it can be if you buy the optional Type Cover. Strictly speaking, the Surface Pro 8 alone is a tablet, but it's one that runs Windows 11, allowing you to use fully fledged desktop software, opening up the possibilities of a PC. But attach the Type Cover and you effectively have a very thin and light laptop that we found to be just perfect for slipping in a bag to use on the go, or simply using or over the house, including on the sofa and in bed.
Excellent Surface Pen stylus support (the pen is sold separately) and the super convenient size and portability make it a good option for drawing, illustration and photo editing. Windows 11 runs smoothly, the screen has a snappy 120Hz refresh rate. You can configure the device up to some pretty powerful specs – if you're going to be using programs that can easily get bogged down like Lightroom for example, you'll want to go for at least 16GB RAM.
Read more in our full Surface Pro 8 review.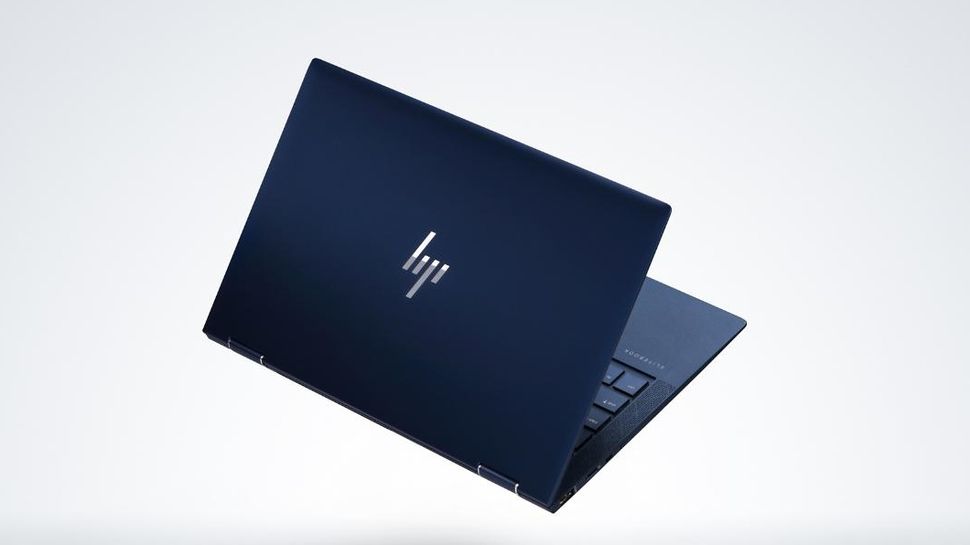 HP has done it again with the HP Elite Dragonfly, a superbly thin and light 2-in-1 laptop that packs impressively powerful speakers and a bright and vibrant 4K display that really needs to be seen to be believed. Its keyboard is also one of the best we've used on a laptop, making it ideal for people who need a portable 2-in-1 device to work on.
Performance and battery life are fantastic, and you get a host of business-targetted security features such as self-healing BIOS technology to fight low-level attacks, a fingerprint reader, a physical webcam guard and a super solid 9 MIL-STD-810 drop and extreme temperature tested build with an elegant dark blue finish.
Unfortunately, this is one of the more expensive 2-in-1 laptops around. Starting at $1,700 / £1,500 for the lowest specs, it's clearly priced at the executive business market rather than for consumers, but for sheer quality, the HP Elite Dragonfly is hard to beat. Some creatives will surely benefit from all its little extras, especially those in senior positions at big agencies, but for many, it will be an unnecessary expense.
As a laptop running Chrome OS, the Asus Chromebook Flip clearly isn't going to be the best 2-in-1 laptop for power; but is the best 2-in-1 laptop for sheer value for money (which also makes it another excellent option for students). And it packs in a lot of features for a price that's considerably lower than other models on this list. It uses Chrome OS, which means not all digital art programmes are available. However, since you can run Android apps on Chromebooks now, you still have a huge selection of apps for drawing, photo editing and more. The price is hard to beat, and it has an impressively long battery life as well. If value for money is your priority, this is the most affordable 2-in-1 laptop we can recommend.
The Dell XPS 13 is another premium 2-in-1 with a stunning touchscreen that makes it an excellent device for drawing on. It's thin and lightweight and offers long battery life. The slim aluminium shell and patterned carbon-fibre finish inside make it the most stylish laptop for drawing in our eyes.
You have several options for the display, but if you're looking for the best laptop for drawing, you're likely to want one of the touch options – either the 3,456 x 2,160 OLED or the UHD+ (3,840 x 2,400) InfinityEdge touch. We reviewed the laptop with the latter and found it offered the perfect sweet spot with 600-nit peak brightness – much brighter than most laptop displays – 100% sRGB and 90% DCI P3 colour gamut. The 16:10 display gives you that little bit extra space vertically too. You'll probably want one of the higher configurations if you're looking to do other creative work like video or photo editing as well as drawing.
See our complete Dell XPS 13 review for the full results of our testing.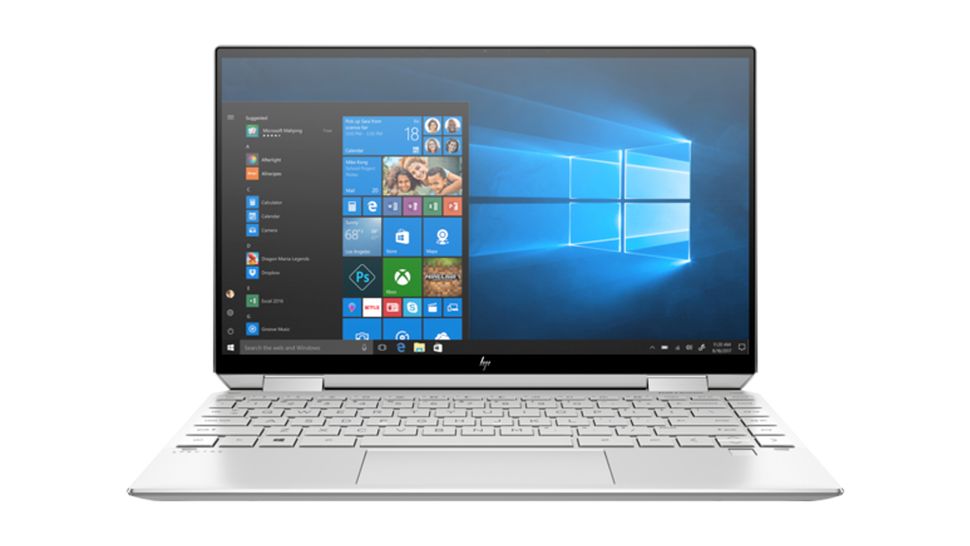 HP again, and this one is a little more accessible, but still has the kind of premium look you expect from an HP laptop, with a sleek brushed-metal design that comes in several colour combinations. The 360-degree hinge that allows the screen to flip back into a tablet format feels nice and solid and the keyboard is well laid out and offers good travel.
An 11th gen Intel processor and up to 16GB of RAM means that it should be able to handle at least most digital art and image editing work, though it may start to be taxed by heavier video editing and 3D design. The bundled-in HP Active Pen works well on the touch screen in tablet mode, though it isn't the most sophisticated stylus. We found battery life was very decent, offering close to 13 hours on a charge.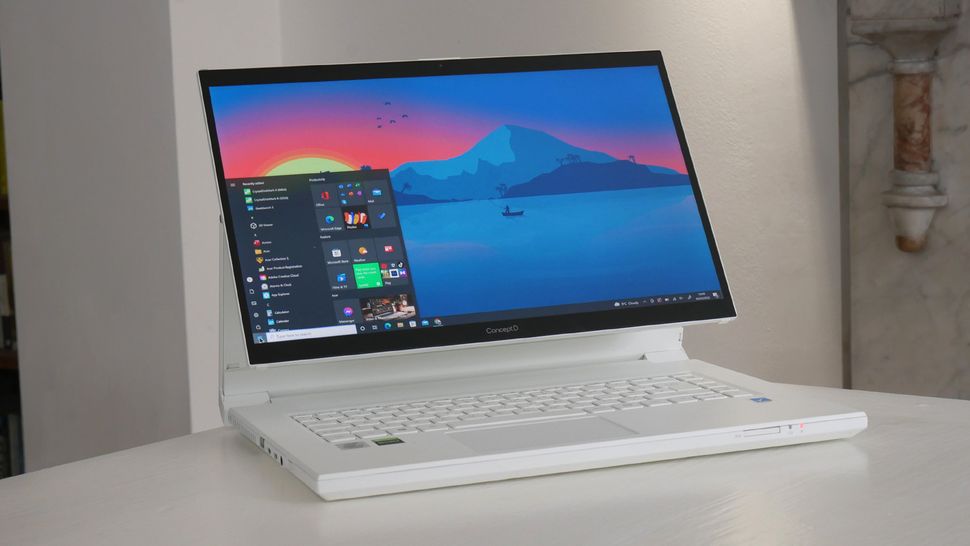 Amid a sea of black and grey laptops, the Acer ConceptD 7 Ezel Pro stands out with its sharp all-white chassis. And when we reviewed it, we found that it stands out even more once you fire it up. The screen is stunning – a Pantone-validated 4K IPS display, which we found offers brilliantly true colours. It also eschews the most traditional type of 2-in-1 hinge and instead opts for a mechanism more like that of the Surface Laptop Pro that we mentioned above.
This really gives you 3-in-1 because you have the added option of an easel-like position. The mechanism feels wonderfully secure. The laptop's backed up with some serious hardware too, configurable with a choice of powerful Intel processors and Nvidia graphics cards. RAM goes up to 32GB. Basically, it should be able to handle anything you throw at it. So why's it so low down the list? Well with a starting price of $2,500 / £2,500, for a lot of us, it's not even an option.
See our full Acer ConceptD 7 Ezel Pro review.
How should I choose the best 2-in-1 laptop for me?
What type of 2-in-1 laptop is best for you? There are 2-in-1 laptops that turn from a laptop into a tablet by physically removing the keyboard. These are usually much thinner and lighter devices when used in tablet mode, but it does mean you need to store the keyboard carefully when it's not being used.
Some 2-in-1 laptops with detachable keyboards have two batteries – one behind the screen and another in the keyboard. This offers longer battery life when in laptop mode. (If battery life is a particular worry of yours, you may want to check our list of the best power banks.)
Other 2-in-1 laptops feature a hinge that can flip the keyboard 360 degrees so that it is behind the screen. As the keyboard remains attached, these 2-in-1 laptops are usually a bit thicker and heavier than models with removable keyboards. However, you don't have to worry about stashing an unused keyboard anywhere, and the hinge allows you to use the laptop in a variety of different ways. For example, you can flip the keyboard 90 degrees and use it as a stand, which makes it useful for watching media or presentations.
Many of the best 2-in-1 laptops also come with styluses that can be used with the touchscreen. This turns them into excellent digital drawing pads – again, making them ideal devices for digital creatives. (Should your desired convertible laptop not include a drawing apparatus, you can save some money by learning how to make a stylus using household items - seriously!)
How do you use a 2-in-1 laptop?
The best 2-in-1 laptops allow you to switch between laptop and tablet modes, and pick which setup is best for the creative task at hand. Sat at a desk needing to write emails? That may be more comfortable when the 2-in-1 is in laptop mode. Watching a film, or doing some digital doodling on a train journey? That might be better suited to the tablet mode.
For most cases, when you want to use a stylus on the touchscreen, be it for drawing or photo editing, you're going to want to use the 2-in-1 laptop in tablet mode because when in laptop mode the screens aren't usually fixed enough and will move at least a little when you apply pressure with the styus. That said, Microsoft's Surface Laptop Studio offers a neat middle option – easel mode – that allows you to prop the screen up fairly firmly in a vertical position over the keyboard.
Read more: