The best 2-in-1 laptops allow you to detach or rotate the screen to the laptop's back and use it as a tablet; for example, if you want to do some digital drawing with a stylus. Then you can reattach/readjust it when you prefer to use a physical keyboard. In other words, you get the best of both worlds, making them a great choice for digital creatives who usually use multiple devices. There are plenty of brands dipping their toes into the 2-in-1 world now, so you certainly have plenty of choice.
Our below guide contains some of our top picks for the best 2-in-1 laptops available today. When curating this list, we've taken into account each model's suitability for creative work, as well as taking a good look at its specs and performance, the effectiveness of its transition mechanism, the quality of its display and, of course, its value for money. Most importantly, we've made sure to base our picks on personal experience during our hands-on expert reviews to ensure we're confident in our suggestions. Our testing process is thorough and in-depth, and if you want to know more detail about it make sure to check out how we test laptops, PCs and workstations.
As you'd expect, you'll also find a few of these machines in our roundup of the best laptops for drawing. However, if you don't want this kind of hybrid functionality, and are just happy with a traditional laptop, check out our guide to the best laptops for graphic design. For now, let's take a look at the best 2-in-1 laptops!
The best 2-in-1 laptops for creatives
Why you can trust Creative Bloq Our expert reviewers spend hours testing and comparing products and services so you can choose the best for you. Find out more about how we test.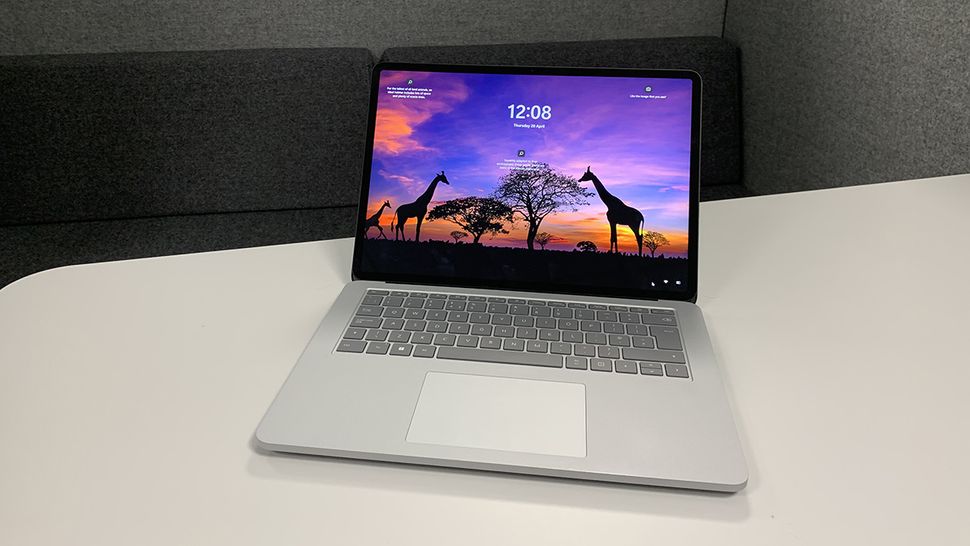 The Microsoft Surface Laptop Studio is simply the best laptop Microsoft has made. It has a premium look, a gorgeous screen and the kind of sleek finish and feel that even Mac devotees might be impressed by. The way it converts from a laptop to a tablet and back again is one of the smoothest and most flexible we've experienced. The screen doesn't fold back on itself like many do, but instead slips forwards over the keyboard. This gives you an additional position – easel mode, with the screen at a nice angle for watching films or working on digital art.
The 3:2 screen size is taller than the usual widescreen format, allowing extra vertical space that can improve productively whether you're drawing, editing photos or even just writing and reading documents. And with a refresh rate of 120Hz it could even serve as a reasonable gaming laptop.
When we reviewed the Surface Laptop Studio, we were impressed with the performance: it can be configured up to 32GB RAM, so you should have no problem using heavy image editing or 3D design programs. We got a consistent 12 hours of battery life in our tests, too. In short, this is the best 2-in-1 laptop at the moment... and by some way.
See our full Microsoft Laptop Studio review for more details.
If you're wanting the best 2-in-1 laptop for more intense creative work, you should seriously consider opting for the MSI Summit E16 Flip Evo. This sturdy laptop is a perfect option for those wanting to run more high intensity programmes for things like 3D modelling and video editing. The 165Hz Full HD screen is great for lighter gaming, but it does lack slightly in vibrancy and brightness.

In our hands-on MSI Summit E16 review, there's one particular feature we love – and that's the fact this laptop is packed full with every port you'd ever need. This includes two Thunderbolt USB-C ports with PD charging, two USB3.2 Type-A ports, a direct HDMI port and even a Micro SD card reader, which will come in particularly handy for photographers and video creators.
The newly updated Dell XPS 13 9315 remains a 2-in-1 laptop with a great balance of performance, portability, and design. It features a sleek and stylish chassis, a powerful processor and a stunning 13-inch touchscreen display. Sitting at 11.50 inches x 7.90 inches x 0.29 inches in size, it's ideal whether you're working at home or on the go. In terms of performance, the XPS 13 9315 is powered by an Intel Core i7-1250U processor, 16GB of RAM, and a 512GB SSD. This configuration is powerful enough for most creative tasks.
However, with below-average battery life, fiddly folio design and a super flat keyboard that not everyone will get along with, it isn't the easiest machine to work with. But overall, if you're looking for something that will let you bridge the gap between work and play and offers a stunning screen in a compact package, the Dell XPS 13 9315 is certainly one to seriously consider.
See our complete Dell XPS 13 review for the full results of our testing.
Looking for something a bit more affordable if you're a student? Then check out the Acer Chromebook Spin 514. We love the smaller size of this laptop and the beautiful brushed aluminium finish. It looks great, performs well enough and is considerably cheaper than some other picks on this list.
As mentioned in our hands-on Acer Chromebook Spin 514 review, our favourite element of this laptop is the screen. This is a 14-inch Full HD, IPS display with a resolution of 1920 x 1080 and a 16:10 aspect ratio – this is unusual for a 2-in-1 as they often come in a square format. While the ratio means there's a larger black bezel below the screen the sides have ultra-narrow bezels.
The Surface Pro 9 is sold as a tablet rather than a laptop. But it can become the latter if you buy the optional Type Cover. And it runs Windows 11, allowing you to use fully fledged desktop software. In other words, you get the possibilities of a PC, but as a very thin, light device, which we found just perfect for slipping in a bag, or simply using on the sofa and in bed.
Excellent Surface Pen stylus support (the pen is sold separately) and the super convenient size and portability make it a good option for drawing, illustration and photo editing. Windows 11 runs smoothly, the screen has a snappy 120Hz refresh rate, and you can configure the device up to some pretty powerful specs. If you're going to be using programs that can easily get bogged down, like Lightroom for example, you'll want to go for at least 16GB RAM.
Read more in our full Surface Pro 9 review.
The Dell Inspiron 7620 2-in-1 is a solidly built aluminium-shell laptop, able to withstand the sort of day-to-day battering it might receive in a student rucksack but sleek enough to look stylish in an office. While its weight puts it more in the laptop camp than the tablet camp, the screen is impressive in tent mode and the hinges feel like they'd withstand quite a bit of abuse. Although the lack of an included stylus to go with the responsive touchscreen feels like a major oversight, it's a solid, dependable choice for graphics and writing work but doesn't quite stand up to video editing or processor-heavy gaming.
As our Dell Inspiron 7620 2-in-1 review reveals, if you're looking for a solid 2-in-1 you can carry around, prop up in tent mode and take calls on, the Dell Inspiron 7620 2-in-1 could be the right choice for you, especially if you're planning to buy the PN5122 Dell Active Pen.
As a laptop running Chrome OS, the Asus Chromebook Flip clearly isn't going to be the best 2-in-1 laptop for power. But is the best 2-in-1 laptop for sheer value for money, which also makes it another excellent option for students. And it packs in a lot of features for a price that's considerably lower than other models on this list.
Like all Chromebooks, the Flip runs not Windows or macOS but Chrome OS, which means not all digital art programmes are available. However, since you can run Android apps on Chromebooks now, you still have a huge selection of apps for drawing, photo editing and more. Plus the price is hard to beat, and it has an impressively long battery life as well. So if budget is your priority, this is the best 2-in-1 laptop we can recommend for a low price.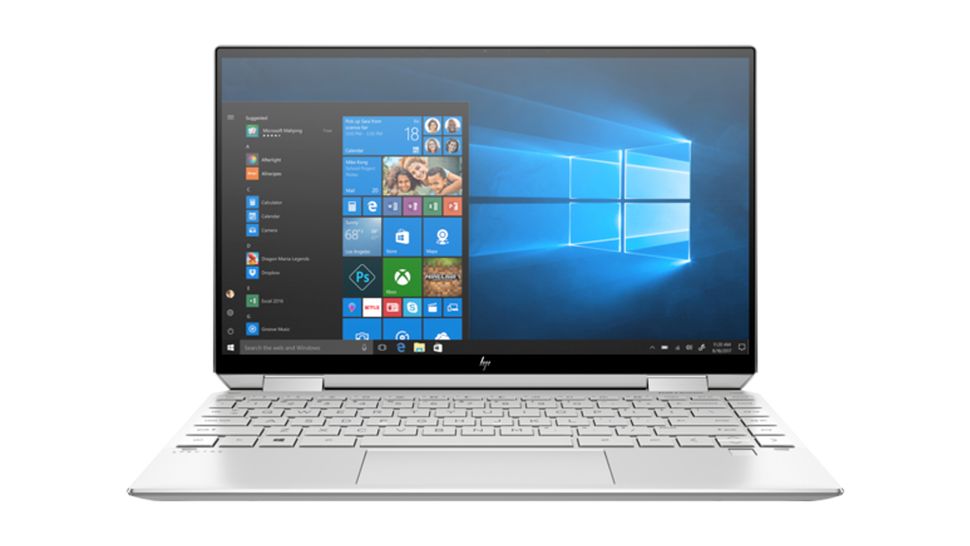 HP again, and this one is a little more accessible, but still has the kind of premium look you expect from an HP laptop, with a sleek brushed-metal design that comes in several colour combinations. The 360-degree hinge that allows the screen to flip back into a tablet format feels nice and solid, and the keyboard is well laid-out and offers good travel.
An 11th gen Intel processor and up to 16GB of RAM means that it should be able to handle at least most digital art and image editing work, though it may start to be taxed by heavier video editing and 3D design. The bundled-in HP Active Pen works well on the touchscreen in tablet mode, though it isn't the most sophisticated stylus. We found battery life was very decent, offering close to 13 hours on a charge.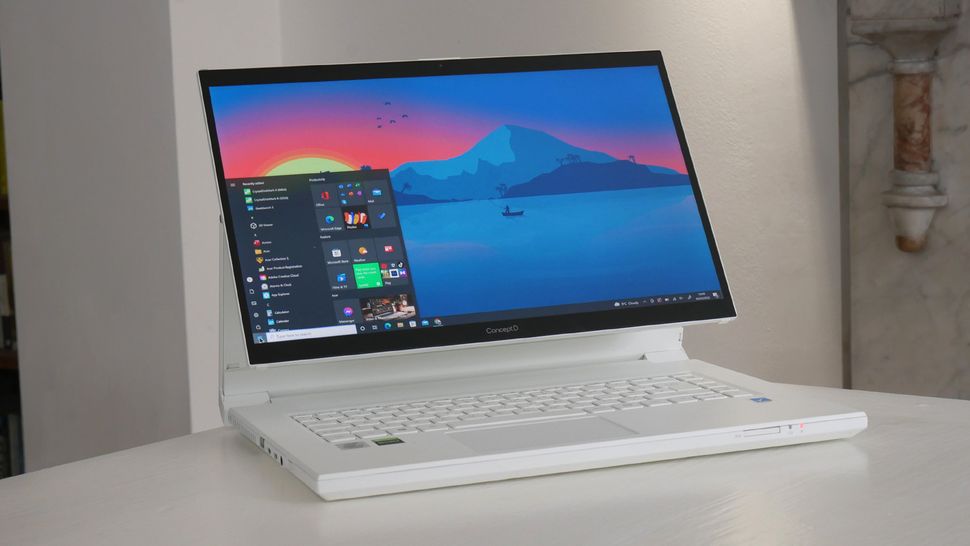 Amid a sea of black and grey laptops, the Acer ConceptD 7 Ezel Pro stands out with its sharp all-white chassis. And when we reviewed it, we found that it stands out even more once you fire it up. The screen is stunning – a Pantone-validated 4K IPS display, which we found offers brilliantly true colours. It also eschews the most traditional type of 2-in-1 hinge and instead opts for a mechanism more like that of the Surface Laptop Pro that we mentioned above.
This really gives you 3-in-1 because you have the added option of an easel-like position. The mechanism feels wonderfully secure. The laptop's backed up with some serious hardware too, configurable with a choice of powerful Intel processors and Nvidia graphics cards. RAM goes up to 32GB. Basically, it should be able to handle anything you throw at it. So why's it so low down the list? Well with a starting price of $2,500 / £2,500, for a lot of us, it's not even an option.
See our full Acer ConceptD 7 Ezel Pro review.
How should I choose the best 2-in-1 laptop for me?
What type of 2-in-1 laptop is best for you? There are 2-in-1 laptops that turn from a laptop into a tablet by physically removing the keyboard. These are usually much thinner and lighter devices when used in tablet mode, but it does mean you need to store the keyboard carefully when it's not being used.
Some 2-in-1 laptops with detachable keyboards have two batteries – one behind the screen and another in the keyboard. This offers longer battery life when in laptop mode. (If battery life is a particular worry of yours, you may want to check our list of the best power banks.)
Other 2-in-1 laptops feature a hinge that can flip the keyboard 360 degrees so that it is behind the screen. As the keyboard remains attached, these 2-in-1 laptops are usually a bit thicker and heavier than models with removable keyboards. However, you don't have to worry about stashing an unused keyboard anywhere, and the hinge allows you to use the laptop in a variety of different ways. For example, you can flip the keyboard 90 degrees and use it as a stand, which makes it useful for watching media or presentations.
Many of the best 2-in-1 laptops also come with styluses that can be used with the touchscreen. This turns them into excellent digital drawing pads – again, making them ideal devices for digital creatives. (Should your desired convertible laptop not include a drawing apparatus, you can save some money by learning how to make a stylus using household items; seriously!)
How do you use a 2-in-1 laptop?
The best 2-in-1 laptops allow you to switch between laptop and tablet modes, and pick which setup is best for the creative task at hand. Sat at a desk needing to write emails? That may be more comfortable when the 2-in-1 is in laptop mode. Watching a film, doing some digital doodling on a train journey? That might be better suited to the tablet mode, or alternatively, you could look for the best drawing tablets for animation.
For most cases, when you want to use a stylus on the touchscreen, be it for drawing or photo editing, you're going to want to use the 2-in-1 laptop in tablet mode because when in laptop mode the screens aren't usually fixed enough and will move at least a little when you apply pressure with the styus. That said, Microsoft's Surface Laptop Studio offers a neat middle option – easel mode – that allows you to prop the screen up fairly firmly in a vertical position over the keyboard. If you need a capable laptop for Photoshop, we have a dedicated guide for that, but many on here will be ideal too.