By purchasing one of the best drawing tablets for animation, you'll be opening up a whole new world of creative possibilities. There are plenty of excellent options on the market today but with big names like Wacom, Huion, Xencelabs and XP-Pen dominating the digital art world, it can be easy to get confused when choosing something that's the best fit for you. Alongside these, we've also included familiar names like Apple and Samsung as they have optimised certain tablets over the last few years for animators and creatives, and they're great alternatives to graphics tablets if you're wanting to utilise them for more general use too.
Our below list contains a wide range of these brands and tablet types that include some older models. We understand that not everyone can spend a fortune on a drawing tablet, so buying an older model is a great way to save some pennies. We also focus on specs like size, connection type and pen pressure sensitivity to help you quickly compare each listing. We've also made sure to include reviews on the tablets we've managed to get hands-on with to test, so make sure to read those over for more detailed insight. You can also scroll down to the bottom of this article for a bit more help on deciding between different tablets.
Looking for a wider range of tablets? Check out our guide to the best drawing tablets overall, or head over the best budget drawing tablets. If you're on the market for a tablet to suit a younger artist, we also have a dedicated list to the best drawing tablets for kids For now, let's take a look at the best drawing tablets for animation – so be sure whether you're an animation student going to college or a seasoned professional artist, be sure one of the below options will be perfect for you!
The best drawing tablets for animation available now
Why you can trust Creative Bloq Our expert reviewers spend hours testing and comparing products and services so you can choose the best for you. Find out more about how we test.
Despite increasing competition from challenger brands such as Huion and XP-Pen, Wacom is still the name to be reckoned with when it comes to tablets for drawing and animation, and deservedly so. And if you're getting serious about animation, the Wacom Cintiq 16 should be able to meet all your requirements.
In our Wacom Cintiq 16 review our writer found this tablet for animation delivers a wonderfully smooth and intuitive drawing experience, with top-notch stylus compatibility, as well as compatibility with plenty of animation software packages. Essentially, nearly every working animator's going to find a lot to love here.
The Wacom Cintiq 16 gets its name from its 16-inch screen, which is a good size for most users. When we tested it, we found it's not the biggest, with Wacom tablet screens going as large as 32 inches, but most people probably don't need that much display real estate. The Wacom Pro Pen offers 8,192 levels of pressure sensitivity, and if you're into 3D animation, you also get compatibility with the Wacom Pro Pen 3D.
Wacom has made some savvy overtures to animators with its tablets, including full compatibility with lots of useful animation software. This can mean a lot of time-saving quality-of-life improvements – we liked the ability to move characters' body parts rather than having to withdraw them. It makes up for one of the things the Cintiq 16 is lacking – built-in shortcut ExpressKeys, which can also be remedied with the purchase of a Wacom Express Key Remote (can generally be picked up for $99).
The Xencelabs Pen Tablet Medium Bundle is the new kid on the best drawing tablet block, kind of. Xencelabs is one of the newer brands making high-quality tablets for animation, and it has a newer SE model just released that comes in a sleek white finish.
So what is Xencelabs Pen Tablet Medium Bundle? It's the full works in a box; it comes with the Xencelabs Pen Tablet, two pens (the 3 button and Thin Pen) and a case, a Quick Key remote with 40 programmable buttons, and other add-ons, such as the drawing glove and spare nibs. In our Xencelabs Pen Tablet Medium review our writer found this tablet to be "portable, wireless and pretty much flawless in performance".
This isn't as large as the Wacom Cintiq 16, coming in at 13-inches the Xencelabs fits neatly with an Apple MacBook or iPad Pro – demonstrating its mobile credentials. This is a graphics tablet, not a pen display or computer tablet, so you'll need a device to plug it into. The quality is excellent and the bundle of goodies really sets you up for work – the Quick Key remote is a particular life-saver.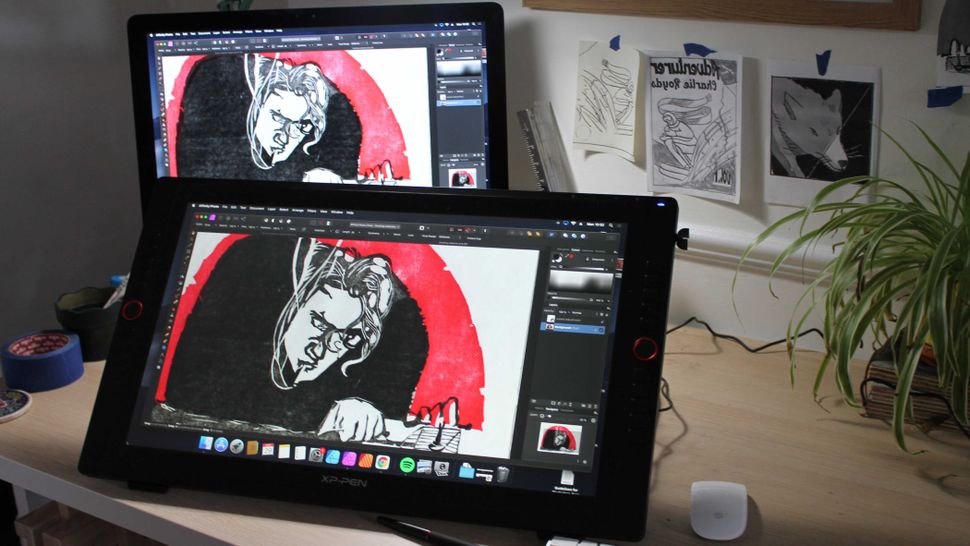 Need a tablet for drawing manga? The XP-Pen Artist 24 Pro would be a fine choice; it's a high-end tablet that clearly has its sights set on undercutting Wacom hard. So for about a third of the price of the comparable Cintiq 24 you get an impressive 24-inch 2K QHD display that features 90 per cent coverage of the Adobe RGB colour gamut, with a textured film overlay bringing the feel of drawing on paper.
The XP-Pen Artist 24 Pro also provides 8,192 levels of pressure sensitivity as well as tilt response, ensuring superior definition of even the finest lines. We felt that though it doesn't quite have that Wacom feel, but it's hard to complain given the inviting price. For all the details, see our XP-PEN Artist 24 Pro review.
Need more than just a drawing tablet? Thanks to massive improvements in its stylus technology and display sensitivity, our testing judged that Apple's iPad is now a serious contender in the drawing tablet market, and the latest 12.9-inch iPad Pro is top of the range. Not only is it one of the best tablets ever, it's also a serious tool for animators, whether you want to use as a stand-alone tablet or hook it up to your computer as a pen display.
Our test found that the new M2 chip makes this tablet an absolute powerhouse, with ultra-fast performance that essentially puts this iPad on the level of a Macbook. The mini-LED powered XDR display is also best-in-class, with 1,600 nits of peak brightness, 1,000 nits of full-screen brightness, greater contrast and better control of local dimming. Drawing with the Apple Pencil also feels fantastic, with incredible sensitivity and that unmistakable Apple design that makes it comfortable to use in the hand.
Of course, since this is an Apple product, you already know what the downside is. The iPad Pro 12.9-inch M2 is a very expensive tablet, and if you don't need its blistering, top-of-the-line performance, there are options on this list to suit smaller budgets. But if you can afford it, you won't regret it – our iPad Pro 12.9-inch (M2, 2022) review explains why.
Yes, we've already featured two Wacom tablets in this list; the Cintiq 16 for more advanced animators and the One for beginners. But we'd also recommend the Intuos Pro Large as a tablet for animation, for the simple reason that it's good, reliable all-rounder that anyone can get brilliant results from.
Easy to conenct to a laptop or other device, the Intuos Pro provides a dependable drawing surface, and is easy to take with you wherever you go. It's also compatible with the Wacom Pro Pen 3D, which is a great asset if you're looking to create 3D animation. Head over to our Wacom Intuos Pro review to explore more.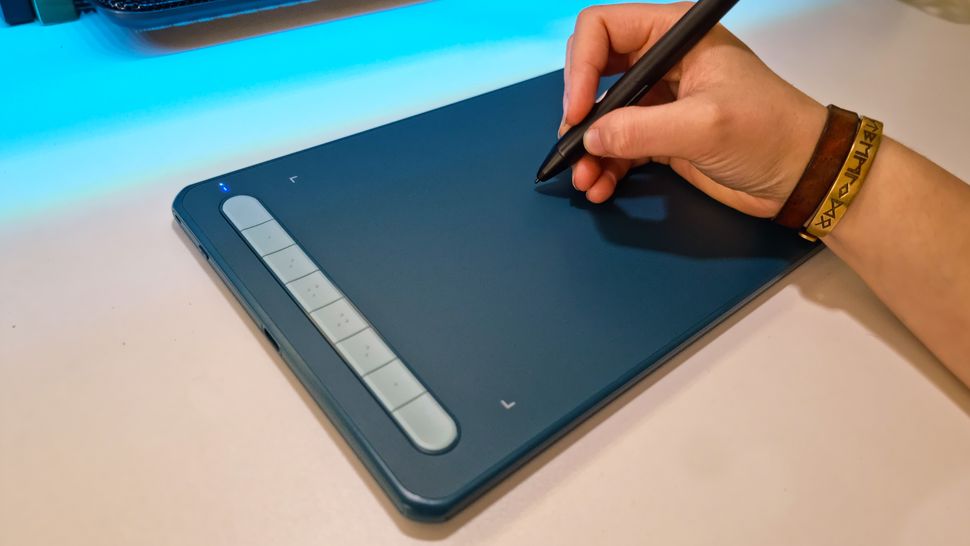 XP-Pen are well known for their affordable yet capable entry-level drawing tablets, as can be seen by the fact we've included a couple of picks from them in this list. The XP-Pen Deco MW is no exception – this graphics tablet retails for around $69.99/£69.99 which makes it one of the cheaper on this list.
The Deco MW is available in 4 colours: blue, green, pink and black. This is a pretty unique feature when it comes to graphics tablets, as most are available in a bog standard black or grey. Measuring just 8 x 5 inches, this tablet is a smaller size which makes it great for storing away when not in use. The stylus has 8192 levels of pressure sensitivity, and doesn't need batteries or charge to work.
In our XP-Pen Deco MW review, we did find it important to note that the lack of pen storage is a bit of a pain if you fear losing the stylus. It's also worth mentioning that the custom XP-Pen control panel isn't the most intuitive, with a basic UI and a considerable lack of customisation compared to other softwares. But overall, we found these to be small issues easily overcome – especially at that price point.
The Galaxy Tab S8 ultra is another top option if you'd prefer a general purpose tablet over a dedicated drawing tablet for animation. The Galaxy Tab S8 ultra is the largest of three welcome updates to Samsung's tablet range. It's bigger than the S8 and the S8+, and it comes complete with Samsung's brilliant S-Pen, which means that you get all the physical tools you're going to need for animation straight out of the box.
In our Samsung Galaxy Tab S8 Ultra review we found this tablet boasts one of the best displays in the business: an utterly gorgeous 14.6-inch Super AMOLED display, with vivid colours and deep, dark blacks. Design-wise, it's basically the same as the previous S7 Ultra, with more or less identical physical proportions. It's still comfortable to hold and draw on at the same time, if you like – and we loved the slim design.
Android offers plenty of animation apps, though we do wish the Android tablet experience wasn't STILL so poorly optimised. Google has been promising to look at this for years now – but so far has not appeared to do so. Still, the Android tablet does have one ace up its sleeve over Apple alternatives: a micro SD card slot for storing apps and media.
If you're just starting out and all you need is a cheap tablet for animation while you find your feet, it's hard to go wrong with the Huion HS610. It's a great value graphics tablet that you'll need to plug into an external display so that you can see what you're doing, but if you can live with that you'll find some worthwhile premium features, including 8,192 levels of pressure sensitivity in its pen, and 16 customisable keys that you can map to your favourite tools and shortcuts to really speed up your workflow.
Our Huion HS610 review found there's a good-sized drawing area to work with, and we appreciated the general compatibility with dedicated animation software like Adobe Animate.
However, having to view what you're drawing on a different display is a bit of a pain, but that's the price you pay for the money you save on a graphics tablet compared to a pen display. Plus, the fact that it can be plugged into an Android smartphone (not an iPhone, sadly) really ups the potential for on-the-go drawing, no matter where you are.
Huion and Wacom both produce a range of tablets, including premium and affordable models. To find out more, check out our Wacom vs Huion comparison guide where we run through the pros and cons of tablets from each of these major manufacturers.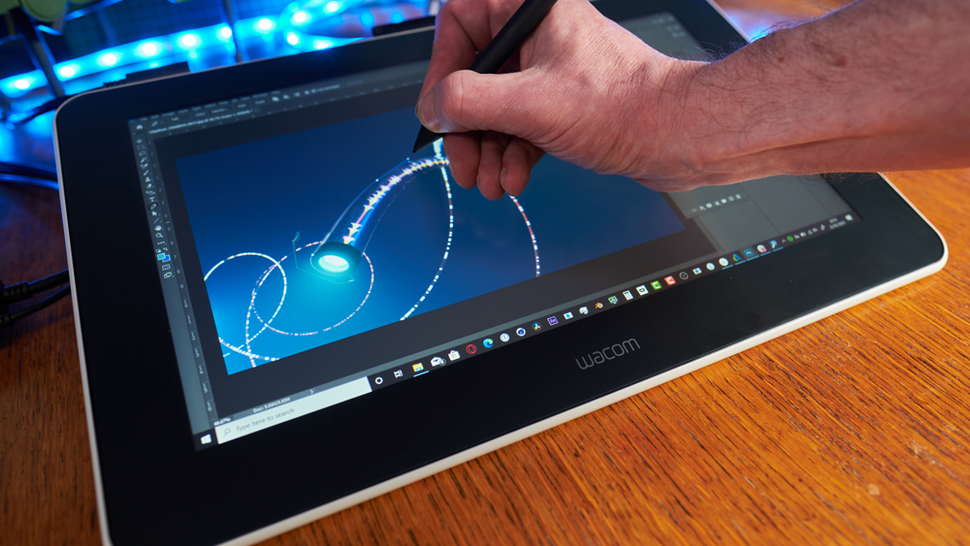 The Wacom One (not to be confused with previous tablets with the same name) is an excellent example of this high-end brands adaption to new price points, offering the same quality at an affordable price.
This is a great tablet for beginners that comes at a low-ish price point, but which still delivers that Wacom drawing experience. Okay, it's not as cheap as some others on this list, but you are getting a Full HD screen and a tablet that interfaces seamlessly with Mac and Windows alike.
In our Wacom One review our writer was impressed by the quality and overall but did remark they would have preferred the screen being a bit brighter, and the stylus is a less sophisticated model than you get with the top-range Wacom models, but this is a fantastic starter tablet for animators nonetheless.
There's no need to spend a fortune on a tablet for animation. If all you need is a solution that does the job without overloading you with expensive extras that you'll never use, the XP-Pen Deco 03 makes for a fantastic choice.
When we tested it, we found the XP-Pen Deco 03 delivers a well-sized drawing surface and its battery-free stylus gives you 8,192 pressure sensitivity levels, although you'll have to live without tilt sensitivity. We did think the mouse pad was a bit sensitive and thought the software wasn't that well integrated, but it is still excellent value (and we love the useful scroll wheel).
The XP-Pen Deco 03 plugs into a computer or smart device via USB, and offers broad compatibility with all manner of animation packages, making it a drawing pad pretty much anyone will be able to use. It's lightweight and slim, with a pleasingly sleek design and customisable keys that can be mapped to your preferred function. Here's our XP-Pen Deco Pro review for more.
Best tablets for animation: what to look for
Before you splash out on one of the best drawing tablets for animation, it's well worth familiarising yourself with the criteria you'll need to think about, so that you can be sure you're buying something that has just the right feature set for you. Here are the main things you should consider:
What kind of tablet do animators need?
There are three kinds of tablet: graphics tablets (connect to a PC or Mac), pen displays (drawing onto a screen) and computer displays (as the name says, a computer and display combined). All are good for animation, but go up in price the more tech is on offer.
If you can afford it, a computer tablet is excellent – this can be an iPad Pro, Wacom Cintiq or Huion Kamvas Pro. The good medium ground is a pen display that uses a computer to power the software but enables you to draw onto a Full HD screen.
Once you've purchased your tablet, make sure to check out the best animation software.
Display vs graphics
There are two main types of drawing tablet: display tablets and graphics tablets. Display tablets have a built-in screen, while graphics tablets are drawing surfaces that require an external display such as your computer's monitor.
Display tablets are the better choice for animation where possible, as having your drawing surface and your display in the same place makes for a smoother experience, and makes it easier to take advantage of the various animation software programs.
However, they also tend to be more expensive than graphics tablets – and if you already have invested in a high-quality monitor, a graphics tablet may be the more cost-effective choice.
Size
Naturally, the larger the drawing tablet, the more pricey it will be. But there are two things to bear in mind when you think about size; there's the overall size of the tablet, and then there's the size of the display or drawing surface itself.
A tablet's size matters of course because you're going to need to keep, store and potentially transport it, but also because a larger tablet will likely have more inputs, and more space for controls (more on that shortly).
In terms of screen size, it's worth thinking about how much drawing space you actually need. While it may seem like the obvious thing would be to get as big a tablet screen as possible, this will drive the cost of the unit way up, and it may simply be more space than you need.
This will of course depend on the nature of the animation you're doing – it's worth looking at your art with a critical eye to determine how much space you need.
Controls and shortcut keys
When you're just starting out with a drawing tablet you might not feel that having a set of shortcut keys is that important. Trust us, though: once you find your feet and get into your flow, you'll regret not having enough customisable shortcut keys when you're continually having to pause to hit actual keyboard shortcuts.
Shortcut keys can seriously speed up your workflow; some tablets will have one or two, some will have as many as 16, and others will have none – though many of these will be tablets like iPads, which offer other advantages.
Pen sensitivity
One of the main reasons that tablets are so useful for drawing and animation is the incredible level of pen pressure sensitivity they're capable of. With pen sensitivities routinely going as high as being able to recognise as much as 8,192 levels of pressure, you can get truly granular with line thickness and shape.
Budget/price
We've mentioned this already a few times of course, but it is simply a fact of life. Deciding which is the best animation tablet for you will of course in part be dictated by how much you've got to spend.
This will vary for everyone of course, and while the more you spend, the more you'll get, there are plenty of great cheap animation tablets out there – we've included some great options in the guide above.
The tech has really come a long way since Wacom dominated everything, and it's worth taking a look at our feature on the best Huion tablets feature, for example, as these offer great value.