The best Huion drawing tablets represent the absolute best way to get a premium digital drawing experience without having to spend a pile of money for the privilege. If all you need is a simple graphics tablet at an absolute rock-bottom price, with Huion you're spoiled for choice, and at the other end of the scale you can get an a tablet that performs in much the same way as a Wacom Cintiq or an iPad Pro, but for a lot less money. And if your requirements are somewhere in-between, you can be fairly sure that there's a suitable Huion drawing tablet for you.
Huion's extensive range includes both graphics tablets and pen displays. If you're not sure about the difference, scroll to the bottom of this page where you'll find a comprehensive explainer, but in short: pen displays have their own screens, while graphics tablets need to be connected to an external display so that you can see what you're doing. Obviously both need to be connected to a computer, but the big benefit of going for a graphics tablet over a pen display is that it's a whole lot cheaper.
Whatever type of drawing tablet you're after, you should find jut the thing here. We've included plenty of brand new Huion tablets as well as popular older models that are still available (and sometimes at a sweet price). Huion drawing tablets range from cheap, basic options through to premium models with stacks of features, so there's bound to be an option for you, whatever your budget and skill level. To make things easier for, we've split this guide into two sections: the first covers pen displays, then we move on to cheaper graphics tablets.
Huion is,'t just a budget option – the firm makes some of the best drawing tablets you can buy. Every tablet on this list comes wholeheartedly recommended by us – and once you've chosen your tablet, why not get started with our guide to the best free graphic design software.
The best Huion drawing tablets available now
Pen displays
If you demand the best Huion drawing tablet all-round, you want the Huion Kamvas Pro 24. It sits almost at the top of the Huion range, and it easily gives Wacom a run for its money. This is a 24-inch pen display and it's absolutely superb; it has a textured surface that feels almost as good as drawing on art stock, and its QHD display renders your work in fabulous detail. You also get 120% sRGB coverage and a 178° viewing angle, and the Huion PW517 pen gives you 8,192 levels of pressure sensitivity as well as tilt sensitivity of ±60°.
The Huion pen uses electromagnetic resonance for power, and works up to 10mm away from the screen's surface. We really rate this stylus in particular, as it delivers a premium experience comparable to that of a Wacom Cintiq, and makes the Kamvas Pro 24 capable of playing in the big leagues.
As such, this tablet commands a high price tag. Furthermore, there have been stock issues in the past, so if you feel that the Kamvas Pro 24 is right for you, it can be a good idea to pounce when you see it. The range also includes a few other options – there's the basic Kamvas 24, which is a similar proposition without the etched glass surface. Then there's also the Kamvas 24 Plus, a pricier version with an expanded contrast ratio and customisable buttons that can be assigned to your preferred functions. Plus, there's a 4K version of the Kamvas Pro 24, for those who need the extra pixels.
Our full Kamvas 24 series review goes into detail, and you can also see our Huion Kamvas 24 Pro 4K review for an in-depth look at the high-resolution version.
Don't quite need the full 24 inches? The Huion Kamvas 22 Plus has all the features you need, with a slightly more compact 21.5-inch Full HD display that delivers 140% sRGB coverage. Whether you're a pro or a hobbyist, this Huion drawing tablet really delivers the goods.
It features an anti-glare display that does a brilliant job of keeping everything visible in all manner of lighting conditions (although given the Kamvas 22 Plus' size, you're unlikely to want to take it out and about with you), and the screen's ever so slightly curved, which helps reduce parallax (the distance between the stylus tip and the line that appears on the screen).
Sure, it's not 4K, or even QHD. Sure, there's no touchscreen, and setting it up tends to incur a mess of cables and wires. The Huion Kamvas 22 Plus is still a premium drawing tablet at a bargain price, and that should merit serious consideration from more or less anyone with an interest in digital art.
Read more in our Huion Kamvas 22 Plus review.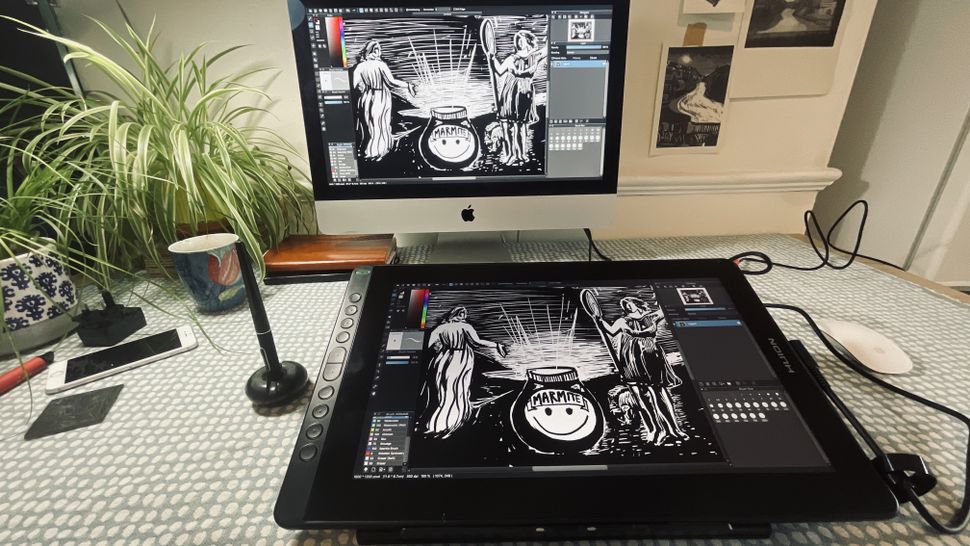 We've looked at some pretty hefty Huion drawing tablets so far, but if you're short on space or simply prefer something a little more compact, there are some excellent options available, such as the Huion Kamvas 16. As you might have guessed it has a 16-inch screen, and it weighs 1.26kg; about the same as a fairly large laptop.
The Kamvas 16 is a more recent addition to the Huion range, and it's up against similarly-sized tablets such as the Wacom Cintiq 16 or XP-Pen Artist Pro 16. How does it fare? It acquits itself rather well. The pen is highly responsive, with no lag and 8.192 levels of pressure sensitivity. The screen, meanwhile, is a Full HD type, with 100% sRGB gamut coverage and a 178°viewing angle.
As with most Wacom tablets, this is one of a series of slightly confusing, similarly named tablets – there's a Kamvas 16 Pro that has better colour accuracy and a laminated display to reduce parallax. Then there's also the Kamvas 16 4K with higher resolution, and the Kamvas Pro 16 Premium with even better colour accuracy… it's a lot. For most users, the generalised Kamvas 16 will probably be the best choice; find out why in our Huion Kamvas 16 (2021) review.
Stepping down another size level, we come to the Huion Kamvas Pro 13, which is small but very well formed, both in terms of features and functionality. This more compact pen display features a high-quality screen with a textured surface for a more natural-feeling drawing experience, as well as 8,192 levels of pressure sensitivity plus a set of customisable function buttons that enable you to execute all your favourite shortcuts instantly.
The smaller display also makes the Kamvas Pro 13 much more portable; if you want a drawing tablet that you can pack into a bag and carry with you for drawing on the go, this is a good choice. With a sleek and slender build, it'll fit into basically any average laptop bag.
The anti-glare surface on the Kamvas 13 Pro (which you don't get on the vanilla Kamvas 13) is also a nice touch, further extending the tablet's usefulness for on-the-go drawing, where lighting conditions may not always be optimal. For all the details, take a look at our Huion Kamvas Pro 13 (2.5K) review.
Huion's Kamvas 24 Series tablets all feature 23.8-inch displays with a 178° viewing angle, with assorted feature sets and price points. The Huion Kamvas 24 Plus is the most high-end model of the lot, closely followed by the Kamvas 24 Pro (our top pick) and the Kamvas 24. For a comprehensive overview of the entire range, see our Kamvas 24 series review.
The real star of the show is the included Huion PW517 pen. There's no need for batteries or charging cables, as it draws its power directly from the tablet via electromagnetic resonance. This pen delivers excellent drawing performance and control. It's smooth and satisfying to use, working up to 10mm from the screen surface, with virtually no parallax.
While the Kamvas 24 Plus is still relatively new, and therefore highly priced, it does provide serious competition to its Wacom rivals in price terms. Professional artists and illustrators will find this tablet does everything they need it to and more. The only real issue is that it can be hard to find; the stock issues affecting much of the wider tech industry have also affected Huion tablets. If you spot it, and your budget stretches far enough, the Huion Kamvas 24 Plus is worth its sizeable price tag.
Graphics tablets
If you need a straightforward graphics tablet rather than a pen display, our top choice would be the Huion H610 Pro, which is a versatile device with plenty of features including eight express keys and 16 soft keys. It has a 10 x 6.25-inch working area for a PC (3.9 x 6.25-inches for mobiles), and while it doesn't quite have all the functionality more expensive drawing tablets offer, the Huion H610 Pro is an excellent option for beginners, especially at this price.
Ever found yourself having to switch between your drawing tablet and your keyboard in order to execute the shortcuts you need? The clever Huion Inspiroy Keydial KD200 could make life a whole lot easier for you; it's a medium-sized drawing tablet combined with the left-hand side of a standard keyboard, making it an absolute breeze to unleash the shortcuts you need, whichever digital art package you're working with.
It takes a bit of getting used to – you'll likely spend a few days constantly reaching for your regular keyboard out of habit – but put some time into it, and the KD200 is incredibly slick and fun to use. Unfortunately, there's no option for the left-handed among you (Huion has teased a lefty version, but hasn't yet gone to the lengths of actually producing one), so this does restrict who can use the KD200. If you're right-handed, it's a great option.
If you're serious about your digital art but don't have the budget for a high-end drawing tablet, the Huion 1060 Plus will see you right without maxing out your credit, with just the right balance of features and responsiveness at a delightfully low price. It's not quite as accomplished as Wacom's finest, but it is much cheaper and comes with a responsive battery-free stylus, too. It closely resembles Wacom's Intuos line, and is a good choice if you're tempted by those tablets but would prefer something a little more affordable.
Another fantastic but cheap Huion tablet, the Huion H640P delivers a lovely drawing experience as well as a set of handy shortcut keys, all at a thoroughly attractive price. It's nice and compact, and if you plan on taking it out and about with you it even comes with its own drawstring bag. It measures just 10.2 x 5.8 inches – no thicker than a smartphone – and speaking of which, the Huion H640P is compatible with most Android devices.
Finishing off our roundup of the best Huion drawing tablets is this wonderful little budget model that's ideal for anyone just starting out in digital art who isn't quite ready to spend big on a more high-end device. For our money the Huion H430P is the best Huion tablet for beginners, with all the basics you need to get started at a rock-bottom price. Having a few customisable keys is a useful touch for improving workflow, and the battery-free pen also has two buttons. It's a little on the small side, but it's a great – and affordable – beginner option.
Our Huion Inspiroy H430P review goes into more detail on this affordable, tiny tablet.
Huion drawing tablets: which type to choose?
The first thing you need to decide when choosing a Huion drawing tablet is whether you need a pen display or a graphics tablet. We've divided the guide above into these two sections, but if you're new to digital art and still not sure about the terminology, here's a quick rundown of pen displays and graphics tablets.
Pen displays: As you might guess from the name, a pen display is a drawing tablet with its own screen built in, rather like an iPad or Android tablet, so that you can easily see what you're drawing. It's the closest thing you can get to drawing on paper, and you'll find that unlike general purpose tablets, many pen displays have textured touchscreens in order to provide a feel that's almost like drawing on paper. Many pen displays also take advantage of advances in screen technology to deliver high resolutions and superb line sensitivity. All this tech makes them especially good for specialist drawing applications, like animation or technical drawing.
The other side of the coin, of course, is that pen displays come at a higher cost than graphics tablets, which we'll get to shortly. As such, you tend to see fewer pen displays oriented towards beginners, as the initial cost outlay is high enough to deter new users. At the other end of the scale, professional pen displays are the standard tools of many creative industries, and tend to be where the most exciting developments are happening. Huion pen displays are much more affordable than their counterparts from the likes of Wacom, and are well worth looking into if you want a professional-level tool for a budget price.
Graphics tablets: Graphics tablets operate in essentially the same way as pen displays – you use a stylus to draw on the surface, and your movements are recorded digitally. The key difference, however, is that graphics tablets don't have their own displays, and therefore need to be plugged into a monitor or laptop in order that you can see what you're drawing.
This makes for a quite different drawing experience to that of using a pen display; the setup's less self-contained, and you'll probably need to take a bit of time to get used to the sensation of drawing in one place and seeing the results in another. If you can cope with that disconnect, however, the real benefit of opting for a graphics tablet is that it'll cost you a lot less than a pen display, especially if you opt for Huion, which has pretty much become a byword for cheap, high-quality graphics tablets. For less than the price of a meal out for two, you can pick up a sophisticated digital drawing tool!
And graphics tablets aren't just for saving money. If you are in another line of creative work that has necessitated buying a high-end monitor, such as video editing, then buying a graphics tablet to hook up to it may make more sense than shelling out big bucks for another high-quality display.
Read more: