The best power banks may not be the sexiest of all tech, but it's hard to beat in importance when your device is on the blink, and you desperately want it to stay on! These portable little machines can be a life-saver if your battery runs out of juice on the go, and there's a number of amazing deals to be had on power banks of all shapes, sizes, and for all budgets. 
As a rule, the best power banks are small, compact, and are easy to carry around, while also holding enough power to charge your devices several times over. But you'll have specific needs. Do you want your power bank to mainly keep your phone topped up during a weekend away? Or do you require something more heavy duty to keep your gear running when meeting clients for a day out in the city? 
Whatever your needs, we've put together a list of the best power banks on offer right now, so you're bound to find something right for you. 
Looking for a different type of storage? Check out our the best external hard drives and SSDs. And if you're in between getting a laptop or a tablet, try our list of the best 2-in-1 laptops out there. 
The best power banks available now
This fantastic device quite simply ticks all our most important boxes when it comes to choosing the best power bank. Long and slim, the Anker PowerCore 20100 power bank comes with two 2.4 Amp USB ports so you can charge two devices at once. It has a huge (20,100mAh) capacity, which means you can charge everything a few times during one trip; the iPhone 8, iPhone 7 and iPhone 6 around six times, the Samsung Galaxy S9, S8, S7, S6 four times. But perhaps most importantly, it's very fast when you're charging devices that use PowerIQ or VoltageBoost. (If you have a device that uses Qualcomm QuickCharge, there's a separate version available to buy). And all of this comes at a very reasonable price. As long as your device is compatible, and lightness/portability is not your main concern (it weighs about the same as a can of soup), buying this portable charger is a no-brainer.
Want to know more about this device? Head over to our should I buy an Anker Powercore power bank for more details. 
With an astounding six ports, the MAXOAK 50,000mAh Power Bank is one of the best portable chargers if you're on a trip with a bunch of colleagues who all need their phones and tablets charging at once (or you just have a lot of devices you need to charge yourself). And with a whopping 50,000mAh battery capacity, you're certainly going to have enough power to do so, even multiple times. Sadly, you can't use it to charge your MacBook, but there are plenty of laptops that are compatible from Fujitsu, Sony, Acer, Asus, IBM, Dell, HP, NEC, Samsung and Lenovo.
The RAVPower 20,000mAh is another slimline and stylish power bank that offers a huge amount of battery life despite its svelte design. It's easy to slip into a pocket, and it has two ports for charging multiple devices at once. It's also a fair bit cheaper than some of the other power banks on this list as well, so it's a great choice if you want a dependable power bank that offers plenty of battery life for your devices, all while not breaking the bank.
If you mainly want a power bank to keep your iPhone and/or iPad juiced up, then the Mophie Powerstation Plus XL is the best device on the market for you. That's mainly because it includes an dual-purpose charging cable with a Lightning adapter that charges your Apple devices. Handily, the adapter can easily be removed if you want to switch it to micro USB, to charge an Android phone, for example. The generous 12,000mAh battery capacity gives you more than four additional charges on your smartphone, or one extra charge for your tablet, while a second USB port lets you charge two devices at the same time. Yes, this is one of the more expensive options on our list. But if you often find your Apple devices dying when you're away from home, and you're impatient to get them topped up again quickly, the speed and flexibility this power bank offers may be well worth it.
The Anker PowerCore II device doesn't offer the biggest battery capacity on our list, and there's only one port, so its usefulness is somewhat limited. But if you're looking for a small and light device that can nonetheless charge your smartphone a couple of times during your trip away, this could be your perfect sweet spot between size and ability. Smaller than a deck of cards, this power bank is easy to carry around with you, but still packs a lot of punch, offering for example three iPhone 7 charges, 1.2 iPad Mini charges or 2.2 Galaxy S7 charges. It tops them up pretty speedily too.
The AUKEY Power Bank 20,000mAh is an impressive bit of kit. With dual USB ports so you can charge two devices at the same time, the battery capacity is high, and it's cleverly tuned to support healthy battery life into the bargain. But the thing that most jumps out at us is the 24-month warranty, which is much more generous than any other device on this list. If you're the kind of early adopter who upgrades their devices regularly, that sort of thing might be wholly irrelevant to you. But if you're planning to use your power bank throughout the next two years, it may well be an important factor in your buying decision.
If money is no object, then the Omni 20 USB-C Portable Power Bank is quite simply the Rolls Royce of power bank solutions. This high-powered device with four ports is both a laptop charger and a USB hub, so you can potentially charge two laptops and two smart devices simultaneously. There are two USB ports and two USC ports, the latter offering an individual max output of 60W and a total output of 100W. Plugged in by itself, the pack fully charges in just under three hours. Or you can even recharge the Omni 20 while your devices are still charging, which saves messing about with cables when you get to your hotel room. Granted, it's much more expensive than the other power banks on our list, but you need to use your devices a lot when you're away, it could pay for itself in terms of the extra work you get completed.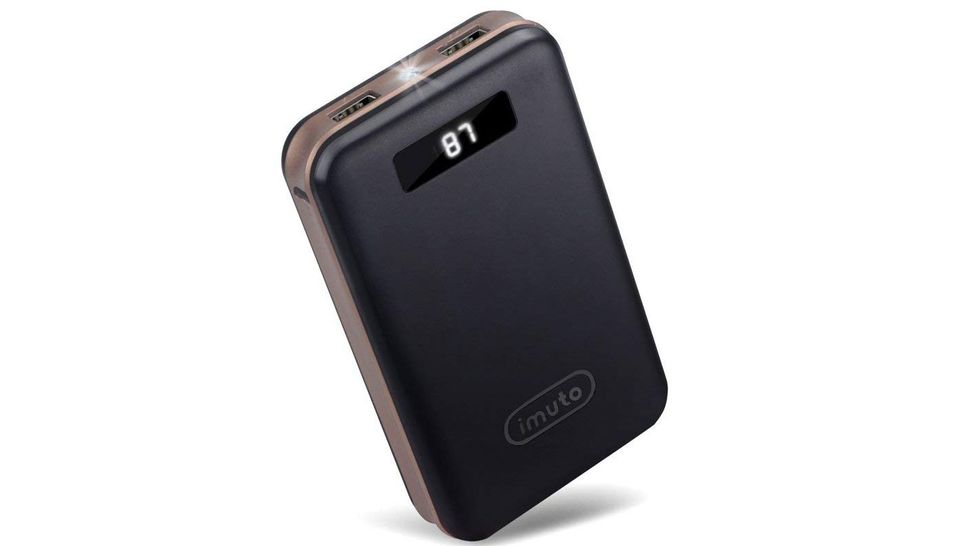 The iMuto Ultra High Capacity portable charger is one of the highest capacity compact chargers on the market. Its huge 20,000mAh capacity means it can charge an average smartphone over four times without needing to be plugged in. It's also got enough power to charge up compatible MacBooks and laptops, and along with the very reasonable price, makes it one of the best power banks for designers and creatives.
The RAVPower Luster portable charger may be super-cheap, but it still offers a perfectly decent capacity of 6,700mAh, which is certainly enough to power up your smartphone from zero to 100 per cent at least once, and probably twice. This power bank is fairly light (about the same weight as your average mobile phone), will fit in most pockets nicely, and is compatible with a wide range of devices. In short, it's a great choice for an evening or a weekend away in which you don't expect to be using your devices mega-intensively. Also, if you find it difficult to find a small black device amongst all your other small, black devices, then this colourful portable charger has the benefit of being easy to spot. 
RAVPower doesn't just do cheap and cheerful power banks (see number three on our list). This higher-end device of theirs – the RAVPower Universal Power Bank Travel Charger – is the ideal choice if you have a bit more cash to splash, and love the idea of being able to charge your MacBook or Surface Pro as well as your smartphone. In fact, with both a Type-C (5V/3A) port and iSmart USB (5V/2.4A) port, you'll be able to charge both at the same time, as there's plenty of battery capacity (20,100mAh). Alternatively, if you just want to charge one device you can do so over and over again: an iPhone 7 around five times, a Galaxy S7 four times, or the 12-in MacBook once, for example. 
How to choose the best power bank
When choosing the best power bank for you, your primary consideration should be battery capacity. Think about how long you'll be on the move for and with how many devices. Also consider how power-hungry those devices are, as a laptop or camera will need more power to recharge than a phone or tablet. 
That said, a balance has to be struck between power and weight, because usually as the capacity goes up, so does the weight. It might pay to drop capacity a little for the extra portability that comes from a lighter power bank. 
You'll also want to ensure the power bank you opt for is compatible with the devices that you want to charge. If you're likely to want to charge more that one device at a time, then checking how many charging points the portable charger has will also be key.
To help you see how our selection of the best power banks compare for these factors, we've highlighted the weight, size and battery capacity of each power bank in this list, as well as the number of charging ports. We've also made sure the list features devices that are compatible with a wide range of devices from various manufacturers. 
For more ways to make sure your devices stay juiced up, check out our guide to the best wireless chargers.
Which is the best brand for power banks?
In our opinion, the best brand for power banks in Anker, and that's why the Anker PowerCore 20100 power bank has topped our list. With its huge capacity, fast charging and excellent value, it's basically a no-brainer, unless you're looking for specific compatibility as there are a few devices that this top power bank won't work with.  
If you can't get enough of accessories, then don't miss our iPad accessories post, or our guide to USB sound cards.
Read more: