Getting one of the best external hard drives or solid state drives (SSD) is a must if you're working with lots of large digital files. And with our buying guide to the best external hard drives, you can also bag a cheap external hard drive while you're at it. We've taken a number of key factors into account and come up with the best options for various users with various budgets.
There are two types of external hard drives. Standard, or traditional, external hard drives are ideal if want to store the most data for the lowest price. They are relatively slow and their moving parts mean that unless you invest in a rugged solution, they're not ideal if you want something to take out and about with you (and potentially drop). An SSD, however, is the faster and more portable option, but come at a high price point. Whichever external drive you choose, they're all ready to plug in and use, whether that's into your Mac or PC via Thunderbolt or USB (though some are ready to use on Mac, and need to be formatted to use on PC).
Below, we've listed the very best external hard drives and SSDs, all at the best current prices online, and include all the facts and figures you need to get the right one for you. All of them are super-secure, so if your computer fails or your laptop gets lost or hacked, it's less of a disaster if you have one of the best external hard drives with a regular back up. These are quality cheap external hard drives, and we've had hands-on use so can give you a proper context to help you buy the right one for you.
If you've bagged a PS5, check out our best SSD for PS5. Or if you're thinking of moving over to the cloud, check out our guide to best cloud storage. And of course, you should also check out our list of the best power banks out there too. But for now, have a look at the best external hard drives on sale today.
The best external hard drives and SSDs 2021
If you're after plenty of reliable storage at a good price, it's hard to go wrong with the Western Digital My Passport range. This popular storage option is one of the best external hard drives around and provides plenty of capacity, from 1TB to 5TB, and if security matters to you then its 256-bit AES encryption should appeal. It's also perfect if you want regular backups; it comes with WD's own backup software so that you can set it up and leave it to get on with keeping your data secure.
Data transfer speeds are impressive. And while it can't match the speeds of solid state drive devices (SSDs), it hits a great balance between high storage and quick file transfers, without knocking the price way up. That makes this our pick as the best external hard drive available today.
If you want something even faster, though, Western Digital also offers SSD and Ultra versions: check our WD My Passport deals for the best prices.
You might not think that speed really matters when you're looking for the best external drive, but you'll soon change your mind when you're copying over gigabytes of files and watching the progress bar crawl along at a glacial pace. That's when having an SSD feels like the really smart option, and the Samsung T7 Touch is probably the best option available right now.
It's not just fast, it's secure too. It has a built-in fingerprint scanner backed up with AES 265-bit encryption, and once you set that up nobody except you will be able to access your files. You can alternatively use password protection if you prefer.
External SSDs may cost considerably more than hard disks, but the faster speeds go a long way. You'll be able to easily load edit and save 4K video directly on the T7, which can be very slow with a USB hard disk. You can install applications onto it, and you could even run an entire alternative operating system off it at full speed, if wanted to.
Like the older Samsung T5 it's compact, lightweight and robust, with a shock-resistant aluminium housing that means it can withstand drops of up to two metres. And it's no slouch; it's twice as fast as the T5, with read/write speeds up to 1,050MB/s and 1,000MB/s. Best of all we're currently seeing some epic discounts on the Samsung T7, so get in there if you want to save big on one of the best SSDs around.
This SanDisk hard drive is a whopper, and comes Mac-ready (though you can format it to work with any PC). And the eye-watering capacities (max 18TB!) are not the only appeal. We love the clean aluminium design, the fast 1,050MBps and 1,000MBps read and write speeds, and the USB-C plus two Thunderbolt ports. In fact, if you're looking for a massive external hard drive for work, this is a brilliant option for digital creatives.
Be warned - if you're looking for a cute, teeny hard drive, the G-Drive Pro is not for you. Whether you go for the 4TB or the 18TB version, there's a presence to the big, metal case that wants to bee seen and counted. The fact that you can daisy chain up to six of these together, should tell you all you need to know about who this is aimed at: professionals and small businesses that create a large amount of digital work that needs backing up on the regular.
Of course, with the Thunderbolt ports, you can either use the mains plug that the G-Drive Pro comes with, or you can just plug into your Mac / PC and power up that way. This allows for a bit or portability, but this is still no pocket-friendly pick up and go option (unlike our next choice...)
We loved the OWC Envoy Pro Elektron when we got our hands on it, as it's so small and fast, it's exactly what you want from an SSD - though perhaps the silver finish may not be to everyone's taste. When you're spending that little bit extra on an SSD you want something that'll last, and the OWC Envoy Pro Elektron definitely succeeds there. It's built like a tiny tank and it's capable of withstanding all sorts of drops and collisions, making it a great choice if you're a little careless with your tech.
It's not the fastest SSD option available in the world, and yet we were pleased with its speed when using it to play PS4 games off it. It's easy to get up and running and quick enough for most use cases.
We're not entirely sure about that bright orange rubber casing, but one thing we're certain about is that the LaCie Rugged USB-C is an excellent choice if you're after the best external hard drive that'll cope with rough treatment. Lacie's rugged drives can take the pressure of a one-ton car and they can withstand up to 1.2 metre drops, and they're also rain-resistant. If you want plenty of storage to take on a camping trip, this is the ideal option.
That casing makes it difficult to lose, too. And if you need something a bit faster, Lacie also does a range of rugged SSDs that can withstand even rougher handling.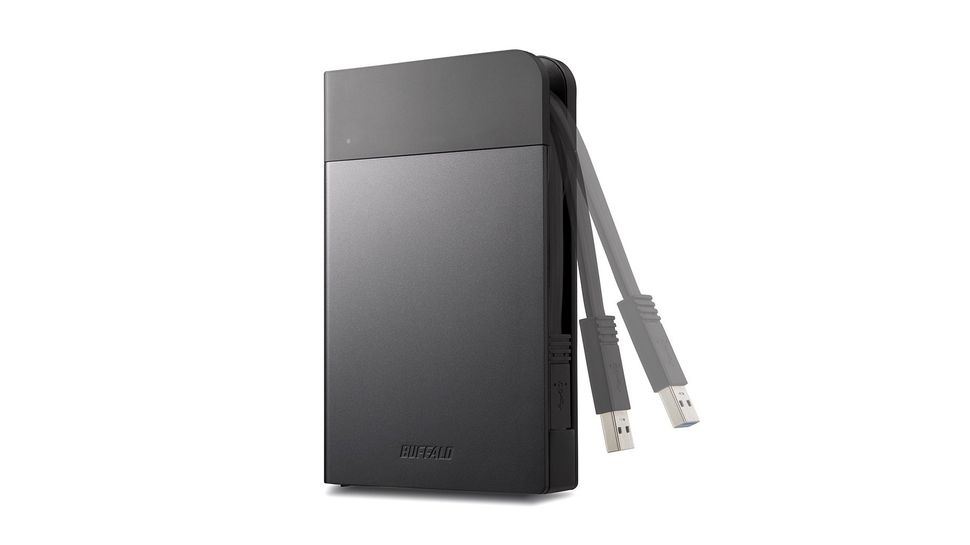 Even the best external hard drives are susceptible to knocks and drops; that's the risk you run when you rely on a storage solution with moving parts inside. For properly bulletproof storage you'd do well to spend more on an SSD, but for a cheaper option there's the Buffalo MiniStation Extreme NFC. Its rugged design means that it can withstand a lot more rough handling than other external hard drives, and there's an extra layer of security if you're taking it out and about, in the form of 256-bit AES encryption so that nobody but you can access your files should your drive fall into the wrong hands.
You can quickly and easily unlock the device using an NFC (Near Field Communications) card, and it also offers a generous 2TB of storage space. It's not the fastest external hard drive, but its rugged design and security features more than make up for that.
For a reliable backup solution that you can set up and forget about, the Seagate Backup Plus is just the ticket. It comes with its own backup software and can be set up to safely store data from just about all your devices. So not only will it move files from your computer, it can also grab data from your phone, cloud storage and social media accounts if you want.
It's fast with a good choice of storage capacity from 1TB-5TB, and it's a good looker with an attractive slim metal design that's also nice and portable. Bear in mind, though, that if you're a Mac user you'll find that it's formatted for PC, however if you install the Mac NTFS driver you'll be able to use it on both platforms without the need for reformatting.
For the best external hard drive speeds on a Mac, you need something that'll use that super-fast Thunderbolt connection, so look no further than the Buffalo MiniStation Thunderbolt. While hard drives that connect over USB 3.0 are reasonably fast, with this one you should get double that speed.
Obviously you won't get SSD speeds out of this external hard drive, but this is as good as you'll get with an old-fashioned platter. And if you're not on a Mac you can still connect via its USB 3.0 port.
Here's a top external storage option for Mac users who need a heavyweight backup solution. G-Technology's G-RAID dual hard drive is designed to look great next to your MacBook or iMac with its aluminium casing, and it provide a serious hit of storage; options range between 8TB and 24TB, and if you connect via Thunderbolt you should get a pretty decent 440MB/s transfer rate out of it.
The G-Raid also features an HDMI 2.2 port on the back that'll route a video signal for an external display over the G-RAID's Thunderbolt 3 cable, which has plenty of bandwidth to spare, even with the hard disk going at full speed. And there's also a USB-C port to connect to Macs or PCs that lack Thunderbolt.
Expect to pay a small fortune for the largest capacities. But thanks to the easy drive removal system, you could always buy a cheaper, lower capacity G-RAID and upgrade it with off-the-shelf hard disks yourself.
There are plenty of external hard drives that secure your data with 256-bit AES encryption, but if you want to take security to the next level then check out the iStorage diskAshur2. You might mistake it for an SSD given the price and amount of storage available, but it's actually a hard disk; you're paying a premium for some serious security.
The key feature of this external hard drive is its built-in keypad that enables you to set your own 7-15 digit PIN. Without that, the diskAshur2's 256-bit AES encryption ensures that nobody can see what's on your drive. And if you're extra-sensitive about security, there's also the option to create a self-destruct PIN that'll wipe the drive when entered.
There are plenty of storage and colour options, and if you want extra speed, iStorage also does a range of similarly secure external SSDs (with prices to match).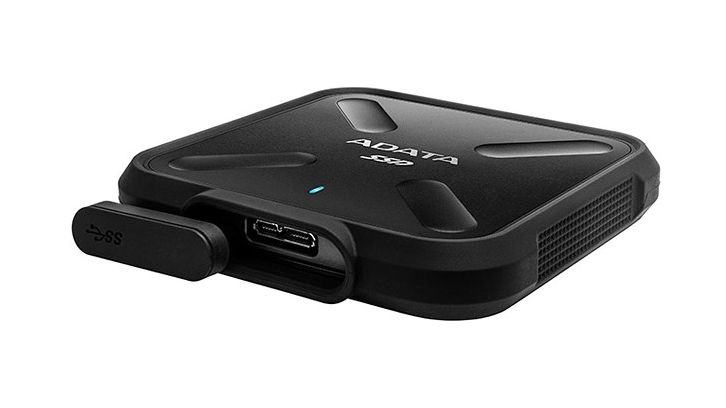 SSD storage is fast but as we all know it's expensive compared to a hard disk. If you want the cheapest possible external SSD it's easy to build your own; check our guide further down the page. But if you'd rather just buy an external SSD at a great price, your best option right now is the Adata SD700.
Not only is it a great-value SSD, it's also good and rugged. SSDs can take a lot more punishment than hard drives, but this one goes a bit further: it's water-resistant for up to 30 minutes, and it's also IP68 rated, which means that it can withstand dust, dirt and sand. Perfect if you enjoy working on the beach!
Its capacity isn't all that but you can get a 1TB model if you need more storage; in all, though, it's a perfect mix of speed, price and durability.
If you work regularly with 4K or 8K video or massive 3D scenes, you're likely to need a bit more storage than most of the best external hard drives can provide. Basically you're going to need something like the WD My Book Duo, which delivers storage options up an incredible 36TB. And while that might seem far too much storage, there's a good reason why you might choose this over smaller external drives.
Instead of using all the storage normally, you choose to set up the My Book Duo's drives as a RAID 1 backup, which means your data's duplicated across two drives. So if one of them fails, everything's still safe on the other drive, making this the perfect choice for anyone who doesn't want to leave anything to chance where their files are concerned.
It provides two additional USB ports on the rear, so you can easily insert flash sticks. The device has 256-bit AES hardware encryption, and automatic backup software (WD SmartWare Pro).
It's also worth noting that the enclosure used is fully serviceable, and that WD ships the drive already pre-formatted for Windows users (NTFS). So you will need to reformat it to work with your Mac.
The best external hard drives: what to think about
The best external hard drives will have to have ample storage capacity for all your data, ideally with room to spare. A 500GB drive will probably do the job if you want to clear project files off your main computer, but if you regularly work with video then you'll probably need more than that. We'd recommend working out roughly how much storage space you need, then doubling it to be on the safe side.
You'll need also to be sure you can actually connect it to your PC or Mac. The early generation of rectangular USB-A ports are gradually being superseded by the newer, smaller reversible USB-C ports, which now dominate all modern laptops. So make sure you know which slots your device has, and that the external hard drive or SSD supports one of them.
External storage should also be fast and responsive, ideally as much as just moving things about on your normal computer. The external hard drives on this list are all pretty nippy, but if you want something even faster, a solid state drive (SSD) offers the ultimate in speed, even though these devices are also more expensive. For more on this, keep reading below.
Hard drive vs SSD: which is best?
When you're buying an external drive it comes down to a choice of two types: either a hard disk drive (HDD) or a solid state drive (SSD). Hard drives have been around for a very long time and are built around a spinning platter; SSDs are a relatively recent development and store data using flash memory, which means that they have no moving parts.
This means that SSDs are lighter, faster and use less power than HDDs; however the downside is that you'll inevitably pay more for your storage if you opt for SSD.
In other words, if you want to store huge amounts of data while keeping prices low, a HDD is the way to go. But if speed is your top priority – for example, if you move a lot of large files, or want to run programs off the drive – then choose an SSD.
Alternatively, you can always use a smaller SSD for files that you need to access or move around often, and then store the other data that you use less often on a higher capacity HDD.
We've included both in this best external hard drive roundup. Right now, our top pick for best external hard drive is the Western Digital My Passport 4TB, which is a mechanical hard drive. We think it offers creatives the perfect balance of speed, reliability, portability and price for both Mac and PC users.
Can I make my own external hard drive or SSD?
Yes, you can! If you don't mind getting a little hands-on, you can save money by buying an internal hard drive or SSD and a suitable enclosure and putting it together yourself; it'll take five minutes, tops. For the best performance, go for an NVMe SSD and enclosure, but bear in mind that to get top speeds out of it you'll need to plug it into a USB 3.1 Gen 2 port. For less speed at a better price, seek out a SATA SSD and a compatible enclosure; it's also easy to find hard disks and enclosures for maximum storage at the lowest prices.
Note that you won't benefit from any useful automated backup software that you might get with a ready-made external drive, so of that matters to you then you'll either need to source your own or settle for one of the options above.
It's also worth knowing that if an external drive fails on you, it's possible that the fault's in the enclosure rather than the drive. So if your external drive dies, it's worth finding a cheap enclosure and swapping the drive into that to see if it comes back to life; it's worked for us before!
Want some more great deals on the best external hard drives and SSDs? Here are a selection, wherever you are in the world...
Related articles: