In our Krita 5.0 review, we're taking a look at one of the most popular free digital art programs around. First released in 2005, it's a very similar prospect to the better-known GIMP in that it's free and open-source so anyone can tinker with its code. As such, there's a small but dedicated community of people devoted to improving Krita by creating downloadable plugins and features.
As an image-editing program, Krita does a lot, but it's mainly geared towards digital painters and illustrators. It's known for its huge brush catalogue, and for offering a digital art experience comparable to that offered by heavyweights like Photoshop, with the most notable difference being that it costs $0 up front and $0 per month.
Krita is available for Windows, Mac and Linux, and there's an Android version in beta – though it's still very much a work in progress. You can download your preferred version at krita.org. If you want to support the creators financially, the Microsoft store has the Windows version of Krita listed at $14.99/£12.49 – the Krita developers have assured us that the money does directly to them.
Krita made it into our guides to the best digital art software and the best graphic design software, but is it the software you're looking for? Let's dig right into our Krita 5.0 review, and if you do decide to download Krita, then check out our Krita tutorial for a quick spin through the basics.
Krita 5.0 review: in use
To review the software, I downloaded the latest version of Krita for Windows and spent several hours exploring its features and functions. Krita is now in version 5.0. In the past, I found it to be a bit of a resource hog, sucking up RAM and crashing somewhat frequently, but in this latest iteration, I can see there's been a concerted effort to fix this, and it has paid off. Krita 5.0 ran very smoothly on my Windows laptop with 8GB RAM – and as a notorious multitasker, I was pleased to find that it didn't stutter even when I was watching videos, listening to music, doing a bit of online shopping, doing my taxes and all of the above while using it.
The Krita interface is simple, effective and well laid out. The main Toolbar sits on the left of the canvas, and you can add windows (Krita calls them "Dockers") to the right-hand side when you want to pick colours, brushes, or whatever else. In terms of user-friendliness, I'd say Krita is a little less intimidating than Photoshop – though it doesn't have Photoshop's comprehensive guided tutorials – and it also makes more of an effort to be comprehensible than GIMP. Unlike those programs, feeling your way around learning to use Krita is actually fun, and doesn't feel like smashing your head against a brick wall.
It's the little things that make a difference. If you're the type of person who often accidentally selects the wrong tool (hands up here), Krita has a knack for knowing it, and will pop up a little message explaining that you probably want, e.g. the Move tool. It's helpful without being intrusive.
And if you're one for working with plenty of Layers, Krita offers a few good quality-of-life tools that make that easier. You can filter your layers by name to quickly navigate to the one you want – e.g. "shading", "lines", "blue" or whatever else. You can also group layers, and easily copy them from one project to another.
Krita 5.0 review: new tools
The latest edition of Krita has a few useful new tools, so let's take a look at some of the highlights:
2-point perspective assistant: this is a cool new feature that makes it easier to draw using perspective. It allows you to create perspective guides by placing down perspective points and overlaying a grid onto your canvas, which you can then snap brushes to in order to make sure your lines are just right. You can edit the vanishing points, move the guidelines around, or limit the area that they affect – which is handy if you want to keep your perspective drawing to a certain area of the canvas (e.g. an individual comic panel).
The grid can be really handy as it helps you visualise how perspective will affect different objects you're drawing, as well as creating discrete units of distance you can use to check that everything's in the right place.
Create/rotate shapes: this is a small addition but it's neat. When you're using a create tool to make a shape like an ellipse or a rectangle, you can hold Ctrl-Alt to rotate the shape with the stylus as you're drawing it. This is really intuitive, and much less fiddly than trying to rotate the shape afterwards using the Transform tools.
Drag and drop colours: this one's a useful time-saver. Krita now lets you drag a colour straight from the Docker to an element or layer. This is especially good if you want to try out a few colour variations in quick succession. Bear in mind that this doesn't work with the Advanced Colour Wheel; you need to have the Palette Docker open.
Improved gradients: creating and using gradients has also been improved for Krita 5.0, and it's really easy to do. This is especially useful for quick design work like knocking up graphics for social media. You can open up the Gradients tool to design your own bespoke Gradient, quickly select a few colour stops, and move them along the bar in accordance with how dominant you want one colour or another to be. If you select a lot of colours for a complex gradient, you can also have the software automatically sort them by brightness or by hue with one click.
The appearance of gradients has also been improved – particularly when working with 8-bit images. Krita's makers have implemented dithering for gradients in 8-bit images, using blue noise to smudge the boundaries between colours. The upshot of this is that transitions are much smoother than they used to be.
Krita review: brushes
I've already mentioned that the star of the show in Krita is the brush library, and it really is tremendous. From the moment you open up the software you've got a huge range of default brushes to choose from, and they're hugely customisable. Open up the brush settings editor and you can basically tweak any value imaginable, trying them out on the scratchpad until you have just the quality you're looking for.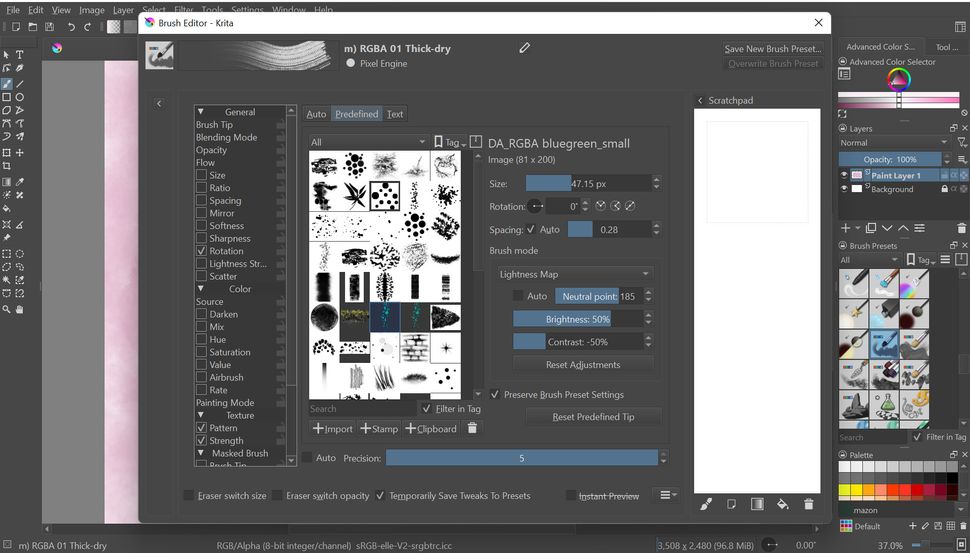 Also, thanks to the active Krita community and the fact that the software is open-source, there are loads of downloadable brushes out there to try, with new ones being cooked up all the time. It knocks the socks off GIMP in terms of brush selection, and while you could use plugins and downloads to give GIMP a similar variety, with Krita you've got them from the get-go.
Should I download Krita?
If you want a good piece of software for digital painting and illustration, Krita is definitely worth downloading and trying out, especially if you haven't paid for any software yet. Like GIMP, it's free, so there's no downside to giving it a whirl. If after a few hours you don't like it, you can try other free software, or consider biting the bullet and paying for software like Corel Painter, Adobe Photoshop or Affinity Photo.
As free image editing software goes, GIMP is more versatile – if you want to edit photos as well as do digital drawing then it's a better overall package (see our GIMP review for more on that). But given that both GIMP and Krita are free, this doesn't have to be an either/or decision. If you think you might want both, why not download both? The only thing holding you back is disk space.
As for the comparison with paid software, Krita isn't as advanced as Photoshop and never will be. Adobe is forging ahead with futuristic features like neural filters, and its integration with other offerings like Adobe Stock and Adobe Illustrator makes it a better all-around package for professional creatives. Ultimately though, if you're someone who just needs a great digital drawing and painting program and isn't fussed about anything else, there are few reasons to lock yourself into Adobe while something as good as Krita exists. You can download Krita now and find out for yourself.
Read more: The best Photoshop alternatives