The best art printers range from the affordable models that can be used in the home for many tasks to dedicated printers for artists that have been developed specifically for art prints and large projects. The best printers for artists offer everything from LCD screens and Wi-Fi support to roller feeds for gallery-quality prints on the best paper and specific art ink subscriptions.
Being able to save money on your prints, frame them for your clients and sell your art ready to hang is a great time and money saver. Being able to do all of this from home or your studio will cut costs and enable you to sell your art in a new way. You won't have to throw money at a print shop or a repro house, and you'll be able print your work at a moment's notice – even in the middle of the night.
For best results, you'll want the best printer for art prints capable of better colour reproduction and clarity than the average office printer. Ideally, it will use pigment-based inks, because dye-based inks don't look as good. You'll also want the option of printing in larger formats, and on heavier, fine art media.
To help you out, I've gathered together the best art printers for home and studio use today. These cover a range of budgets, and include everything from premium machines to cheaper models and even a fun portable printer for immediate results. If you need to compare or need a printer for other uses, then read our guides to high end printers for professional work and the best black and white printers. Also, scroll down for an FAQ on all you need to know when considering buying one of the best art printers.
The best art printers available now
Why you can trust Creative Bloq Our expert reviewers spend hours testing and comparing products and services so you can choose the best for you. Find out more about how we test.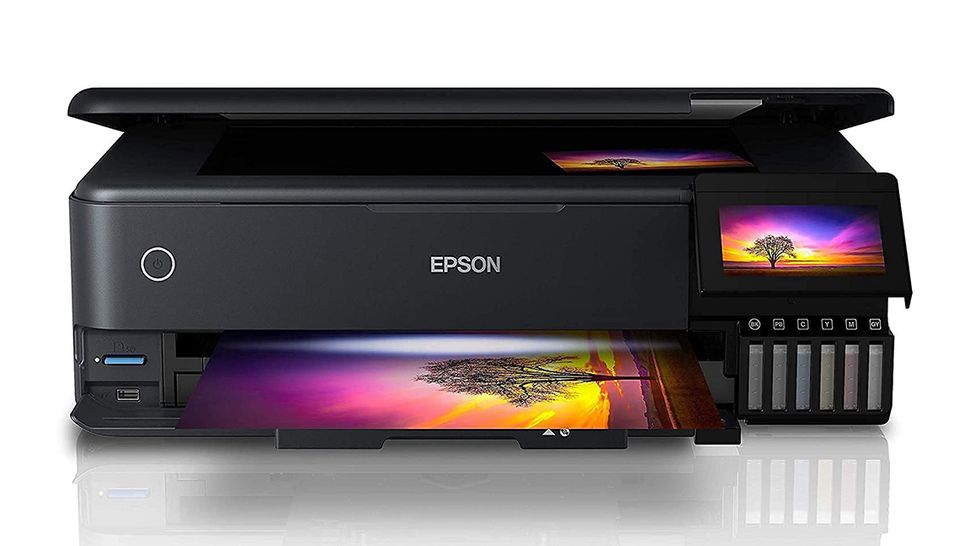 The Epson EcoTank ET-8550 is the best art printer you can buy today. It really is a special printer that does everything you need, and does so with affordable running costs as one ink tank prints around 3,400 pages (it comes with enough ink to get you started too).
The EcoTank ET-8550 is easy to set up and supports Wi-Fi, USB and Ethernet connectivity, and a mobile app enables you to manage prints and ink orders. It's the quality of the photo and art prints that really impresses, unlike standard printers that use CMYK the EcoTank ET-8550 also makes use of grey and deep photo quality black ink for prints that have real impact.
The model recommended here is the ET-8550 which prints wide format 13" x 19 inch photos, though there is a slightly cheaper model, the ET-8500, which only prints 8.5 x 11 inch pictures. The ET-8550 supports A3 prints, too. If the price puts you off, consider the savings on ink, and this art printer also includes a built-in scanner and copier. I particularly like the compact design, too.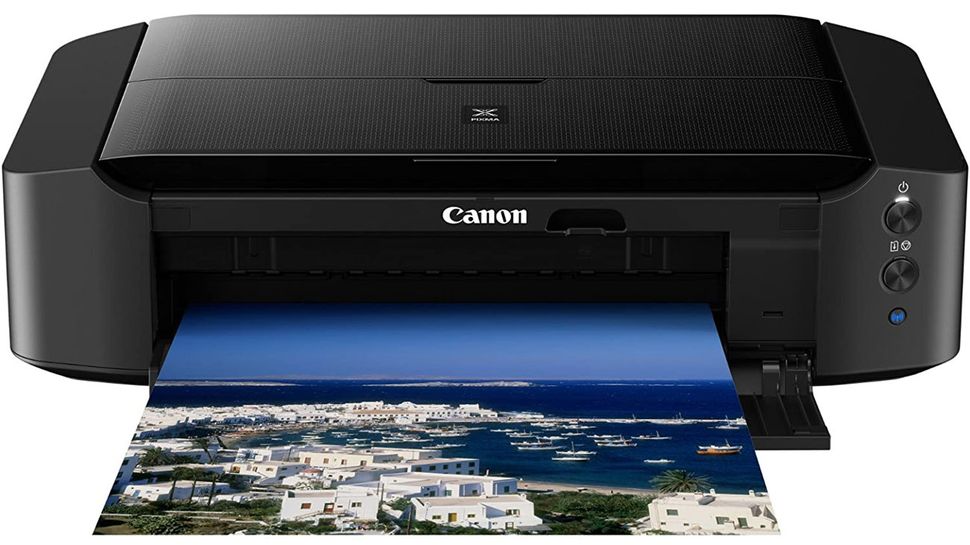 Short on cash? Then the best art printer for you is the Canon Pixma iP8750. This affordable device can print a bordered sheet of A3+ in full colour in around two minutes. And with five dye-based inks, plus a pigment black, the results are worth waiting for.
Plus, if you want to save more money, you can buy high-yield ink cartridges that cost you less than standard cartridges. That makes this one of the cheapest art printers to run, as well as to buy.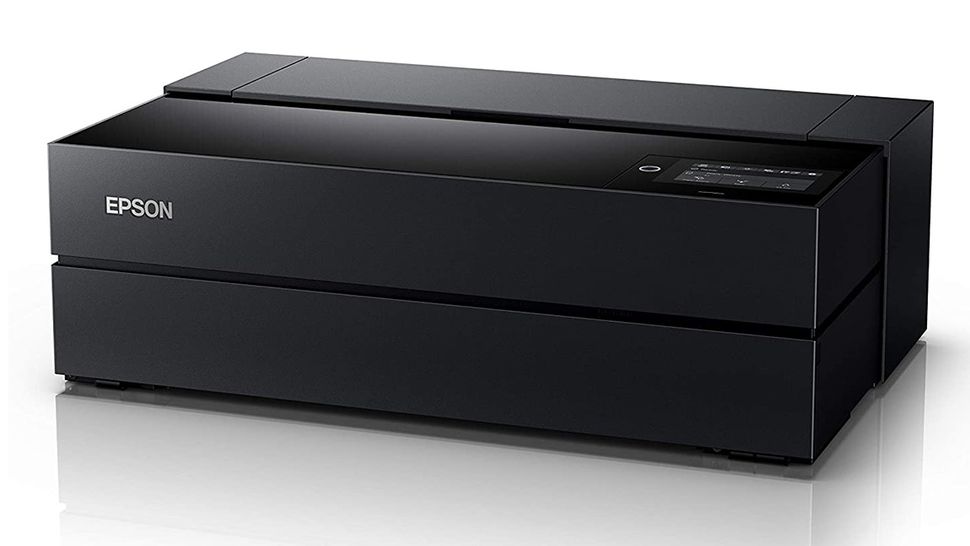 The Epson SureColor SC-P900 is one of the more expensive art printers on my list but you get a superb printer for your money. This art printer can deliver some excellent results, including panoramic prints to cut sheets up to 17 by 22 inches (though this requires a roll feeder that's bought separately).
Onboarding is a little mixed; the Epson SureColor SC-P900 is easily setup and comes with connectivity to Mac and PC, as well an on-printer LCD touchscreen to help you manage our prints. The only downside is the ink supplied with the printer won't last long. This is the only downside to a professional art printer that's actually nicely sized and suitable for home use.
The print results speak for themselves – photos and art prints are deep and colours rich and vibrant, as this printer uses an UltraChrome 10 ink system to deliver a vast array of tones – these inks are: Cyan, Light Cyan, Vivid Magenta, Vivid Light Magenta, Yellow, Gray, Light Gray, Violet, Photo Black, and Matte Black. (This does make the Epson SureColor SC-P900 a little more expensive to run than some on this list.)
But if you're looking for professional results from your prints, and want them to last and not fade then the Epson SureColor SC-P900 is the best on this list, just be aware of the extra costs involved.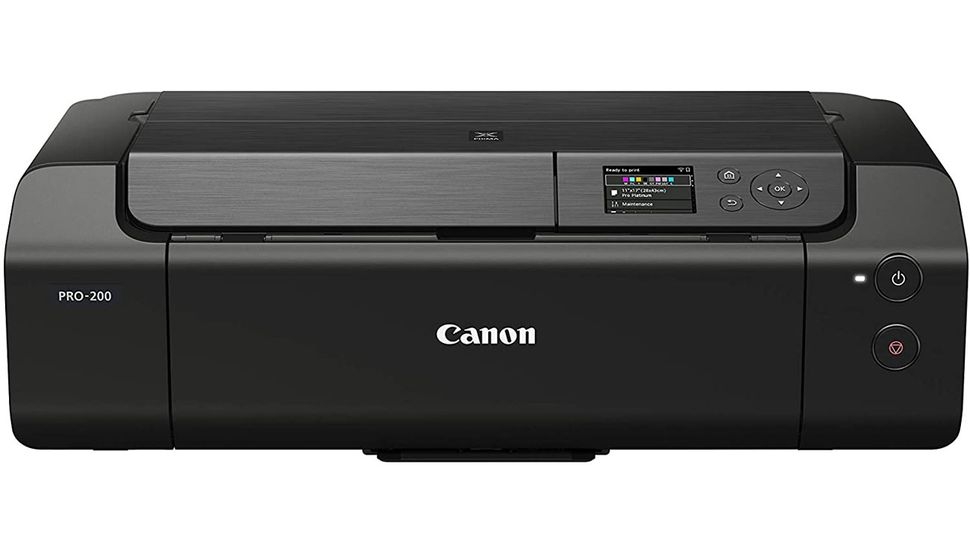 Here's another good option for great-looking prints at larger scale. The Canon PIXMA PRO-200 will cost you about twice as much as the iP8750 (number two on our list), but you'll get a corresponding jump in quality when it comes to colour reproduction.
This is a relatively speedy printer, too. It goes up to A3+ and even larger; it'll also do panoramic prints up to 990cm wide. It delivers lovely sharp prints that are dry almost straight away. And it's versatile; working with set of eight inks, it's capable of printing on anything from standard paper to heavier fine art media.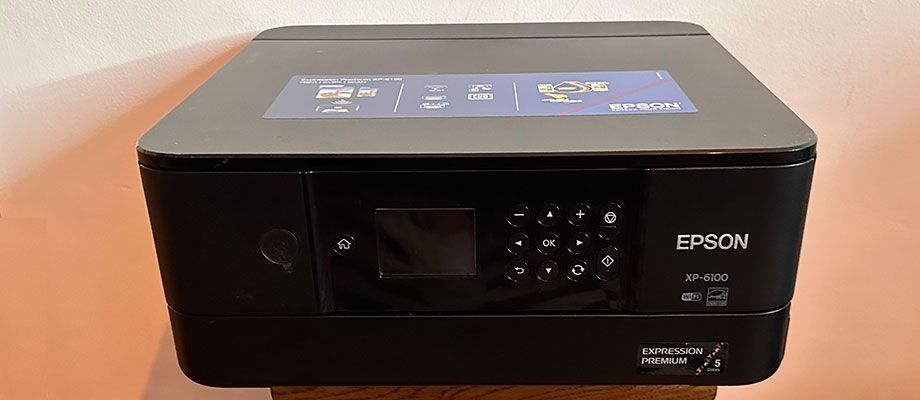 The Epson Expression Premium XP-6100 is a small, light and cheap art printer that is great for printing off photos and small art works. It's easy to use and incredibly quick, and for the money comes with some excellent features.
In our Epson XP 6100 review we found that it does the basics well – scanning, copying and printing – but also has pre-installed templates to help you get more from these features. It's best used as a photo printer but it can easily be used to print off art, though the compact size means you're limited to A4 prints.
The real downside to the Epson XP-6100 is the cost of replacement inks, which we worked out at around 16p a print, which is slightly more expensive than other printers on this list. So while the XP-6100 is cheaper upfront, it could be more costly in the long-run, depending on how much use it gets.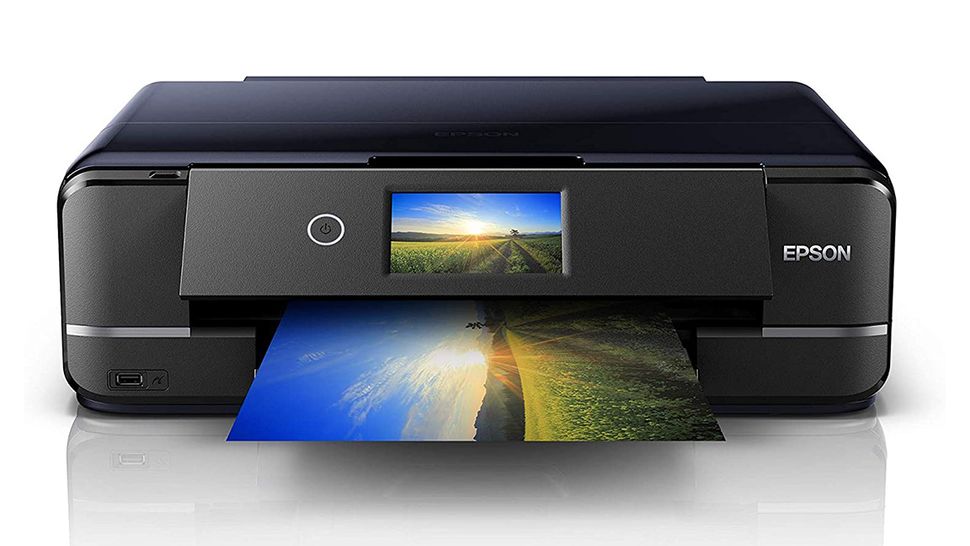 For the price – sub $200 / £200 – the Epson Expression Photo XP-970 represents excellent value for money. It can print up to A3, features scan and copy functions and comes with an excellent app to control all of your prints and ink orders. As well as standard paper formats it features a rear tray for special or heavier paper stock.
The results are excellent, its six-colour printing process offers deep and rich colour pigments and while not the fastest it does print at a decent pace – black and white photos have a 8.5 ppm speed. It's compact but a little heavy for a smaller machine, but once set up and in place you won't mind.
The only real downside to this printer is the cost – while it's a well-priced printer for the quality it offers, the Epson Expression Photo XP-970 only supports Epson ink cartridges, which are expensive. It will also churn through ink too, so beware running costs are a little high. However, if you're printing 10-30 photos a month you'll be fine, anything above this and you may need to look at a more costly printer with lower running costs.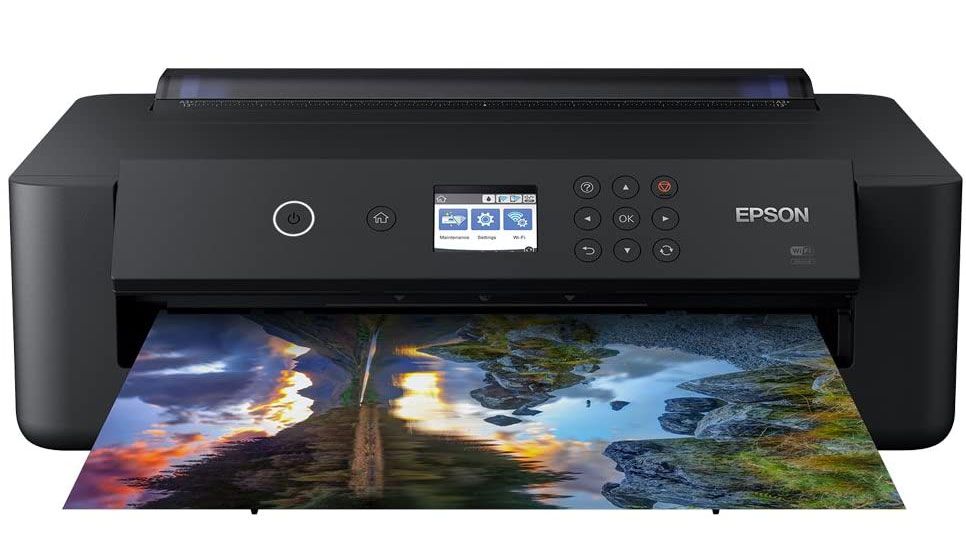 If you're mainly looking for an all-round office printer, but are likely to need the occasional art print, then the Epson Expression Photo HD XP-15000 is worth checking out. Its main A4 tray is ideal for loading with ordinary paper for office work, while its rear feed can handle A3+ and heavier media for producing good-looking art prints.
With six dye-based inks, you'll get decent colour reproduction and contrast, although not at such high quality as other printers on this list. On the plus side, this printer is compatible with Epson's XL cartridges, which helps keep running cost low. We'd also suggest signing up for Amazon Dash Replenishment, which means printer will automatically order new cartridges for you when ink is running low.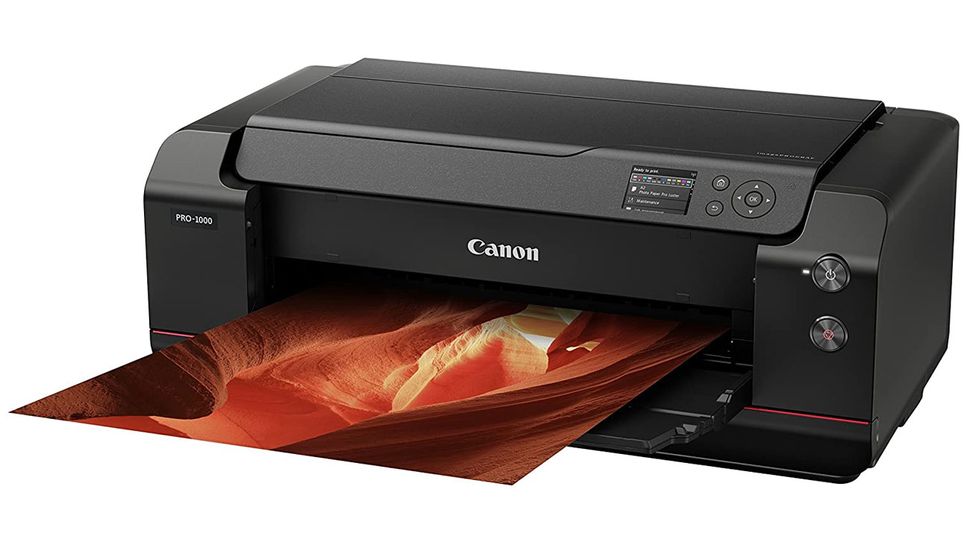 The Canon imagePROGRAF PRO-1000 prints at up to A2, and does panoramic prints up to 1.2m, which makes it the best art printer for large projects.
It offers superb colour reproduction and sharpness via a set of 12 pigment-based Lucia Pro ink cartridges, with an additional chroma optimiser for giving work on glossy paper a smooth top coat. It'll produce an A2 print in around six minutes. And thanks to the high-quality inks the results are stunning, especially when using matte and fine art media.
This is by no means the cheapest art printer on our list. But if you want big, beautiful prints of your artwork, then it will do an exceptionally good job.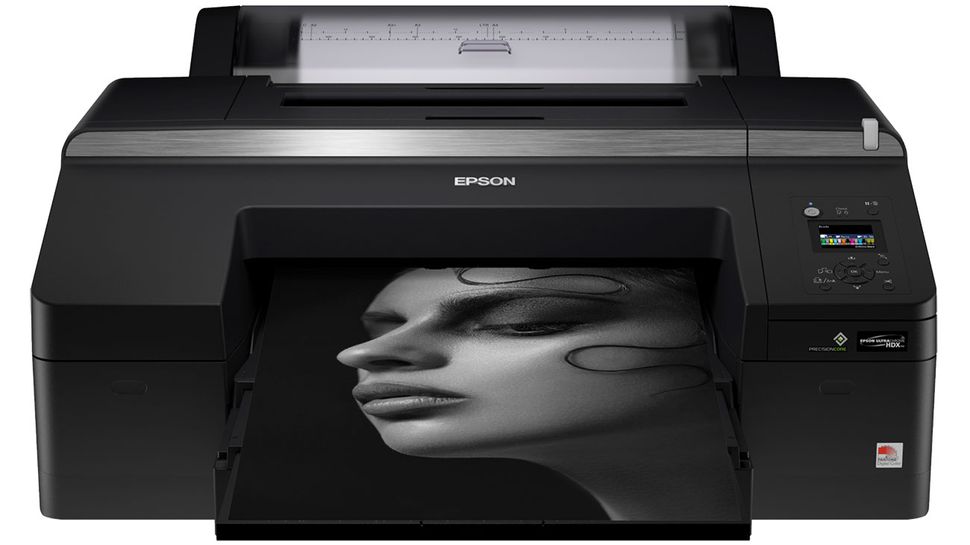 If money is no object, then the Epson SureColor SC-P5000 should be top of your shopping list. You can print up to A2+ and panoramic prints. I'll take the heaviest fine art media in its stride. And its print quality is quite exceptional.
The SC-P5000 has an internal colour calibration sensor, and that combined with a set of 10 Epson UltraChrome HDX pigment inks means that it can reproduce 99 per cent of the Pantone solid coated colour range.
This by far the most expensive option on our list, as well as the heaviest, at 52kg. But if you're printing exhibition work and high-end art prints for customers, then it should ultimately pay for itself.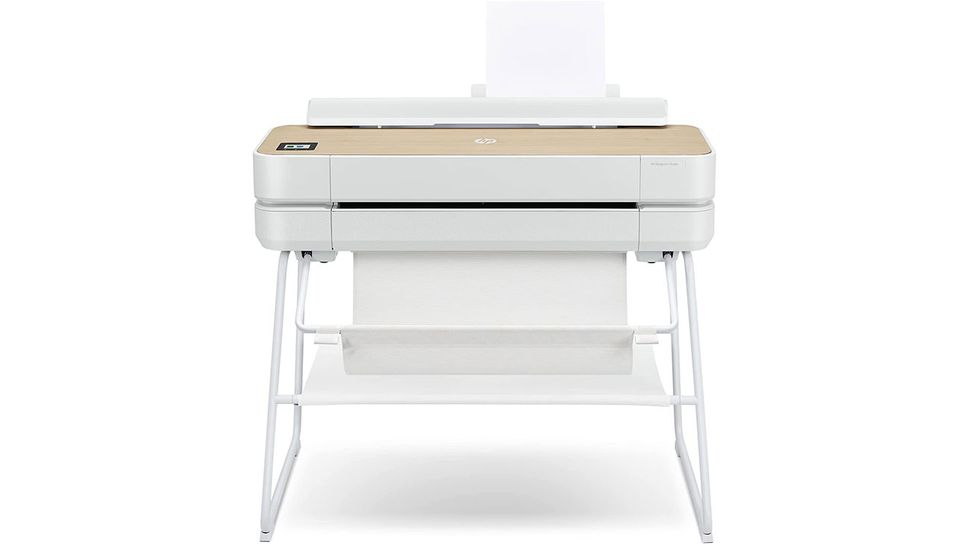 Architects and engineers will need different things from a printer than artists and graphics designers. And so if you want to print crisp, large-scale line work such as blueprints and building plans, the HP DesignJet Studio is the printer to go for.
This dye-based A1 plotter also has great eco-credentials because it's made with as many recycled materials as possible, using low and renewable energy construction processes. Note, though, that it only has a basic set of CMYK inks and will struggle with smooth gradients and photographic quality, so it's not really suitable as an all-purpose art printer.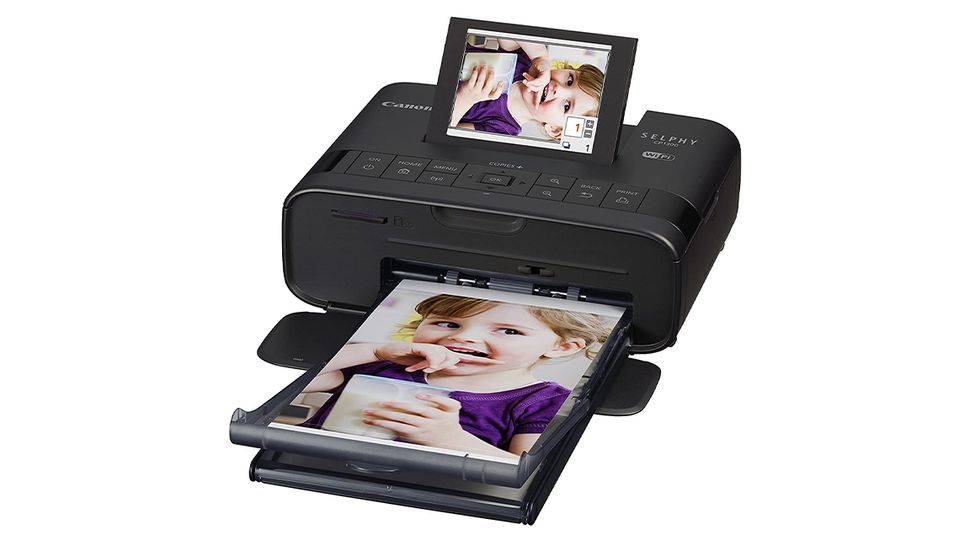 The Canon Selphy CP1300 is the portable printer that makes digital art on the move a little more fun. You can use this tiny printer – it's small enough to slip into a shoulder bag – as it's primary to print lab-quality photos directly from your camera, which is great for scrapbooking and collecting reference photos. But, the Canon Selphy CP1300 can also be used to print-off art directly from your iPad or other tablet.
This printer uses dye sublimation for quality prints and each only takes less than a minute to print. The small LCD screen enables you to set prints from the machine itself or use the Cannon app, which works with Apple devices. The app can be a little temperamental and the printer has a tendency to auto-crop areas of the image, which could be frustrating when printing art from a tablet.
But, as a mobile printer the Canon Selphy CP1300 is a fun way to take your digital art on the go; it's also a great way to paint and collect references when out and about so digital plein air painters will love it. I'd suggest this is used in tandem with one of the larger home printers on my list. (Take a look at our buying guide to the best portable printers for more like this.)
The best art printers: frequent questions
What type of printer is good for art prints?
Inkjet printers are the best for quality art prints, and choose the highest colour ink system you can, ideally (they start at 6 and run to a 10-colour process). There are dye-based ink printers and also pigment ink printers (the ideal) to consider too.
What is a good printer resolution for art prints?
The best resolution for art prints is 300dpi, this is the same as a professional printer would need for magazines printing. The higher the 'dots per inch' the better the output and the smoother the finish.
What do I need to achieve art prints at home?
Aside from one of the best art printers on my list, I'd also suggest you need a couple of things. First, either a separate flatbed scanner or an art printer with a built-in scanner; you will also need a good DSLR camera and computer or tablet. Take a look at our guides to the best photo scanners and the best cameras for artists for more choice.
What paper is best for printing art?
First you will ideally be using Fine Art Paper, which will be called Giclee Printing, Rag Paper, Cotton Paper and so forth (but some will be trial and error and check your printer's depth of paper restrictions). With a good art printer this paper will work. One tip, always print as matt as a glossy print can hide any paint strokes and leave detail looking flat. Matt prints offer the same impression as a real watercolour or oil canvas.
Can you print sketchbook and moleskin pages?
So, while technically with some art printers you can tear our pages and use this it's not ideal. In fact, you'd be better to use your sketchbook as intended to record all those lovely natural marks and then scan and print these pages.
Can canvas art make good prints?
Yes, of course. There are two ways to turn a canvas painting into an art print. You can either take a high resolution digital photo and print from this – you'll need to ideally take this on a white wall with direct lighting – or use a large flatbed scanner. A handheld scanner could be used but this can result in errors. In either case you'll need to open the digital file in Photoshop or a similar app and tinker with the levels to ensure none of the detail is lost.
Related articles: