The best art printers might be on the pricey side, but if you need high-quality prints of your work, they'll probably save you a lot of money over time. Rather than paying a print shop or a repro house every time, you'll be able to generate prints in your own home or studio, with only the cost of paper and ink to worry about. Plus you'll be able to print your work at a moment's notice – even at three o'clock in the morning – which could prove vital in an emergency.
Of course, you'll need a machine that can print in higher quality than the average office printer. That means you'll need a printer that uses lots of pigment-based inks (dye-based inks simply don't look as good) and can print in larger formats, on heavier fine art media, with faithful colour reproduction and clarity.
Below, we've gathered together the very best art printers for home and studio use today, from premium machines to cheaper models that still produce better results than the best home printers. Meanwhile, if you're looking to print in 3D too, also check out our roundup of the best 3D printers.
Best art printers available now
The Epson EcoTank ET-7750 is the best art printer you can buy today. For starters, it prints at very high quality, thanks to its combination of CMYK dyes and an additional black pigment ink for improved contrast. It can cope with paper up to 300gsm and up to A3 size. Your running costs are relatively low, as it uses a set of five high-capacity ink tanks instead of cartridges. And you even get enough ink for up to 3,400 prints, right out of the box.
In other words, while it's not the cheapest printer on our list, the value it offers overall is quite exceptional. The only reason you might want to look elsewhere is if you're short on space, as it is quite big (74.4 x 52.6 x 45.2cm) and bulky (weighing just over 11kg).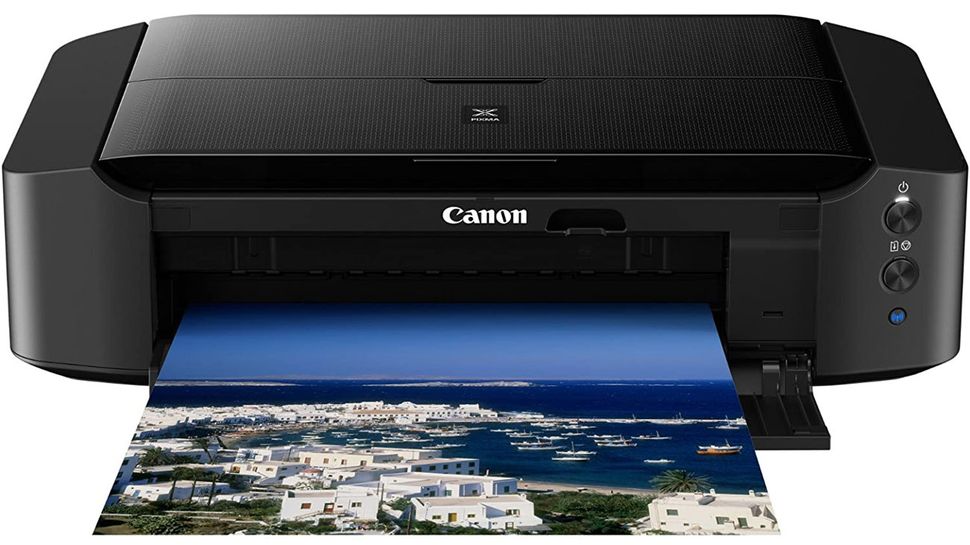 If you don't have a big budget, then best art printer we can point you towards is the Canon Pixma iP8750. This reasonably-priced machine can print a bordered sheet of A3+ in full colour in around two minutes, and with five dye-based inks plus a pigment black, the results are worth waiting for.
If you want to save more money, you can buy high-yield ink cartridges that cost you less than standard cartridges. That makes this one of the cheapest art printers to run, as well as to buy.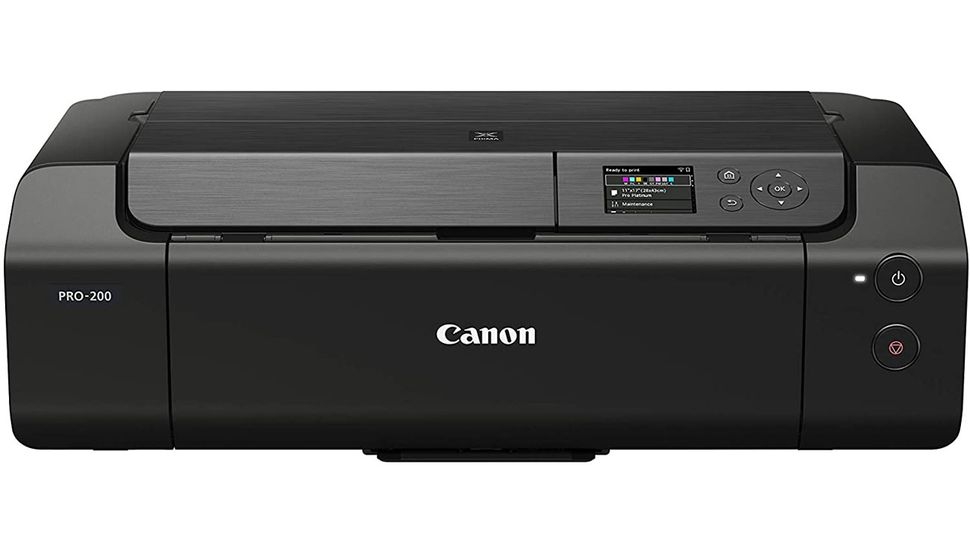 The Canon PIXMA PRO-200 is another good option for great-looking prints at larger scale. The art printer will cost you about twice as much as the iP8750 (number two on our list), but the increase in quality colour reproduction will be huge.
This is a relatively speedy printer that goes up to A3+ and even larger; it'll also do panoramic prints up to 990cm wide. It delivers lovely sharp prints that are dry almost straight away. And it's versatile too; working with set of eight inks, it's capable of printing on anything from standard paper to heavier fine art media.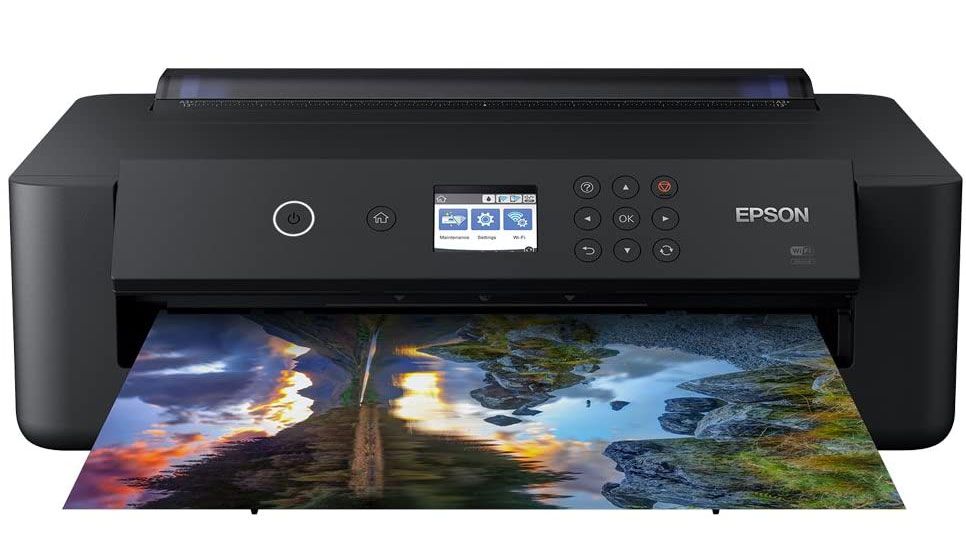 If you're not expecting to use an art printer that often then the Epson Expression Photo HD XP-15000 is the best art printer for less money. You'd be better suited to a cheap all-rounder and an art printer one that can handle everyday print jobs but also deliver the occasional quality art print.
If that's the case, we'd recommend the Epson Expression Photo HD XP-15000. Its main A4 tray is ideal for loading with ordinary paper for office work, while its rear feed can handle A3+ and heavier media for producing good-looking art prints.
With six dye-based inks, you'll get great colour reproduction and contrast, and it's compatible with Epson's XL cartridges, which helps keep running cost low. If you don't want to be caught out, we'd also suggest signing up for Amazon Dash Replenishment, which means printer will automatically order new cartridges for you when ink is running low.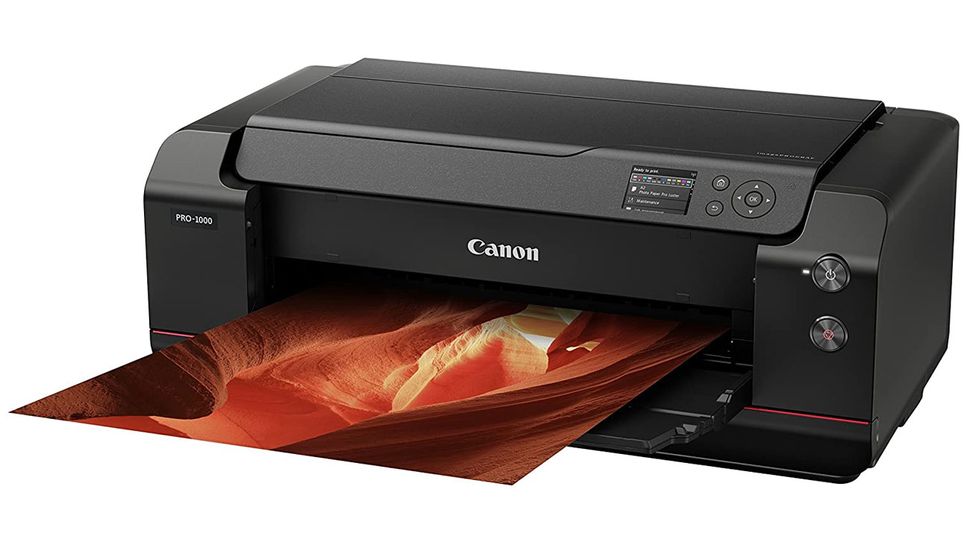 The Canon imagePROGRAF PRO-1000 prints at up to A2, and it'll also do panoramic prints up to 1.2m, which makes it the best art printer for large projects. It offers incredible colour reproduction and sharpness via a set of 12 pigment-based Lucia Pro ink cartridges, with an additional chroma optimiser for giving work on glossy paper a smooth top coat.
It'll produce an A2 print in around six minutes, and thanks to the top-quality inks the results will be stunning. The best results are achieved when using matte and fine art media. You'll pay handsomely for all of this: this printer is not cheap. But if you want large prints to hang on walls, then it will do an exceptionally good job.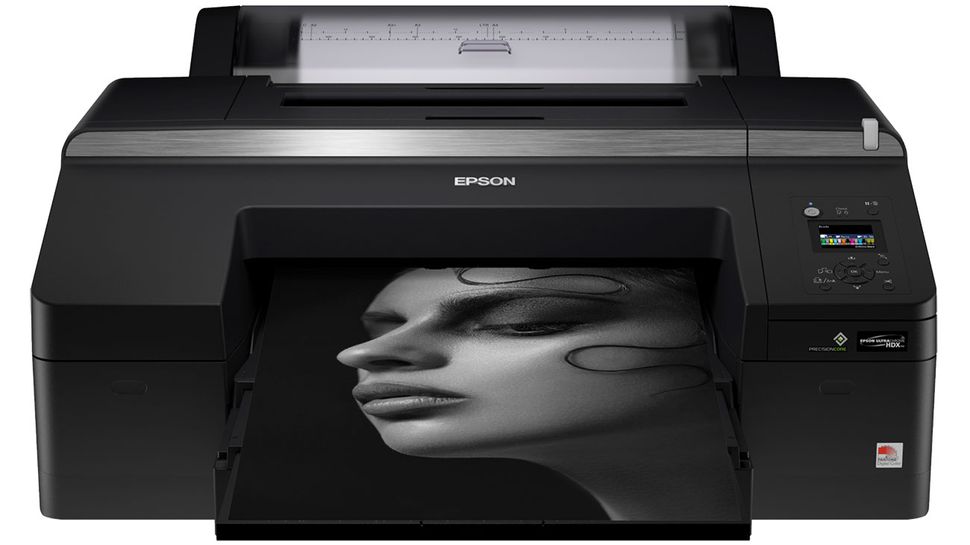 If you have a lot of money to spend, then the Epson SureColor SC-P5000 should be top of your shopping list. You can print up to A2+ and panoramic prints. I'll take the heaviest fine art media in its stride. And its print quality is quite exceptional.
The SC-P5000 has an internal colour calibration sensor, and that combined with a set of 10 Epson UltraChrome HDX inks means that it can reproduce 99 per cent of the Pantone solid coated colour range. This by far the heaviest and most expensive option on our list, but if you're printing exhibition work and high-end art prints for customers, then it will probably pay for itself.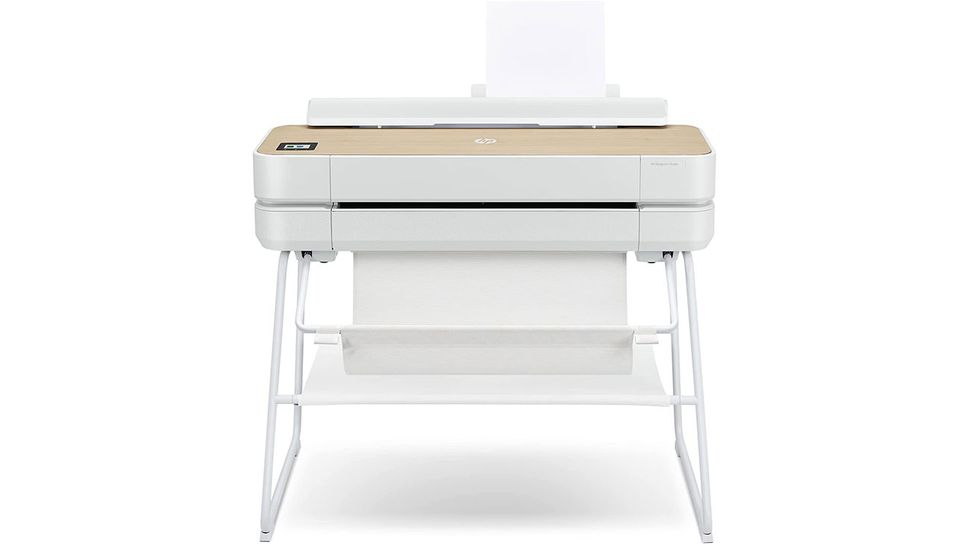 The HP DesignJet Studio is a dye-based A1 plotter that's aimed more at architects and engineers than artists and graphics designers. It's mainly used to print crisp, large-scale line work such as blueprints and building plans, which is does beautifully. Note, though, that it only has a basic set of CMYK inks and will struggle with smooth gradients and photographic quality.
For plans, diagrams and line work at maximum size, though, you won't find finer art printer than the HP DesignJet Studio. This printer also has great eco-credentials because it's made with as many recycled materials as possible, using low and renewable energy construction processes.
The HP Envy Photo 7830 is the best art printer for anyone looking for value for money from their new machine. This inkjet printer is an affordable machine that produces quality prints at a consistent rate.
The price point is of a slightly more expensive home printer but with the results of a good studio machine. It uses the cheaper end ink cartridges, and HP has a good support and subscription system that will record your use and get replacement ink to you before you know you need it. This ease of use stretches to a good mobile app to manage your printer and settings.
The downside is the HP Envy Photo 7830 art printer has a limited size use, so it will only go to A4. It can print on a variety of card stocks up to A4, but this will sap more ink; so be warned the more interesting projects could get costly.
Related articles: