Quick menu
Jump to the quick list↴
1. Best overall: Epson V600
2. Best budget: Plustek Z300
3. Best premium: CanoScan 9000F
4. Best speed : Epson FF-680W
5. Best pro: Epson V850 Pro
6. Best portable: Canon P-208II
7. Best Windows: Canon DR-F120
8. Best Mac: Xerox XD-COMBO
9. Best slim: Canon DR-C225W II
FAQs
One of the best photo scanners is a must if you have a big library of printed photos that you want to back up digitally. Digitising photos enables you to preserve your images for the future, safe from ageing and the risk of accidents. The best photo scanners are also essential if you've just rediscovered a dusty family photo album or you're delighting in the joys of old film cameras.
By using one of the best photo scanners, you to share your images via email, social media or on a website. But how do you choose? We've reviewed a wide range of options, including both general all-purpose scanners and specialist photo scanners for pros. The best picture scanner for you will depend on how many and what kind of photos you want to scan and the level of quality you're expecting.
We've evaluated the options below based on resolution, scan speed, physical size and value for money. If you're also planning to print reproductions from your scans, see our guide to the best home printers and the best printers for photos. Also, if you're scanning documents to sign, see our guide to the best e-signature software.
Quick list
Best overall
As far as reasonable price point and excellent feature set goes, there's no beating this photo scanner. With built-in digital correction features, and up to 6,4000dpi resolution, it's probably the best photo scanner for you.
Read more below
Best budget
If you want a straightforward, budget photo scanner, this one is for you. It's got some built-in enhancement tools, but really this is a model for people who just need decent quality photo scans, and not the latest features.
Read more below
Best premium
Sure, you can only scan one photo at a time with the CanoScan 9000F, but if you want that scan to be of the absolute best quality, then this is the scanner to pick. It's got an impressive colour gamut and you can scan film negatives too.
Read more below
The best photo scanners available
Why you can trust Creative Bloq Our expert reviewers spend hours testing and comparing products and services so you can choose the best for you. Find out more about how we test.
Best overall photo scanner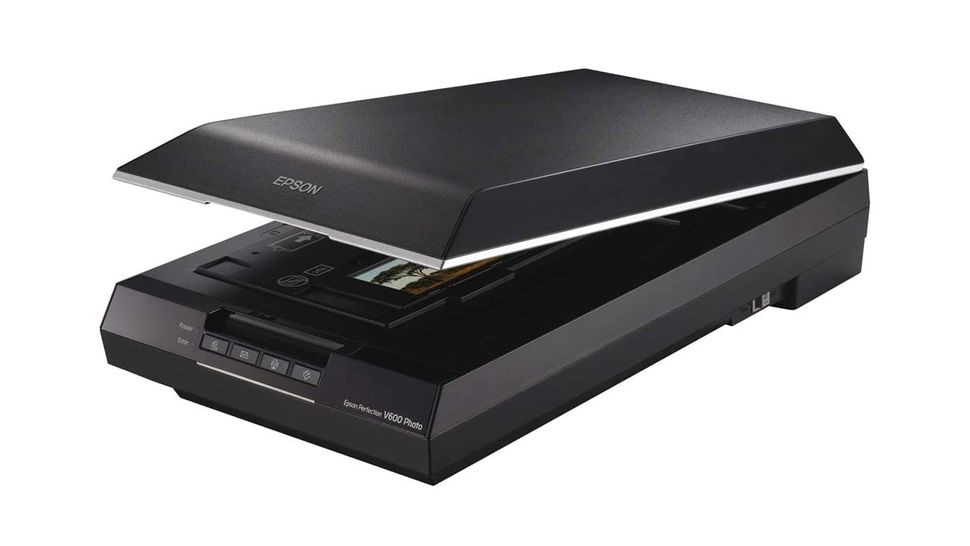 We think the Epson Perfection V600 is the best photo scanner overall for the majority of people. This flatbed scanner can scan both film negatives and printed photographs with a resolution of up to 6,400dpi. It's reasonably priced, it comes from a trusted brand and it boasts a range of handy extra features, so we think it's pretty much a no-brainer unless you have very specific needs.
We found the built-in digital correction and enhancement technology to be a good timesaver. Depending on what you're going to use the images for, you might still want to edit them best photo editing software but these features save a lot of time by removing blemishes such as scratches, dust motes and spots – a real blessing if you're batch-scanning lots of old photos.
The two film holders that come with the Perfection V600 can be adapted to different sizes and formats, including 35mm negatives and mounted slide transparencies. The only downside we can find with the Perfection V600 is that it's a little on the large side for a scanner – it's not something that's easy to hide away in a corner or in a drawer. Other than that, we think it really is the near-perfect solution for most people looking for the best photo scanner.
Best budget photo scanner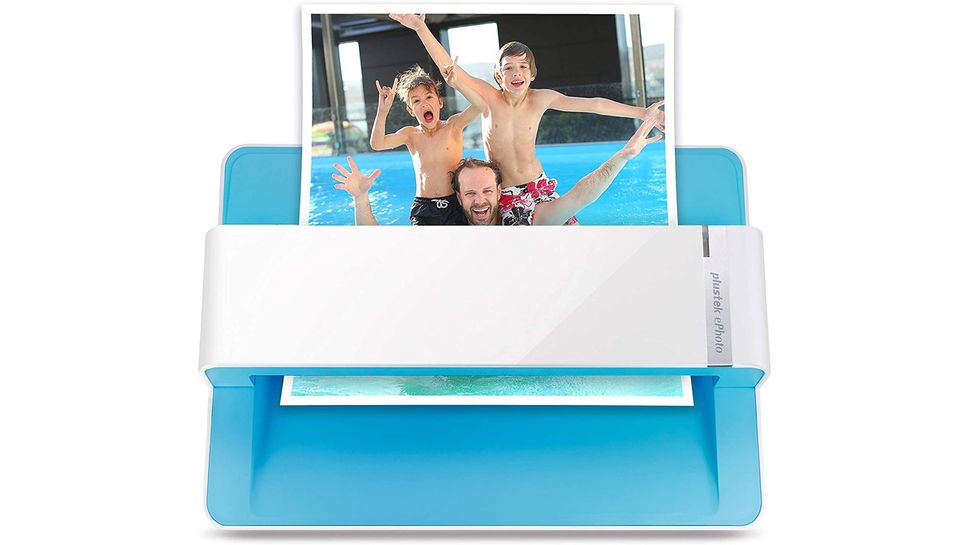 If you're looking for something more economical than our top pick scanner, the Plustek ePhoto Z300 is a great option. With a scanning resolution of just 600dpi, this scanner clearly won't produce images as detailed as those digitised by the Epson scanner above. But if you don't need luxuriously large files and just want something to turn physical images into digital format, we think the Plustek ePhoto Z300 is a good bet. Not least because it costs about a third of the price.
The Plustek ePhoto Z300 is also quite compact for a scanner, which makes it easier to store if you have minimal space. It does have other limitations, though, beyond the resolution. You can't batch-scan photos – instead, you have to feed them through one at a time. This can be time-consuming process if you need to scan a lot of images, so if you have a big archive that needs digitising, it may be worth shelling out a little more cash for a more efficient scanner. Otherwise, the Plustek ePhoto Z300 is an easy-to-use option that's perfect for budget scanning.
Best premium scanner for photos
The CanoScan 9000F Mark II can scan photos at a super high resolution, as well as film, negatives, and filmstrip. If you're happy to use a traditional flatbed scanner with USB connectivity but no Wi-Fi, it's a great choice.
Because it's a flatbed scanner, you do have to scan photos one after the other, which can be a bit time-consuming. But on the plus side, there's zero warm-up time and a one-touch operation, to keep things simple. As an estimate, an A4 colour photo takes about seven seconds to scan at 300 dpi. You can also use auto image correction to remove dust and scratches and correct fading in your pictures, should you want to.
Fastest photo scanner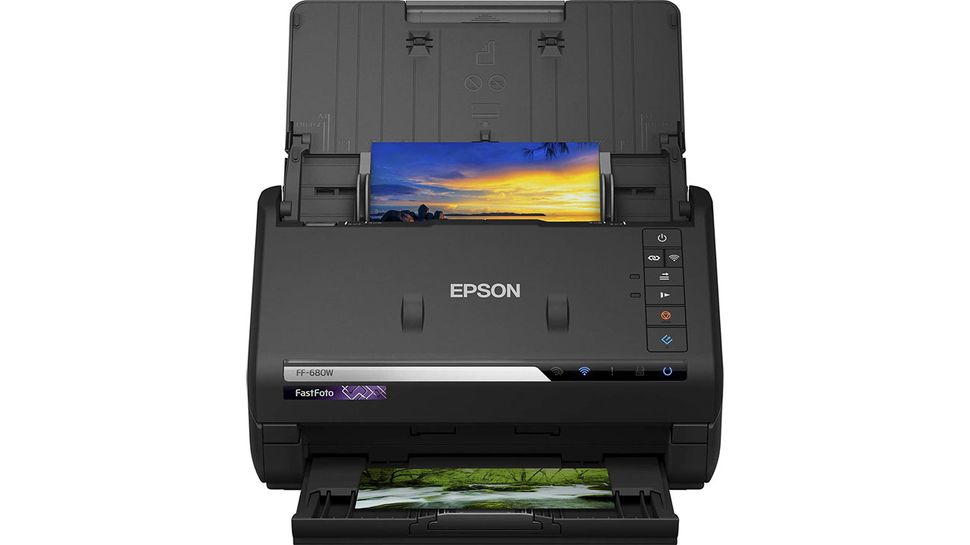 Anyone who has scanned a lot of photos will know that, to be frank, it's a hugely tedious task. If you have a lot of photos and want to scan them as quickly as possible, then you might want to consider the Epson FastFoto FF-680W. As the name implies, this is a scanner built for speed. It can be loaded with 36 photos at a time for batch scanning and can manage a photo a second at 300dpi.
That resolution will be too low for some people's requirements, but it should generally be fine for sharing images online. You can go up to 600dpi if you want to squeeze out a little more detail, sacrificing a bit of that blistering speed. If you don't need the crispest detail and you have boxes upon boxes of negatives taking up space, then the FastFoto FF-680W is a good choice for getting them digitised as quickly as possible. And you can always rescan the best ones at a higher resolution.
Best professional photo scanner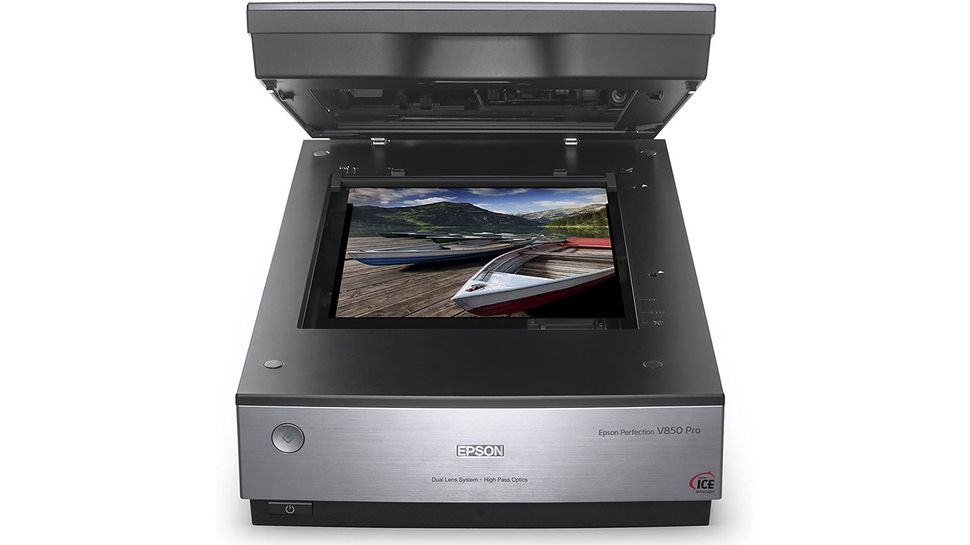 The photo scanners we've recommended so far are all good options for general use depending on your needs but might not stand up to more demanding professional requirements. If you want really high quality, one of the best photo scanners for professionals is the Epson Perfection V850. It can scan up to a huge 4,800dpi for general photo scanning, and you can boost it to 6,400dpi to scan film negatives and slides.
It also has dual-lens technology built-in, which automatically selects the best lens to scan with based on the image you're using. Like the cheaper Epson Perfection V600, it features Digital ICE tech for removing dust and scratches from old photos, and it boasts a high dynamic range so that it should perfectly match the tone and colour of every print you feed to it. Of course this all means that it costs several times the price of most of the other photo scanners in our selection, so this is very much an option for professional photographers and the most serious amateurs.
Best portable photo scanner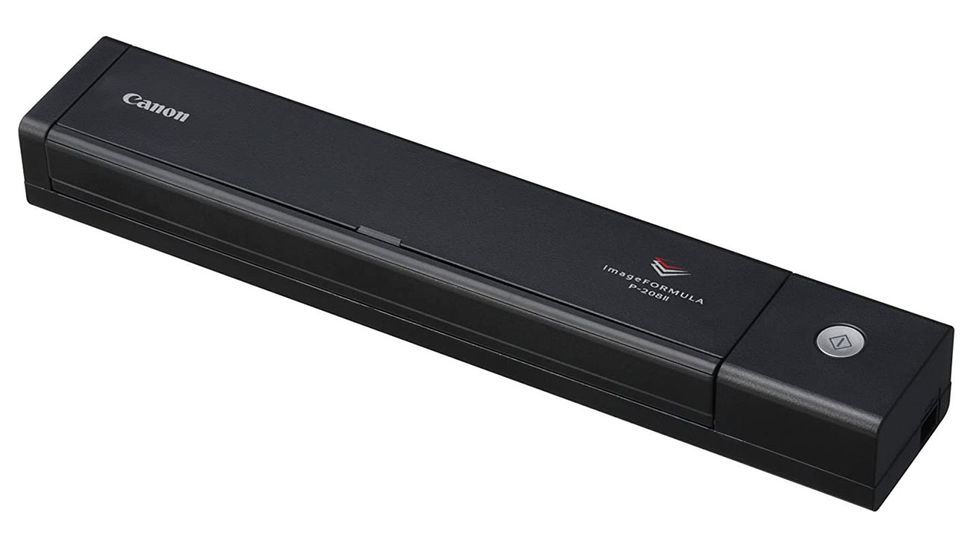 One issue with a lot of the best photo scanners is their size and weight. They tend to be big, bulky and designed to sit in an office or home studio. They're certainly no good for scanning on-the-go. But the Canon P-20811 is designed specifically with portability in mind. It's marketed towards business travellers who need to scan expenses receipts, business cards or other documents while out visiting clients, but we found it to be suitable for photos as well.
It's small enough to fit in many bags and it's surprisingly capable, with a scan resolution of 600dpi, a 10-sheet capacity and duplex scanning. It connects via USB, but if you want to scan to your phone or tablet, there's an optional Wi-Fi unit available that will allow you to do that wirelessly.
Best Windows photo scanner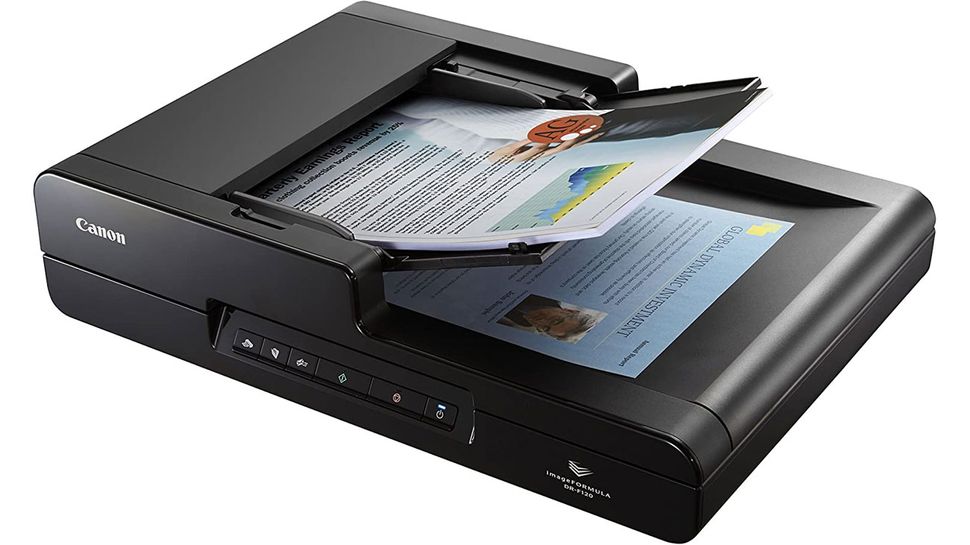 If you're a Windows user and you need to scan more than just photos, the Canon DR-F120 is a great solution. It has a document feeder on the top with a 50-sheet capacity, making it ideal for office work. Underneath that, there's a flatbed scanner that's perfect for photos, so we think this scanner is a perfect jack of all trades. It offers a respectable 600dpi max scanning resolution, although those seeking highly detailed scans for professional work might need better. However, it's a solid all-rounder that'll do a good job and scan up to 20 pages per minute.
Best Mac photo scanner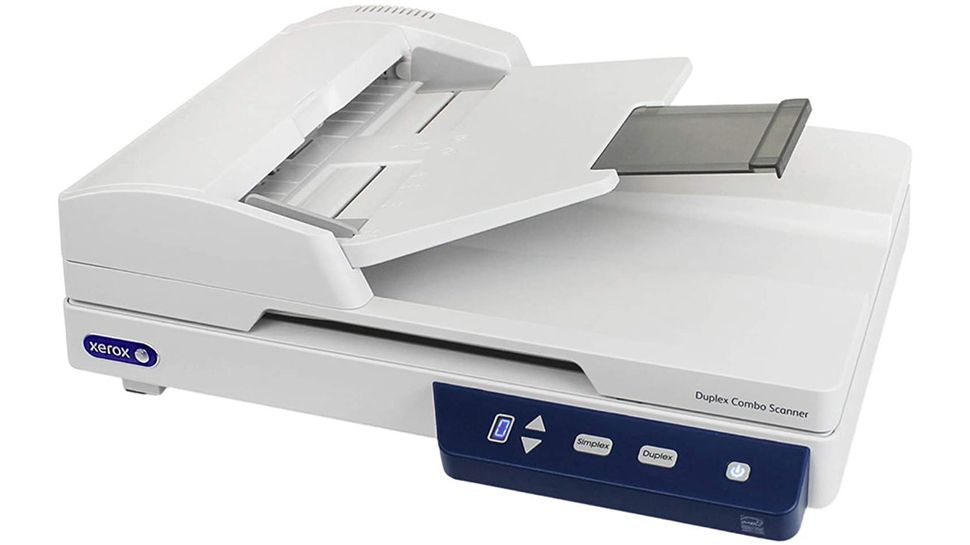 So what about Mac users? Well if you're disappointed that the two last options are Windows-only, don't despair because the Xerox XD-COMBO works with Mac as well as Windows. It also has a sheet feeder on top and a flatbed underneath, making it suitable for most scanning jobs. Similar to the Canon DR-F120, it can scan at a resolution of up to 600dpi. It also includes an additional feature for improving visual clarity thanks to the onboard Visioneer Acuity technology.
Best slim photo scanner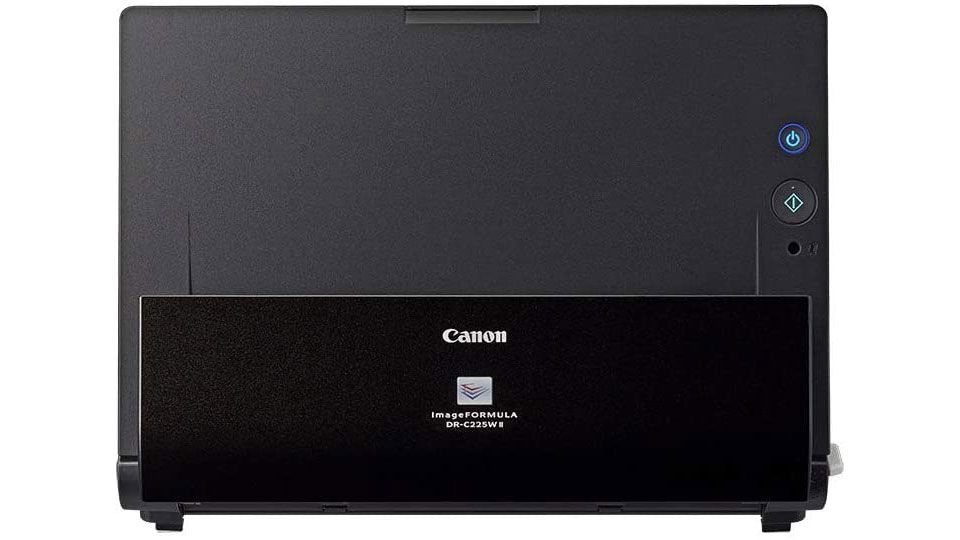 Running out of desk space? The Canon DR-C225W II slimline document scanner isn't as portable as the P-208II at number 4, but it is another option that's much smaller than many of the best photo scanners. Its sheet-fed design is probably not that suitable for older, more fragile prints, since it's mainly aimed at scanning A4 documents, but it is a small, slimline scanner with reliable results.
It can hold up to 30 sheets in the feeder, and it'll scan in colour at up to 25 pages per minute (it'll take longer than that at higher resolutions). Its Wi-Fi connection means that you don't have to worry about messy cables cluttering up your desk either. Like the DR-F120 above, this is another Windows-only scanner.
FAQs
How should I choose the best photo scanner?
The kind of photo scanner you need will depend on the results that you're looking for. If you want to maximise quality and detail, choose a device that can scan at a very high resolution. This is measured in dots-per-inch (DPI), and most of the scanners on our list scan at 600dpi, however, the two Epson Perfection scanners go up to a massive 6400dpi.
If you're less concerned with quality but painfully aware that you have a lot of photos to scan, you might prefer a scanner that will zip through images as quickly as possible. For that, we'd recommend the Epson FastFoto FF-680W. And if neither speed nor detail are of utmost importance and you simply need to digitise a few images, there are also budget options like the Plustek ePhoto Z300 at number two on our list.
There are also more specialised photo scanners available, with dedicated holders for specific film formats, including slides. Whatever your scanning needs, there will be a photo scanner for you.
Is it better to scan or photograph old photos?
Some people will digitise old physical photos by simply taking a picture of them with a phone or a digital camera. A smartphone can certainly be more convenient than a scanner as you'll always have it on hand, and some of the best camera phones will do a good enough job for a quick share on social media. However, one of the best photo scanners is a much better solution if you can afford one since the quality of the scan will be higher, and therefore better suited for making large prints or reproductions.
Does scanning a photo damage it?
For the vast majority of photographs, scanning will cause no damage at all scanning them should cause no damage at all. If the photos have curled, or are so old that they are physically fragile, then flattening them for the scanner may cause some cracks or other degradation, but this is unlikely. If you have extremely old or precious photos, you may want to consult a professional digitising or archiving service.
Is it better to scan photos as JPEG or PDF?
PDFs will often be higher quality than JPEGs, as JPEGs can compress images, meaning a loss in quality. PDFs are usually high quality and therefore ideal for printing. However, if you can keep compression to a minimum then a JPEG can also be a good choice.
How did we choose the best photo scanners?
We picked the best picture scanners in our guide above by comparing the states specs of scanners from reputable brand, consulting our own contributing photographers, some of whom work entirely using film cameras and scan their images in order to share them online. We also compared customer reviews online and reviews from our sister sites Techradar and Tom's Guide, which conduct regular tests on a wide range of tech.