Quick Menu
The list in brief ↴
1. Best overall: Photoshop
2. Subscription-free: Affinity Photo
3. Best value: PhotoDirector 365
4. Best organisation: Lightroom
5. Best beginner: Luminar NEO
6. Best for speed: Luminar AI
7. Easiest: inPixio Photo Studio
8. Browser-based: Pixlr X / Pixlr E
9. Best free: GIMP
10. Other options
How to choose
FAQs
How we test
The best photo-editing software today is more varied than ever. Some photo editing programs focus on the core basics: adjusting tones, colour grading, masking for local adjustments. Other tools incorporate things like denoising, and others still are focused on retouching, which involves removing distractions and smoothing skin rather than tweaking colours and tones. On top of that, generative AI is transforming image editing with some of the best photo editors adding text-to-image tools that allow mundane tasks that used to take hours to be done in one click.
Our team of reviewers has tried and tested a wide range of different types of photo editors in order to pick our the best photo editing software for different needs and budgets. Our reviewers all have experience in photo editing themselves and have worked with editing programmes for many years. Whether working on a single image or organising a photo library of tens of thousands of images, we understand what is needed from a modern photo editing tool, and they test each program over a number of weeks to put it through its paces.
Below, we've outlined our picks for the best photo editing software today for different requirements, budgets and operating systems. We've included the pros and cons of each along with links to the providers and links to our own fuller reviews, where you'll find more details of our experience with each program. We've included options for mobile use, but if that's your jam, see our dedicated list of the best photo apps). If you've chosen your software, you may want to check out our guide to the best laptops for photo editing.
The Quick List
We'll start with a very brief overview of our top three picks of the best photo editing software. Scroll down to read our full selection or use the links to navigate the page and dive into more details on each program.
Best overall
Download a free trial for PC, Mac or iPad
Yep, it's still number one! Photoshop is the best photo editing software, and a seven-day trial lets you try the latest release for free. There's no obligation to buy, but you can convert to a paid subscription during the trial or after.
Read more below
No subscription
Best overall
$49.99 / £49.99 per year
CyberLink PhotoDirector 365 offers all the features you'd expect from a top photo editing tool at a very reasonable price. A great way to get high-level editing features such as levels and colour adjustment for less.
Read more below
The best photo-editing software in full
Why you can trust Creative Bloq Our expert reviewers spend hours testing and comparing products and services so you can choose the best for you. Find out more about how we test.
The best photo editing software overall
Photoshop is more for retouching and digital art than for traditional photoediting, but it retains its position as the industry-standard software for image manipulation and continues to maintain its lead by regularly adding game-changing new features – most recently through the integration of Firefly-driven AI tools such as Generative Fill and Generative Expand.
Photoshop doesn't actually support native RAW editing – for that there's Lightroom (see below), which you'll almost certainly also get access to if you subscribe to Photoshop since getting Adobe's combined photography plan is better value than getting one app alone. There's also the Adobe Camera RAW plugin, which allows you to edit RAW images in Photoshop itself.
For retouching, we find Photoshop to be the most comprehensive option out there. It's layers approach allows all kinds of non-destructive adjustements to be made, and you can smooth over skin, remove artefacts, even edit facial expressions and more with the touch of a button using Adobe's neural filters. In our full Photoshop 2025 review, our reviewer found the new AI features in particular allowed him to "do more work in less time."
Of course, all this comes with a learning curve. There are so many features in Photoshop that there are plenty that I don't know about despite having been using the software for over a decade now. On the flip side, the fact that Photoshop is so ubiquitous means that there are tons of Photoshop tutorials out there. For pretty much anything you decide you want to do in Photoshop, you can almost guarantee you'll find a tutorial on it. There are also lots of third-party plugins, actions and brushes that can help make things easier and speed up your workflow.
The biggest downside of Photoshop for me is that you can only get it via a subscription, and the monthly price at full whack isn't cheap. Hunting for the best Adobe Creative Cloud discounts can be a good way to soften the blow a bit, and you have the option of subscribing to Photoshop alone, a specific bundle for photographers, or the full Creative Cloud. Ready to start? Here's how to download Photoshop.
The best subscription-free photo editing software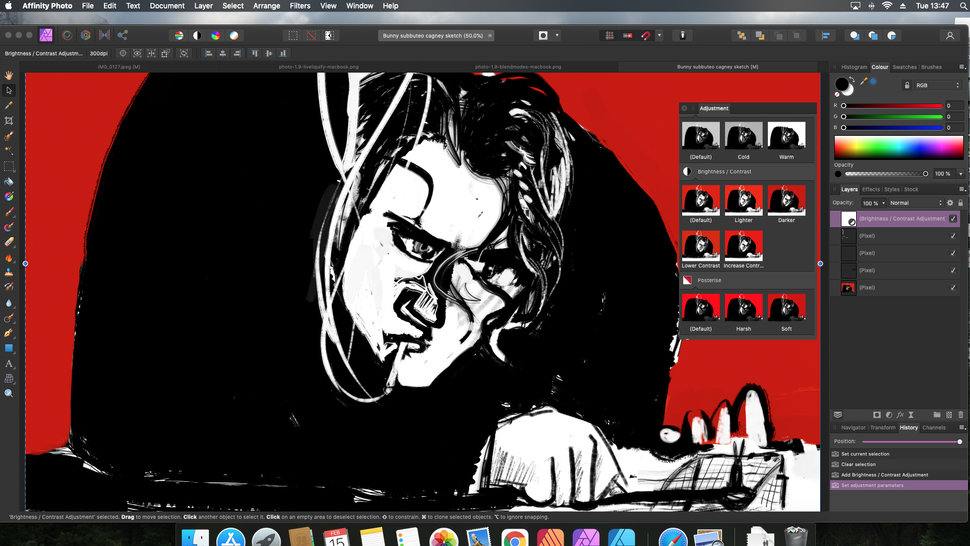 Not keen on subscriptions and prefer to pay a one-off price? Then check out Affinity Photo. It's the best single-purchase photo-editing program you can get right now.
It's not just a cheap equivalent to Photoshop but a viable alternative. It's got professional-standard editing features, and it can handle RAW editing, HDR Merge, panoramic stitching, focus stacking, batch processing, 360-degree image editing, non-destructive layers-based editing and intelligent objects. It can also handle PSD files without an issue, so if you're sick of Photoshop's running costs and want to jump ship, you'll still be able to work with all your in-progress files.
As noted in our review, Affinity Photo doesn't quite pack in the high-end Photoshop features like its cutting-edge neural filters. However, there is still a lot to impress. We particularly rate the Personas, essentially customised toolsets for different jobs, designed to put everything you need for particular tasks at your fingertips.
Affinity Photo is available for Windows and Mac and as a dedicated full-featured iPad app, which can all be purchased for a one-off, no subscription price. Its maker, Serif, also has a graphic design package (Affinity Designer) and a desktop publishing app (Affinity Publisher). As with Adobe's software suite, you can transfer projects between these programs without difficulty, making for a smooth workflow. While it doesn't include an equivalent to every feature in Photoshop, it's pretty close, making it exceptional value.
For more details, see our Affinity Photo review.
The best value photo editing software
While Photoshop is a very powerful image-editing tool, it is quite complex, and has a daunting learning curve. Not everyone needs that – some people just want a simple photo-editing interface that's easy to use, and for such people, we'd recommend checking out CyberLink PhotoDirector 365.
In our full review of CyberLink PhotoDirector 365, we were hugely impressed by the various AI-powered features that have been added into the latest version. Landscape photographers in particular may appreciate the AI sky replacement tool, which lets you seamlessly swap out a drab sky in an image for one with a little more drama to it. There's also automatic body shaping, tools for editing skin and faces, as well as lighting and animation effects.
The intuitive interface is easy to get to grips with. It's a little rough around the edges – use it long enough and you'll start to notice little glitches, types and other things that show a slightly lack of polish. But the fundamentals of CyberLink PhotoDirector 365 are strong, and if you want a budget-friendly option for photo editing, this is a great choice.
For more information, see our CyberLink PhotoDirector 365 review.
The best photo editing software for organisation
Adobe Lightroom is one of the most used pieces of software for photo editing, but best of all are its tools for organising images. For that reason, it's an excellent choice for anyone working with large numbers of photos, such as photographers and designers, who typically use it in tandem with Photoshop. Lightroom helps you to organise your work by letting you keep all of your photography in one place, edit it and share it from anywhere. You can store images on your computer, iPad, iPhone or Android device and even transfer photos automatically from your phone into Lightroom as you take them.
And that's not all. It can also handle complicated image management jobs that Photoshop isn't designed for. For example, it makes light work of day-to-day enhancements and RAW files. Syncing is automatic, so when you make an edit or flag an image as a favourite in one place, it updates everywhere else, too.
Lightroom also offers excellent photo editing features, especially the desktop-based Adobe Lightroom Classic, which, confusingly is still getting updated by Adobe and receives many of the latest features, such as AI Denoise. But for those who are new to photography and are seeking the best 'modern' organiser we would recommend using 'Lightroom' as it is the best option for multi-device organisation.
Check out our Adobe Lightroom review to learn more about the software.
The best photo editing software for beginners
Luminar NEO is ideal for those who are used to making the odd tweak in mobile apps like Instagram, but want to want to take your photo editing skills to the next, desktop level. First off, the interface is super easy to use and excels in its intuitive design, and though the more professional photo editors will still be looking at the top three on this list, they may still be interested in the three canny AI tools that Luminar NEO has to offer.
When we tried it out, we were impressed by the best of these AI tools – the Remove powerlines tool. We tried it out on a dozen photos and it smashed it every time. The next AI tool is Sky Replacement, and when we used this, it was as simple as selecting a chosen sky and then a single click later, the finished image is created. Lastly, the AI crop tool automatically isolates the subject of the photo and crops it to create a more friendly composition. Overall, it's well worth the one-off payment for this fun photo editing software.
Given that Luminar is based in Ukraine, you might expect the software not to have had much attention recently. However, the reverse is true: astonishingly, the team have this month added one-click background removal for portraits. The new tool can manage even complex hair selections, and is claimed to take out as much as 90% of the work.
For more on the software as a whole, read our Luminar NEO review.
The best photo editing software for speed
Need to edit your photos as quickly as possible? Skylum Luminar AI is a great choice. This photo editing software is firmly focused on speeding up the process, so photographers can spend less time editing and more time creating.
As the name suggests, the software uses artificial intelligence to suggest editing options that can enhance photos of different styles. It can suggest the best templates to improve images and has tools that can be used to tweak skies, accents, skin, faces and even eyes. There are specific tools for portraiture, landscapes, fashion, architecture, nature, and black and white photographs.
At a very reasonable one-off cost, this AI-based software for MacOS and Windows is certainly worth checking out. For more details, check out our tutorial on how to edit photos with Luminar AI.
The easiest photo editing software
InPixio Photo Studio is another middleweight photo editing software that's easy to use, and features some clever AI. Currently on version 12, its background eraser and cutout tool are particularly well designed, and there's also a cool sky replacement tool, although the results are not always the most realistic.
With a intuitive interface, this is among the most accessible yet full-featured photo editors for beginners, and makes it easy to perform basic edits very quickly. With the Pro version, you also get inPixio's Photo Maximiser for enlarging, and Photo Focus for sharpening; two job-specific tools that can be used separately.
The best browser-based photo editing software
Want to make edits right in your web browser? Whether you're on a mobile or desktop device, we recommend Pixlr X and its sister app Pixlr E. Both are very easy to use, and there's nothing to download.
The free plan is perfect if you just want to use these tools occasionally. However, you will have to wait for ads to load, which can slow things down. Alternatively, subscribe to a paid plan and the ads disappear.
Pixlr X allows you to make non-destructive edits to your images, and brilliantly can be used within Dropbox, which makes it a great addition to your toolkit for collaborative work. With a Photoshop-like interface (albeit much simpler) it offers a good range of adjustments and filters. Pixlr E, meanwhile, offers the same classic photo editing tools, with the addition of some extras for the pros.
The best free photo editing software
GIMP is another free photo editing tool, but this one is open source. That means it will be free forever, and there's an enthusiastic community of worldwide developers behind it, who are constantly working to improve it.
The software available for Linux, Windows and Mac, and offers a broad range of tools including painting tools, colour correction, cloning, selection, and enhancement. The team has worked hard to ensure compatibility, so you'll be able to work with all the popular file formats without problems. The software also boasts a very capable file manager built in, similar to Adobe's Bridge.
Check out our GIMP review to learn more.
The best of the rest
Corel PaintShop Pro has been the budget alternative to Photoshop for Windows users for more than two decades, and it's still going strong. Supporting layers and allowing you to edit in both raster and vector image formats, as well as aping some of Photoshop's more advanced capabilities such as content-aware move, gradients, and filters, it has a lot to offer anyone who does photo-editing as part of their day-to-day job.
The latest version includes new smart AI tools, including the Frame tool (which quickly masks raster images to fit in specific shapes), AI Background Replacement, AI Denoise, which removes noise from a picture, and AI Portrait Mode, which lets you select a subject and add background blur. It also adds support for the HEIC and HEIF file types used on iPhones.
If you're just getting started with image editing, full Photoshop may be a bit too much of a learning curve. Instead, you'd be better off with Photoshop Elements; a more basic alternative to Photoshop. Its handy Quick and Guided Edit modes make it great for beginners, but that doesn't mean it lacks power.
The 2024 version includes even more power-up from Adobe's Sensei AI, such as sky replacement and selection alongside the popular collage tool that scans and groups photos automatically or via the tagging and sorting tool, again, using Adobe Sensei. It also comes with a range of performance enhancements and upgrades. Best of all, it doesn't require a subscription: it's available for a one-off fee. On the flipside, that means you don't get it as part of a Creative Cloud subscription.
Dive in deeper with our full Photoshop Elements review.
Looking to convert RAW files? DxO PhotoLabis is the best in the business. It's a slightly complex tool to use, but it achieves impeccable results. You can browse images on your computer folder by folder, then select an image and choose from the default conversion/correction setting or a range of presets.
The software offers lens corrections that automatically compensate for the different degrees of distortion, chromatic aberration, edge softness and vignetting that are common to most digital camera lenses. The results are outstanding, although note this is a specific tool, not a general photo editor.
Fotor is a free easy-to-use photo editing and graphic design tool, aimed at amateur photographers and design enthusiasts. There are mobile and desktop apps as well as an in-browser version, and you get a full suite of tools that should cover most people's needs.
A one-tap enhance button aims to offer an instant fix, which will be loved by some and hated by others. A greater degree of control is offered via tools for resizing, cropping, rotating and straightening images. There's also a background remover and some handy retouching tools such as red-eye and wrinkle removal. There's even an HDR image creator and tilt-shift editor in case you're looking to turn your photos into something more dramatic.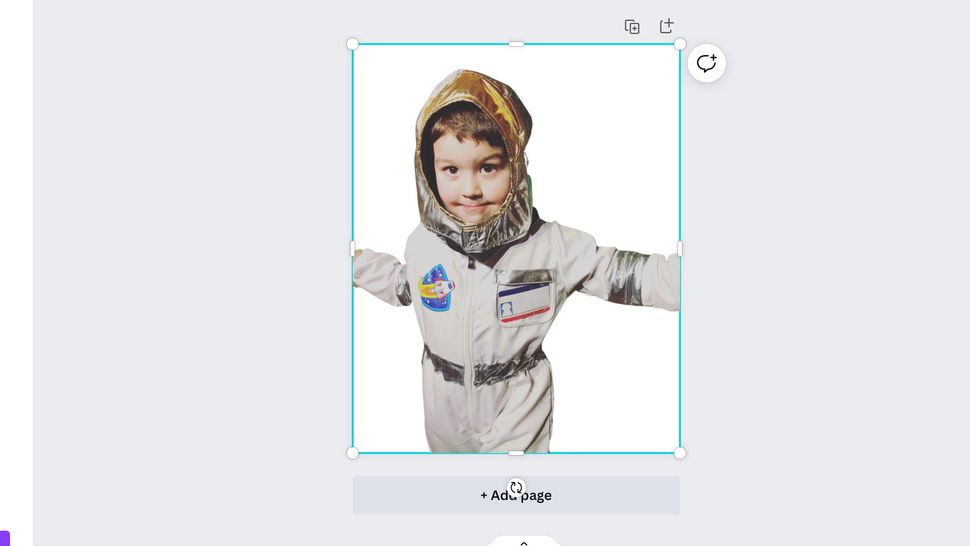 While Canva isn't one of the heavyweights on our list for photo editing, focusing more on graphic design and social media content creation, it has some extremely useful tools. The photo-editor focuses on bringing simplicity to tasks that were previously quite time consuming, for example the one-click background remover (which will also blur the background) and auto-enhance and retouch. However, you will need the Pro version to access these tools (currently $9.95/£8.99 a month). For that, you also get access to a vast image, template and graphics library, which you can use to enhance your own photos.
That price point may not make the software worth it for those who want serious photo-editing tools, but if you're into Canva as a whole package (see our Canva review for more of what it offers), the simplicity of the photo tools are a worthwhile bonus.
FAQs
Which software is best for photo editing?
For editing photos, Adobe Photoshop is the gold standard by which others are judged and, therefore is still our best pick for editing photos. The traditional range of editing tools is now being expanded with mind-blowingly powerful AI tools, which puts this veteran package at the cutting edge of image creation.
Affinity Photo offers an excellent alternative to Adobe Photoshop, especially when combined with the other Affinity software tools. While Affinity Photo may not have the AI clout of Adobe Photoshop, it offers a beautiful and consistent experience across Mac, Windows and iPad which few other applications offer. For more options see our pick of the best Photoshop alternatives.
What is the easiest software for Photo editing
The only downside with Adobe Photoshop is that it may have too many ways to edit a photo, making it intimidating to learn, if that's the case we would recommend Adobe Photoshop Elements as a good alternative for those who just want to quickly edit their photos easily while still having fun. The great thing about Elements compared to its more complex sibling is that under the hood it is still powered by Adobe's incredible Sensei AI system, meaning, that although easy to use, Adobe Photoshop Elements is still at the cutting edge of image manipulation
Why should I edit my Photos?
Editing Photos may seem an odd thing to do, as cameras today, whether in a smartphone or one of the latest mirrorless cameras, do such a good job at taking photos. The answer is that a good photo edit can dramatically enhance a photograph. For example, switching from colour to a black and white version of a photo drastically changes the 'story' the image is telling and, therefore becomes a more compelling image than the original.
Also, editing photos is one of the quickest 'creative' tasks an artist can do, with a low time overhead compared to video, animation or illustration, making it a satisfying creative 'itch' to scratch quickly.
Do I need to use AI for photo editing
AI in photo editing takes many forms. Today, people often mean text-to-image generative AI. This allows us to radically transform parts of images using simple text commands. Adobe Photoshop is leading the way in this area, and the reality is that its AI tools like Generative Fill are a game changer, allowing transformation that used to take hours to be made in a matter of seconds.
However, that does not mean that if a Photo editor does not have generative AI it should be dismissed out of hand. The basics of traditional photo editing – adjusting tone curves, colour grading and masking for local adjustments remain the same as they have for a long time. And many tools that might not have text-to-image AI have AI-based tools like denoising, which have been around for years before AI suddenly became a buzz word.
How to choose the best photo-editing software
The easiest way to decide how to choose which is the best photo editing software for you is to think about a few factors. First is what camera you use. If it is just a normal camera on a smartphone, then practically any of our choices will work with the JPEG images that these cameras tend to create. However, you may have a mirrorless camera that can shoot in RAW format, which is the digital equivalent of a film negative and allows a lot more latitude in the editing capabilities of an image.
Second, how often will you want to make edits? If and will those changes be needed to apply to a batch of images, then a photo editing tool with robust library tools such as Adobe Lightroom may be the best choice.
How we tested the best photo-editing software
We based our selection of the best photo-editing software for this guide on our own hands-on reviews in which our experienced writers, who have long worked photography, spent an extended length of time with each program to be able to compare its capabilities, features, ease of use and value for money. They used each program to edit photos using the range of features provided by each program.
We considered who each program is targeted at, how good it is at what it aims to do and how it compares to other products on the market in order to recommend the best product for different needs. Because we know what makes a great photo editor, we are brilliantly placed to make these recommendations and have advised on which software options are best suited for which kind of user.
For most of our choices above, we've included a link to our original, more complete reviews, where you can read more about our hands-on experience with the software. In the few cases where we haven't tested the software ourselves, we've taken on board expert advice from working photographers and consulted thousands of customer reviews (to find out more about our reviewing process, read our article on how we test software).