The very best video editing apps help you edit footage on your phone or tablet on the go. Expect a simpler version of full desktop software, giving you key functionality alongside a stripped back interface. In short, they can be a handy part of an editing workflow for both beginners and professionals.
We've played with almost every video editing app on this list, so we know they are brilliant for quick tweaks and casual users. Our reviewers have tried out many of the best-known options through hours of editing their own projects, and judged the ease of use, speed, functionality and more to give their honest opinions.
In our list you'll find video editing apps for iOS, video editing apps for Android, and apps that can be used on both platforms. Most are suitable for both smartphones and tablets (see our guide to best tablets for video editing if you need one of those).
Some of these apps let you move your clips between mobile devices and computers, too. If you like the sound of that, then also see our guides to best computer for video editing. You might also want to check out our guides to the best video editing software overall, the best monitor for video editing and the best MacBook for video editing. We'll start with quick links to our top three choices, then continue with detailed pros and cons of all of our picks for the best app for video editing.
The best video editing apps: Our top 3
Why you can trust Creative Bloq Our expert reviewers spend hours testing and comparing products and services so you can choose the best for you. Find out more about how we test.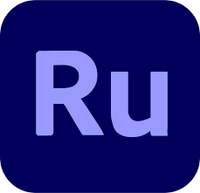 Premiere Rush: the best video editing app overall
A scaled-down version of Premiere Pro, Premiere Rush is the best video editing app overall. It's great for beginners, but also useful for pros because you can move footage back and forth into Premiere Pro. There's a free version too!

Quik: The best video editing app for GoPro
The Quik app is the best app for editing your action-packed GoPro footage, and allows you to remotely control your GoPro device too. This advanced, yet easy-to-use app is free to download, and supports 4K.

LumaFusion: the best iOS app for advanced features
If you're using an iPhone or iPad for your video editing, LumaFusion is the most comprehensive app available today. Its sophisticated interface offers an unmatched range of colour, effects, audio, and keyframing options.
The best video editing apps in full
Let's keep things simple. Whether you're using iOS or Android, Adobe's Premiere Rush is the best video editing app available today, bar none. Why? Well, we've yet to see another app that offers such wide functionality from such a simple interface. The UI offers large icons and panels, making it very straightforward for standard video editing tasks, such as dragging-and-dropping footage onto the timeline, correcting colour, mixing in music or voiceovers, or adding titles and transitions.
The focus is on letting you process clips quickly to upload them to social media. For example, it automatically converts your videos to the specific aspect ratios and quality levels required by each platform. That makes it the perfect choice for YouTubers, social media users and anyone wanting to experiment with video editing.
This cross-platform, video editing app is much easier to use than Adobe's more complex desktop software, such as Premiere Pro, After Effects and Audition. That said, Premiere Rush isn't just for amateurs. It's also the best video editing app for professional video editors, because it lets you move content back and forth into Premiere Pro, where you can make more sophisticated edits to it.
You can subscribe to Premiere Rush as a single app, as part of a limited free starter plan, as a bundle with Premiere Pro, or as part of the entire Adobe suite. Either way, you'll get access to updates. For instance, the most recent version (2.0), introduced unlimited exports on desktop, additional languages, and thousands of new royalty-free sound effects and loops. See our full Premiere Rush review for more info.
If you use a GoPro, there are a number of third-party apps for editing your footage. However, the best app for video editing with a GoPro we've tried to date is the official GoPro app, Quik. It's focused on two specific things: allowing you to remotely control your GoPro device, and edit your GoPro footage. Quik automatically imports your footage, and makes it easy to do things like sync your clips to music, add photos, titles and timelapse sequences, and include graphs based on your stats.
The Horizon Levelling editor tweaks the angle of your scene to correct things if your camera wasn't mounted in line with the horizon. You can go through your footage frame-by-frame to find standout still images. And once your photos and videos are ready, you can directly upload them to Instagram, Facebook, YouTube and more, or share them via text or email.
Quik is updated regularly, with recent updates tuning up the app's navigation and workflow, as well as improving the 'smarter edits' function, adding new music and the connectedness to your camera. This app is free, but you can pay for extra themes and filters via in-app purchases.
If Premiere Rush isn't quite advanced enough for you, then check out LumaFusion, which has the most comprehensive feature set of any video editing app, although it's only available for iOS. Produced by the creators of Pinnacle Studio, LumaFusion is kind of like a mobile version of Final Cut Pro, with a multitrack timeline along the bottom, media browser top left, and a preview monitor.
Any effect can be keyframed, as can clip animation, allowing precise adjustments to your project. You get six video/audio tracks for photos, videos, titles and graphics, along with an extra six audio tracks for narration, music and sound effects. LumaFusion offers insert/overwrite capability, colour correction, a fully featured audio mixer, lossless export, support for vertical video, advanced title creation tools and slow motion/fast motion (forward and reverse). There are also an impressive number of effects you can apply.
For casual users, this is mostly overkill, and for beginners it would be a frightening learning curve. Professional video editors, though, will appreciate the range of powerful features it has to offer. These include a MultiCam Sync feature, which lets you sync and edit clips from multiple camera and audio sources. Plus, if you have the latest iPad Pro, you can take full advantage of your Thunderbolt 4 port for faster download and upload speeds. And there's a nice integration with Dropbox to make it easier to collaborate on footage with others.
Once you're done editing, there are endless sharing options and exporting options. For instance, you can export at different resolutions, qualities and frame-rates, as well as exporting audio and video separately. The app even supports for XML export to Final Cut Pro. At such an affordable price, Lumafusion is a real bargain, making it one of the best video editing apps for pros. For more info, read our full LumaFusion review.
If you're a professional video editor, KineMaster is well worth checking out. Available for both iOS and Android, this app allows you to shoot, edit and export your footage on your phone or tablet via a mult-layer interface. High-end features include blending modes, chroma-keying, and audio mixing.
Smooth and precise, KineMaster is one of the best video editing apps for trimming clips and layers with frame-by-frame granularity. Audio clip timing can be adjusted, too, with sub-frame accuracy. You can upload multiple layers of video (on supported devices), images and text, as well as multi-track audio. Other features include instant edit previews, precise volume envelope control, colour LUT filters, speed controls, chroma key compositing and 3D transitions.
In short, while this isn't quite Premiere Pro on a mobile device, in our experience it isn't far off. Its interface will be quite off-putting for a beginner or casual user, but video editing professionals will appreciate its comprehensive range of tools. You'll need an up-to-date phone or tablet to use it without lag, though.
KineMaster is free to download, but adds watermarks to videos, which you have to take out a subscription to remove. This also allows you to export at 1080p or 4K, and get access to over 1,000 premium assets. Find out more in our KineMaster review.
It's great to find a useful app that's genuinely free. But what's even better is one you don't even have to download. And iMovie is a great example: it's already there on your iPhone, iPad or Mac, so you may as well give it a try.
iMovie is aimed at ordinary users who don't necessarily have any experience of video editing, so it's much less sophisticated than the likes of LumaFusion or Kinemaster. However, if you're a video editing beginner, or just want an easy way to add titles, music, voiceovers and photos to your home clips, it's a great choice.
In our review, we found the interface easy to use. The app also supports 4K on modern devices, and it integrates beautifully with the Apple ecosystem as a whole. So for example, you can save your clips to the iCloud drive or stream them to an Apple TV via AirPlay. iMovie plays nicely with Apple Photos, Mail and Messages too. To learn more about the app, see our full iMovie review.
The last big update since we did our full review came last October, and introduced the ability to import and edit video captured in Cinematic mode on iPhone 13. If you have a new iPhone or iPad, you can now use the Cinematic control in the inspector to modify the intensity of the depth effect; focus on faces or other objects by selecting them in the viewer; and view and delete focus points in the timeline.
Want to edit videos without a steep learning curve? Then FilmoraGo, which is available for iPad and Android, is a solid choice. You get all the basic tools you'd expect from a basic video editing app, such as being able to trim and split videos, adjust video speed, control volume and resequence clips. And while FilmoraGo lacks the advanced features of Lumafusion or Kinemaster, such as multi-track editing or 4K support, that does make it pretty easy to use. Plus, thanks to its themed filters and effects, it can help even newbies make their videos look impressively professional.
FilmoraGo is technically a free app, although you'll have watermarks on your videos unless you upgrade to the paid version. If you tried it before and didn't like it, it might be worth revisting. That's because a big update in June 2021 gave it a new user interface, as well as an AR camera and light and dark modes. Plus you can now choose to splice videos in the same picture, and you can use masks not only on the main track but also on the PIP track.
Other recent updates include adding a Chroma Key feature that makes it easy to remove a specific colour from an image or video. If you like the app and fancy checking out its desktop sibling, see our Filmora X review.
If you just want to edit home-shot videos for fun, the best video editing app for you probably isn't one that's as complex and sophisticated as many of the opinions above. You'll prefer something that simpler and easy to use. In which case, if you have an iPhone or iPad, try Apple Clips.
Aimed at children and families, Apple Clips is super-simple. As we mention in our review, this free app is very limited and can hardly be considered among the best video editing apps for pros. But it does make it very easy to edit video clips, stories or messages. You can also easily add filters, animated text, music, emoji, and stickers too.
Released in September 2021, the latest version (3.1.2) allows you to import and edit video captured in Cinematic mode on iPhone 13, as well as ProRes video from iPhone 13 Pro and Pro Max. For more info, read our Apple Clips review.
Filmmaker Pro is another one of the best video editing apps for non-professionals (yes, despite the name it's not really a 'pro' app, although it does come with some pro features including video grading, superb green screen support, nearly 200 different fonts for your text overlays, and chroma keying).
You also get 30 filters, 17 transitions and Audiometer assisted voiceovers. Plus a big update in October added a new subject tracking crop tool, which follows the movement of a subject and keeps it within the crop frame. The latest version (9.5.4) includes new animations for picture-in-picture videos and the ability to delete multiple projects simultaneously on iPhone.
There's a free version of Filmmaker Pro, but you won't get all the features and your videos will be overlaid with watermarks. So it's best to see this option as more like a free trial.
Need to craft a quick video for social media? Then most of the apps on this list will be overkill. Instead, you might want to consider Inshot, a consumer-friendly video editing app that offers pre-built canvas sizes for exporting clips everywhere from IGTV to TikTok. We found Inshot's interface to be very simple, making it easy to import, trim and edit your clips together and then add filters, stickers, captions, emojis, and other fun things on top, plus free music and sound effects.
There's an extensive library that lets you add exclusive stock footage to your videos, and the ability to preview videos in full screen. The app is free, but comes with ads, and watermarks on your videos. Both can be removed with a small monthly subscription. There are also one-off purchases for more advanced features.
Not a fan of Quik, the official GoPro app? Then maybe try ActionDirector, an Android app specifically designed for capturing and editing action footage. As well as offering basic video editing, you can also apply some nifty action effects to your shots. For instance, you can slow down or speed up video segments with precision, to create eye-catching slow-motion or fast-motion scenes.
You can also highlight specific sections of your video to replay or rewind. There are hundreds of background music tracks and sound effects you can add to your clips for free. You can add titles and text, and share your videos via social networks. ActionDirector is free, with in-app purchases for certain features.
What is the best video editing app overall?
For both casual users and professional video editors, the best video editing app today is Premiere Rush. Its clear and uncluttered interface means it's easy for beginners to pick up and make simple edits without fuss. Meanwhile, its interoperability with Premiere Pro means that pros can move their footage from one tool to the other, and make edits on both mobile and desktop devices.
What is the best free video editor?
The answer to this question is the same as the one above: Premiere Rush. Adobe's impressive video editing app has a very capable free plan. You can download the Premiere Rush app for free on macOS, Windows, iOS and Android, and there are no restrictions on the amount of video you can export.
You are, however, limited to 2GB of storage and some advanced features such as project syncing across mobile and desktop are not available. If you want all the features and boost storage plan to 100GB, there is a reasonably priced paid subscription. However, for basic video editing, the free version of Premiere Rush will do fine for most people.