MacBook Pro vs MacBook Air: which one will best suit your needs for creative work? They have many similar strengths, including super-fast speeds, a big focus on usability and great battery life. The Pro costs about $100 more than the Air, though. So is the Pro worth the extra cost, or should you opt for the cheaper Air? In this article, we'll give you the info you need to decide.
Just to be clear, we're talking about the very latest models: the MacBook Air (2022) and MacBook Pro 13-inch (2022), both of which come with the updated M2 chip. Both devices work with the Magic Keyboard, but there are also nuances that can make a big difference when it comes to creative work.
We'll take you through what you need to know about each laptop, so you can get the MacBook that best fits your needs. If you're looking for a cheaper MacBook, though, check out our writeups of last year's models; namely our Apple MacBook Pro 16-inch (2021) review and our MacBook Pro 14-inch (2021) review.
MacBook Pro vs MacBook Air: Performance
The difference in power between the MacBook Pro and MacBook Air is no surprise if you've been following Apple's naming conventions. The 'Air' products are lighter in raw performance, but more affordable; the 'Pro' products pack in more power, along with some other higher-end features.
Both the MacBook Air and MacBook Pro include 8GB of RAM as standard, which can be a bit limiting for design and creative work. However, they are both configurable to 16GB or 24GB to speed things up.
The latest MacBook Air and MacBook Pro 13-inch from 2022 also both have the latest M2 chip. According to Apple, this offers 40% better performance than the M1. But while the base model of the Air has an eight-core GPU, the Pro comes with a 10-core GPU (graphics processing unit) as standard. And those extra two GPU cores make all the difference for creative applications.
Consequently, while the MacBook Air can handle lighter image editing and even video editing without problems, when it comes to more resource-intensive tasks such as 3D modelling and animation, the MacBook Pro provides extra power that can make a real difference to your productivity.
Don't get us wrong: the MacBook Air is a perfectly capable machine for using, say Adobe's apps or other design and editing tools. It made it to our best laptops for music production list, and it can even handle 4K video editing if you're mostly looking to assemble footage. But it's not made for deeply complex 3D work.
The Pro also benefits from better battery life than the Air. In our standard test showing a looped 1080p video, the Pro managed 16 hours and 6 minutes to the Air's 15 and a half hours.
MacBook Pro vs MacBook Air: Design
With the 2022 models, Apple stuck with the same design for the MacBook Pro 13-inch. However, for the new MacBook Air, it gave it a whole new look. It's no longer a wedge shape, and has a more square design, along with four colour options: Pace Gray, Silver, Starlight, and Midnight Blue. The MacBook Air 2022 has a 20% smaller footprint than the previous MacBook Air, measuring in at 11mm thick and weighing just 2.7 lbs.
The MacBook Pro is slightly heavier at 3 lbs, and a bit thicker at 15.6cm but we're not talking a lot of difference in weight really. And while the designs are different, both look pretty stylish to us. So we'd recommend you choose between the Air and the Pro based on what they can do, rather than what they look like.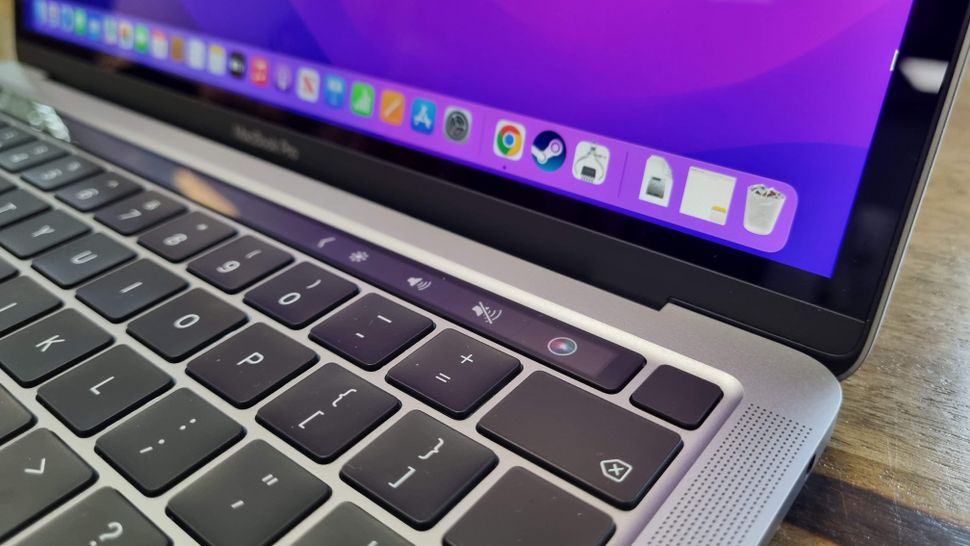 The MacBook Air has a 720p webcam, which is not great compared to what the competition often offers these days, but does the job. The MacBook Pro, however, gets a 1080p webcam. This dips down in a visible 'notch' that obscures some of the menu bar at the top of the screen, but in our eyes that's a price worth paying.
MacBook Pro vs MacBook Air: Display
Apple's laptops have had quite similar displays currently, and these two are no exception. With the 2022 MacBook Air, the screen size has been bumped to 13.6-inches, and has an increased 2560 x 1664 resolution. It also has a higher brightness of 500 nits.
Other than a slightly smaller size of 13.3-inches, the Pro's screen is similar to the Air's with a resolution of 2560 x 1660, and a brightness of 500 nits. Both laptops offer wide colour (P3) support and True Tone technology.
MacBook Pro vs MacBook Air: Connectivity
Neither Apple laptop is great for connecting lots of devices. With both the MacBook Pro and the MacBook Air you get two Thunderbolt 4/USB-C ports and a 3.5mm headphone jack. The Air also has a third port for MagSafe charging, but the Pro charges via one of its two USB-C ports so you don't even get that.
It's great of course that they support Thunderbolt 4, which gives you a lot of options in terms of connecting high-speed hubs, screens and more. But things are going to be pretty tricky if you want to connect more than one device at once, without having to resort to battery power. In which case, you'll probably have to invest in one of the best USB-C hubs.
MacBook Pro vs MacBook Air: Pricing
The MacBook Air (M2, 2022) starts at $1,199 / £1,249, which comes with an M2 chip with an 8-core CPU, 8-core GPU, 8GB memory and 256GB SSD.
The MacBook Pro 13-inch (M2, 2022) starts at $1,299 / £1,299, which comes with an 8-core CPU and 10-core GPU M2 chip, alongside 8GB of unified memory and 256GB SSD storage.
MacBook Pro vs MacBook Air: Conclusion
The choice between MacBook Pro and Air ultimately comes down to how much power you need. The MacBook Air is perfectly capable of running Adobe apps and other design tools, but don't expect it to handle giant and complex work well. And certainly if you need a MacBook for resource-intensive software like 3D software or editing 8K video, it's worth spending the extra $100 on a Pro.
That said, if you're not using a lot of heavy creative software, you probably won't really need those extra two cores of power, and won't really notice the difference between the two laptops.
There's certainly some grey area in between these two positions, but the main point is clear: the MacBook Pro will give you stronger performance. So the important thing is to know that what you buy will give you enough headroom for the next few years. In other words, don't buy a MacBook Air now if you think your work may evolve to need a Pro in a year.
Read more: