We know what you're thinking. Who on earth needs a 4TB SSD? Creatives do – and this super portable pebble from Crucial just got a colossal price cut down from $449.99 to just $179.99, saving you $270 at Amazon. If you're in the UK you can bag a bargain too, with -59% off at Amazon bringing the price to just £168.78.
The Crucial X6 portable SSD is compatible with most next-gen consoles, as well as PC, Mac, and Android devices. The perfect companion for commuting, this storage giant is actually teeny tiny and will allow you to access your media with ease.
We'll be honest, we're not sure if the RRP of $449.99 / £415.99 listed on Amazon is entirely truthful. Crucial's official website has the original price listed as $229.99 for the 4TB model, as does B&H Photo Video. Is Amazon exaggerating its discount? Either way, you'll still be saving at least $50 with this deal. Take a look at our guide to the best SSD For PS5, as well as the best Samsung SSD deals for more options.
Today's best prices on the Crucial X6 4TB Portable SSD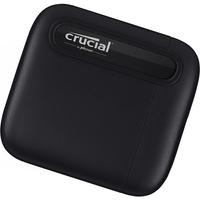 Crucial X6 4TB Portable SSD
Was: $449.99 (supposedly)
Now: $179.99 at Amazon
Save: $270
Overview: Great for gamers on the go, especially those with gaming laptops, as well as content creators and photographers, this is an amazing price for the sheer amount of storage on offer. Forget paying for the cloud, you'll be all set with this SSD.
Key features: The SSD comes in a USB-Type C format, and boasts transfer speeds 5.6x faster than most traditional HDDs (according to the manufacturer). It can supposedly also withstand a drop from 6.5 feet and is resistant to vibrations, and extreme temperatures.
Release date: March 2021.
Price history: The highest price this SSD was ever listed for on Amazon was $489.99 in March 2021 (around the time of release), and £448.98 in the UK. Last month we saw the lowest-ever recorded price for this SSD which was $169.99, but this only lasted for a few days.
Current price: B&H: $179.99 | Best Buy: $179.99
Review consensus: We're yet to review this SSD for ourselves, but we do have a pretty extensive guide to the best external hard drives featuring picks that we have tested. Our sister site, Tom's Hardware, gave this SSD a go last August, and found it to be mediocre with a measly 2.5 stars. They did however praise the large capacity in a small package element and said it's more reliable than what you get with a portable hard drive. So there's that.
---
This SSD also comes in smaller storage options including 2TB, 1TB, and 500GB - but unfortunately, these models don't have quite as much of a price cut as the 4TB model above.