The best external hard drive for PS5 is an essential investment; more so than with any other console. While Sony made a great decision in equipping the PS5 with an SSD rather than a hard drive, making it super-fast a loading games, its size is a little limited at only 825GB, with the operating system and system files taking up around a quarter of that.
This means that you only have around 667GB of storage to play with, and it won't take many AAA games to eat up most of it. Thankfully the PS5 supports external hard drives as long as they have USB 3.1 connections, but it helps to read the small print.
In short, you can't play PS5 games directly from an external hard drive (although you can, for whatever reason, play PS4 games from one, and if it's an SSD they'll load faster than ever before), but you can use it to store games when you're not playing them and make room on the internal drive for other titles. That might not seem especially useful, but if you're downloading your games rather than buying them on disc (who does that any more?) then you'll quickly see the benefit.
Sony will be adding a feature that allows you to add another internal SSD into the PS5, but until that arrives, buying the best external hard drives for PS5 is the only way to expand the storage space of the console.
Make sure you check out our best external hard drives buying guide for advice on buying these devices for more general use, and check out our PS5 restock news if you're having trouble buying a PS5 in the first place.
The best external hard drive for PS5
It shouldn't really be any surprise that the best external hard drive for PS5 is actually an SSD. There are plenty of hard drives around, but you're going to feel their lack of speed compared with the PS5's built-in SSD.
The WD Black P50 has it all: it's packing a pacey NBMe SSD for super-quick transfer speeds and PS4 games loading in a blink of an eye, it has a bold, eye-catching design that'll sit well with your console, and it feels nice and solid with a metal outer shell, so you'll be happy to take it out and about with you.
It comes in at the premium end of the SSD price range, but we reckon you get what you pay for in speed, looks and build quality. And there's a range of capacities to choose from: we wouldn't bother with the basic 500GB model, but with models up to 4TB available there's something suitable for all but the most epic game collections.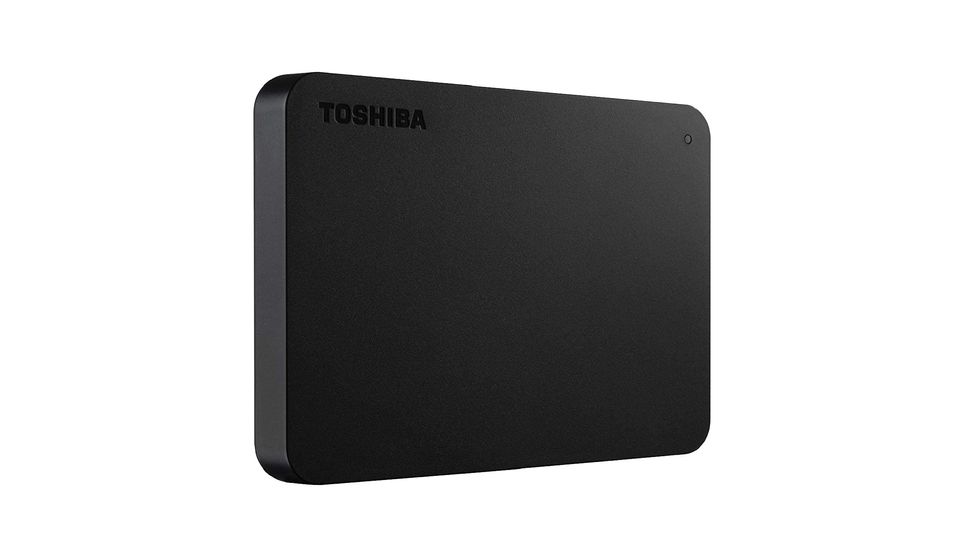 Yes, we know we just said that you really want to supplement your PS5 storage with an SSD, but if you're on a budget and don't mind waiting for PS5 games to copy across (and you're happy with PS4 games loading at old-school speed), then the Toshiba Canvio Basics is well worth a look.
If you want the best value external hard drive for PS5 then it's hard to beat; it's a no-nonsense external drive that'll give you plenty of capacity for a lot less than you'd pay for an SSD, leaving you with with more money to spend on actual games.
As with the WD Black P50 we'd skip the 500GB model; the 1TB option will store plenty at a reasonable price, and the Canvio Basics range goes up to an impressive 4TB, which is ideal if you have a huge library of old PS4 games you want to play and don't want to splash out a fortune on storing them.
If you're a little nervous about choosing the best external hard drive for PS5 on the grounds that it might be a pain to set up or simply fail to work, the Seagate Game Drive is an excellent choice. It's the only external drive officially licensed by Sony, and it'll work perfectly with the PS5 (and the PS4 as well).
It's a breeze to get it up and running, and it provides plenty of storage with 2TB and 4TB models to choose from. It's a hard drive rather than an SSD so don't expect much in the way of speed, but it's solid, reliable and good-looking, and it's even available in designs for The Last of Us and Marvel's Avengers.
Once Sony makes it possible to increase the PS5's internal storage you're not really going to have much use for that external drive, except perhaps as a repository for all your old PS4 games. So it make sense to opt for an external drive that'll serve you well in other ways, and the Sandisk Extreme Portable SSD fits that bill perfectly.
It's a fast external drive with plenty of capacity options (naturally we'd skip the 250GB and 500GB models), but it's also very portable and ideal for working on the move. It's water and dust resistant, and it has a shock-proof core as well, making it a serious piece of take-anywhere storage.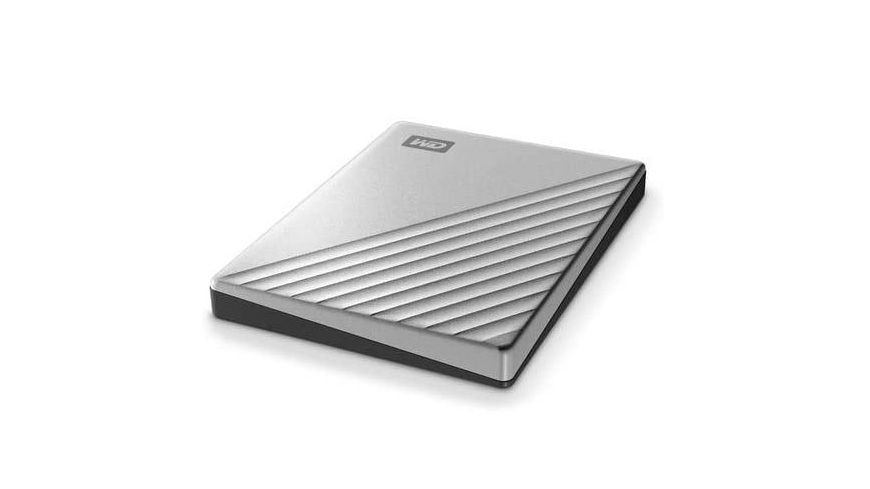 Looking for dependable storage and don't really care about speed? The WD My Passport should see you right; it's one of the most popular external hard drives in the world, and while it may need a bit of setting up to work with your PS5, once it's up and running it'll serve you just fine.
The WD My Passport comes in a range of capacities from 1TB to 5TB, all of them at reasonable prices. Bear in mind that it's a hard drive rather than an SSD, so you'll have to put up with slower speeds, but it's unlikely to let you down.
You can get cheaper SSDs than Samsung's range, but you'll have a hard time finding anything smaller and faster than the Samsung T7. It's absolutely tiny and it'll be utterly dwarfed by the massive PS5, but it's also one of the fastest external drives in this round-up.
It's well-built (although its size still makes it feel a little insubstantial), and it's available in capacities up to 2TB. We like it a lot, but if the price is a bit too much for you then there's a fantastic alternative below.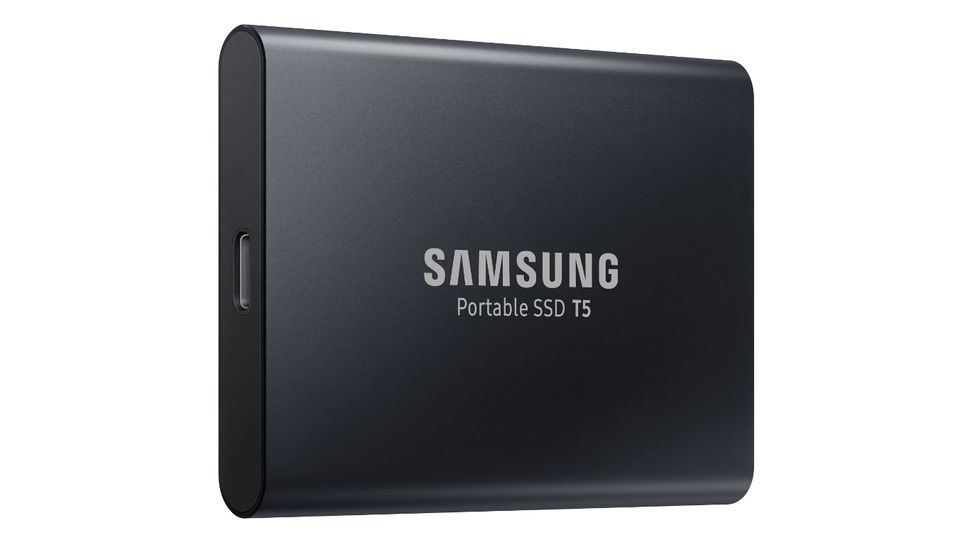 The T5 is an older SSD from Samsung, and if price is a deciding factor when you're after the best external hard drive for PS5 then you should be able to find some great deals on it. It's a bit bigger than the T7 but just a little lighter, and it transfers at about half the speed of the T7, but it has a lovely compact design and will still look impossibly tiny next to your PS5.
Capacities range from 250GB up to 2TB, and obviously we'd advise against anything below 1TB. If you want reasonably fast storage at a similarly reasonable price, this one's a good choice.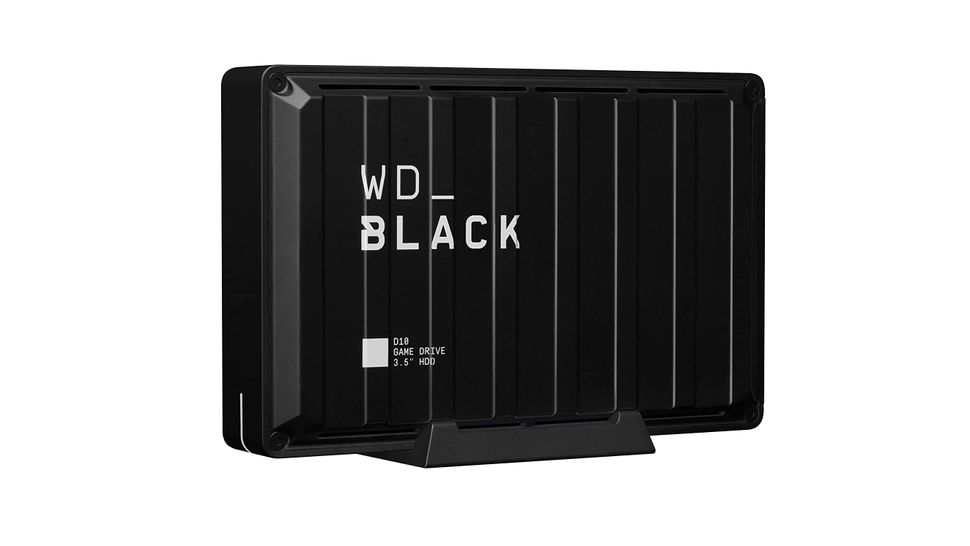 Got loads of games that you want to stash on the best external hard drive for PS5? The WD Black D10 Game Drive will see you right, with 8TB available. It's a hard drive rather than an SSD, but if capacity's what matters most to you then you'll be good to go.
It's designed for desktops and comes with extra USB ports that are perfect for charging controllers or simply expanding your PS5's USB connectivity. It might be a little bulky for many, but if you want to invest in something that'll happily store all your downloaded games, media and more, this is a great choice.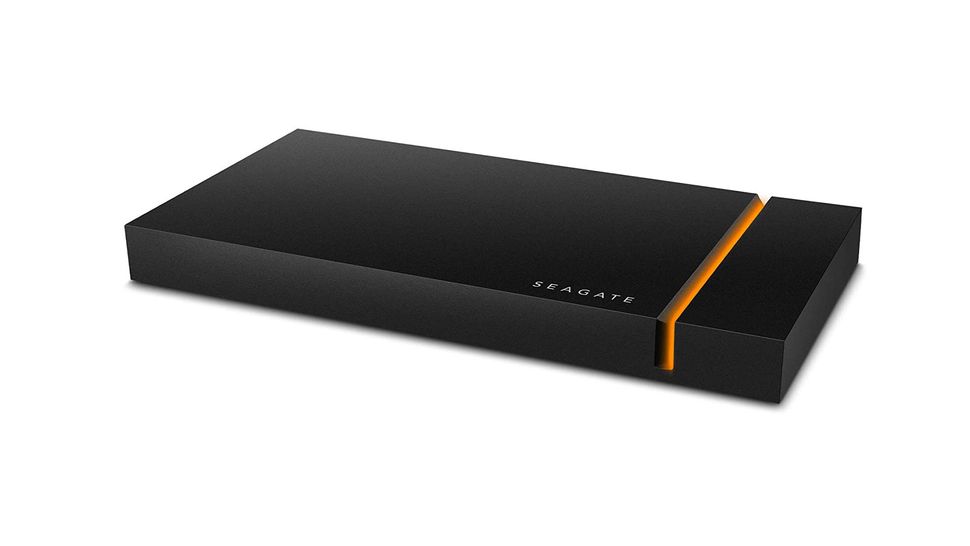 The Seagate FireCuda Gaming SSD is an external SSD designed with gamers in mind, so you can be sure of two things: it's fast, and it comes with RGB lighting that you can set to any colour you want (or alternatively just turn it off).
It's actually the fastest SSD in this roundup, so if you want super-quick transfer speeds and near-instantaneous loading of your PS4 games then this one's a definite must. The five-year warranty's another plus; by our calculations your drive will still be covered by the time the PS6 comes around.
Related articles: