The best PS5 external hard drives will solve the annoying PS5 storage issue that's been bugging you. The console has less storage than gamers would like, so extra space is a no-brainer. But knowing which type of external hard drive is right for you isn't as easy. This guide will help you decide by listing the best options out there.
The PS5 console comes with an inbuilt sold state drive (SSD) for lightning quick transfer speeds – but it only comes with 825GB of storage, including the 158GB occupied by the PS5's operating system. Given the average PS5 game is about 50GB large, and Call of Duty: Modern Warfare II reaches over 200GB, you can see the storage could disappear fast.
Inside the PS5 is an SSD expansion bay, an efficient way to expand the storage capacity. But, similarly to the PS5 itself, demand has meant there aren't enough PS5 SSDs to go around, which has driven prices sky high (especially on models with their own heatsinks). So, we've collated this selection of the best PS5 external hard drives. All of these provide a solution and are products you can use in different contexts if you do manage to get an internal SSD expansion.
You'll find two kinds of OS5 external hard drives: older HDDs and faster SSDs (see below for differences). Our choices are based on the speeds and capacity of each device, based on their stated specs, reliability, durability and value.
If you'd prefer to splash out on an internal drive (and open up your console to install it), see our guide to the best SSDs for PS5. We also have a roundup of the best monitors for PS5, the best PS5 controllers and the best upcoming PS5 games.
The best PS5 external hard drives available now
Why you can trust Creative Bloq Our expert reviewers spend hours testing and comparing products and services so you can choose the best for you. Find out more about how we test.
Solid state drives (SSDs) offer much faster transfer speeds than hard disk drives (HDDs), with the trade-off that they cost more per gigabyte, and high capacities can be very expensive. However, when it comes to transferring games, speed is of the essence, and that's why we rate the WD Black P50 Game Drive our top choice as the best PS5 external hard drive.
It's a fast NVMe SSD that can manage zippy read speeds of up to 2,000MB/s, reducing the time it takes to get your games on and off the drive. It comes at a bit of a cost, and there are certainly cheaper options out there (see below), but the WD Black P50 is a premium drive that earns its price tag, with a reassuringly solid feel. It comes in various capacity options. We wouldn't bother with the 500GB for the PS5, but the range goes all the way up to 4TB, which will store plenty of even large PS5 games.
OK, so this is not an SSD, or the even faster NVMe SSD (the fastest option). This is a standard external hard drive, and so you probably won't want to be using this to play your games off. But for the price, the Toshiba Canvio Advance is a great option for storing all your extra games, freeing up the hard drive of your PS5.
Coming in black, red, green or white, this is a stylish, solid hard drive that's small enough to take anywhere, and comes with plenty of space to store games and other digital files. Of course, if it's compactness and speed you're really looking for, then either the first or the third options on this page would be ideal for you (the below OWC option is tiny!), but if you want the space but at a fraction of the price, the Toshiba Canvio Advance Portable is a great option.
If you want a PS5 external hard drive that will take up next to no space at all, your best option is the Samsung T7. It's tiny (in fact it's so small, it might be easy to lose it, so just be careful where you put it). Despite feeling a little insubstantial it's well-built and very fast, offering a great balance of features. Capacity goes up to 2TB, which is a good size for a PS5 external hard drive.
We've long covered the Samsung T7 as one of our favourite external SSD hard drives for design work, and we can also highly recommend it for a quick, discrete external option for use with the PS5. Just make sure the slender and petite body is right for your set up.
Want the best external hard drive for PS5 with the confidence that comes with an official seal of quality? The closest you're going to get is the Seagate Game Drive – the only option with a licence from Sony guaranteeing it to work with the PS5 (and the PS4).
As such it's easy to install and get it up and running, and it provides plenty of storage with 2TB and 4TB models to choose from. It's a hard drive rather than an SSD so don't expect the fastest transfers, but it's solid, reliable and looks the part (it's even available in special The Last of Us and Marvel's Avengers designs).
The SanDisk Extreme Portable SSD makes a great PS5 external hard drive, and a great external hard drive for anything really, so it will serve you for other uses if you eventually retire it from use with the PS5.
It's a fast external drive with plenty of capacity options (naturally we'd skip the 250GB and 500GB models), but it's also very portable and ideal for working on the move. It's water and dust-resistant, and it has a shock-proof core as well, making it a serious piece of take-anywhere storage. Best of all, it often comes in for discounts, making it great value for a solid-state drive.
We love this tough and miniature external drive, and it's another excellent solid-state drive for PS5. The OWC Envoy Pro Elektron is built tough, meaning if you want a drive you can carry from place to place without fear of it breaking, it's a very good choice since it's waterproof and dustproof. It's also nice and small – we found it very comfortable for slipping into a bag for travel.
The 1011MB/s transfer speeds are pretty impressive – no, it's not the fastest there is, but it should ensure don't have to spend too long hanging around waiting for your games to transfer. Capacity options go from 240GB (way too small up to 2TB (now we're talking), and we'd recommend going for the largest capacity that your budget will allow. This drive comes with a USB Type-A adapter, which may not sound that useful, but it does allow the drive to be plugged into a PS4 as well as a PS5.
The OWC Envoy Pro Elektron is quite expensive per-gigabyte, as all that protection doesn't come free, but we highly recommend it as an external PS5 hard drive.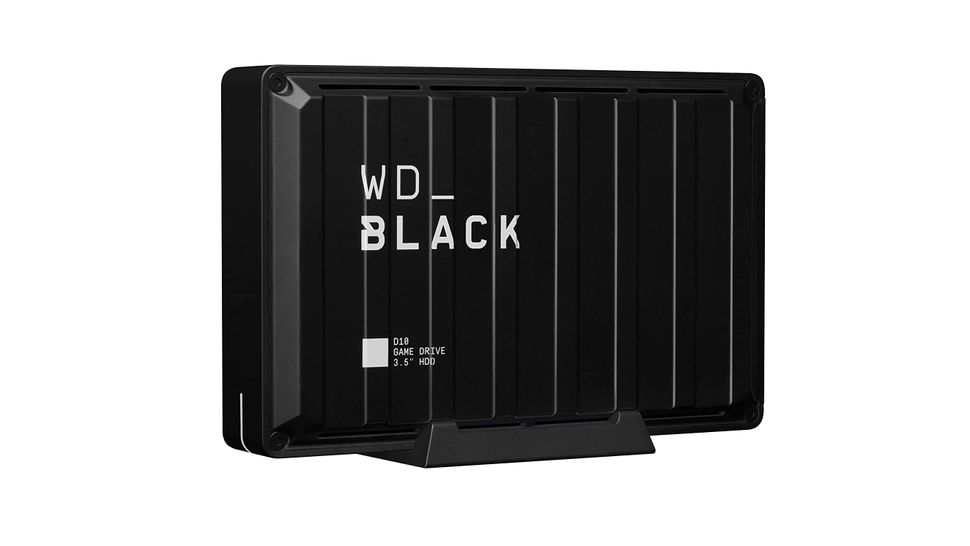 The WD Black D10 Game Drive looks very similar to the P50 at the top of this list, but the similarities end with its looks. This one's a hard drive, so it's slower, but it offers massive capacities, making it the perfect choice if all you want is somewhere to stash your enormous pile of old PS4 games and load them at PS4 speeds. It comes in capacities up to 8TB, so it should easily be able to store all your favourites with room to spare.
It's designed for desktops and comes with extra USB ports that are perfect for charging controllers or simply expanding your PS5's USB connectivity. It might be a little bulky for many, but if you want to invest in something that'll happily store all your downloaded games, media and more, this is a great choice.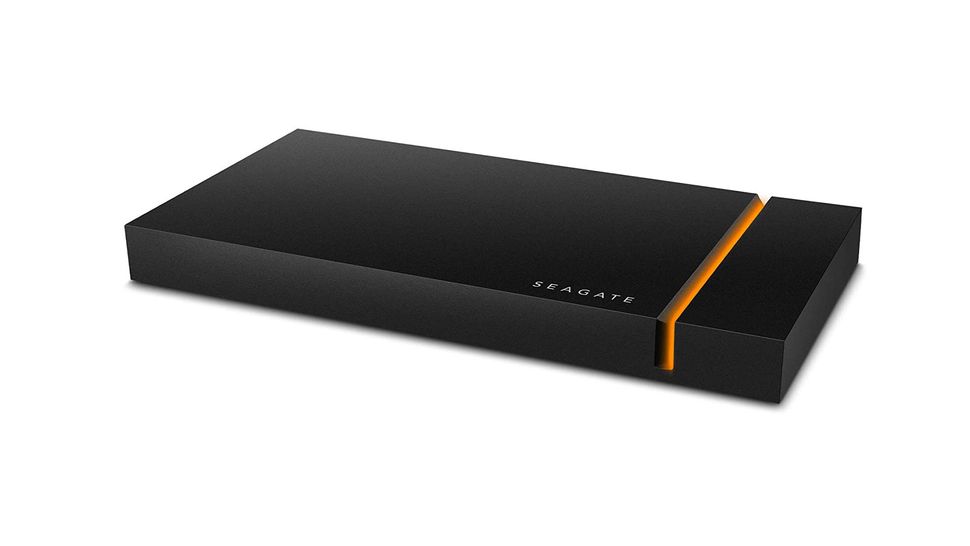 PS5 owners who like the classic gamer style will want more than fast storage from the best PS5 external hard drive: they'll want colourful RGB lighting too. And the great news is that the Seagate FireCuda Gaming SSD delivers both. It's the fastest SSD on our list and that little notch around its casing can be lit up in any colour you want.
So if you want super-quick transfer speeds and near-instantaneous loading of your PS5 games this is a great choice if you don't mind a more bulky solution. The five-year warranty's another plus – by our estimations your drive will still be covered by the time the PS6 comes around.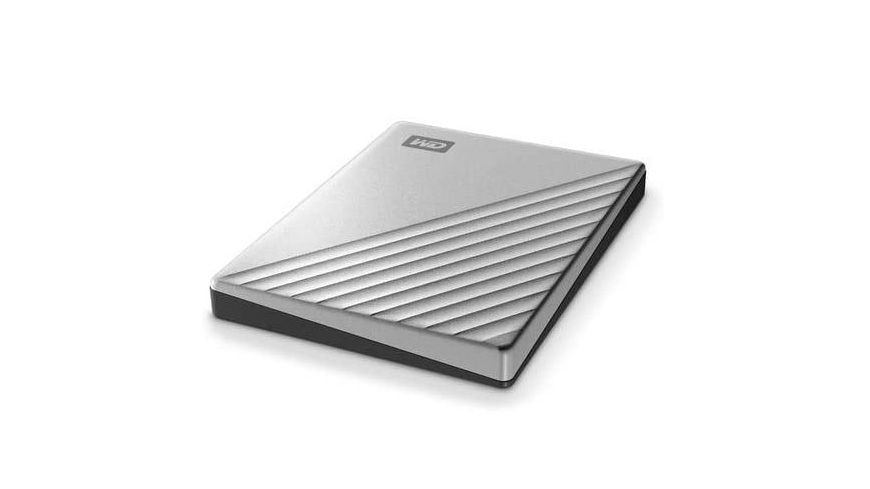 We've already mentioned three HDDs on our list of the best PS5 external hard drives so far, but this WD drive is another good option if you want a stack of storage for a decent price and don't object to the slower hard drive speeds.
The WD My Passport is one of the most popular external hard drives out there, and while you might have to spend a little time getting it set up with your PS5, but once it's sorted it'll do the job more than adequately. The WD My Passport comes in a range of capacities from 1TB to 5TB, all of them at reasonable prices.
HDD vs SSD: which is better for PS5?
Short answer – an SSD is better for PS5 if you can afford it.
Hard disk drives (HDD) and solid-state drives (SSD) are both storage devices that can be used to safely hold a large volume of digital data. An HDD is an older form of technology that uses a mechanical spinning drive to store and read data. A hard drive is a metal platter that stores data on a magnetic coating, which a read/write head can access when directed.
An SSD, meanwhile, uses interconnected flash-memory chips to store its data. This makes them faster and more reliable than HDDs, as there are fewer moving parts. SSDs run fast enough that you can download games at lightning speed, and even run them directly off a PS5's internal SSD (though not an external one). They're the fastest, most capable choice for the majority of PS5 owners.
But don't count HDDs out completely. As you might have guessed, they're a cheaper option than an SSD. In terms of storage capacity, an HDD gives you a lot more bang for your buck, and if storing your library somewhere accessible is a higher priority than being able to load things in a flash and play them instantly, an HDD might well be the more cost-effective choice.
Overall, an SSD is almost certainly going to be the better choice for PS5 users, as it's just a faster and more efficient way to handle the large volumes of data that gaming involves. But if you need a lot of storage on the cheap, an HDD might be the way to go.
Related articles: