Finding the best USB-C monitor for you is all about balancing the convenience of the single-connection cable with the other features you need. Years after its launch, USB-C is a staple of laptops – especially those aimed at creatives – and it took off for good reason. This single connection can charge your laptop, provide video to a screen in massive resolutions, and send USB data in both directions, all at the same time. 
This means that the best USB-C monitors can become your desktop dock, effectively, making it so easy to just unplug and go when you need to, or to quickly connect and start working without hassle when you're back. So then the question just becomes what else you want a monitor to be!
Do you need to be a paragon of creative accuracy, with perfect colours and precise calibration? Do you need to be a huge working canvas, providing space for tons of tools at once? Do you need to be an accessories hub, enabling you to connect to USB and/or Thunderbolt essentials the instant you dock? Or some mixture of these? Or even just a great value way to get your work done on a bigger and more ergonomic screen than a laptop allows?
We've chosen the best USB-C monitors to satisfy all these needs here in our list, with options across different budgets and sizes, so whatever size of operation you're planning, there's a great option. Don't miss our picks of the best monitors for video editing and best monitors for MacBook Pro too, if you need something specialist. Or for something that helps you work wherever you are, see our best portable monitors.
The best USB-C monitors available now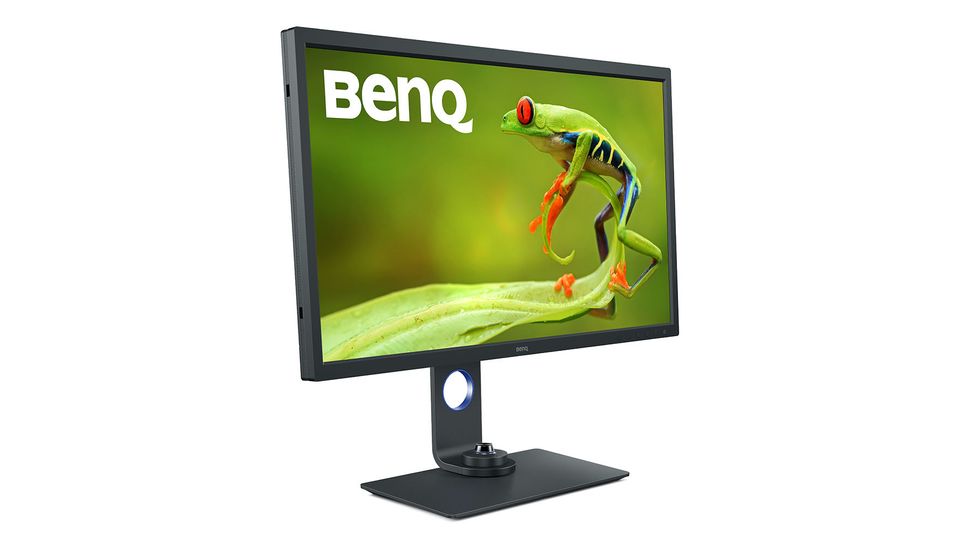 This is comfortably the best USB-C monitor for photo editing, in our estimation. The BenQ SW321C PhotoVue gives you a generous 32-inch 4K canvas to really dig into the detail of your images, and the wide color gamut (99% Adobe RGB and 95% DCI-P3 support) is perfect for getting the look of your images or videos just right. 
The USB-C connection makes it easy to to come back from a shoot with your laptop and get going, and the additional ports are perfect for any extras you need. USB 3.1 is ideal for your backup storage, DisplayPort and HDMI are good for anything extra computers or anything else you want to view on it, and it even has an SD card reader, which is perfect for meaning you don't have to worry about an extra adapter. The accuracy and detail is desirable for everyone, but the whole setup here is smartly designed for photography.
Looking for a value office hero, offering easy USB-C connectivity and loads of working space for a great price? The LG 29UM69G is here to save the day. This ultrawide monitor has a 21:9 aspect ratio, so it's around a third wider than your average monitor, which is great for complex working – that means a lot more space for tool palettes or multiple apps side by side.
The resolution of 2,560 x 1,080 means that it's not a super-sharp screen, but it's great for most work. Similarly, its colour gamut support is just fine, though not at the level of the more creativity-focused screens here (and don't expect perfect black uniformity), and there are no USB connections, so it can't act as a hub. But that's all just fine for the price, and you do get some extra features in the form of AMD FreeSync and a 75Hz refresh rate, both of which are nice if you might do some gaming too. As a top-value office essential, this is one of the best buys around right now.
This is just about as good as USB-C monitors get before you suddenly jump into super-expensive specialist territory. The USB-C connection delivers up to 90W of power, which is enough to charge basically any laptop running at full power, including a 16-inch MacBook Pro – not all USB-C screens provide that much power. Like pretty much all Dell screens, it's practical too: you've got full ergonomic adjustments for comfortable desk setups, two USB-C ports and three USB-A ports for hub connectivity, plus HDMI and DisplayPort in addition to USB-C.
The brightness of 350cd/m2 is solid if not exceptional, and is rated for HDR400. There's 95% DCI-P3 coverage, 99% sRGB and 99% REC 709 colour support, and accuracy for all is impeccable. As a 27-inch screen, it's not too big, but still provides plenty of space for the 4K resolution to really let you get into what you're seeing in perfect detail. It's a fab monitor for creative or office work, and is one you'd be happy with for years.
The BenQ EW3270U is a fantastic USB-C all-rounder, for a really good mid-range price. The large 32-inch panel has the detail of 4K, and there's HDR support (though it's not massively bright, we should say), while AMD FreeSync makes it a good choice for gaming too. The Opt-Clarity technology helps you easily tweak the profile to make it more visible in whatever conditions you're in too, such as when light is dimmer. Flicker-Free and Low Blue Light is made to keep it comfortable for using over long periods, too.
On top of all this, there's impressive 95% DCI-P3 colour support, so getting all of this for such a good price doesn't mean cutting back on great colour reproduction. The only thing really missing here is USB hub support, but we can definitely live with that.
A lot of pro creative monitors are big – 27 inches minimum – but that's not always what you want or can fit on in your office space. This may be one of the most compact monitors here, but that doesn't mean you miss out on any of the features that make Asus' ProArt monitors so easy to recommend for creatives. And, of course, USB-C makes it easy and minimalist to connect to, and it works as a useful USB hub, thanks to extra connections.
In terms of performance, it's a 1,920 x 1,200 screen, which may not be especially high resolution, but it's high enough, and we like that it's 16:10, giving a bit more height for photos and documents. But the crucial things here are the 100% sRGB coverage, 14-bit internal LUT and special uniformity tech to make sure everything looks as it should. It's also not especially bright at 300cd/m2, but it's not bad by any means compared to the competition. A full set of ergonomic stand adjustments means it's great for working at comfortable, and the very affordable price caps everything off. For a creative home office on a budget, you should definitely be considering this.
The BenQ DesignVue PD3220U was made for creative pros, and so everything about it is built with that goal in mind – and BenQ really knows what it's doing in that regard. You get a big 32-inch 4K panel, so there's stacks of detail, and image quality on the IPS panel is absolutely top-notch. HDR support is here too.
It's on the higher end of the price scale, but that's because it's got a lot of pro features, including one that's still fairly rare among monitors, but can be essential. Not only do you have that all-important USB-C connection, but it's actually Thunderbolt 3 certified here, meaning that one cable can handle simply massive amounts of data – enough to be able to daisy chain multiple monitors from the one connection, to handle pro-level files in your projects live, and even for external graphics cards. The ultimate docking monitor for elite needs.
Want to go 4K on a lower budget and in a screen that isn't too large? If this screen just gave us that, we'd be happy enough, but it's also one of the best USB-C displays here for docking connections. You get four regular USB 3.2 type-A ports for connecting all kinds of accessories, but it's also the rare screen that includes Gigabit Ethernet for fast, stable wired networking, for those who need it. The USB-C cable provides up to 65W of power along with the video and USB data – that's more than enough for smaller or more lightweight, though the most powerful portable workstations can need more when they're running full pelt.
You've got height, tilt, pivot and swivel for full ergonomic control, and the brightness of 350cd/m2 is decent. It offers 122% sRGB coverage, which is a great final flourish. This is a real workhorse of a display, and is perfect for those who want tons of detail and connectivity without the screen taking over the room.
This is one of the best budget USB-C monitors available, especially when you take into accounts its fetching design. The 4mm-thick bezels and single metal arm make it look far more premium than its actual price. The design comes with a downside – you can only adjust the tilt, not the height or pivot – but we're still big fans. And despite the low price, Lenovo has still seen fit to include USB hub functionality alongside its vital USB-C connection.
It's not at the top of the pack when it comes to image quality, inevitably, but it's perfectly good. It offers 99% sRGB coverage, and the resolution of 2560x1440 keeps everything clear, even if it's not as sharp as 4K. The brightness is average too. Basically, its image quality is absolutely fine, its design is really smart, and its price makes that combination a winner.
This a very serious monitor aimed at very serious creative professionals for a very serious price. It offers 4K resolution and HDR, backed up by colour coverage that includes 100% sRGB, 99.5% Adobe RGB and 95% DCI-P3 – and there are pro-grade calibration features and a hardware calibration tool in the box, because this is for people who need to get it right. Strong gamma tracking and consistency complete its credentials as a design powerhouse.
But it's not done yet when it comes to pro features! It's not just USB-C, but also Thunderbolt 3, which means you can daisy-chain it to other Thunderbolt 3 devices with colossal bandwidth between them. Daisy chain to another monitor, or to pro-level storage, or any other elite accessory you need… this is for people who need zero compromises in image quality or technical features.
If you don't need a USB-C monitor with 4K resolution, and can live without perfect colour accuracy, but you do want something that's an excellent connectivity hub, this could be the choice for you. It provides up to 100W of charging (plus display and data) over the USB-C cable, and it has a built-in pop-up webcam for the new world of constant video calls.
It also provides four regular USB ports and ethernet, so it's among the best here for connections if you don't need Thunderbolt. Image quality is still great, even if it's not elite level, making this a super productivity pal overall.
Also read: