Thanks to the best USB-C monitors, a cleaner, minimalist setup and a delightfully seamless workflow are more attainable than ever. That's why these USB-C-equipped displays are now an integral part of any professional's arsenal and why they're also starting to appeal to casual users.
A monitor that comes with a USB-C port is no doubt highly covetable, especially to Ultrabook owners, creatives, and minimalist fans who need a fast, all-in-one port solution for their peripherals. USB-C connectivity, after all, is more than just another type of port. It supports video, sound, and other data transmission. And the speed at which it can transmit data is so fast that a single connection can transmit all those simultaneously. Some USB-C ports even come with power delivery, so they can also charge your laptop or peripheral.
Therefore, a USB-C port on a monitor single-handedly elevates that display's function. However, choosing a USB-C monitor is very similar to choosing any other type of monitor. At the core of your decision should be the picture quality, as that affects your viewing experience whether you're programming all day, playing the latest games, or creating a 4K video masterpiece.
Do consider the technical specs, like resolution, aspect ratio, contrast ratio, viewing angles, and brightness, making sure that they're exactly what you need for your daily use. If you're a content creator or graphics designer, be sure to choose one with the right colour gamuts and excellent colour accuracy. If you're a gamer, response time and refresh rates should be among your top priorities. If you make a lot of video calls, you might want one of the best monitors with a webcam.
There are a lot of USB-C monitors out there, but you can cut your search short by simply consulting our list. Whether you need a no-frills display for your daily emails, a premium monitor for video editing, or a great gaming monitor, you'll find one here to suit your needs. If you're in the market for something more specific, check out our guides for the best 4K monitors and the best MacBook Pro monitors as well.
The best USB-C monitors available now
It might seem like a very stripped-down affair. But, the LG 32UN880-B UltraFine Display Ergo shouldn't be discounted. After all, it might be lacking when it comes to all the bells and whistles that accompany a lot of USB-C monitors, but what it does, it does nearly flawlessly.
Take, for example, its ergonomic C-Clamp mount and stand. It does more than offer a distinctive aesthetic. It lets you adjust the display to your heart's desire. Its ability to retract, extend, tilt, swivel, and pivot, not to mention its height adjustability, are unmatched. Along with the display's excellent ergonomics is an equally stunning screen that offers a 95% DCI P3 colour gamut in 4K resolution and 350 nits of brightness. Additionally, it might be short on other features, but it does come with plenty of ports, including two HDMI, a DisplayPort, and a USB hub with two USB-A ports.
In short, the LG 32UN880-B is a fantastic choice for just about anyone looking for a USB-C monitor. It can handle graphic design, gaming, productivity work, and whatever else you need out of it. Even better, it's among the less expensive options available.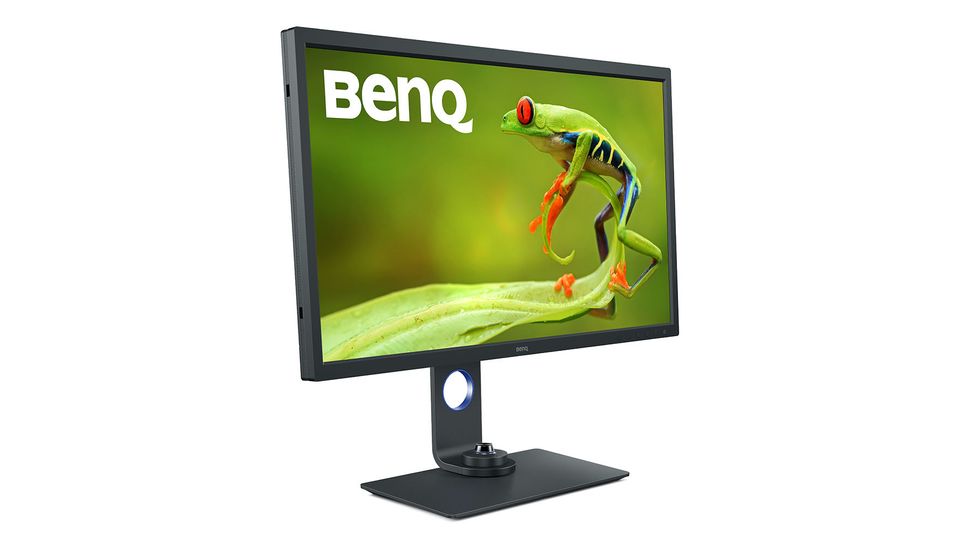 Video editors and photographers need just a little more from their monitors than the average user. Thankfully, the BenQ SW321C PhotoVue is more than able to keep up. We are in the process of reviewing this monitor, but even without going deep into testing, a few things are apparent. Doing creative work on it is not only a breeze thanks to that 4K resolution and larger 32-inch size screen, letting you see every detail of your work. It also comes with thoughtful features like an SD card reader, a boon for anyone working on an ultrabook or MacBook that's missing one.
Of course, colour support and accuracy are even more critical, and BenQ knows this. It has equipped the SW321C with 95% DCI-P3 and 99% Adobe RGB colour gamuts and excellent colour accuracy of Delta E ≤ 2. Video editors who do cinematic video editing work might find its DCI-P3 coverage just a tad lacking, but this monitor is more than enough if you do more broadcast quality editing.
This display also makes it easy for a minimalist setup. There's its USB-C hub, which will let you connect your most essential peripherals to your laptop. And its USB-C connectivity means that you can take advantage of that full setup and all those peripherals with just a single cable to your computer. Everything about the BenQ SW321C PhotoVue is geared towards visual creatives.
The MSI PS341WU was made with creatives in mind, and that's evident from its feature list, which boasts things like 98% DCI-P3 and 100% sRGB colour coverage, a 5K display in an ultra-wide 21:9 aspect ratio and HDR 600 support – not to mention, a strong 450 nits of average brightness. It also offers full ergonomic adjustments, so it's easy to make sure that you're seeing the display clearly and working comfortably for long periods.
It's also a USB-C monitor, of course, and features three regular USB 3.2 ports, so it acts as a useful connection hub. It's the accurate, wide colours and high resolution that really draw us in, though. This is basically a 4K display with a bunch of extra working space, meaning you can view things in great detail and still have loads of room for tools.
Thanks to the global supply shortage, this monitor is currently hard to find new in some parts of the world. However, it's not discontinued so if you're able to wait, it should be only a matter of time before it's back in stock.
This is a great smaller USB-C monitor with impeccable image quality. A lot of the competition starts at 27 inches, but this is made to bring pro-level picture quality to a home office or small desk. And, of course, if you're going smaller, USB-C only makes sense, since it keeps everything even more minimalist.
The 1920 x 1200 screen may not be particularly high resolution, but it's high enough for most people, and it's certainly fair for the price. We also really like that it's 16:10, giving a bit more height for viewing photos and documents since they aren't always ideal fits on 16:9 screen. Even more important is the 100% sRGB coverage, 14-bit internal LUT and special uniformity tech to make sure everything looks top quality. At 300 nits, it's not massively bright, but it's about average – and again, we'll take that for this price, given the strong uniformity of the screen. Finally, a full set of ergonomic stand adjustments means it's great for working in comfort. The ASUS ProArt PA24AC is ideal for the creative office on a budget.
The ViewSonic VP3268a-4K takes its predecessor, the ViewSonic VP3268-4K, ageing design to the 21st century with a couple of key additions. It now boasts a USB-C port for video input, which makes it another terrific option on this best USB-C monitors list, and has improved colour accuracy. Of course, it takes more than that to be creative pro-worthy. Luckily, it also features 100% Rec. 709 and 100% sRGB colour gamuts, Pantone validation, and 350 nits of brightness, which makes it a great option for photographers and broadcast video editors.
It also keeps its price down, so that while it isn't a budget option, it's certainly affordable to creative hobbyists looking to up their editing game. The contrast ratio is only a little above average and there's no HDR support, unfortunately, but those aren't deal-breakers for most people.
Right from BenQ's professional design line is the BenQ DesignVue PD3220U, an outstanding monitor whose skills extend far beyond its USB-C capabilities. While we haven't finished our testing of this monitor, what is obvious from the outset is that it's made with creative pros in mind. That USB-C port is, in actuality, Thunderbolt 3. While that pushes its price higher, it also delivers even faster data transmission, which is essential to graphic designers. This lets you daisy chain multiple monitors from one connection and even connect external GPUs.
Being a monitor for designers, it also boasts excellent colour coverage with 100% Rec.709, 100% sRGB, and 95% P3 colour gamuts as well as different colour modes including ​​Animation and CAD/CAM. Its peak brightness is, at this point, average at 300 nits, but that's still bright enough for most people. Its biggest sell, however, is the big 32-inch 4K display delivering stacks of detail and overall image quality that's absolutely top-notch on a panel that's the perfect size. The HDR support is a nice bonus.
USB-C monitors aren't just for creative professionals and masters of productivity. There are gaming options too, as the surprisingly affordable Gigabyte M32Q proves. With 94% DCI-P3 and 120% sRGB coverage, it doesn't quite make it as a display for pro-level content creation. However, that's more than good enough for most users and it's certainly good enough for gaming, especially when combined with its VESA DisplayHDR 400 certification, 1ms GTG response time, 165Hz refresh rate, and AMD FreeSync support.
There's no doubt that gamers, especially those who play competitively or have a penchant for fast-paced titles, will love it. This is one terrific USB-C gaming monitor, and looks every bit the part, touting gaming-inspired aesthetics, a dashboard that displays your CPU usage, clock speed and cooling management, and small gaming-centric extras. It keeps its price competitive as well. Just keep in mind that this isn't a 4K monitor, which means you're not gaming in 4K – though unless you have an expensive high-end GPU like an RTX 3080, you couldn't do so anyway so this 1440p is just the ticket for most gamers.
VA panels are known for their high contrast ratios, higher brightness levels, and fast refresh rates, as well as great colour reproduction. And, MSI Optix MAG272CQR is proof. This brilliant offering gives the budget-conscious an option that delivers rich colours, a punchy contrast ratio of 3000:1, and a 100% sRGB, 90% DCI-P3 colour support that's more than enough for gamers looking for an affordable USB-C monitor for gaming.
It does have one advantage over other similar panels, however. At 27-inches won't tower over small desk setups like its bigger contemporaries, which makes it an ideal compromise when you're working with a limited desk or room space. Apartment-dwellers, take notice. Gamers, on the other hand, will appreciate that 165Hz refresh rate and 1ms response time. Alongside its adaptive sync technology, it's just the ticket for fast-paced games. Just bear in mind that there's no local dimming here and therefore, no true HDR support. But, if you're looking for a great all-rounder that ticks a lot off the list, this one's an ace.
If you want a serious USB-C monitor for video editing, it doesn't get much more serious than this. It offers 4K resolution (at the Ultra HD standard) and huge HDR – it can reach a peak brightness higher than most TVs, so it's one of the best ways to work with HDR footage. It also offers colour coverage that includes 100% sRGB, 99.5% Adobe RGB and 97% DCI-P3 – not to mention, pro-grade calibration features and a hardware calibration tool in the box. Strong gamma tracking and consistency complete its credentials as a creative powerhouse. Like we said: serious.
As for connectivity, it's not just USB-C, but also Thunderbolt 3, which means you can daisy-chain it to other Thunderbolt 3 devices with colossal bandwidth between them. That includes monitors, or RAIDs with your uncompressed 4K, 6K or even 8K video on it, ready for you to work with live using your tools of choice. The Asus ProArt PA32UC comes with a high price tag, but if you need what it offers, it's worth every penny.
Huawei might have just taken its PC display game to the next level with the Huawei MateView. This 4K offering that's just as stunning on the outside as it is on the inside is impressively specced, feature-filled, and thoughtfully designed. So much so that it's hard to pin down what you love most about it. And, that's while keeping the same price as its rivals.
During our tests, we did find its colour and brightness uniformity to be less than consistent across the whole display. That's good to keep in mind when you're doing creative work. However, those doesn't stop it from being an excellent option, especially for productivity.
Among the highlights we noted in our Huawei Matebook review are its 500 nits of brightness, excellent sRGB and DCI-P3 colour gamuts, HDR 400, and up to DeltaE<1 colour accuracy. Or maybe it's that nifty Smart Bar that allows you to seamlessly and easily switch between display sources. Its USB-C port, meanwhile, supports data and video transfer as well as up to 65W Power Delivery so you can charge your laptop or tablet as well.
The BenQ EW3280U is another great all-rounder for general media consumption and for creatives who don't need a $1,000+ screen with all the trimmings. When we tested the screen, we found it offered good colour accuracy after calibration, and its feature set is impressive for the affordable price. It doesn't have the refresh rate you'll want for super fast gaming, and the lack of an articulating stand is a shame, but there's a lot to like here. There's a USB-C connection as well as 2 HDMI (v2.0) and 1 DisplayPort (v1.4).
See our full BenQ EW3280U review for more details.
Are USB-C monitors better?
It's hard to say that USB-C monitors are better than the competition. But, they do offer a few advantages. First, USB-C connectivity is quickly becoming the norm on all sorts of devices, from Windows Ultrabooks and MacBooks to tablets. And, many of those devices don't come with other forms of connectivity. So, if you want a second screen for your laptop, you're limited to one of these displays.
Additionally, many USB-C monitors offer power delivery. So, when you connect your Dell XPS 13 or MacBook Air, the same USB-C cable driving the monitor also provides power to that computer. And, typically it's enough to keep the battery full even when running demanding tasks. This one-cable solution also helps create a more minimal, less cluttered setup.
Of course, those advantages just benefit laptop users. If you're using a desktop PC, you'll probably end up sticking with a DisplayPort or HDMI connection.
Do USB-C monitors work with MacBook Pros?
Not only do USB-C monitors work with MacBook Pros, but they're often the only reasonable choice. You can, of course, use other monitors, but you'll have to invest and keep track of the appropriate adapters every time you connect and disconnect. And, since all current MacBook Pros come with some kind of Thunderbolt connectivity, which uses the same connection as USB-C, they'll be able to deliver their video signal and transfer data and receive power from the monitor (if the monitor supports power delivery).
Are USB-C monitors good for gaming?
The speeds at which USB-C connections transfer data is more than sufficient for gaming. It's about on par with DisplayPort 1.4. The only real limitation is how it connects to your gaming computer. If your gaming desktop has a graphics card that supports DisplayPort 1.4, which just about all current GPUs do, then you'll need to invest in an adapter and adjust some monitor and driver settings on your computer. But, if you're using a gaming laptop sporting a USB-C port, you don't even have to use an adapter. It's essentially plug-and-play.
Read more: