The best free fonts offer plenty of options for your designs without costing anything. Whether you're looking for a classy serif, a clean sans-serif, vintage fonts or something completely different, there's no shortage of choice. In fact there, are so many free fonts out there that it can be hard to know where to start looking. Some font libraries offer free fonts and many individual type designers also offer their own creations for free on their websites or portfolios. To make it easier for you to find what you're looking for, we've gathered together the best free fonts that we've found in our regular searches of the web – a massive 89 of them.
All these are fonts that are available free for personal use, and some can be used freely for commercial use too (always check, because in some cases you will need to buy a licence for commercial use – we've stated the conditions at the time of writing, but these can change).
We've divided the mammoth list into eight categories to make it easier to navigate: classic serifs and sans-serifs, stylish vintage fonts for a nostalgia hit, brush and graffiti fonts for a painterly look, handwriting fonts and finally some wild cards for something a bit different. You can click the headings in the box if you want to jump to a particular section. If you're not sure how to use your font once you've got it, see our handy tutorial on how to add fonts in Photoshop. And for even more options, see our guides to the best free retro fonts and free script fonts. We also have a beginner's guide to font design. Just make sure you brush up on font vs typeface first.
One good resource for fonts, including free fonts, is MyFonts. This library offers a mix of free and paid-for typefaces. Check that out via the link below, or scroll on for our picks of the best free fonts available now.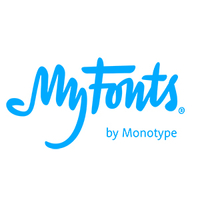 Buy fonts from myfonts.com
Browse a huge range of fonts and find inspiration for projects of all kinds. Myfonts.com by Monotype features over 130,000 fonts, from brush fonts to display fonts, and more than 900 of them are completely free.
The best free fonts: Serif fonts
01. Harmony
We're kicking off our list of the best free fonts with serif font options. First up is Harmony that is available for download from Behance. This is a stylish modern font that features some gorgeous shapes that make it perfect for a more elegant touch. It is easy to read and professional looking, making it a great option for those looking for a bold statement. It is free for personal use, but also has a variety of licences available for commercial use.
02. Editorial New
This is a great offering from Pangram and Pangram. Editorial New is described as a precise narrow serif designed for long-form copy but with a big-enough personality to be used for titles too. It has a 90s editorial feel but still comes across as rich and contemporary. It comes in seven weights, from ultralight to heavy. Just note that you'll need to buy a licence if you want to use this one for commercial use.
03. Young Serif
Young Serif consists of heavy, old-style letterforms that call to mind vintage books of yesteryear, It takes inspiration from fonts like Plantin Infant and ITC Italian Old Style, but adds a few flourishes of its own. For instance, some of the letters in Young Serif have interesting axis tilts (you can see in the lowercase 'e', above), and others have generously rounded curves – see the lowercase 'b' and 'f'. In total, the font consists of 348 glyphs.
Created by Bastien Sozeau, the free font was originally distributed by the creative studio Uplaod. It's open-source, licensed under the SIL Open Font License, meaning it can be used, modified and redistributed freely – as long as you aren't selling it.
04. Cormorant
This is one of the most elegantly formal of the free fonts we've seen – an open source display font that consists of 45 font files spanning nine visual styles and five weights. Cormorant was developed by Christian Thalmann of Catharsis Fonts, and most of its glyphs have been drawn from scratch, giving it a gorgeous distinctiveness. For us, it treads a really neat line between expressiveness and formality, making it an excellent choice for all sorts of applications. There are echoes of the 16th-century typefaces of Claude Garamont in there, though Cormorant has enough of its own personality to not feel derivative.
05. Alegreya
Looking to design your own book cover? This is an excellent choice of free font – it was crafted by Argentinian designer Juan Pablo del Peral expressly for the purposes of book design. As such, it's an eminently readable font, with a rhythm to it that facilitates the absorption of long texts. It's won awards for its simple elegance, as you can see in the image above, and we love it for its fresh, approachable take on a calligraphic style.
There aren't so many great free fonts created for specific purposes, but here's a strong exception. Alegreya is an award-winning typeface by Argentinian designer Juan Pablo del Peral crafted with book design in mind. With a dynamic and varied rhythm aimed at facilitating the reading of long texts, it provides a fresh and approachable take on the calligraphic style.
06. Restora
We love this twist on a classic style – Restora is a fantastic combination of bright, friendly letterforms with an embellishment that feels vintage and classic. It's designed by Nasir Udin, and in its free version it also includes Restora Extra Light and Restora Thin Italic, giving you a good deal of versatility. Whether you want to use it for general editorial text, a book cover or just a simple bit of branding, Restora will fit the bill really well.
07. Emberly
One for the fashionistas, Emberly is a free font that evokes a classic magazine feel. It was created by Rajesh Rajput, taking a few cues from the Didone style, and is also available as a variable font. If you're putting together a magazine cover or a poster, Emberly will give it a feel that's both modern and classic.
08. Rude
We love Rude – an immediately striking font created by Masha Chuprova. This serif was painstakingly handcrafted, and is especially good for short, striking headers, slogans and statements. We can see it fitting well into a logo, or making for a good visual pop on an item of clothing, or running across the top of a poster.
09. Grenze
We love the visual punch of Grenze, but what's even more impressive is how it manages to make so much impact without sacrificing readability. Created by Renata Polastri and Omnibus-Type, Grenze was originally designed for magazines, but it's versatile enough to potentially work for pretty much anything.
10. Libertinus Serif
Now here's a classic-looking serif. Libertinus is a free font that comes in 14 styles, and is useful when you want to add a bit of simple class to a design. It's another font that's available under the SIL Open Font Licence, so you can do pretty much whatever you like with it. A fork of the Linux Libertine and Linux Biolinum font, it also addresses some of the bugs in those designs.
11. Free Saint George Stencil Font
Fans of the classic font Georgia will appreciate this experimental tribute by Vedran Vaskovic. Apparently, it's inspired by the Christian legend of Saint George the dragon-slayer – but more important, it's made up of a collection of cheeky, playful stencil shapes that are perfect for adding a little flair to your designs.
12. Colus
With an imposing, classical feel, Colus is great for when you want your designs to feel a little more sombre. It's inspired by carved letter inscriptions in wood and stone, and as such, it hearkens back to the classical ages. An excellent choice of free font for making posters that have a little more sophistication to them.
13. Amagro
For making a big impact (no pun intended), check out this all-caps serif typeface from Fabio Servolo. Amagro consists of strong, angular serifs that are especially good for making imposing headlines, but it's also got some nice touches like a stylish ampersand, and easy-to-read numerals.
14. Poly
Writing on the web? Poly is a good choice of free font – it's a medium-contrast serif designed specifically to offer better legibility than other web serifs, even when used at small point sizes. The trick is its vertical emphasis – with short ascenders and a high x-height, it offers tremendous clarity.
15. Bitter
Sans-serif fonts tend to work better for screen use, but this free slab serif typeface has been designed specifically to provide a comfortable reading experience on screens. Bitter was designed by Sol Matas. It's available through Argentinian type collaborative Huerta Tipográfica.
16. Playfair Display
Designed by Claus Eggers Sørensen, this free display font takes inspiration from the 18th century Enlightenment and the work of John Baskerville. Its high-contrast letterforms have delicate hairlines, reflecting the rise of pointed steel pens, which took over from broad nib quills during the period. Functionally and stylistically it can be accompanied by Georgia for body text.
17. Lora
Lora was originally designed for type foundry Cyreal in 2011, with a Cyrillic extension added in 2013. Brushed curves contrast with driving serifs for a well-balanced, contemporary feel. Although technically optimised for use on the web, it's one of the best fonts for print projects too. It comes in four styles.
18. Butler
Inspired by both Dala Floda and the Bodoni family, Butler is a popular free font designed by Fabian De Smet. His aim was to add some modernism by working on the curves of classical serif fonts and adding an extra stencil family. He suggests Butler would work well for "posters, very big titles, books and fancy stuff".
19. Crimson Text
Not many free fonts are created specifically for book production, but here's a great exception, inspired by old-time, Garamond-esque book typefaces. Crimson Text is the work of German-born, Toronto-based designer Sebastian Kosch, who says he was influenced by the work of Jan Tschichold, Robert Slimbach and Jonathan Hoefler. It's a favourite free font of Taylor Palmer, a senior UX designer based in Utah, USA. "Crimson is a sophisticated serif that makes a nice alternative to traditional Garamond-esque typefaces," he says. "It also has a very expressive italic, which pairs nicely with strong, geometric sans-serifs like Futura or Avenir."
20. Aleo
Aleo has semi-rounded details and a sleek structure, creating a strong sense of personality while maintaining balance with a good level of legibility. This family of free fonts was designed by Alessio Laiso, a designer at IBM Dublin, as the slab serif companion to Lato.
21. Libre Baskerville
Libre Baskerville is a web font optimised for body text (typically 16px). It's based on the American Type Founder's Baskerville from 1941, but it has a taller x-height, wider counters and a little less contrast, allowing it to work well for reading on screen. This open source project is led by Impallari Type. Taylor Palmer also recommends its sister font, Libre Franklin, which is also free.
22. Slabo
Designed by John Hudson, Slabo is a growing collection of size-specific free fonts for the web, fine-tuned precisely for use at those specific pixel sizes. The blocky feel of its ligatures gives a modern twist to the serif font, making Slabo perfect for online designs.
23. Merriweather
A hugely popular open-source serif font, Merriweather has its own project on GitHub. It was designed by Sorkin Type to be easy to read on screens. It features a very large x-height, slightly condensed letterforms, a mild diagonal stress, sturdy serifs and open forms.
24. Woodland
This beautiful curvy serif typeface has six weights, and the bold and ultralight versions are offered for free for personal use. It features strong, squared serifs and wide terminals. Touches like the rounded crossbar in the lowercase E give a soft quirkiness to its personality. You'll need a licence if you want to use the other weights or if you want to use it in work for clients.
25. Streusel Kuchen
Serif fonts aren't all serious. Kellie Jane Studio injects a lot of fun into this cute serif font that creates a natural handwritten look. It's a nice addition for crafty projects or for the branding of homemade produce.
Next page: Free sans-serif fonts