You can download free fonts from many different sites online, and free fonts can really help you out if you're on a tight budget, but it helps to know the best places to start looking for the best chance to find the right font fast. It's easy to end up spending hours searching through font libraries – but we've been there, and we've made a selection of the best places to download free fonts to save you the job.
As well as the most obvious sources to turn to in order to download fonts for free, we've found some lesser-known sites too, including individual design portfolios. Just make sure you always check the licence conditions of any free font you download – many of the sites have different licences for different fonts, and while some are free for all uses, others are free for non-commercial use only.
If you're looking for suggestions of exactly what free fonts to download, see our pick of the best free fonts, or for an edgier look, see our pick of the best free tattoo fonts). One of our favourite font libraries overall is MyFonts, which has both free and paid-for options. See the link below to go straight to MyFonts, or scroll down for more of the best places to download free fonts.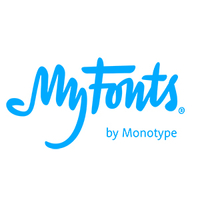 Get fonts from myfonts.com
myfonts.com by Monotype is one of our favourite type libraries. It has over 230,000 fonts, from brush fonts to display fonts. Over 900 of them are completely free.
The best places to download free fonts
01. FontSpace
With over 100,000 fonts available in TrueType and OpenType flavours, FontSpace is a useful go-to site to download free fonts. Everything is neatly sorted into a wide range of categories to help you root out what you want. Alongside the typical 'serif', 'script' and so on, there are categories of fonts designed for particular occasions – ideal if you're not quite sure what type of font you're looking for.
FontSpace has over 3,000 designers supplying fonts, and they're clearly labelled so you can be sure whether a font is good for commercial use or should be consigned to personal projects only.
02. FontM
It doesn't have the biggest collection around, but FontM's selection of free fonts is nicely organised into all the categories you're likely to need, and as well as fonts available to download elsewhere on the web, it also has a good few designed in-house. On top of the free fonts, it also has some great-looking premium fonts, with handy links enabling you to quickly buy what you need.
03. MyFonts
We've already mentioned MyFonts above. The site has one of the best ranges of fonts to buy, but there are some good freebies available to download to. Just use the dropdown to search for free fonts and you'll see all the free types currently available. There were around 900 at last count.
04. DaFont
DaFont is a truly massive archive of freely downloadable fonts, with all kinds of categories, from medieval to sci-fi, and even novelty fonts like the Pac-Man font above. You can browse by alphabetical listing, style, author or popularity. Many of them are not what you might want for a professional project – and in fact, many of them are only free for non-commercial use, but there are some little gems available to download here.
17. Google Fonts
This might seem an obvious one, but it shouldn't be overlooked. Google Web Fonts makes it quick and easy for everyone to use web fonts on its site. All of the fonts are open source, so you're free to share and customise them for your own use, or collaborate with the original designer to improve them. And you can use them in every way you want, privately or commercially: in print, on your computer, or in your websites.
06. Creative Market
An online marketplace for community-generated design assets, Creative Market offers a selection of free goodies each week – including one font. The design changes each week and is only available for a limited time. Since the fonts on offer here are typically paid-for, you know you're getting a good quality product, and it's a brilliant way to build up a library of different font styles. If you do want to buy something on Creative Market, you can often unlock more fonts and other goodies with qualifying purchases.
07. Fontasy
Fontasy is an archive of over 1,100 fonts that you can download for free. As well as having a truly pun-tastic name, this resource offers a great range of styles and a pleasant browsing experience (the category list includes an example 'A' in each of the styles – a nice touch). Unless it says otherwise, make sure you contact the designer if you want to use these fonts commercially.
08. FontStruct
FontStruct is a free font-building tool and community. Users create what the site calls 'FontStructions' using the 'FontStructor' editor (bear with us here), and are encouraged to share once they're finished so that others can download their fonts. This means there are a lot of fonts to search through, and more are added every day.
There's a range of high-quality TrueType fonts available here, ready for use on Windows and Mac. The site's easy to navigate and the best fonts get picked for the FontStruct gallery.
09. 1001 Free Fonts
Misnomer alert! 1001 Free Fonts doesn't feature exactly 1001 free fonts at all. It delivers a lot more than that, probably more in the region of 37,001. The myriad free fonts are handily organised across 64 categories, and there's also an option to browse by designer, so if you find someone whose work you like, you can see everything else they've created.
10. Abstract fonts
Abstract Fonts has one of the cleanest interfaces of all the online font libraries, and it's super easy to navigate. There's a custom font preview option, the terms are outlined clearly and the site's updated regularly with an ever-growing array of fonts for you to choose from.
11. Neogrey
Neogrey is not a font library as such but the personal portfolio of one designer, Ivan Filipov. Working as a graphic and web designer, he's created some stunning fonts that he's very generously made available for free download. We particularly love his multi-coloured vector fonts.
12. Glukfonts
Glukfonts is another personal site. This one belongs to the Polish designer Gluksza, who generously offers some nicely designed typography. You can download free type and other design resources too.
13. Fontfabric
This is another alternative option for downloading free fonts. An independent type foundry launched by Bulgarian designer Svetoslav Simov, Fontfabric includes a lot of paid fonts but its freebie section is a great place to find some unique freebies.
14. Lost Type
Founded by Riley Cran and Tyler Galpin, Lost Type is a type foundry that offers you the chance to pay whatever you like for a font (and yes, it's possible to type in '$0' for a free download). Like the option above, you don't have a massive range of fonts here, but the advantage is that you can find some unique options.
15. Font Squirrel
Want to download free fonts for commercial use? Then Font Squirrel is the place to head. The quality of the fonts is high, they're mostly @font-face compatible, plus it's got fun features like the Font Identifier, where you can upload an image with type and it'll tell you the fonts that match. It's a great resource.
16. The League of Movable Type
GitHub project The League of Movable Type is a typographical revolution in the making and anyone looking to download free fonts should make a beeline for it. The very first free and open-source type foundry, it's a hand-selected group of typographers who've created a great set of high-quality free fonts for all to download, such as the popular League Gothic.
17. Behance
Behance might not be the most obvious place to turn to download free fonts, but it's a popular platform for designers to showcase their work, and that includes type designers showcasing their fonts. The only difficulty is that you'll have to hunt them out.
There's work of all types on here, so you'll need to add some filters to get to the free fonts, but once you've done that there are some great options to download. Whether you want a slab serif, script, tattoo or handwriting font, you're sure to find something that suits you if you have the time to root around.
Related articles: