If you're looking to design a logo, but aren't sure you need to spend the dough on an advanced or professional level app, then one of the best free logo maker options could be what you need. Sure, you might not want to use these to create a design for a paying client, but if you need to knock together a quick design for a project or idea, these could be perfect.
Here you'll find a round up of the best logo maker options around. While all the logo makers we've listed here enable you to create a usable logo for free, you should bear in mind that the majority of them also have paid options, and that some features are only available to paying users. To find the best logo creator, we've reviewed the programs for ease of use, functionality and more. Where we haven't tried them out, we've carefully evaluated reputation, specs and customer reviews.
Quick list
Best templates
07. DesignEvo Free Logo Maker
For a wide selection of templates, head to DesignEvo's free logo maker, which offers over 6,000 options to give you a head start on your design. Alternatively, you can start from scratch, and results can be downloaded for free in low-res.
Read more below
Sweet and simple
This logo maker is super easy to use, and like other options on this list can do must of the work for you based on your company name and business area. Simply choose the logos that most resonate with you and keep scrolling until you find something you love.
Read more below
The best free logo maker overall
With Wix you get two options for creating a logo online: firstly you get the option to hire an actual designer who'll do the work for you, which really ought to be the solution you go for if you're serious about branding for your business. But if you're here for the best free logo software (which we assume you are), Wix has one of those, too.
It'll ask you for the name of your brand (and if you don't have a name yet, Wix even has an online business name generator) and what you do, then it quizzes you on your personal style so that it can provide you with a fitting selection of colours, fonts and icons. Once you've done that you'll be presented with your own custom logo that you can then edit until it looks exactly the way you want.
When you're done you can download image files so that you can use your logo design wherever you want, though note that you'll have to pay if you want more than a very low-res version. When we tested it, we found that the Wix logo maker offered a good middle ground between simplicity and a decent level of customisation, with a clean, easy-to-use interface, but with flexible customisation options.
See our full Wix Logo maker review for more details.
The best free logo maker for customisation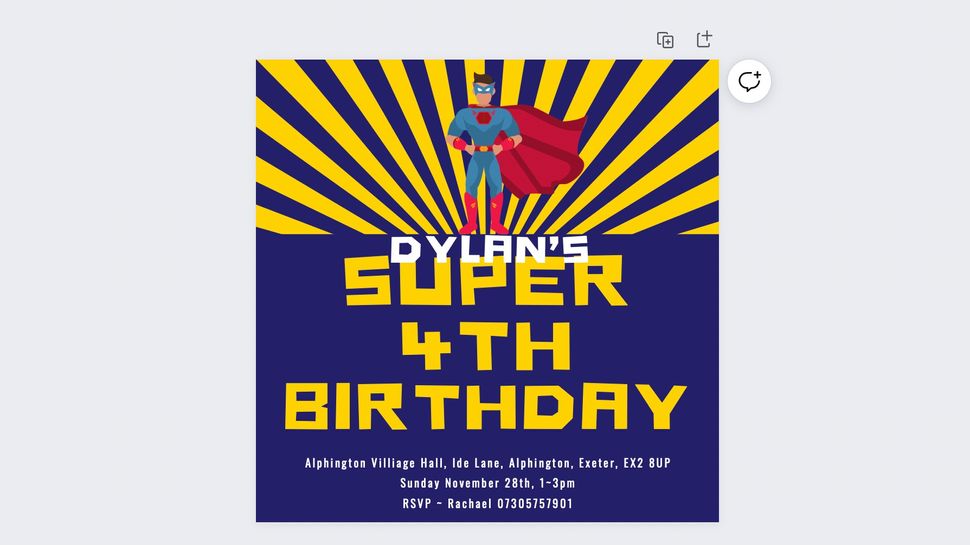 Canva provides a comprehensive online design suite that does much more than logos, but that said, if you need one of the best free logo makers around then its Logo Maker is one of our top choices. It's nice and easy to use; it'll ask you a few questions about your company before presenting you with some templates. Once you've picked a few that appeal to you, it'll generate a design that you can then customise with Canva's own tools.
When we tested, we found there are plenty of free elements to play with; if you need more choice you can pay to use a larger selection of premium elements. You'll likely find more than enough to get something good going in the free tier: the only thing you'll likely miss is the fact that you can't make a logo with a transparent background in the free tier. That's one you have to fork out for. Regardless, once you're done, you can download your finished logo as a 500px PNG or JPEG, or a print-ready PDF, for free. See our full Canva review for more information.
The best free logo maker for efficiency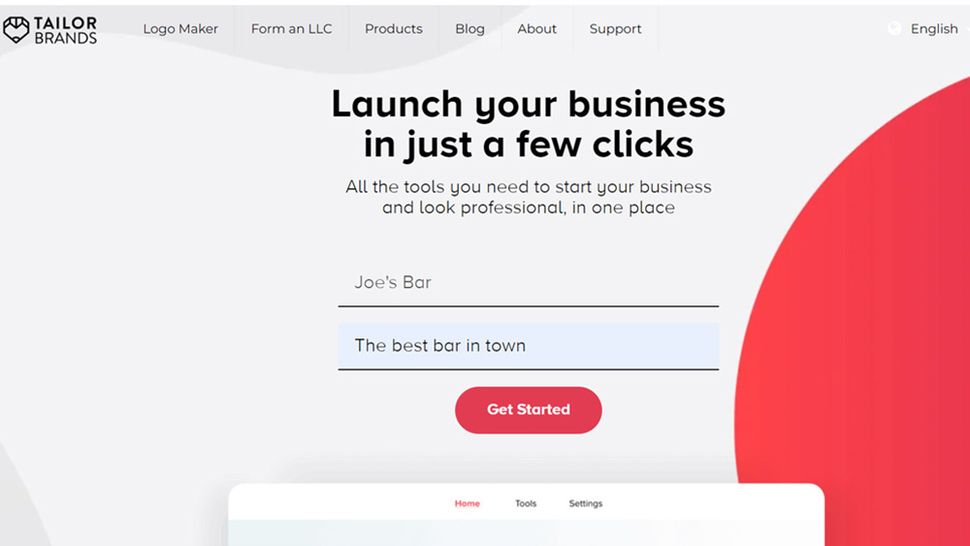 Can't be bothered scrolling through a load of templates when you're looking for the ideal logo for your brand? Tailor Brands' Logo Maker makes things a lot easier with an AI-powered system that makes the process a lot less haphazard; it'll ask you for your business's name and what it does, then get you to decide whether you want an icon, text or initial-based logo, then it'll try to pin down the sort of design style you want by asking you to choose between a few options.
With all that information to hand it goes to work on creating a logo that you can then customise if you want; when you're happy with it you can download a low-resolution for free, or pay for high-resolution files. Bear in mind that the free file you get really is small: 192 pixels along its longest edge. It'll do for an appstore or a small website badge, but if you need anything larger then you'll need to open your wallet.
Still, if you do decide to upgrade, Tailor Brands can become a one-stop-shop to start and run your business, offering a platform that can also create merchandise, business cards and social media templates. It can also help you set up your own little corner of the web with an online store or website, web hosting, a business mailbox and more. We found customisation options are limited and thought the designs won't be winning any awards, but it gets the job done quickly and easily.
See our full Tailor Brands review for more details.
The best free logo maker for ease of use
If ease of use is your priority when you're after one of the best free logo makers, Shopify's Hatchful is one you should definitely check out. It's easy to get started: provide it with facts about the business you're creating the logo for, pick a logo style that looks good to you and specify how you'll be using it, then you'll be presented with loads of options to look at.
Once you've found one that hits the spot, you can adjust the font, palette, icon and layout until everything's just right. The amount you can customise each template can be pretty limited, however, and varies considerably. Our advice would be to spend time finding a template that's as close as possible to what you want from the get-go, rather than trying to extensively edit an existing one.
Next, export your logo in all the forms you're likely to need. Within a few minutes, a folder arrives in your email inbox. It contains your logo in loads of different sizes and aspect ratios, already optimised for different uses like Twitter banner or Facebook cover, and with a transparent PNG thrown in for good measure.
The best free logo maker for vector editing
While it's nice to have a load of ready-made options to choose from, if you'd prefer to do everything yourself then Ucraft's Logo Maker provides you with the tools you'll need. Essentially it's a very simple vector editor that gives you lots of icons that you can arrange and add to with text, shapes and colour, until you come up with the logo of your dreams.
Without the hand-holding and templates of other logo makers, Ucraft does require a bit more design nous to get the most out of it. If, for instance, you had to pause reading the last paragraph to look up what a 'vector editor' was, then this probably isn't the right one for you. You can download your finished logo as a 600px PNG for free; if you'd prefer a scalable SVG you can have it for just $12.
Also a great free logo maker for vector editing
LogoMakr takes a similar approach to Ucraft's Logo Maker, enabling you to get on with it yourself using basic vector tools. It's one of the more hands-on options among the best free logo makers, and with a friendly and intuitive front end, not to mention more fonts and other tools than Ucraft's option, it's a strong choice; we'd like it even more if it allowed you to use gradients as well as flat fills, but you can't have everything.
Again it's a matter of finding a suitable icon and bringing in all the text and shape elements you need to build your logo design; and again, it's one where the free tier only nets you a fairly small version. This one is a 300px PNG, though if you're prepared to shell out $19 you can get it larger, as well as in SVG and PDF flavours.
The best free logo maker for template selection
Want to keep your options open when you're choosing one of the best free logo makers? DesignEvo's Free Logo Maker lets you work however you want; there are over 6,000 templates that you can browse if you want to a head start on your design, but if you're set on going it alone you can start from scratch too, with a blank layout and build a logo using symbols, shapes and fonts. When you're done you download a free low-resolution logo (another 300px PNG); for scalable vector versions, prices start at $24.99.
A great, simple free logo maker
Here's another of the best free logo makers that'll do most of the hard work for you. MarkMaker takes an approach that you should be familiar with by now: it'll ask you for a company name (and optionally what kind of business it's in) and then start generating logo suggestions. Click on the ones that take your fancy, and it'll give you more options influenced by your choices.
Keep on scrolling and clicking until something crops up that you love. It might take a little while; a fair few of the designs it supplies tend to be on the basic side. But the good news is that once you've got a good one, you can hit the edit button to fine-tune it; there are loads of options and sliders to play with until you hit that sweet spot. This done, you can download your logo as a PNG or SVG; both are free, but you can throw in a little donation if you like.
FAQs
Is there a 100% free logo maker?
There are some completely free logo makers, and Canva Logo Maker is widely regarded to be the best totally free logo maker around. It features good templates, it's easy to customise and you can upload and save bespoke and self-created icons.
Are free logo makers any good?
The short answer is, yes. Our list features some reputable free logo makers such as Wix, Ucraft and Canva. All of these are excellent and can be used for commercial and hobbyists purposes. Some will ask for payments for full use of their features, so check before starting a project what is 100% free.
What is easiest program for logo design?
This would be Adobe Illustrator but it's not free. However, you can get a free seven day trial of Adobe Illustrator. Wix Logo Designer is considered the best free Adobe Illustrator alternative. If you want to stick with Adobe, then try Adobe Creative Cloud Express Logo Maker – it's free.
What makes a good free logo maker?
When looking for a top free logo maker, ask yourself some key questions and see if the features and process of the logo maker match what you need. Some good questions are:
• What are you goals and aims from the final design?
• Who is your target audience?
• What brand values need to be represented?
• How will your logo be viewed?
• What should the logo accomplish?
Related articles: