Quick menu
Jump to the quick list↴
1. Best overall
2. Best for creatives
3. Best for speed
4. Best for e-commerce
5. Best for reliability
6. Best for one-pagers
7. Best for simplicity
8. Best for WordPress users
FAQs
The best website builder for small business will get you up and running online, without needing to know any code. But with so many on the market, which one should choose?
We've used and reviewed a host of platforms to curate this list of best website builders for small business. We've tried all of these services out personally, and where relevant we've also included links to our full reviews. We also gathered feedback from small business owners on which features they actually find useful in their day-to-day business lives. If you don't have time to read the whole article, we've provided quick links to our top three choices, immediately below.
Meanwhile for further options, you might also check our guide to the best free blogging platforms, as well as our roundups of the best website builders for photographers and our pick of the best website builder for artists.
Quick list
Best overall
Wix balances performance with value well, combining a super easy-to-use interface with plenty of customisation options and friendly, affordable pricing plans. The service is keenly focused on small businesses, too, meaning they've thought of everything you might need.
Read more below
Best for creatives
Squarespace offers nearly unrivalled visual appeal with its wide selection of elegantly designed templates that will truly make your creative business sing. It offers a great user experience and a great range of optional ecommerce tools, but it's worth noting that it's pretty pricey.
Read more below
Best for speed
While it's a little basic, GoDaddy offers one of the most streamlined routes to getting online out there. There are plenty of great ecommerce and analytical tools, and the interface is really easy. If you don't mind slightly basic results, this is a fine choice.
Read more below
Best for ecommerce
If your priority is selling, Weebly offers everything you need without the value-adding tools included in the price of other options on this list. It's a little fiddly to use, and has a more limited template selection, but it's got a great app and offers members-only pages on higher subscriptions.
Read more below
Best for reliability
05. 1&1 IONOS MyWebsite Now
This is a solid and dependable web builder, and comes bundled with a free domain and professional email address, as well as over 400 templates to choose from. It's a little pricey, but offers a premium customer experience.
Read more below
Best for one-pagers
If you just need a simple landing page for your business, this intuitive and beginner-friendly editor was made for you. It's fairly limited, offering only 29 templates and some very simple online store and blog modules, and the paid plans are priced very competitively.
Read more below
Best for simplicity
For the simplest possible website, Gator offers a quick and cheap alternative. It's a drag-and-drop website builder with a great basic service, though it's perhaps a tad too simple; there's next-to-no customisation, the SEO tools aren't great, and there are no email marketing tools.
Read more below
Best for WordPress users
If you've previously used WordPress, Bluehost runs on the same platform, offering the same vast library of plugins and an easy user experience (easier, even, than WordPress itself!). There's no free tier, but it's immensely capable and customisable - its only downfall is page load speed.
Read more below
The best website builder for small business overall
As a small business owner, you want a service that does what it promises, and provides good value. That's why Wix is our pick as the best website builder for small businesses overall.
In our testing, we found Wix's interface super-easy to use. You can add your own text and images to these via drag and drop, which pretty much anyone who's used to working on a computer can do. And when we did run into problems, though, there were Help buttons everywhere on the page.
It's affordable, easy to use, and tightly focused on a small business audience. And there are more than 800 business templates to choose from, covering almost every type of enterprise you can think of, from finance and law to farming and gardening.
A 'Free forever' option gives you up to 500MB storage and 500MB bandwidth, which is quite limited. Plus Wix ads will appear on every page of your site, and your URL will be accountname.wixsite.com/siteaddress. But if you just want a 'calling card' website with your company's details and information, and don't need an online store, you may be happy with all of that.
Beyond that, the paid-for plans are very reasonably priced, making this the best website builder for small businesses overall. For more info, see our Wix review and our comparison of Squarespace vs Wix.
The best website builder for creatives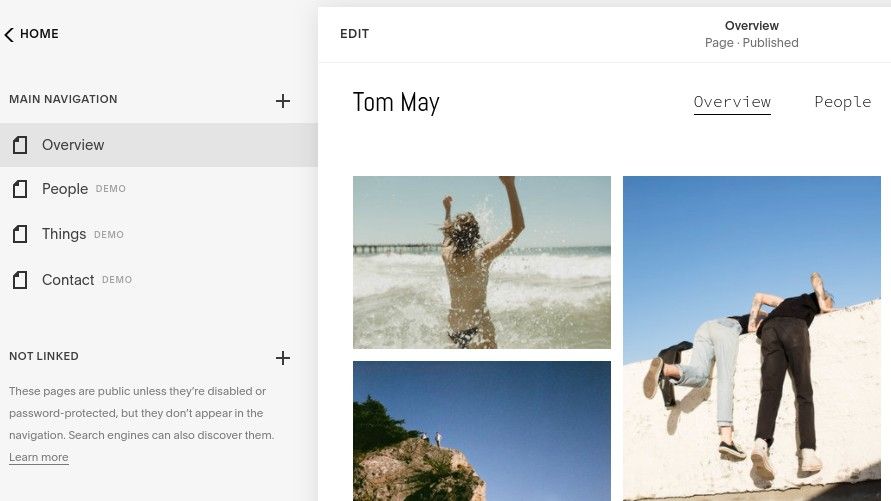 If you run a creative business, such as a photography studio, then the visual appeal of your website is pretty much your calling card. So you want one of the best small business website builders with attractive templates, and Squarespace has the most elegantly designed of them all.
Carefully crafted by pro designers, with clean lines and lots of white space, these layouts can really help your business website stand out from the crowd. You can also customise the templates as much as you like.
When we reviewed Squarespace, we found its drag-and-drop interface was a little fiddlier to use than Wix's or Weebly's. There's no need for coding or web design skills, though, just a little time spend learning the system. And we appreciated the helpful pop-up boxes that appear wherever you point your cursor, guiding you through the different elements of the interface.
Squarespace is also more expensive than most. But if you want your business to look good online, it's probably an extra cost worth paying. Squarespace also offers a great range of ecommerce tools if you want to set up an online store, integrate with ShipStation to print shipping labels, or set up shoppable Instagram posts. There are great analytics and email campaign tools too.
For more, see our Squarespace review and comparison of Squarespace vs Wix.
The best website builder for speed
If speed is the priority and you want the most streamlined path to getting online fast, then the GoDaddy website builder is a good option. It's quite basic, but that makes it very simple and intuitive. Plus, there's a range of basic ecommerce tools and a full analytics portal.
When reviewing the platform, we found GoDaddy's interface to be nice and intuitive, and we particularly liked the ability to preview different font pairings with the click of a button. On the downside, we found the templates to be quite basic. There's not much room for customisation either, so if you want a specific look to your site, you may prefer to look elsewhere. That said, you can also switch templates at any time, which does add a level of flexibility in case you decide later that you want to redesign your site.
There's a 30-day free trial, and pricing starts from $9.99/£6.99 per month. The Standard plan will do for many business starting out, but if you want to sell online, you'll need an Ecommerce plan, which costs more. For more details, see our GoDaddy review.
The best website builder for ecommerce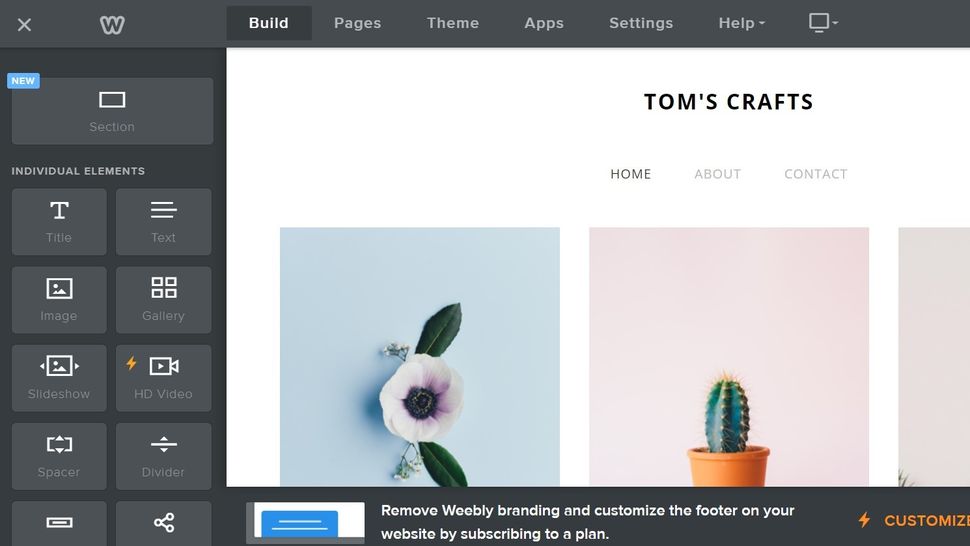 If you don't just want to promote your business online, but actively sell via your website, then in our view, Weebly offers the best value. Its Pro plan offers great ecommerce tools for a low price that can't be beaten elsewhere.
In our testing, we felt that its interface was slightly trickier to use than Wix's, although a little easier than Squarespace's. Also, it doesn't offer quite as many templates as Wix, and its templates aren't as beautiful as Squarespace's. However, we found that Weebly does win over both these rivals in other ways.
Firstly, its mobile app is particularly good, and even works when you're offline. Secondly it allows you to create member-only pages on the Professional and Performance Plans. (That might be useful if your business involves a private club or a subscription scheme.)
Thirdly, there's the Weebly App Center, which provides hundreds of apps, covering marketing, communications, ecommerce, social media and other site tools and features. Some are paid for, others are free. So while the basic interface only allows you to build a basic website, you can use these apps to tweak it and make a little more specialised to your business. Finally, Weebly offers free stock images to use on your website.
You also get a shopping cart and the ability to accept payments through Square and other providers. There's advanced site statistics reporting. And, for US customers, phone support and live chat as well as email support. In short, if you want to sell things on your site, but still keep your costs low, we reckon Weebly is your best bet. For more details, see our Weebly review.
The best website builder for reliability
1&1 is a veteran in web hosting (see our 1&1 IONOS review) with a strong focus on servicing small businesses across the world. And its web builder service, MyWebsite Now, is equally solid and dependable.
All packages include a free domain and professional email address. In our experience, we've found the interface very user-friendly, with lots of options cleverly hidden in popup boxes to save clutter. You can choose from more than 400 templates, which can be searched by topic or keyword. You can also add an integrated online store with all major payment and shipping options included.
Overall, this is a very small business-friendly service. It's a little more expensive than others on this best website builder for small business list, but you do get 24/7 phone and email support, which usually offers a fast response, although there's no live chat option. There's no free trial, but there is a 30-day money-back guarantee.
The best website builder for one-pagers
Strikingly is an interesting option if you're looking to create a one-page website, which isn't a bad idea if you're just launching a small creative business. It offers a very intuitive beginner-friendly editor and site creation tools specifically with landing pages and one-pagers in mind.
There are simple online store and blog modules that you can add for ecommerce and blogging functionality. You're limited to a choice of only 29 templates, but at least that keeps things nice and simple.
There's a free plan if you want to start with a strikingly.com domain, but paid plans start at very competitive prices. You can only sell up to five products with the basic Limited plan, though. That limit increases with the Pro and VIP plans, which also add more features and reduce transaction fees (to zero in the case of the VIP plan).
The best website builder for simplicity
Maybe you're not bothered about ecommerce, and don't really care about your website looking beautiful? You just want to build a basic site, quickly and cheaply. In which case, here's our top recommendation.
Hostgator doesn't just provide some of the best web hosting; it also has its own drag-and-drop website builder in the form of Gator. In our review, we found it to be a solid, if basic service that provides all of the standard things a small business needs, including support for password-protected pages and the ability to add an online store.
That said, we were a little frustrated that we couldn't do much to customise our online store. We also discovered that the SEO tools aren't great, the templates were a bit samey, there were no email marketing tools, and you can't schedule blog posts or let visitors comment on them.
If none of that bothers you, though, it's a good choice. Especially as there's good 24/7 live chat, phone and email support to help you out if you need it. For more information, see our Gator review.
The best website builder for WordPress users
The website builder services we've listed so far are easy to use, but aren't hugely customisable. If you're looking for a more bespoke online presentation of your creative business, you might want to consider the web builder from Bluehost, one of our favourite web hosting services. There's no free version or free trial, but the prices overall are quite competitive.
Bluehost runs on top of WordPress, which gives you countless options to add some finesse to your site using any of the thousands of WordPress plugins available. When we reviewed it, we found it easy to use; certainly a lot easier than building a WordPress site from scratch. And we appreciated the availability of 24/7 customer support, along with some excellent email marketing and analytics tools.
The one black mark against it was page load speed. In our tests, a page we created in Bluehost took an average 2.63 seconds to load, while a basic WordPress website built on DreamHost took just 139ms. That could be improved by taking advantage of options for setting up content delivery networks and other optimizations, but it's a bit of a faff.
Overall, though, Bluehost Website Builder is a great website builder for building a site based on WordPress. For more info, see our Bluehost web builder review.
FAQs
Does my business need a website?
In 2023, almost every business needs a digital presence, including physical businesses. These days, more and more people are shopping and researching their purchases online. And so if you don't have an online presence, you're losing out on opportunities for potential customers to find your products or services.
Many small creative businesses go for the quick and easy route of using social media (see our guide to how to sell on Instagram). This is better than noting, but it does mean you're potentially missing out on huge numbers of potential customers and you limit your ability to be able to actually sell online and process payments. Even if you're using Instagram, to get its full potential, you'll want a website so you can easily add products to your Instagram shop.
If you have your own website, you can control everything much more precisely, appear in Google search results, conduct ad campaigns and give customers a unique URL, which makes it easy for them to locate you online. Added to that, it just looks a lot more professional and will help customers trust you more with their money.
Do I need to hire a web designer?
There was a time when, to create a website for any business, you either needed to learn code or hire a web designer. The former would take a long time and the latter would cost a serious amount of money. Thankfully, these days, there's a third option: using a web builder, which is what we deal with above.
Web builder platforms only cost a few dollars a month, but provide a simple interface that make it very easy to build and maintain your own website. You just have to choose a template, then drag and drop in your own images, text and video. Typically, you'll also get a domain name and hosting for your website included in the price.
What should a small business website include?
Every business is different, and so what a small business website should include will vary from company to company. Generally, though, there should always be a homepage that explains what your business is and what it has to offer. Visitors will also expect an 'About us' page that explains the company in more detail, and a 'Contact us' page that tells them how to get in touch. The latter should include an address, telephone number and email, as well as links to any relevant social accounts.
Other pages you may want to include are pages listing your products and/or services, an online shop, an FAQ (frequently asked questions) page, a page of testimonials/reviews, a page linking through to press stories about your company, and a blog or 'latest news' page. Only include that last one if you're actually going to keep it up, though; otherwise it will make your site look ramshackle and out of date.
What's the best website builder for small business?
Overall, we've picked Wix as the best website builder for small business because it's affordable, easy to use, and clearly focused on small business use. Its web building interface is very easy and intuitive for non-techies. There are more than 500 business templates to choose from, covering almost every type of enterprise you can think of, from finance and law to farming and gardening. That said, if you want an online store as part of your website, you may be better off with Weebly, as its pricing is more competitive in this area.
What's the best website builder for a creative business?
Price and ease of use isn't everything. When it comes specifically to creative businesses, such as a design shop, a photography studio or an illustration practice, then you're going to be instantly judged by the attractiveness of your website. For this reason, you might want to pay a little extra for more attractive templates (see our list of the best website builder for photographers for more).
For that, our top recommendation as the best website builder for creative businesses is Squarespace, which hands-down has the most beautiful templates. These have been carefully crafted by top designers, and work brilliantly across a range of devices, including laptops, desktop computers, phones and tablets. Besides that, Squarespace's interface is pretty easy to use, has great SEO tools, and lets you add an online shop for quite reasonable prices.
What's the best free website builder for small business?
Many web builders come with a free forever plan, although these are usually very limited in terms of storage and bandwidth and will often the provider's name in the URL as well as ads on the site. That said, they do offer a free way to get a basic site online for your business, so you can try things out. That way you can experiment without parting with your cash. if you find an online presence is helping you make money, you can consider upgrading to a paid plan, which itself may cost very little.
At the moment, the best free website builder for small business is the free plan offered by Wix. Be aware, though, that you'll only get 500MB storage and 500MB bandwidth. That will be enough for a basic 'calling card' site, but you won't be able to add a lot of images, and certainly not any video.
As we mentioned above, Wix will insert its own ads into your homepage, and you'll have a Wix branded URL. If you can put up with all that, though, you really will be able to get online for free, and there's a lot to be said for that, especially if you just want to get a taste of what it's like having your own site.