Quick menu
Jump to the quick list↴
1. Best overall: Squarespace
2. Best budget: Wix
3. Best professional: Format
4. Best intelligent: Fabrik
5. Best for Android: SmugMug
6. Best Adobe: Adobe
7. Best gallery: Pixpa
8. Best e-commerce: Shopify
9. Best academic: Zenfolio
FAQs
For Photographers, whether amateur or professional, who want to share their work, choosing the right website builder is almost as important as the type of camera they use. This is because their website is the online gallery for their best work, allowing visitors to view the selected photos in the best way possible. Like a gallery, it can also provide extra services, such as photo purchasing and client private review options, to make the website a powerful business tool and the best place to view the photographer's work.
The best photography website builders combine simple interfaces with handy features, stunning visual templates and good-looking themes. The best photo website builder will allow you to stand out from the crowd – without needing to code.
But there are loads of potential options, so what should you choose? We've been through them all, reviewing and ranking the best website builders specifically with photographers in mind, using specific criteria, so you don't have to. We've whittled this massive list to nine of the best website builders for photographers, covering all user cases and price points.
If you're not a photographer, check out our guide to the best website builders in general, or our list of the best website builders for artists. Otherwise, read on to discover the best website builders for photographers overall, with links to our full reviews should you need more details.
Quick list
If you just want a quick overview, we've summarised the best website builders for photographers just below, including why we think they're top-notch.
Best overall
We've found Squarespace to be the best website builder for the majority of photographers, because it has the most attractive templates to present your images. You can add a blog and online store too. Plans start from $16/month.
Read more below
Best budget
In our tests, we found Wix to be a great photography website builders, especially if you're on a budget. Start with a free plan, and then upgrade when you need to. The interface is simple to use, and there are lots of templates.
Read more below
Best pro
Format is another extremely popular photography website builder choice. We really like its great photography workflow management tools, generous high-res photo storage, and impressive themes designed for portfolios.
Read more below
Best website builder for photographers overall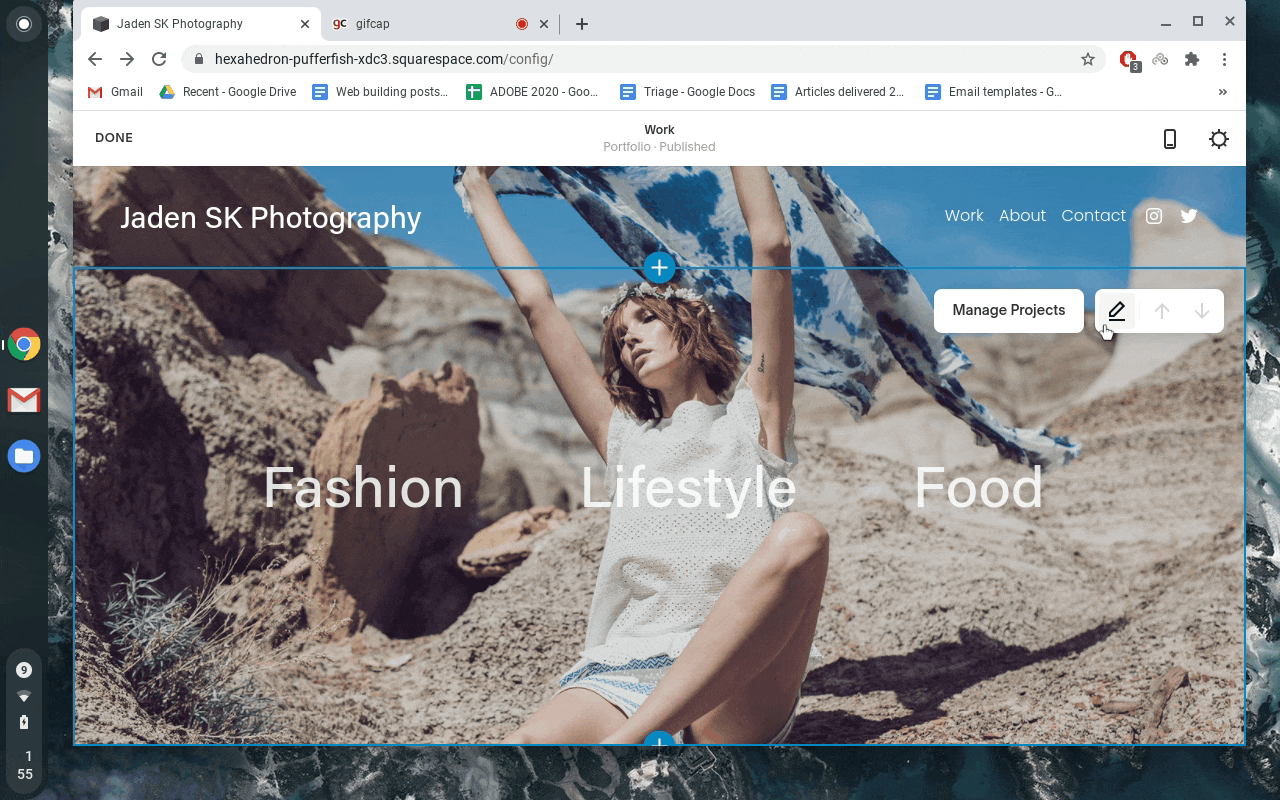 Want people to hire you? Then you'll want your website to look as attractive as possible. For this reason, Squarespace is our pick as the best website builder for photographers... even though it's not actually aimed at them.
Squarespace is targeted at creatives, though. And as such, it has the most elegant and minimal templates of all the web builders. Which makes it a superb choice for photographers wishing to showcase their work online.
When we reviewed Squarespace, we found that these beautiful templates really do make your work look good. Indeed, 41 of them are designed especially for photographers. And even those that aren't are geared towards displaying large, high-quality images. So they're essentially all good choices for photographers.
We also found Squarespace's drag-and-drop interface also makes it pretty easy to build a site. Admittedly, it wasn't quite as easy to use as Wix's (number two on our list). But we reckon it's simple enough for most people to follow.
We particularly loved how there are pop-ups to help out, every time you hover over an area, and the fact that you don't need any prior experience or coding knowledge. If you want to add a blog or an online store to sell your prints and photobooks, you can do that too. If you get stuck, there's 24/7 email support with good response times, plus live chat Monday to Friday (4am-8pm EDT).
Squarespace may be expensive, but in our experience the extra cost is worth it because you really will get a good looking site, with excellent features. For more details, see our Squarespace review as well as our comparison articles Squarespace vs Wix and WordPress vs Squarespace.
Best budget website builder for photographers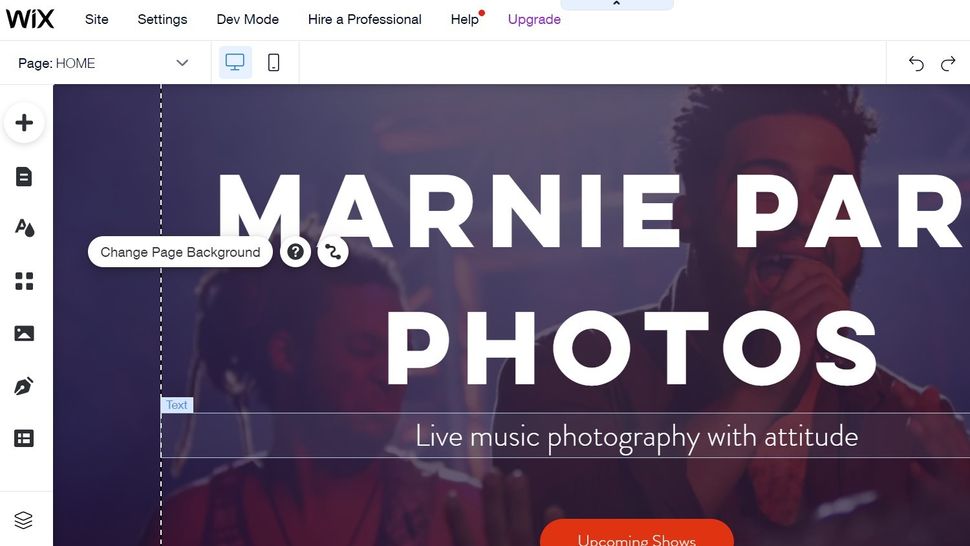 If you're on a budget, Squarespace may be too expensive for you right now. In which case, Wix is more affordable. While it's not quite as good as Squarespace, it will let you create a basic site, quickly and easily.
Wix is not specifically aimed at photographers: it's a mass market platform catering for all kinds of small businesses. But it does have a good selection of easy-to-use photography templates, for everyone from wedding photographers to photojournalists. And while they aren't as beautiful as Squarespace's or Format's (third on our list), there are many options to customise them using third-party apps.
When we tested Wix, we found its template-based interface to be even easier to use than Squarespace's. Plus if you really are technically challenged, Wix offers an easy way to create a website without using templates at all.
Wix ADI (Artificial Design Intelligence) asks you questions about what you want your website to do, then uses your social media info to generate a fully working website for you. It's a bit of a clunky approach, and you won't have much control over what your website looks like or does. But it does make things very simple. And in practice, it only took us about 15 minutes to get a site up and running with this method.
Wix's payment plans are all pretty cheap, and there's even a 'free forever' plan. If you opt for a free site, it will be covered with ads and limited in terms of storage; no good for a full portfolio. But it could be an option for a simple calling card site with your contact details, or simply for trying Wix out. For only a bit more money, you can build a more fully featured photography site.
In terms of customer service, Wix offers telephone support via callback or an online ticket-based system. For more details, see our full Wix review.
Best professional website builder for photographers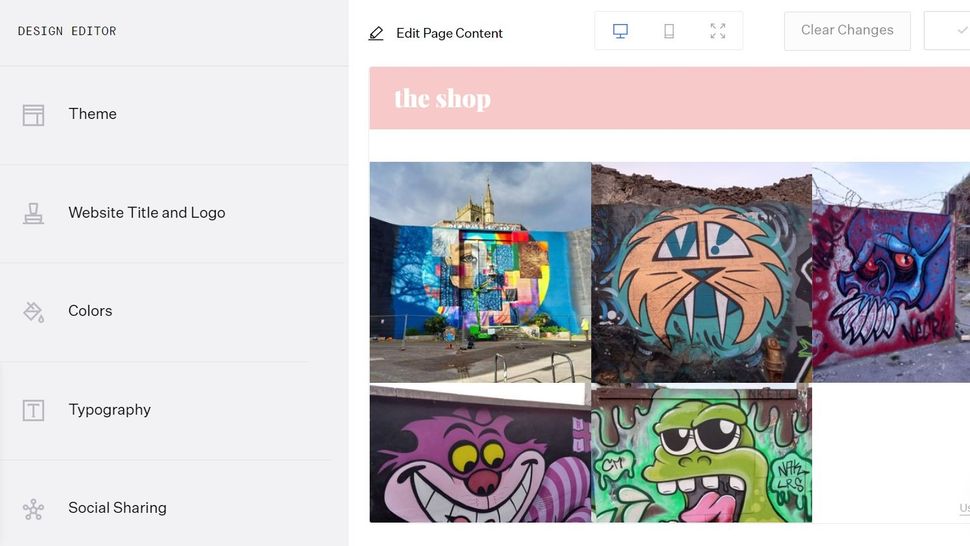 Format is a website builder that's aimed squarely at photographers. As such, it's packed full of features specific to the discipline.
First, there's the client-proofing system. This allows you to put together private, password-protected albums for clients – with watermarked images if you choose. If you often share dozens, or even hundreds, of images from each shoot, this is a great time saver. Obviously, it's more user-friendly for clients too.
Format also lets you upload images to your site directly from Lightroom or Capture One. Plus, if you're worried about copyright theft, you can disable right-click on the images in your portfolio to stop visitors downloading them without permission.
You can also manage your site using the iOS app. And you can sell photobooks, prints, Photoshop actions, Lightroom presets and more to the public, by adding an online store to your website.
When we tested out Format for our review, we found the interface a little confusing to start with, but overall it didn't take too long to set up our first site. Support via chatbot was fast and helpful, although note that there's no phone or email options.
We found Format's sleek, modern templates to be beautifully minimal and show your work off to great effect, although we feel that Squarespace still has nicer ones. That said, it's a close-run thing. And if specific features like client proofing and disabling right-click appeal, Format is a great choice.
For more details, see our Format review.
Best intelligent website builder for photographers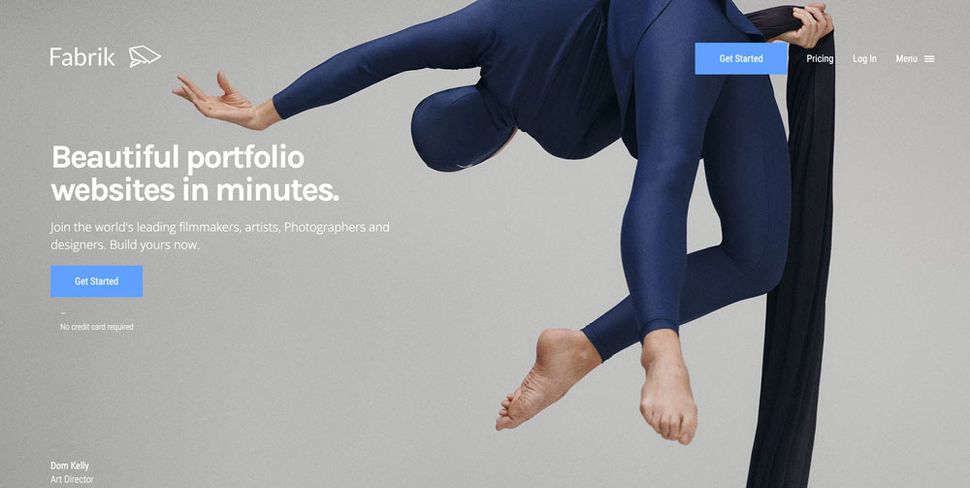 Fabrik is a bit of a gem, with an abundance of brilliant features and the ability to pick your creative profession before you get started, enabling the builder to tailor its features towards you. It has intelligent themes, which use your content to create the best aesthetic possible for screens from mobile to billboard. You upload your high resolution photos and the AI does the rest. We especially like the smart focus feature, which focuses in on the 'most interesting' parts of your images but, crucially, you can also edit manually so you retain final control.
There's no integrated shopping function on Fabrik, but you can use a plugin to add an e-commerce store to your page, which is fully explained by Fabrik with a helpful tutorial. You can also add in media from whatever service you'd like.
You can easily change your layouts to try out different combinations and the interface is a dream. Plus, you can use Google Analytics and keep your own domain name. We loved it when we reviewed it back in 2016 (see our Fabrik review here), and it has gone from strength to strength since then, as the glowing user reviews show.
Best Android website builder for photographers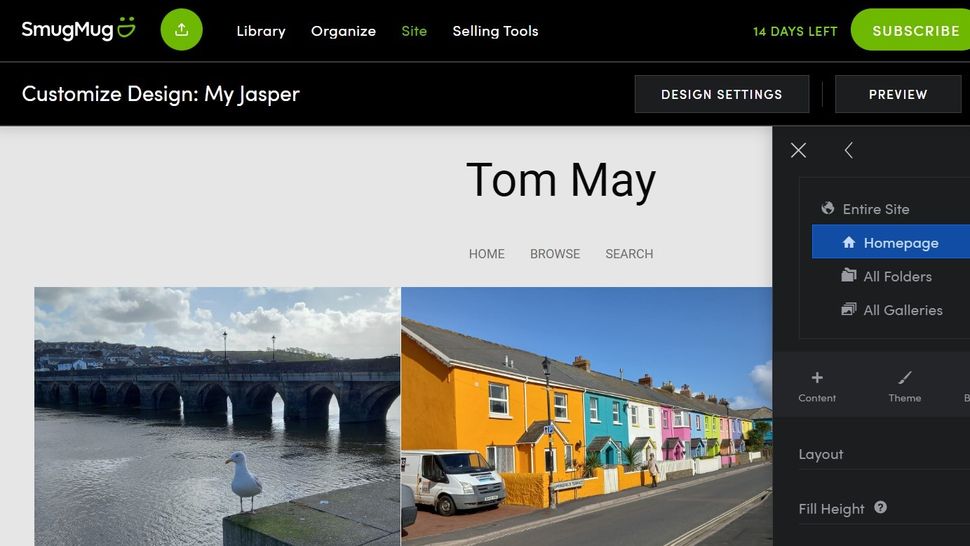 If you're on Android, Format's iOS app won't be much help to you. So you'll be pleased to know that its close rival Smugmug has apps for both iOS and Android.
Like Format, SmugMug is specifically aimed at photographers. And like Format, it offers password-protected galleries, watermarking, the ability to disable right-click on images, and a Lightroom plugin. Its fully responsive templates look smart and professional, and there are good ecommerce options too.
When we reviewed SmugMug, we found its interface pretty user-friendly, and it was easy to get up and running, although customising our site was a little fiddlier than with Format. Perhaps more significantly, though, we were surprised to discover you can only access the full range of templates on the expensive plans. Similarly, you get 24/7 support by email only on the cheaper plans, although pay more and you can access live chat as well.
Overall, if you're an Android user, the ability to manage your site and upload new images while out on a shoot will still make SmugMug a tempting option. For more details, read our Smugmug review.
Best Adobe website builder for photographers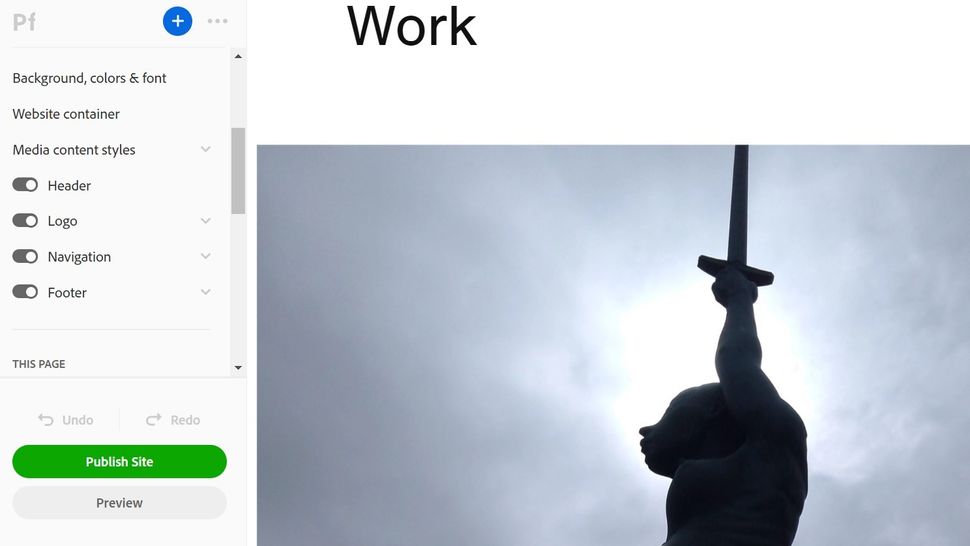 Do you subscribe to Creative Cloud? If so, you already have access to Adobe Portfolio, which gives you an easy way to get a portfolio website online so it's definitely worth a try.
When we've used Adobe Portfolio, we found you don't get a lot of flexibility in the layout and functionality of your site. In fact, you have the choice of just 12 themes. But these are nicely designed, and for most photographers, they'll do a good job of showing your work in a professional light. And with a bit of fiddling around, you can customise them to a certain extent.
Adobe's special sauce, though, is integration between its apps, and so Adobe Portfolio makes it easy to pull in images and other content you may have already uploaded to Behance, Lightroom, Photoshop or Adobe Stock. And that can make it a smooth and easy experience to populate your portfolio site. (That said, if you don't use Creative Cloud apps already, that won't be the case.)
Adobe Portfolio automatically reduces the resolution of the image so they won't take too long to load for visitors. There's a way of adding watermarks if you're worried about people stealing your pictures. And finally, your Adobe subscription pays for unlimited hosting and bandwidth, so you can have as many pages, and upload as many photos and videos, as you like. On the downside, you can't add sales pages, so if your main reason for having a website is ecommerce, you'll need to look elsewhere.
If you don't have an Adobe subscription yet, then check out our guide to the best Adobe Creative Cloud discounts available now.
Best gallery website builder for photographers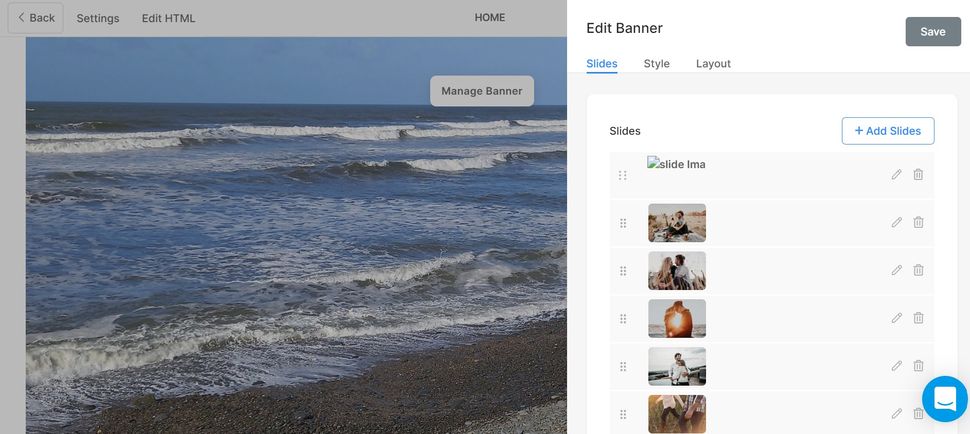 Pixpa isn't just one of the best website builders for photographers, it has a unique feature that helps it stand out from rivals. It allows you create personalised gallery apps for clients to access on their phone: you can see an example gallery here.
In a world in which many people are spending more and more time on their phones, this could help you win a lot more work. You might even consider charging for it as an extra, in the case of wedding customers, for example.
In our experience, Pixpa's interface isn't the easiest to use on this list, but it's fairly straightforward once you get used to it. It also offers good integrations with other apps, including Google Analytics, MailChimp and Spotify, and some nice ecommerce features, including the ability to generate discount codes. Best of all, if you set up an online store, you'll pay no payment processing fees to Pixpa, which you won't find with Squarespace or Wix.
Pixpa doesn't just offer a 15-day free trial, with no credit card required, but a 30-day money-back guarantee. You can also get 50 per cent off if you're a student or educators currently enrolled in any creative course, such as photography, art, design, fashion, architecture.
Best ecommerce website builder for photographers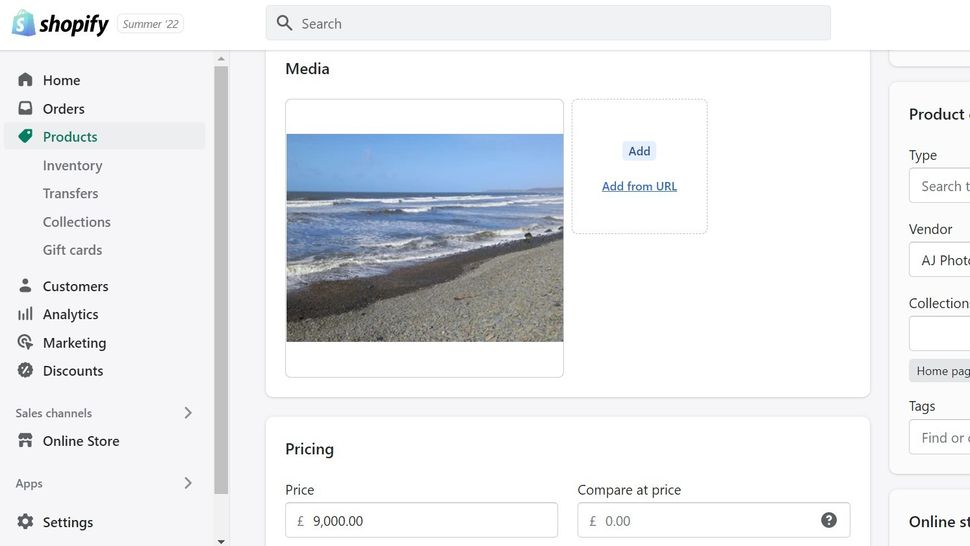 If you're looking to sell prints, photobooks, workshops and so on, directly to the public, we recommend Shopify. Because while it's not specifically aimed at photographers, it is the best web builder for ecommerce and business purposes, bar none.
When we tested it out for our Shopify review, we found the setup wizard made it relatively quick and easy to set up an online store. Just as importantly, the vast range of third-party integrations made it easy to integrate our Shopify site with Instagram, Facebook and other social media. We also got to choose from a range of payment options, and a variety of marketing tools to help promote our site.
When it comes to customer support, you get a fantastic choice of four channels: chat, email, phone, and community (forum) support. As part of our review process, we sent a test question, and got a full response in only a couple of minutes, which we found pretty impressive.
Overall, Shopify costs more than other website builders, but you are getting the gold standard in e-tail, so hopefully you'll make extra money as a result. To learn more, read our Shopify review and see our comparison article, Wix vs Shopify: what's the best ecommerce option? You may also want to read our guide to the best places to sell design online.
Best academic website builder for photographers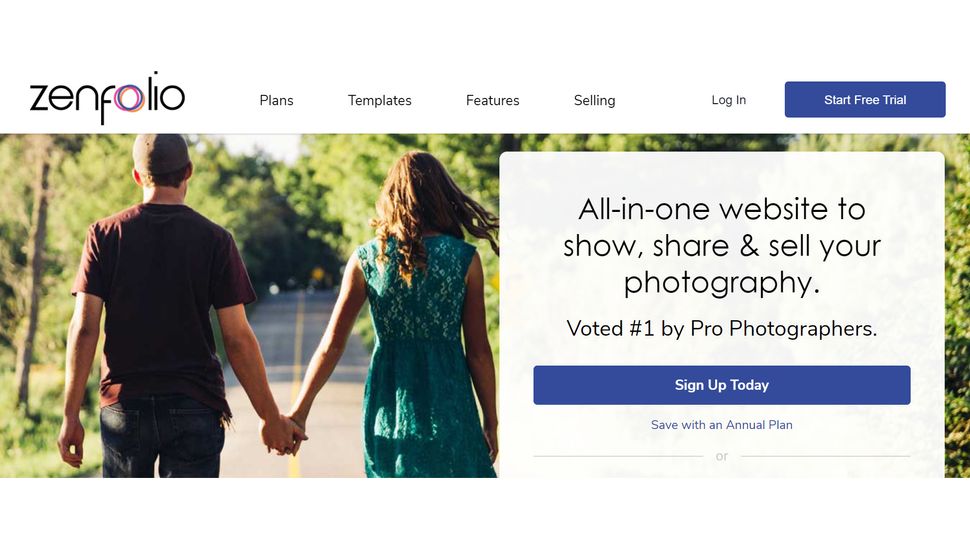 Why you can trust Creative Bloq Our expert reviewers spend hours testing and comparing products and services so you can choose the best for you. Find out more about how we test.
Zenfolio is specifically aimed at photographers, and well known in the profession. Its interface is easy to use, and you can have a good-looking portfolio site up and running within hours of starting a plan or 14-day free trial (which you can get without putting in any credit card information). The templates don't have the most exciting designs, and there aren't a huge number of them, but they're perfectly fine.
Unlimited storage is available on even the cheapest plan. That means you can batch-upload albums and galleries without worrying about space. Meanwhile, the more expensive plans provide special support for school and event photographers, including password-protected folders and the ability to add packaging and pre-orders for prints.
Don't, however, choose Zenfolio if you want a lot of customer support. There's no phone line or live chat, so if you need help, you have to fill in a form and wait for an email; average resolution times are listed as four hours.
FAQs
Do photographers need a website?
A website is almost a must for any photographer these days. No matter whether you want to attract professional clients, or just have a nice-looking space to show off your images to peers, a dedicated website is the way to do it. It allows you to showcase your portfolio in a way that your work is ordered, clearly categorised and searchable. All of this makes it easier for people to find what they're looking for, quickly, before they get bored and look elsewhere.
How do I choose a website builder for my photography site?
The best website builder for you will depend on which features you need, and which you don't. Firstly, ask yourself whether you want to sell things through your website, like prints of your photos, or workshop spaces. If so, you'll need dedicated ecommerce features: Shopify is probably going to be your best choice for this.
Secondly, consider how important the look and design of your website is to you. If you want a sleek, minimalist look, a website builder with a good range of attractive templates will help you realise your vision. For our money Squarespacehas the most beautifully crafted templates that are perfect for showcasing large-format photography.
Thirdly, think about how many photos you plan to upload. If it's just a few, pretty much any web builder will work. But it's a lot, you'll probably want to upload multiple galleries with sub-folders and password protection. Smugmug, Format or Zenfolio will probably be your best choices in this case.
What's the best website builder for photographers overall?
Although it's not specifically aimed at photographers, we believe Squarespace's beautiful looking templates make it the best website builder for photographers today. After all, your potential customers and clients are probably going to make a choice in seconds, so you need to make sure your site looks as good as it possibly can be. The interface isn't the easiest to use, but if you take a little time to learn its ways, you'll get a stunning website in return. You can add a blog and an online store if you wish, and while it's not the cheapest option, we feel it does represent excellent value overall.
How do I create a free photography website?
If you want your own website to showcase your photography portfolio, but don't want to spend any money at all, we recommend Wix's free plan. This allows you to create your own site, but there are limitations.
You only get 500MB storage space, so you won't be able to upload many photos. You only get 1GB bandwidth, which limits the number of people who can access your site at any one time. Your site will also feature Wix ads, and its URL will be Wix-branded, making it a bit clunky. That said, it's a great way to get started with a photography portfolio site, and if you need to remove these restrictions later on, the paid plans are very affordable.
What should a photography website include?
A photography website should always include a gallery of images to showcase your work: without one, it's kind of pointless. It's also good to include an 'About me' page, that gives a little of your personal story and explains what makes your services different from other photographers. Thirdly, you need a 'Contact' page that provides a telephone number and/or email address for people to make enquiries.
You'll probably also want to add other content, depending on your specialism and the way you structure your business. For example, if you're a wedding photographer then it's useful to have an FAQ (frequently asked questions) section, to save you time explaining how you work, again and again, to each potential customer.
What's the best cheap website for photographers?
If you're a photographer who needs their own website but is on a tight budget, we recommend Wix. This is not only one of the best website builders overall, but it's also very cheap. It even has a free plan that will give you a basic website to get started with, albeit one covered with ads. The interface is very easy to use, too: just search for photography templates, pick the one you like, and upload your own content. Learn more by reading our Wix review.
How can photographers build an online store?
Are you a photographer wishing to build an online store, to sell products such as prints, photobooks, workshops and tutorials direct to the public? Then we recommend Shopify, which makes it easy to set up an ecommerce website without knowing anything about code. You can take payments from a variety of payment providers, you get marketing tools to help promote yourself, and you can integrate your store with social media accounts such as Instagram. It's a little more expensive than other website builders, but the extra money you earn should more than make up for the added cost.
Is Squarespace or Wix better for photographers?
In our opinion, Squarespace just pips Wix to the post. This is because of its photography-specific templates (and beautiful templates across the board), and the excellent customer support. It is more expensive than Wix, so if you've got a tight budget, Wix is a close second.
Wix is a bit easier to use than Squarespace, though, so if you don't mind compromising on style for usability, you may want to try Wix instead.
How we choose
To choose which website builders we recommend to photographers, we try to cover as many basis as possible to ensure we include an option for everyone.
That means looking at what the purpose of the site is primarily; is it a portfolio, client-facing, academic or retail-focused, or perhaps something else entirely?
We also look at the customisation options and what the general aesthetic options are on each website builder, aiming for those with the greatest variety. That naturally leads onto considerations about how many photos you might be wanting to display, whether it's a select phew, a couple of galleries or an entire, comprehensive portfolio. Finally, we consider the affordability and ease of use.