In our Tailor Brands review, we test a popular platform that offers a quick and easy AI-powered tool for creating new logos. One of a growing range of accessible logo maker apps and programs out there, it allows non designers to create a logo with just a few clicks and at the fraction of the price it would cost to hire a designer.
Launched in 2014, Tailor Brands' solution is a browser-based platform that's recently upgraded its offering to add more services that go well beyond simply designing a logo. The core logo designer tool is free to use, but you need to sign up for a subscription to get usable assets that you can download at a decent resolution. The company now claims to have 25 million users, who have created 500 million designs using its program. That's a lot of designs, so how does it measure up against competitors like Wix, Canva and Hatchful?
For our Tailor Brands review, I set out to use the platform to create logos for two fictional companies, a bar and a cosmetics company. I tested out all of the design features of the logo maker and also took a look at what you get in the premium subscription package. For more options, see our guides to the best logo designer and the best free logo maker. But for now, let's dive in and take a look at Tailor Brands' offering.
Tailor Brands review: interface and design process
It couldn't be any simpler to get started with Tailor Brands' logo maker. Requiring no previous knowledge or design experience, it offers a step-by-step process, and there aren't many steps. The interface is simple and intuitive – not that you need to intuit much – there are big tabs and tools that you can't miss.
It starts off with a couple of big input boxes for you to write in the name of your company and an optional tagline. Click 'Get started' and, much like with competitors' platforms, you're led through a couple of succinct questions about your business then asked to choose what type of logo you want (icon-based, text-based or initial-based). If you choose icon, you have the option to choose from a collection of geometric shapes or from a larger collection of more pictorial icons that are divided into themes ("strength icons," "caring icons," "nature icons", etc). You can then choose up to three "styles" that fit your business.
For my imaginary bar, I chose "texture", "retro" and "masculine" (feminine isn't an option strangely), and for my cosmetics company, "elegant", "delicate" and "classy". That's all you're asked. Click Design, and you'll be given an initial logo suggestion. I found the first results I was given particularly ugly, partly due to the colours – there's no initial question about what colours you'd like in your logo, so the logo maker seems to choose colours at random. Fortunately, it's very easy to either completely reject the first suggestion and start browsing other options, or to customise the proposed logo – so let's look at how that works.
Tailor brands review: customisation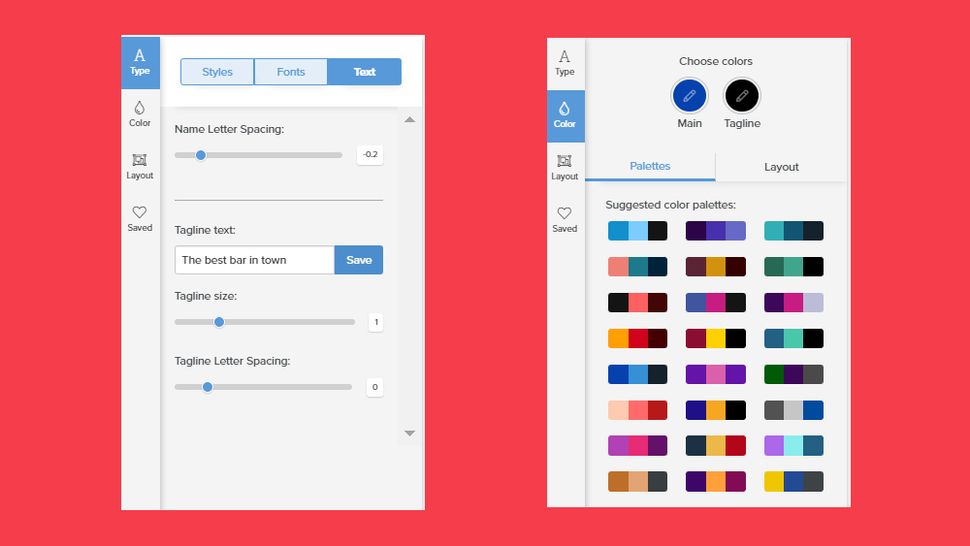 I found the customisation options extremely easy to apply and play around with but limited in scope. The adjustment options available appear in a neat, logically organised menu on the left of the screen. You can change colour (you can select one or choose a palette of up to three), fonts, and for some, but not all of the fonts, you can change the letter spacing and toggle between caps and non-caps. However, there's no way to modify the icon you chose (although you can swap it for a different icon altogether by going back a stage).
While there's a fair range of colour options, there are only up to five font alternatives for your business name and tagline in each style (if you don't like any of them, you have to change the styles you selected, either directly in the customisation menu or by going back to the question section).
Handily, all the options you're shown are saved in the "Seen brands" tab, so there's no danger of not being able to find an option later if you skip it but later decide it could have been the one. I found it was easy to go back on my tracks, with a clear breadcrumbs menu across the top of the screen. This was convenient for testing out the platform, allowing me to go back and see how the designs changed depending on the selections I made.
So it does a good job at allowing you to go back to any part in the process without needlessly repeating steps, but you don't get the breadth of customisation options offered by some logo builders. Canva gives you much more freedom to move, resize and rotate parts of a logo, and it offers more effects. Tailor Brands' customisation options are much more limited, without the flexibility to manipulate elements directly on a canvas without using the menu controls. The positive side of this is that if you have no experience in design, you've got less of a chance of messing things up. And I was at least able to come up with something that was a lot more pleasing to the eye in a matter of minutes.
Tailor brands review: results
Having spent some time playing about with the tools and feeding in different inputs, I found the results a little erratic. Some of the logo designs didn't match my idea of the style descriptors, and the details provided about my businesses didn't seem to impact on the designs in any way. You're asked to select an industry and can even provide a long form open description of your brand, but with both my fictional bar and my cosmetics company, the resulting designs seemed to be influenced only the by choice of styles and logo type.
You can click 'See more' to get more and more design options, opening up a lot to choose from Every so often, the platform seems to throw in a curveball that doesn't match the design choices you made, perhaps on the off chance that you might not know what you want and something different might catch your eye. This ends up feeling a little like rummaging in the bargain bucket at a jumble sale to see if you happen to find something you like the look of.
Tailor Brands review: extra features
Refreshingly, Tailor Brands recognises that a logo isn't the end of the story. Although everything starts from the logo builder – and that's the only way to begin using Tailor Brands – the platform actually offers a lot more, giving you options to place your logo on digital designs and print collaterals. Different features are unlocked depending on your subscription level (see pricing below). I tried out a Tailor Brands Premium subscription to be able to test all of the latest features.
The simplest is the ability to order print collaterals – T-shirts, stickers, bugs, business cards etc – through a link-up with merchandise supplier Zazzle. These pieces aren't customisable, so you can't tweak the proposed designs in any way, but there are quite a few to choose from.
There's also a graphic design tool that promises to give you a branded social theme in three easy steps. I found it employs a similar approach to the logo maker. You choose a theme colour (by default, it will pick a colour from your logo, but you can change this should you want to), plus a theme style, for example "Cutout" or "Brushstroke", and a font collection (selections of up to nine fonts to use in your subsequent designs). Based on that, the tool will produce templates for a range of social media posts, ads, web banners and print collaterals.
There's a simple drag the box editor to reposition and resize elements in each template. You can add extra text and you can also add stock images by simply clicking on an image in the menu panel to introduce it into the piece. Again, the number of design assets and customisation options are limited, but the tool could prove useful for companies that don't have a designer and would otherwise struggle to ensure consistent branding across their social media content.
Tailor Brands also has a website builder, or rather two website builders: an extremely simple automatic builder for those with no experience, or no time to get to grips with anything more complex, and a more advanced but template-based DIY builder. The automatic website builder is one of the simplest I've used. You simply select the modules you want to include (e.g., About, Services, Gallery, Testimonials), click next, and you've got a template. You can also add stock imagery or upload your own, but I found the customisation options extremely limiting. You're restricted to choosing among a handful of "styles" that aren't connected to the styles you might have used in the graphic design software or the logo builder, so while you might gain consistency across your social content, that doesn't extend to the website.
The advanced builder is a lot more sophisticated, allowing you to customise pages and popups, change colours, sizes and spacing, drag and drop widgets onto pages, create rules for personalisation and even create collections in the content library to manage content across the site. This could be a much more useful tool for creating a site the way you want it to look, but Tailor Brands' guiding hand disappears somewhat here.
Tailor Brands review: plans and pricing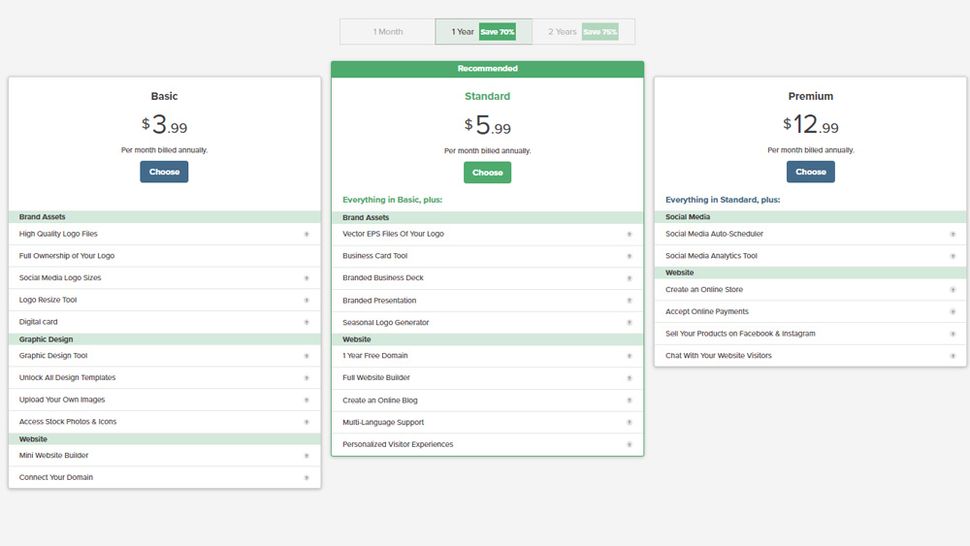 You only get to see the pricing once you've finished designing a logo and you click "Upgrade", which some will find frustrating. It's great that you can try the logo maker for free and only need to subscribe once you're happy with the results, but having to go through the process of designing a logo before you're shown what you'll have to pay for it may put some people off.
You can actually download several JPGs of your logo for free, but only at sufficient resolutions for use as favicons, app launcher icons and email signatures. To get high-resolution vector files, you'll need a subscription. The Basic plan ($3.99 / £2.99 per month) gets you your logo in high-resolution JPG and PNG plus access to a logo resize tool, a digital business card, the graphic design tool for social media templates and the mini website builder only.
The standard plan ($5.99 / £3.99 per month) adds in EPS vector files of your logo, a business card tool, branded presentations, access to the full website builder and a "seasonal logo generator" – a nice touch if you want to add snow or a Santa hat at Christmas. Step up to Premium ($12.99 / £8.99 per month) and you also get a social media scheduler, social media analytics and ecommerce options .
Note that each subscription is based around one logo design, so if you happen to be launching more than one business, you'll need multiple subscriptions. There's no option to buy your logo without a subscription, but a subscription can be cancelled at any time and you retain the rights to your design. So if you do just want the logo design and none of the extra tools, you could cancel the subscription once you're done and get a vector logo for just $5.99 / £3.99 (just make sure you've downloaded all your assets before you cancel).
How does this compare to competitors? If you're looking to design a logo for free, Shopify's similarly simple Hatchful offers more downloadable assets at no cost. It is however limited to the design of a logo alone. The advantage of paying for Tailor Brands is the extra features to create a broader collection of brand assets. That puts it more in the arena of Canva and Wix, which have graphic design template and website builder options.
Canva gives you more for free, but Canva Pro plans start at $119.99 / £99.99 per year, or $12.99 / £10.99 per month. You get more customisation with Canva but a less sophisticated website builder. Meanwhile, Wix allows you to download high-resolution files of your logo for a one-off payment of $20 or $50 rather than requiring a subscription, but if you want access to other design tools, its subscription packages are a little more expensive than Tailor Brands'.
Which offers best value for you will depend on your priorities. To quickly design a logo, social media content and a website all in one place, Tailor Brands is good value, and very easy to use. Canva might be worth the extra cost for anyone wanting more customisation options in their graphic design work, and Wix would be the better choice if a website is your priority, especially if you already have a logo.